Christmas in Woodstock, Vermont – Part One
This Christmas season we took a trip to Woodstock, Vermont.
We had not been to Woodstock at Christmas since 2013 and I was eager to travel there again.
Before I start to share our trip, I want to thank all of you who prayed that my insurance company would approve my double dose of medication. While on this trip, we learned that I received approval for 90 days for my medication. An answered prayer!
Christmas in Woodstock, Vermont
I have a lot to share, so I'll document our trip in several blog posts during this 2020 Christmas season.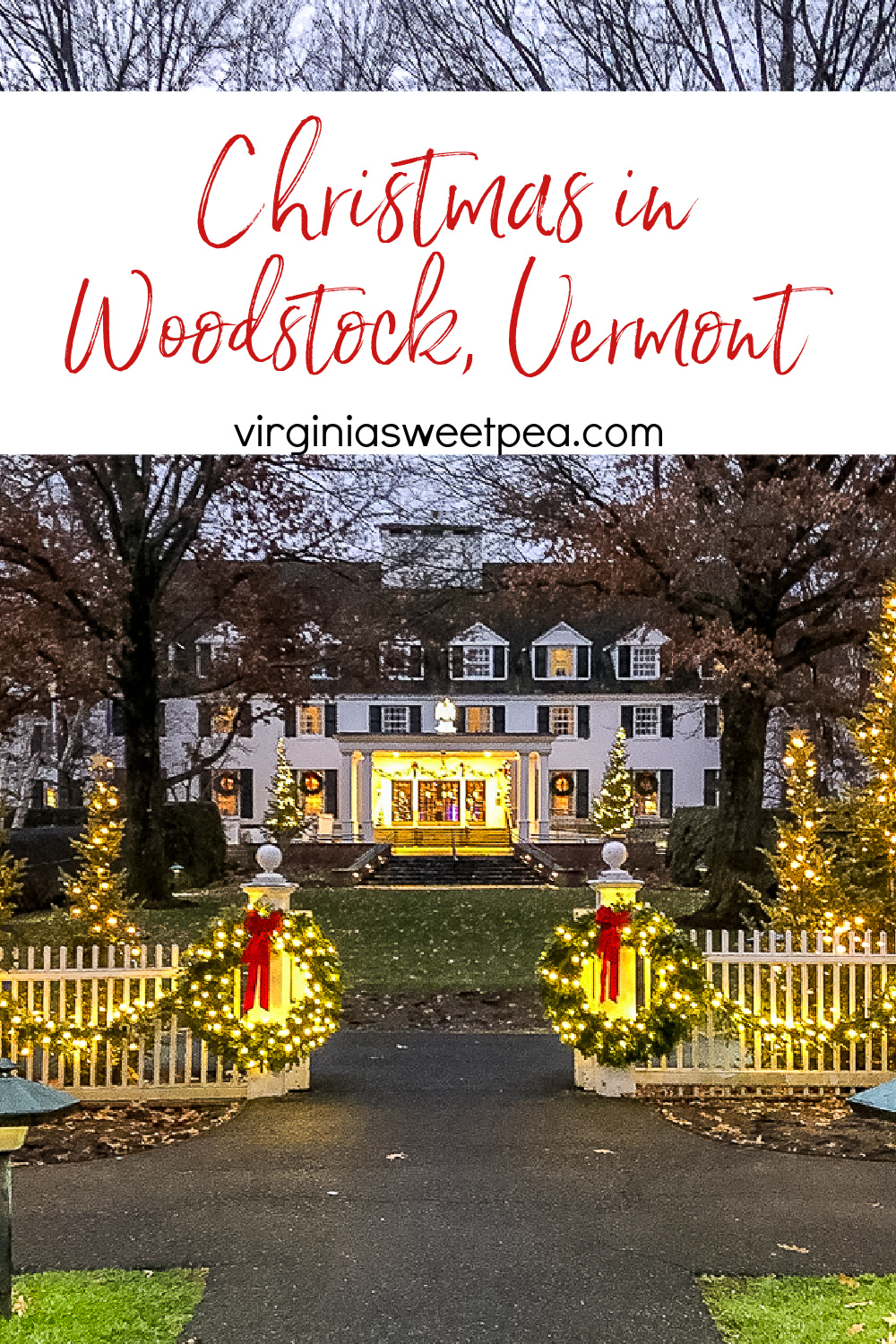 Traveling to Woodstock, Vermont
To up the Christmas vacation fun, my sweet Mama joined us for this trip. She was Sherman's travel buddy!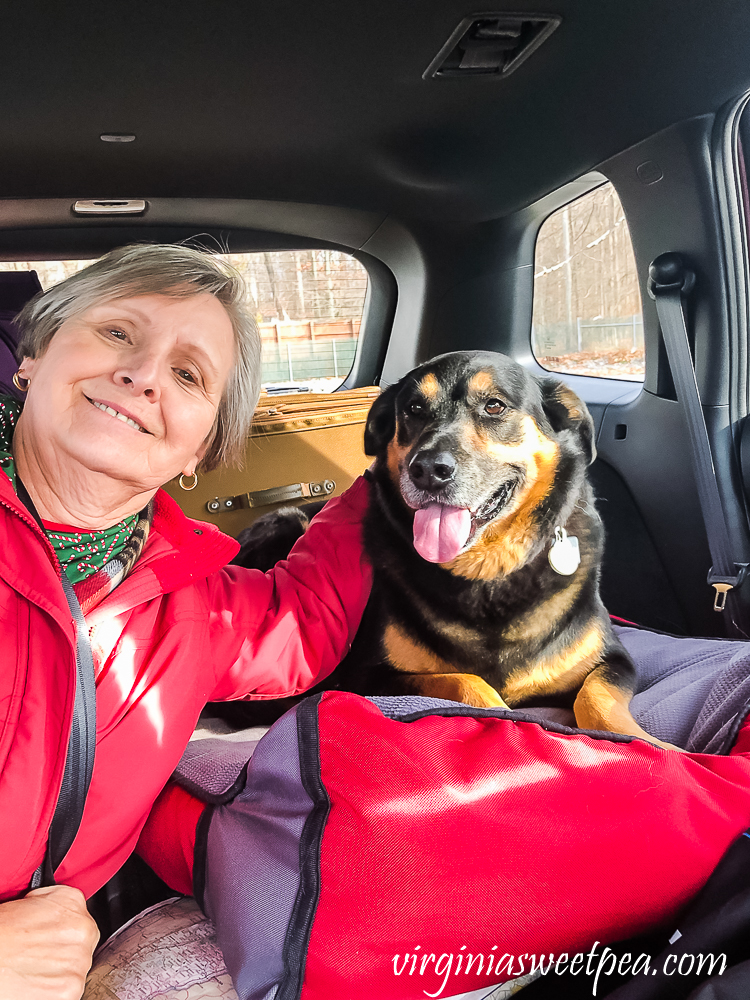 Like we did on our fall Vermont trip, we stopped in Williamsport, MD to walk Sherman.
If you ever need a travel break while traveling Route 81, visit Byron Memorial Park in Williamsport. Within the park is Springfield Farm, a lovely spot to enjoy.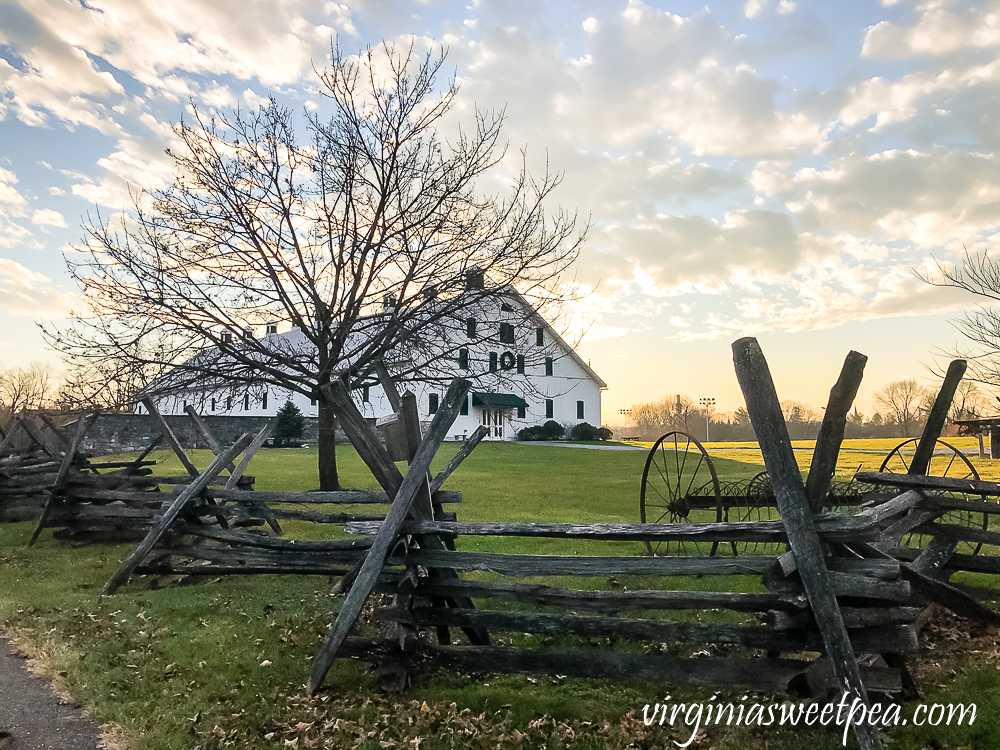 This barn at Springfield Farm is circa 1755 and is one of the largest barns in the state of Maryland.
Sherman definitely loves his Mama!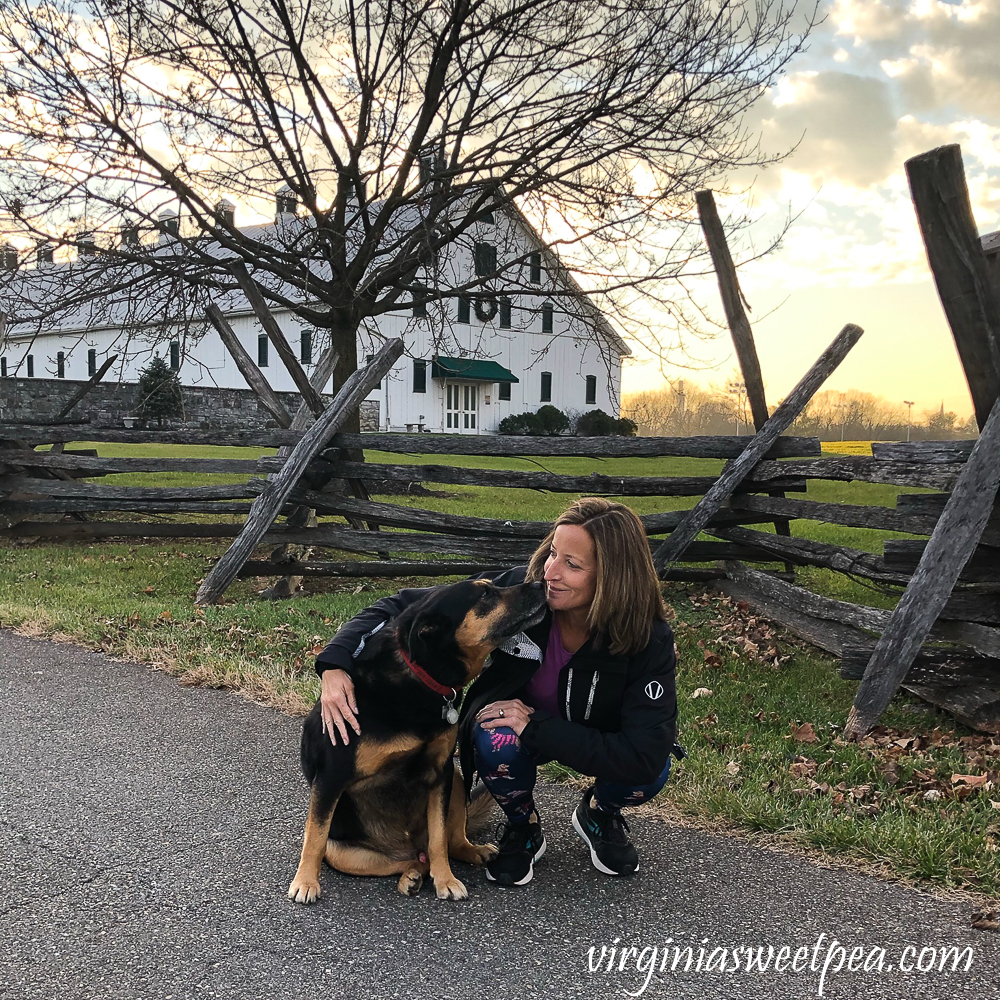 This post is going to be picture heavy because I love preserving my memories on my blog.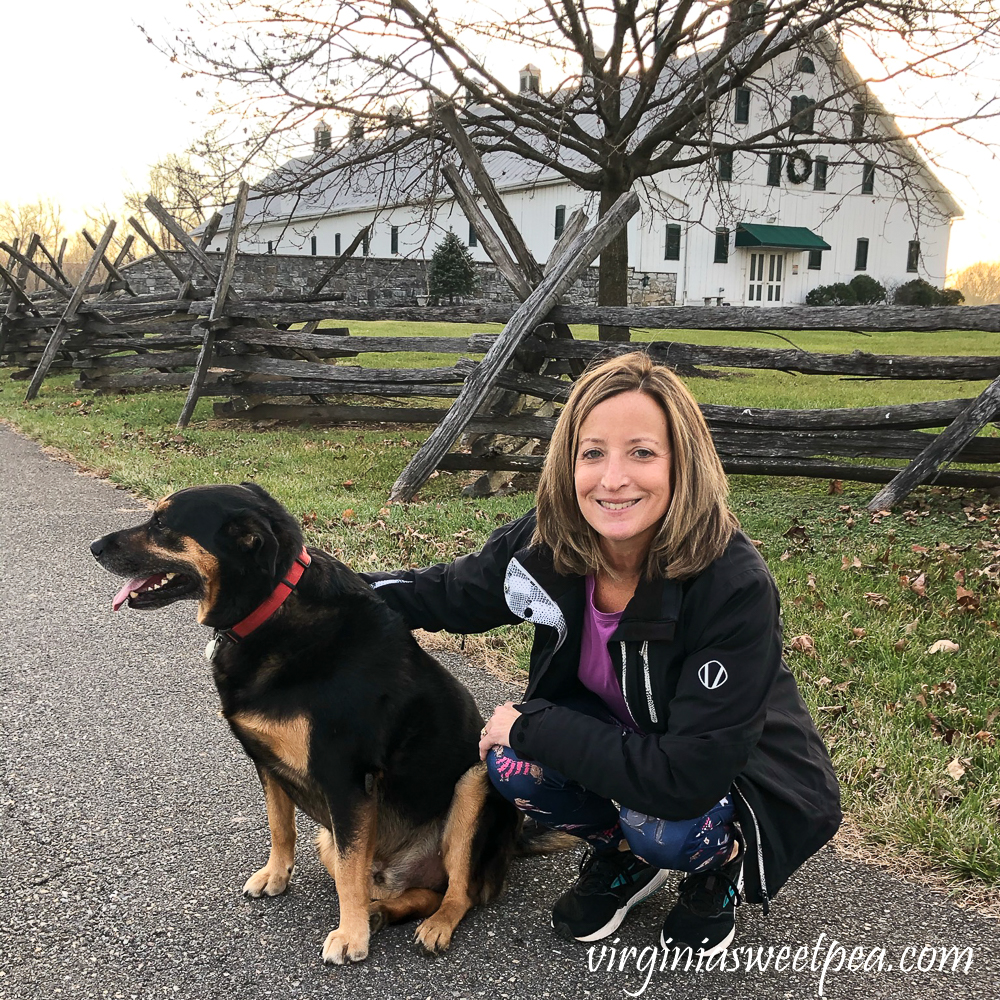 This spot was too pretty not to do a Christmas selfie.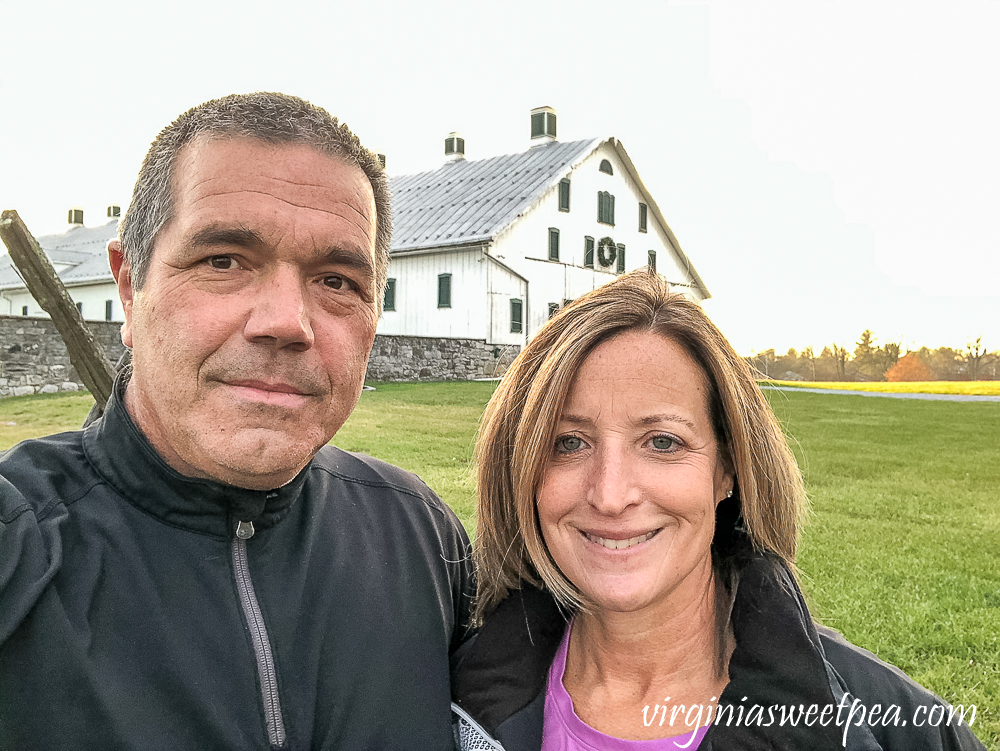 The barn was beautifully decorated for Christmas and I'll bet that in a normal year there are numerous weddings and events held here.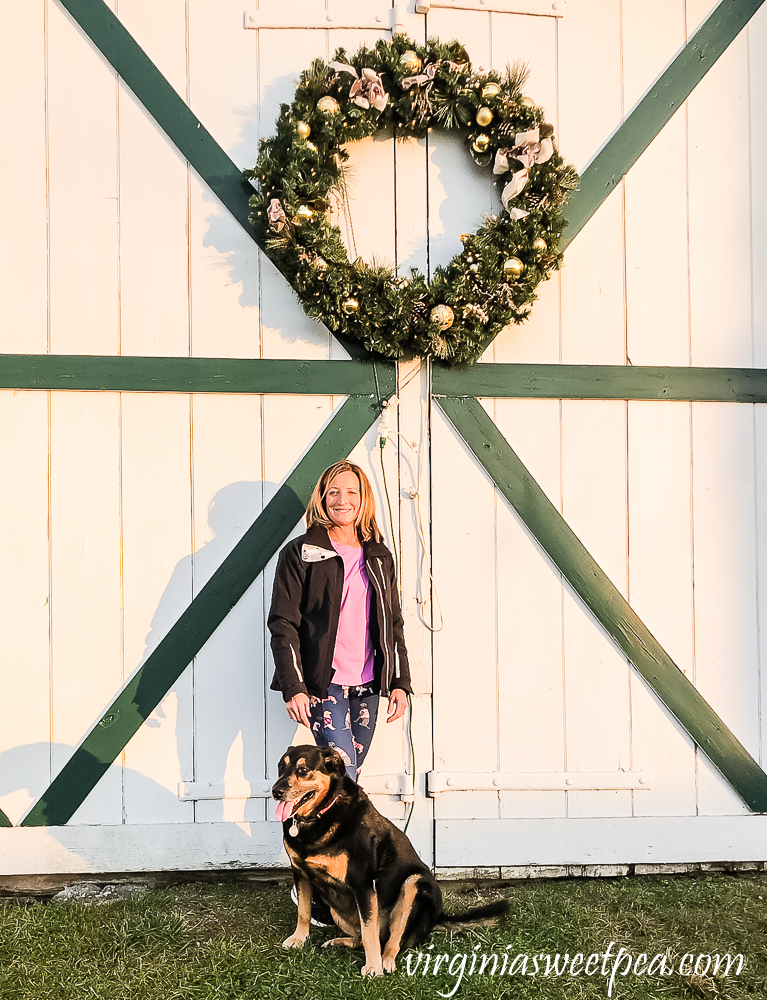 On the way to Woodstock, we drove through the town of Bennington so that Mama could see this beautiful church.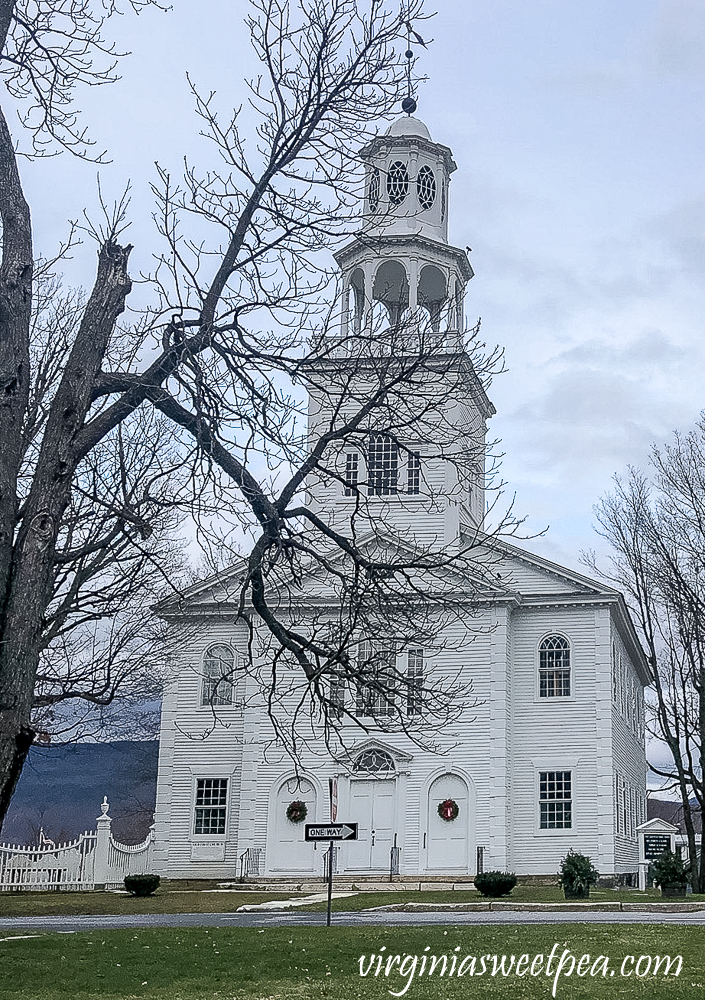 Our next stop was Manchester, Vermont, a fun place to visit and a great spot to walk Sherman.
We love visiting Orvis there!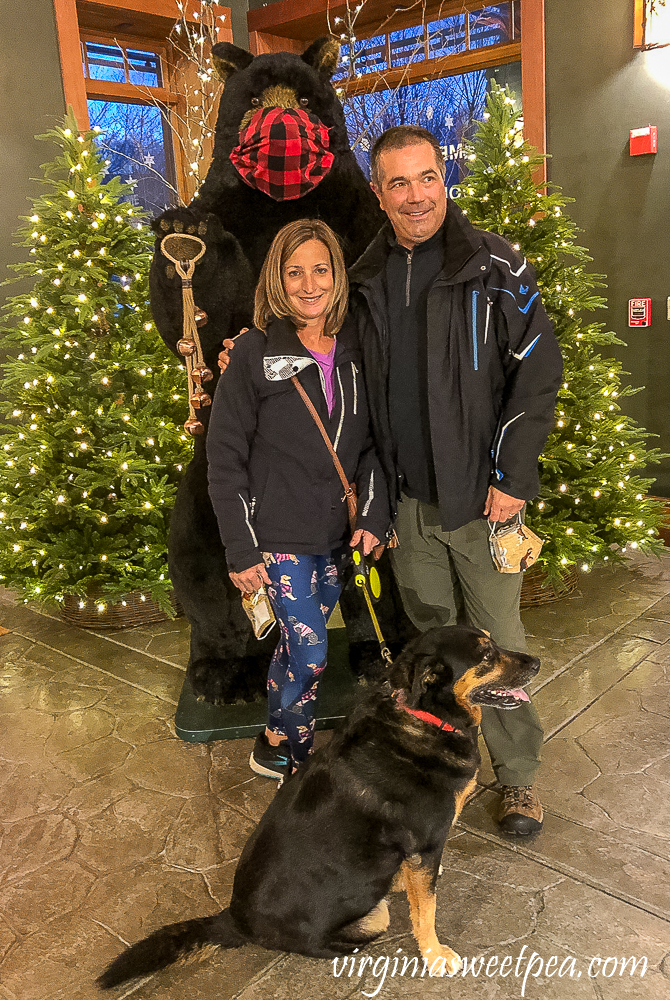 As we walked around Manchester, it got dark which was great because we got to enjoy the Christmas lights.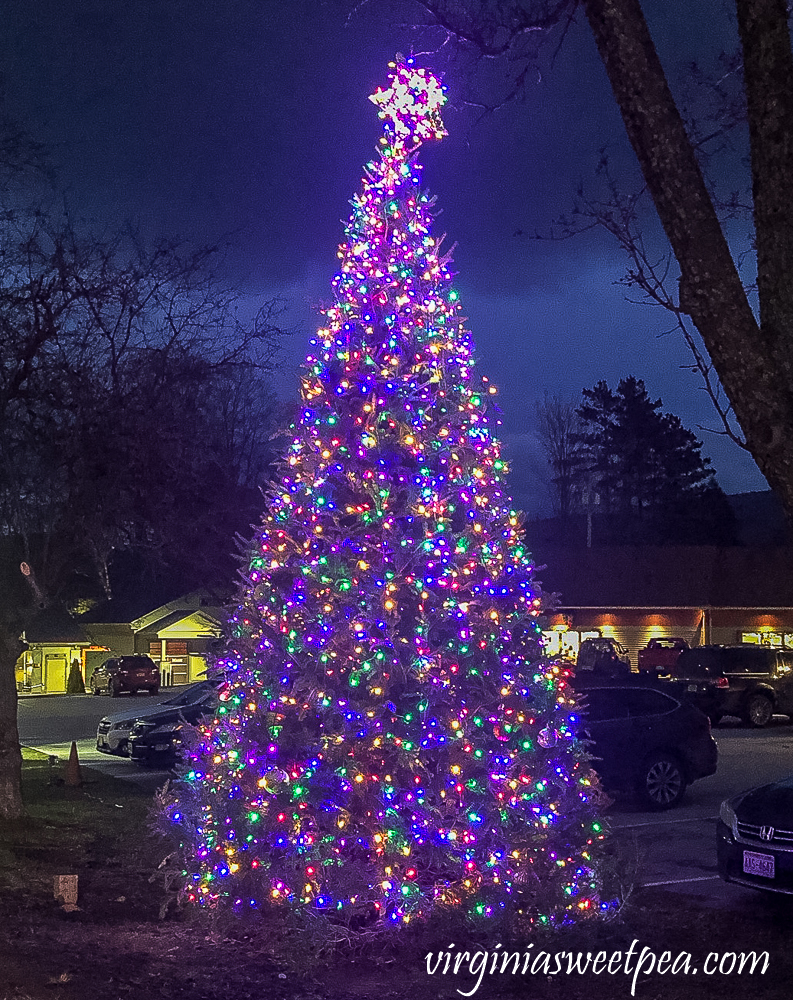 The Woodstock Inn at Christmas
Our destination was the Woodstock Inn in Woodstock, Vermont. The outdoor lights were so pretty!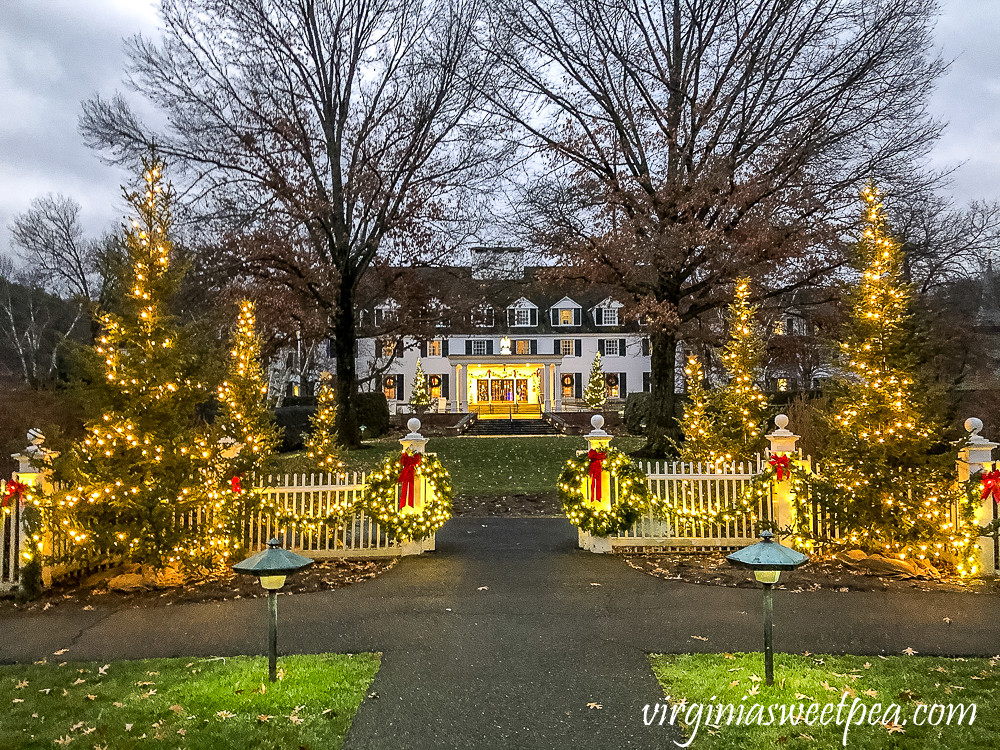 Little did we know that in just a few days, Woodstock would receive over two feet of snow.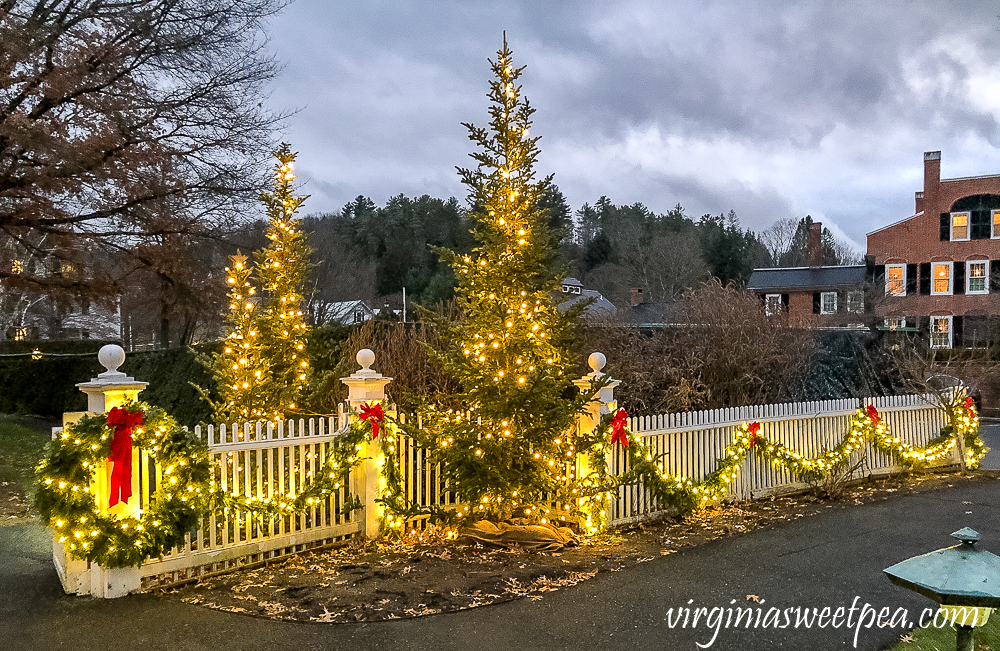 I will share the snow pictures in an upcoming post!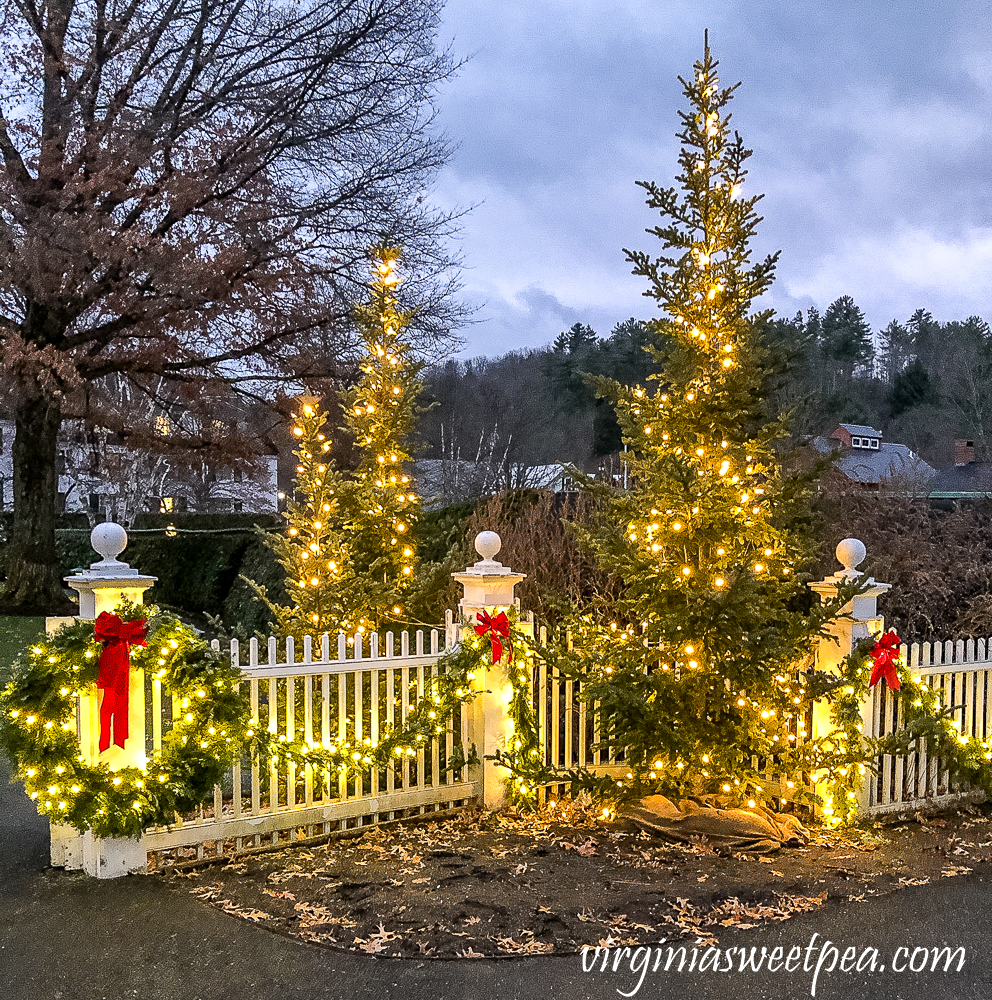 Christmas Decorations at The Woodstock Inn
The inn was beautifully decorated for Christmas.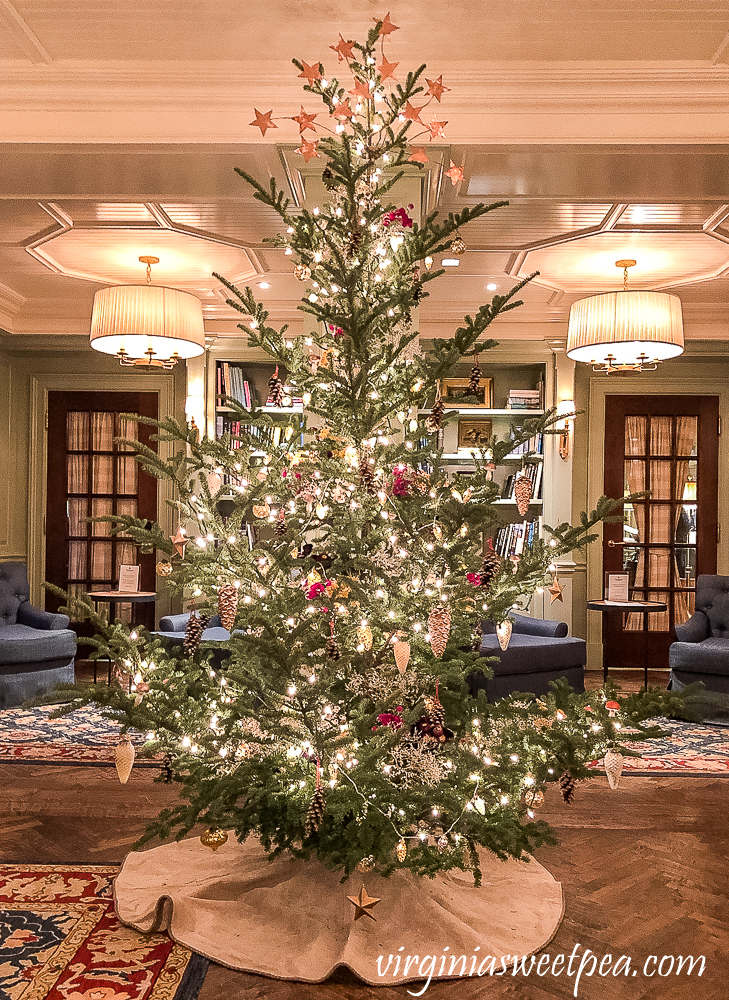 The Christmas tree in the lobby was decorated with mostly natural elements, all grown at Kelly Way Gardens.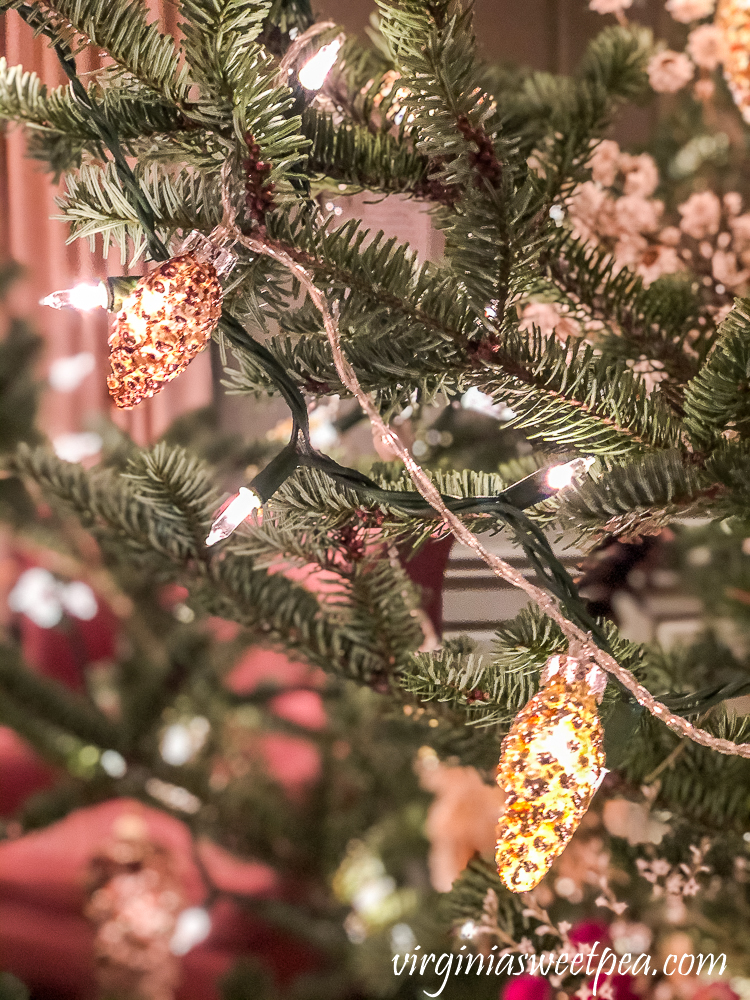 Other than pinecone lights and pinecone ornaments, most of the tree decorations were dried florals and pinecones found in nature.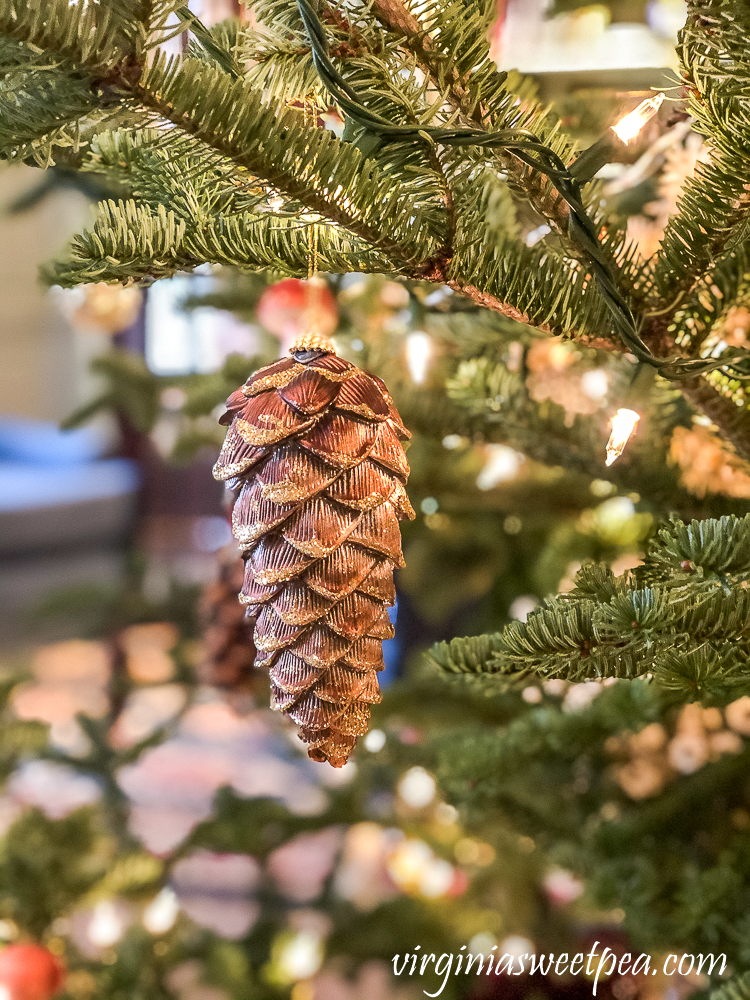 I loved the look of the dried florals decorating the tree. It also reminded me of my grandmother who dried flowers like these to use in her dried flower arrangements.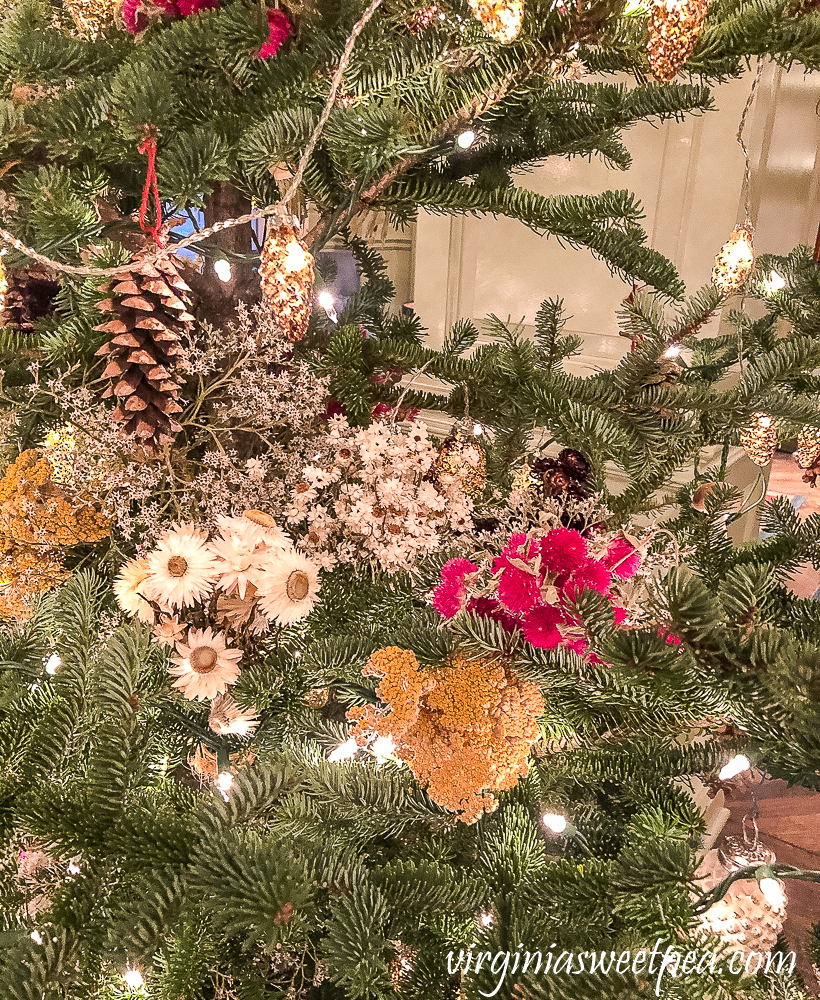 Handmade garlands decorated the foyer.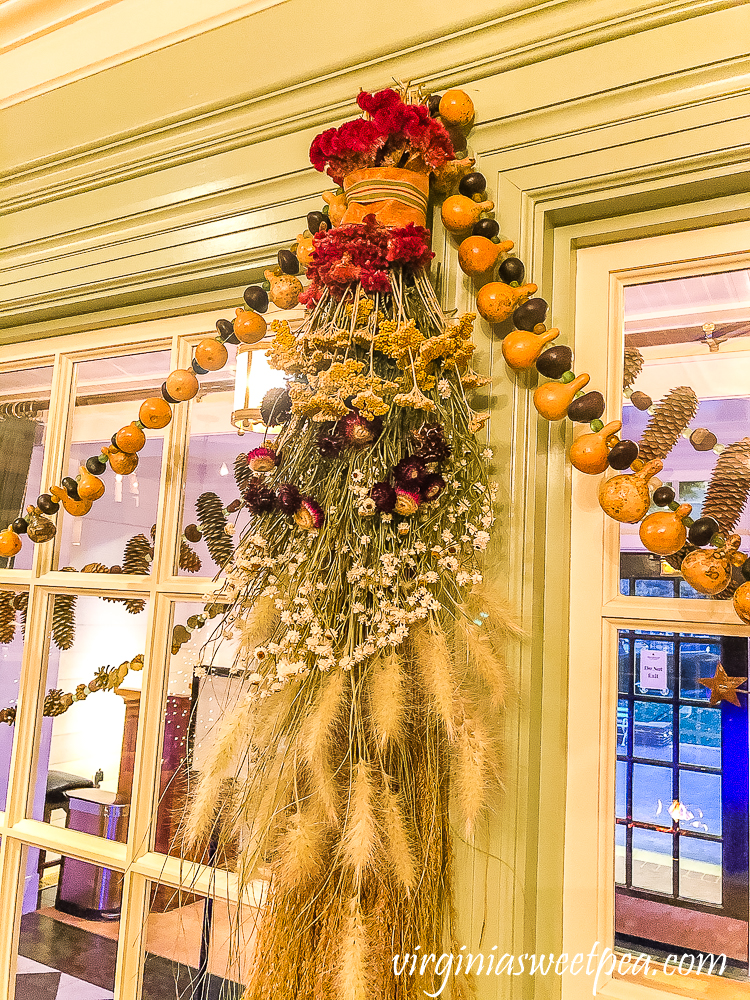 Every morning I headed straight for the lobby to enjoy coffee in front of the fire. You can see more of the garland behind me.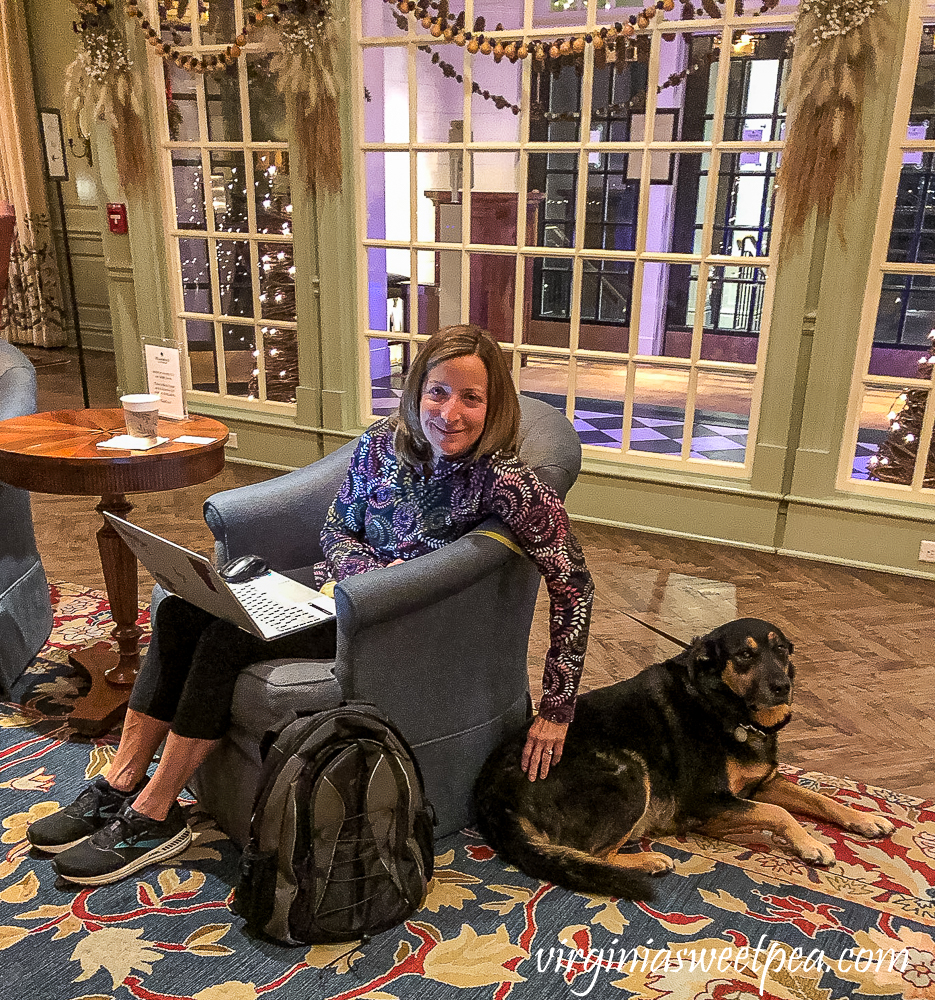 After a quick Sherman walk, Mr. SP joined me. Not shown is Mama who was enjoying her coffee on a sofa.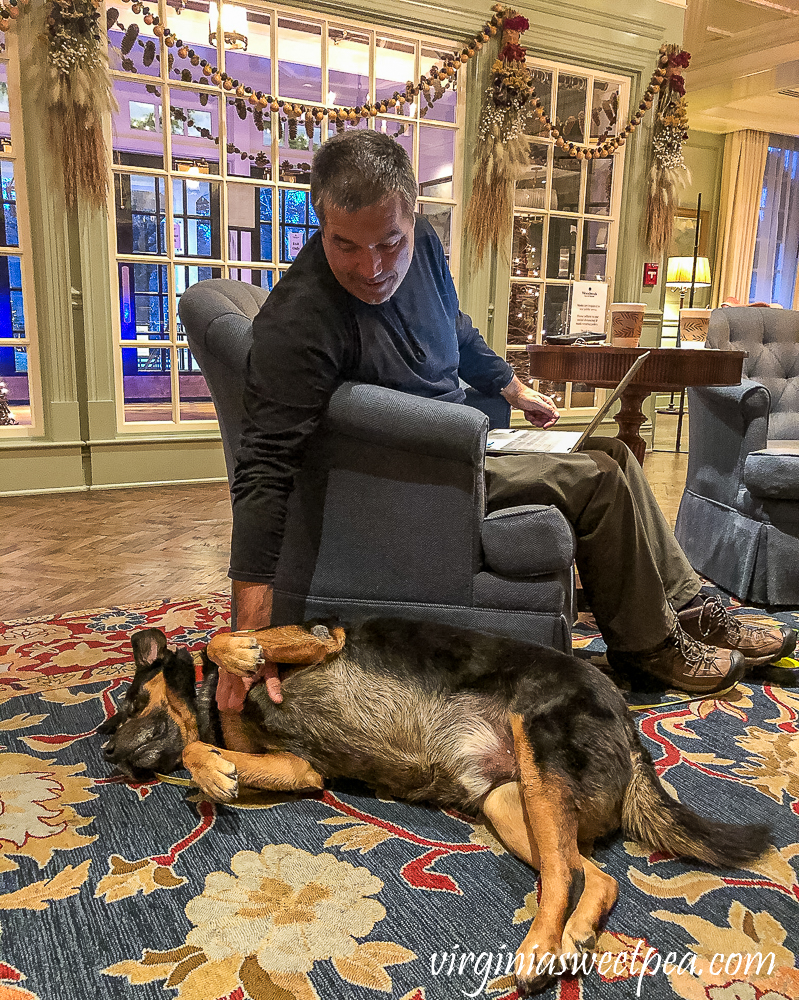 Back to the decorations! Pinecones decorated the entrance to the inn and also many other spots.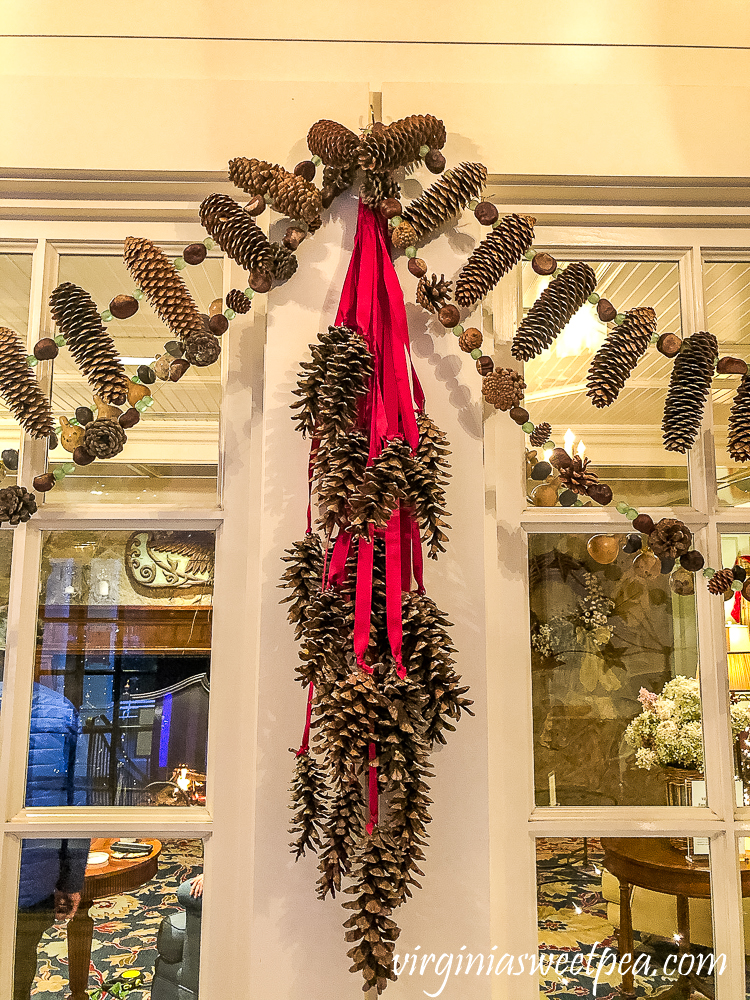 This room's ceiling was decorated with pinecones.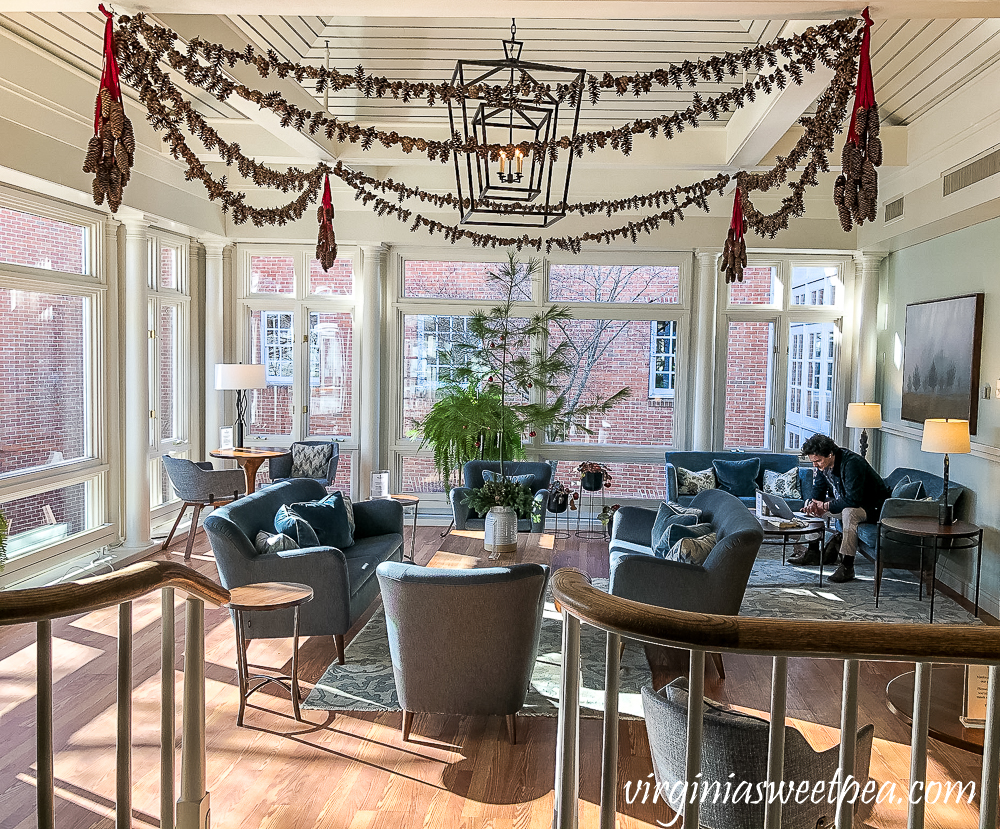 This staircase leads to the downstairs area of the inn where the ballrooms are located.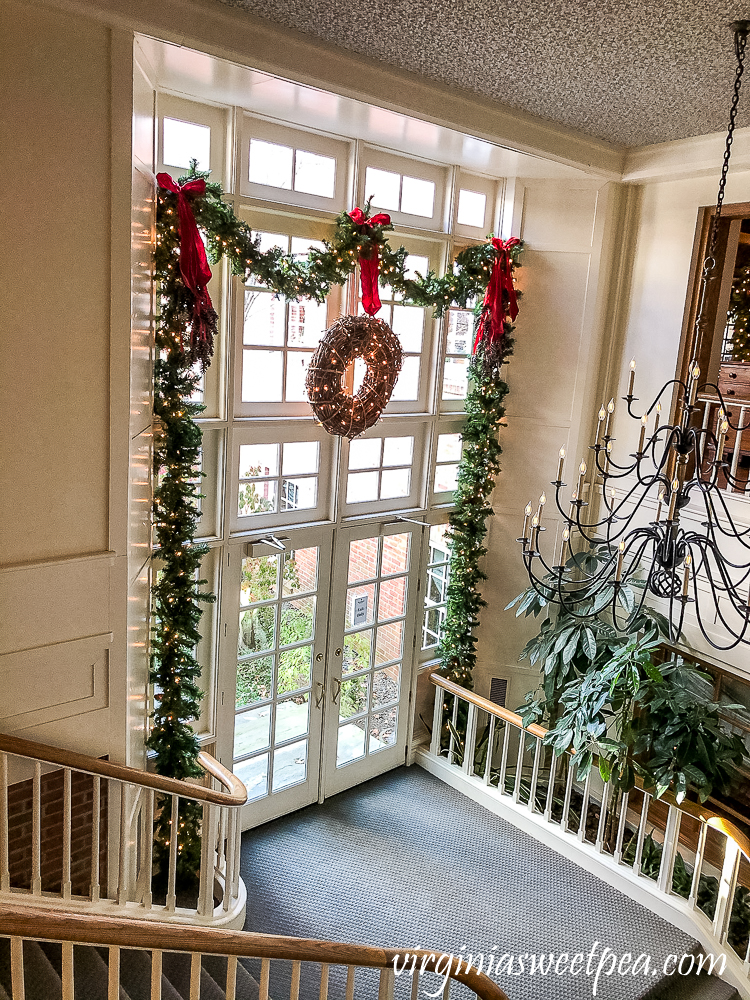 Mama and I both loved the grapevine lighted trees.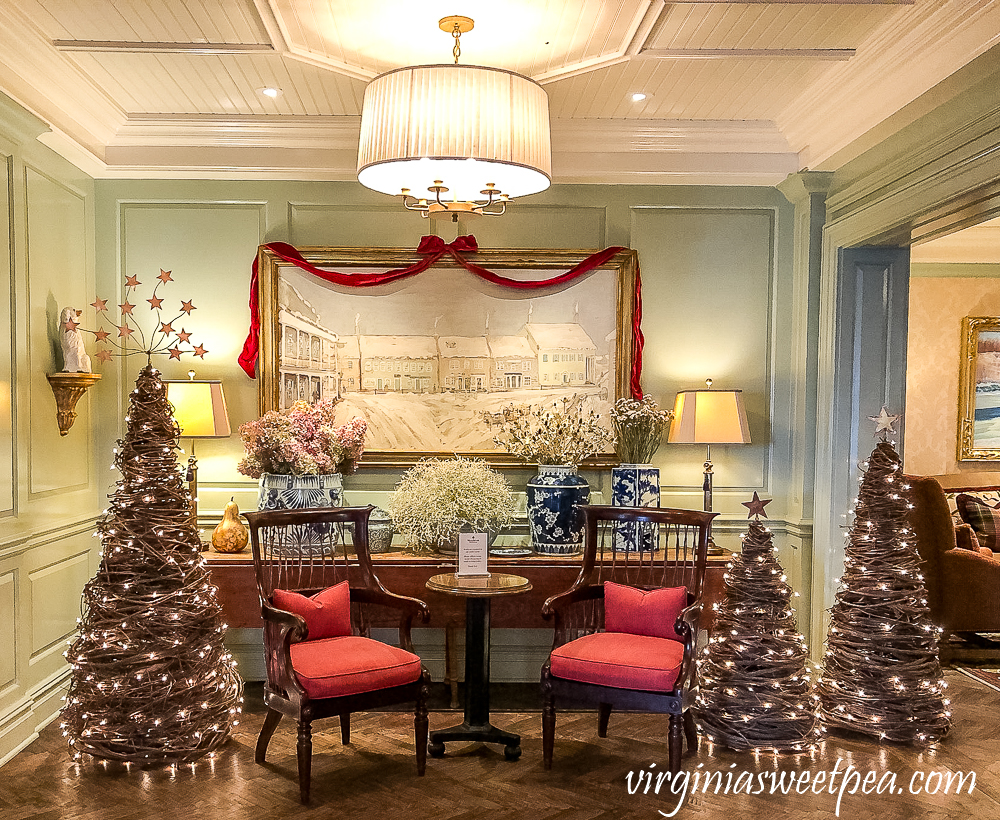 The frames are made of rebar welded together. I noticed in my 2013 Christmas vacation pictures that the same trees were in use then.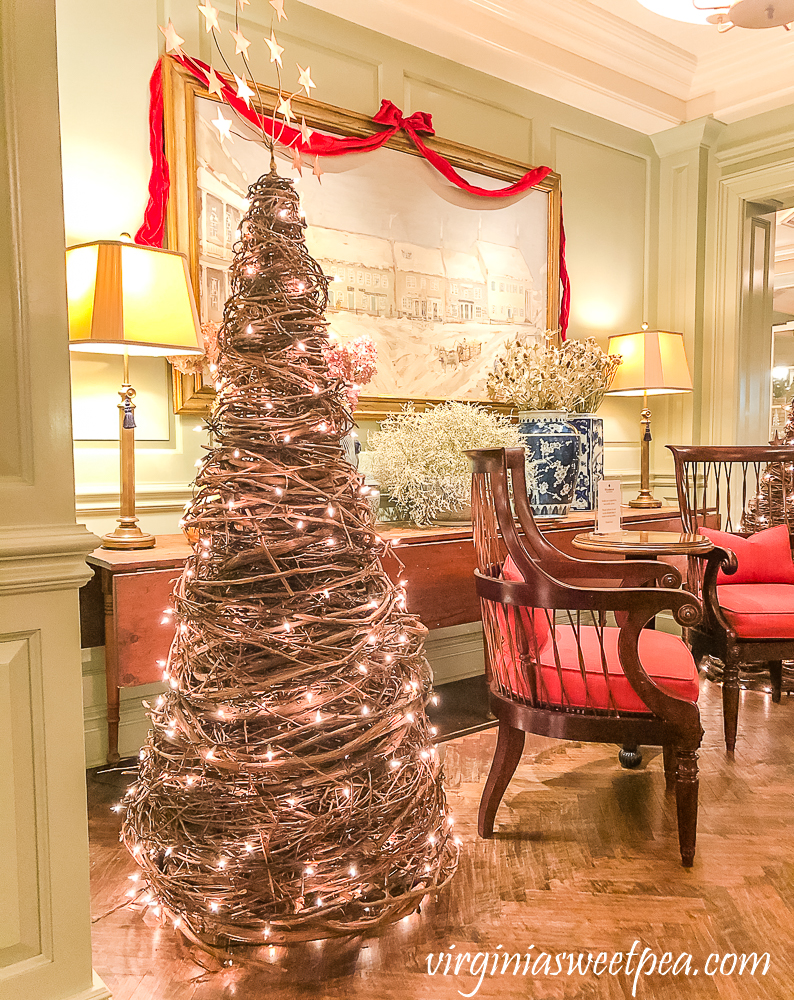 One of the lobby decorations was a gingerbread village. If you want to see more fabulous gingerbread houses, check out this post from Ashville, NC.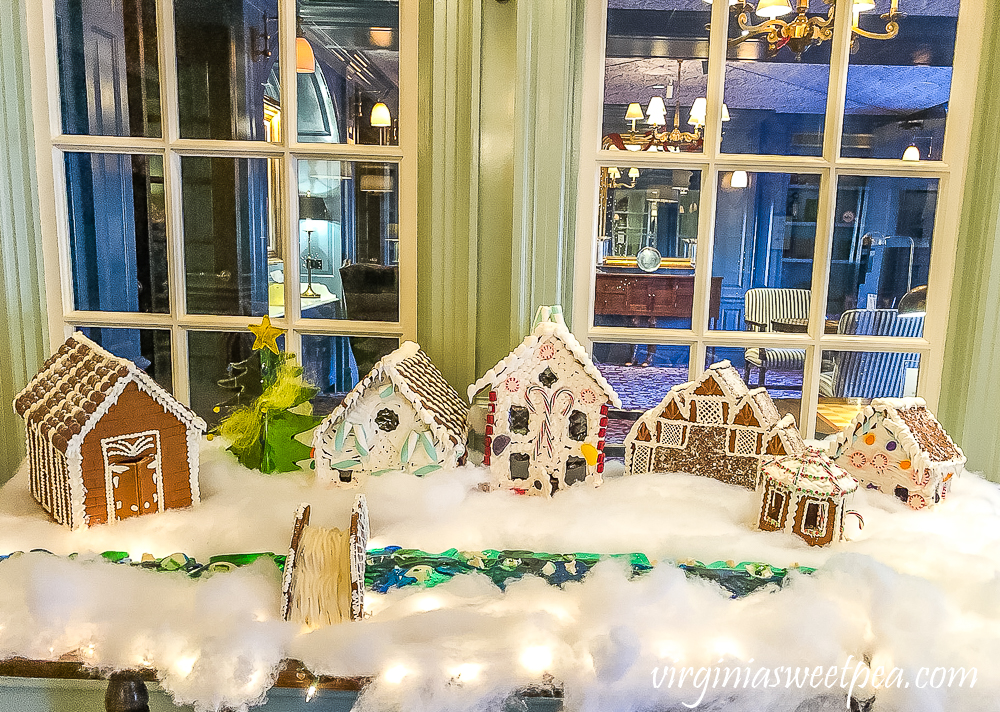 The chefs did a great job decorating these gingerbread houses.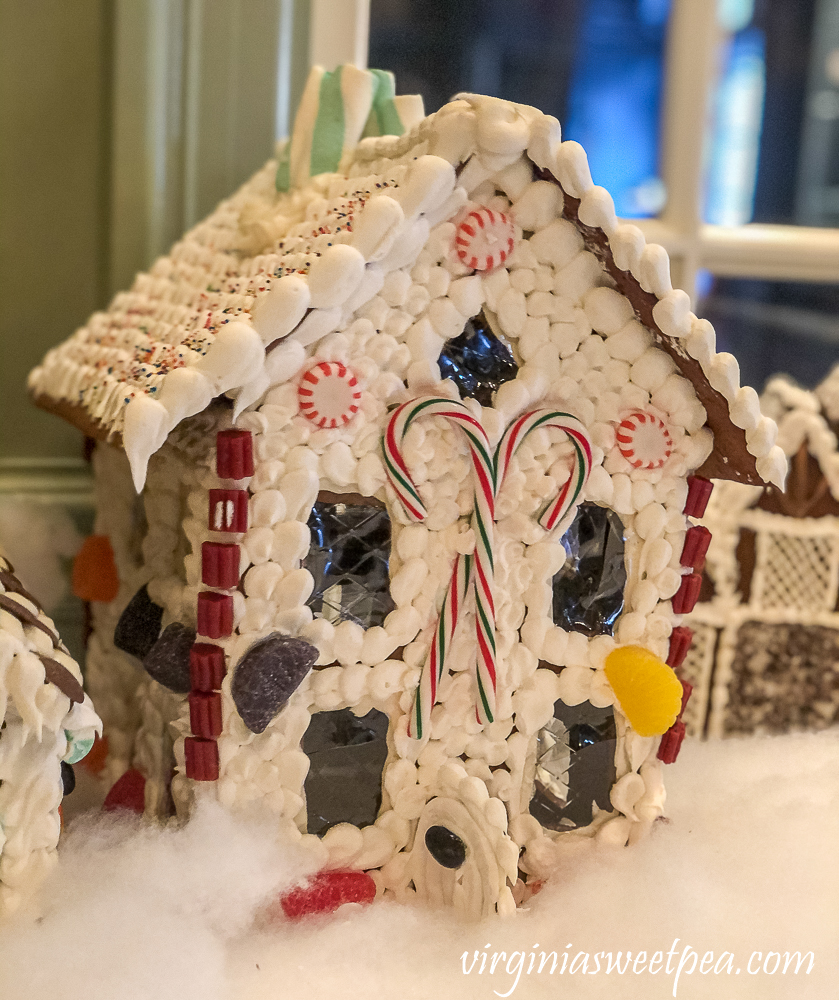 I'm sure that any child looking at this village would love to take a big bite!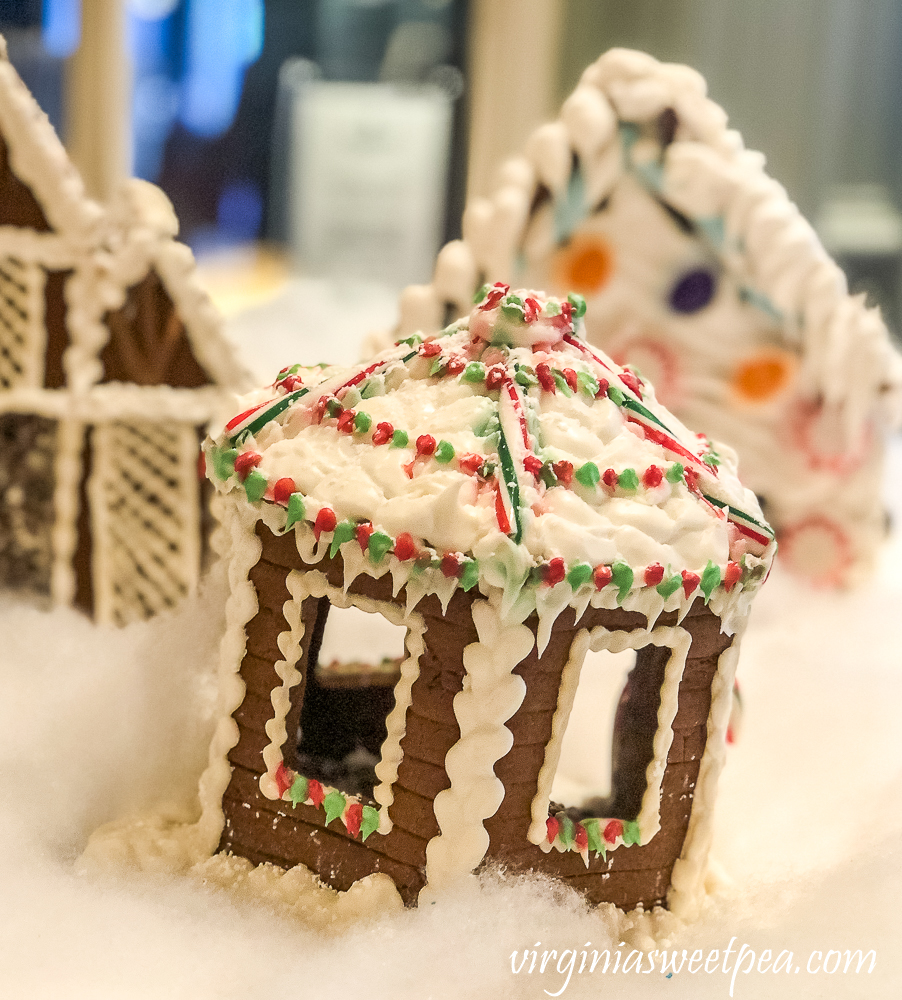 I particularly loved this tree decorated with spun sugar.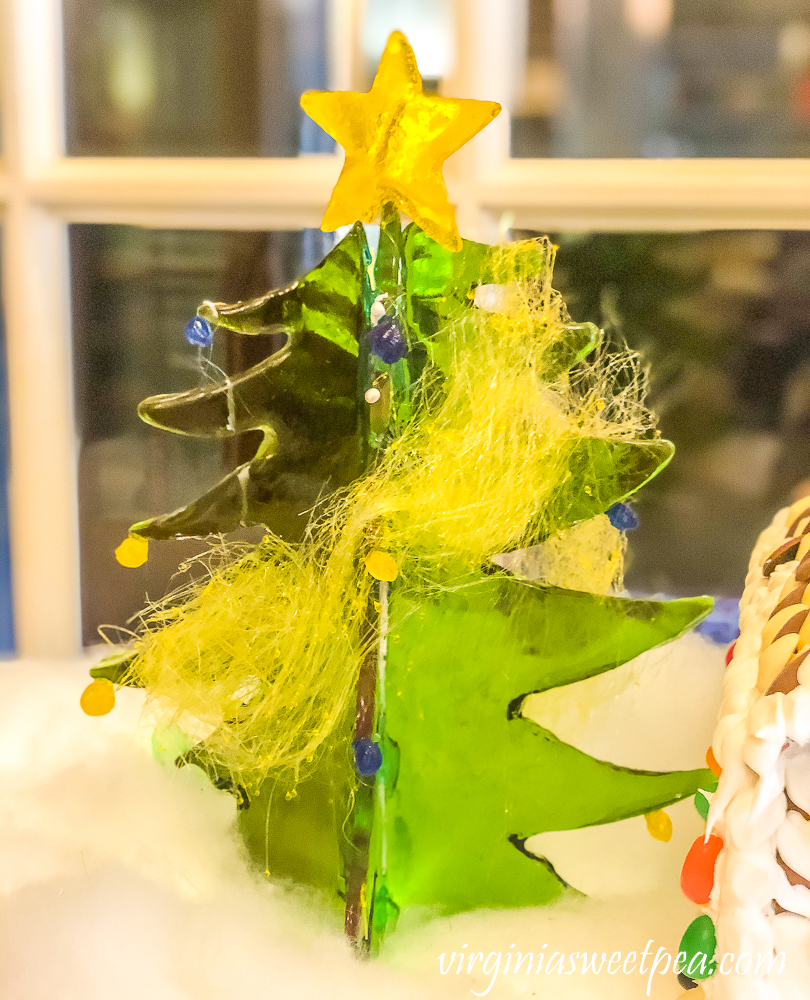 One reason that we love the Woodstock Inn is because of the staff.
Here Sheman is greeting his buddy, Chris, who works the overnight shift at the front desk.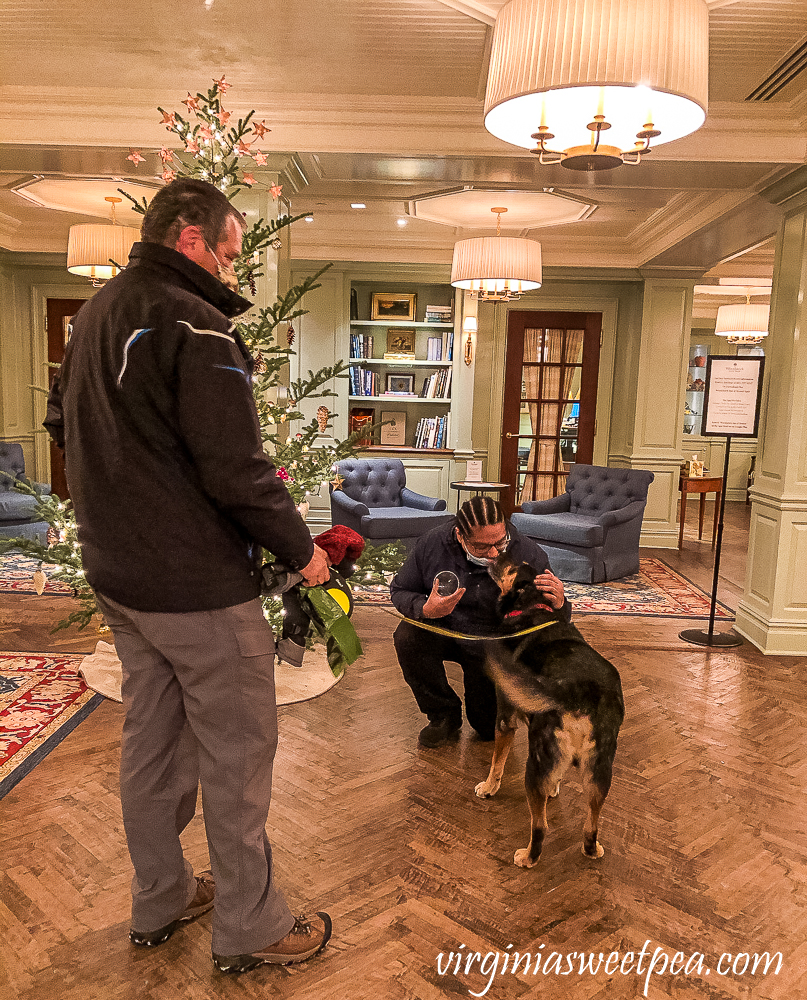 We really appreciate how the staff loves on our Sherman.
Now let's look at the huge wreath seen below.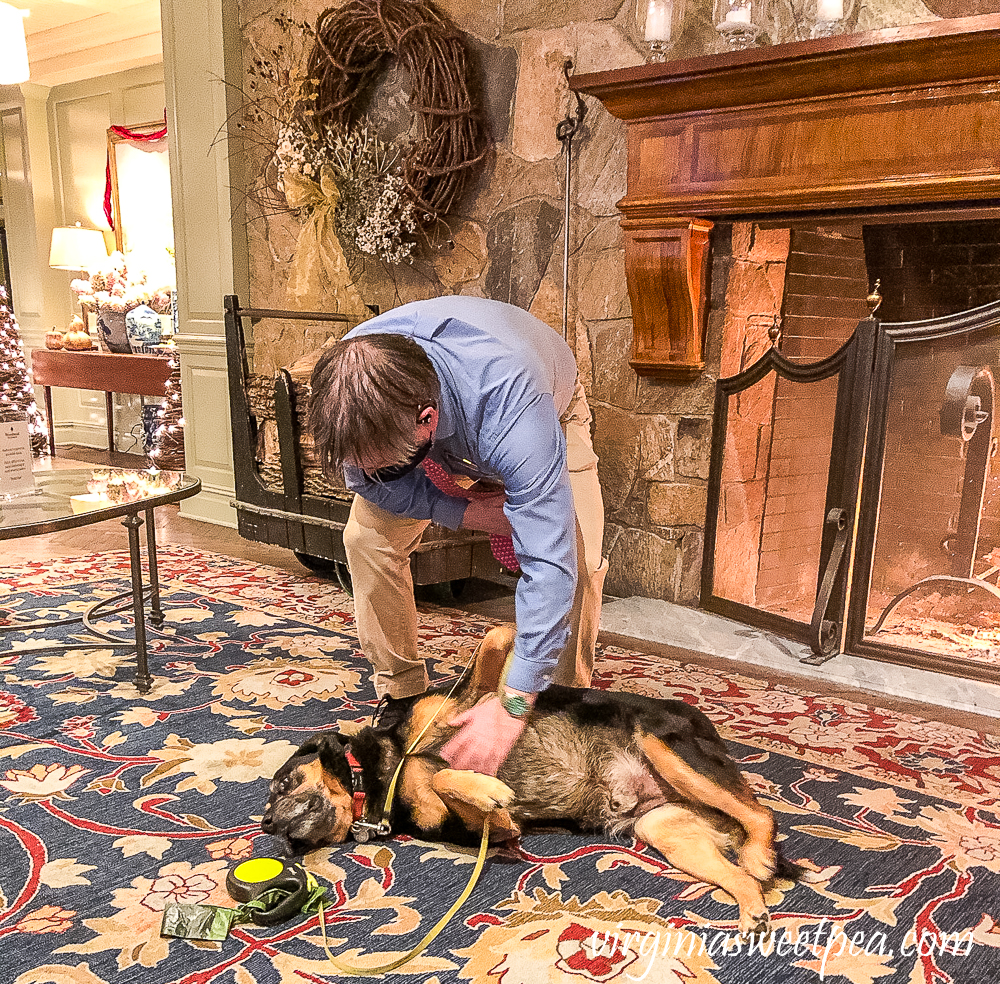 The wreath is decorated with dried florals.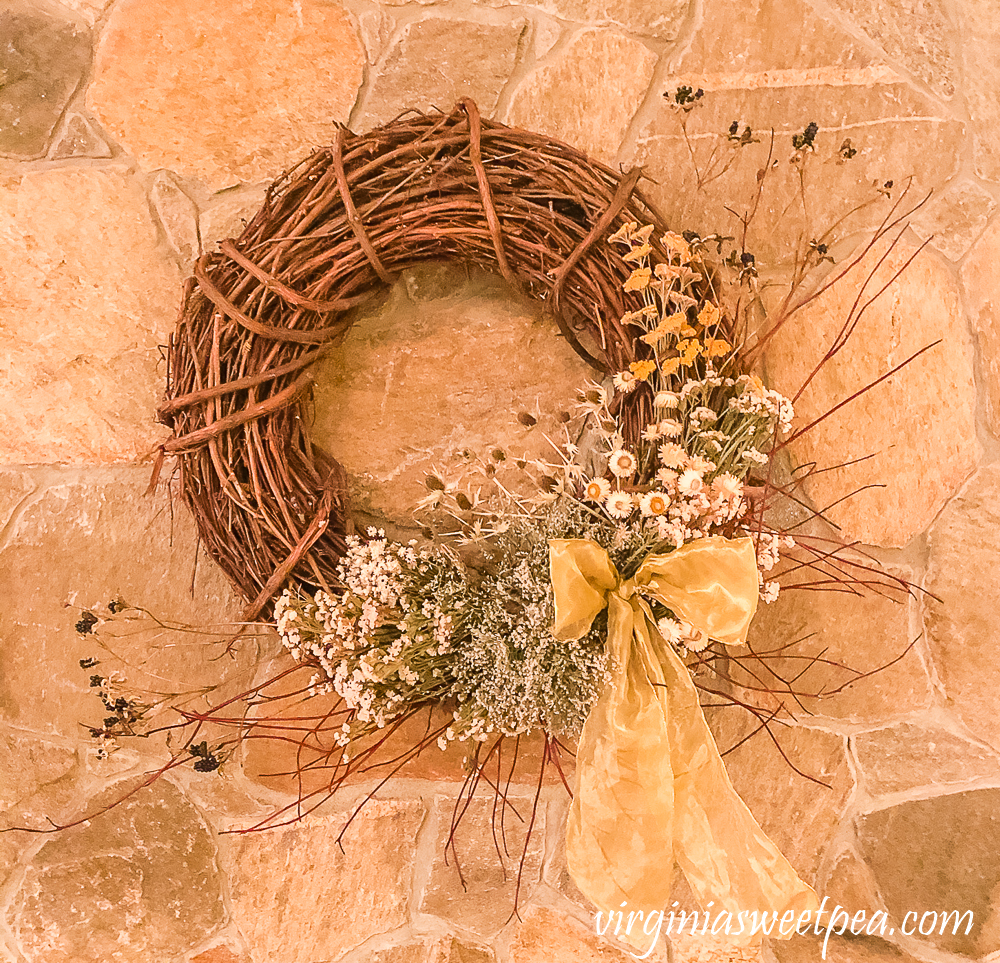 The wreath doesn't scream Christmas, so perhaps it will stay in this area long past the Christmas season.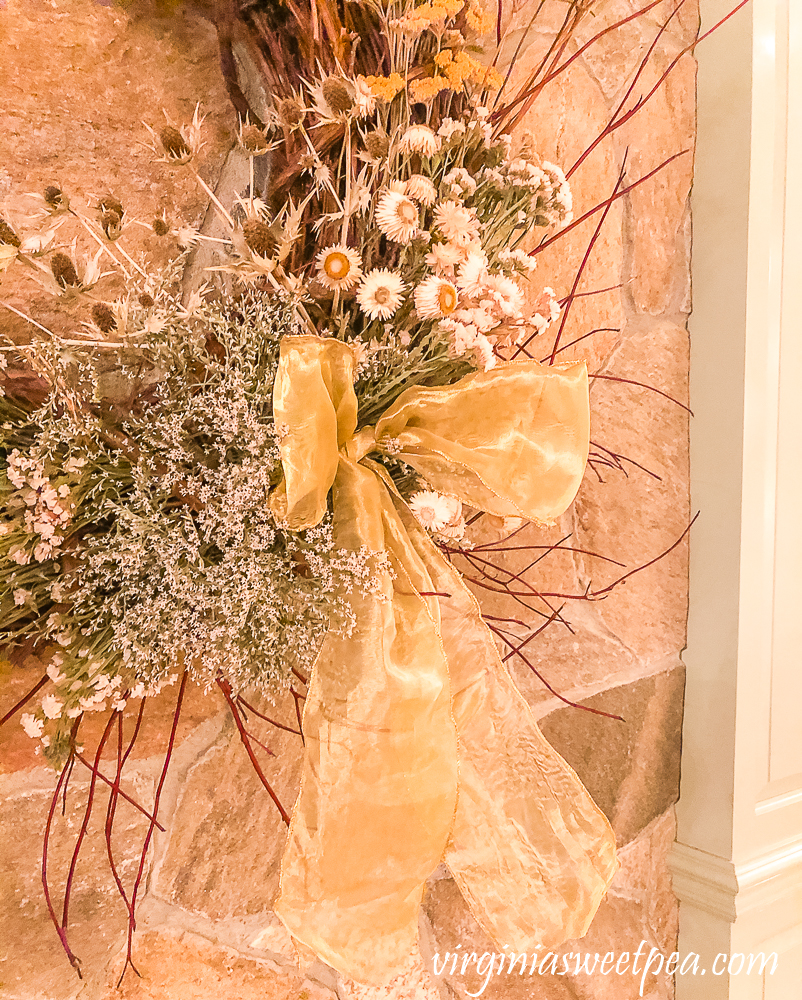 The Town of Woodstock
Visiting Woodstock at Christmas is like visiting a town in a Hallmark movie.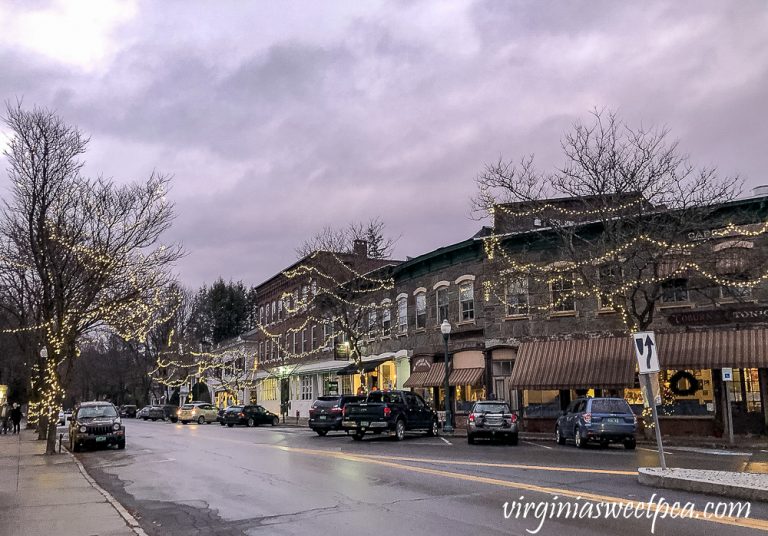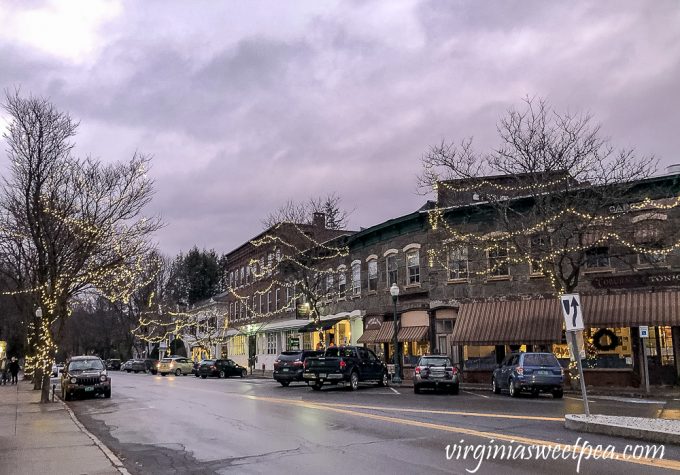 There are lights everywhere and many charming shops to visit.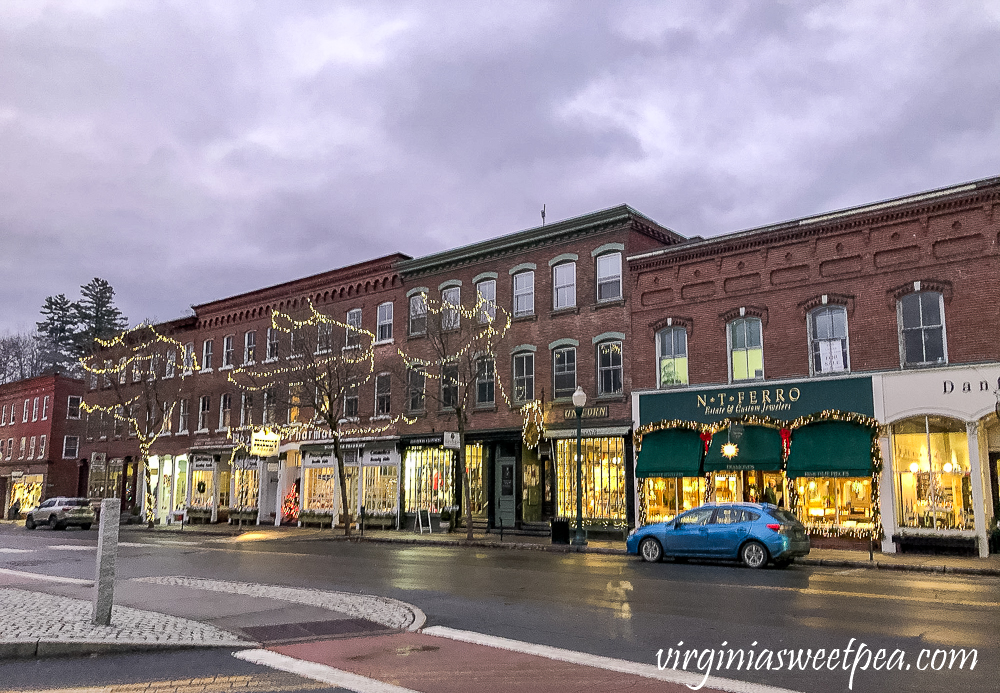 Our favorite store in town is F. H. Gillingham & Sons.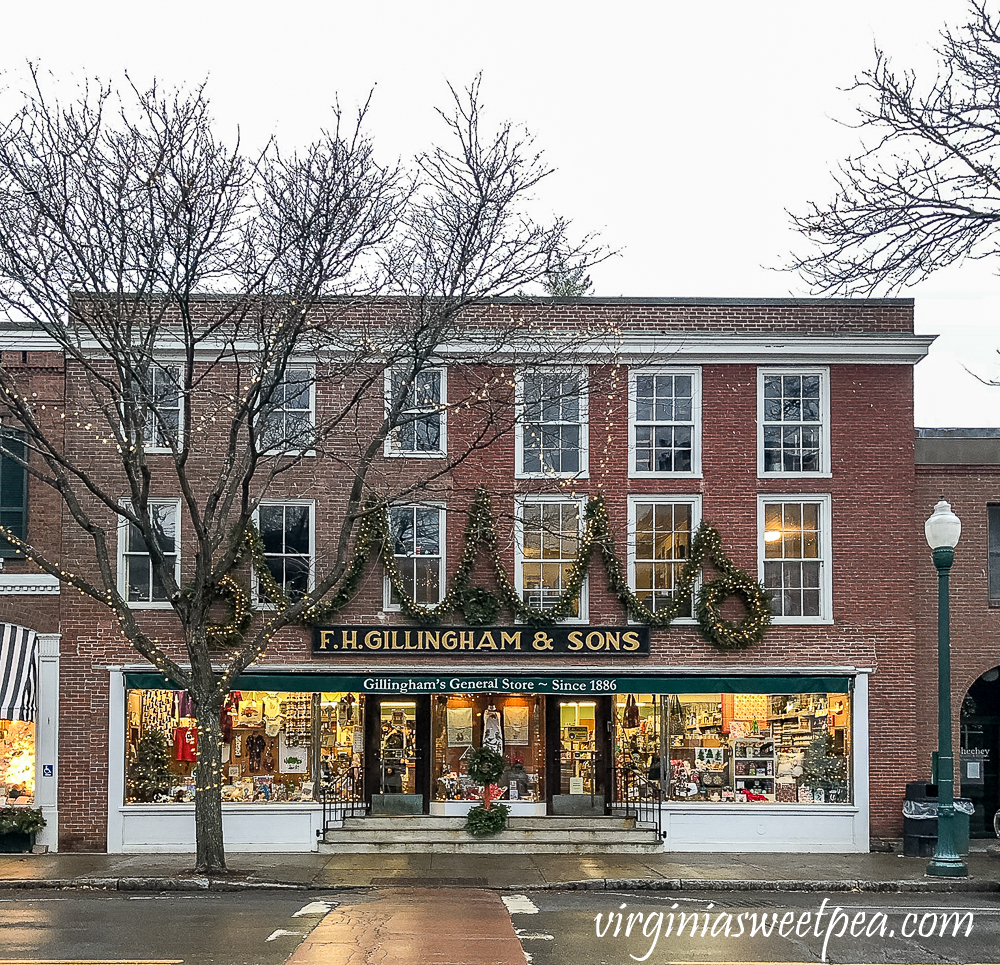 I have so much more to share and will do so in future posts.
Update: Visit these posts to enjoy more of our wonderful Vermont trip:
Merry Christmas to all!