October 2016 Stitch Fix (Fix #40) + Giveaway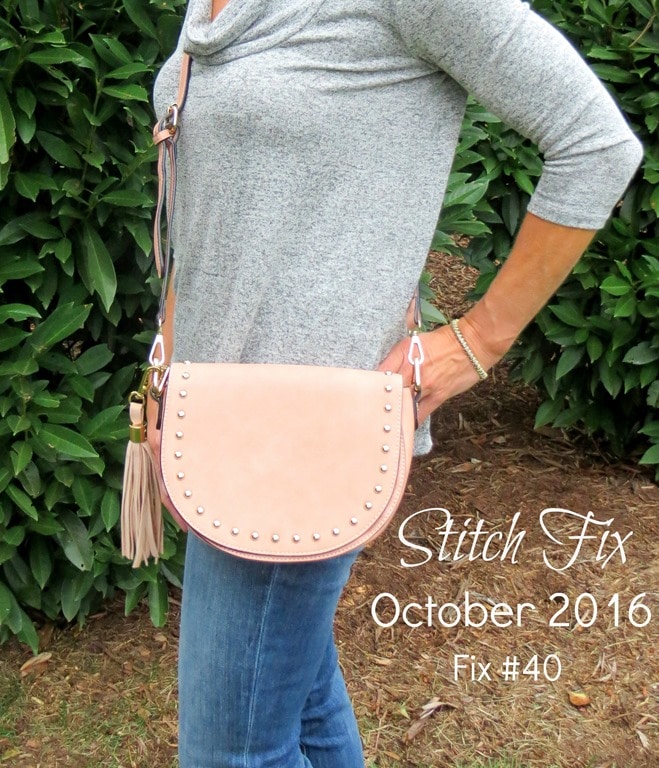 Stitch Fix links in this post are affiliate. All opinions are truthful and my own.
I can hardly believe that I'm sharing my 40th Stitch Fix box. I shared a sneak peek last week of my box contents and now I'm sharing more about what I received. Stitch Fix now offers service for men and Mr. SP received his first box on Friday. Be on the lookout for a full report on what he received.
Since it's my 40th Fix and I love Stitch Fix so much, I'm hosting a giveaway for a $25 Stitch Fix card. Be sure to enter to win at the bottom of this post.
If you are new to Stitch Fix, it is a personal styling service. You start by filling out a detailed style profile so that your stylist will get a sense of what you like and dislike and also your sizes. Pinning to a style board on Pinterest is also a great way for your stylist to get to know you and to get suggestions for what you'd like to receive. When you order a Fix, your credit card is charged a $20 styling fee that is deducted from any item that you purchase. Since I don't want to lose my styling fee, I almost always buy at least one thing. If you buy all five items, you get 25% off your total which usually equates to getting one item for free.
Stitch Fix offers clothing, bags, shoes, and jewelry. I most often request clothing only but this month got a bag that I adore. New to Stitch Fix is the option to exchange an item for a different size.
When you receive your Fix you have three business days to try on the clothes and to decide what you want to keep and what will be sent back. A postage paid envelope is included in your shipment which makes returns a breeze.
I choose to receive a monthly shipment but that is my choice. You can choose to receive a box whenever you'd like. Two of my friends at school receive one quarterly.
Now let's look at what I received for my October 2016 Fix!
Market & Spruce Chaimbers Cowl Neck Knit Top
This top's material was thin and super soft. I liked the feel of the fabric the second I took it out of the box. This top is the perfect weight for October and November in Virginia when the temperatures cool but still aren't freezing cold.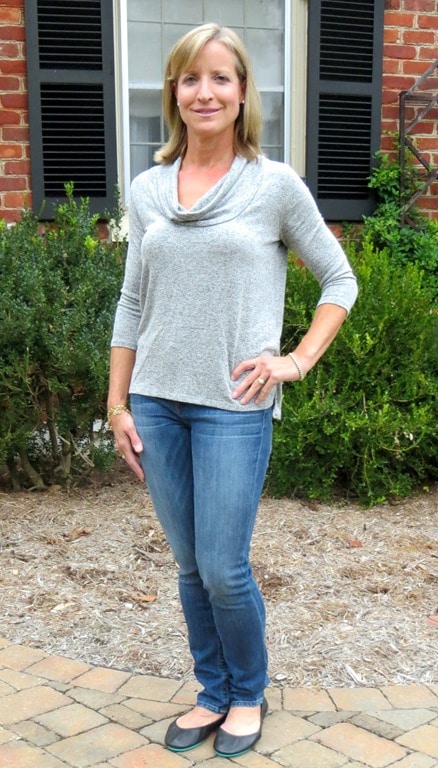 I didn't keep this sweater for two reasons: It had a pull on one of the arms and I already have two gray sweaters from Stitch Fix. (You can see them here and here.) Had it been a different color, even though I loved the gray, and had it not had a pull, I would have kept it.
Kut from the Kloth Maribel Straight Leg Jean
Last month I received Kut from the Kloth Maribel Straight Leg Jeans in black that I loved and I requested the same pants in denim. My legs are large and I have a terrible time finding pants that will fit. I loved the black Kut from the Kloth jeans because they had stretch making them super comfortable. The denim version didn't have hardly any stretch and were just a tad too snug in the thighs to be comfortable.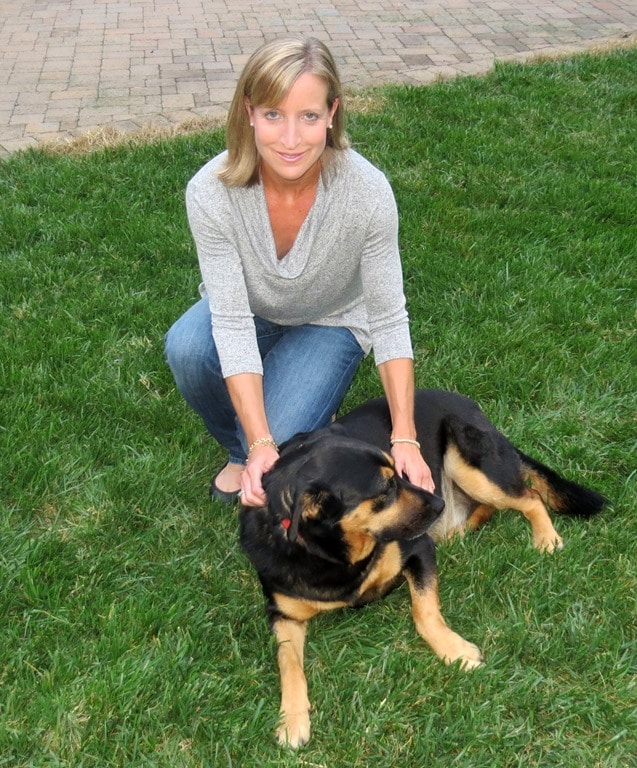 Glamorous Reese Studded Saddle Bag
I requested a purse this month and love the one that my stylist selected. I actually had pinned this to my style board, so she knew that I'd like it. When I pinned it I didn't realize that it was pink which seems an odd color to offer in fall, but it's growing on me and who says that a fall bag can't be pink?
Isn't that tassel adorable?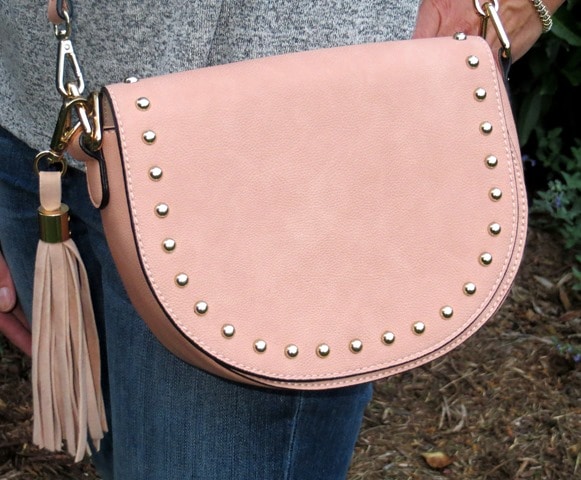 41Hawthorn Abrianna Long Sleeve Knit Cardigan
The dress that I'm wearing below is the 41 Hawthorn Nicholle Knit Dress from my September 2016 Fix. I love this dress and think that it's one of my favorite Stitch Fix pieces for all of 2016. I asked my stylist for a sweater to wear over it so that I could continue to wear it into October. Brittany selected this pretty pumpkin colored cardigan which looks nice with the dress' gray color. I'm not 100% sold on how it looks with this dress but it was a keeper because I know I'll wear it with other outfits all winter. I'd love to hear your opinion!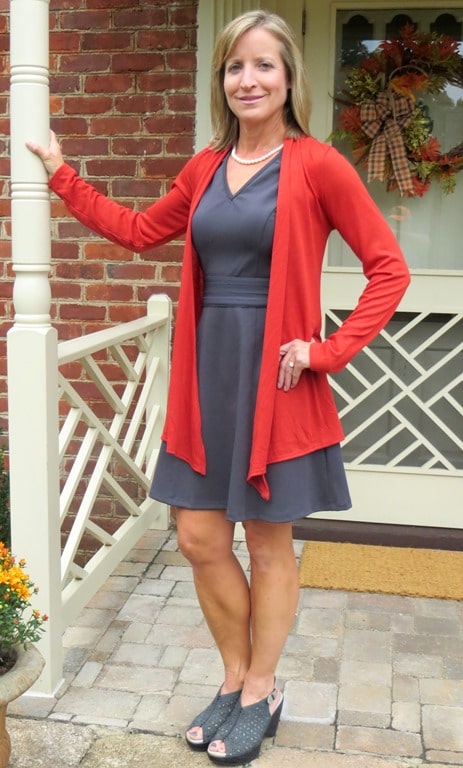 Gilli Draven Jersey Faux Wrap Dress
This dress is made of that wonderful fabric that can be balled up in a suitcase of gym bag and not have a wrinkle when it's unpacked. I have always been a sucker for plaid and navy blue and I really liked this pattern.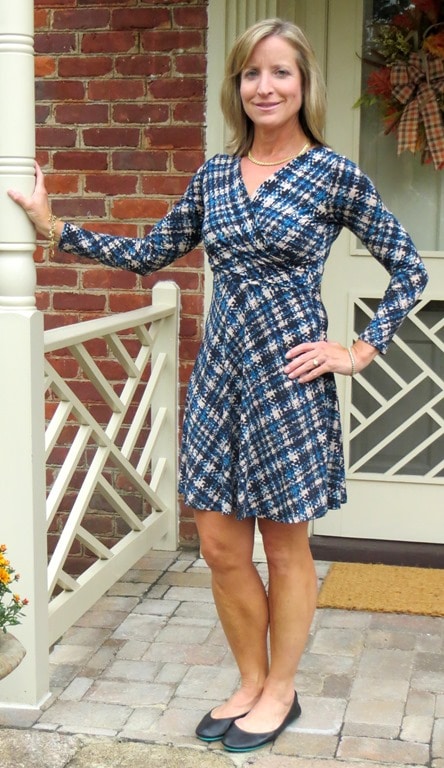 The sleeves on this dress were a tad bit too snug for me, so I sadly sent it back. I am sad about not getting this dress because it's exactly what I like to wear to work and I think that it would be super cute worn in winter with tights and boots or booties.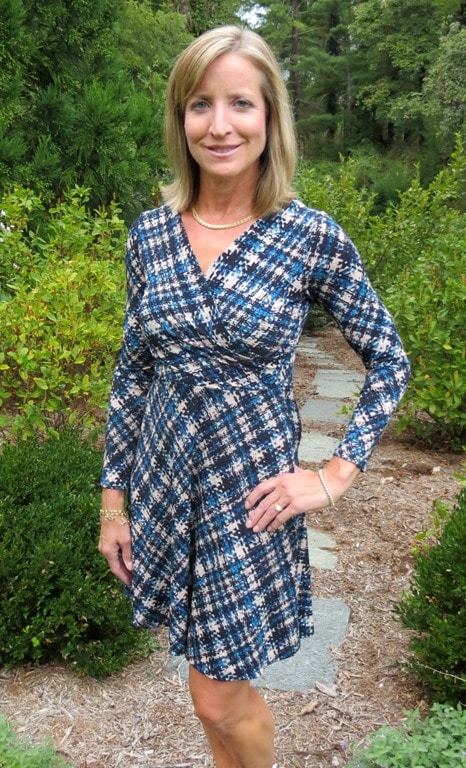 In Summary
Market & Spruce Chaimbers Cowl Neck Knit Top – $48 – Returned
Kut From the Kloth Maribel Straight Leg Jean – $88 – Returned
Glamorous Reese Studded Saddle Bag- $48 – Kept
41Hawthorn Abrianna Long Sleeve Knit Cardigan – $48 – Kept
Gilli Draven Jersey Faux Wrap Dress – $74 – Returned
I can't tell you how much I look forward to my monthly Stitch Fix shipment! It's so much fun to receive clothes each month that I love. Since I'm on Fix #40, you'll find me in Stitch Fix just about every day of the week. If you are on the fence about trying this service, I urge you to do so!
Be sure to sign up for your own Stitch Fix account here.