April 2016 Stitch Fix Review (Fix #34)
After not keeping anything from my March Stitch Fix box, I was more than ready to get my fix for April. This fix was a great one and I kept it all.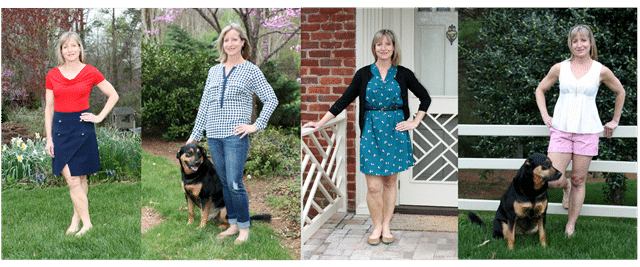 I am a Stitch Fix affiliate and if you make a purchase, I earn a small commission. My love for Stitch Fix is genuine and all opinions are truthful and my own.
If you are new to Stitch Fix, after filling out a detailed style profile, a stylist personally selects five items for you to try. Stitch Fix includes clothes, shoes, handbags, and jewelry but I request to only receive clothing. I receive a box monthly, but that's totally optional, and you can decide how often a box is sent. A $20 styling fee is charged to your credit card before your shipment is sent. After you receive your box, you have three days to try on your items. If you keep all five items, you get a 25% off discount. The styling fee is deducted from any item that you purchase, so I almost always buy at least one thing.
Stitch Fix encourages pinning what you like to Pinterest so that your stylist can get ideas for clothing that you particularly like. This month two of the items that I received were pinned to my style board.
Enough talk, let's look at the clothes!
41Hawthorn Piper Asymmetrical Hem Skirt
I saw this Piper Asymmetrical Hem Skirt by 41Hawthorn on a blogger's March Stitch Fix post and pinned it to my style board because I liked it so much. I've always loved navy and I like this skirt's nautical style. I plan to purchase a few new t-shirt type tops to wear with it but for showing it to you, chose a Banana Republic top already in my closet. My stylist suggested pairing it with the Alice Blue Peplum Blouse or the 41 Hawthorn Quay Henley Blouse but they both hide the buttons and that's one of my favorite features of this skirt.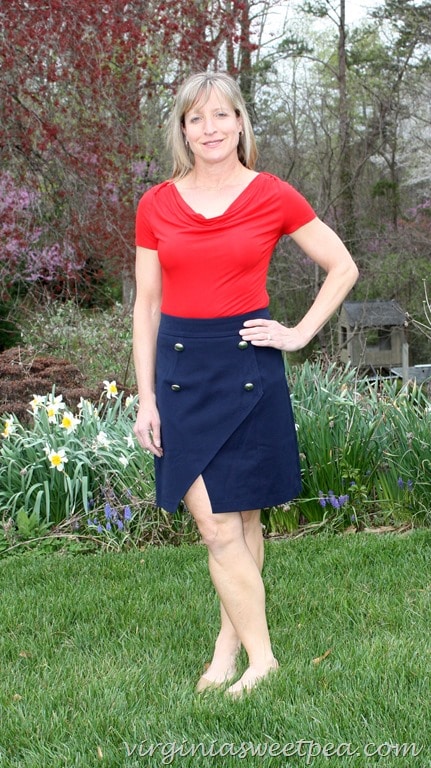 This skirt has a slight bit of stretch making it super comfortable.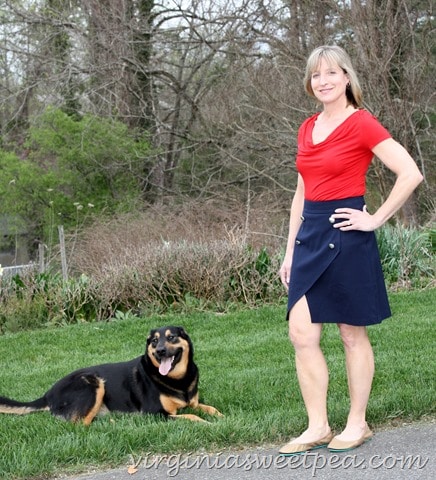 I've always loved navy because there are so many colors that can be paired with it. Once I've bought my spring tees in multiple colors, I'll be set to wear this skirt all spring and summer.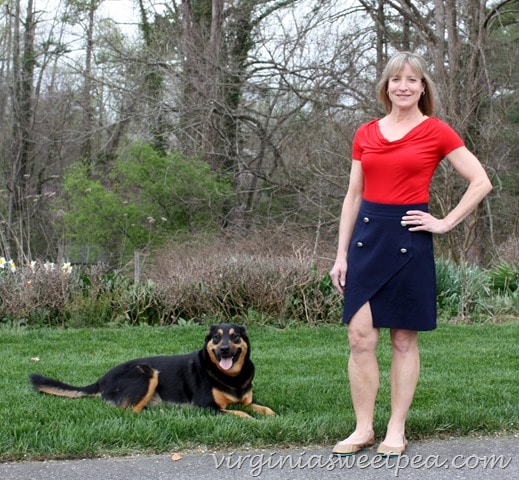 41Hawthorn Quay Henley Blouse
If you have the Stitch Fix app, you can peek at your fix to see what you are getting before it arrives. For the first time ever, and this is fix # 34, I peeked. When I saw the Quay Henley Blouse was coming, I did not think that I would like like it, but I was wrong! That's the beauty of Stitch Fix, you receive items that you would not think to try on in a store, or that you might see online and think, "no way", but when you try the item on when it it sent to you, you like it. Case in point with this blouse.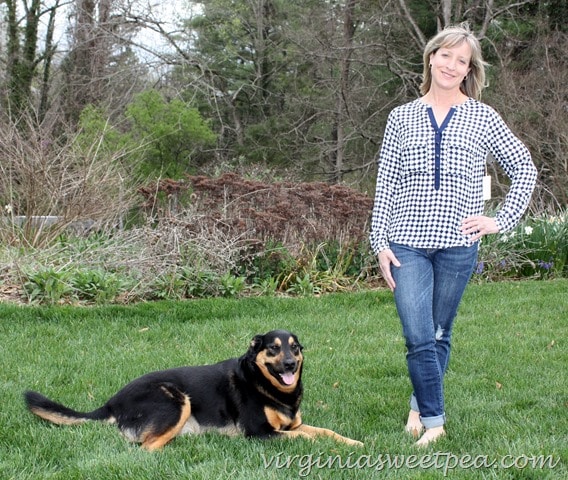 For a casual look, I paired the blouse with the Kut from the Kloth Kate Distressed Boyfriend Jeans from my February Fix.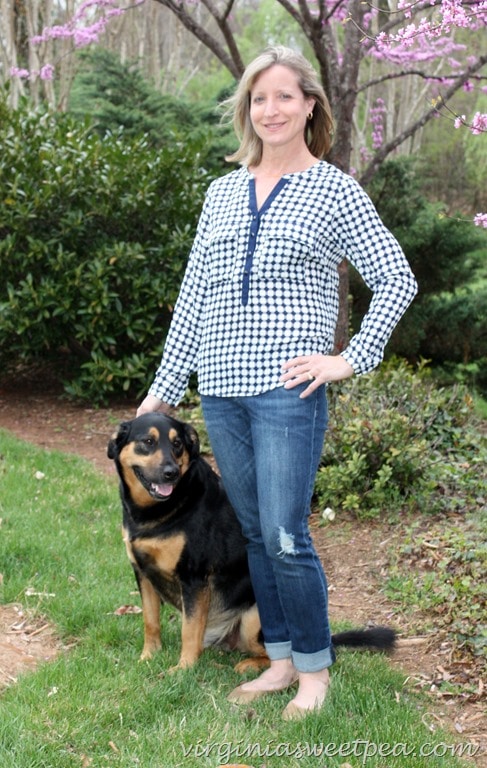 This blouse will be perfect for work with a skirt or nice pair of pants.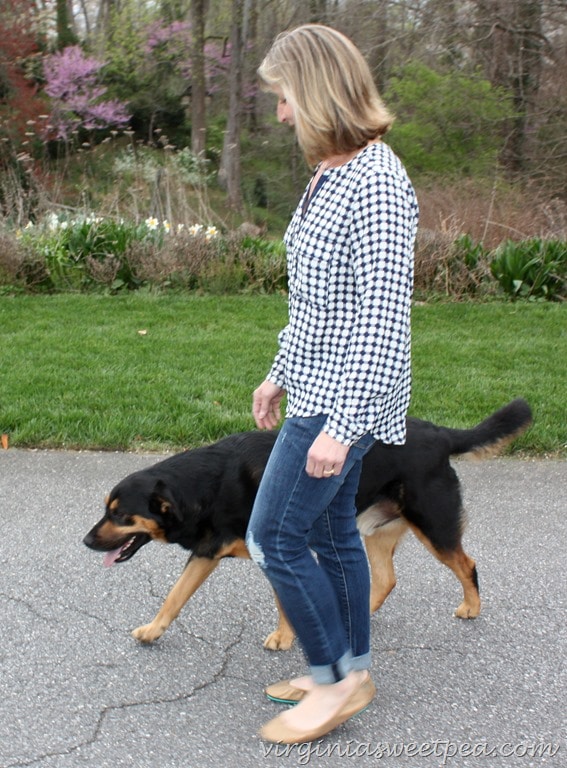 Alice Blue Gower Peplum Blouse
I'm old enough now that I'm starting to see fashion trends repeat. I wore peplum tops and especially dresses in the early 90's. When I saw that this Gower Peplum Blouse was coming, I really wondered if I wanted to wear this trend again 25+ years later. My answer is yes! I love this top and will dress it up or down all spring and summer.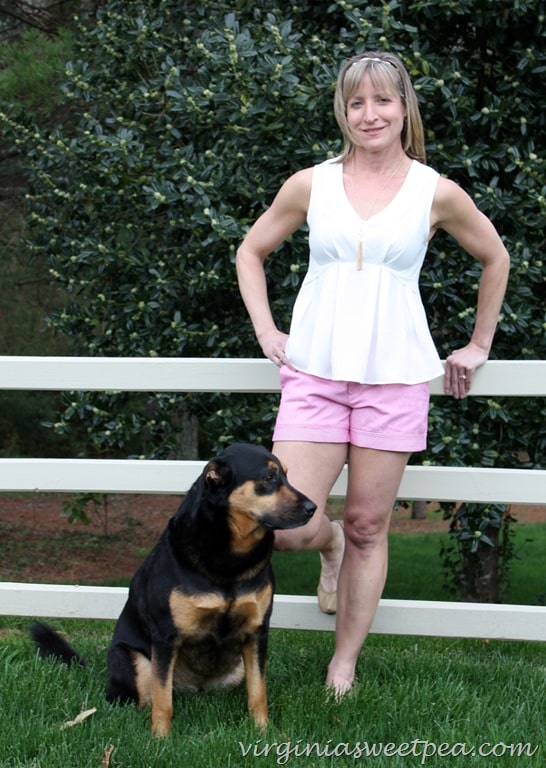 Dear John Finnegan Roll Cuff Chino Short
I read many positive reviews on the Finnegan Roll Cuff Chino Short from Dear John and pinned this pink and white striped pair to my style board. I love these shorts and am so glad that my stylist sent them to me.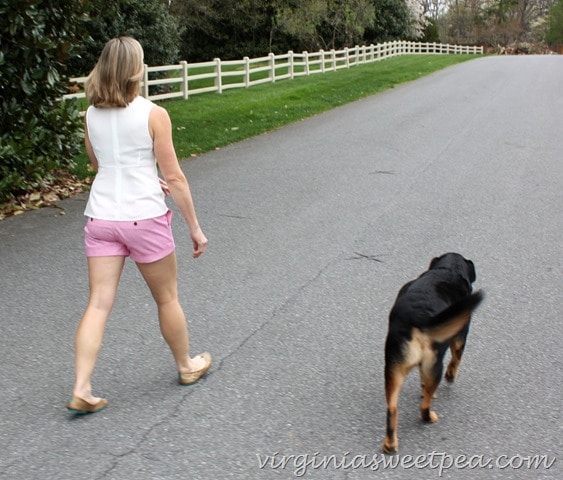 Mak Coffman Button-Up Cardigan
I requested a black cardigan to wear over dresses this spring. The Coffman Button-Up Cardigan that Brittany picked out for me is perfect. I've paired it here with a Yumi dress that is from Stitch Fix. Its print is owls sitting on a branch and every single time that I wear it to school the kids tell me how much they like it.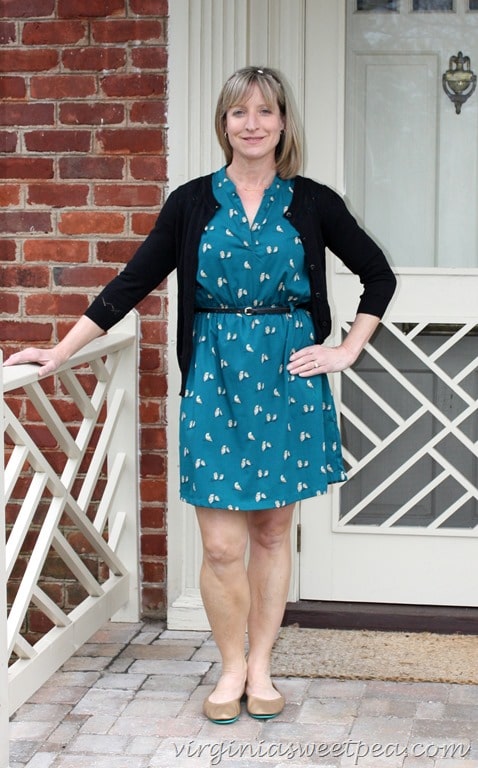 Just for fun, here it is again with my latest junkin' haul.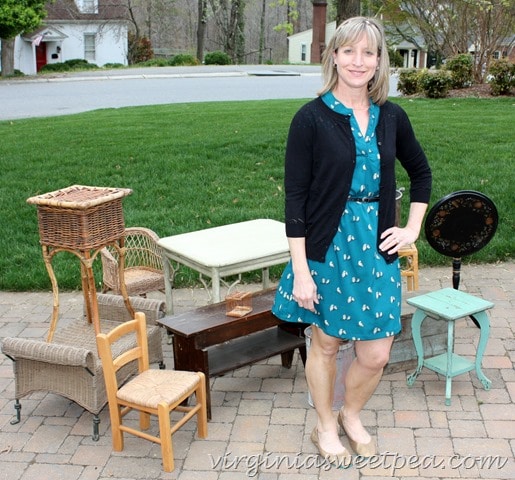 The bench and black table have already been put to use at the lake. I passed along the child's chair in the front to a friend's nephew. The rest will either go to my shop or get a makeover as a blog project.
If you've been thinking about trying Stitch Fix, do it! It is so much fun to anticipate what is coming and then to try it on in the privacy of your own home. Being able to send back what you don't want for free is another great Stitch Fix perk.
If you're looking for spring Stitch Fix inspiration, check out some of my previous fixes. I love sharing my Stitch Boxes with my readers. Feel free to pin your favorite pieces to your style board on Pinterest so that your stylist can see the styles that you like.
Click on the pictures below to see spring styles from 2015 and 2016. Clicking on each picture will take you to the post where I first shared that Stitch Fix item.