Butterscotch Pecan Pretzel Brittle
A tradition in our neighborhood is to exchange plates of cookies just before Christmas. I like to mix up the assortment of goodies that I give our neighbors from year to year which means that I'm always looking for new recipes to try. I recent recipe success was Butterscotch Pecan Pretzel Brittle. I don't know if I'll share it with our neighbors, but I do know that I'll keep making this for us to enjoy.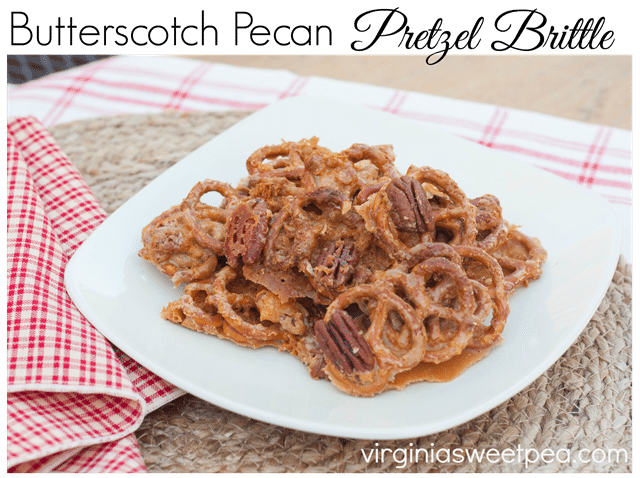 This easy-to-make treat features pretzels and pecan coated with a syrup made with butterscotch morsels, butter, sugar, and maple syrup. It's baked in the oven so that the syrup caramelizes over the mixture. Yum!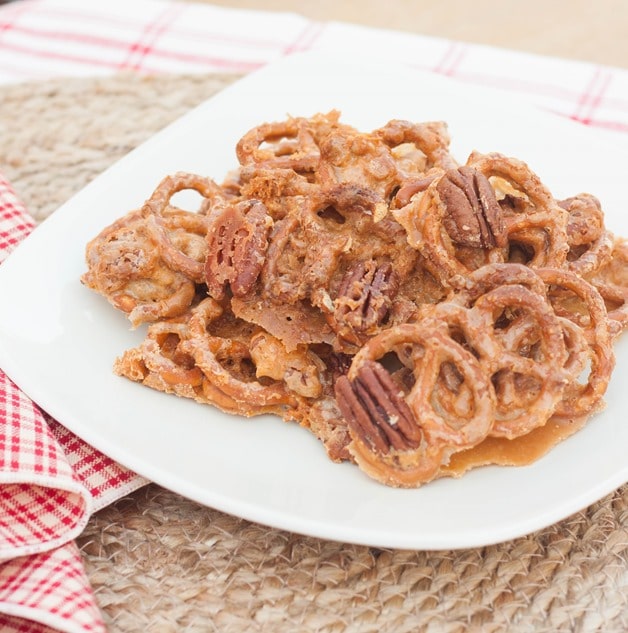 The combination of salty and sweet is so good. Mr. SP and I so much enjoyed this and finished off the batch in a shamefully short amount of time.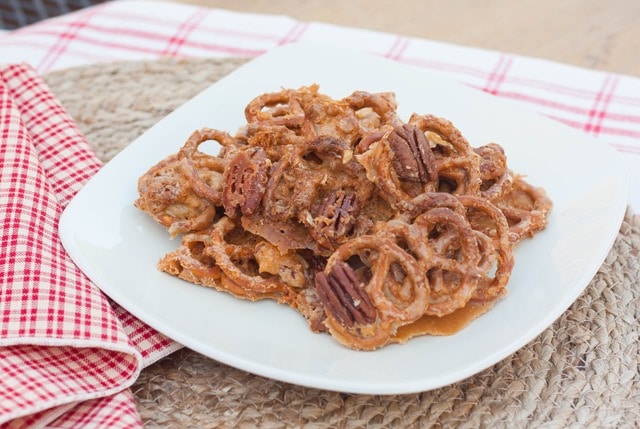 This is a quick and easy recipe to make and perfect for munching on while watching TV. If you are looking for a snack to enjoy or for one to share with friends this holiday season, consider making Butterscotch Pecan Pretzel Brittle. It's so good!


Yield: 1 pound
Butterscotch Pecan Pretzel Brittle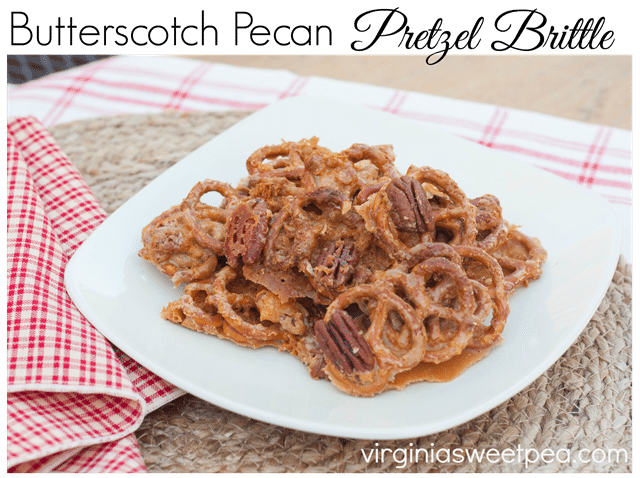 This sweet and salty snack is perfect for munching while enjoying a TV show or movie.
Ingredients
5 cups mini-pretzel twists
2/3 cup butterscotch morsels
1 cup pecans, divided
1/4 cup unsalted butter
1/4 cup maple syrup
1/4 cup sugar
Instructions
Preheat oven to 350 degrees. Line an 18" x 13" rimmed baking sheet with parchment or a Silpat. Place pretzels, butterscotch morsels, and 2/3 cup pecan in a bowl.
Combine butter, syrup, and sugar in a small saucepan. Cook, stirring constantly, over medium heat 3 to 4 minutes or until butter melts and sugar dissolves. Pour over pretzel mixture, tossing to coat. Spread coated pretzel mixture in an even layer on prepared pans. (Pretzels will overlap) Sprinkle with remaining 1/3 cup pecans.
Bake for 12 minutes or until lightly browned. Cool completely (about 30 min.). Break into pieces.