Christmas Front Porch and Holiday Door Decor
Can you believe that it is the first week of December? I'm loving seeing all of the Christmas ideas that have been shared this holiday season. Today I'm sharing my Christmas Front Porch and Holiday Door Decor.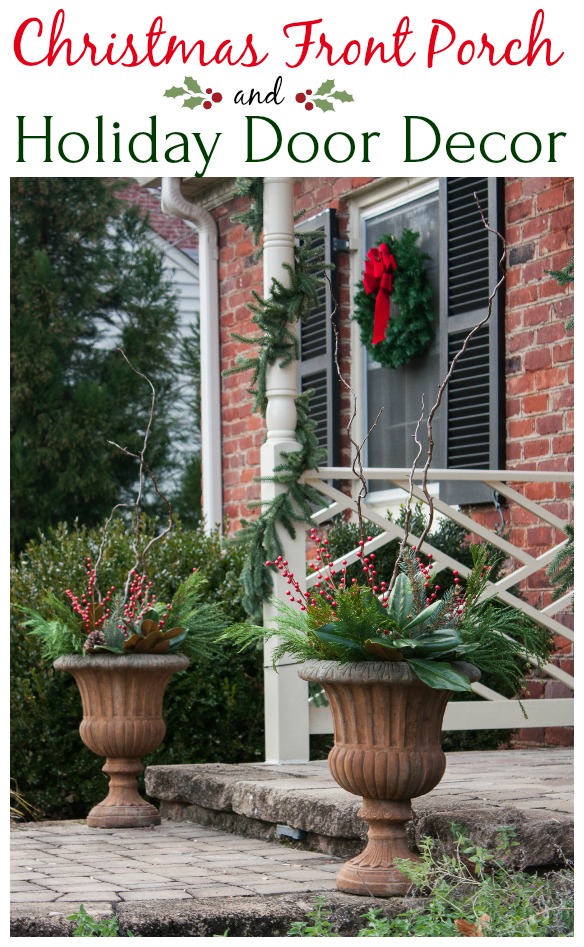 I'm joining a talented group of bloggers for a Christmas Porches and Holiday Door Decor Blog Hop. This tour is organized by my friend Amber from Follow the Yellow Brick Home. I love Amber's gorgeous old home and how she decorates it so beautifully with vintage style.
If you are looking for outdoor porch or door Christmas inspiration, you are sure to enjoy this tour. You'll find links to all of the participants at the end of this post.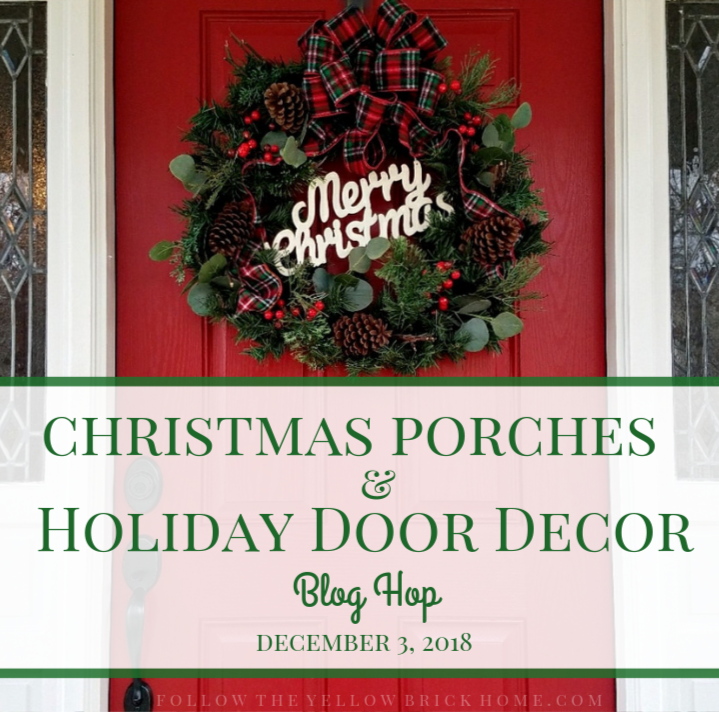 If you are visiting from Michelle at The Painted Hinge, welcome! If you are new here, I'm Paula, and I live in beautiful Virginia, very close to the Blue Ridge Mountains. I enjoy decorating for each season and Christmas is my favorite.
Christmas Front Porch and Holiday Door Decor
I like for my front porch to be both attractive and inviting for each season, particularly at Christmas. When a neighbor walks or drives by, my hope is that our home looks both festive and welcoming.
Christmas Front Porch
Our front porch is small and without space for seasonal decorations, but we do have a landing that is a great spot for urns that I enjoy filling with seasonal flowers. For Christmas, the urns are filled with greenery from my yard along with faux berries.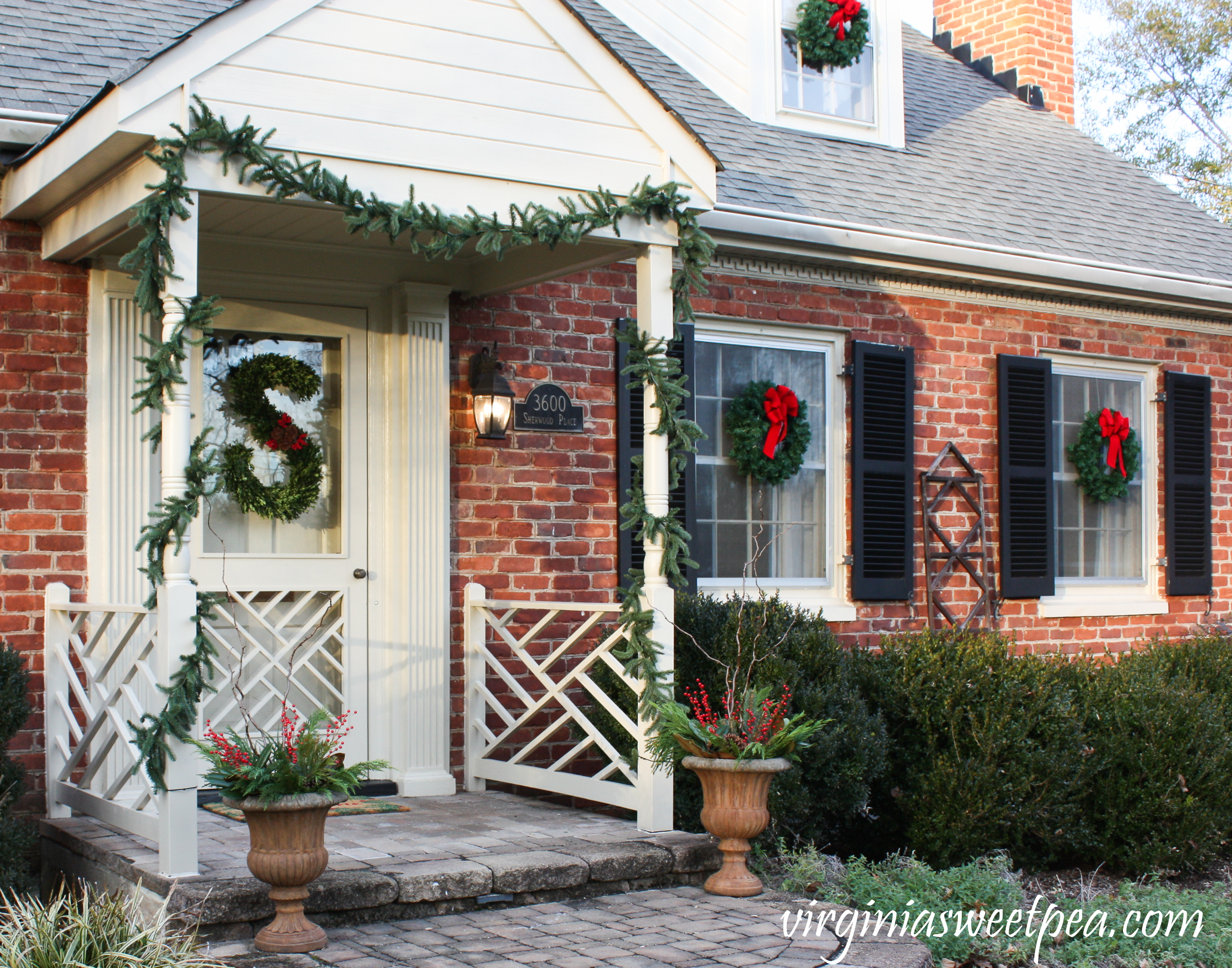 I usually make a Magnolia wreath for our front door but this year I made a monogram wreath using a plywood form that my husband made.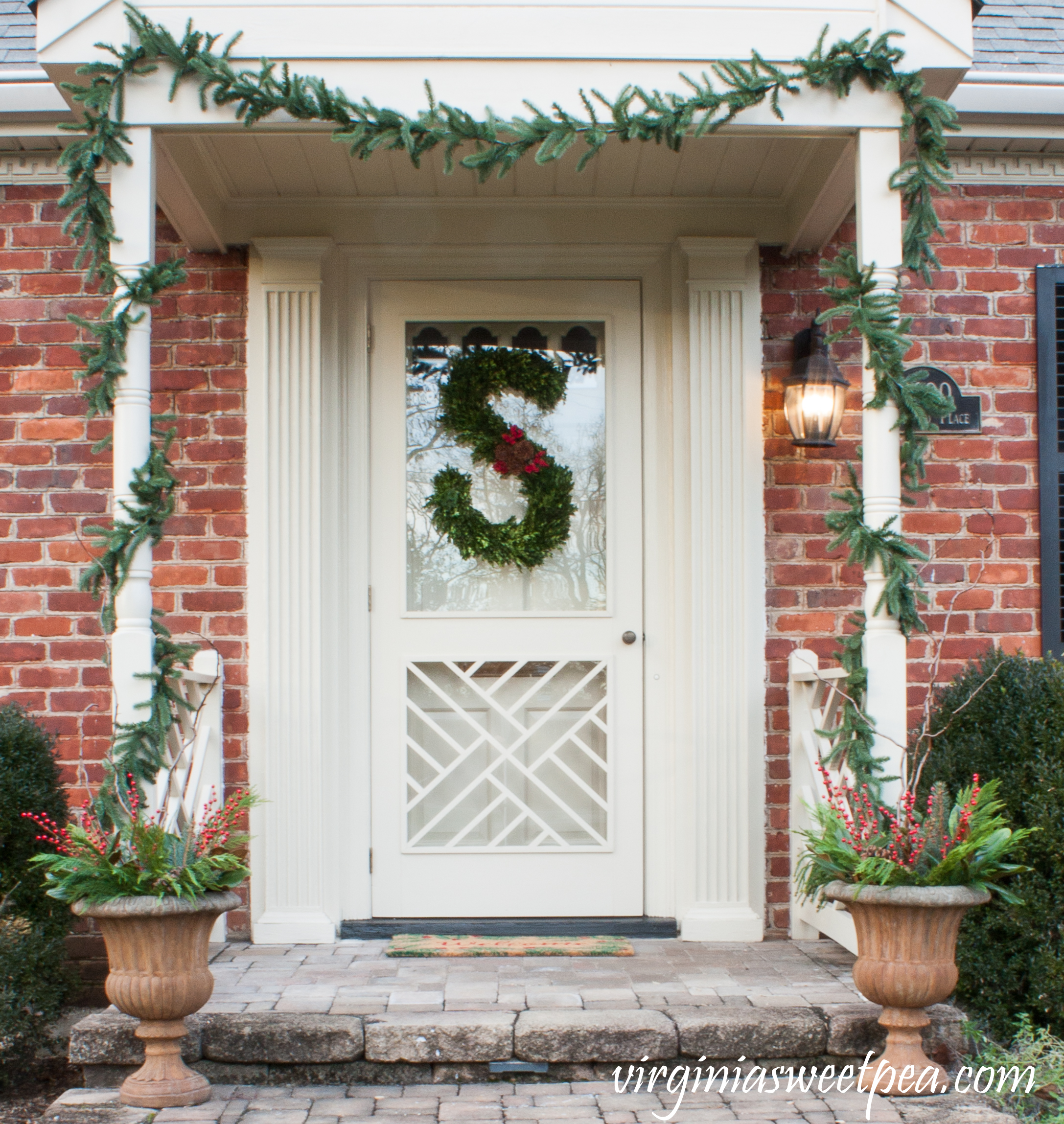 I made a mistake when I made this wreath and did not take the time to condition my Boxwood clippings and this poor wreath is already drying out. Luckily Boxwood keeps its green color even when it loses its moisture.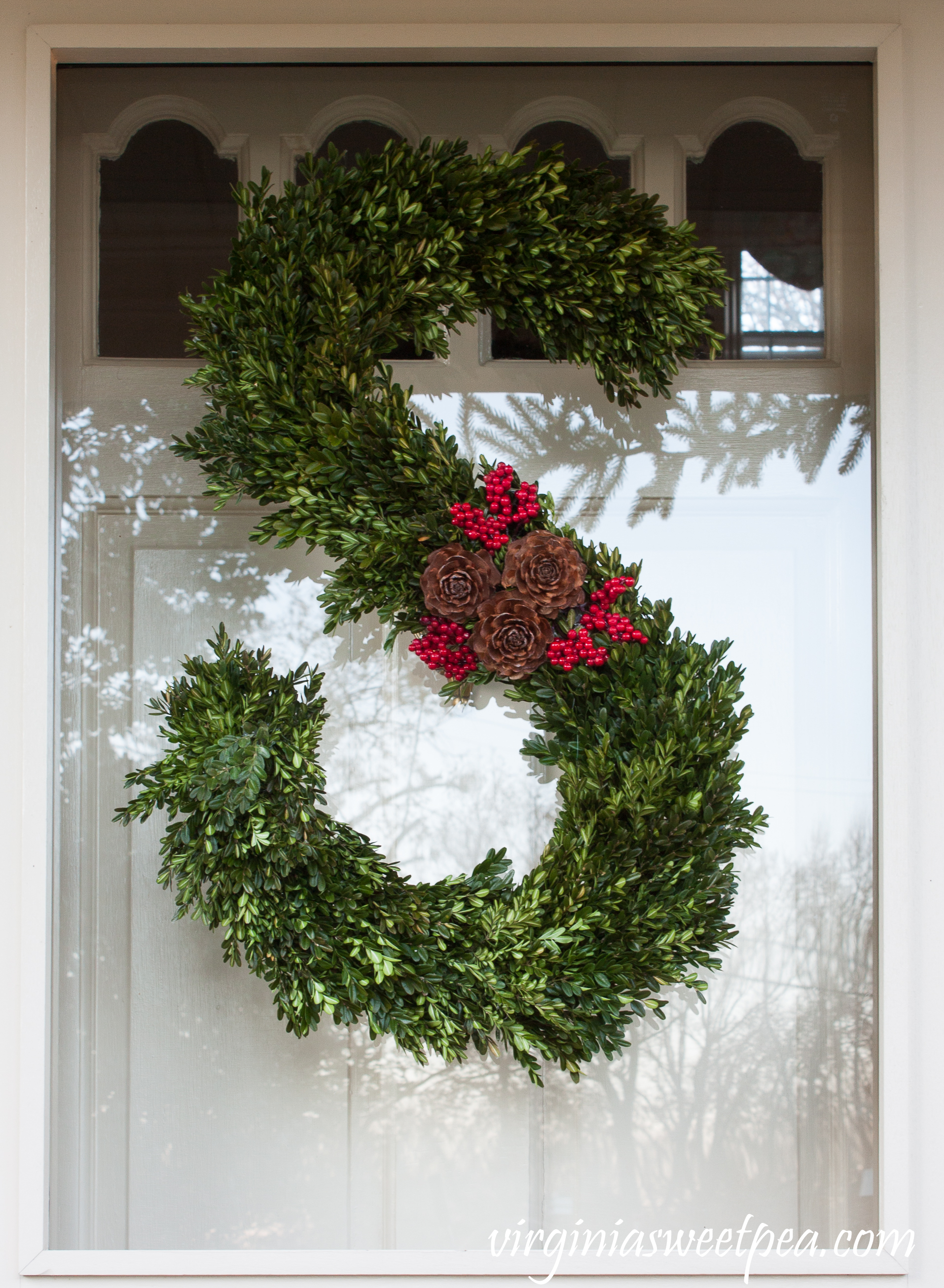 I embellished the wreath with Deodar Cedar pine cones along with faux berries.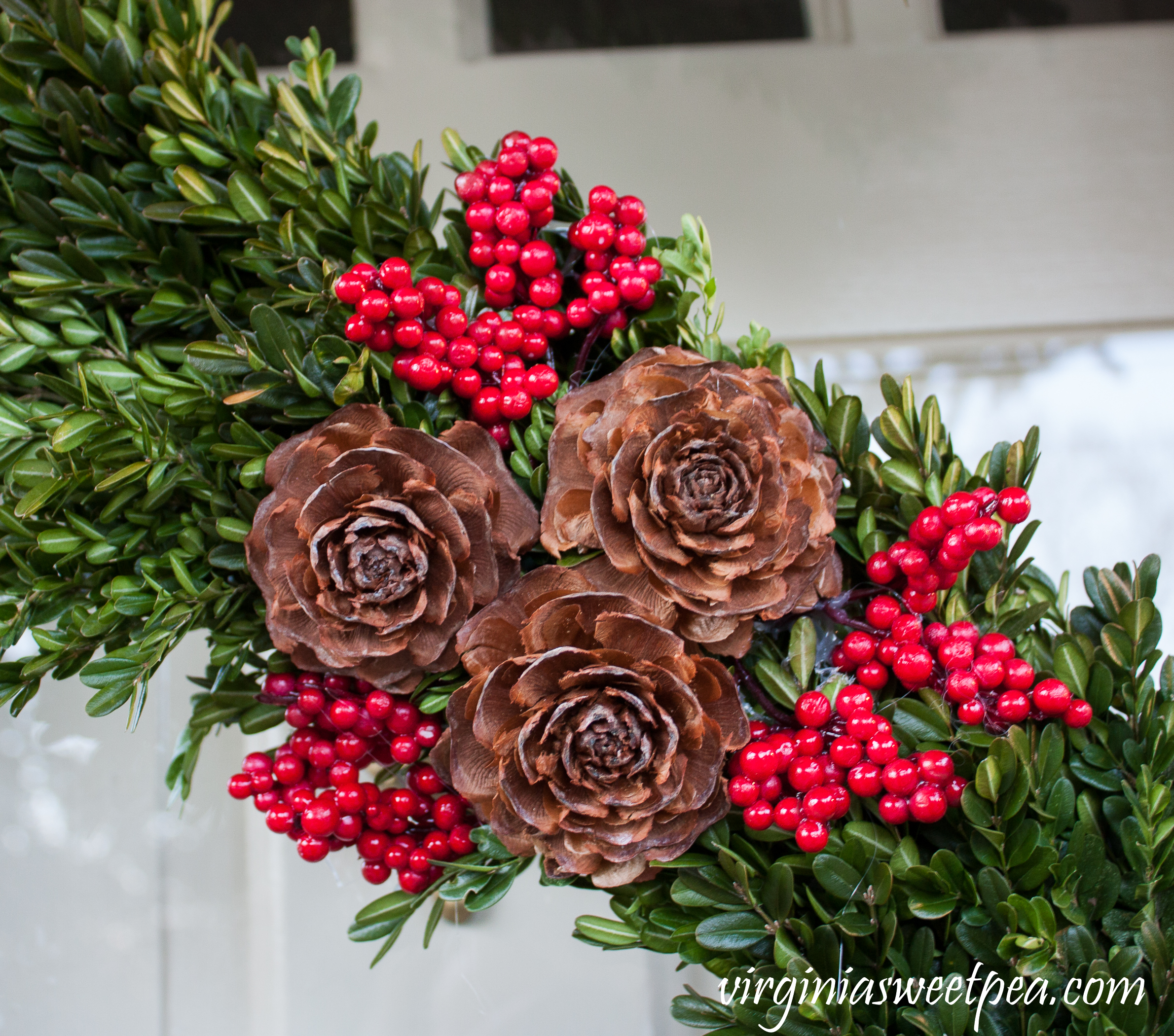 I really like how large and bold my monogram wreath is and I think it coordinates nicely with the wreaths on the windows, garland, and Christmas urns.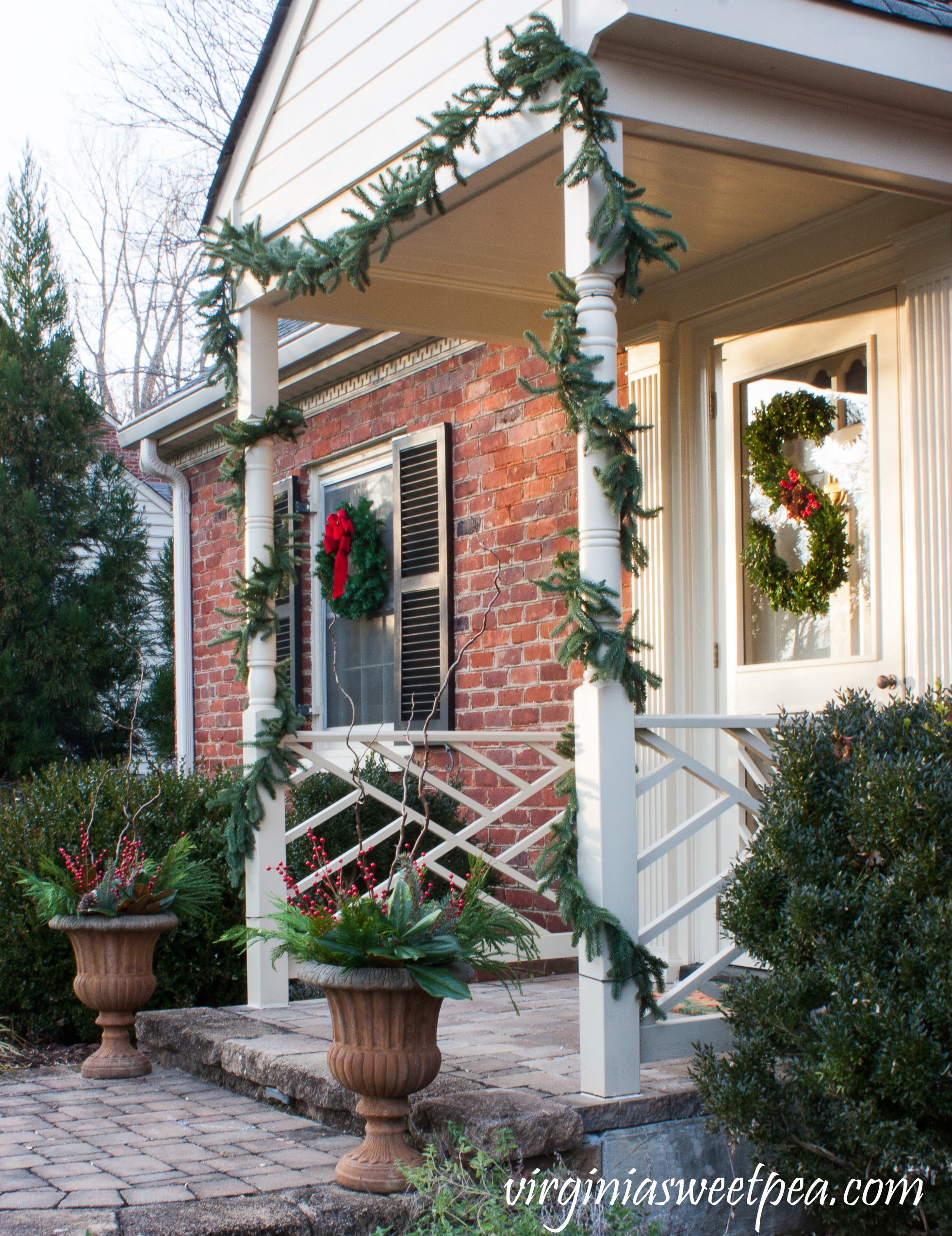 I filled the urns with Curly Willow branches, greenery, and faux berries.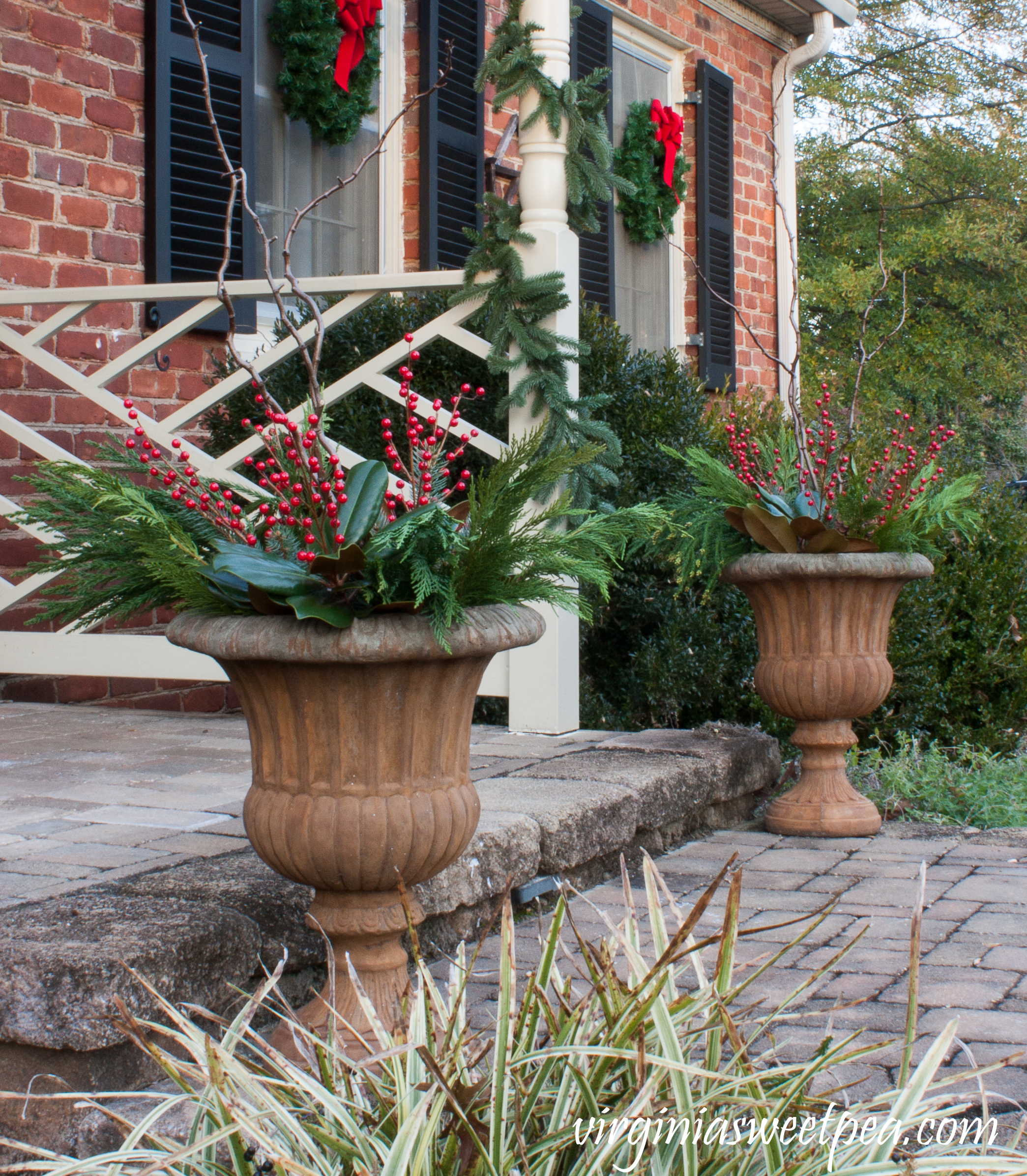 The Curly Willow is actually spray painted a metallic bronze color but it doesn't show up in the picture.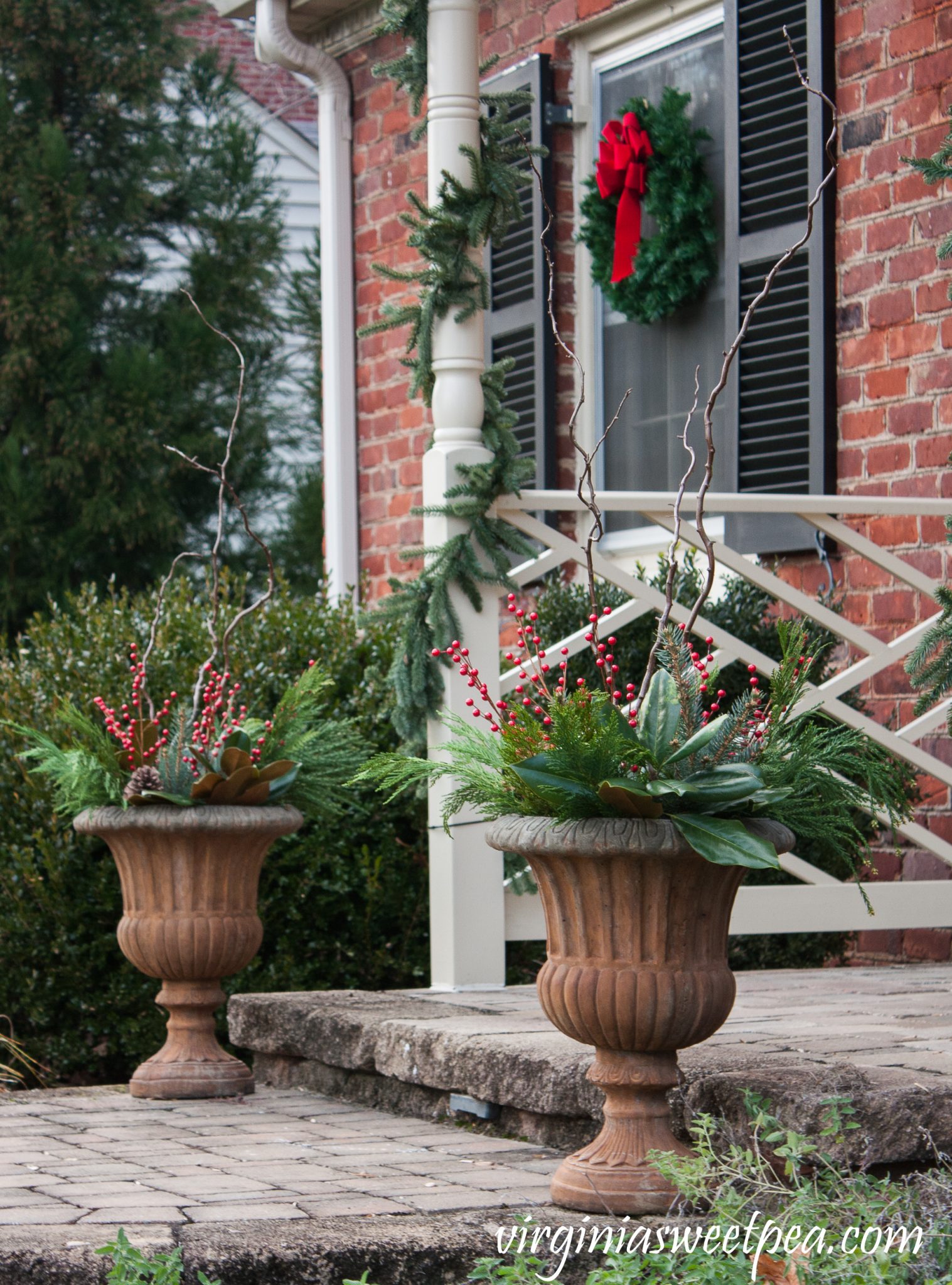 Greenery includes Arborvitae, Magnolia, and Colorado Blue Spruce, all from my yard.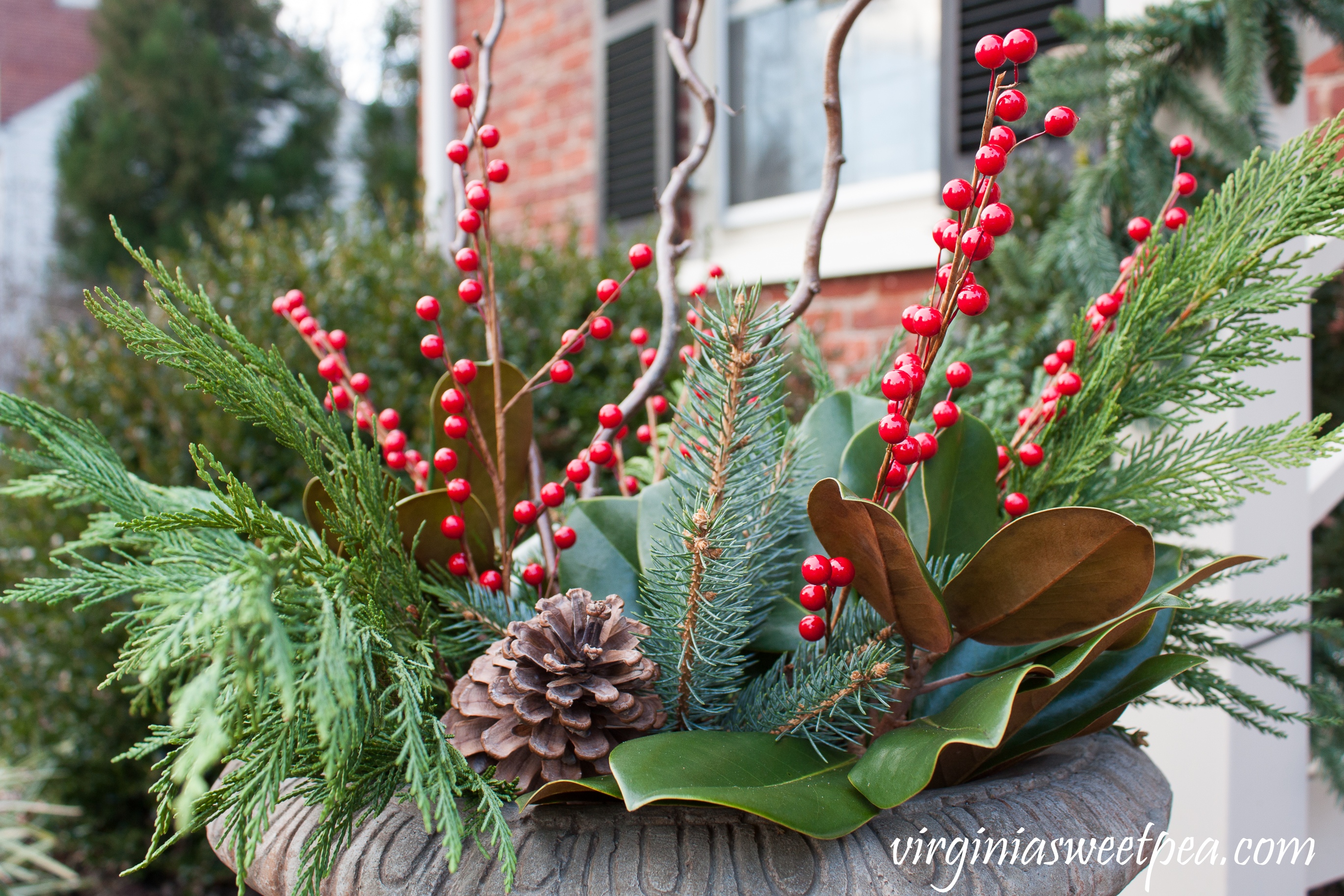 I had hoped that I would be able to use Winterberry Holly from my yard in these urns but the birds beat me to the berries.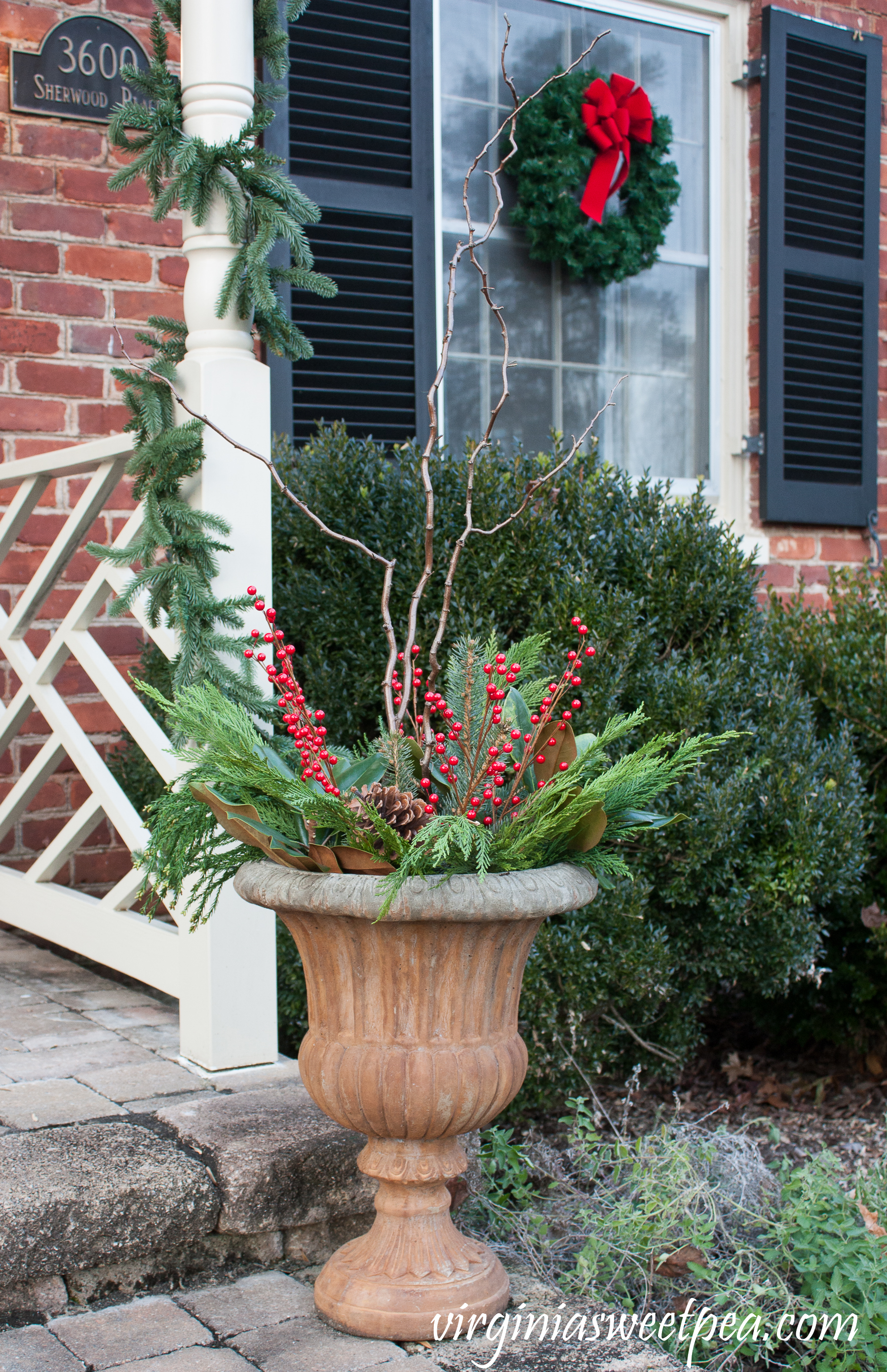 After Christmas I will remove the berries and leave the greenery in place for winter.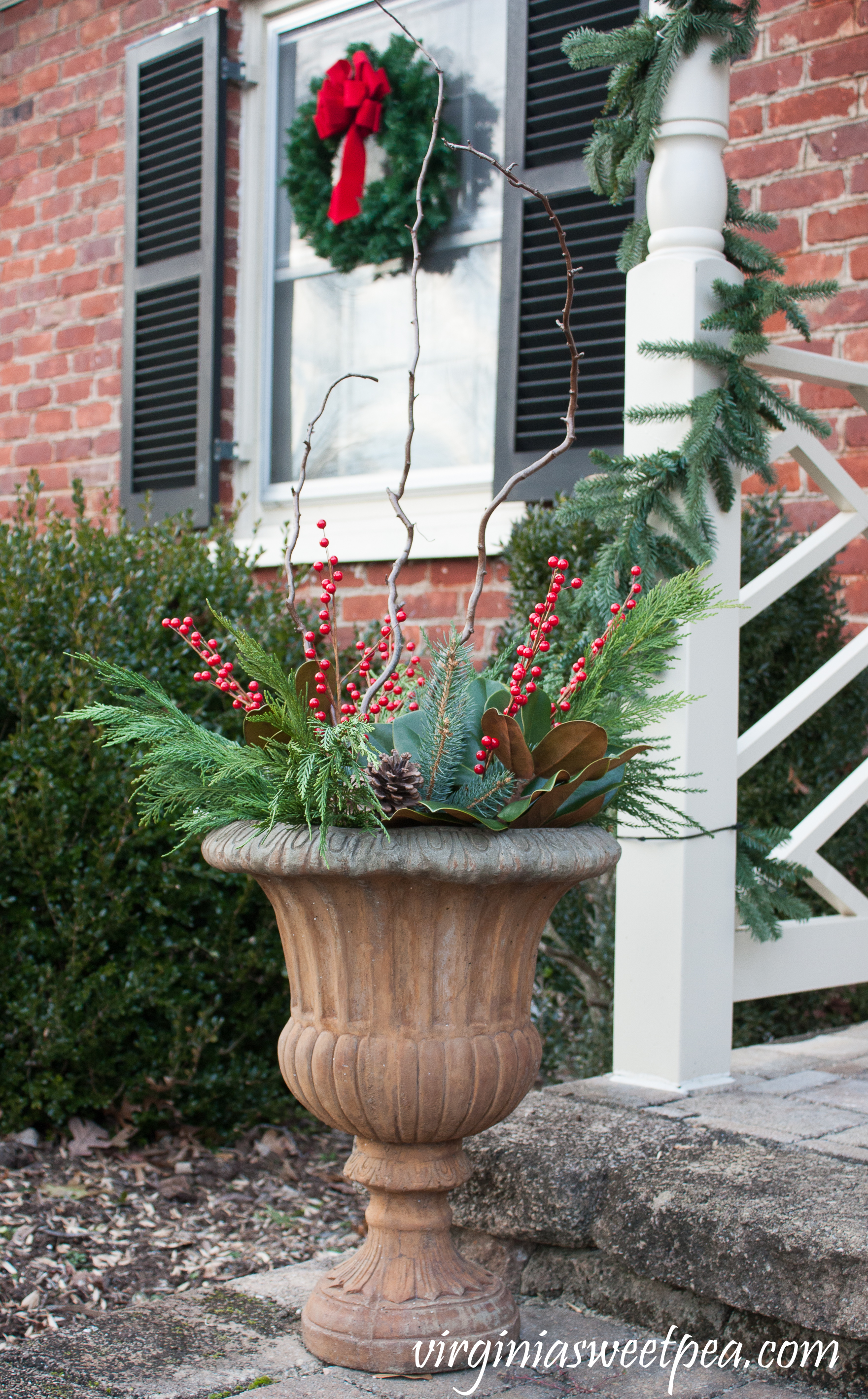 Our screened porch is another spot that I enjoy decorating for Christmas. My neighbors always tell me how much they enjoy the lighted tree that I use each year. Since we are on a corner lot, the tree can be enjoyed from the front, side and back views of our home as a neighbor walks or drives by.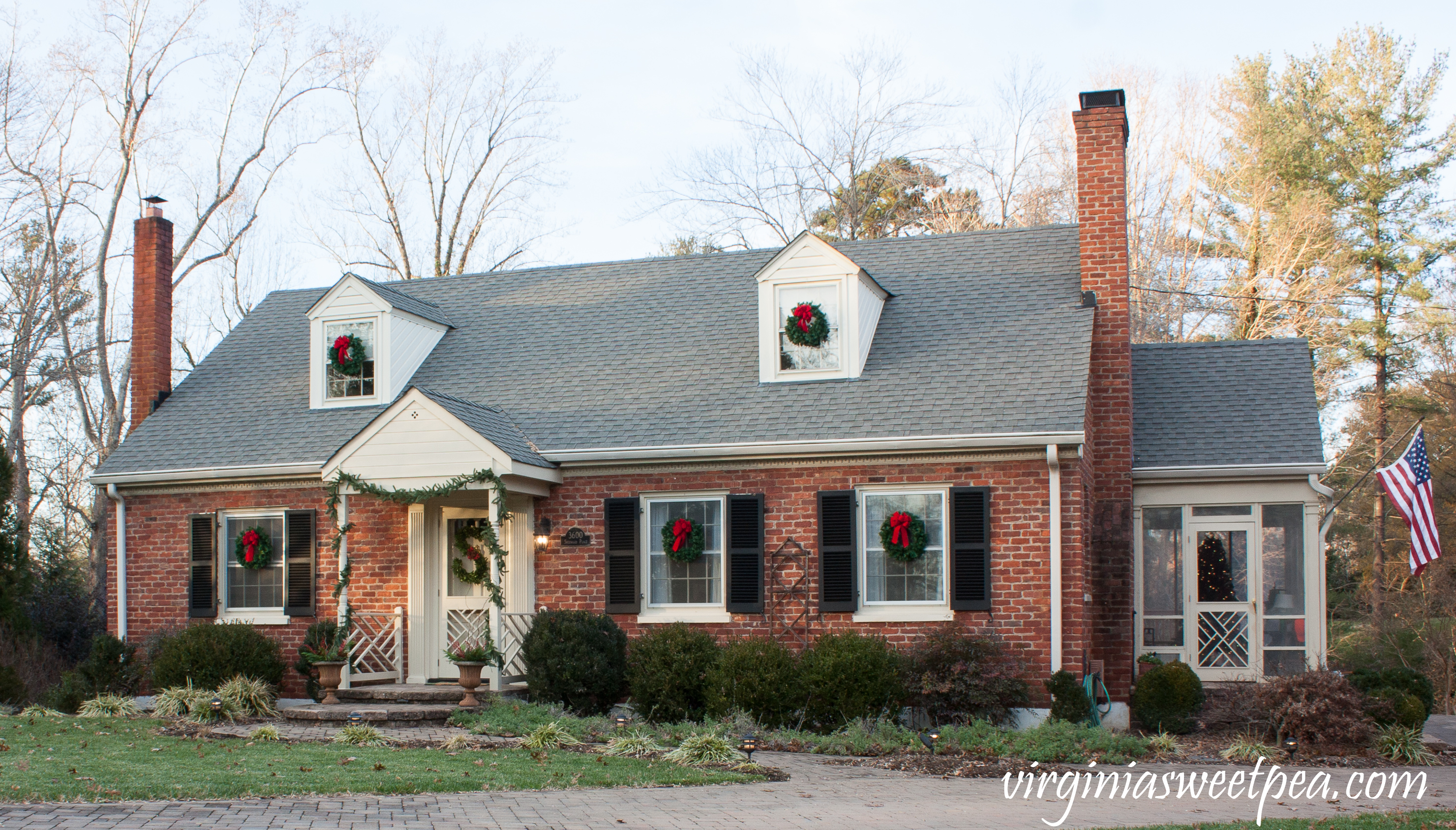 Be sure to come back tomorrow to for a tour of my Christmas porch. I've decked it out with vintage Christmas and I can't wait to share it with you.
Next on the tour is Cindy from County Road 407. I know you will enjoy visiting her lovely home.
More Christmas Porch and Holiday Doors to Enjoy
Click on the links below to visit all of the bloggers sharing Christmas porch and door decor.



Follow The Yellow Brick Home | Our Southern Home | Decor To Adore | Have a Daily Cup Of Mrs. Olson


My Thrift Store Addiction | Petite Haus | Let's Add Sprinkles | Botanic Bleu


The Painted Hinge| Virginia Sweet Pea | County Road 407 | The Crowned Goat


Belle Bleu Interiors | Art and Sand | Katherine's Corner | Lora Bloomquist


Beauty For Ashes | White Arrows Home | Thistle Key Lane | Le.Cultivateur | Decorate and More With Tip