A Very Vintage Christmas in the Kitchen and Breakfast Room
It's been so much fun to share my Christmas decor this holiday season. After sharing our Christmas family room, mantel, living room, porch, and dining room, today I'm sharing the last of my Christmas decor, the breakfast room and kitchen.
A Very Vintage Christmas in the Kitchen and Breakfast Room
This year's breakfast room and kitchen decorations are festive but definitely not over the top. I added just enough Christmas to both rooms to put us in the holiday spirit, but not so much that the rooms become hard to use and enjoy.
Christmas in the Breakfast Room
We'll start today's tour with the breakfast room. I decorated the windows with small wreaths hanging from red ribbon and added greenery to the light fixture along with more of the same ribbon.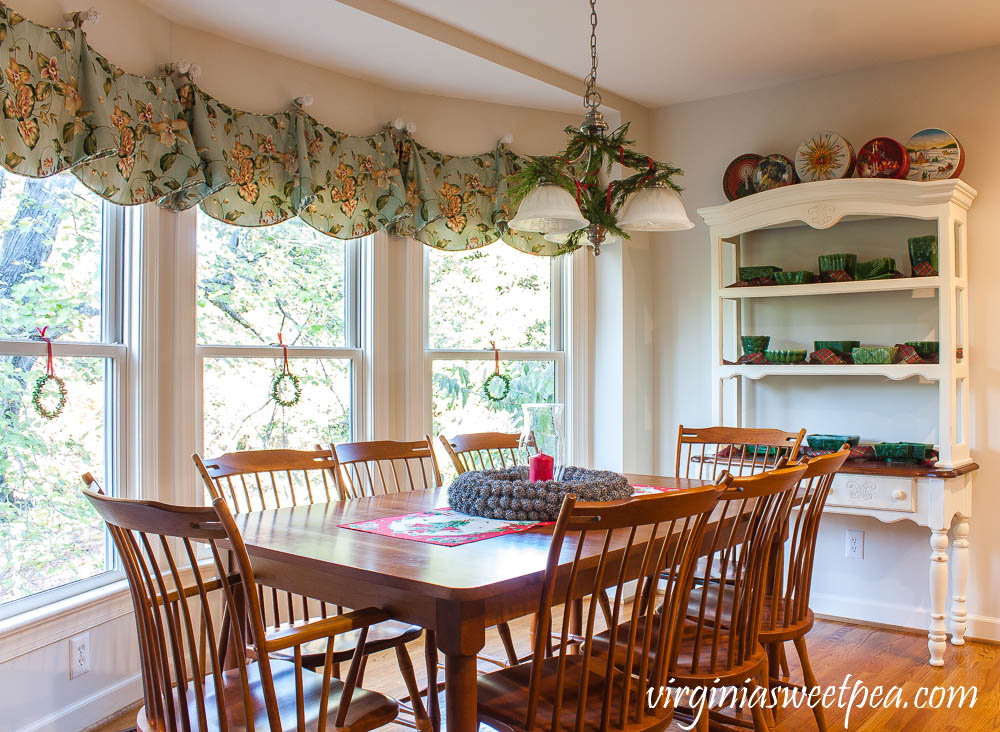 On the table is a wreath made from Sweet Gum balls on a vintage table runner that I found in Vermont. After Christmas I plan to hang this wreath on our front door.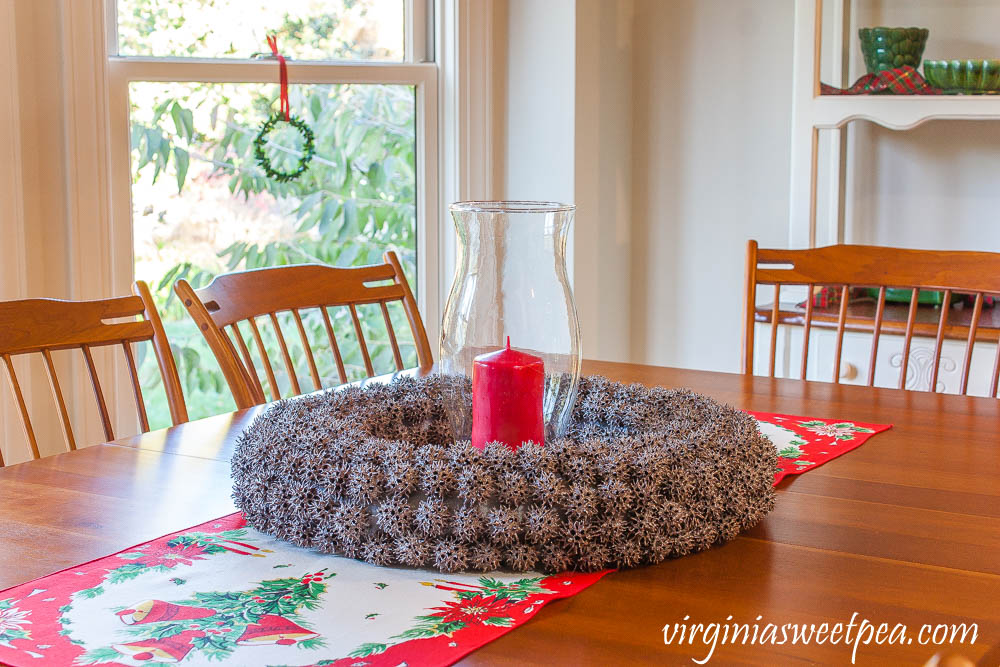 Usually I decorate the hutch in our breakfast room with my vintage Christmas punch bowl collection along with Santa boots and bottlebrush trees. This year I decided to display my green vintage pot collection with red plaid ribbon to add a pop of color along with vintage Christmas tins.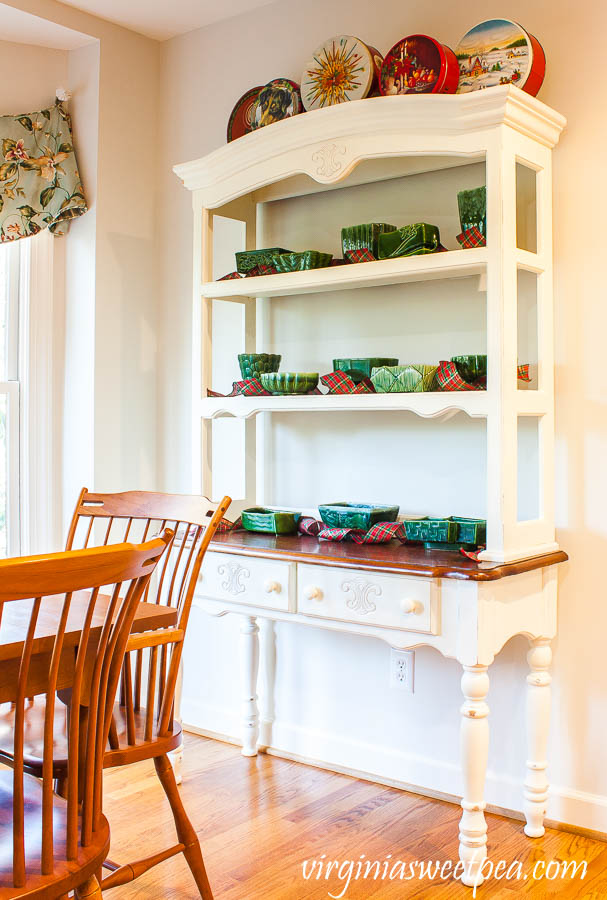 I host Christmas and I'm looking forward to cooking a nice meal Christmas Eve to serve in our breakfast room. On Christmas day I'll serve breakfast and then my mom will make fried oysters for dinner.
Christmas in the Kitchen
Moving on to the kitchen, the shelves on either end of our kitchen cabinets are a spot that I love to decorate for the season. Every year I decorate the left side with vintage and the right side with Lenox Holiday china pieces that I have collected over the years.
If you are a regular around here, you know that I rarely share our kitchen, mostly because it gets little natural light making it hard to photograph.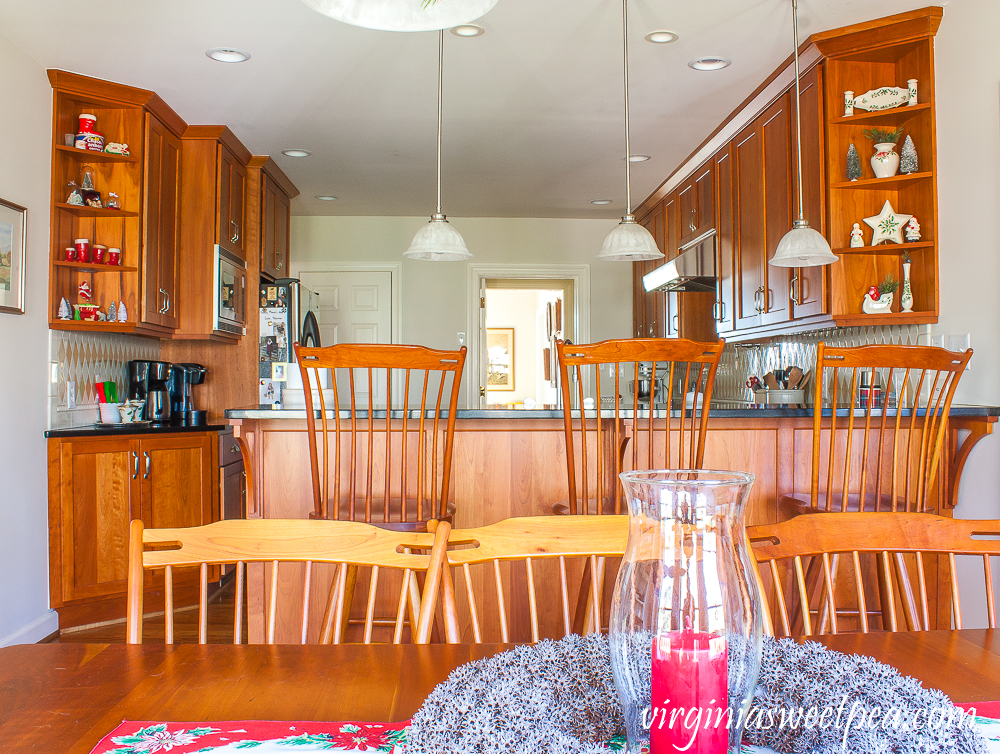 In 2004 we completely gutted our existing kitchen and had an addition added to our home to make a larger kitchen and to add a breakfast room and family room. I've never regretted choosing cherry cabinets even though white ones are what are currently in style. The cherry has darkened over the years and I like that it doesn't show every smudge that needs to be cleaned like white cabinets do. (I have white cabinets at the lake and I am constantly seeing something that needs to be cleaned there.)
Mr. SP doesn't know this, but I'm hoping to change out the pendants lights as well as the light in the breakfast room this winter.
Let's take a look at the Christmas decor on the shelves on the left side of the kitchen.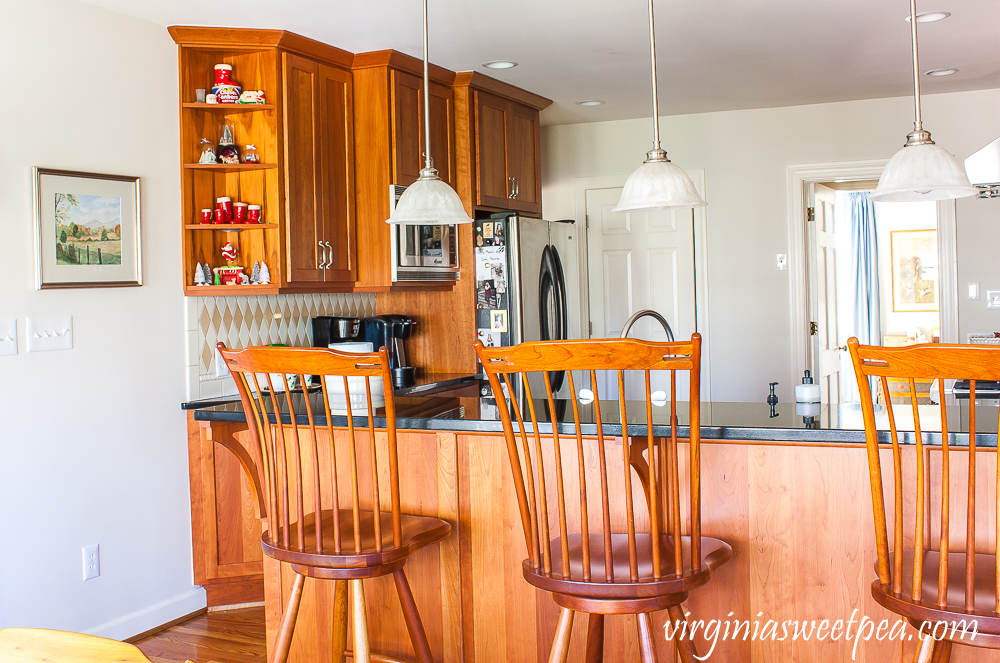 For Christmas the shelves on this side of the room are always decorated with vintage.
The bottom shelf has a candle set from The Vermont Country Store, a vintage Santa, and bottlebrush trees.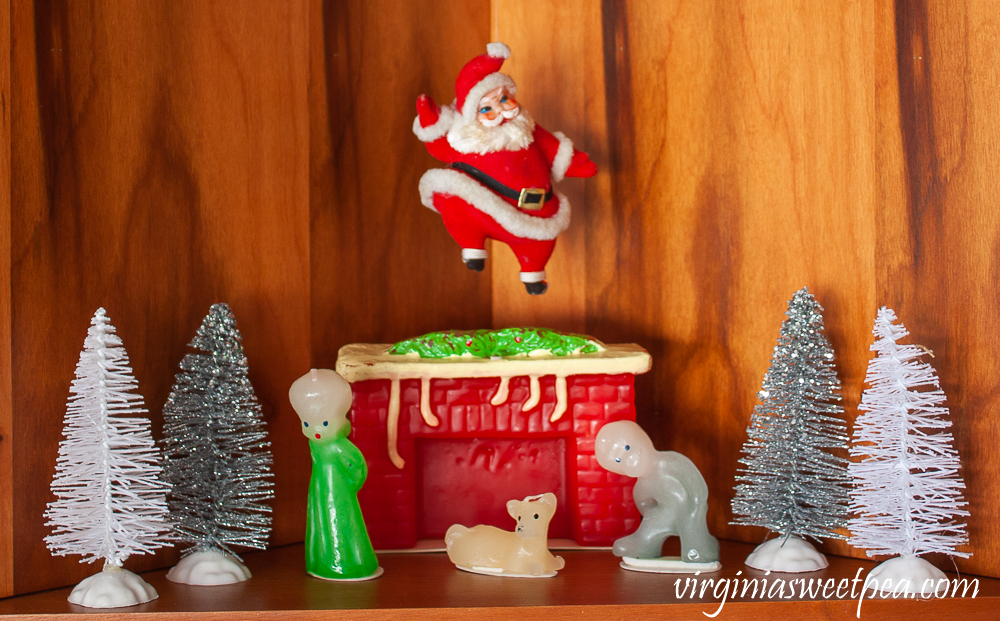 Santa is hanging over the fireplace by a piece of fishing line duck taped to the cabinet. I tried clear packing tape but it wasn't strong enough to hold Santa's amble girth.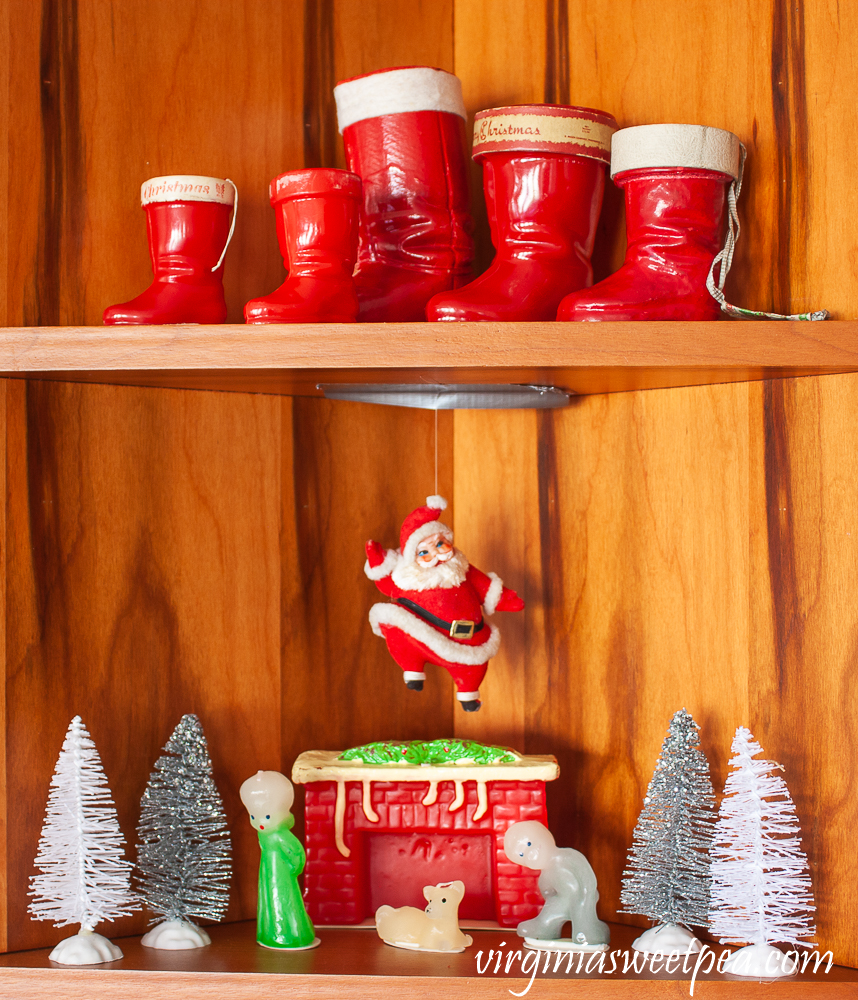 I have been collecting vintage Santa boots for years and displayed the ones that I didn't use elsewhere for decor on this shelf.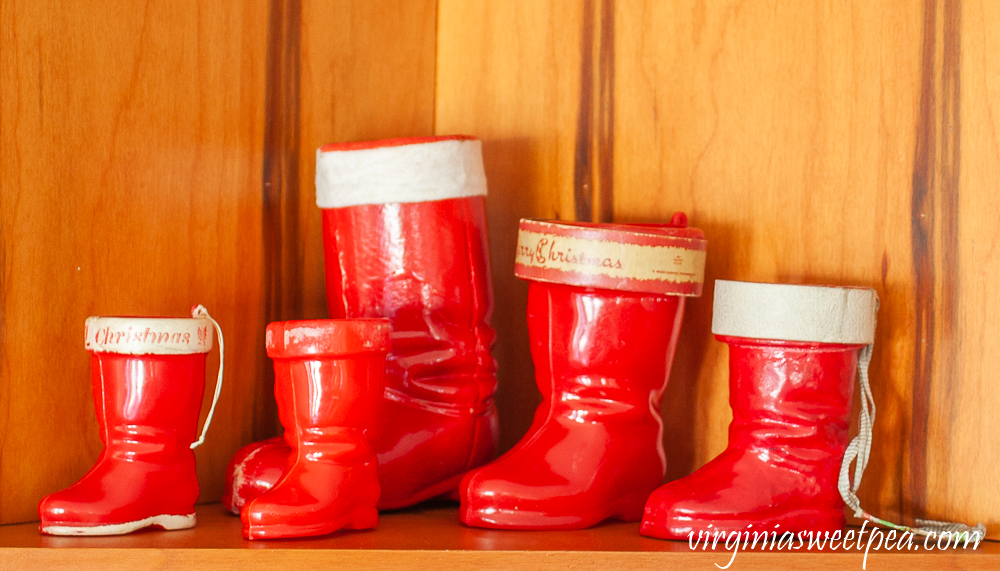 The top two shelves are super hard to photograph. In retrospect I should have gotten a ladder out of the basement to assist me but instead I resorted to standing on the bar.
This shelf has a new-to-me Christmas item, a very delicate Santa and reindeer. In my other Christmas posts I've shared more new-to-me vintage Santas that I purchased from a man on Facebook who was selling items from his father's estate. This Santa is one of those items.
The red glass block is a Blenko candle holder. The three ornaments were gifts from a friend years ago.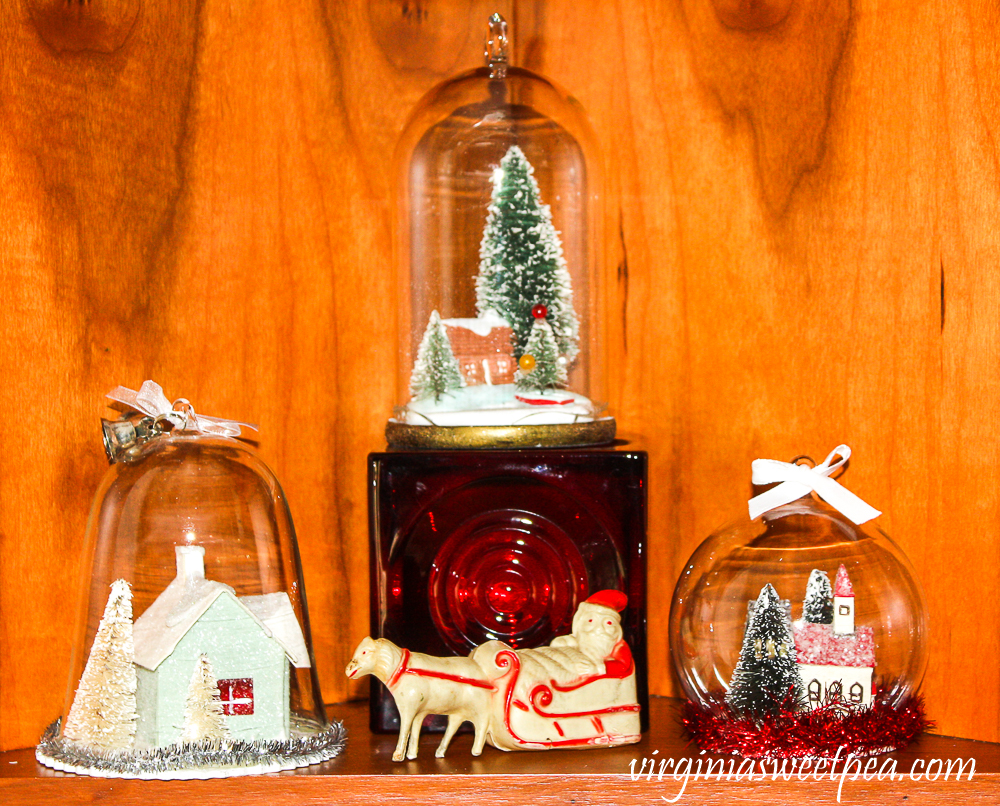 The top shelf has another vintage Santa purchased from the same man along with two Santa boots and a tiny Santa mug. The coffee can came out of my grandfather's shed.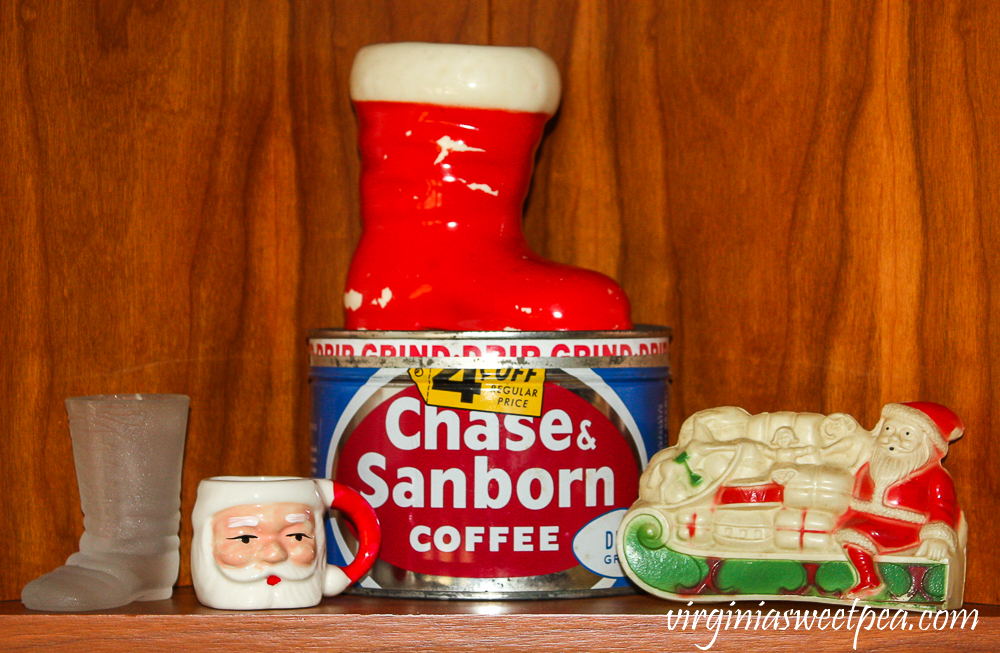 Now we'll move on to the shelves on the right hand side of the kitchen. Every year I decorate these shelves with Lenox Holiday pieces. I've collected Lenox Holiday china since I was a teenager.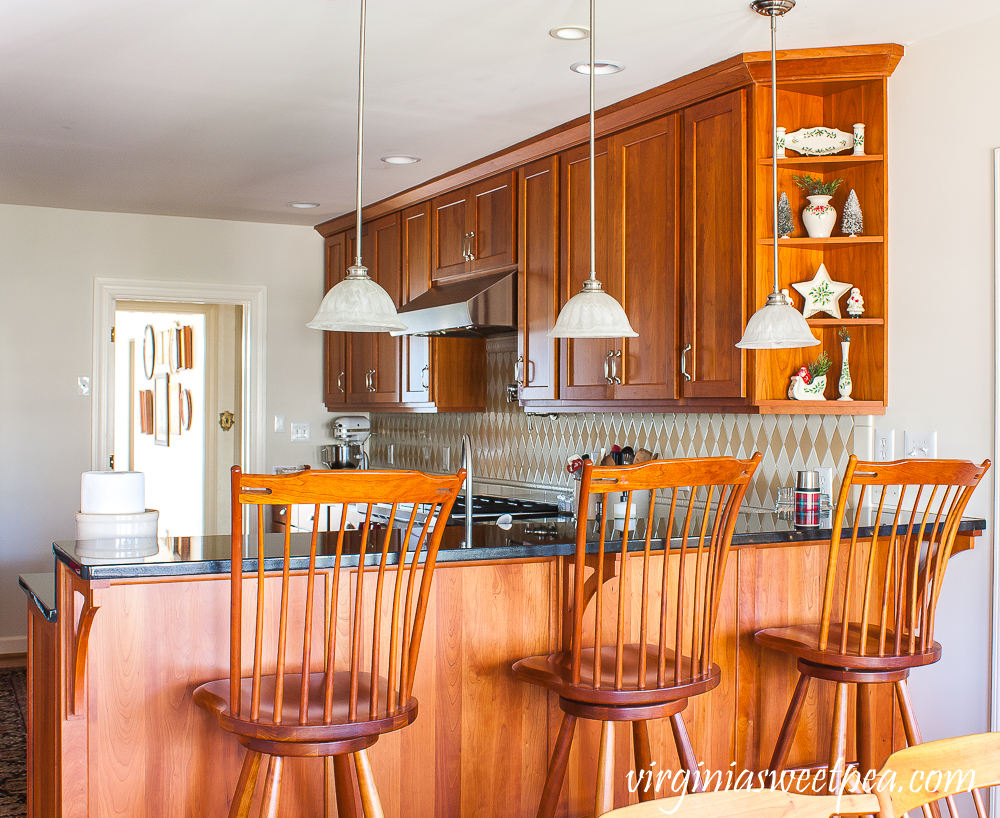 A vintage Santa candy container/ornament rides in a Lenox sleigh with faux greenery. This is the first year that I've used faux over real foliage in my decorating. I prefer real but I decorated very early this year and went with faux for ease of clean up.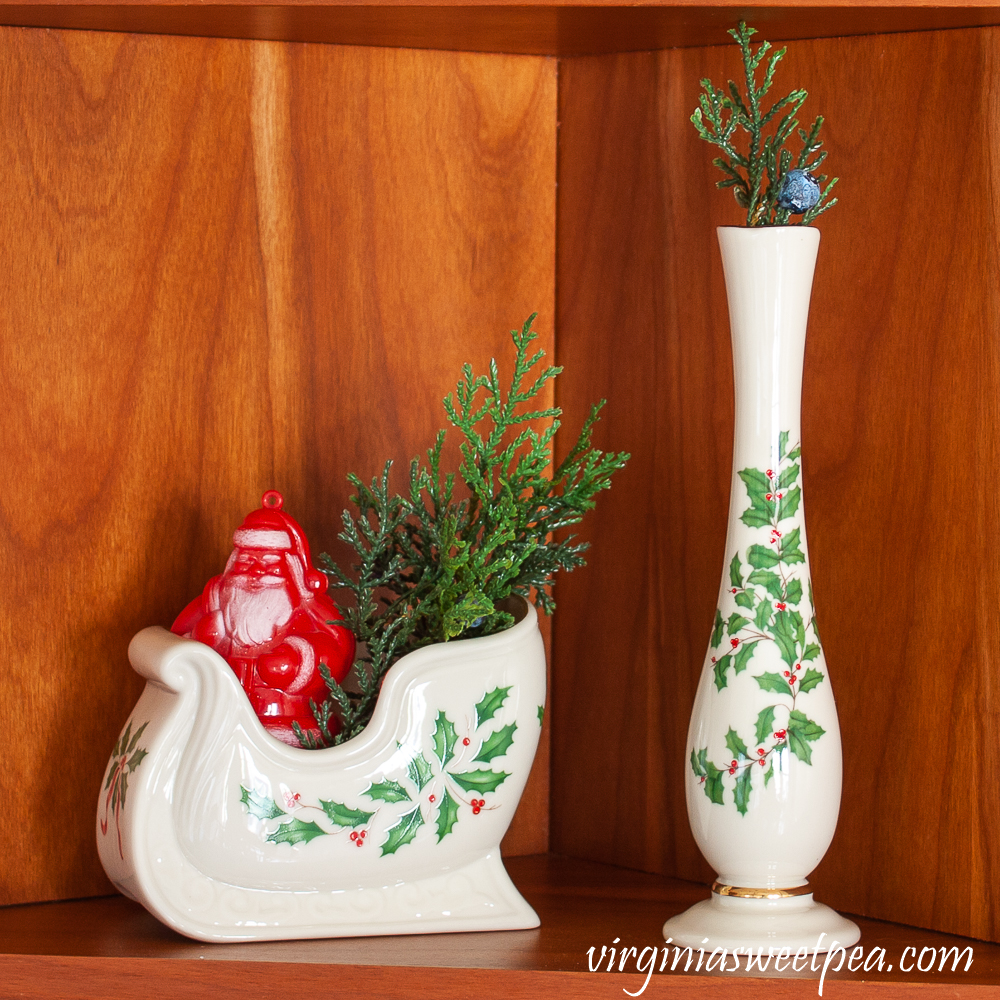 My in-laws gave me the Lenox Mr. and Mrs. Claus salt and pepper shakers and the star was was along to me by one of my friends. She received it as a gift and didn't want it, so I was the lucky recipient.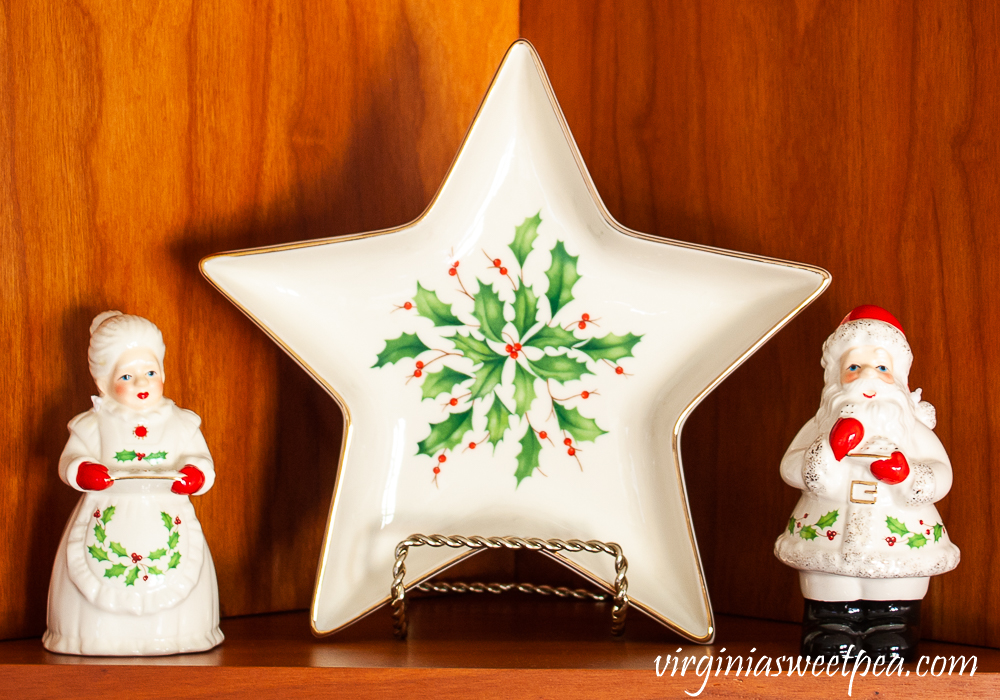 The top two shelves on this side of the kitchen are really difficult to photograph. I stood on the bar counter hoping that I wouldn't fall as I shot the next two pictures.
The faux greenery in this vase isn't the most beautiful arrangement but from the floor it looks just fine.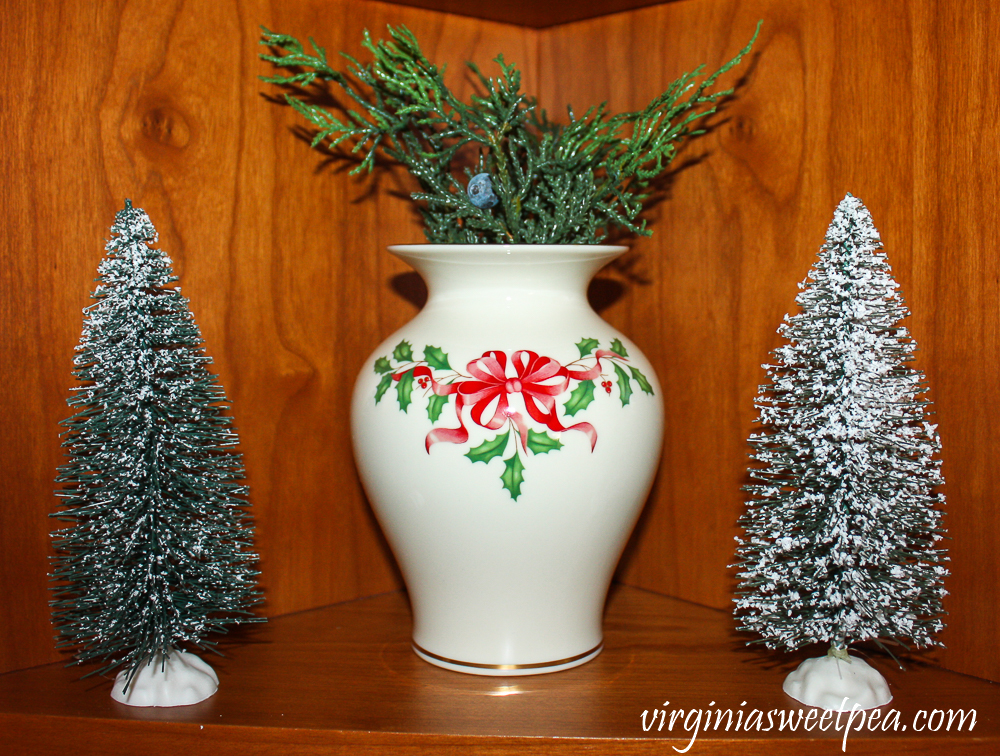 The top shelf holds more Lenox. The salt and pepper shakers will go on the table when I host a few holiday meals. The candy dish was a gift from my maternal grandmother when I was still in high school.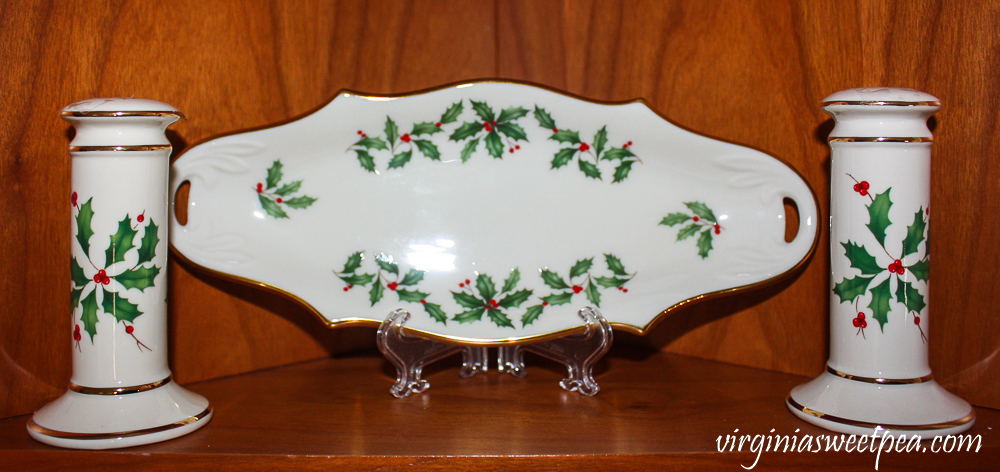 Other Kitchen Decorations
It's tempting for me to decorate the kitchen counters with Christmas vignettes, but I find that they get in the way of cooking, so this year I left the counters relatively clear. I grouped hot chocolate supplies from my hot chocolate bar with vintage on one counter and other than that, the only other Christmas decoration on the counter is my Lenox Holiday sugar bowl and creamer beside the coffee pot.
I have an idea for one more Christmas post but in case I don't get that accomplished, I'd like to take this opportunity to wish you and your family a very merry Christmas!