Stitch Fix Review for December 2018 – Fix #64
It's December and time for another Stitch Fix review. This month's box contained a few items perfect for a Christmas party along with items to wear for winter.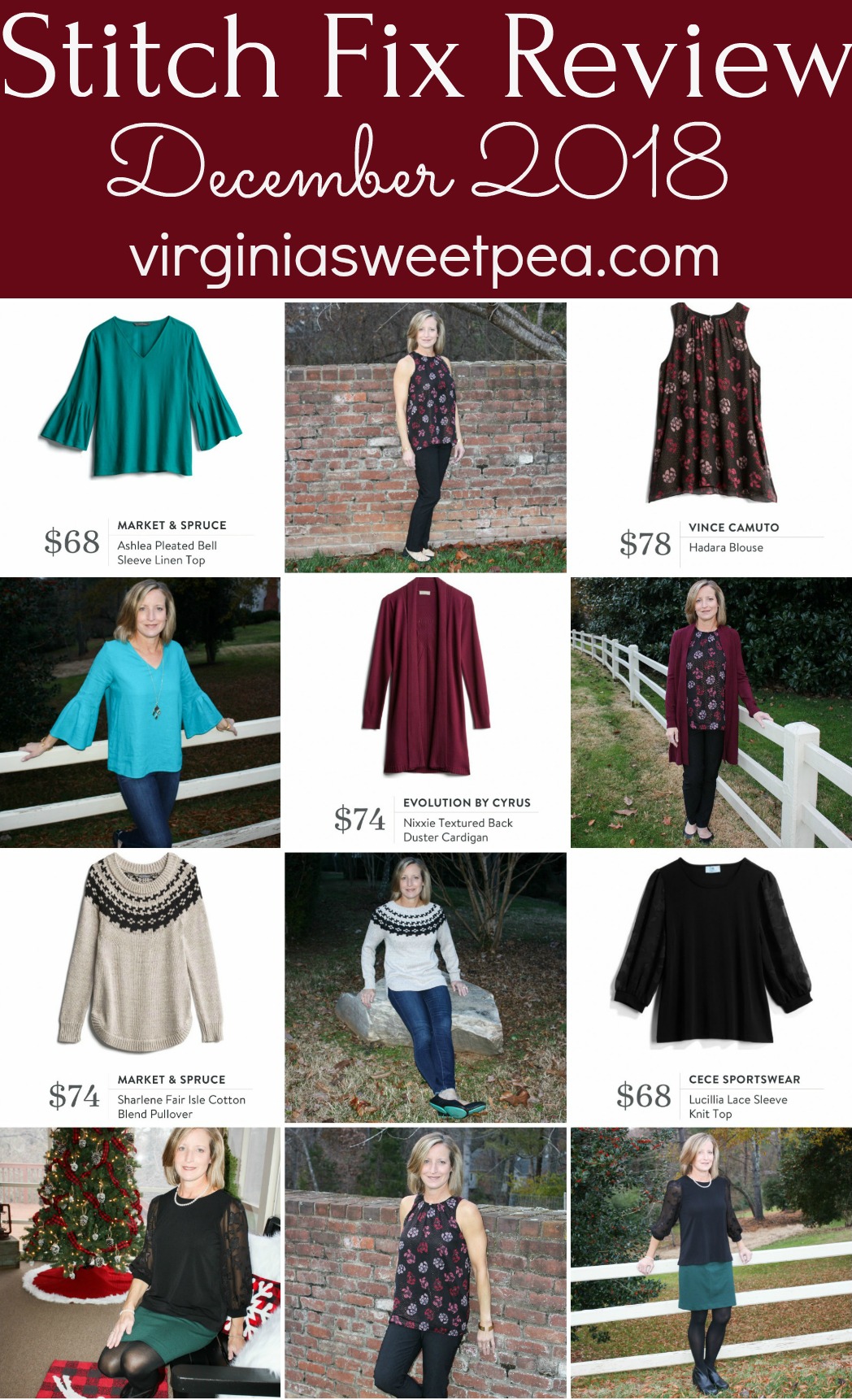 I am a Stitch Fix affiliate and if you make a purchase, I make a small commission. My love for Stitch Fix is genuine and all opinions are truthful and my own.
DECEMBER 2018 STITCH FIX REVIEW
If you are new to Stitch Fix, these details will help you to understand the service. Feel free to email me with any questions you might have about Stitch Fix. I can also send you a link to use that will give you $25 off your first box.
Stitch Fix Details
Stitch Fix is a personal styling service. When you sign up for Stitch Fix, you fill out a detailed style profile that helps your stylist know your likes and dislikes. Since I've received 64

Stitch Fix

shipments, my stylist knows my likes and dislikes very well and I almost always like every item in my Fix, a good problem to have!
When a Fix arrives, you have three days to try the clothes on and to decide what to keep and what to send back. Stitch Fix includes a postage paid envelope making returns super easy.
When you sign up for

Stitch Fix

, you can choose how often a box is delivered. You can pick a monthly options or schedule a box when you'd like to receive one.
I do not like shopping and love receiving clothing from Stitch Fix. I get clothes that I like without having to do any work other than pinning things that I like to my fashion board on Pinterest. My stylist, Brittany H., checks my Pinterest board for inspiration and also reads my note to her each month to see if I have any special requests.
You can find links to all of my Fixes here and also be sure to check out my Stitch Fix Review Board on Pinterest where I pin my favorite looks.
For more Stitch Fix looks, be sure to check out my other Stitch Fix reviews. And if you haven't tried Stitch Fix, what are you waiting for? It's so much fun to received a box of five items picked just you.
THIS MONTH'S STITCH FIX ITEMS
My stylist, Brittany H., is so good at picking out fashions for me. This month I forgot to leave a note with requests but she managed to read my mind and sent some fashions for Christmas along with items to enjoy this winter.
Cece Sportswear Lucilla Lace Sleeve Knit Top
This top is soft with some stretch and it has pretty lace sleeves. I paired it with a skirt that came in a Fix long ago along with black tights and chunky shoes.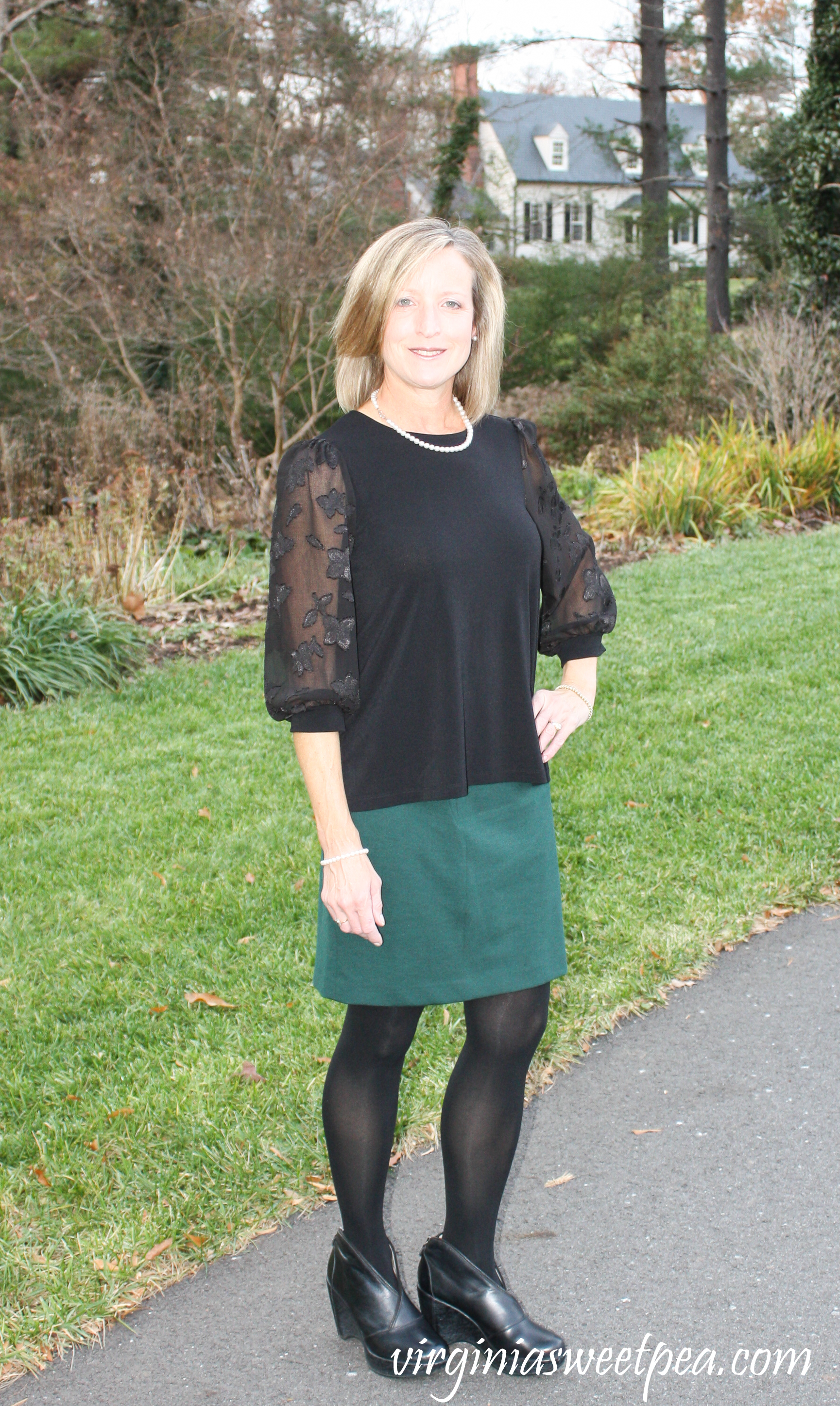 I realized when I styled this outfit that my shoe closet is very low on black dress shoes. I doubt that these are still in style, but I like them and they are super comfortable. I used to stand all day on concrete in these while teaching and never had sore feet.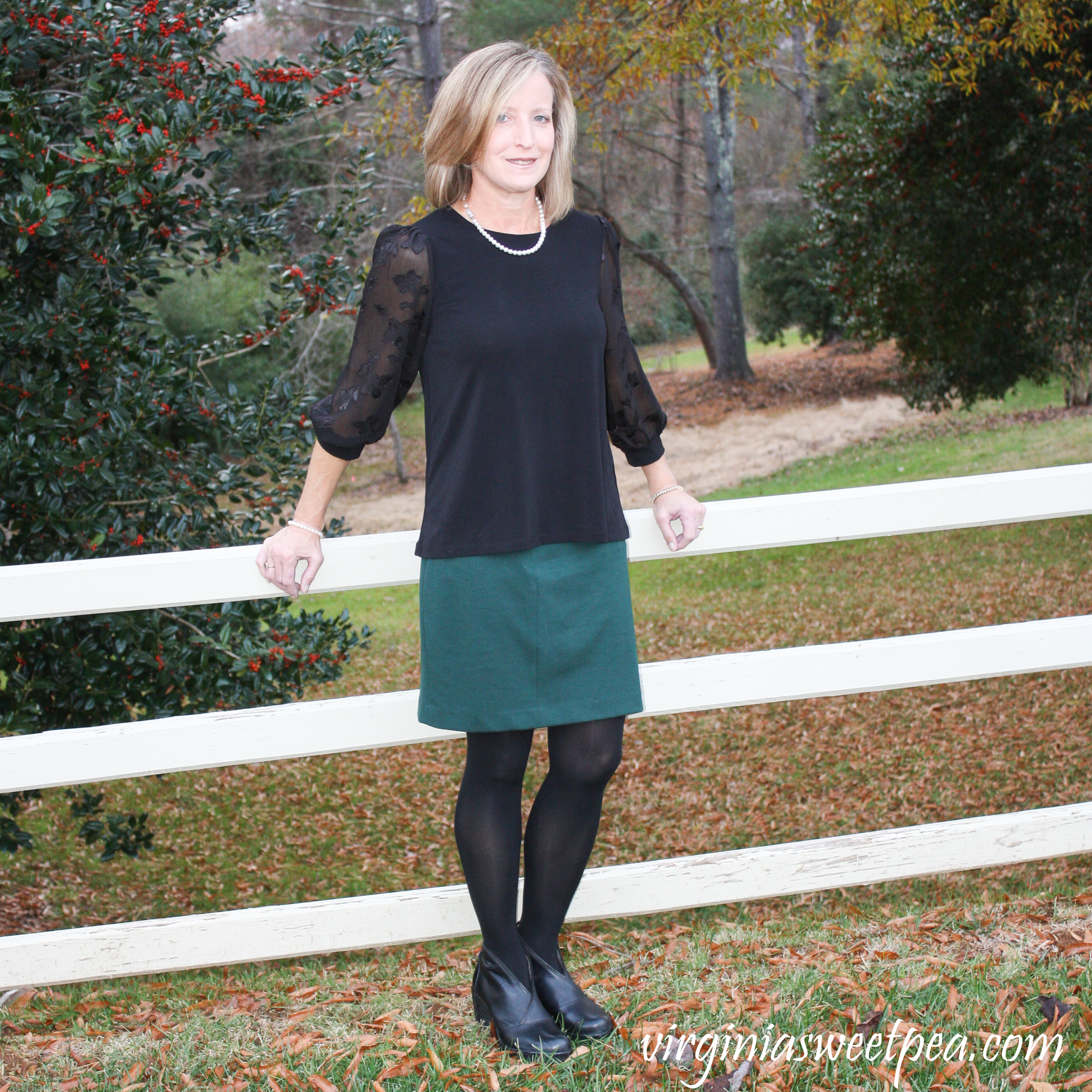 I usually take my Stitch Fix pictures outside, but Mr. SP wanted to do one on our decorated porch since it looks so festive. You are getting a sneak peek at my decor, I'll share a full tour of my Christmas porch on Tuesday.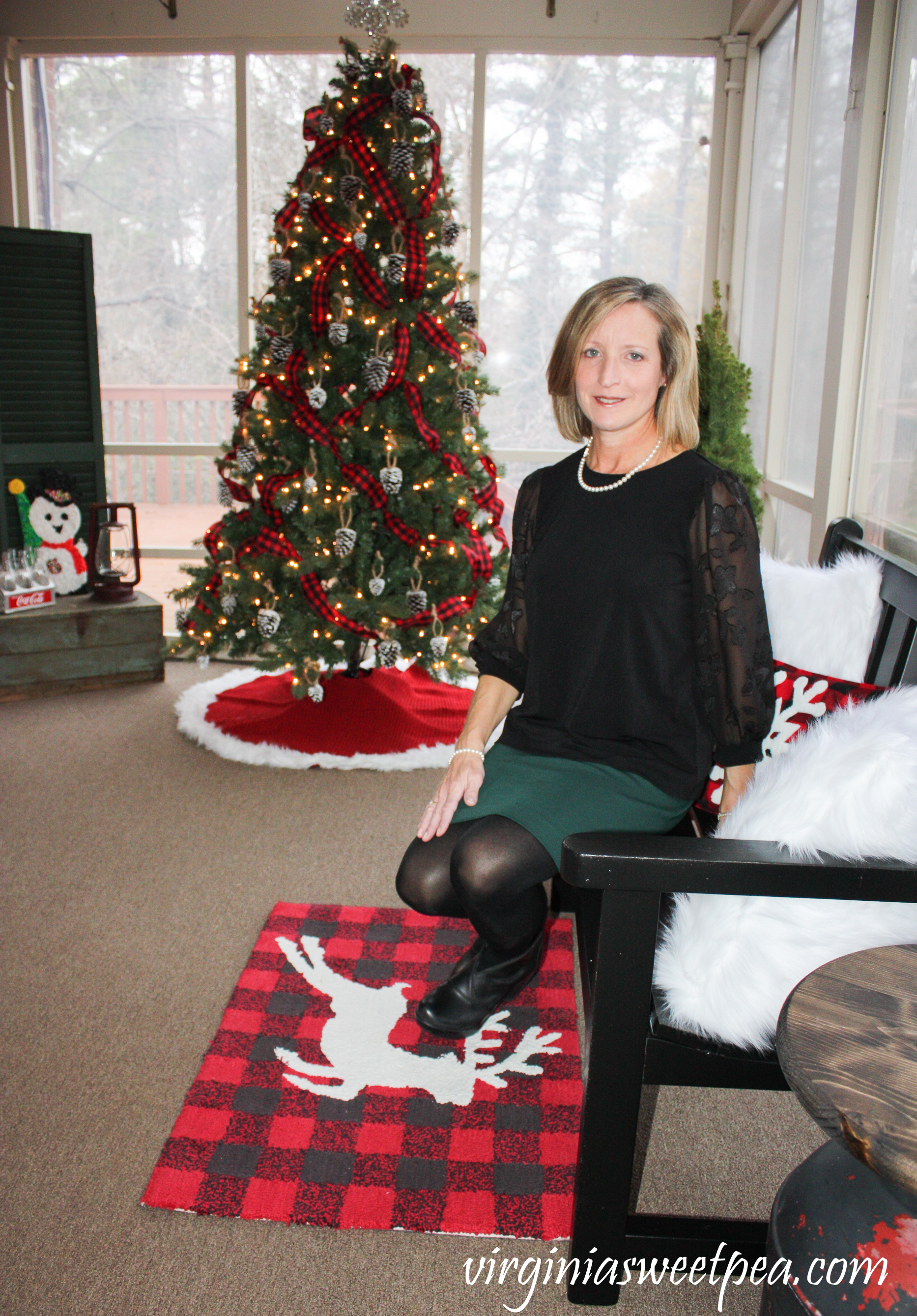 I really liked this top but didn't keep it because I knew I wouldn't wear it enough to justify the price. If I were still teaching, I would have kept it for sure!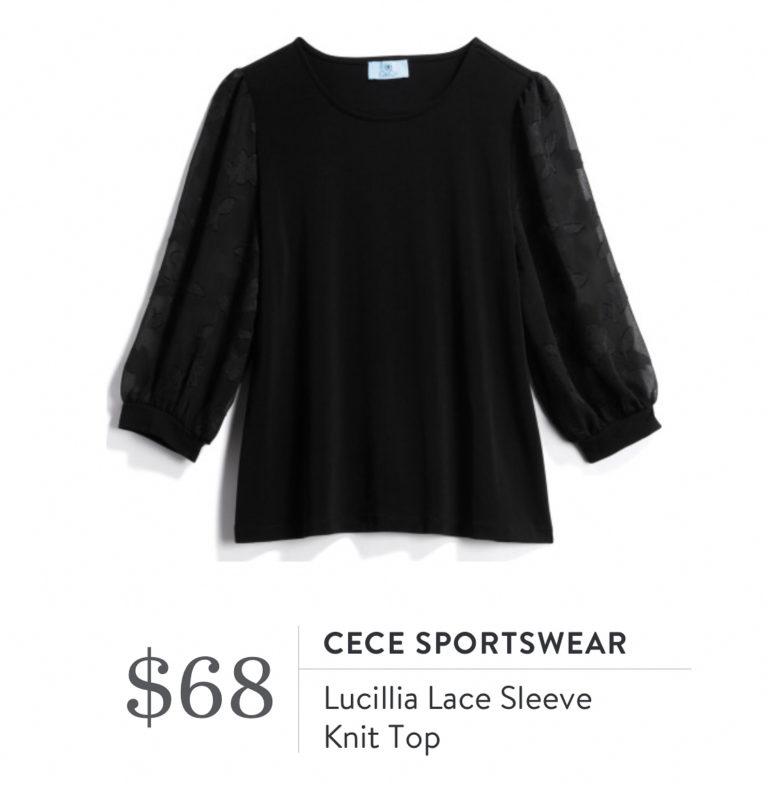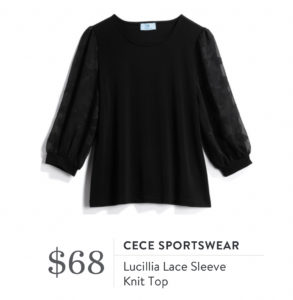 Vince Camuto Hadar Blouse
I paired this top with black pants from a previous Fix but it also would look lovely with a skirt.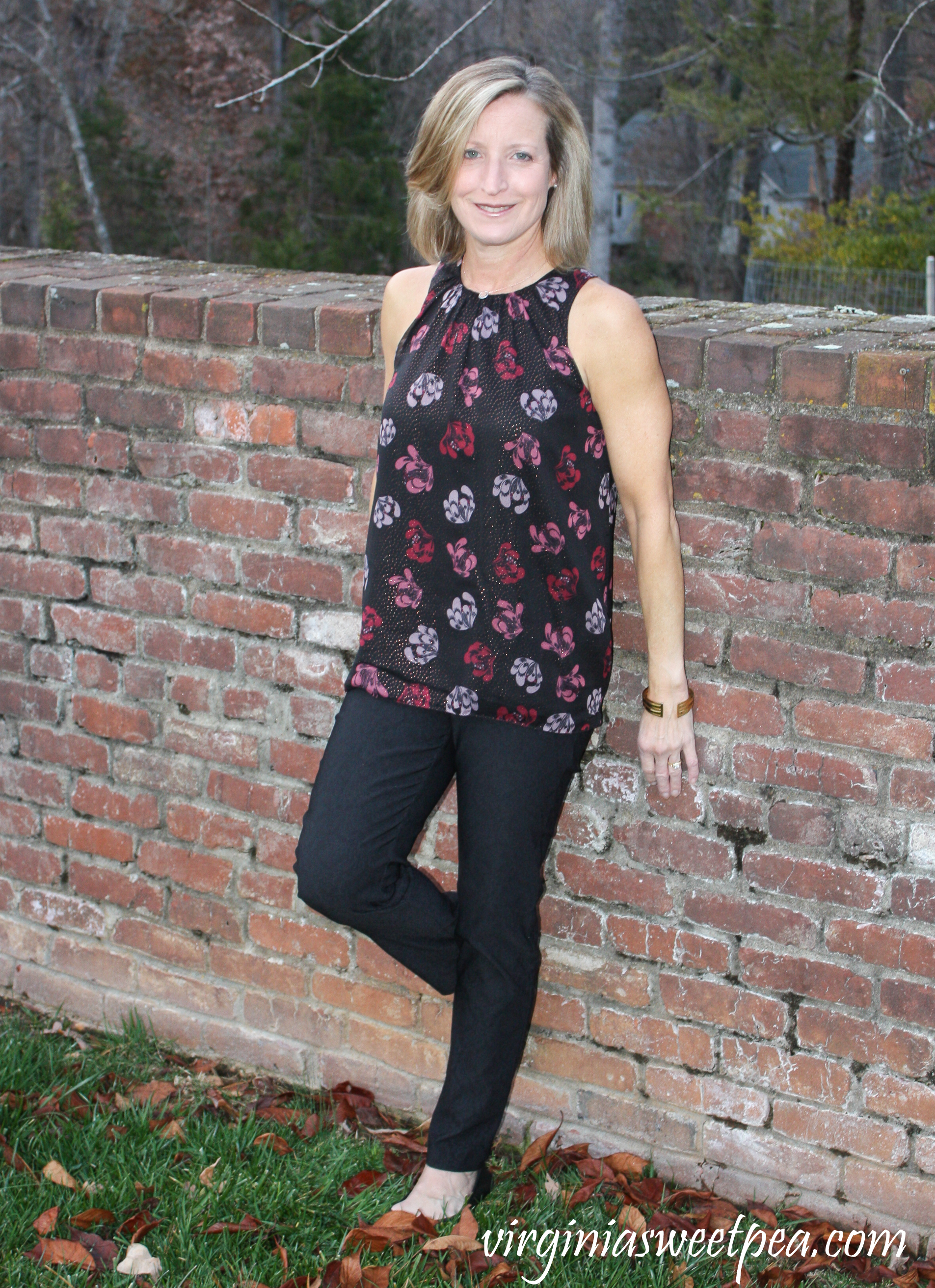 With its shimmery threads, this top would look great for a Christmas or New Year's Eve party. It also would be great to wear to work during winter with a blazer.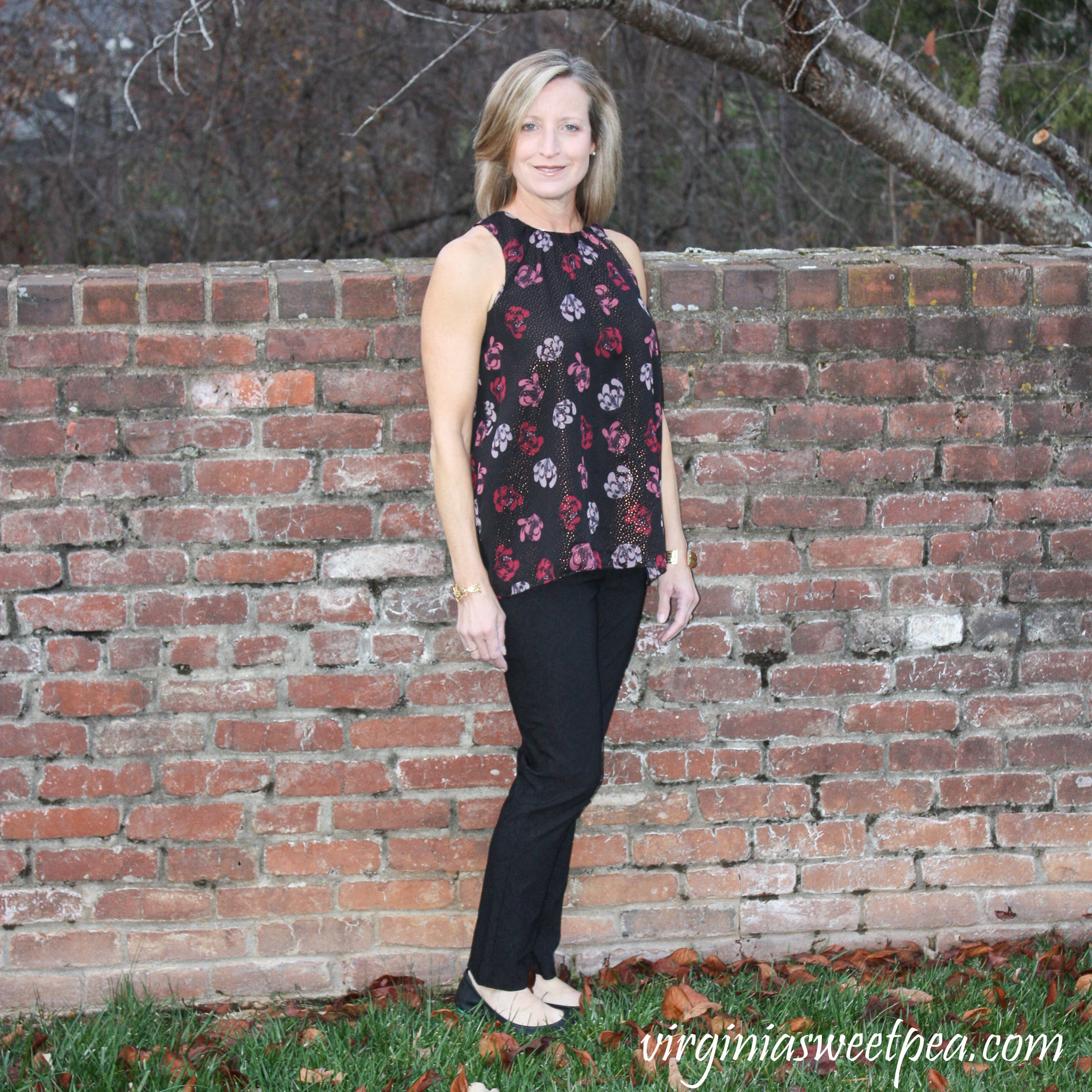 My husband was playing around when we were taking these pictures and he said, "Show me your guns!" So I did.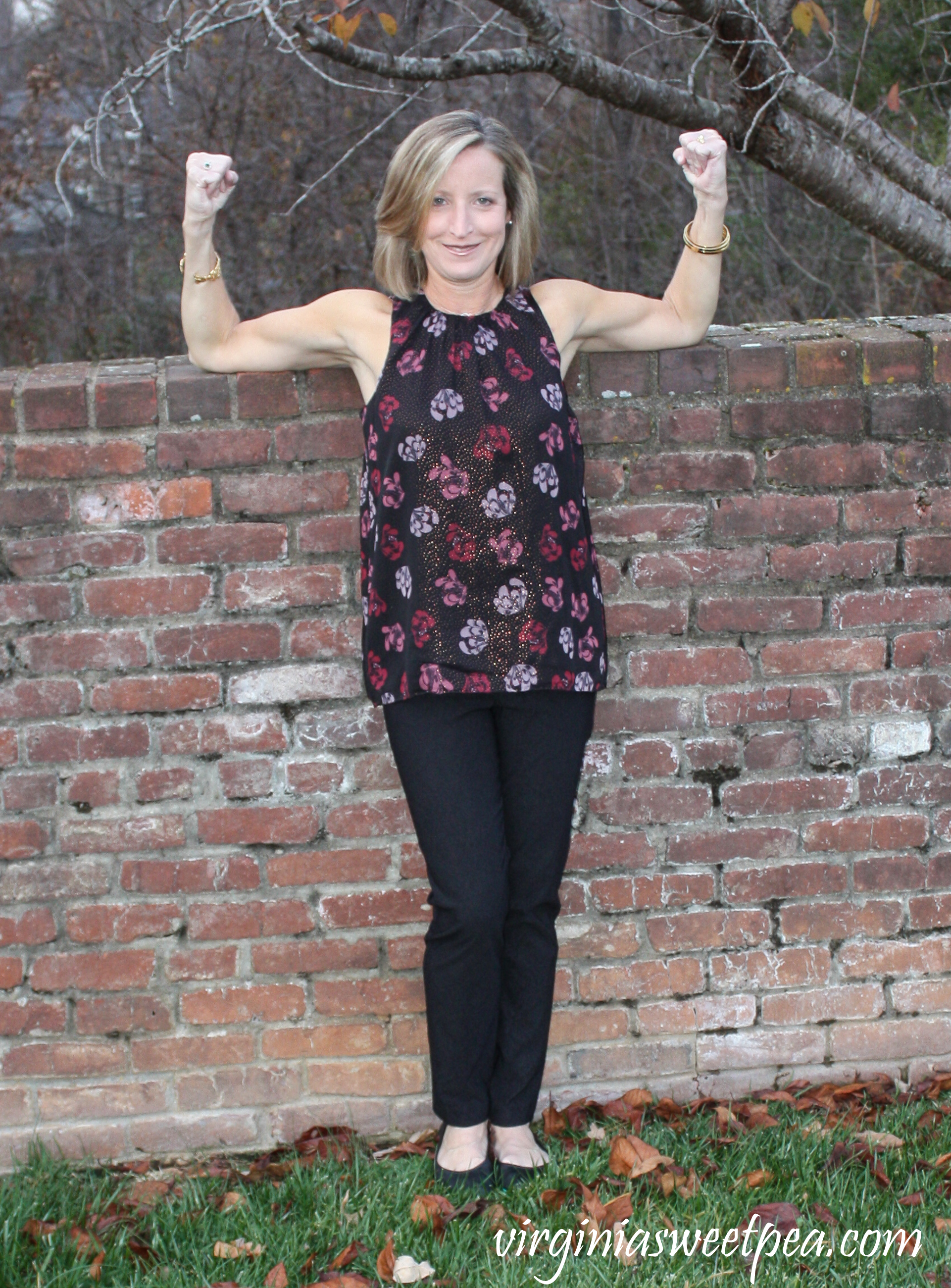 You may think that I'm showing off, but this summer when I was depressed, anxiety ridden, and had ongoing back problems (that I still have) along with the stress of my cancer, I promised myself that if I started to feel like a normal person, I would treat myself to working with a trainer. I love working with my trainer and so does my body. I so much miss my old life where I could run, play tennis, and go to cycle class, but my back won't allow me to do those things now. Being able to do weights with Ken has been so good for both my mind and body.
I loved this top but again didn't keep it because I would not wear it very often.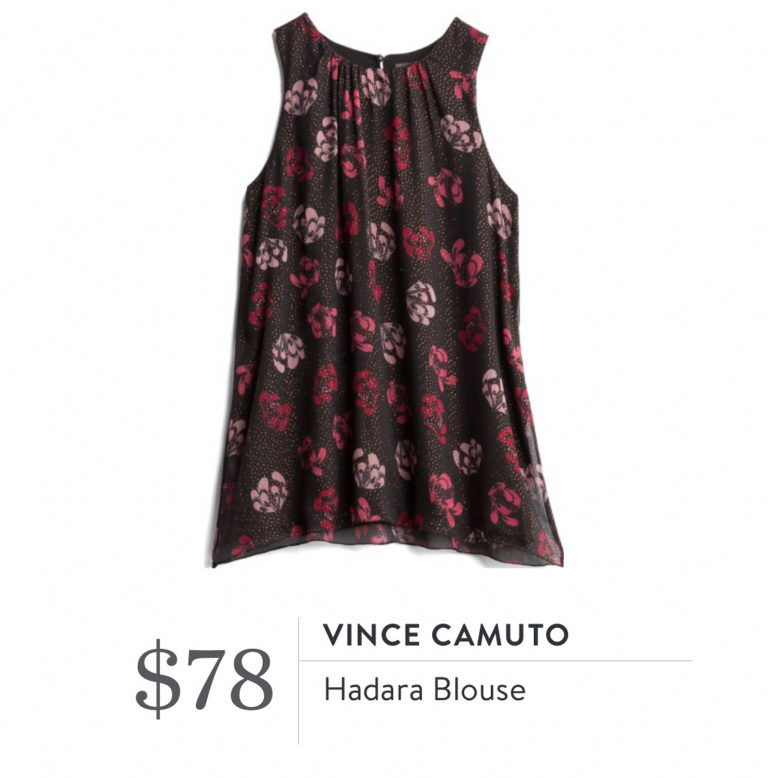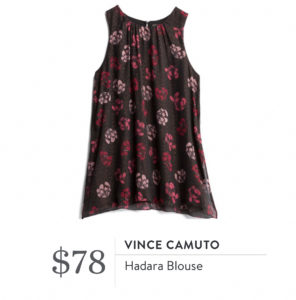 Evolution by Cyrus Nixxie Textured Back Duster Cardigan
This duster cardigan was super soft and comfortable and it perfectly matched the Vince Camuto blouse.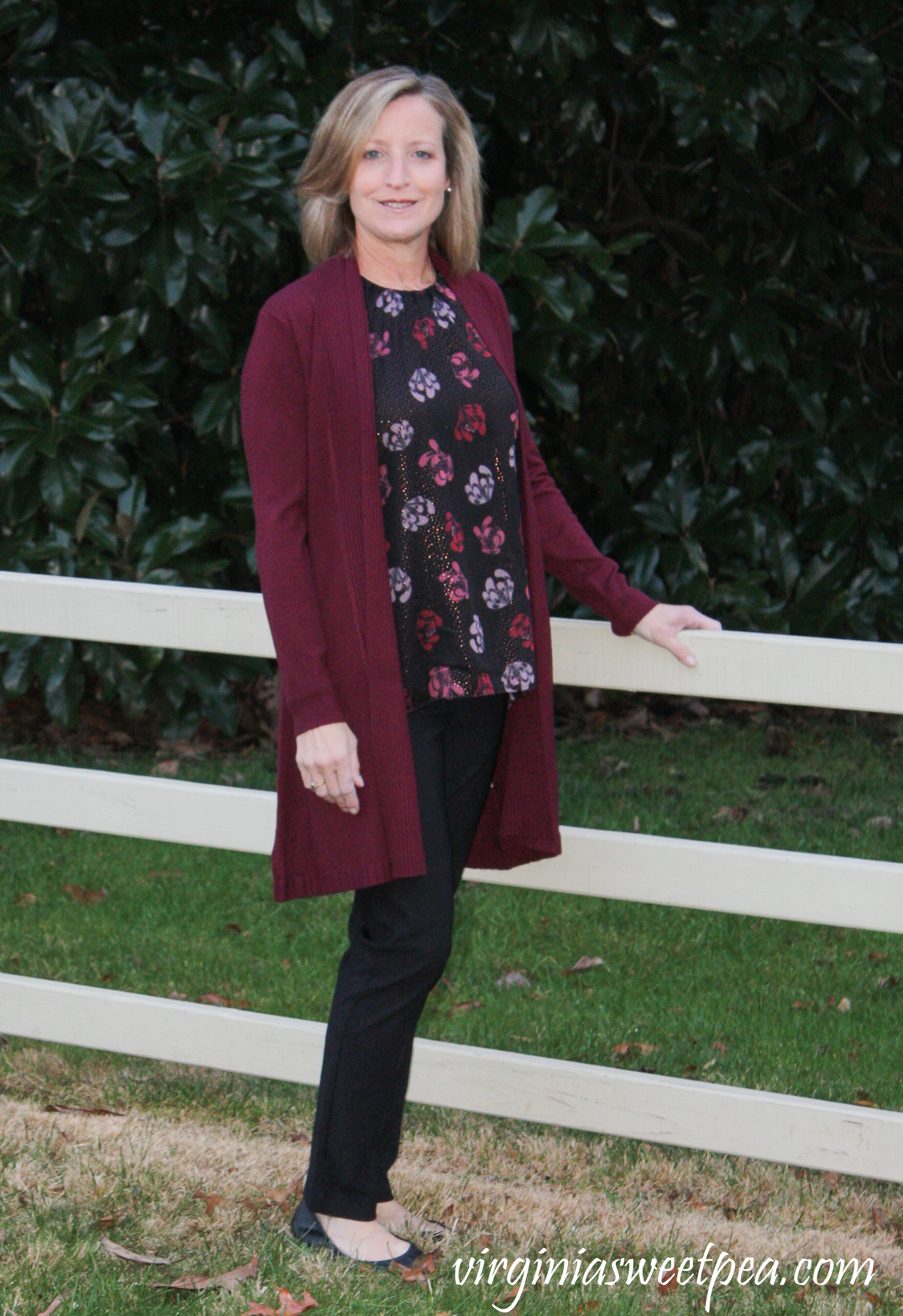 It was getting dark as we were taking this month's Stitch Fix pictures, so I only have one picture of this sweater to share.
I was tempted by this sweater but in the end decided not to keep it.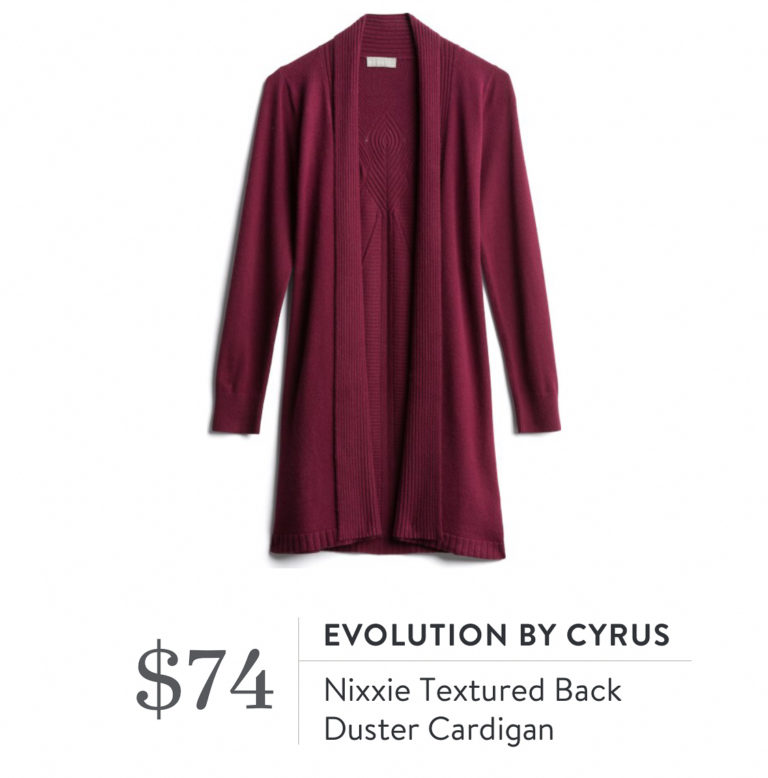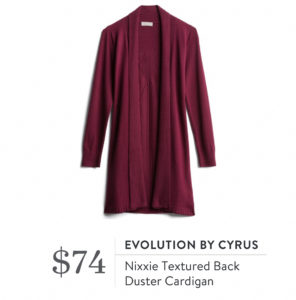 Market & Spruce Ashlea Pleated Bell Sleeve Top
I loved the style and color of this bell sleeved top. The v-neck is flattering and it's a top that really could be worn year-round.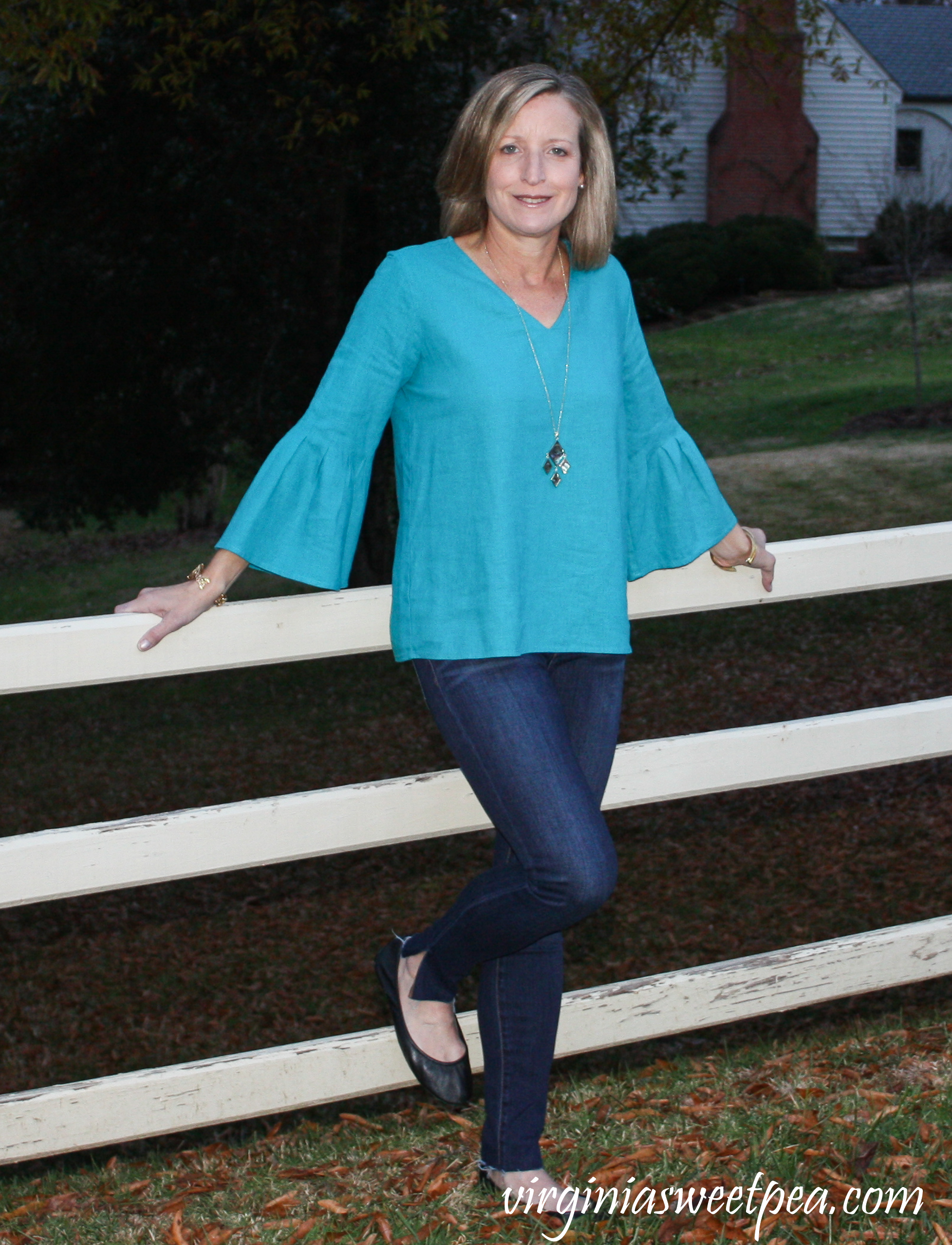 My necklace and bracelets are from Rocksbox shipments from the summer. Rocksbox is a jewelry subscription service that sends three pieces of jewelry that you can wear for as long as you like each month. When you send your three pieces back, or buy what you like, a new box is sent. If you'd like a free month of Rocksbox, sign up with this code: PAULABFF54. I rejoined Rocksbox in January and am LOVING their service. I've received the cutest jewelry and have purchased quite a few items.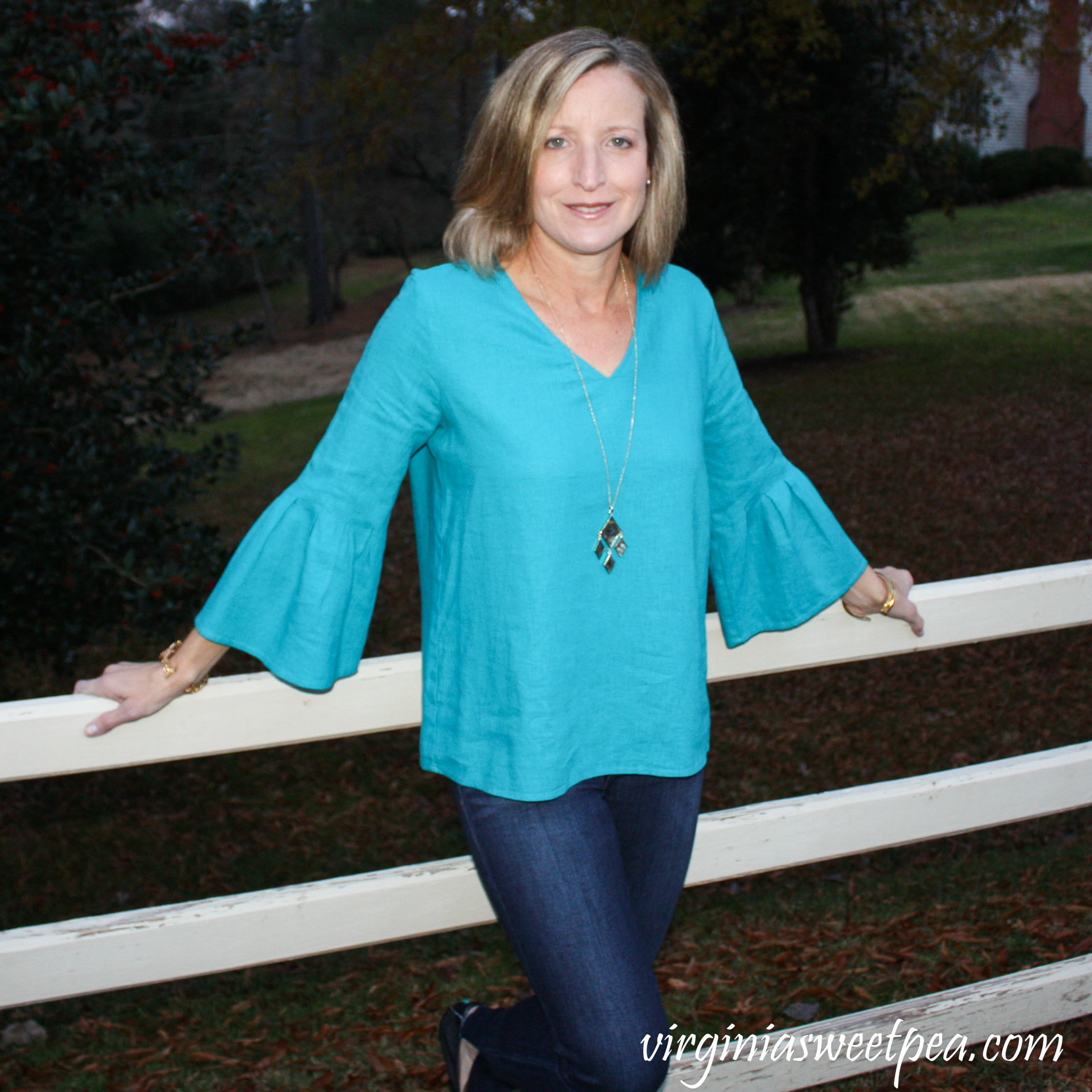 Even though it was getting dark, we somehow managed to get more pictures of this top than the previous sweater.
I paired this top with Sam Edelman jeans from my November Fix, but it also would look great with a skirt or dress pants.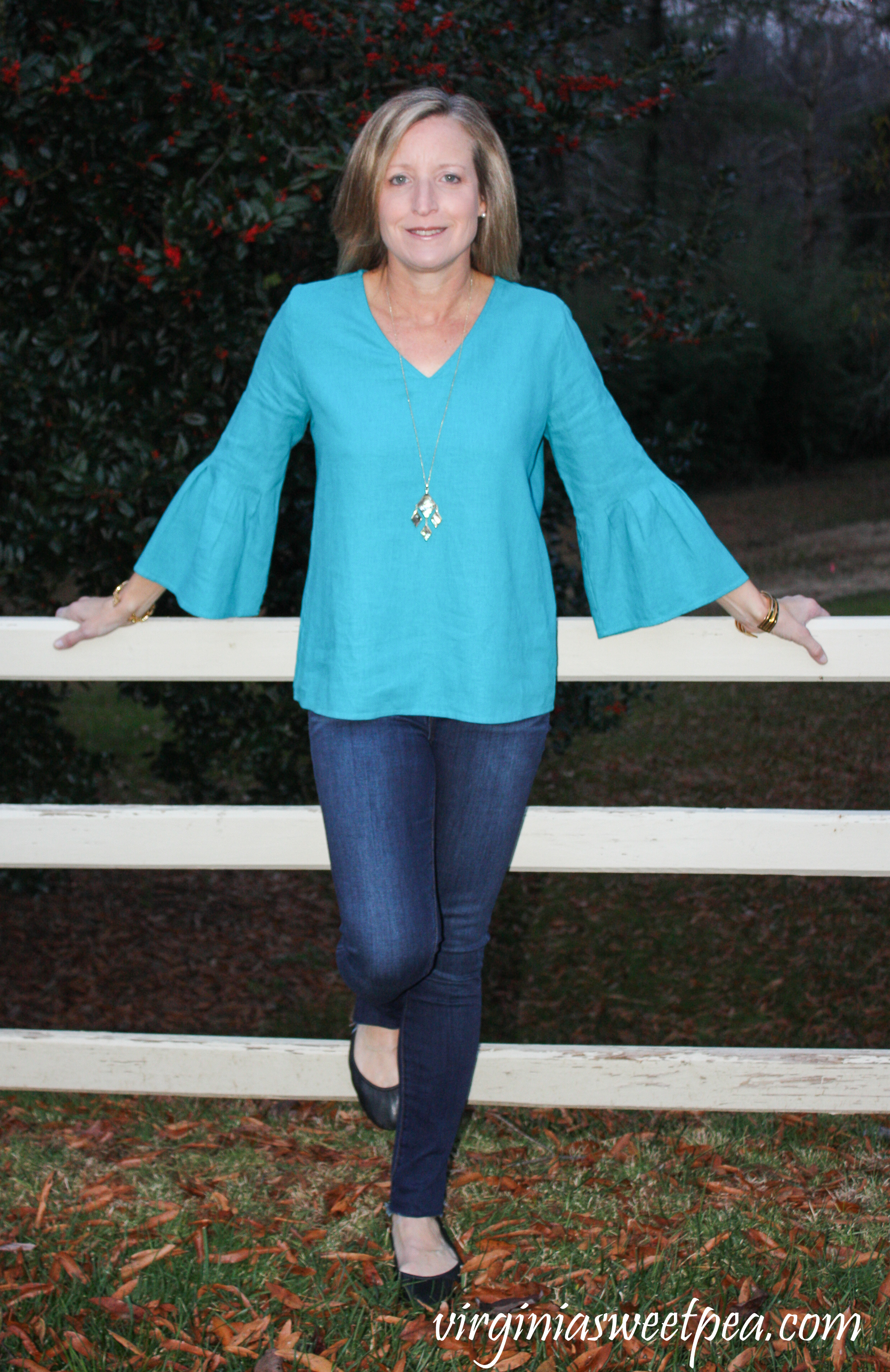 I really liked the style of this top but I'm not a fan of linen because of the wrinkles, thus I knew when it arrived that I would not keep it.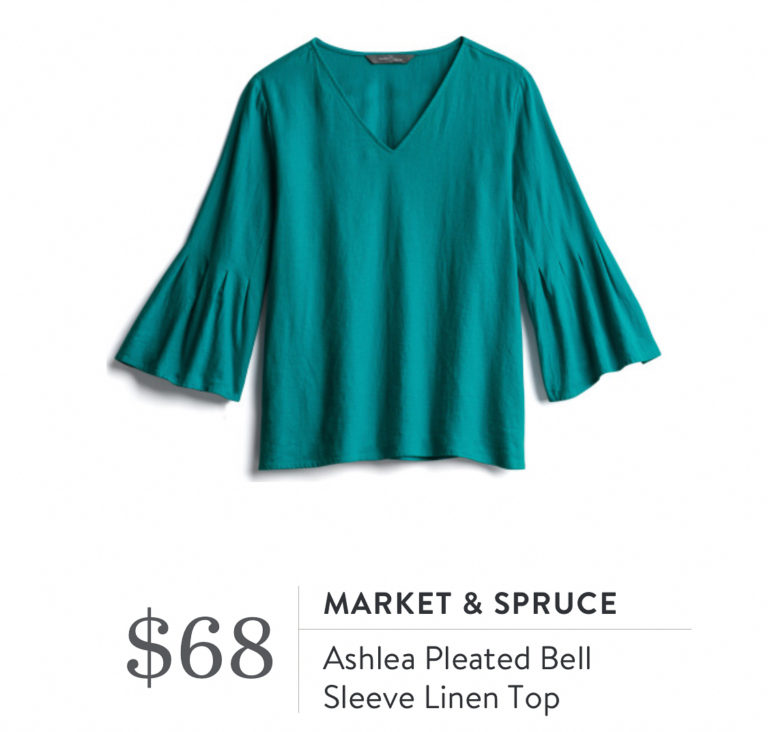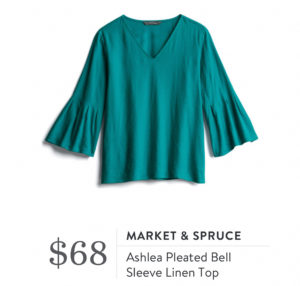 Market & Spruce Sharlene Fair Isle Cotton Blend Pullover
I loved this sweater the second I pulled it out of the box. It's super soft and I like the flattering bottom edge detail.
I've liked this style of sweater since elementary school when wore my first Fair Isle style sweater for my 5th grade picture.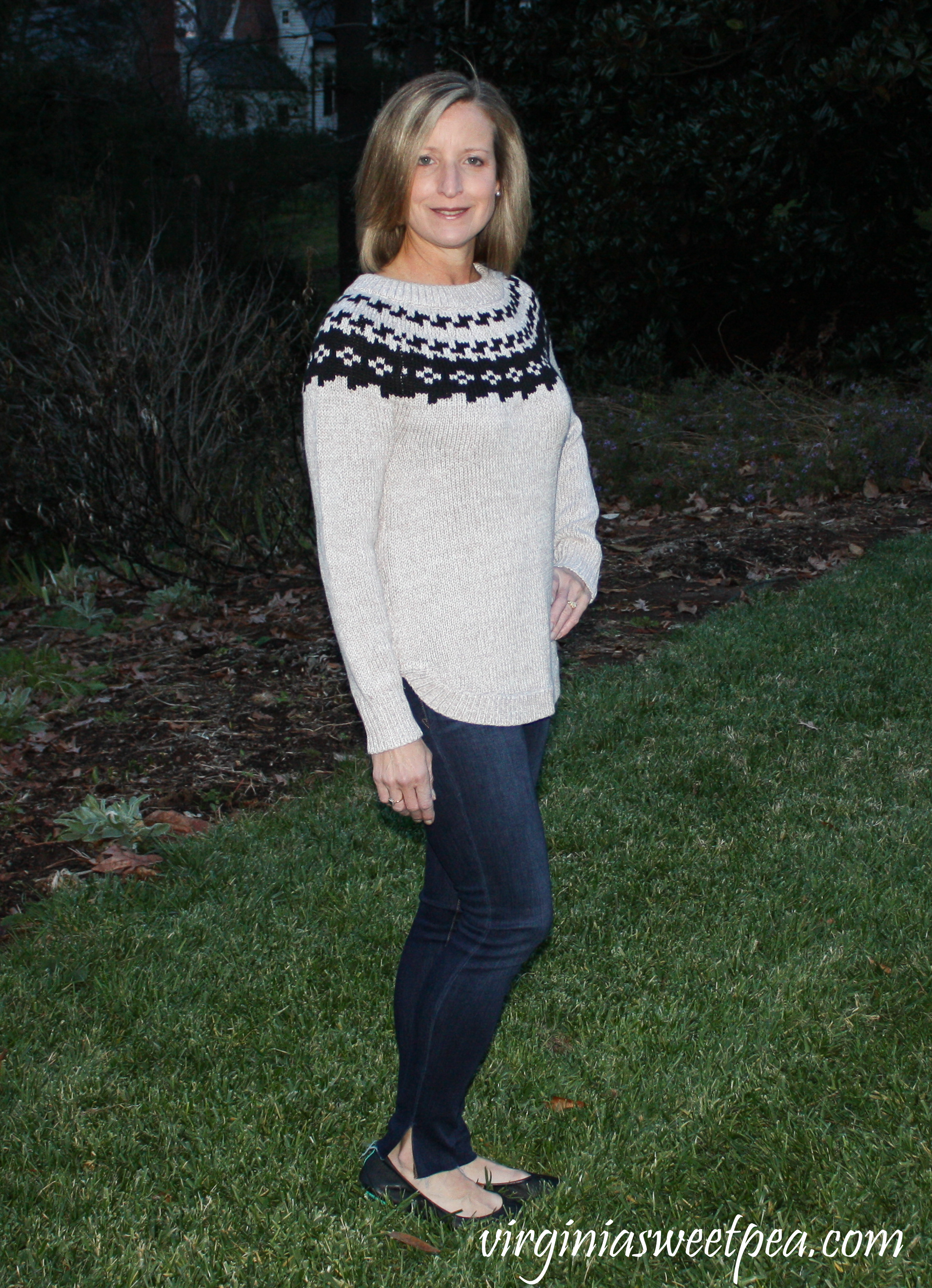 You can see that it was really getting dark by the time we took pictures of this sweater. I'm wearing this sweater with the same Sam Edelman jeans from my November Fix. I've since worn it with black jeans and black dress pants.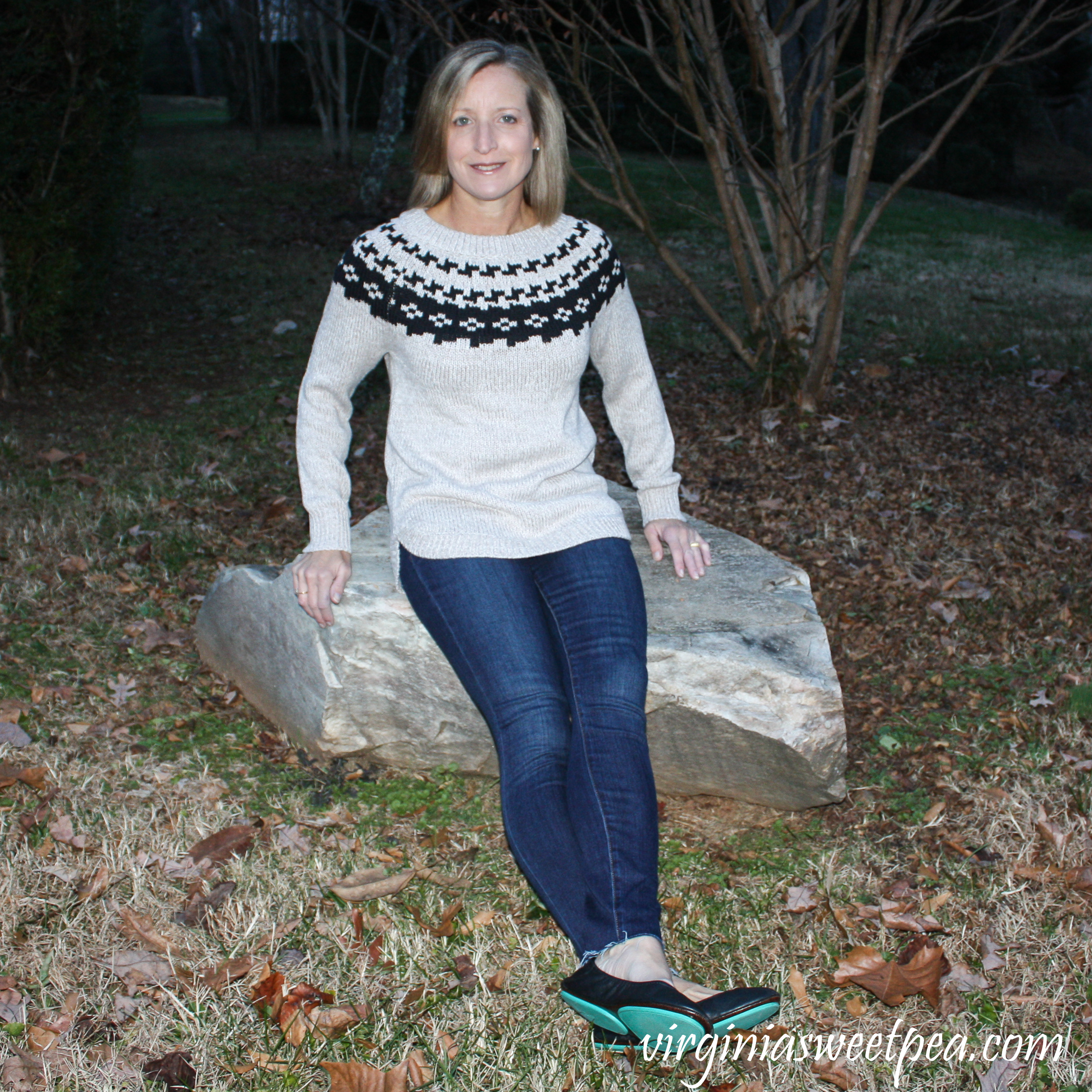 If you read my previous sentence, then you know that I kept this sweater and have already worn it several times.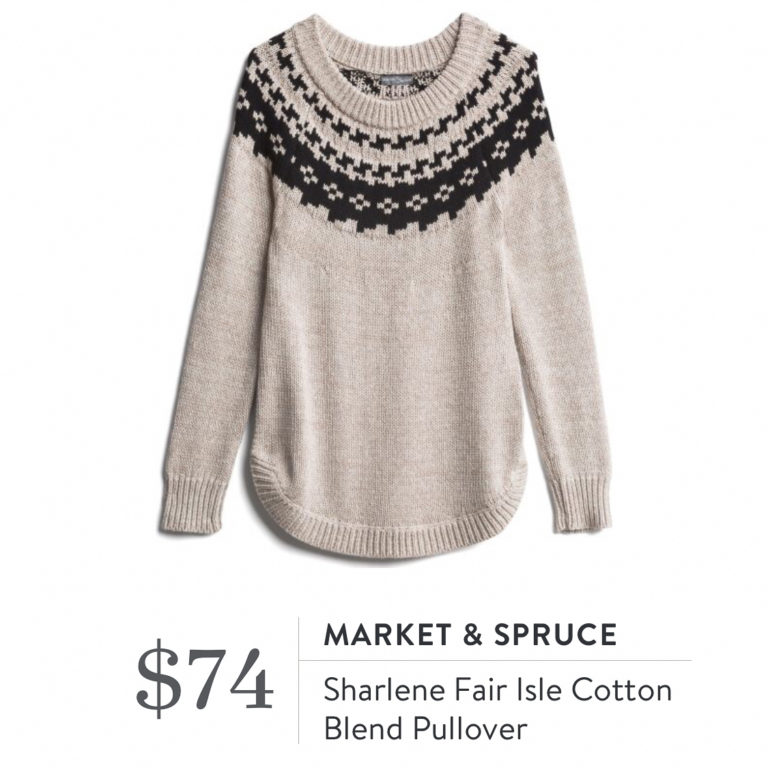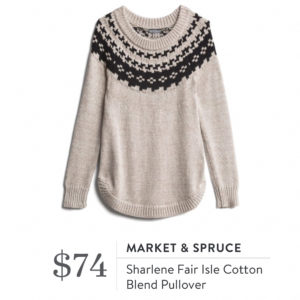 TRY STITCH FIX
If you've been thinking about trying Stitch Fix but haven't, I encourage you to give it a try. Don't forget that Stitch Fix also offers services for both men and children.
I love receiving my box each month and have so much fun trying on all of the styles sent to me.
Stitch Fix also offers gift cards, so if you need to give a special lady or gentleman a gift, consider a gift card for a Stitch Fix purchase.