A Very Vintage Christmas in the Formal Living Room
Have you noticed that this year's Christmas posts have been very vintage themed? I love using vintage for decorating in any season, but especially love vintage Christmas decor.
Today I'm sharing A Very Vintage Christmas in the Formal Living Room where, of course, I used vintage to decorate.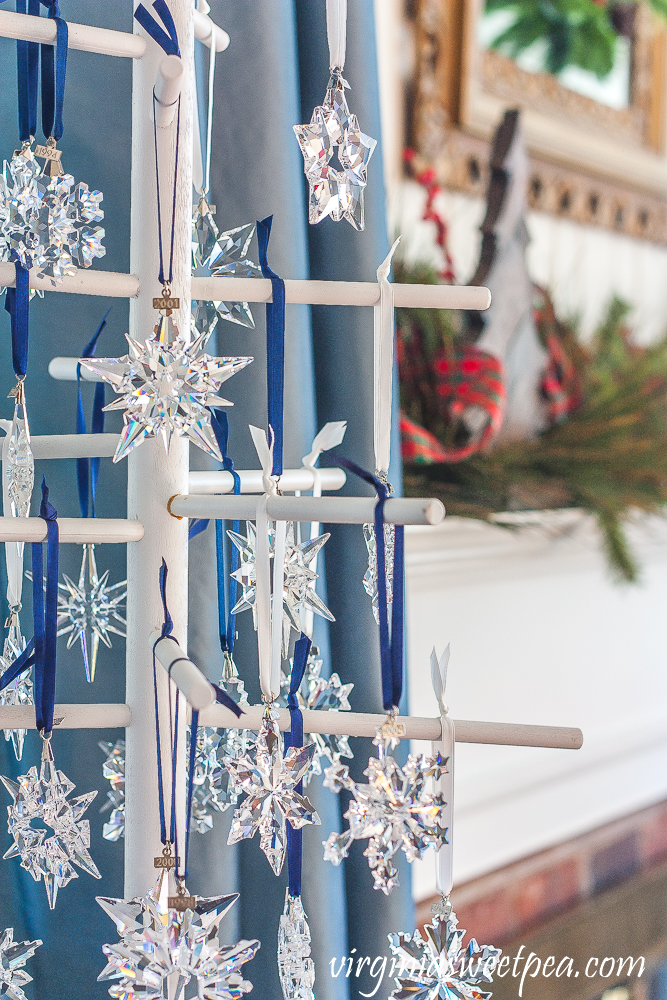 I'm sharing my living room Christmas decorations along with 26 blogging friends for a Celebrate Christmas blog tour hosted by Leen of Sand Dollar Lane.
On the Celebrate Christmas tour you'll enjoy Christmas ideas including home tours, DIY ideas, tablescapes and centerpieces. You'll find links to all of the bloggers sharing today at the end of this post.
If you arrived here from Postcards from the Ridge, welcome! Angie is a dear friend and I love her vintage style.
A Very Vintage Christmas in the Formal Living Room
Earlier this week I shared the mantel in our formal living room decorated for Christmas. Today I'm sharing the rest of the formal living room's Christmas decor.
Our formal living room is a light filled room that is primarily used by our dog, Sherman. Sherman spends his day guarding the house from "his" sofa or napping on the rug.
Let's tour the room to see how I decorated it this year for Christmas.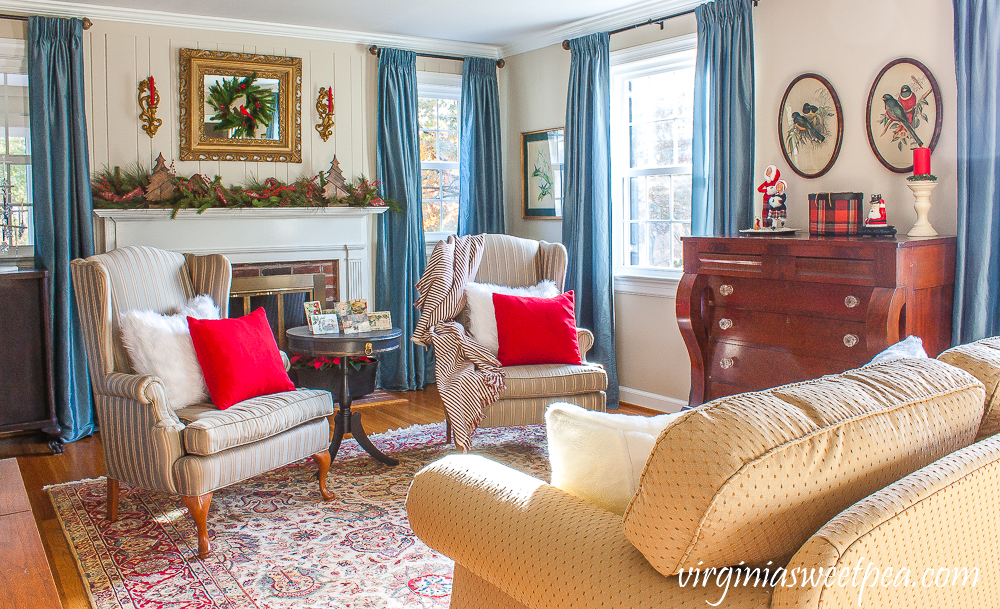 When visitors come over, Sherman shares his room with them. The $5 wing back chairs that my mom snagged for me at a church auction sale are comfortable and they are decorated for the season with white fur pillows that I made last year and red wool pillows that I made this year. The striped throw is from Ikea.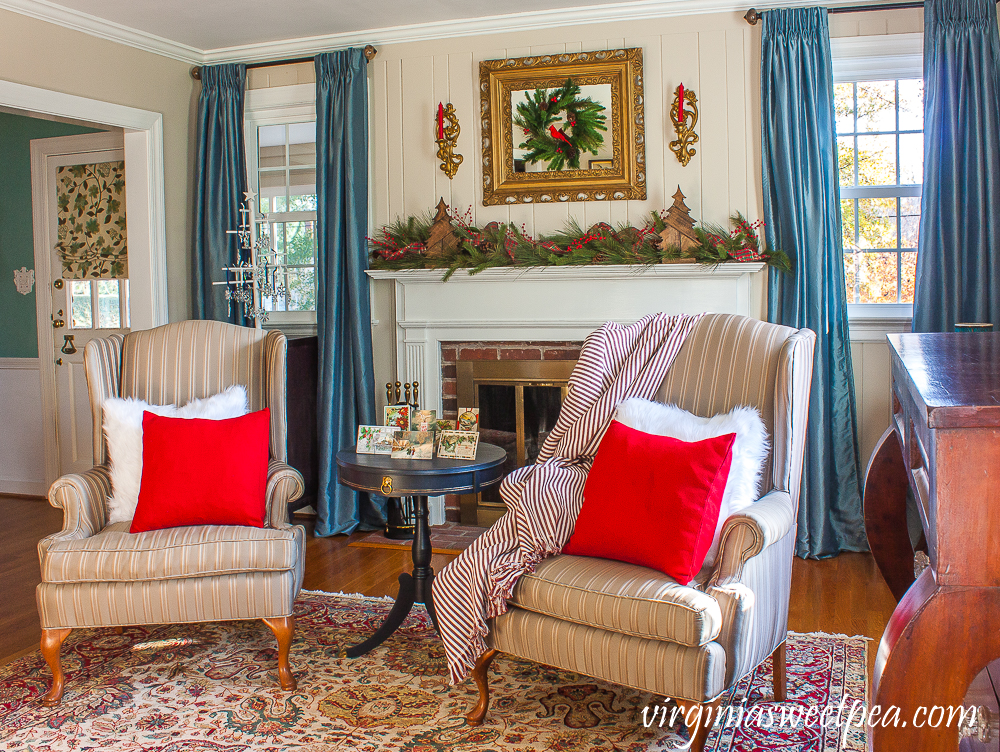 The table between the chairs is a great place to display family postcards from the early 1900's.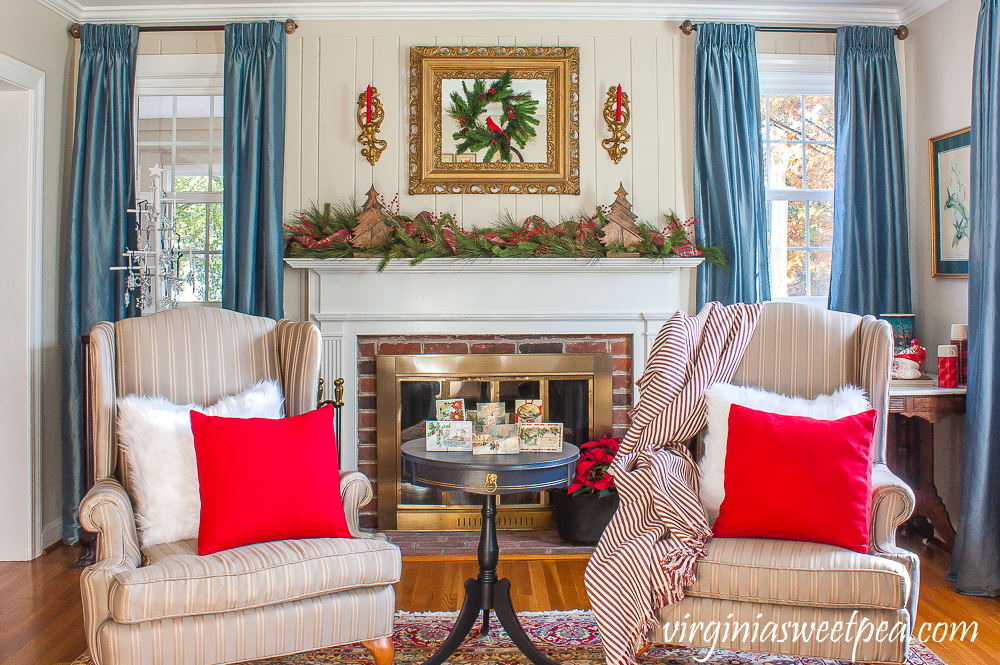 Most of these postcards were sent to my great-great aunts. I love reading the messages on the backs of the cards and also looking at the old stamps.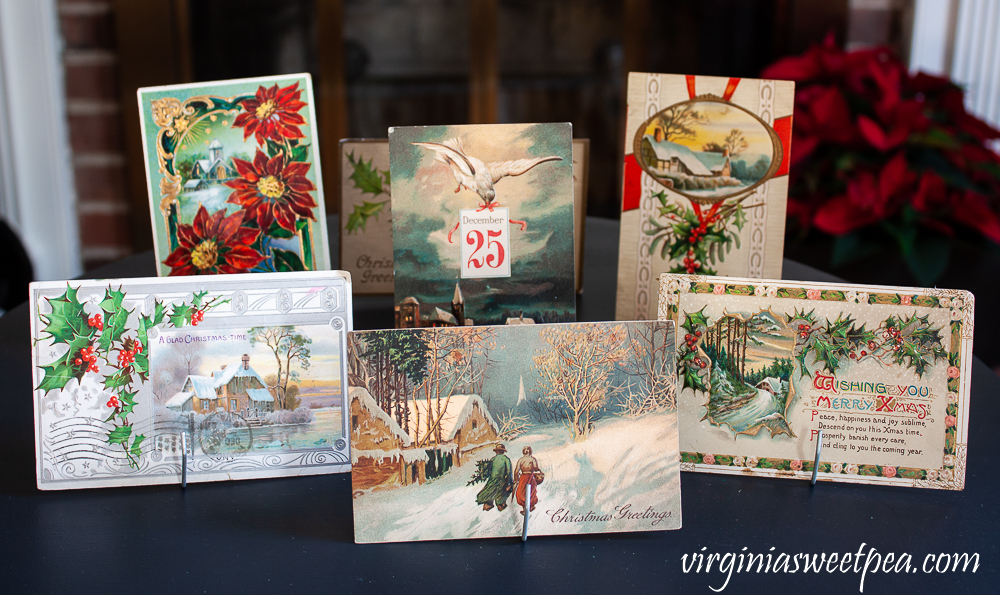 My favorite of the bunch is this card sent in 1908 to my great-great aunt. It's addressed to her work, S.H. Heironimus, a department store in downtown Roanoke.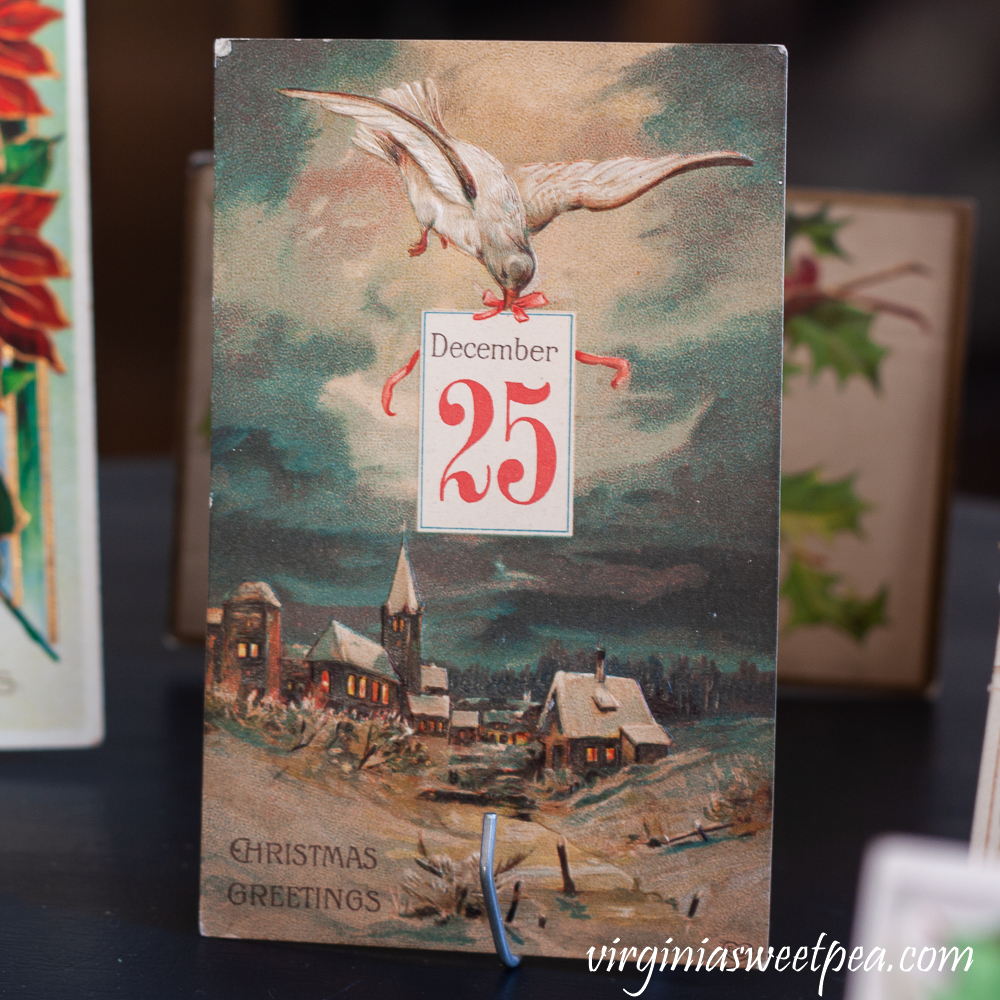 Swarovski Christmas Tree
Every Christmas I display a wooden tree filled with Swarovski snowflake ornaments on a music stand to the left of the mantel.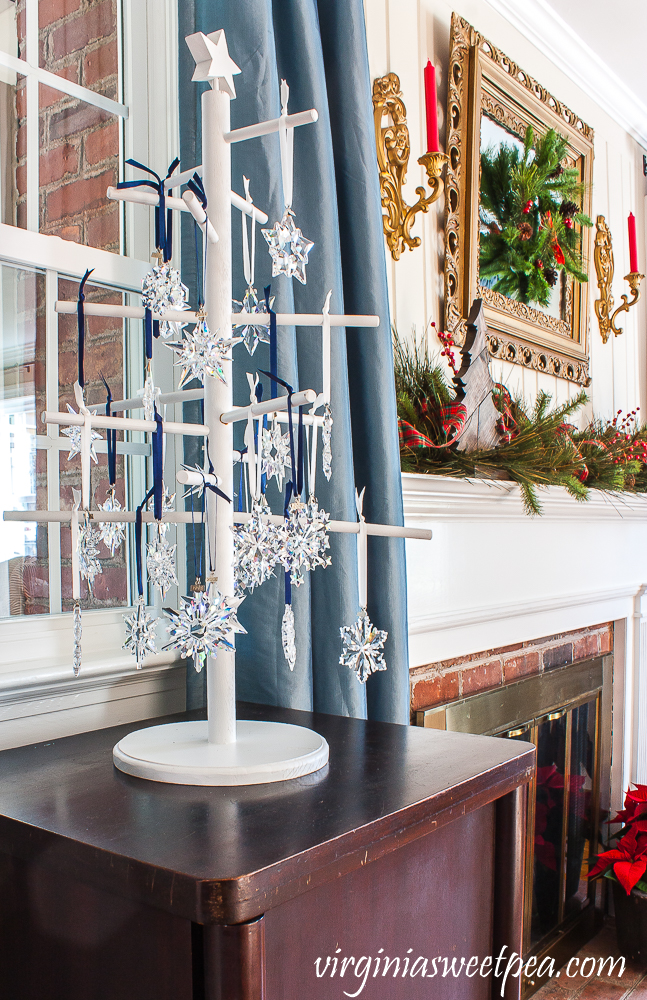 Mr. SP has given me a Swarovski snowflake ornament every Christmas since 1993.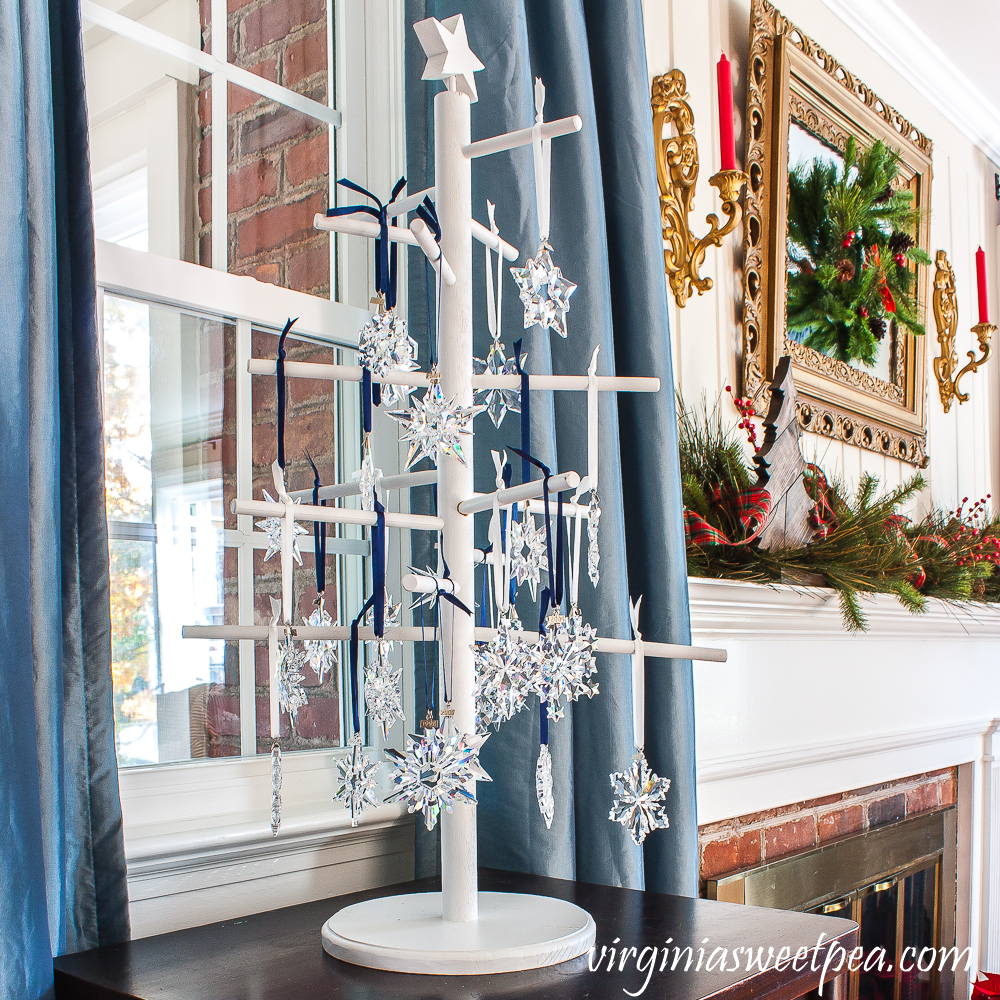 The wooden tree that he helped me to make a long time ago is full of pretty snowflakes.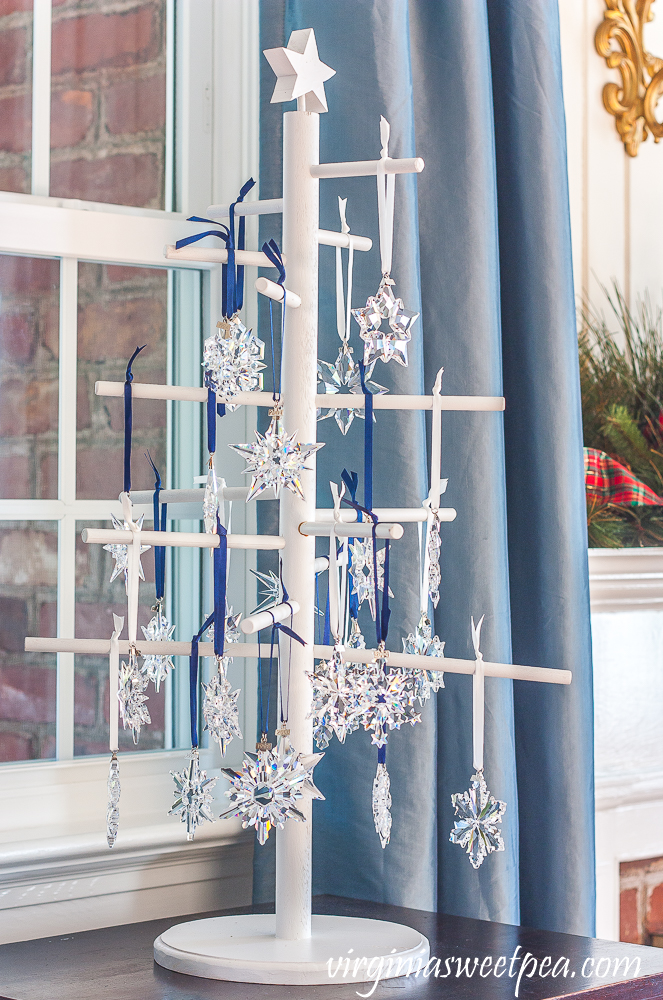 This tree is displayed all winter and I especially enjoy how the light refracts through the ornaments making light patterns on the walls and ceilings at different times of day.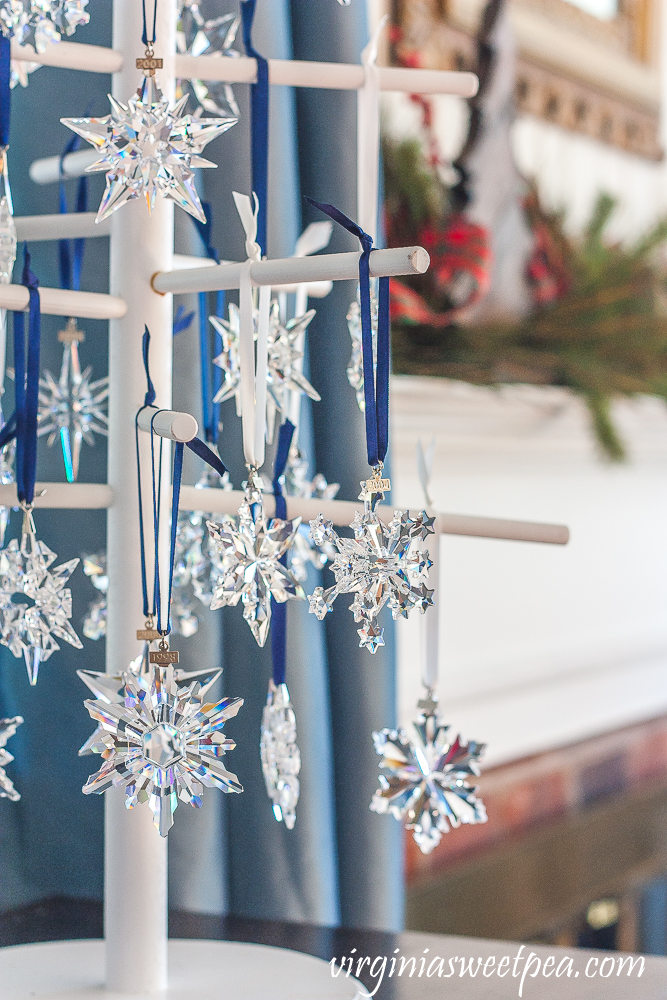 Vintage Santas
The table to the right of the mantel is another favorite spot to decorate seasonally.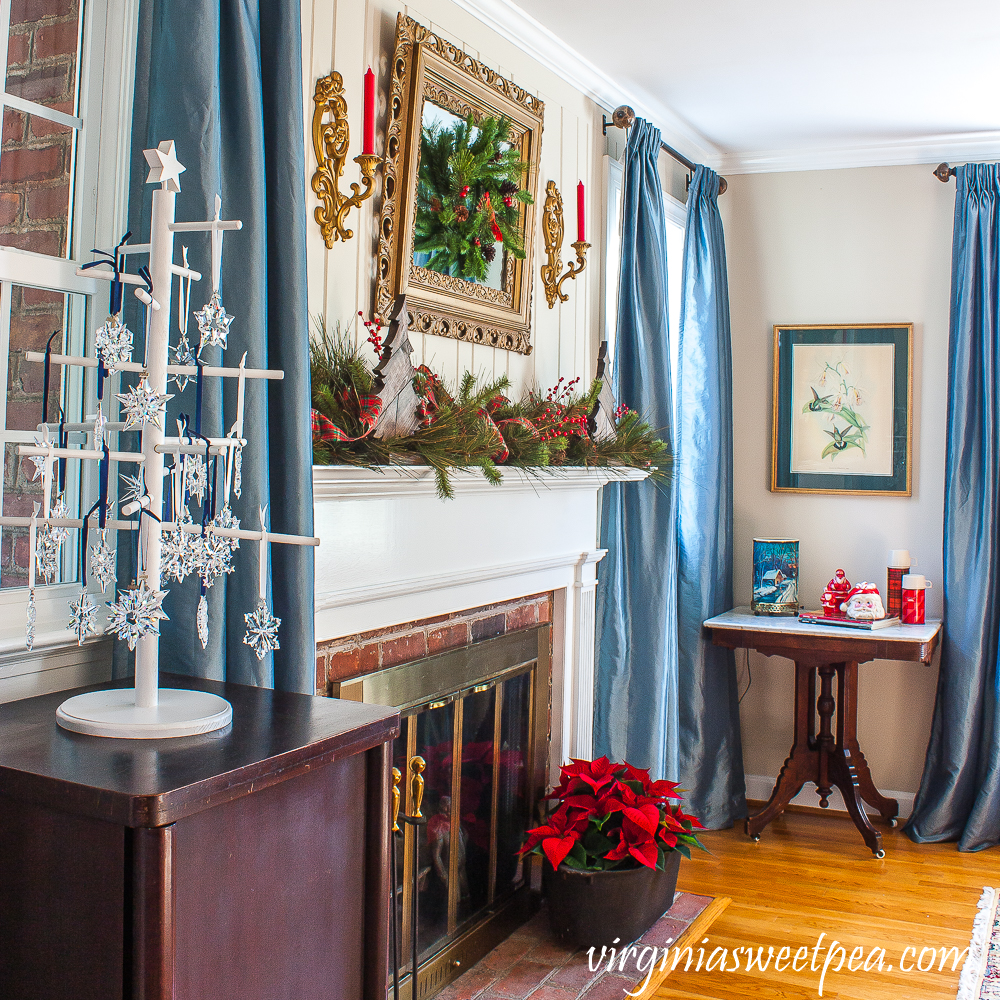 The table holds a vintage Econolite along with vintage Santas, thermoses, and Christmas books.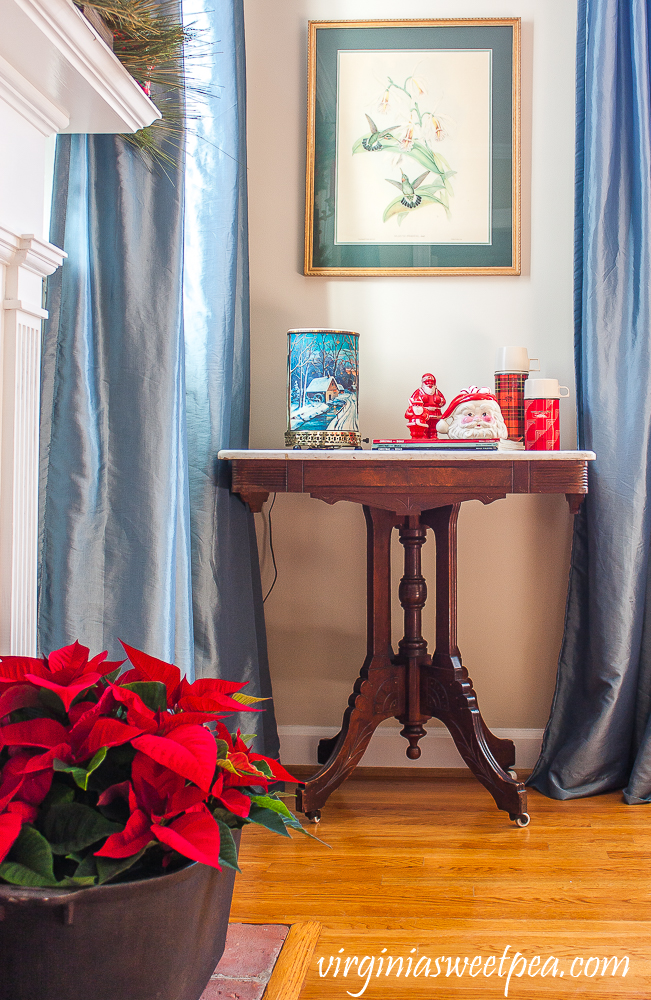 Econolite motion lamps were produced in the 1950's. When turned on, the heat of a light bulb makes a part inside turn making it appear to snow on the lampshade. My mother gifted me with this Econolite years ago and it's another piece that I display all winter.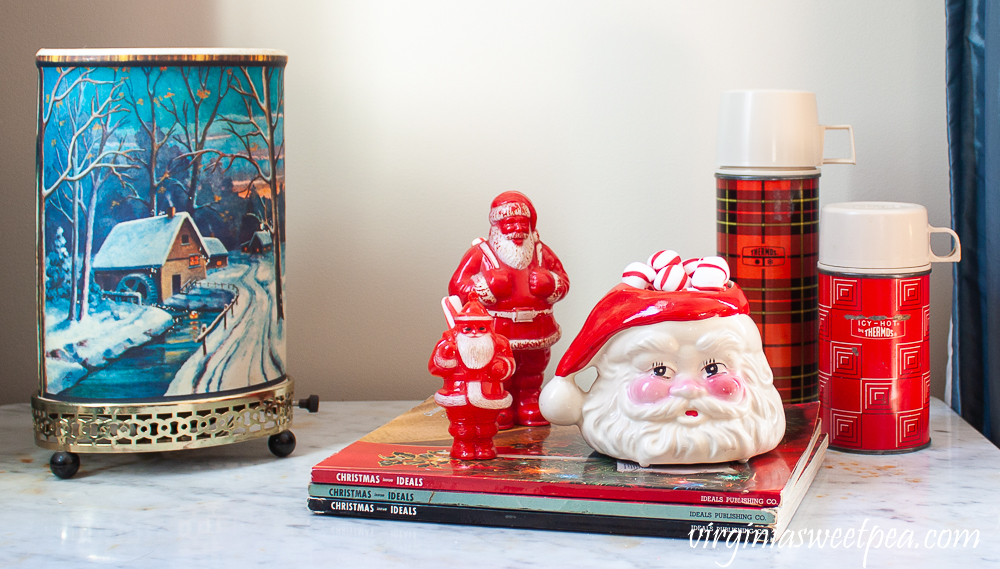 I love vintage Santa items and grouped a few of my favorites here. The red Santas originally came filled with candy.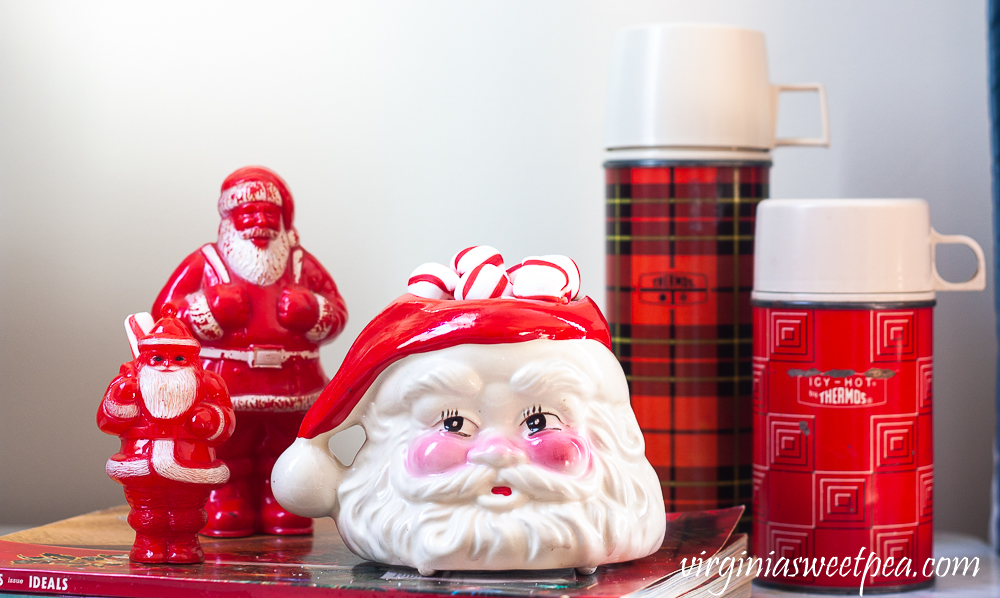 The Santa mug belonged to my great-great aunt who raised my grandmother. My great-great aunt passed this to my grandmother, who passed it to my mom, who passed it to me. I love pulling this guy out of a Christmas bin each year.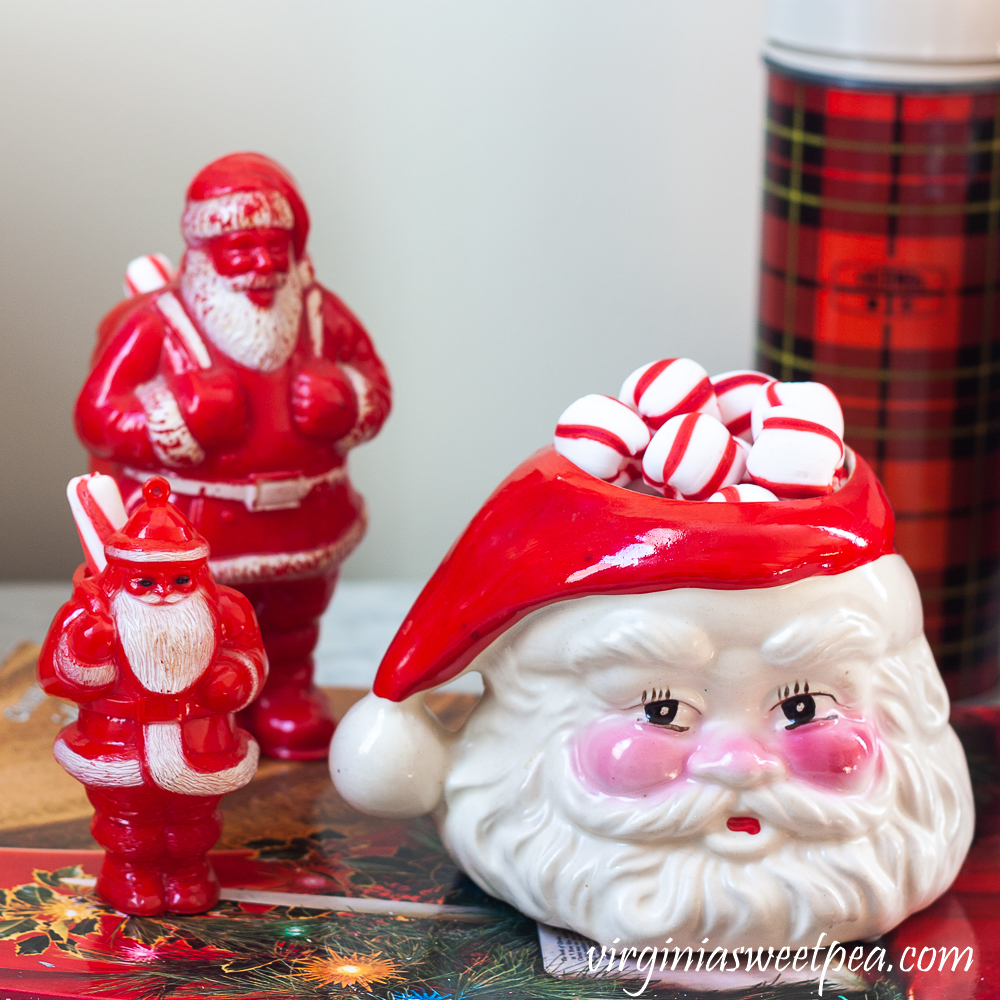 The Santas rest on Christmas Ideals books from 1958, 1961, and 1962. My friend gave me the red plaid thermos and the other thermos came from an antiques shop in Bedford.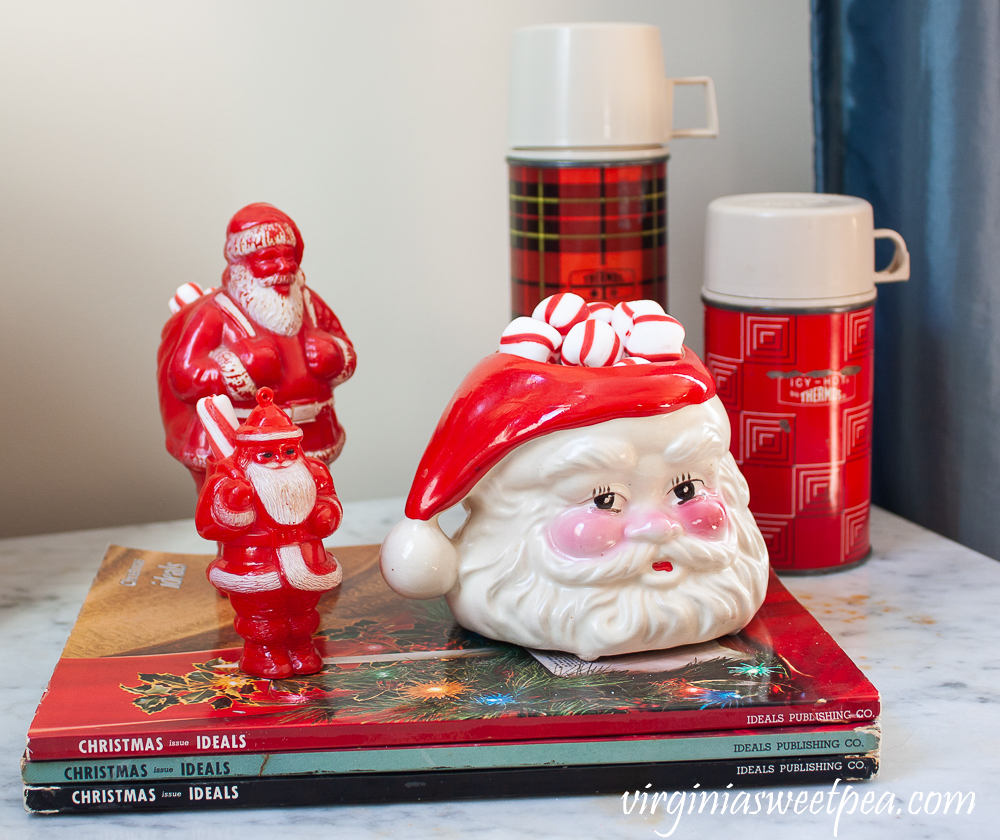 Christmas Decor on the Chest
Swinging around to the other side of the room you can see that Sherman's sofa, like the wingback chairs, has white fur pillows, and another red wool one.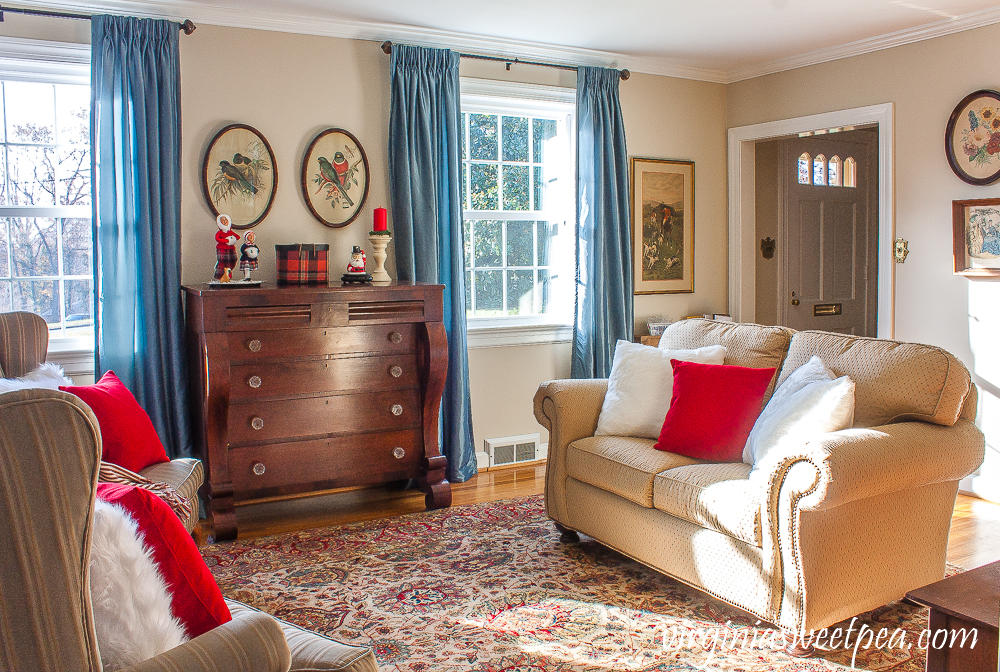 My grandmother's chest is another spot that I like to decorate seasonally.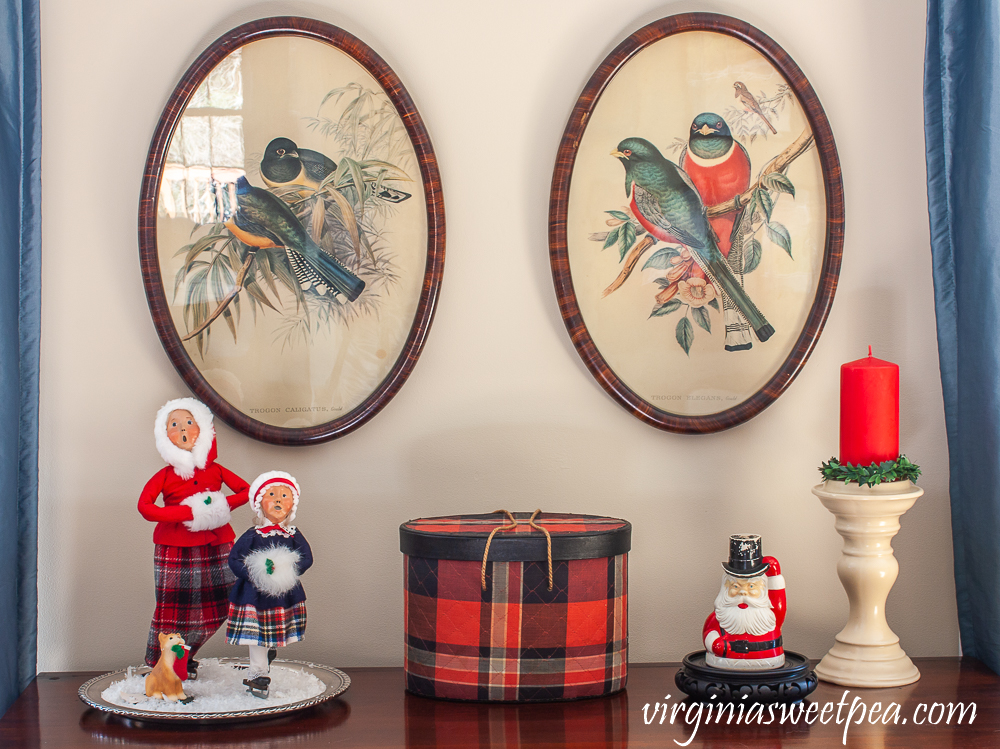 My mom gave me my Byer's Choice skaters and cat in the early 1990's.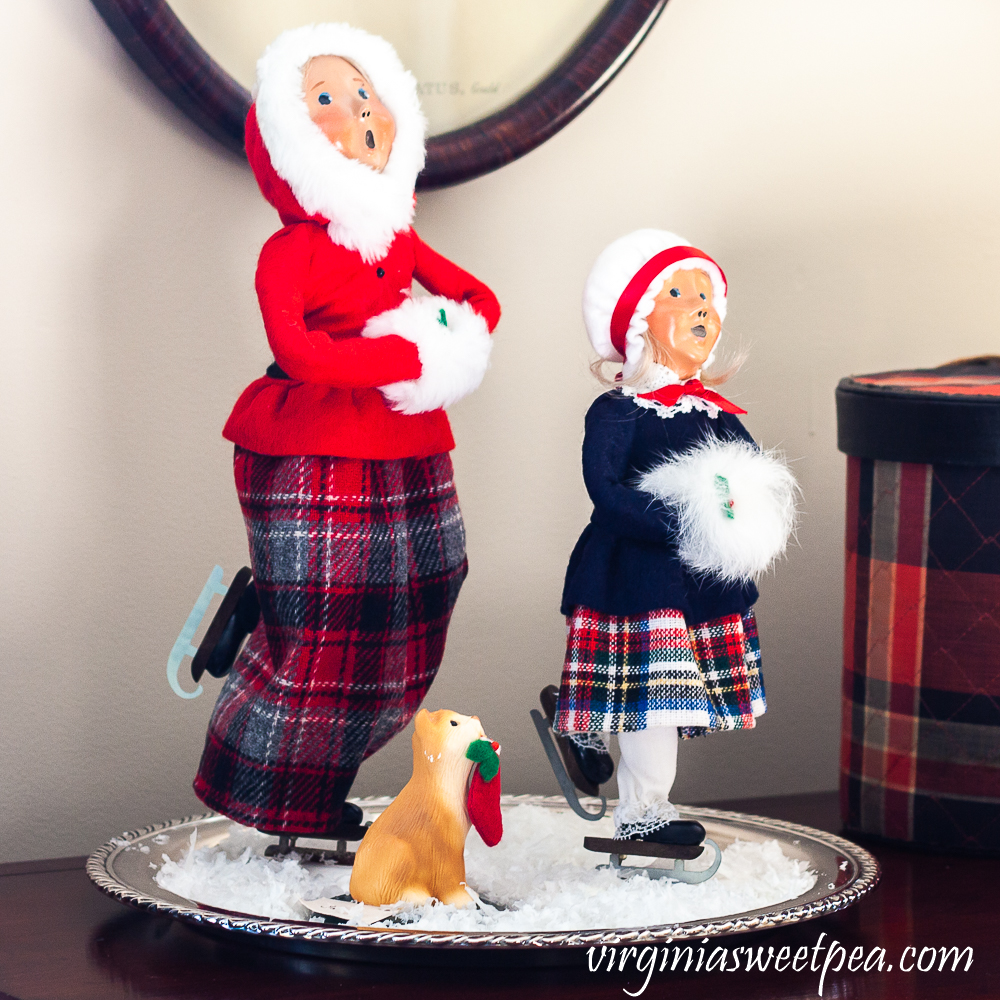 The red plaid sewing box belonged to my great-great aunt and it is still filled with sewing supplies.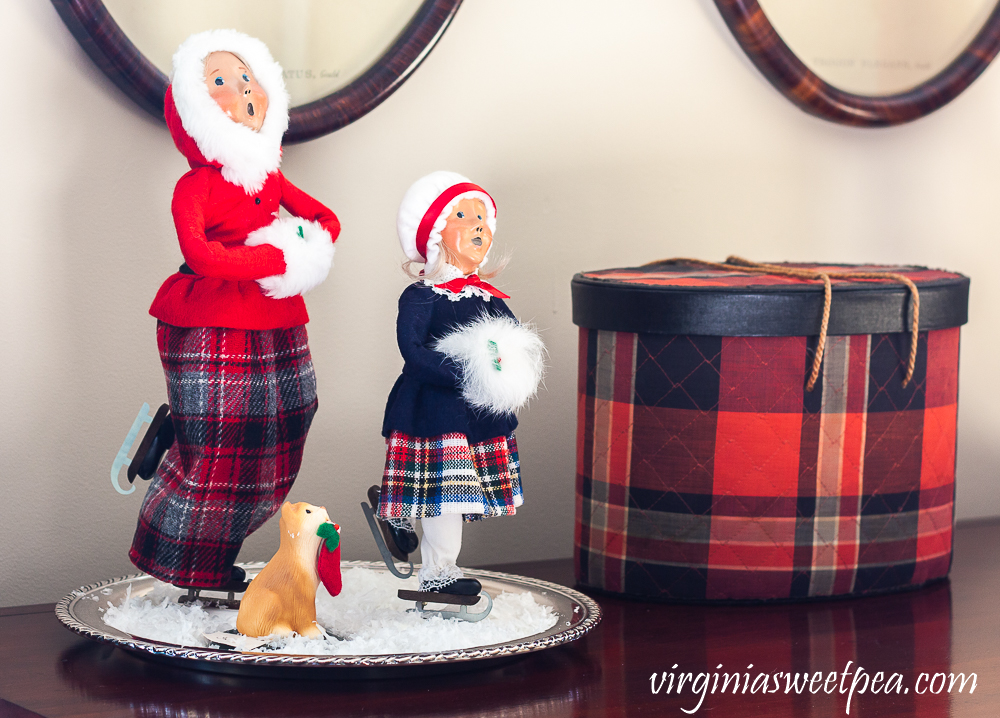 A Knox Hats Santa bank is a recent vintage find on Facebook. I purchased it from a local gentleman selling items from his dad's estate. His parents had more than 300 Santas that they displayed each Christmas.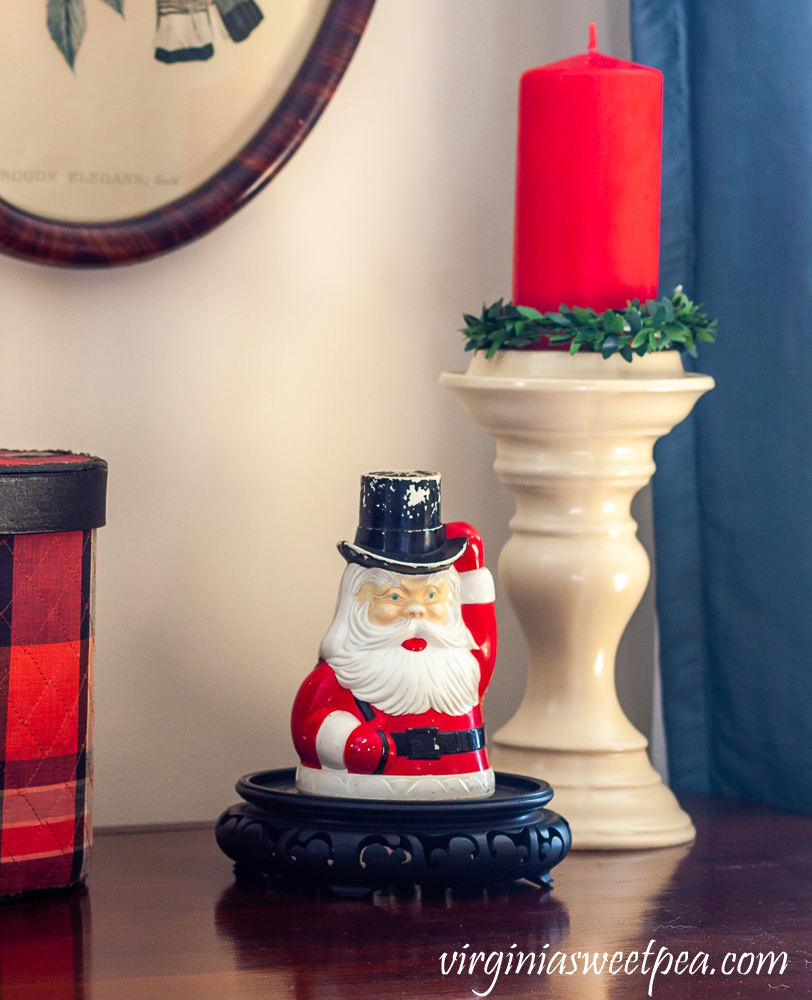 I hope you enjoyed touring my Very Vintage Christmas Formal Living Room! It was a pleasure to share my decor with you.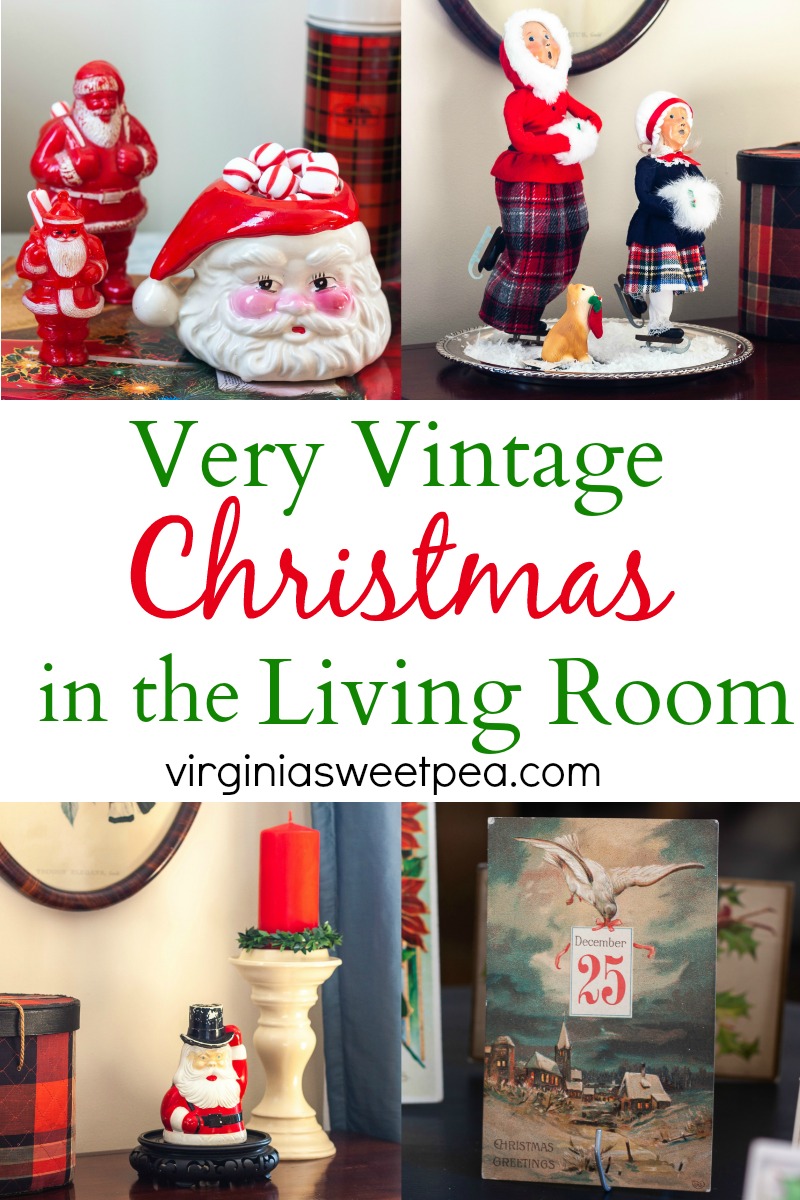 Next on the tour is Suzy of Worthing Court. Suzy has a beautiful home and I know that it is going to be a pleasure to see her Christmas decor.
Celebrate Christmas Tour
Enjoy the ideas shared on the Celebrate Christmas Tour! Click on the link below each picture to visit each participating blogger.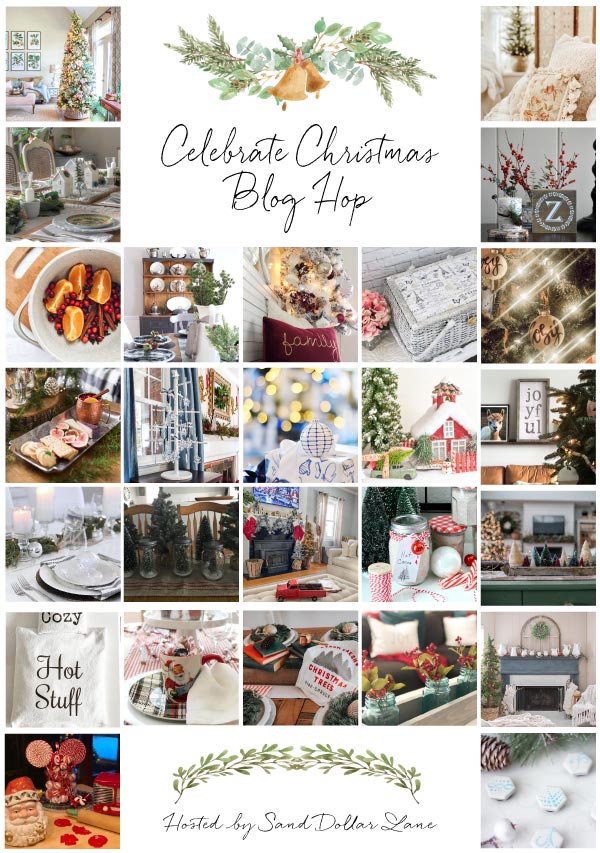 Sand Dollar Lane // Aratari at Home // Postcards From the Ridge // Sweet Pea

Worthing Court // Atta Girl Says // Sonya Burgess // Kippi at Home

White Arrows Home // Cribbs Style // Dabbling & Decorating // One House 2 Barns

My Family Thyme // The February Fox // A Life Unfolding


My Wee Abode // The Tattered Pew // Thistlewood Farms

Artsy Chicks Rule // 2 Bees in a Pod // Zucchini Sisters (not shown) // The Little by Little Home


The French Blue Cottage // Elizabeth Joan Designs // Joy in Our Home

Thistle Key Lane // Noting Grace
More Christmas Decor to Enjoy