Christmas Ideas Tour – My Front Door Wreath
Who Doesn't like getting Christmas ideas? I know that I do! This week I've teamed up with some blogging friends to share great ideas for Christmas. Today is wreath day.
If you are a regular to my blog then you know that I love to make wreaths. I come by it honestly as I can't remember a time that my mom wasn't crafting a wreath for our front door or for our church.
This year's front door wreath is one of my favorite wreath creations ever. That's a pretty big statement considering how many wreaths I've made over the years.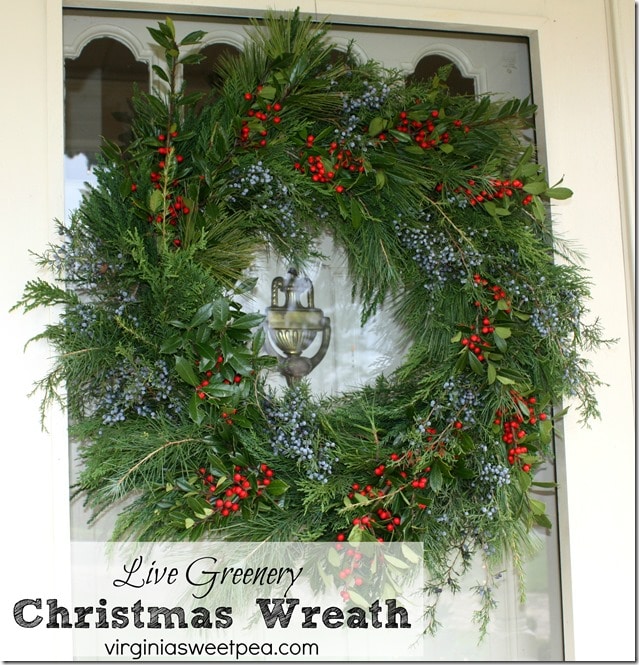 Yesterday I shared our outdoor lighting and the decor on our porch. Since most of my pictures were taken at night, in yesterday's post you really couldn't get a good look at my wreath. (If you missed yesterday's post, you can see it here.)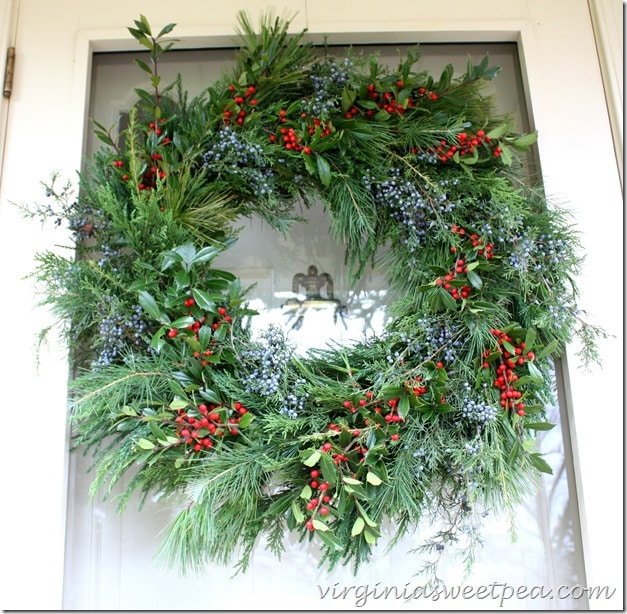 My mom and I spent a good part of the day on Saturday making wreaths. We started by gathering greens. We clipped from my yard, my father-in-law's yard, where I play tennis, a park, and a local collage. While walking our dog I've been keeping my eye open for wreath greenery, so I knew exactly where to go to clip.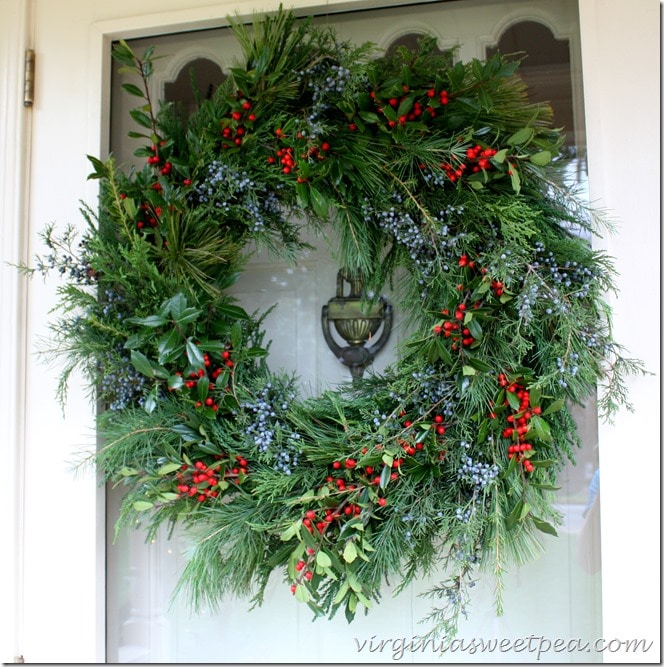 My mom and I had such a good time making our wreaths that I completely forgot to take any progress pictures.
My wreath was made using a grape vine form but the process is the same if using a wire form. (That's what Mama used for the two wreaths that she made for her house.) We both started the process by attaching wire to the form and then added bunches of greenery, a small amount at a time, wrapping wire around the form to secure it. I used seven varieties of greenery to add texture and interest to my wreath.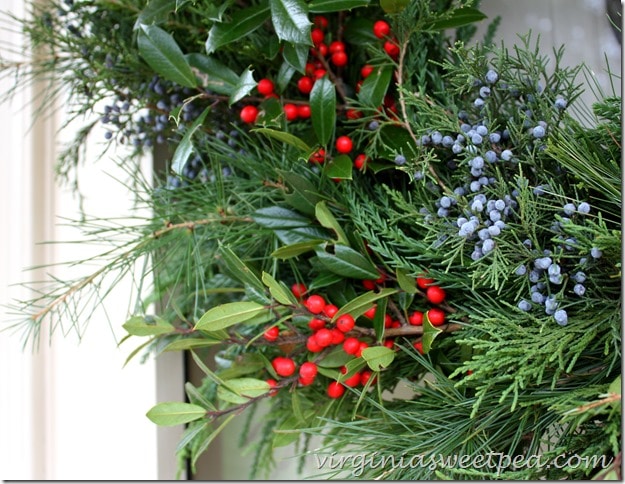 Both the Holly and Cedar trees around here are loaded with berries this year.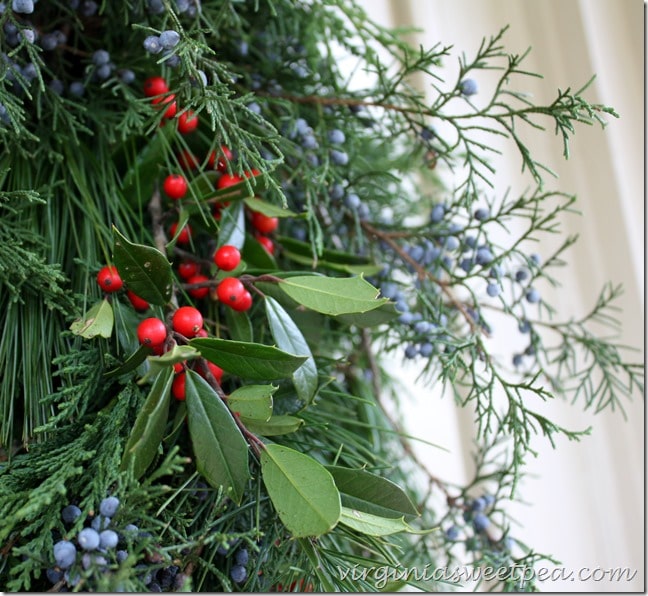 There's nothing like the smell of fresh greenery, especially Cedar. Fun science fact for you: A Cedar berry must pass through the digestive track of a bird to germinate. That's why you frequently see them growing on fence rows or under power lines.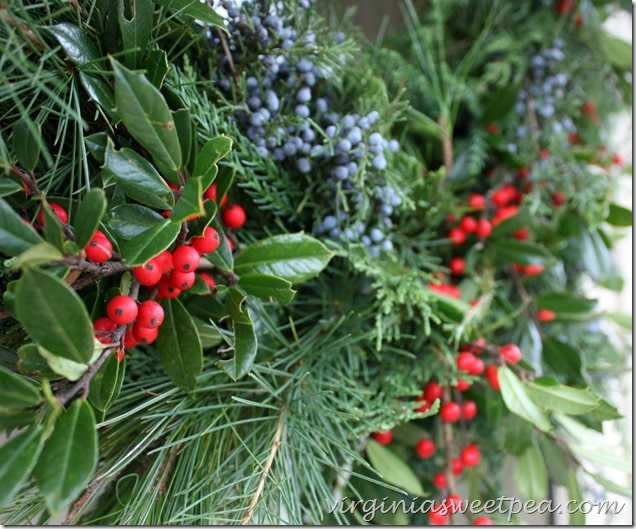 Boy do I like this wreath! It took a few hours to make but every minute spent was worth my time.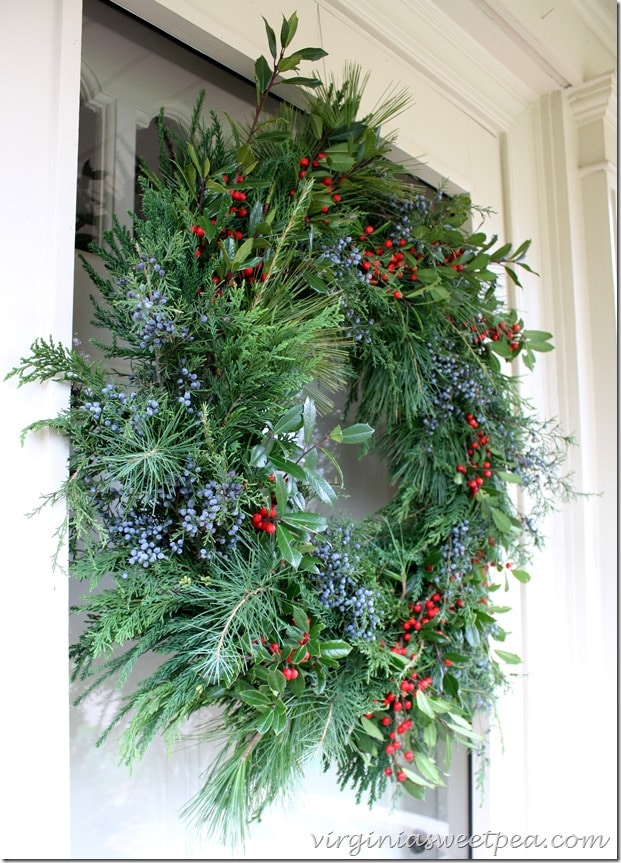 I debated whether to add a bow to this wreath or to leave it as is. You can't see the Holly or Cedar from the street, so perhaps I should add a bow for a pop of color. What do you think?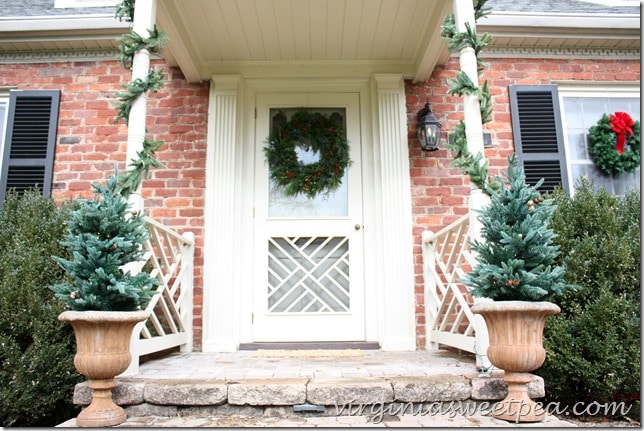 Be sure to check out all of the ideas shared this week!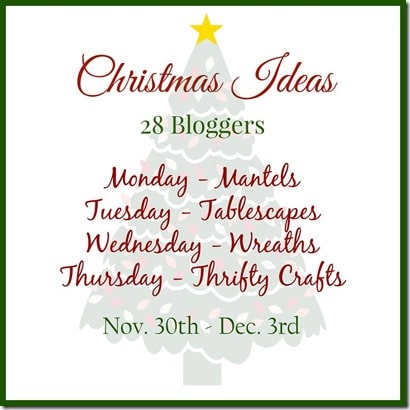 Monday – Mantels
Tuesday – Tablescapes
Wednesday – Wreaths
Sweet Pea (That's me!)
Thursday – Thrifty Crafts
Confessions of a Serial Do-It-Yourselfer