Christmas in the Living Room
Has your December been full of Christmas activities? Mine sure has. This weekend my mom, aunt, cousin, and my sweet friend Megan went on a Christmas home tour in Waynesboro, VA. The homes were all historic and decorated for Christmas. I took some pictures and hope to share the homes with your next week. On Sunday, Mr. SP, my mom, and a former student who is now a friend went to Culpeper to watch my niece dance in The Nutcracker. What a great performance! While I missed having some "at home" time this weekend, it was great to enjoy the Christmas season with both of these activities.
I'm one of those crazy people who think about how they'll decorate their mantel for Christmas almost year-round. This spring Balsam Hill sent two lighted garlands to me by mistake. I was supposed to receive two Tuscan Urns that I shared with you here but instead received two lighted garlands. Balsam Hill sent the urns and kindly let me keep the garland. I've been thinking about using the garland on my mantel since I received it in May.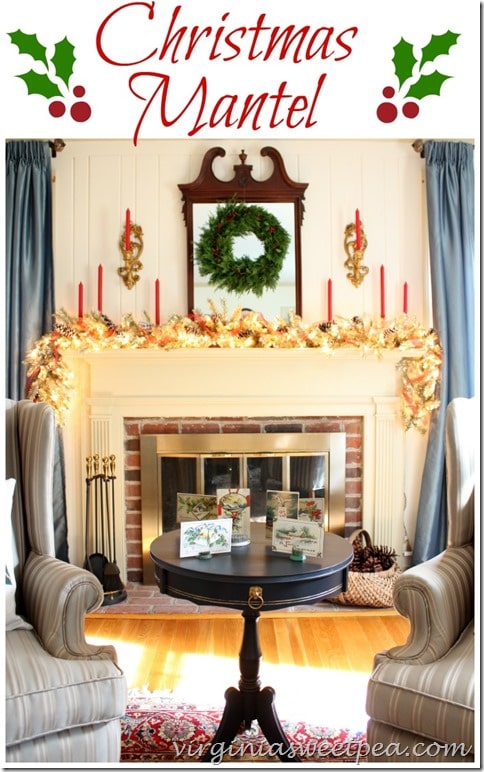 After placing the garland on the mantel, I added brass candle holders that I've had since before I was married along with red candles. Red ribbon and pinecones sprayed with faux snow are a pretty addition.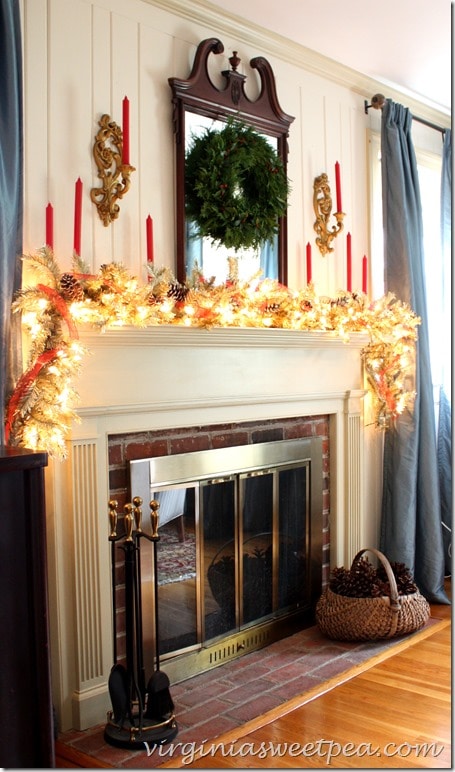 I found the mirror hanging over the fireplace at Goodwill this fall for just $19.99. The sconces are another Goodwill find for $2.00 each. The marble topped table in the corner was my grandmother's and is one of my favorite pieces that I inherited from her. My mom and I love old lamps and she passed the one on the table along to me.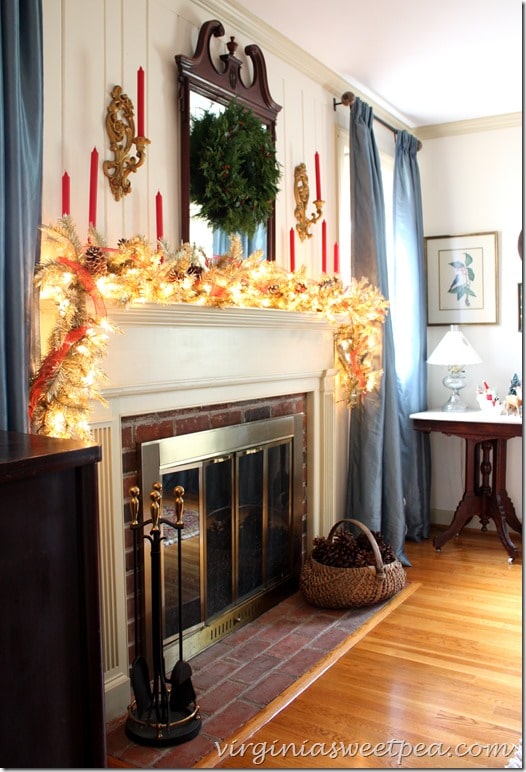 Beside the lamp are Santa and just one of his reindeer. Both of these were purchased at The Vermont Country Store on one of our Christmas ski trips.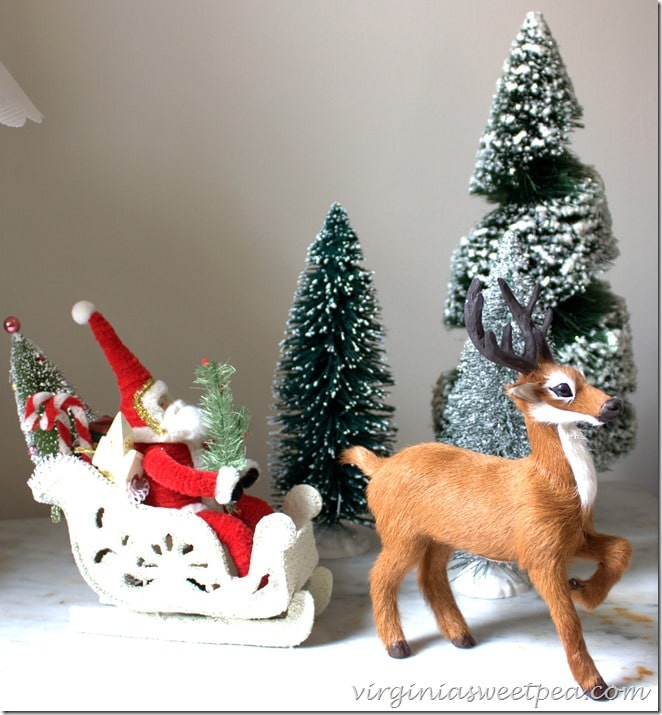 My mom and I made wreaths together the Saturday after Thanksgiving. In retrospect I wish I had added a touch more holly to this one that hangs on the mirror. If you look closely you can see the fishing line that I used as a hanger.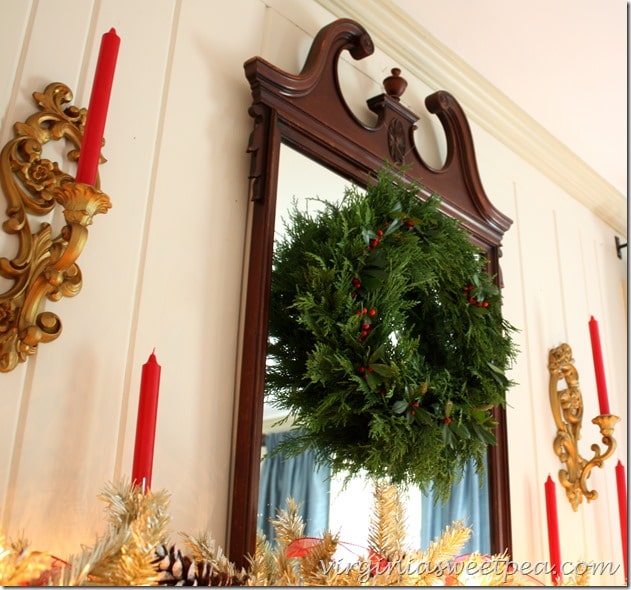 The mantel looks so pretty at night along with the lit candles in the windows. All we need is a roaring fire and the Christmas look would be complete.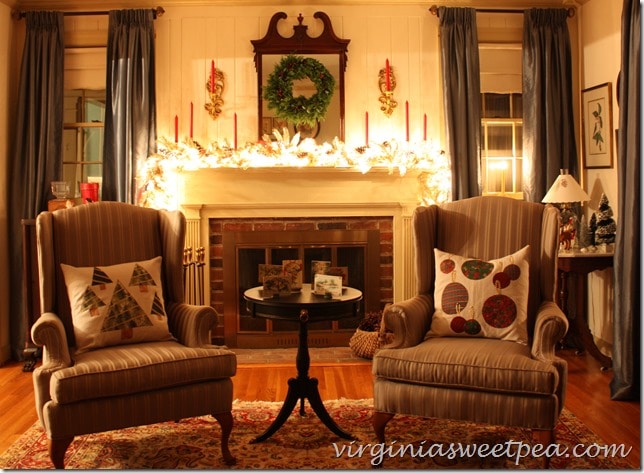 I displayed vintage Christmas post cards on the table in front of the fireplace. (The table makeover is a project I shared this summer. It belonged to my teacher assistant's aunt and she kindly passed it along to me.)
The post cards are a mix of ones that my great-great aunt received in the early 1900's and some purchased this past winter at flea markets in Florida. My sweet Aunt Judy passed them along to me for my shop but I couldn't bear to sell them.
The Sparkly Christmas Reindeer that I recently shared are displayed on an antique chest along with my vintage Econolite. These lights were popular in the 1950's. When the light is turned on the scene lights up and looks as if it is snowing.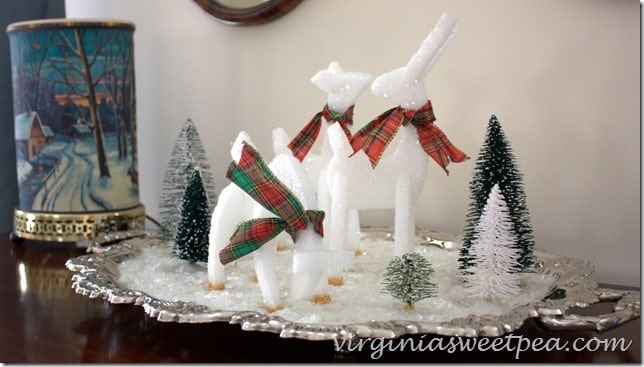 You can get the idea here. I love this lamp and jumped for joy when Mama gave it to me one Christmas. I look for them on Ebay every now and then but winter scene ones aren't easy to find. There's not one like mine listed currently but this one with a winter church and water mill is available. Mama actually had this one and gave it to my sister-in-law. She's been kicking herself ever since because she loved that lamp.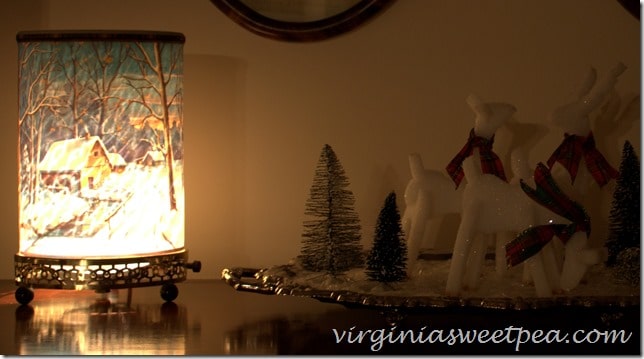 I can't resist one more look at my reindeer. I already know that they will get a winter scarf after Christmas so that I can enjoy them through spring.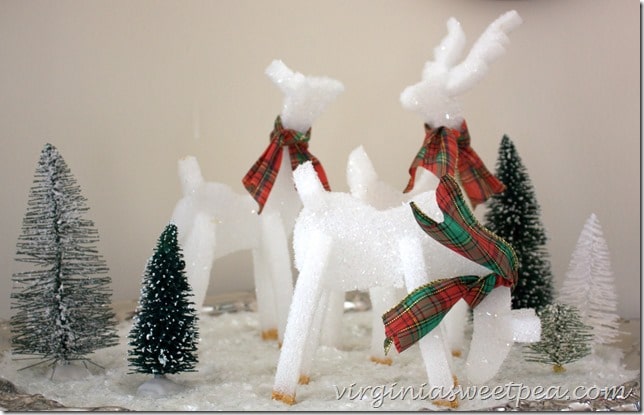 If you make a visit, we can play some Christmas music on my dad's 1960's stereo.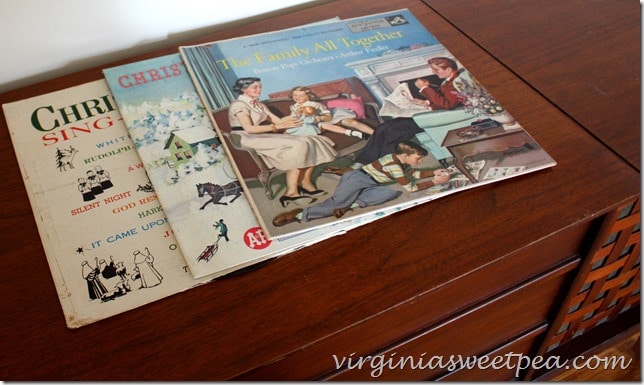 This vintage Santa bank was an antique store find that I've never seen another like it. The lampshade has tiny holes in spots and at night the trees appear to be lit as do the candles in the windows of the home. The cookie cutters were my grandmother's.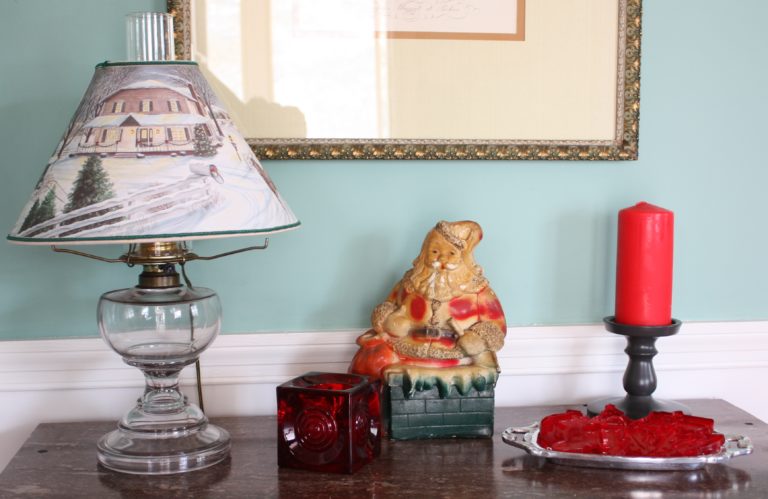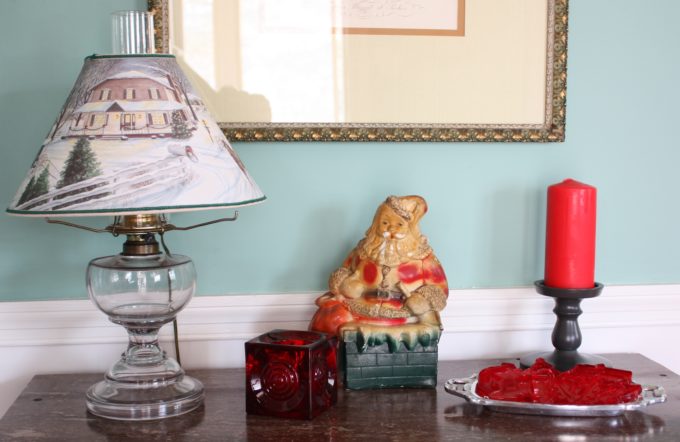 Thanks so much for touring my Christmas living room.
Remember to pin it!