A Southern Charm Christmas – Family Room and Breakfast Room
The Christmas home tour continues!
Last week I shared our decorated for Christmas living room and dining room and also our traditional flocked Christmas tree with Swarovski snowflake ornaments. Next week I will share our Christmas porches.
Today I am sharing our family room and breakfast room Christmas decor.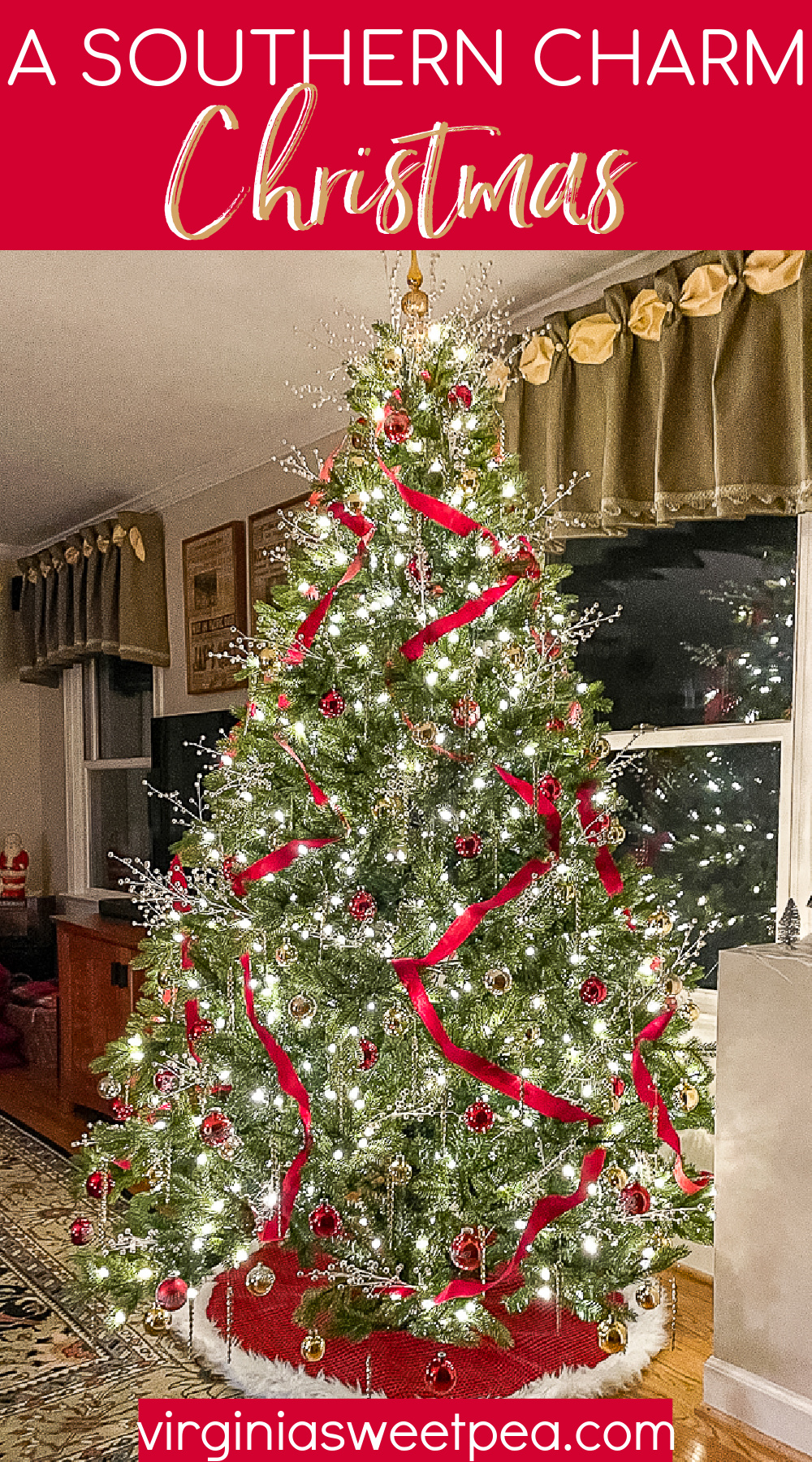 I am sharing my Christmas decorations along with 29 blogging friends for a Holiday Home Tour blog tour hosted by Kelly of The Tattered Pew.
If you arrived here from Cindy of County Road 407, welcome! Cindy is a talented decorator and a good friend. I know you enjoy her Christmas mantel ideas.
You'll find links to all of the Christmas home tours at the end of this post.
A Southern Charm Christmas – Family Room
Welcome to Christmas in our family room! We spend every weekday evening in this space eating dinner and watching Hallmark movies or Yellowstone.
Mr. SP and I made the Christmas wall art, the green sofa pillows are from Amazon, and I made the red wool pillow covers using fabric inherited from my mother-in-law.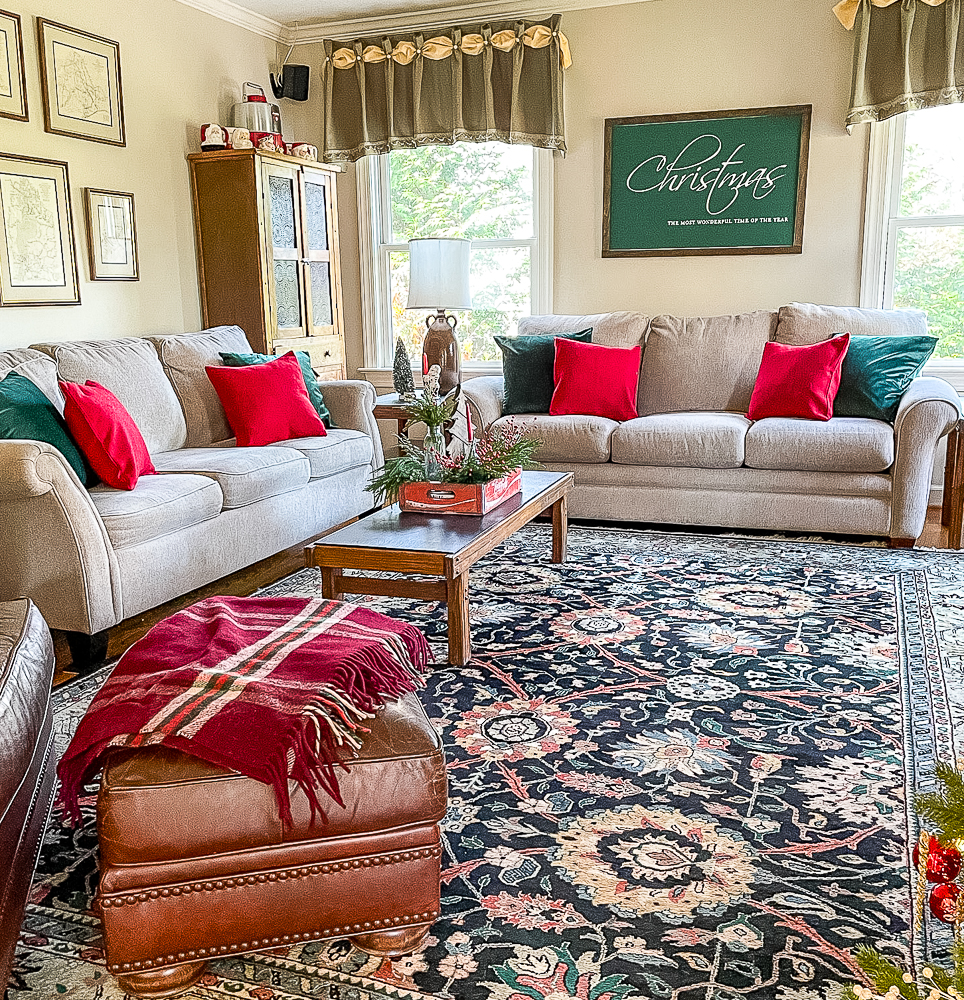 My parents' 1968 coffee table with matching end tables are decked out for Christmas.
The coffee table is decorated with a vintage Coke crate. You can see how I decorated this crate for last year's coffee table here.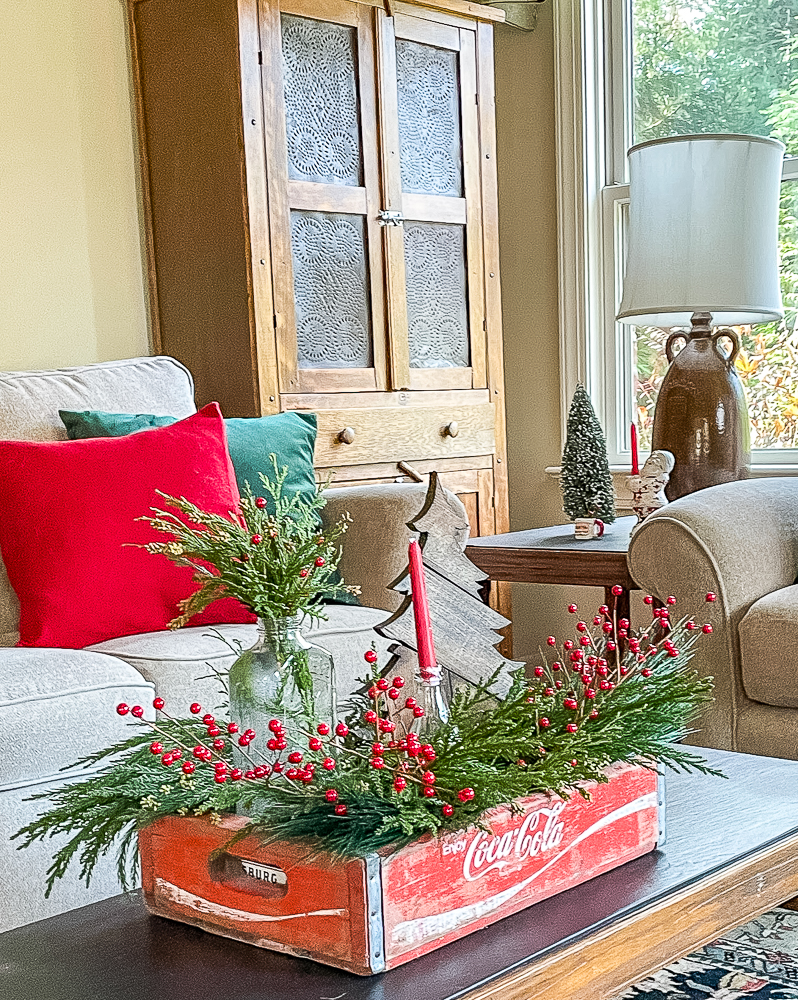 To decorate the crate I used a "water bottle" that once held whiskey, a vintage Coke glass that my grandmother used to transport extra flowers to church and to garden club, a patchwork wood Christmas tree that we made, greenery from my yard, and faux berries.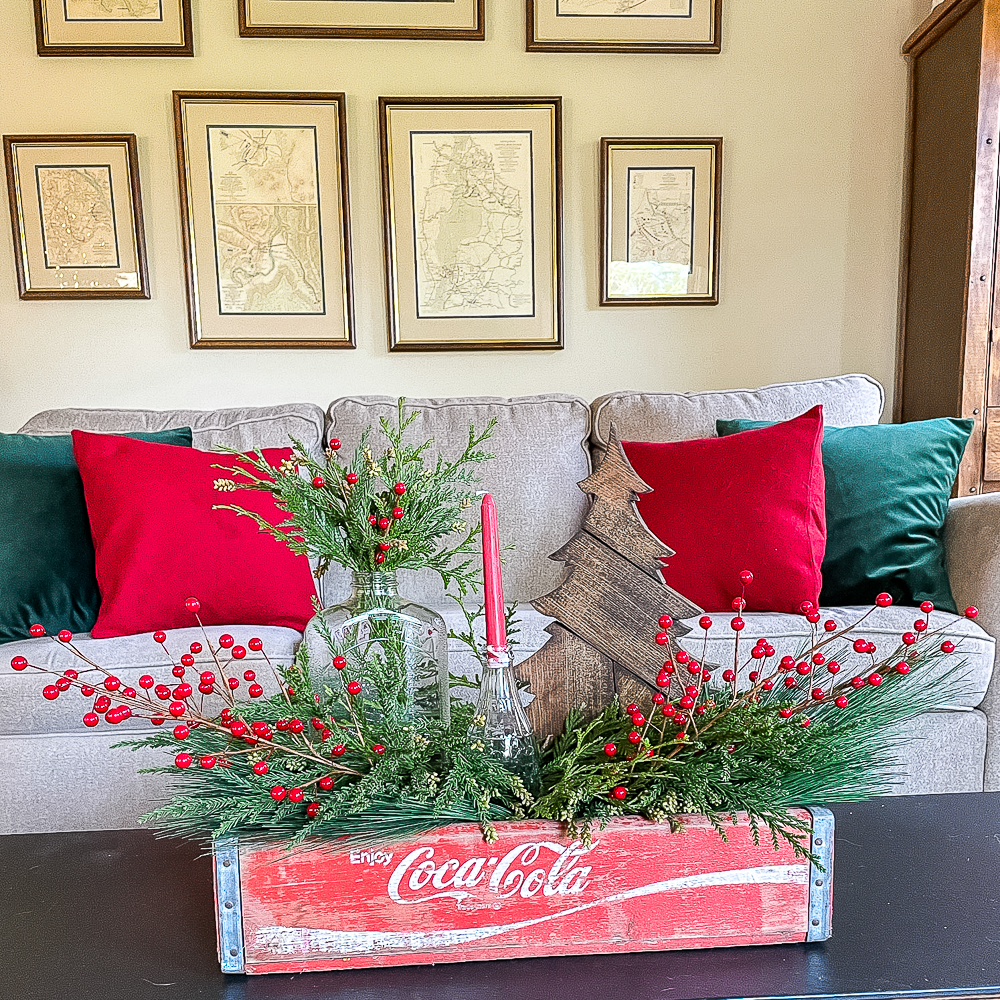 The end table to the left of the sofa is decorated with my grandmother's chalkware Santa candle holder, a bottlebrush tree, and a mini Santa mug that my good friend gave me.
The other end table is also decorated with vintage Santas.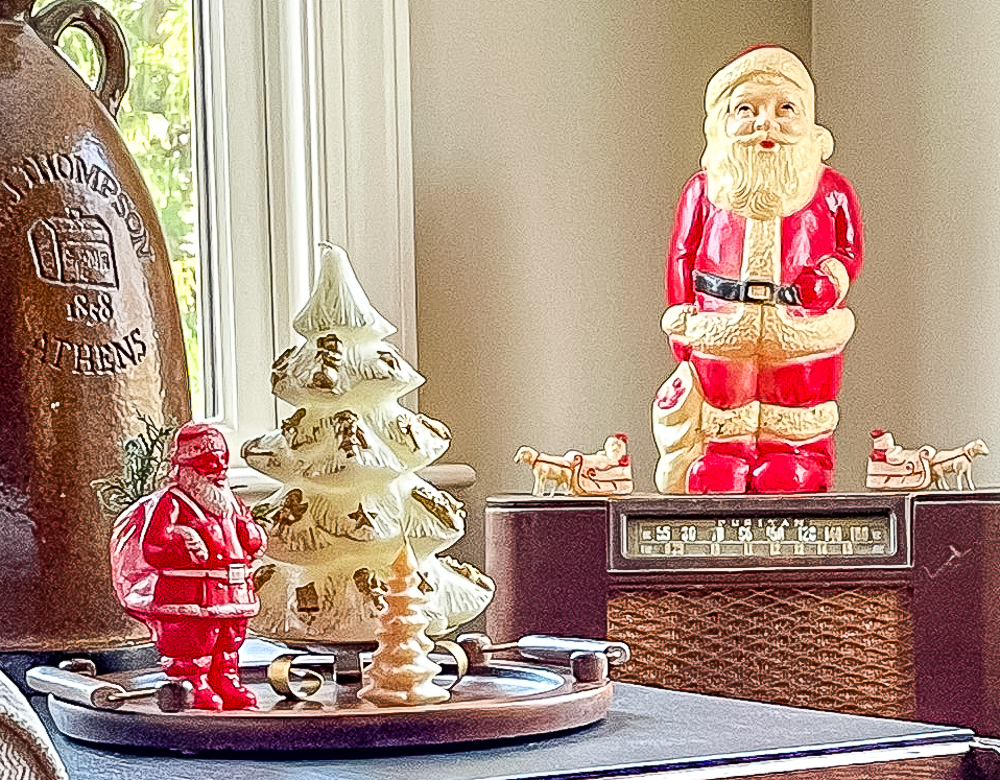 I used a vintage Santa candy holder and two Christmas candles that were inherited from my mother-in-law to decorate this table.
The walnut tray was my grandmother's, acquired through 1980s refunding. My aunt put her two sons through nursery school by refunding! Mama and I did it to help pay my horse expenses.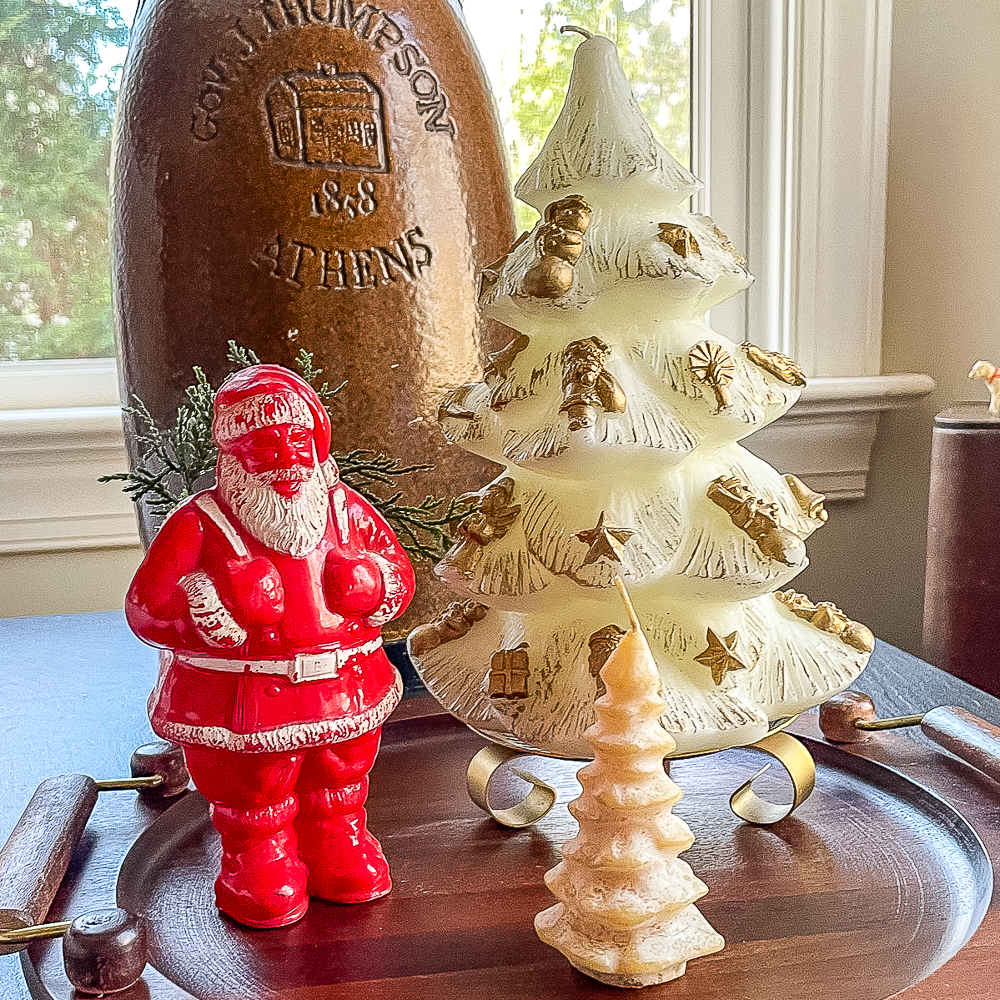 The top of the pie safe (a Christmas gift from my parents in 1993) is decorated with a vintage thermos and Santa mugs that my mom's friend passed on to me.
Our dog, Sherman, likes to relax in this chair each evening.
My grandfather had the pie safe made from cherry wood harvested on the family farm.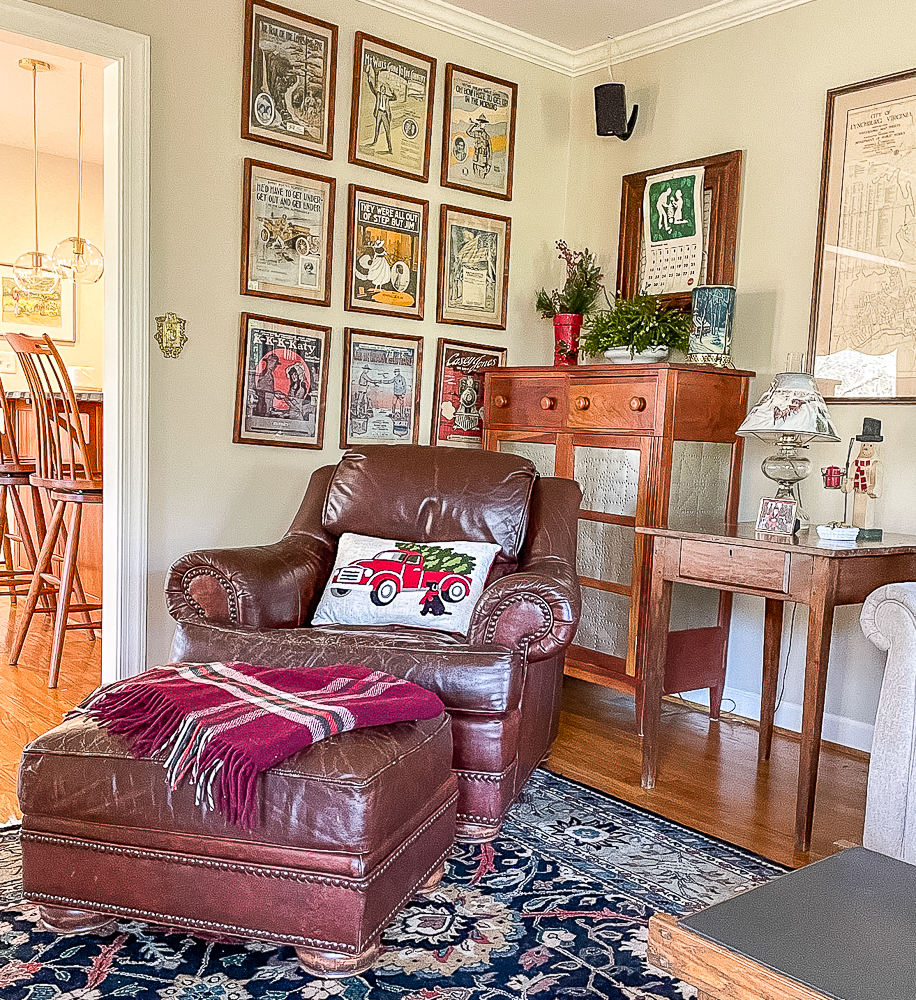 The pie safe is decorated with a vintage 1968 Coca Cola calendar, a Santa boot, a Christmas arrangement that I made, and my beloved Econolite.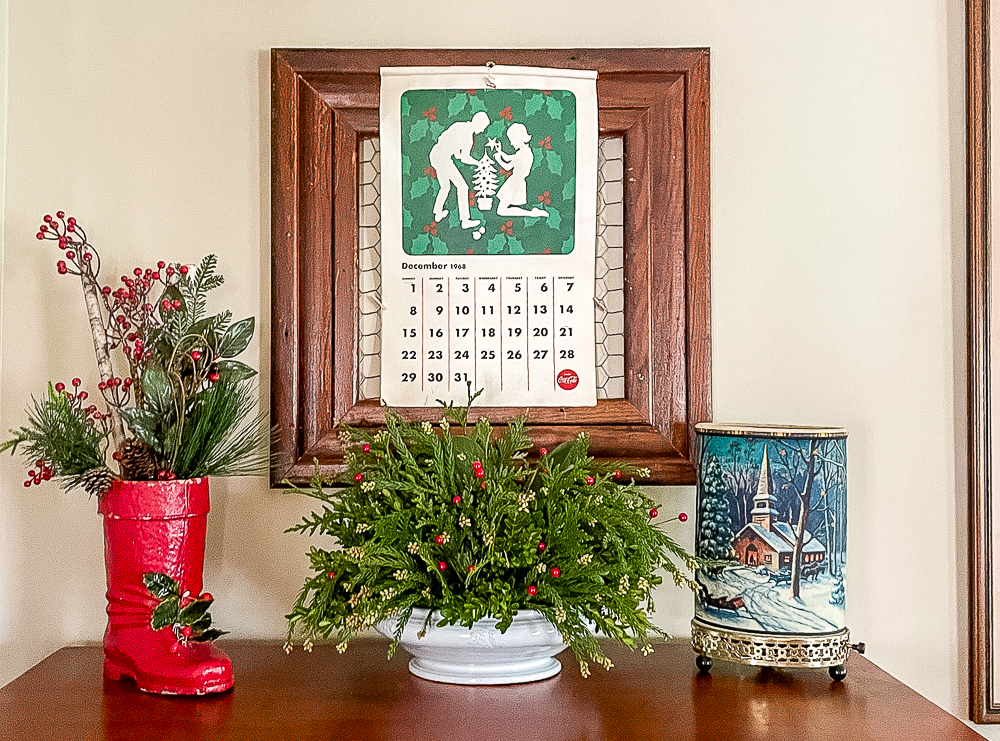 The table next to Mr. SP's sofa is decorated with a lamp with a 1980s pierced paper lampshade, a snowman, a picture of Sherman and Santa taken at The Biltmore.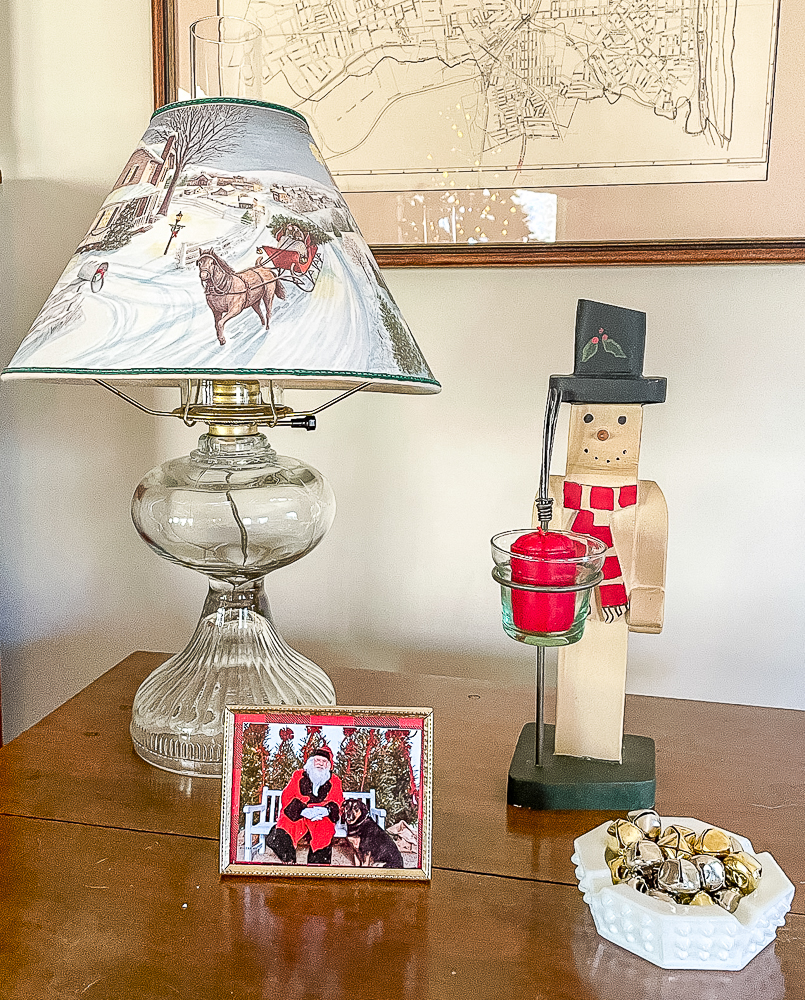 For the first time ever, I did not put any of the ornaments that we've collected together since 1993 on our tree.
This year I used red velvet ribbon, vintage red and gold balls, glittered icicles, and white berries.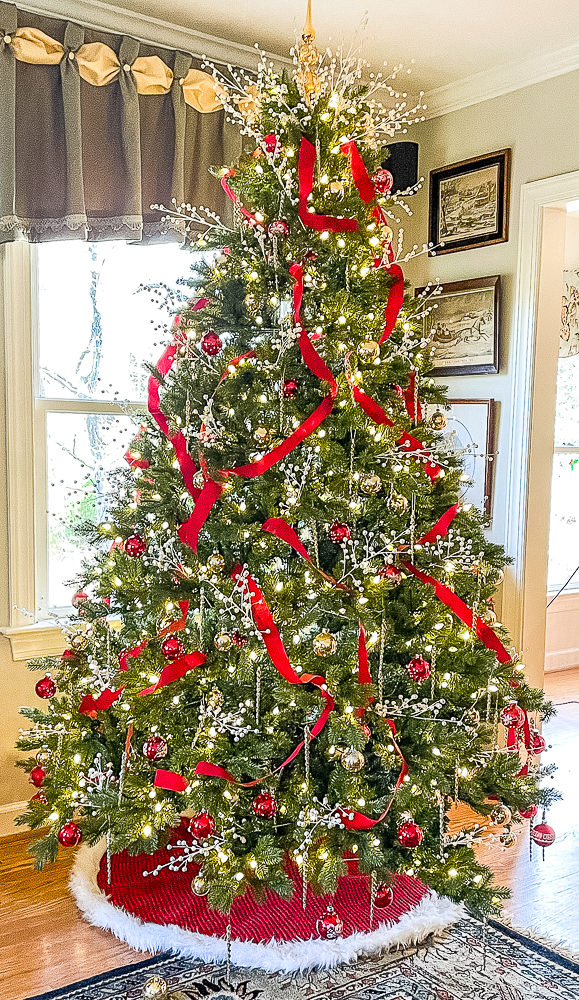 I purchased the red and gold balls on sale after Christmas when I was in college. I was already looking forward to having my own home to decorate.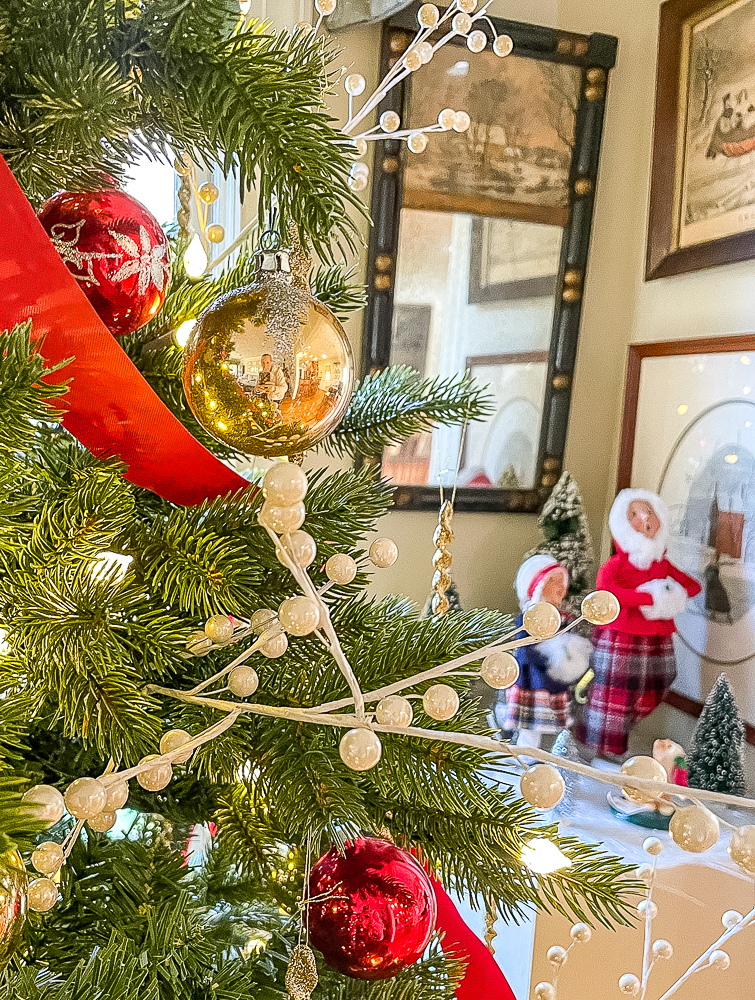 The vintage gold and red ornaments were found in a local antique shop.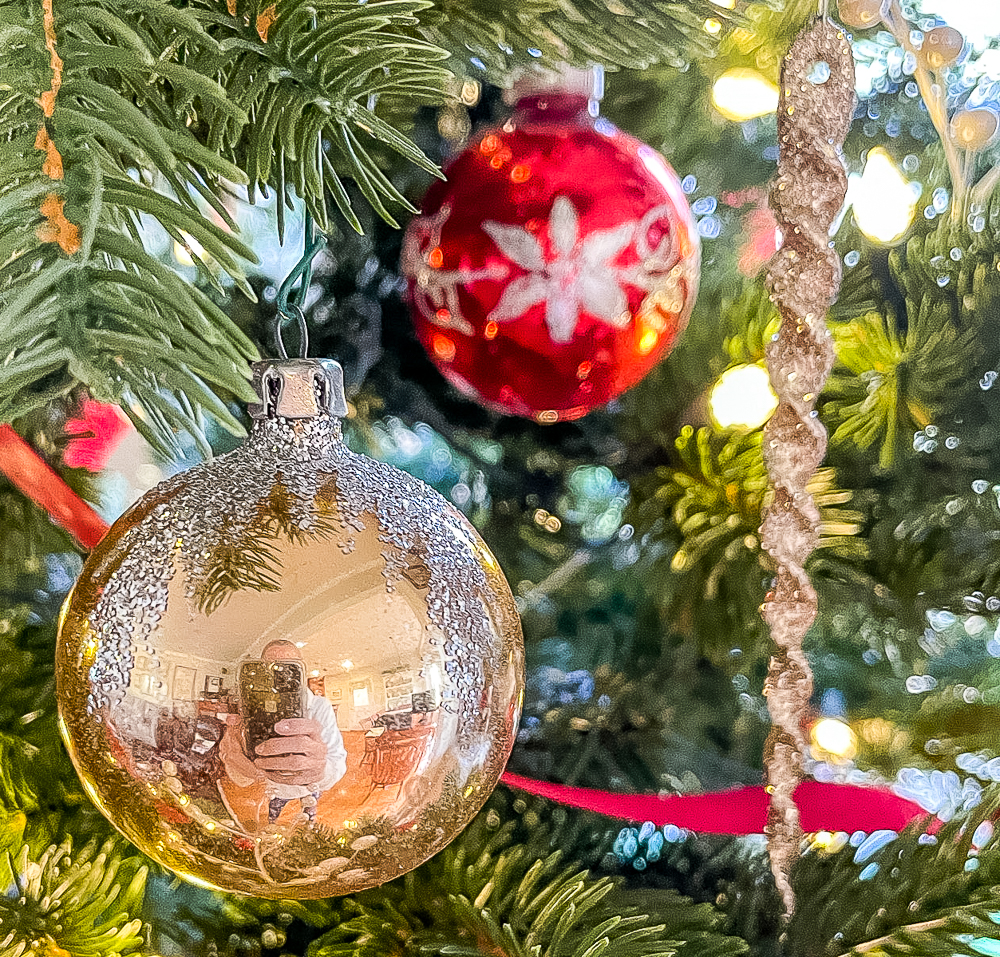 This is the first year that I have used these ornaments on our tree. Usually, I display them in bowls with faux snow.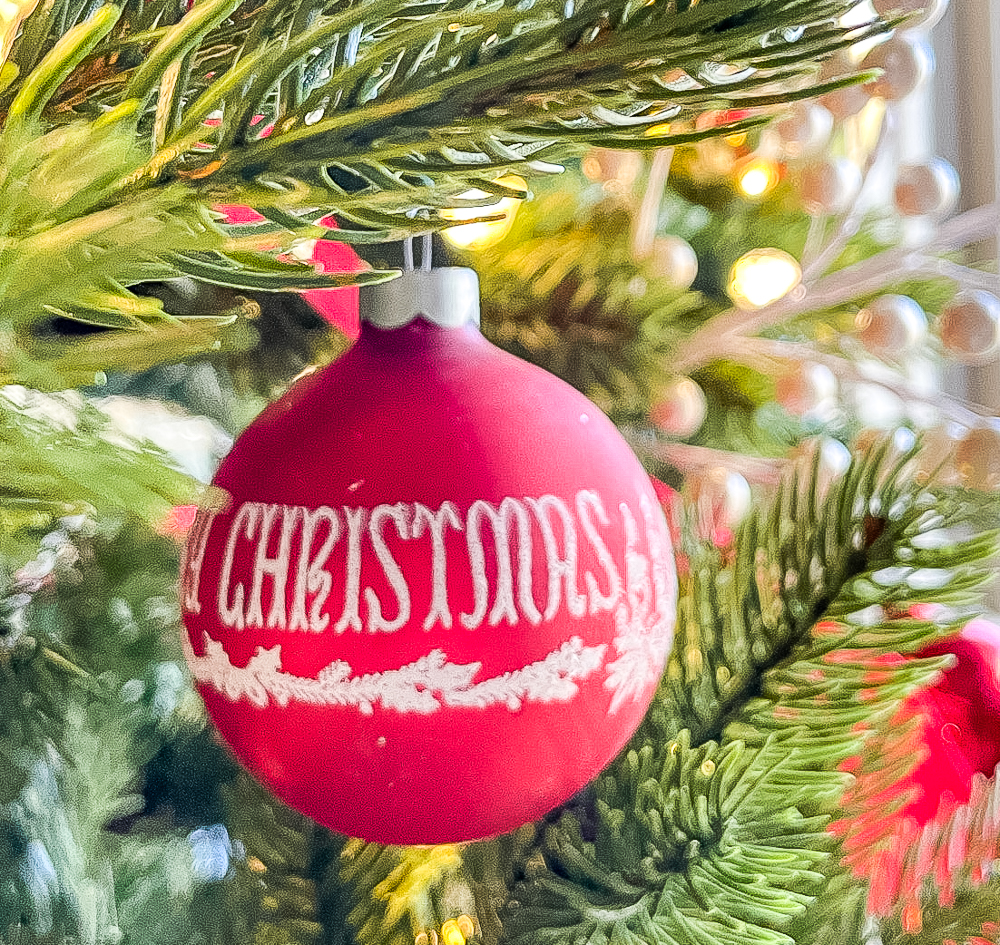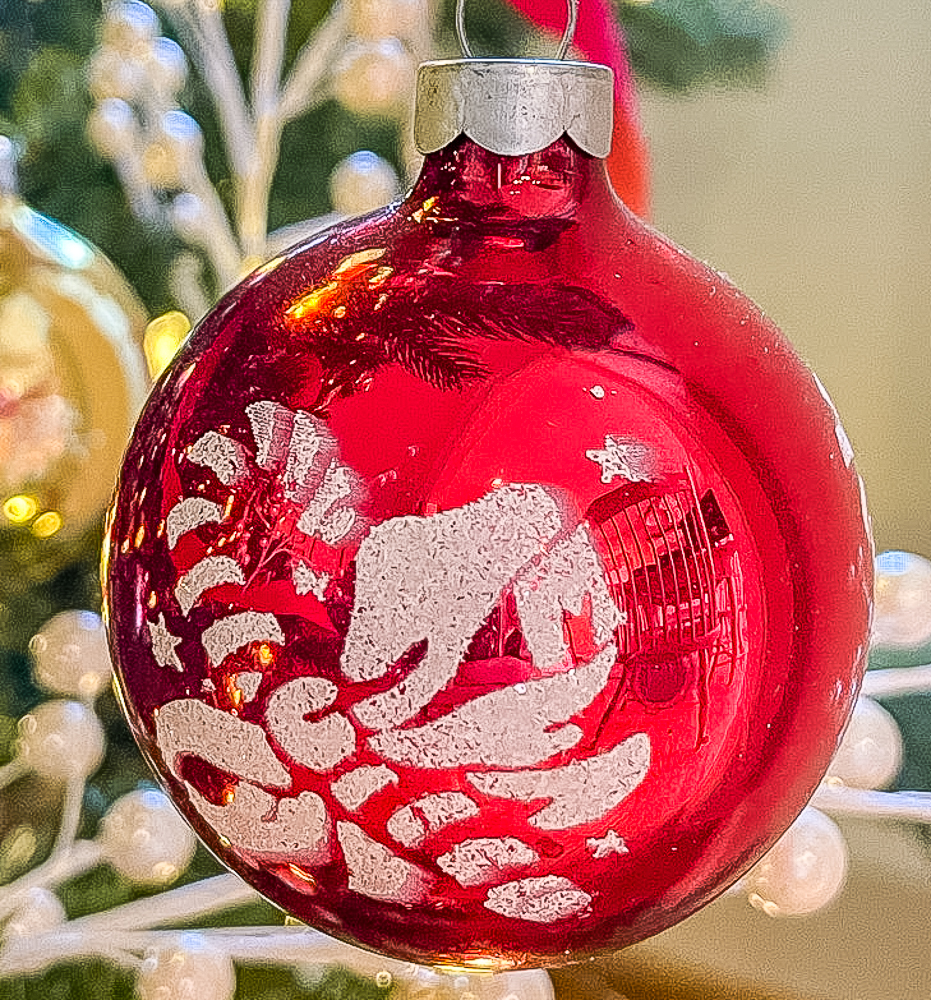 I love admiring this tree when we watch tv at night.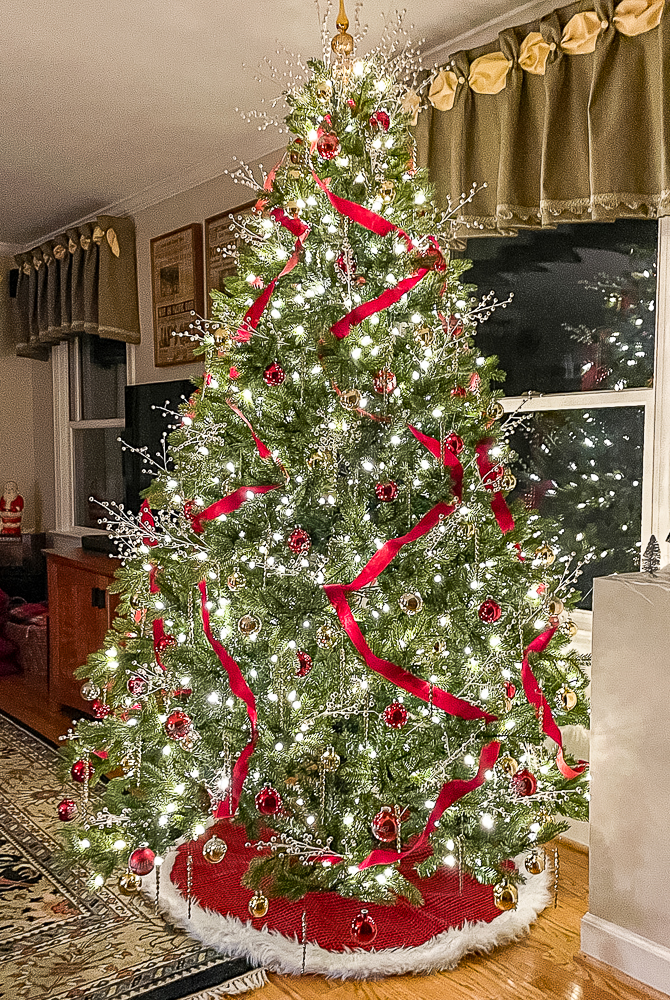 Christmas in the Breakfast Room
This will be the last time you see this light. I have never liked it and as soon as Mr. SP has time to rewire the chandelier I bought this summer at Black Dog Salvage, he will hang it for me.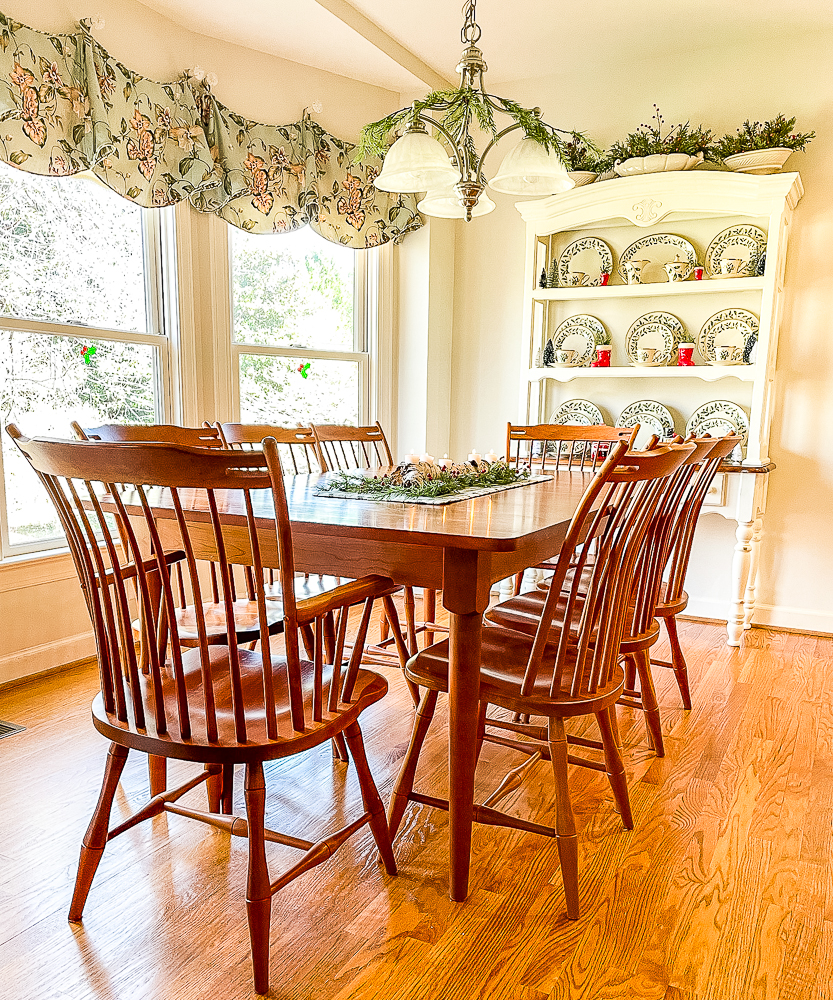 The windows in our breakfast room are decorated with Holly stained glass suncatchers.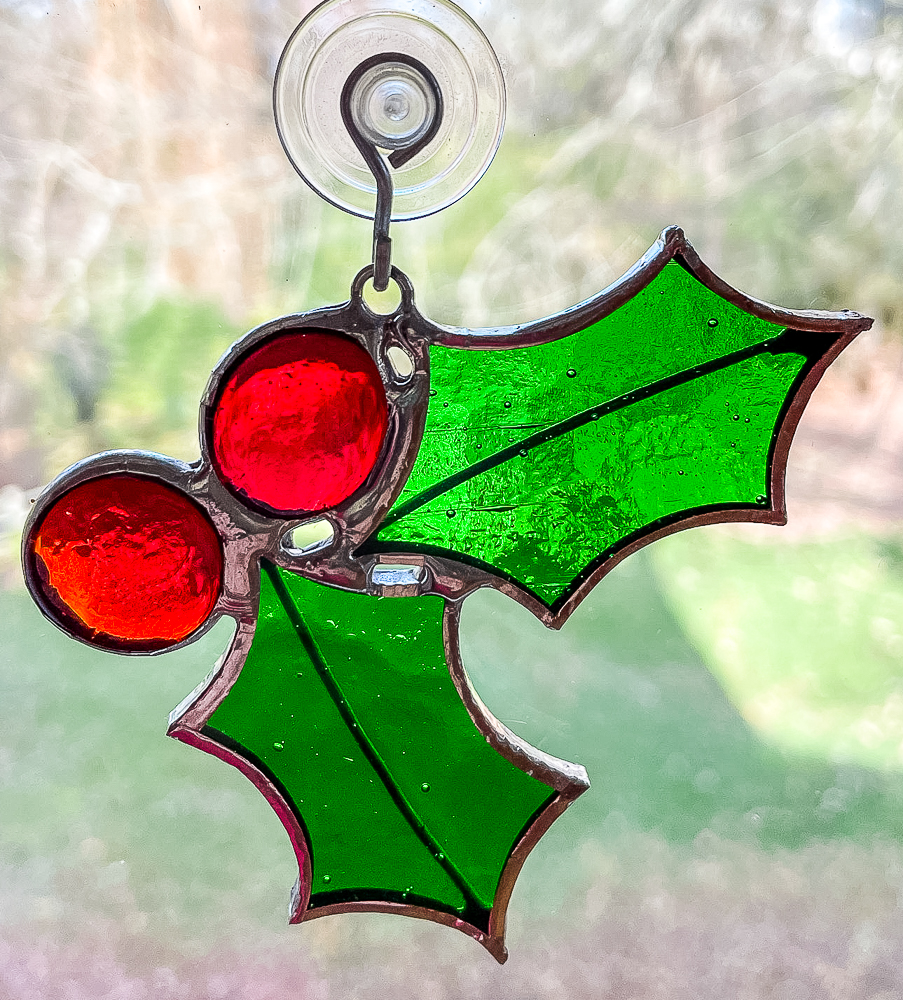 The table is decorated with a yule log that Mr. SP and I made. This piece stays out all of winter.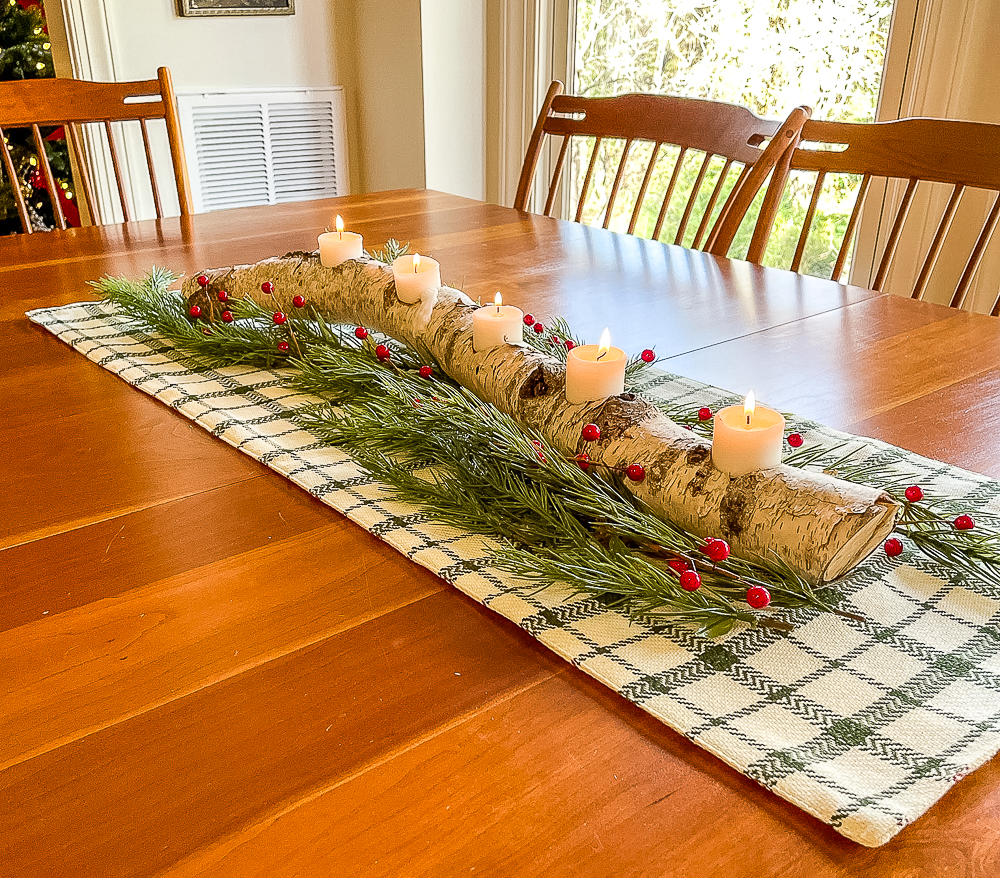 My love of dishes began at a very young age. When Mama and I went shopping at Leggett, a visit to the china department was always a must. I had my wedding and Christmas china picked out by high school.
My aunt and grandmother gave me many of my Lenox Holiday dishes as Christmas gifts.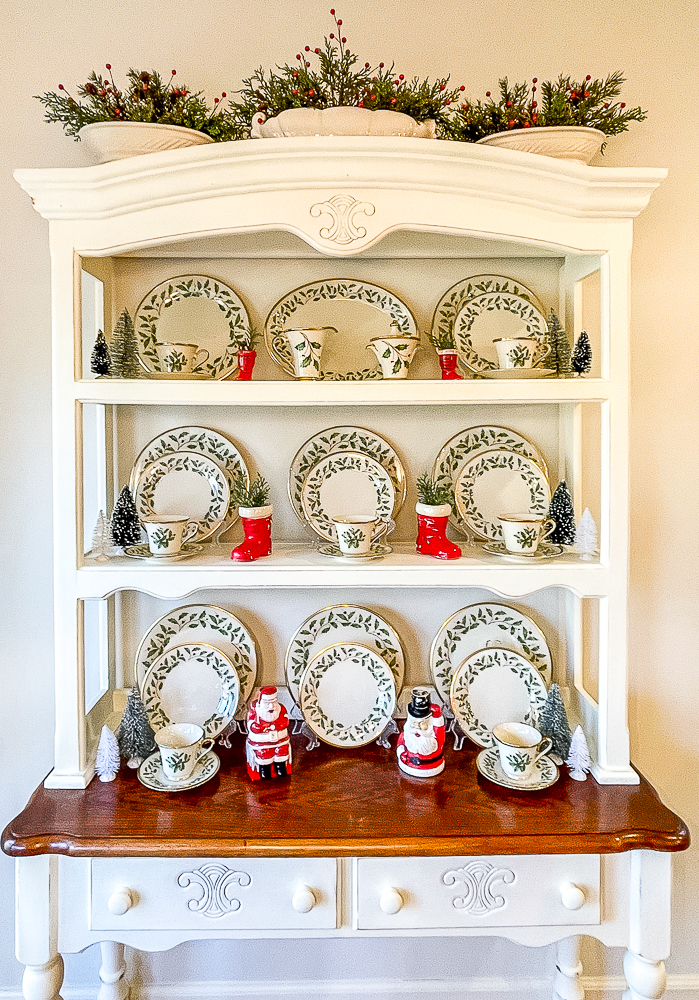 I decorated the hutch with bottlebrush trees, vintage Santa boot candy holders, and vintage Santas.
Mama always decorated with vintage Santa boots when I was growing up so of course, I followed in her footsteps.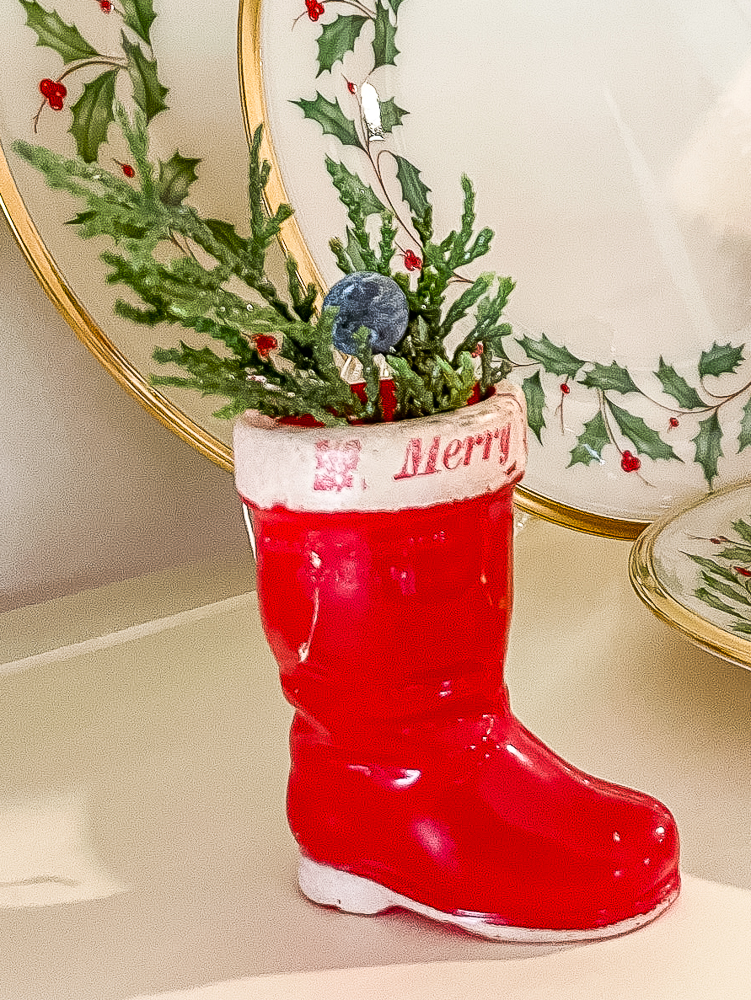 It has been a joy to collect my own collection of Santa boots over the years.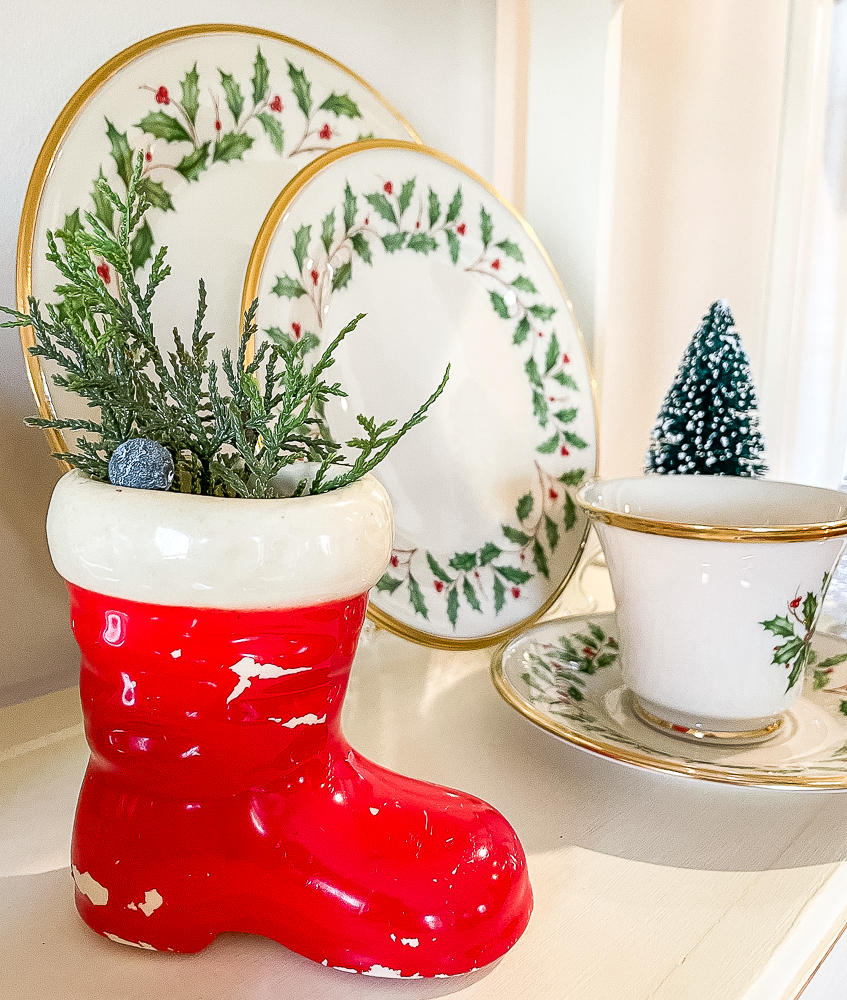 This Santa has a hole in the back for a light.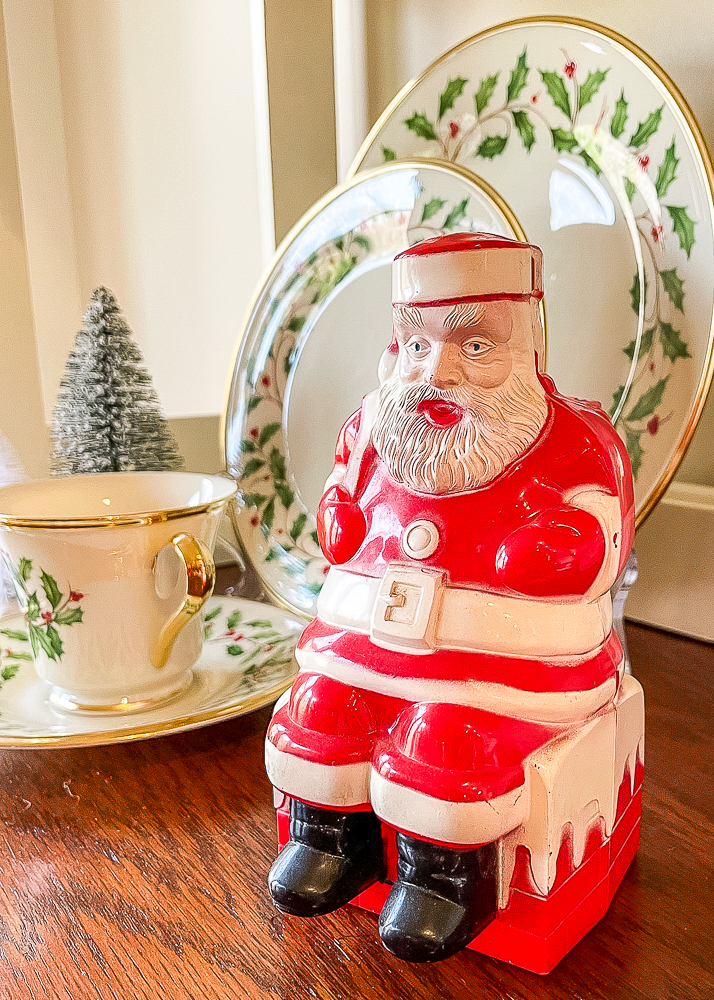 This Santa is a bank.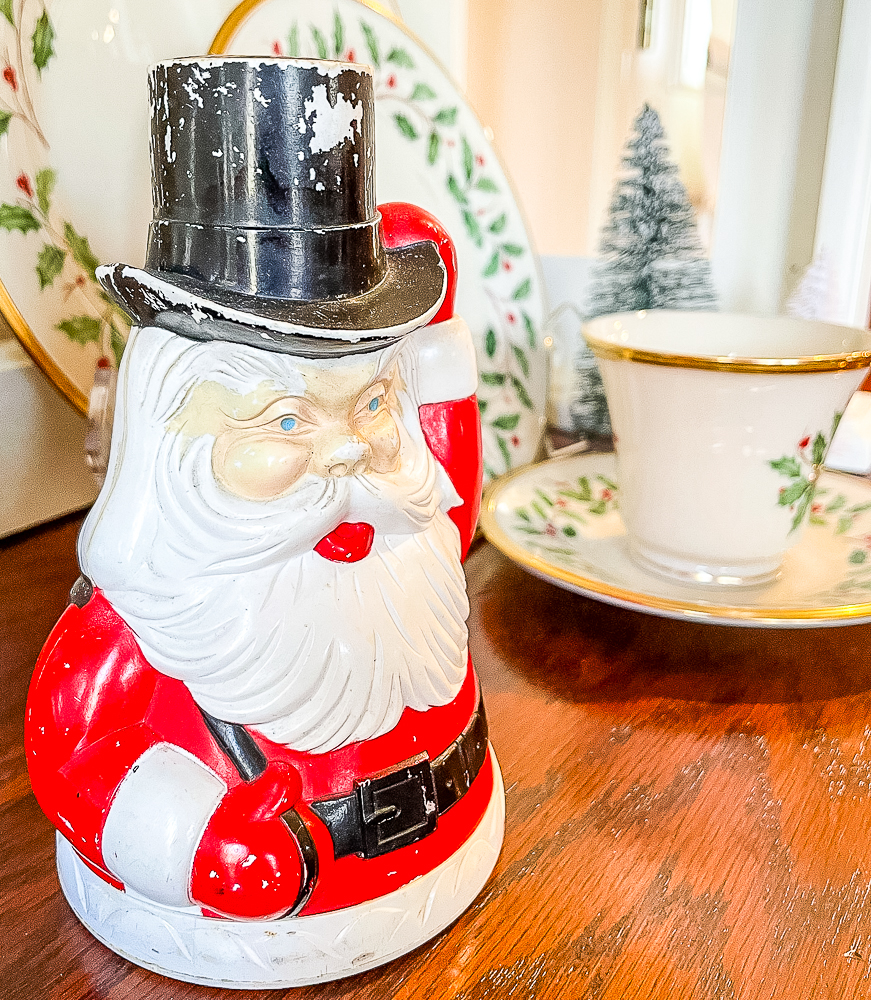 I so much enjoyed sharing our family room and breakfast room decorations with you.
Next on the tour is my dear friend, Yvonne of Stone Gable. Julie of My Wee Abode visited Yvonne this fall. See what they enjoyed doing in Lancaster County, PA here and here.
Click on the links below to enjoy each Christmas home tour.
Here it is…thanks for joining me this week!
Bloggers' Best Holiday Home Tours
This week my friends and I are sharing our homes all dressed up for the holidays. We hope you will have fun visiting each of the tours below!
Monday's Tours

Tuesday's Tours

Wednesday's Tours

Thursday's Tours

Friday's Tours

Lora Bloomquist Create and Ponder