How Christmas Should Look
I fully intended to get my house decorated for Christmas but it simply hasn't yet happened this year. You see, I spent all of my weekends during November getting my booth ready for Vintage Lynchburg Holiday Sale. I'm too tired (and lazy) to decorate at night after a long day in the classroom, so as of now, my house is not decorated. I know my neighbors wonder what is wrong as I'm usually the first on my street to decorate outside. Wouldn't you know that the year that I haven't decorated would be the year that I'm part of the 12 Days of Christmas Tour? Im taking a trip down memory lane and am sharing how I wish my home looked this holiday season.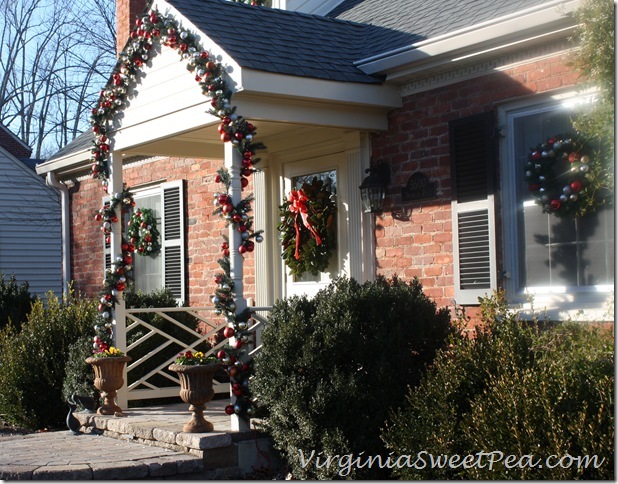 I love putting candles in and wreaths on the windows of my home. A pottery barn inspired garland lights the entrance and I always make a fresh wreath for the door. Taking a walk at night is so much fun at Christmas when everyone in the neighborhood has decorated.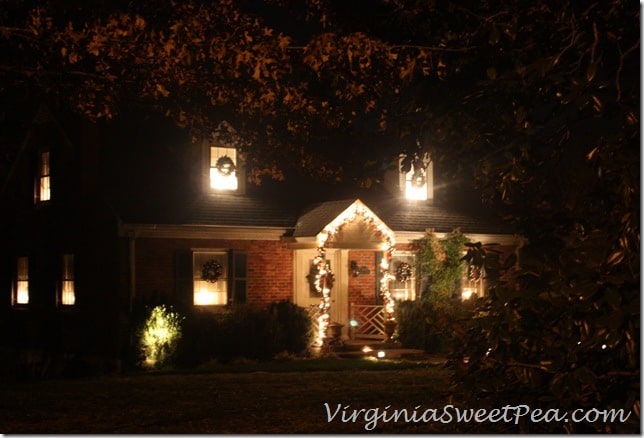 My tree pretty much looks the same from year to year. Our ornaments are ones that we've collected during our 19 year marriage. The tree skirt was made by my grandmother in the 1970's and was passed on to me by my mom.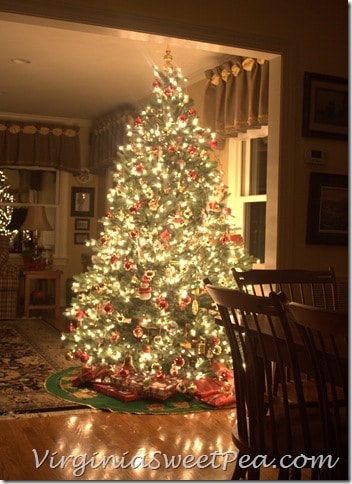 After decorating the outside and putting up the tree, my mantel is always the next to be decorated and usually incorporates a fresh greenery and a wreath that I create.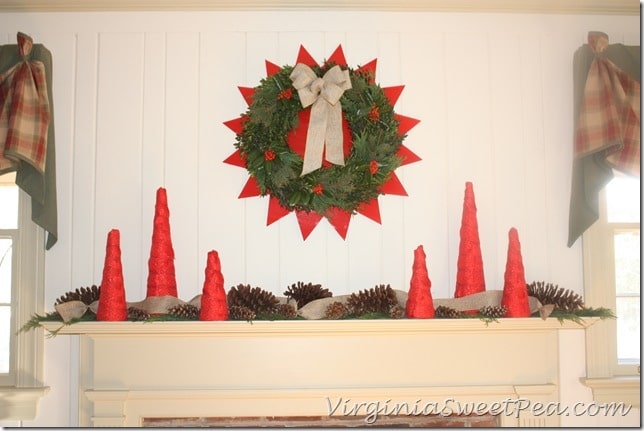 My grandmother made my stocking in 1969 and I still use it today.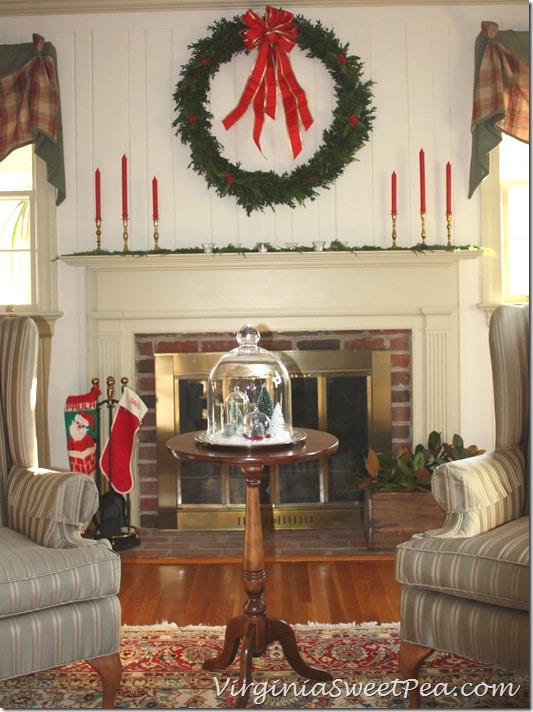 I love decorating my kitchen for Christmas. A Christmas towel hangs from the stove and vintage Christmas punch sets that I collect are displayed on the counter.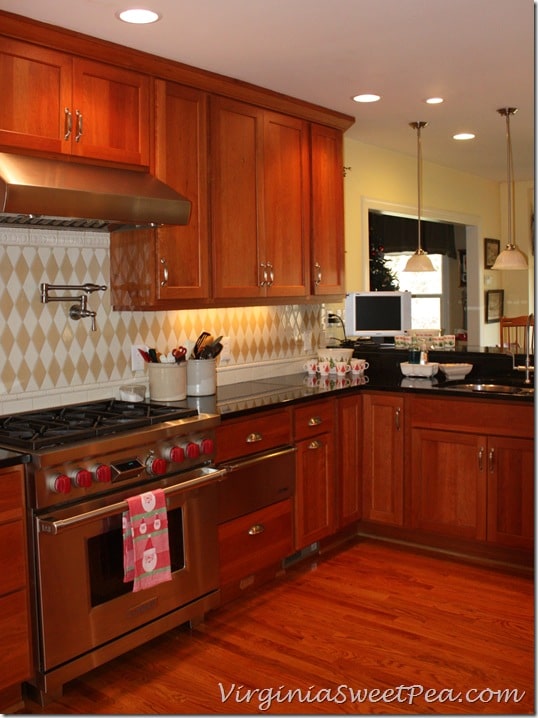 Here you can see two more of my punch bowl sets to the left of the stove.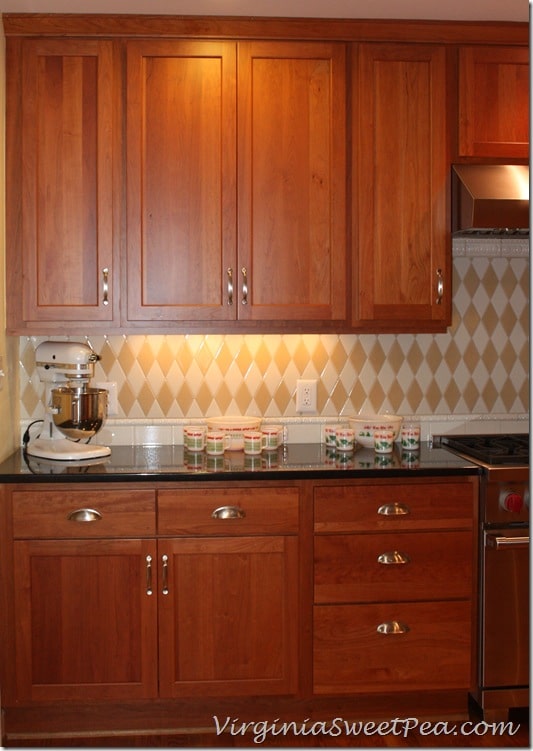 Corner shelves at the ends of my cabinets are the perfect place to display my vintage Santas and Santa boots.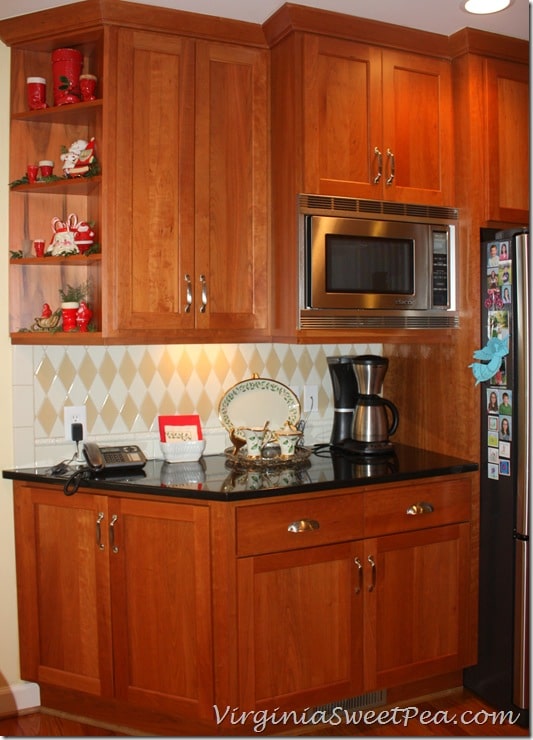 The chalk Santa was my grandmother's and the Santa mug belonged to my great-great aunt.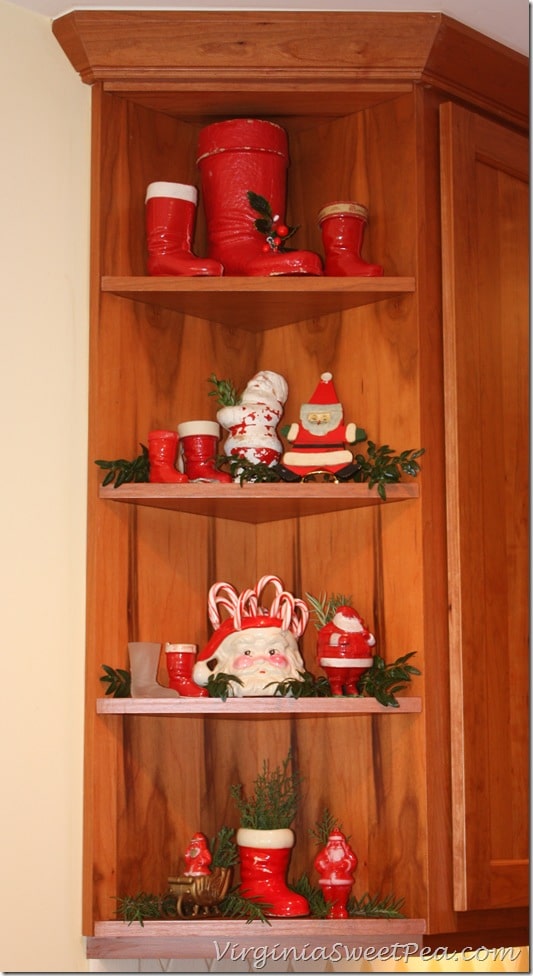 The other end cabinet displays some of my Lenox Holiday pieces that I've collected since I was a teenager.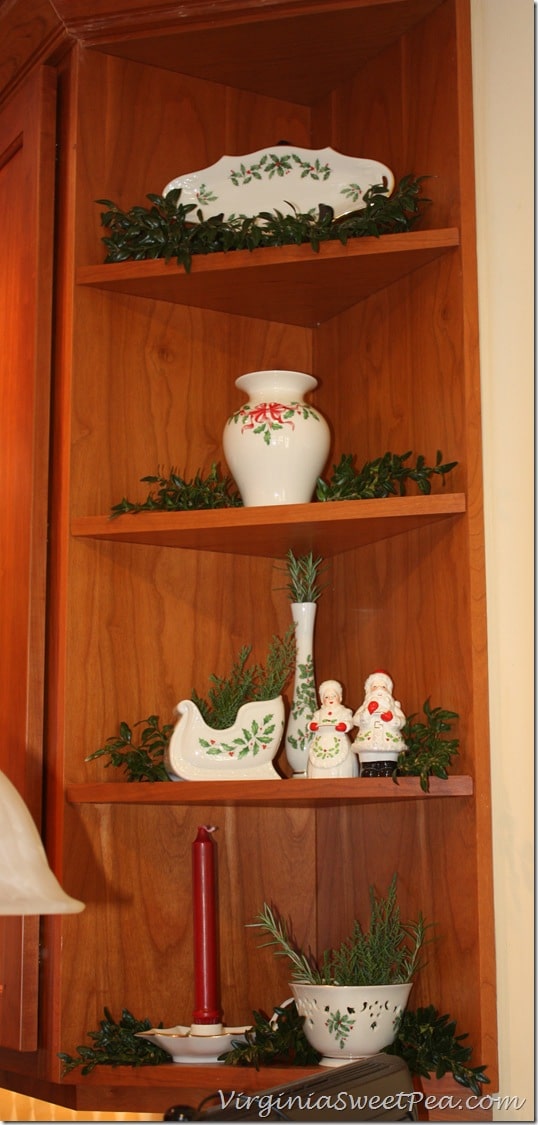 A Lenox Holiday platter decorates and is ready to use when I need it for a holiday meal. I really enjoy using my Christmas cream and sugar from the day after Thanksgiving until Christmas.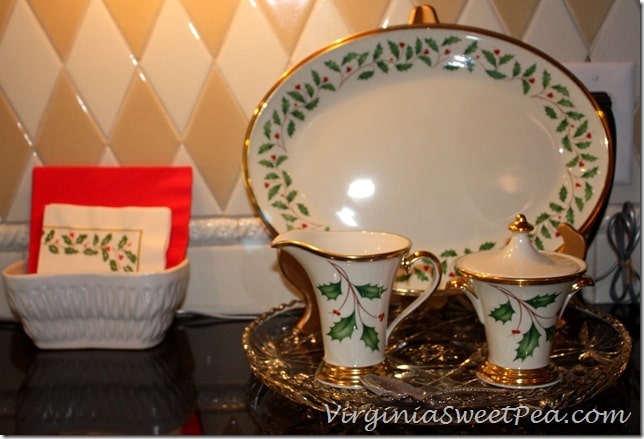 Last year Mr. SP and I designed and made a Recessed Glass Votive Centerpiece for our table. I look forward to using it again this year.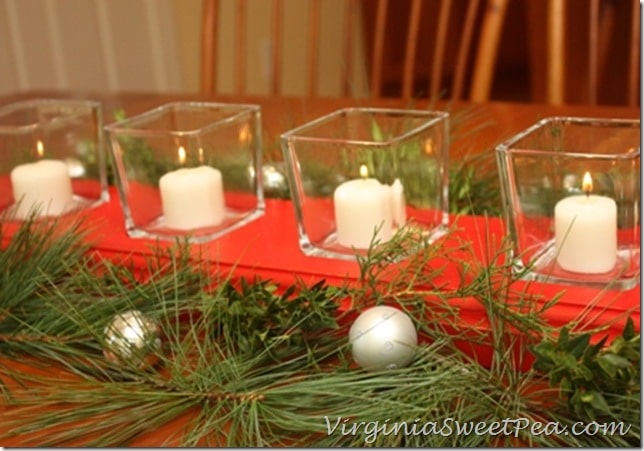 Every table top in my home is usually adorned with some type of decoration. If I had this out this year, I'm sure Sherman would pull it apart in no time. He likes to chew on pine cones.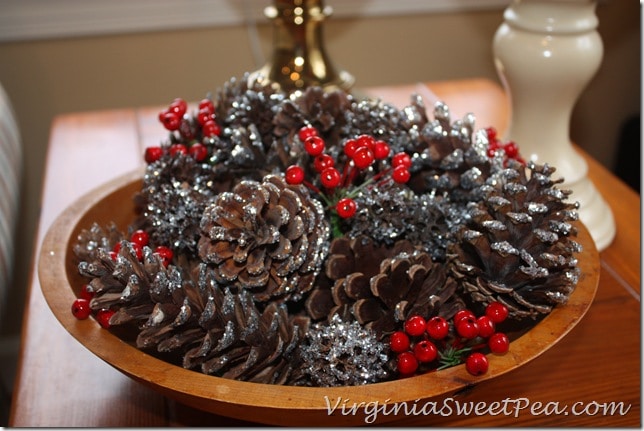 I can't get enough vintage, especially at Christmas. I found the runner in an antique shop in Vermont and the ornaments were purchased at a local estate store.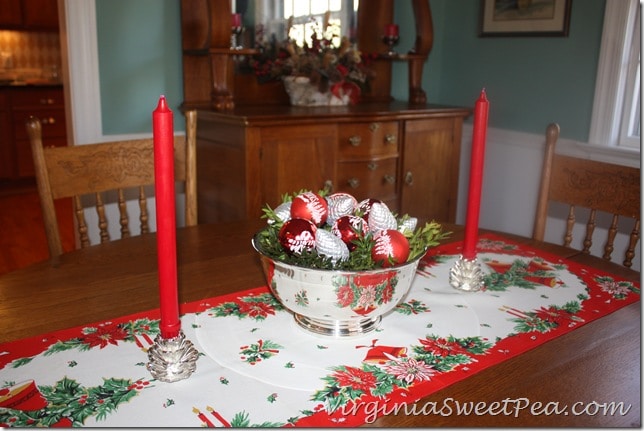 Thanks so much for taking a trip down Christmas decorating memory lane with me today. Seeing how pretty my home can look for the holidays is motivating me to pull my boxes out and get busy even though the big day is only 15 days away.
Today is day 9 of the 12 Days of Christmas Tour. I have really enjoyed visiting the blogs participating to admire their decor. It's so much fun to see everyone's individual style and personality in their Christmas decorating. Be sure to stop by to visit the blogs participating to get your own inspiration!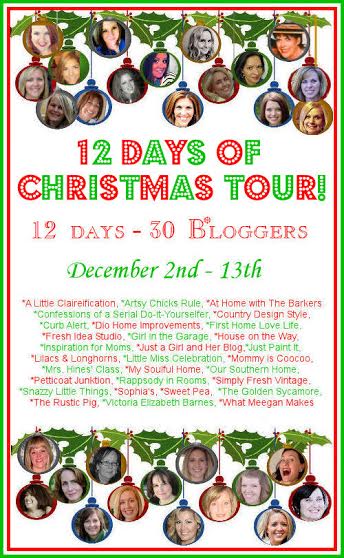 Monday DEC 2nd
FIRST HOME LOVE LIFE
DIO HOME IMPROVEMENTS
Tuesday DEC 3rd
AT HOME WITH THE BARKERS
RESTORING OUR 1890 VICTORIAN
Wednesday DEC 4th
FRESH IDEA STUDIO
THE GOLDEN SYCAMORE
HOUSE ON THE WAY
Thursday DEC 5th
CURB ALERT
PETTICOAT JUNKTION
Friday DEC 6th
ARTSY CHICKS RULE
RAPPSODY IN ROOMS
Saturday DEC 7th
SIMPLY FRESH VINTAGE
COUNTRY DESIGN STYLE
Sunday DEC 8th
MRS HINES CLASS
SNAZZY LITTLE THINGS
Monday DEC 9th
JUST PAINT IT
THE RUSTIC PIG
JUST A GIRL AND HER BLOG
Tuesday DEC 10th
OUR SOUTHERN HOME
VIRGINIA SWEET PEA
MEEGAN MAKES
Wednesday DEC 11th
SOPHIAS DECOR
A LITTLE CLAIREIFICATION
GIRL IN THE GARAGE
Thursday DEC 12th
MOMMY IS COOCOO
LITTLE MISS CELEBRATION
INSPIRATION FOR MOMS
Friday DEC 13th
MY SOULFUL HOME
CONFESSIONS OF A SERIAL DIYer
LILACS AND LONGHORNS