After taking down my patriotic summer mantel, it was time to redecorate the mantel to enjoy for the rest of the summer. My coastal summer mantel is a nod to the classic summer beach vacation.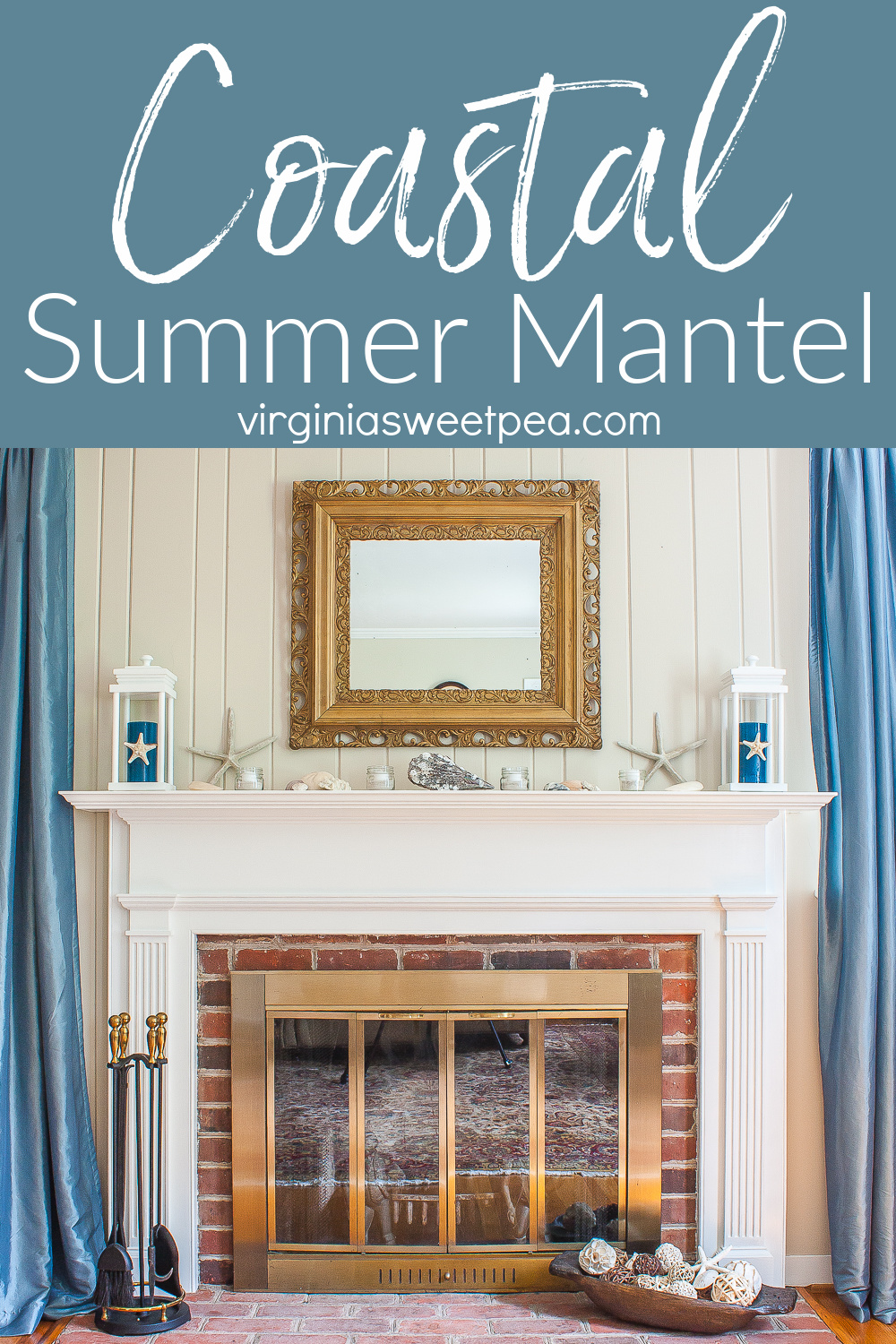 Why a Coastal Mantel?
Most southern families consider a beach vacation to be the vacation that is enjoyed in summer.
Growing up, we went to the Outer Banks every summer and I've continued to vacation there just about every year since I was ten years old. 2018 and 2019 are the only two years that I've missed since 1979.
Summer reminds me of going to the beach, so to celebrate beach season, I decorated our mantel with a coastal theme.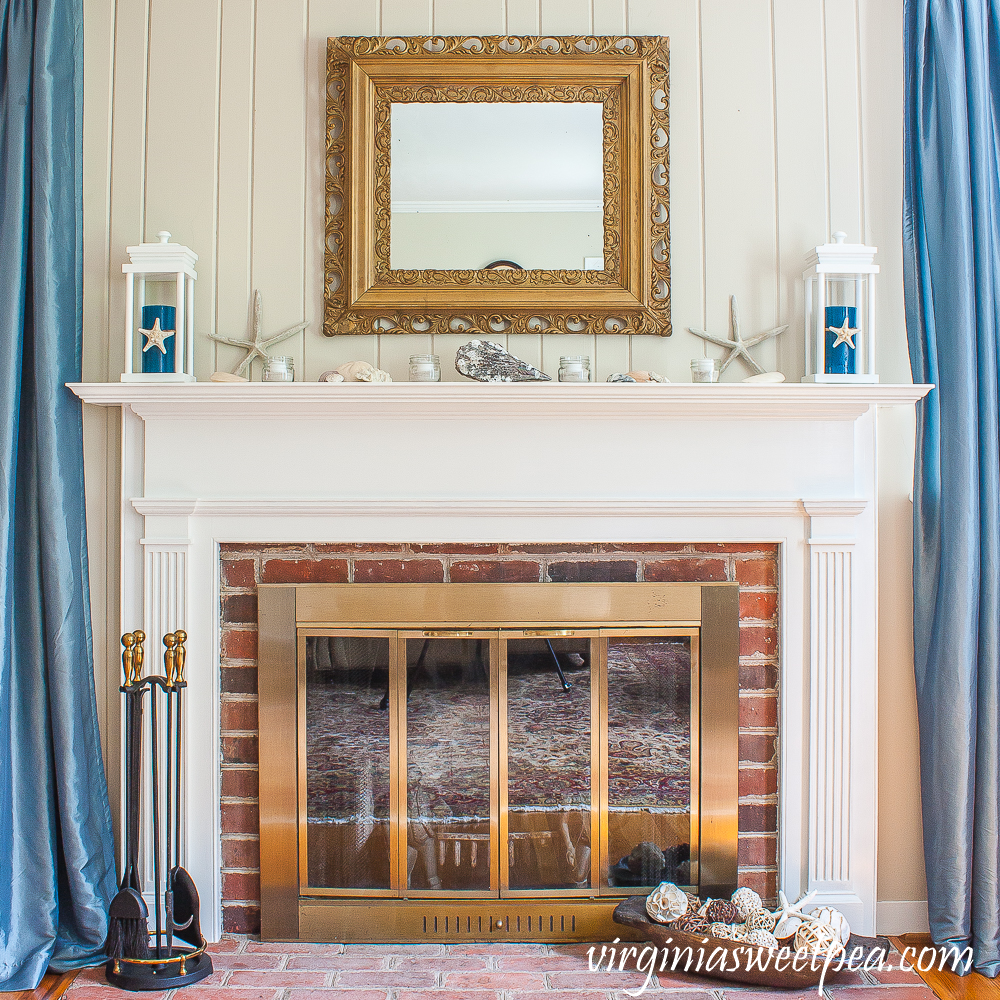 For my patriotic mantel, I had a 1943 framed poster hanging over the mantel. That was taken down and replaced with the antique mirror that usually hangs in this spot.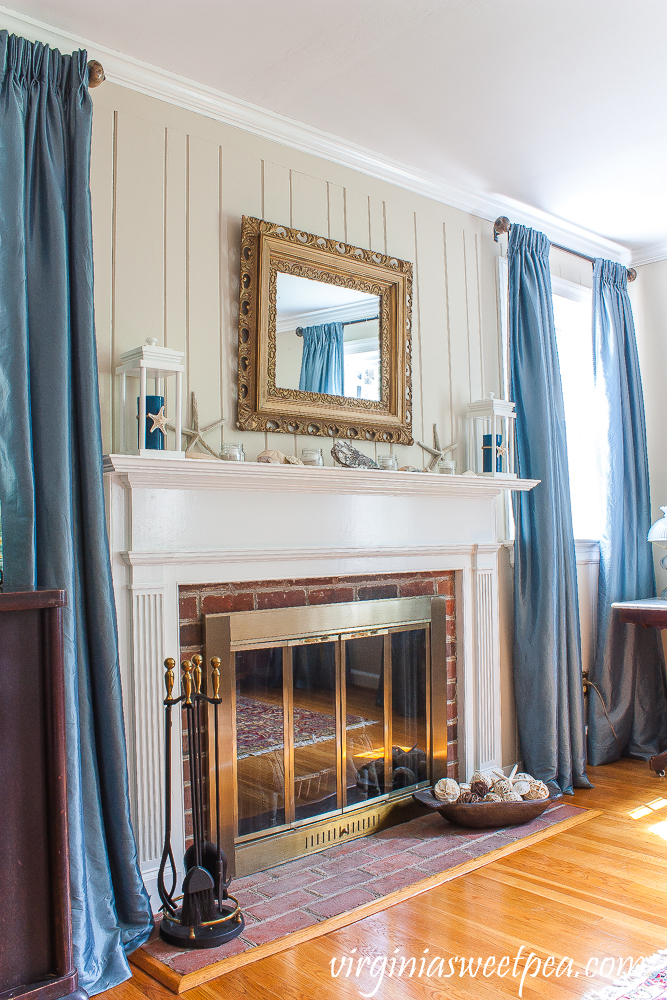 I made a beautiful shell wreath to hang on the mirror, but made the mistake of hanging it with a suction cup hanger.
About ten minutes after hanging the shell wreath, it crashed to the floor and broke into pieces. I may make another, but for now I'm going with an unadorned mirror.
Coastal Mantel Decorating Ideas
I decorated my mantel with lanterns, shells, starfish, coral, and sand filled jars with votive candles.
I had most of what I needed in my basement, but I did make my first trip to Hobby Lobby since February to buy blue candles and the filler that I used in the dough bowl on the fireplace hearth.
Use Lanterns
I prefer a symmetrical mantel design and anchored each end of the mantel with a lantern that I made a few years ago.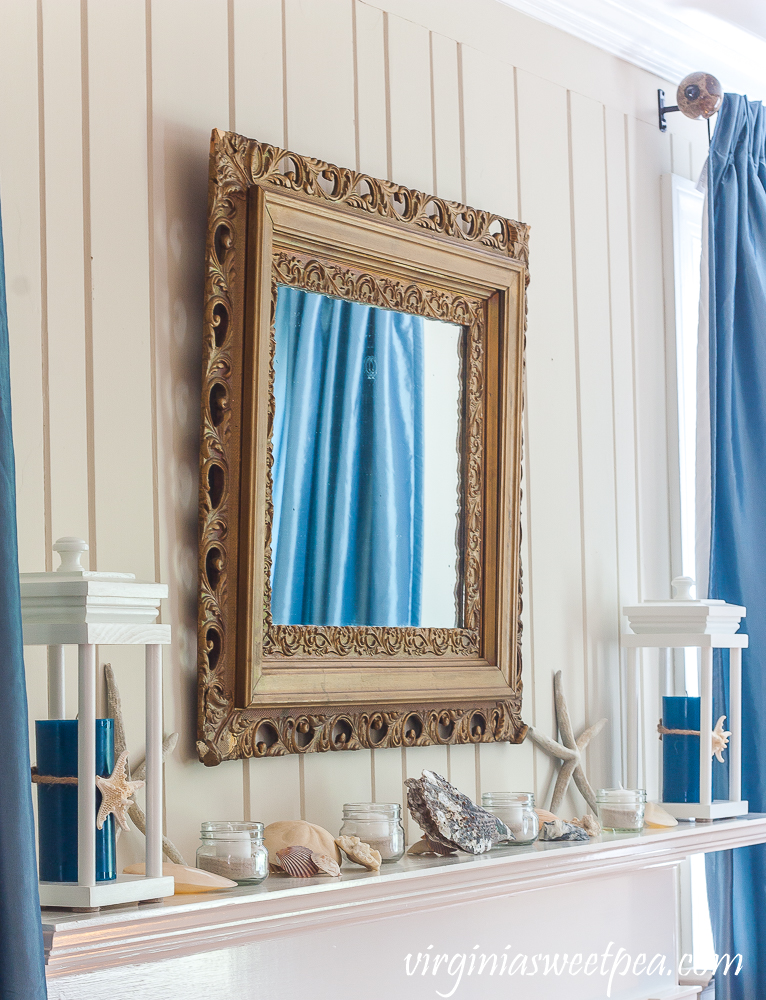 Each lantern holds a candle embellished with a starfish.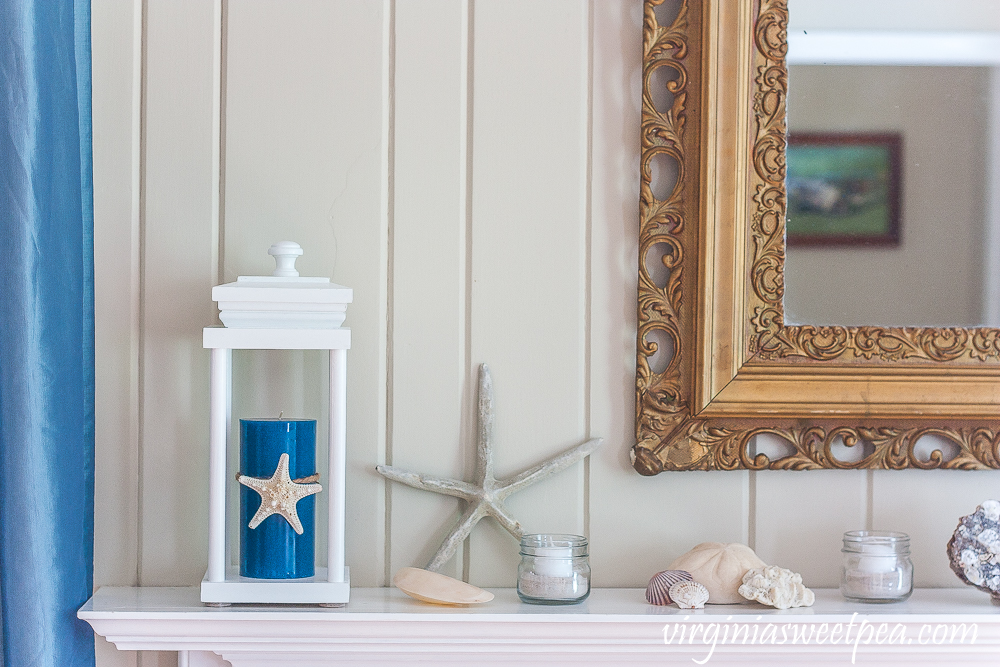 I glued the starfish to a section of thick twine and then tied it onto each candle.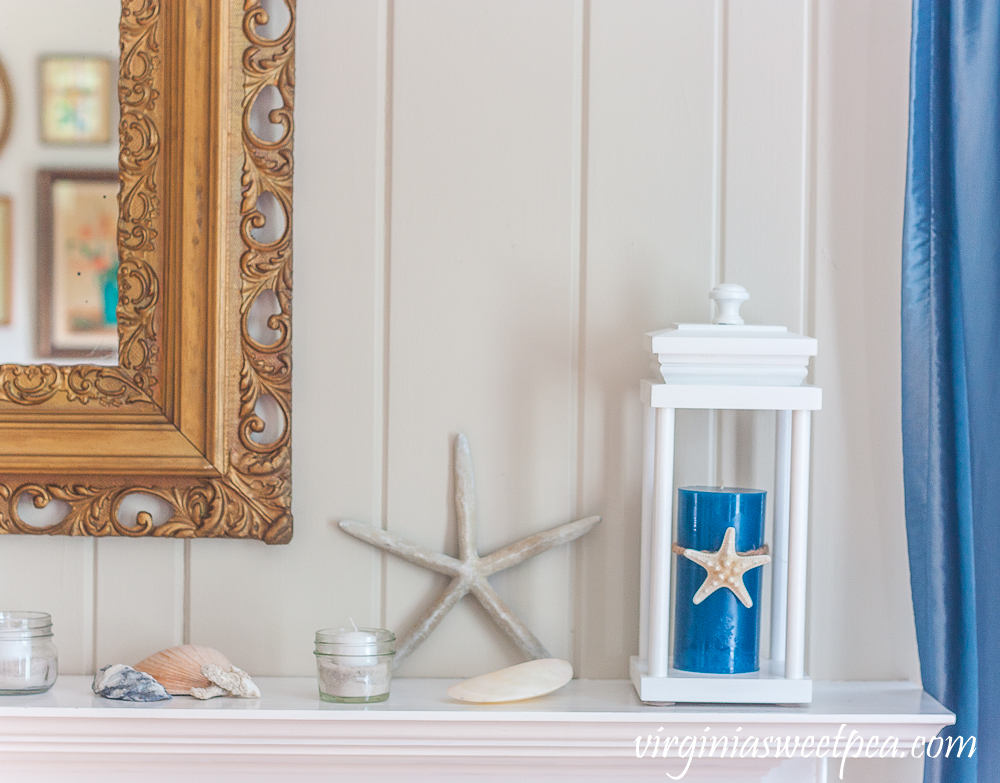 Add Candles
Along the mantel are four small Mason jars filled with sand and a white candle.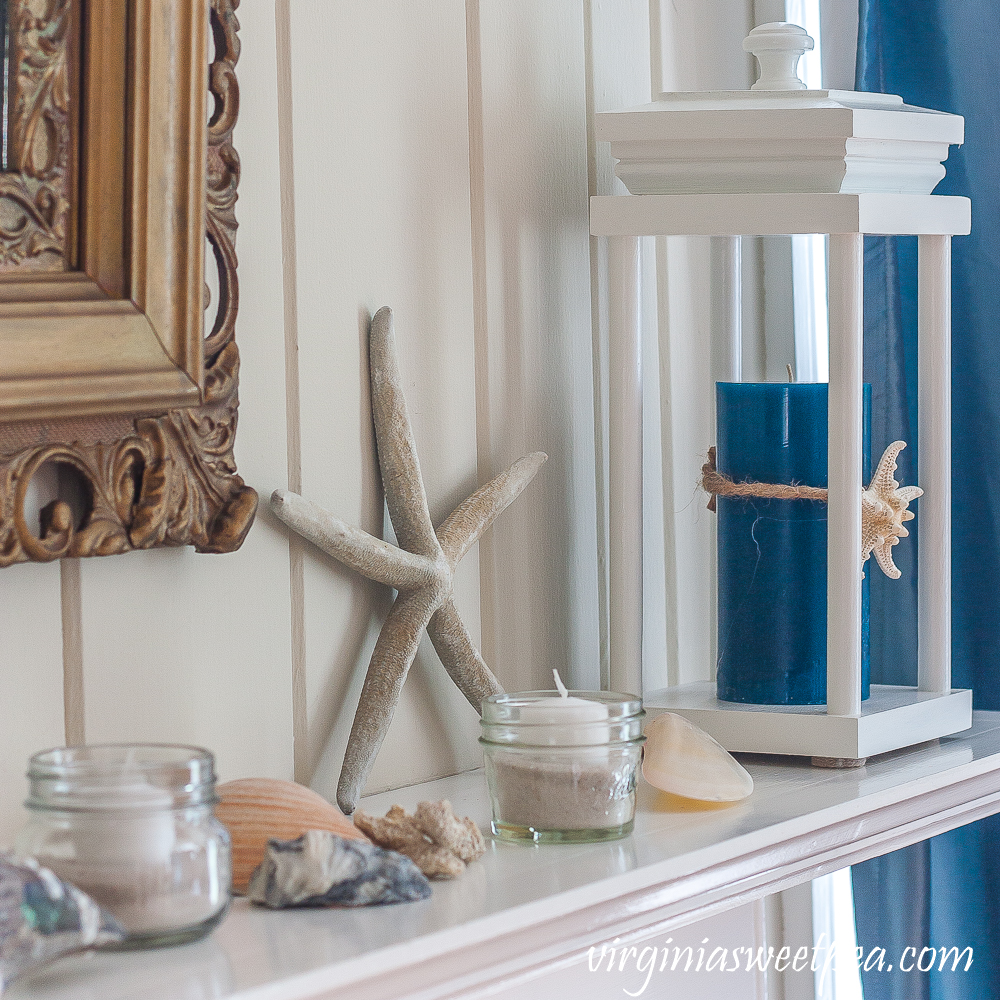 These candles won't be lit because our dog is the only person who regularly relaxes in our formal living room.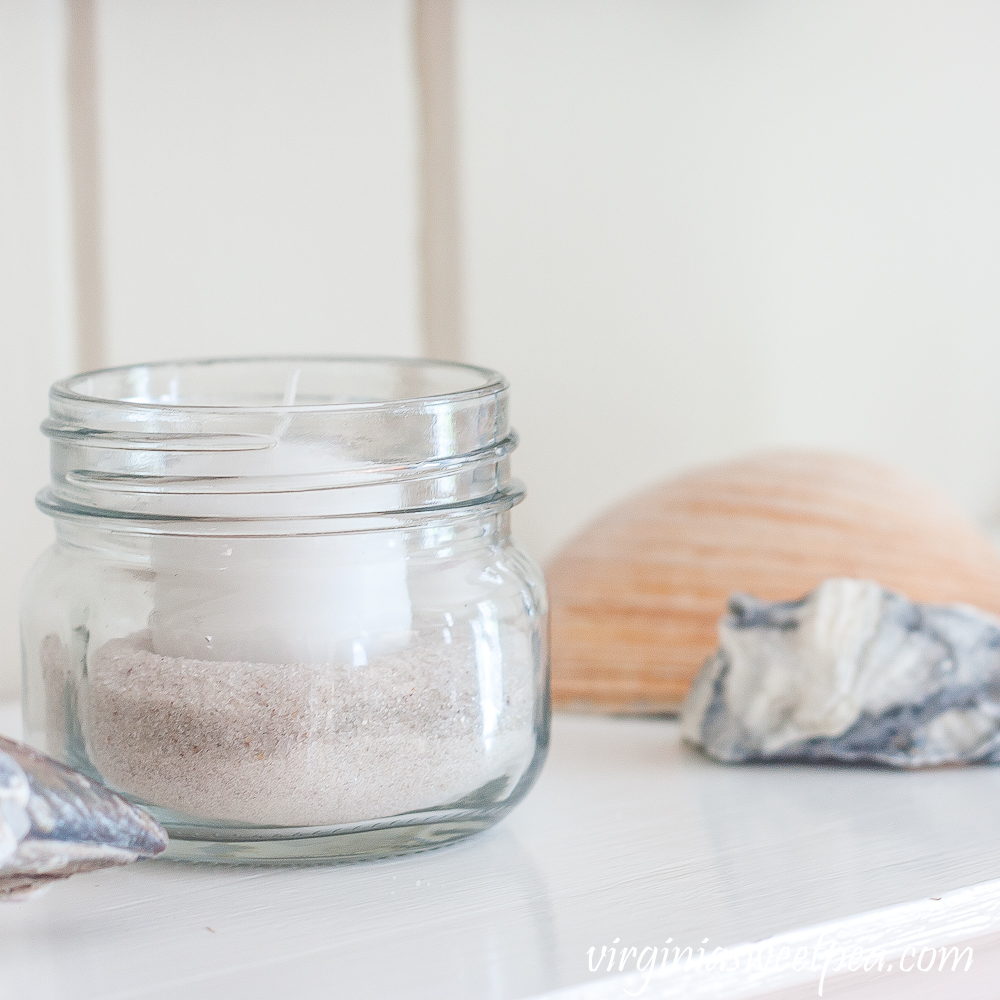 Use Coastal Items from Nature
All of the shells, coral, and starfish that I used to decorate my mantel are things that I've had for many years.
Everything that I used was either found on the beach or purchased in a shop at the beach.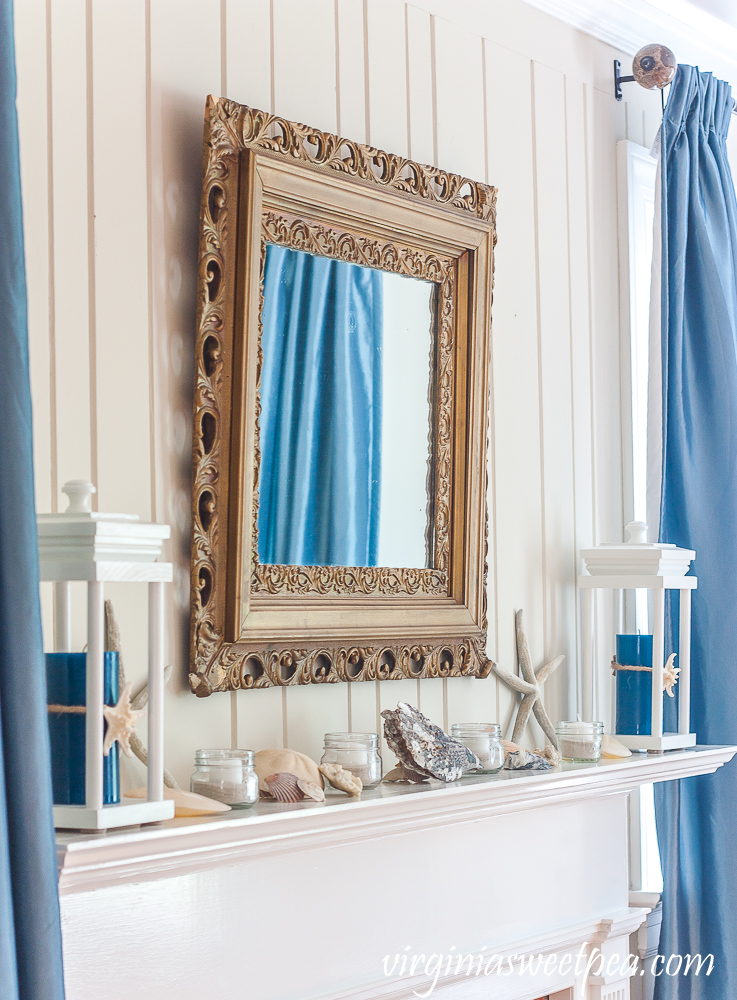 On either side of the mirror, I leaned two large starfish against the wall.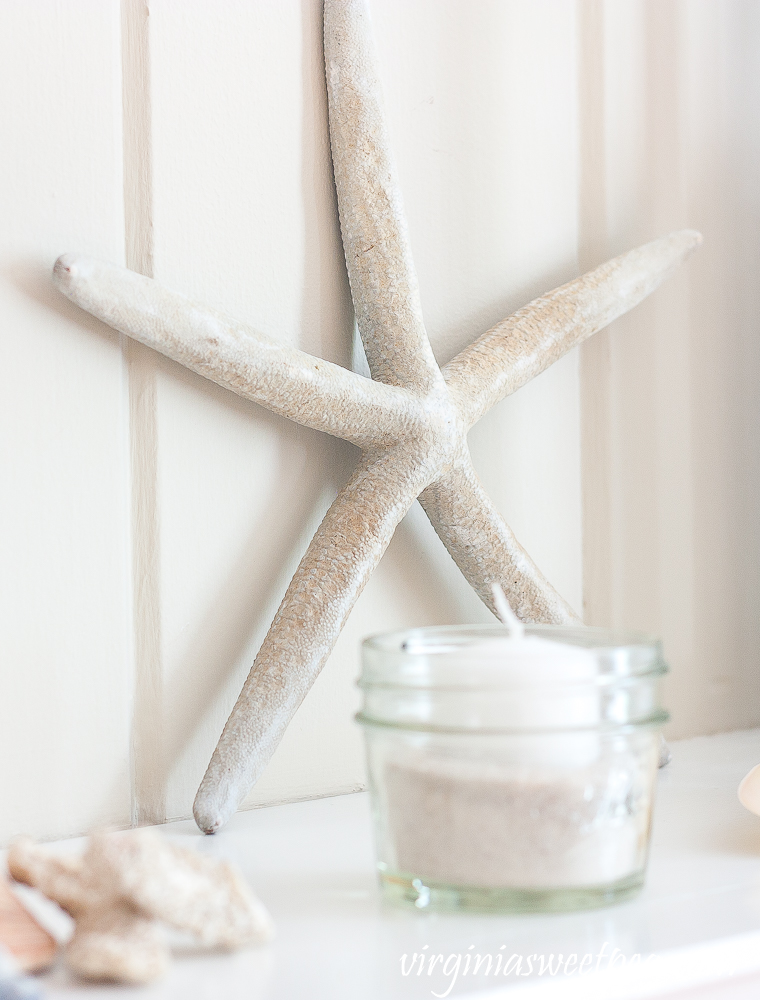 In the center of the mantel, I displayed a barnacle encrusted mollusk shell that I picked up on Kure Beach in North Carolina.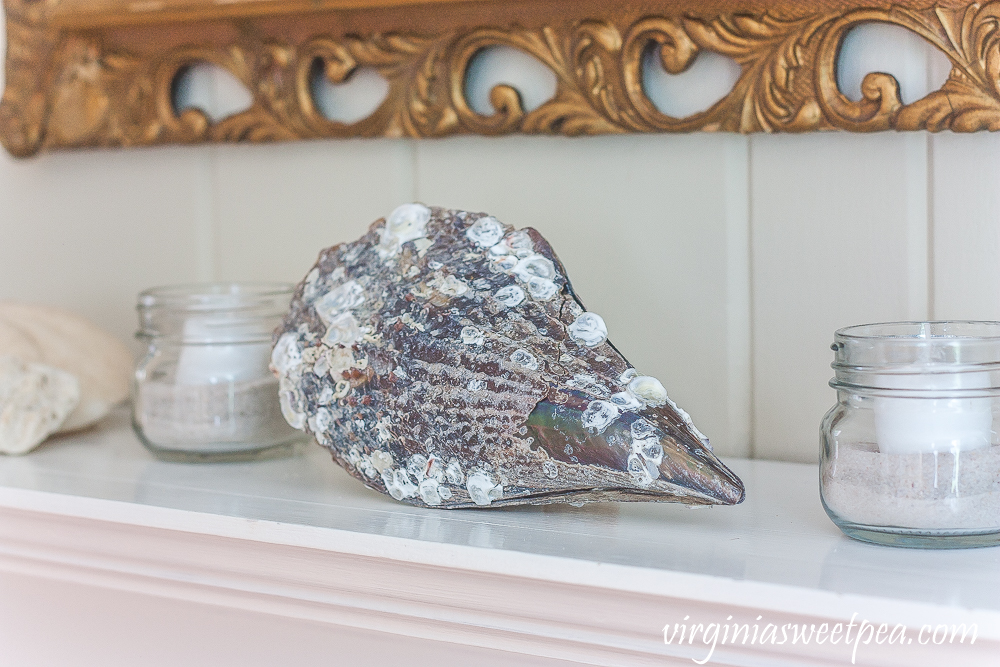 More shells along with coral and a sea biscuit line the left side of the mantel.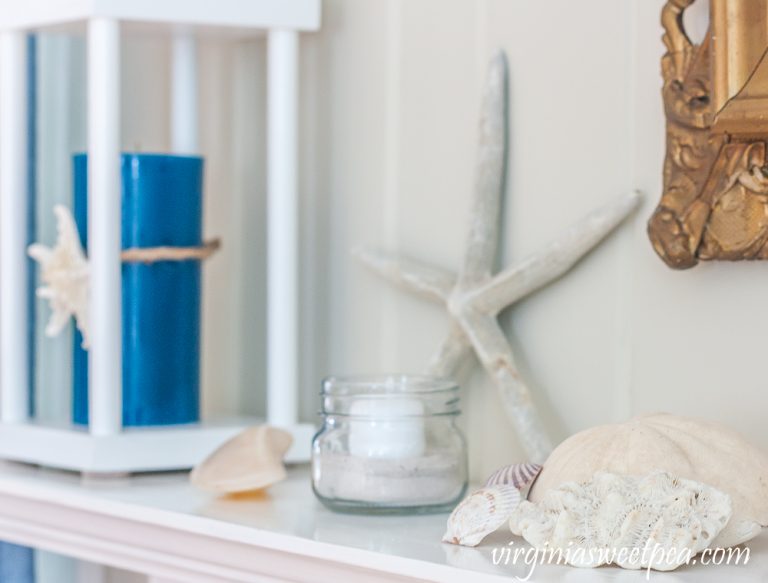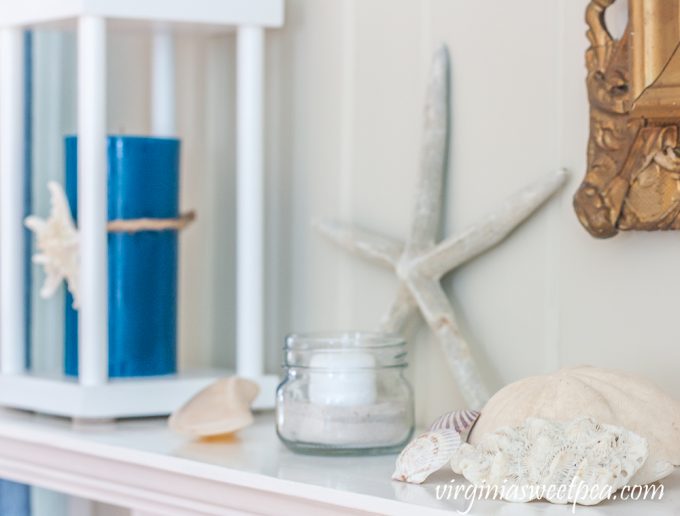 My parents bought the sea biscuit for me when I was a young girl.
I used to use all of these things in science class when I was teaching. A student gave me the pretty coral.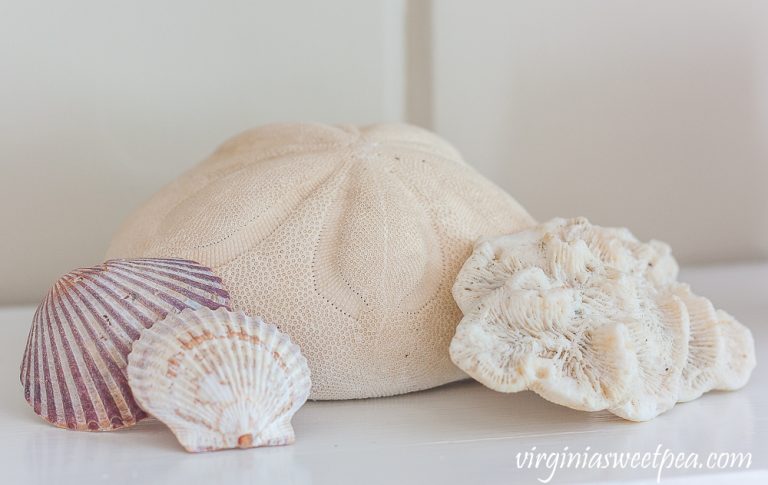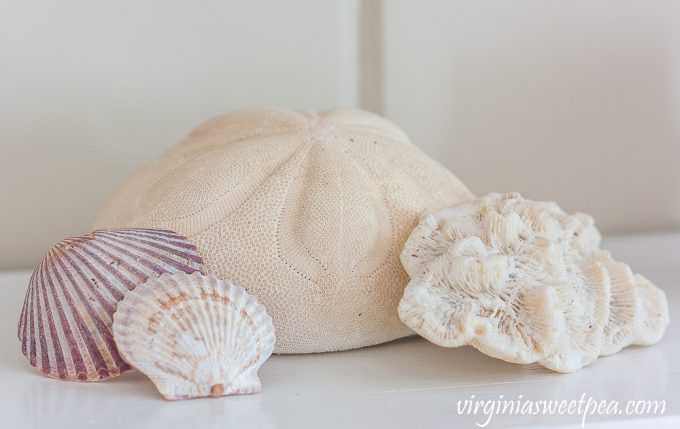 More shells and coral decorate the right side of the mantel.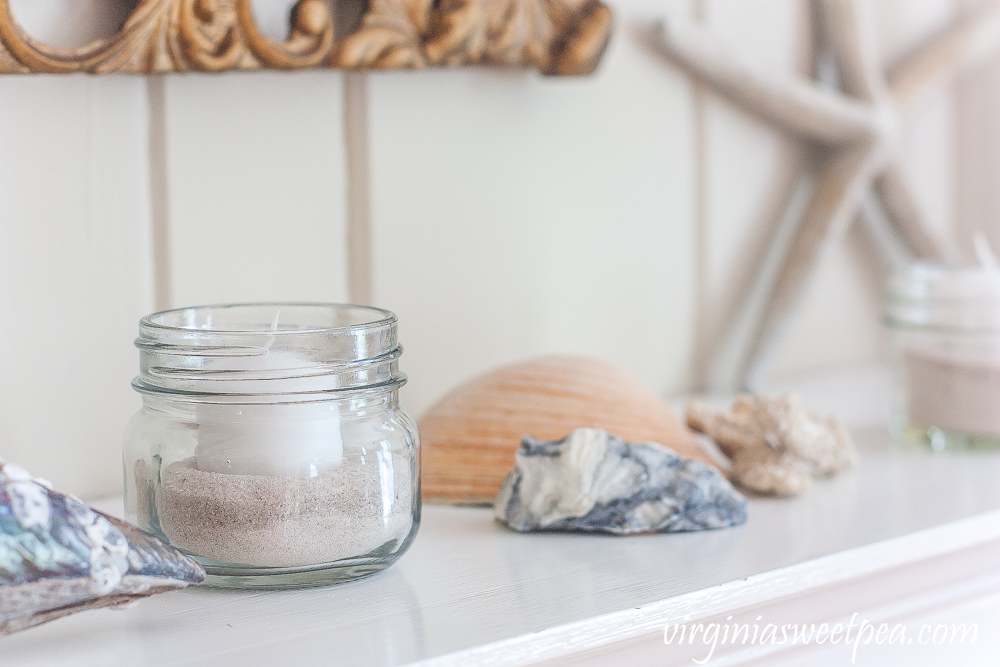 One of my neighbors once had boxes and boxes of shells at the end of her driveway with a "Free" sign on them.
I can't resist anything free, so her shells came home with me.
The oyster shell and clam shell were in one of the boxes. I found the coral pieces on a beach on Kauai.
Use a Dough Bowl
To decorate the hearth, I filled a dough bowl with decorative filler that I found at Hobby Lobby along with a starfish and sand dollar.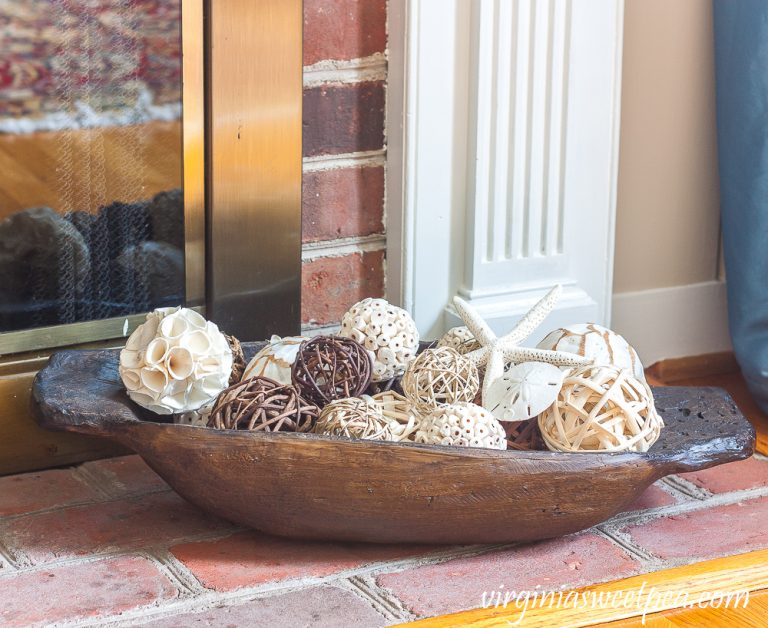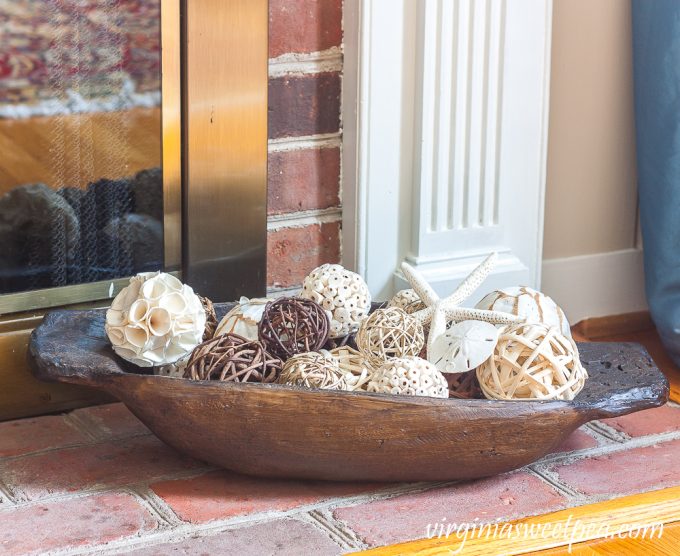 This is a similar filler that found on Amazon. I really like this filler and I'll be able to use it for decorating in many seasons.
I added a starfish and sand dollar to add a coastal touch.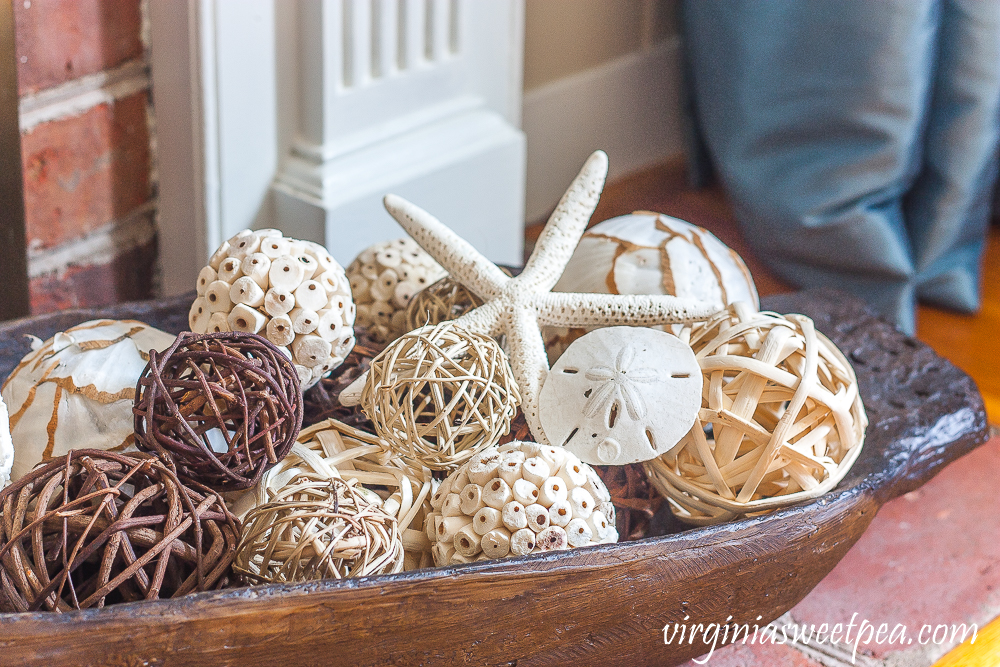 Final Look
I'm very pleased with how my coastal mantel turned out and after I finished decorating the mantel, I decorated the rest of the room with the same theme.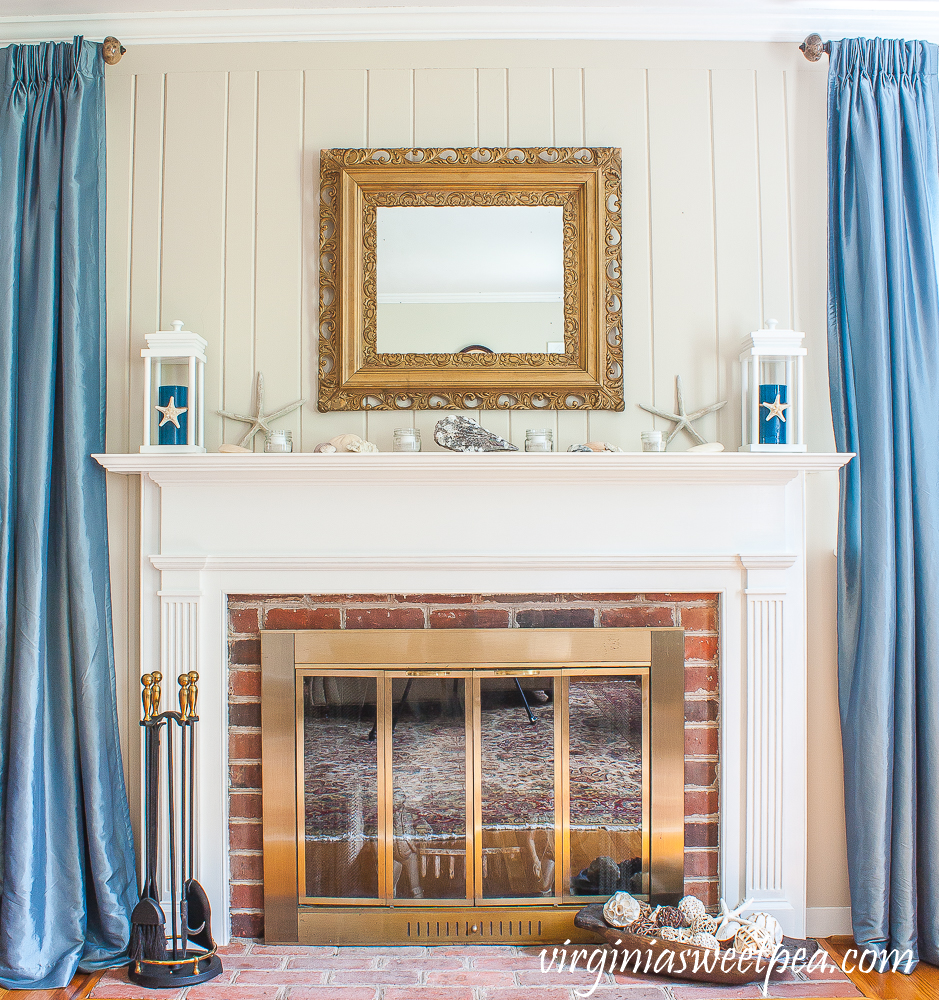 Don't miss seeing how I decorated this room with coastal style for summer using vintage family pieces.