Use a Lantern for Summer Coastal Decor
It's time for another Pinterest Challenge! This month our inspiration is lantern themed. Lanterns have been popular in home decor for many years and it's going to be fun to see how everyone in our group decorated for summer using a lantern photograph as inspiration. Since it's summer, I decided to Use a Lantern for Summer Coastal Decor. I don't live on the coast, but it's fun to add a coastal vibe to my home in the summer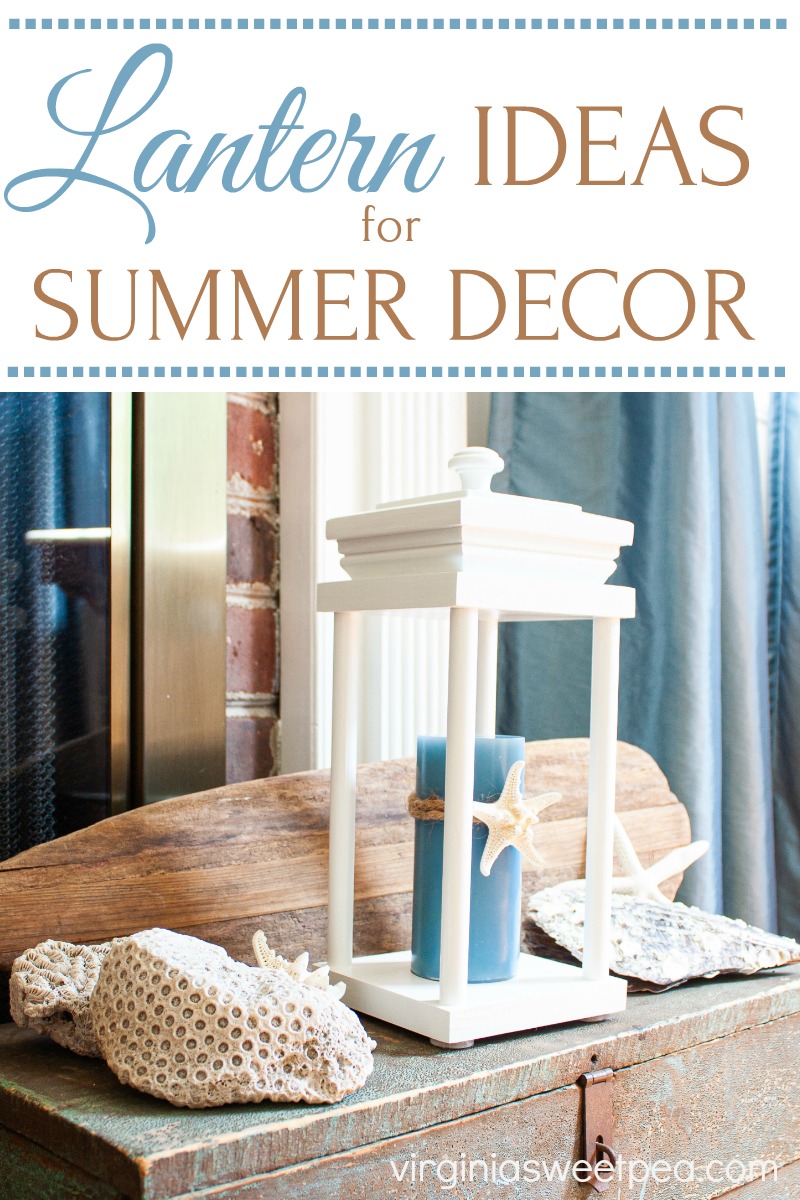 Today's lantern post is a Pinterest challenge that I'm sharing along with a group of blogging friends. This is a monthly Pinterest challenge hosted by Cindy from County Road 407. Each month Cindy picks a picture from Pinterest and challenges our group to recreate the look.
You may remember last month's challenge where our group created Patriotic Porch Decor, April's Spring Floral Wreaths and also the challenge from March where we each created an Easter Centerpiece and Table.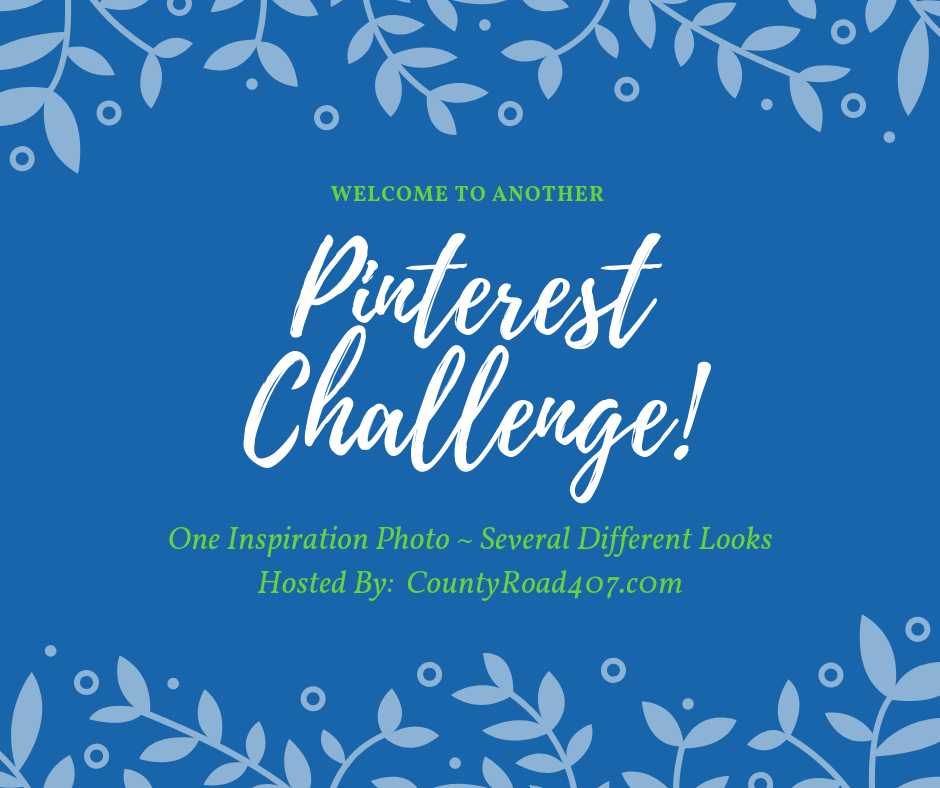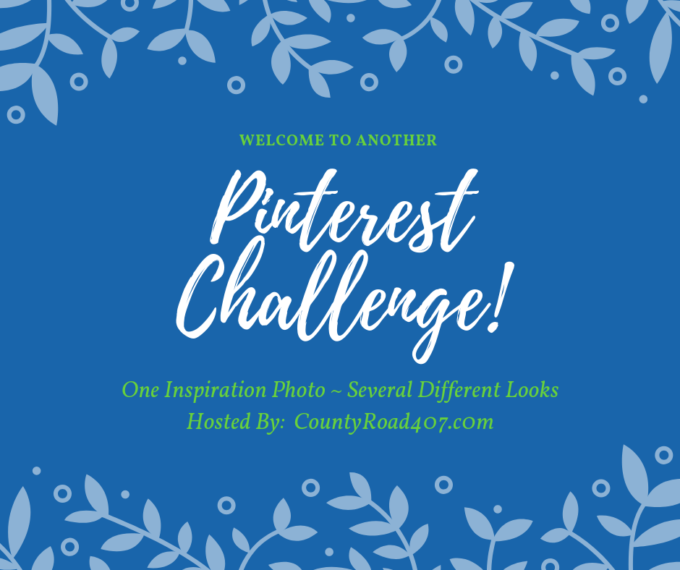 Many thanks to Cindy for hosting this challenge!
If you arrived here from First Day of Home, welcome! Chrissy is a new blog friend and I've been enjoying getting to know her. I'm sure that you enjoyed seeing her version of our inspiration picture. You'll find a list of all of the participating bloggers at the end of this post. I'm looking forward to seeing how everyone recreated this look.
Our Inspiration for this Challenge
This month we were challenged to create a Lantern vignette inspired by this beautiful display created by Kelley Nan Gracious Living.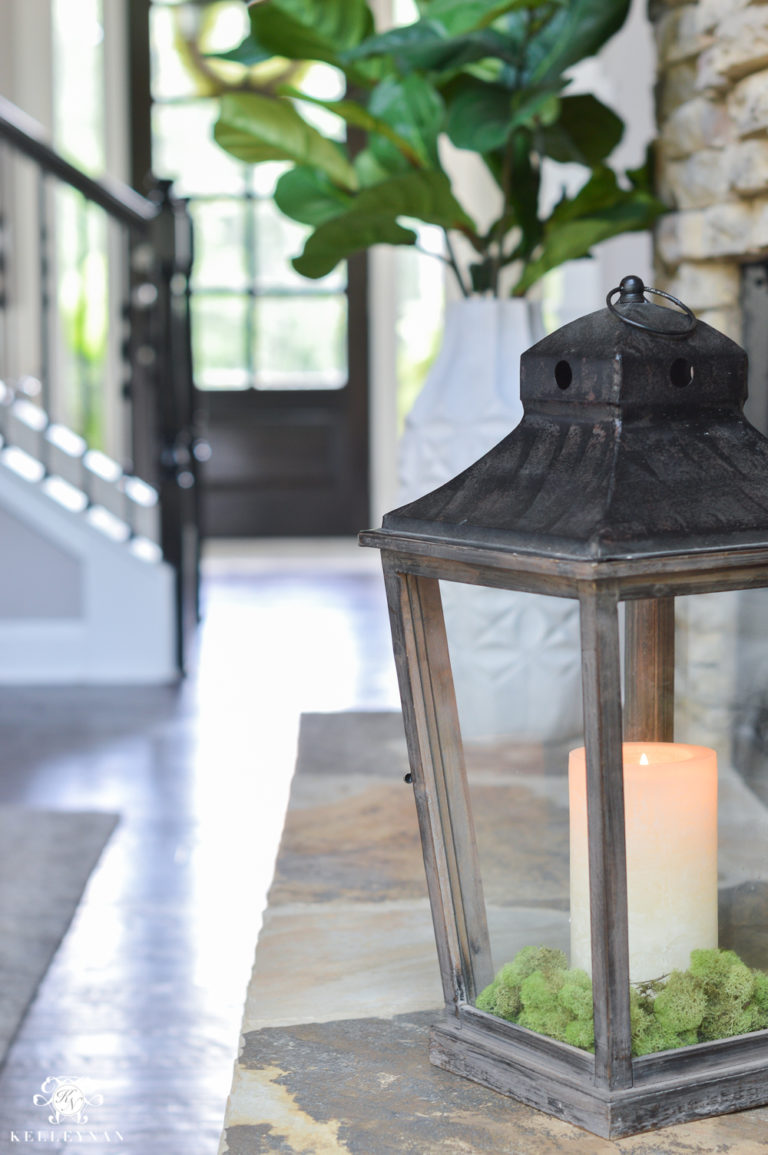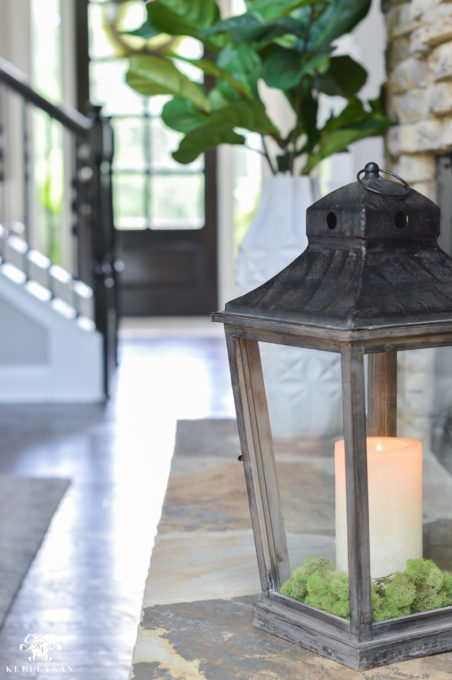 I admired the neutral vibe of the inspiration photo with the pops of green. I don't grow indoor plants, nor do I decorate with neutrals, so I focused on the lantern and candle part of the inspiration picture to come up with my own version with a coastal vibe.
Use a Lantern for Summer Coastal Decor
Being a girl raised in the south, summer isn't summer without the beach. I have no beach plans in the near future, but it doesn't stop me from giving my home some coastal decor for summer.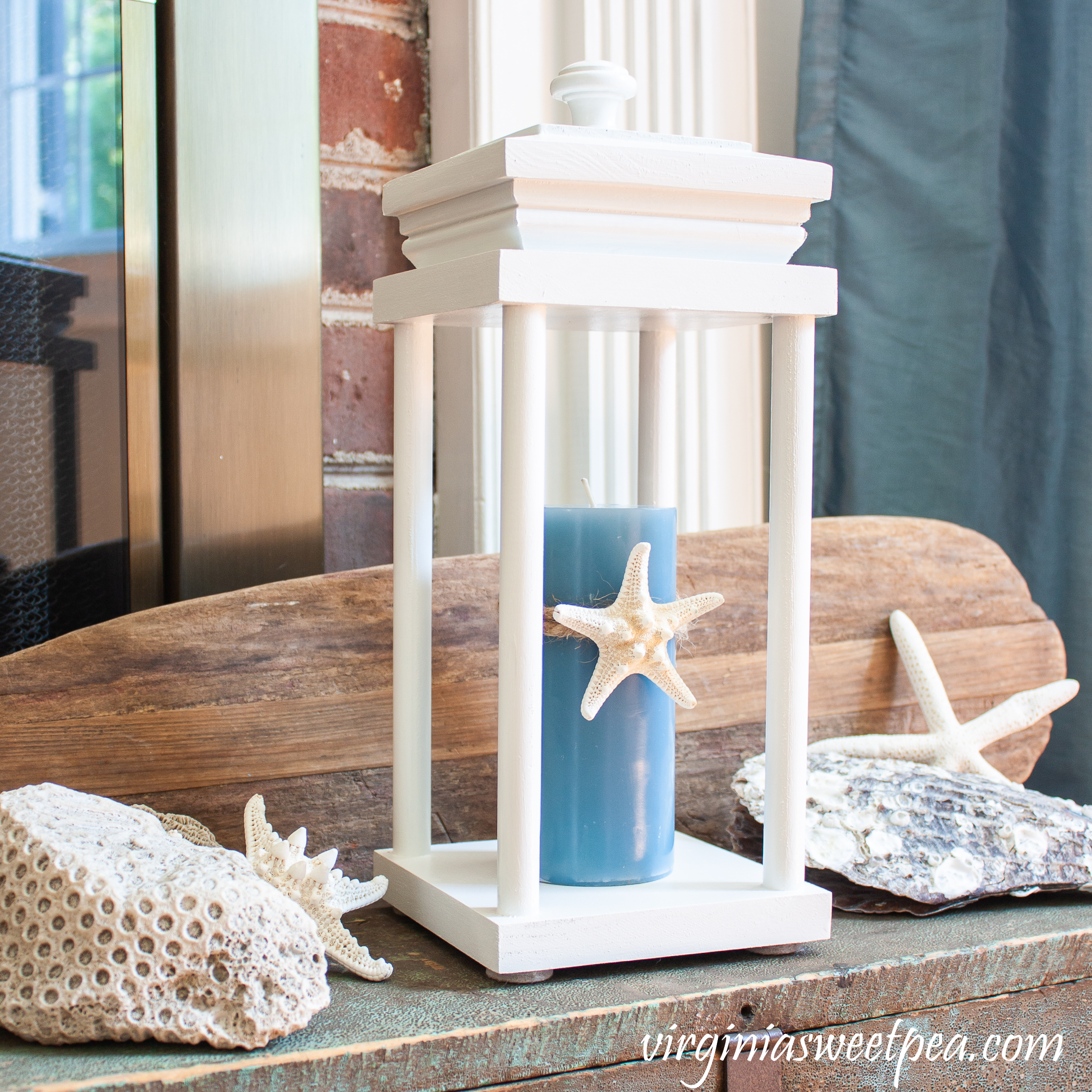 I loved how our inspiration photo from Pinterest showed a lantern on a fireplace hearth. Since my fireplace hearth is flat, I elevated my lantern with a vintage tool box. A vintage oyster can brings a touch of blue and coastal to the brick hearth.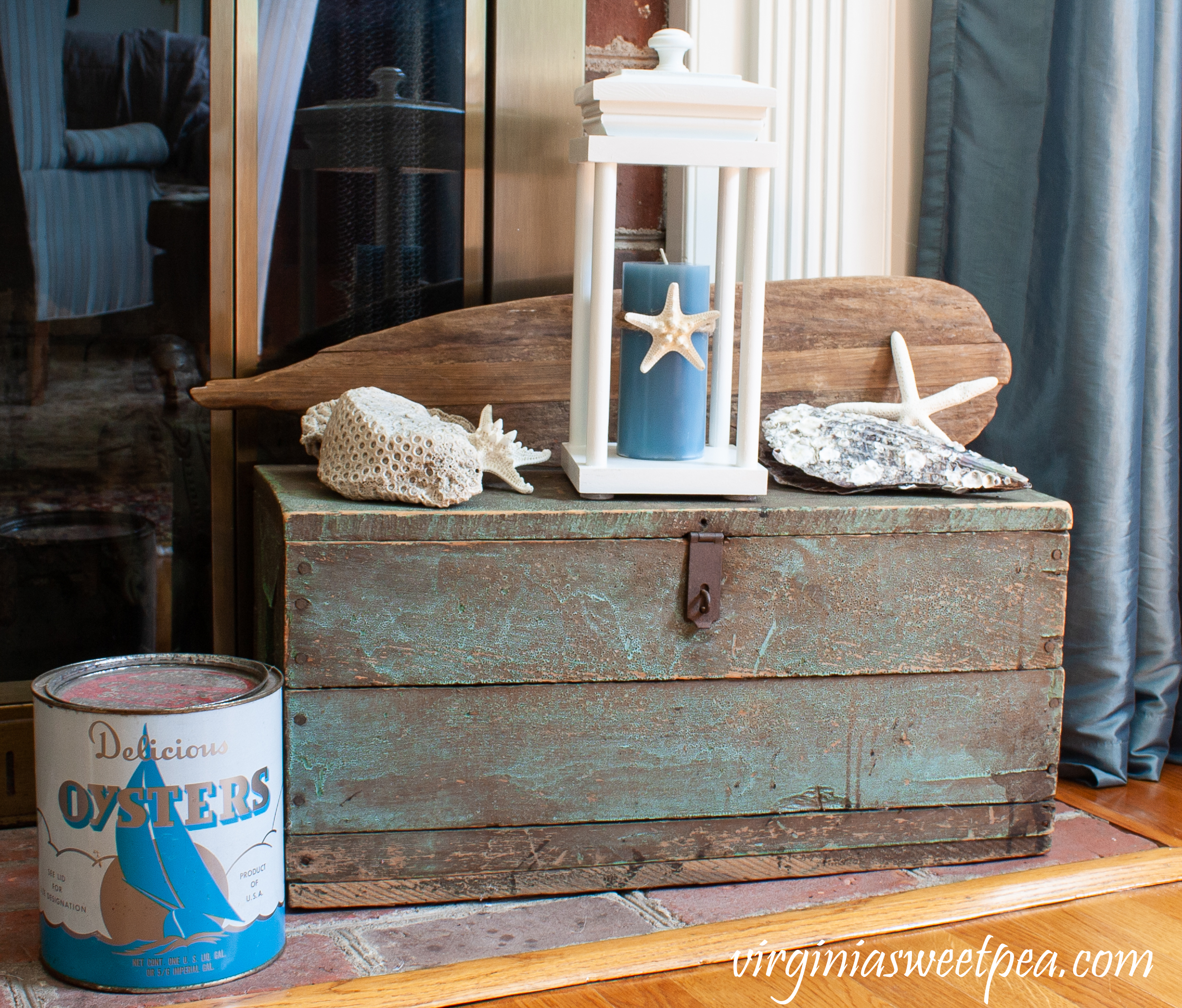 I made this lantern along with another to use on my mantle one Christmas. Making lanterns was a fun DIY project and I've used the lanterns for decor in different seasons. You can see the lanterns used for a beach themed mantle here and decorated in a coastal style here.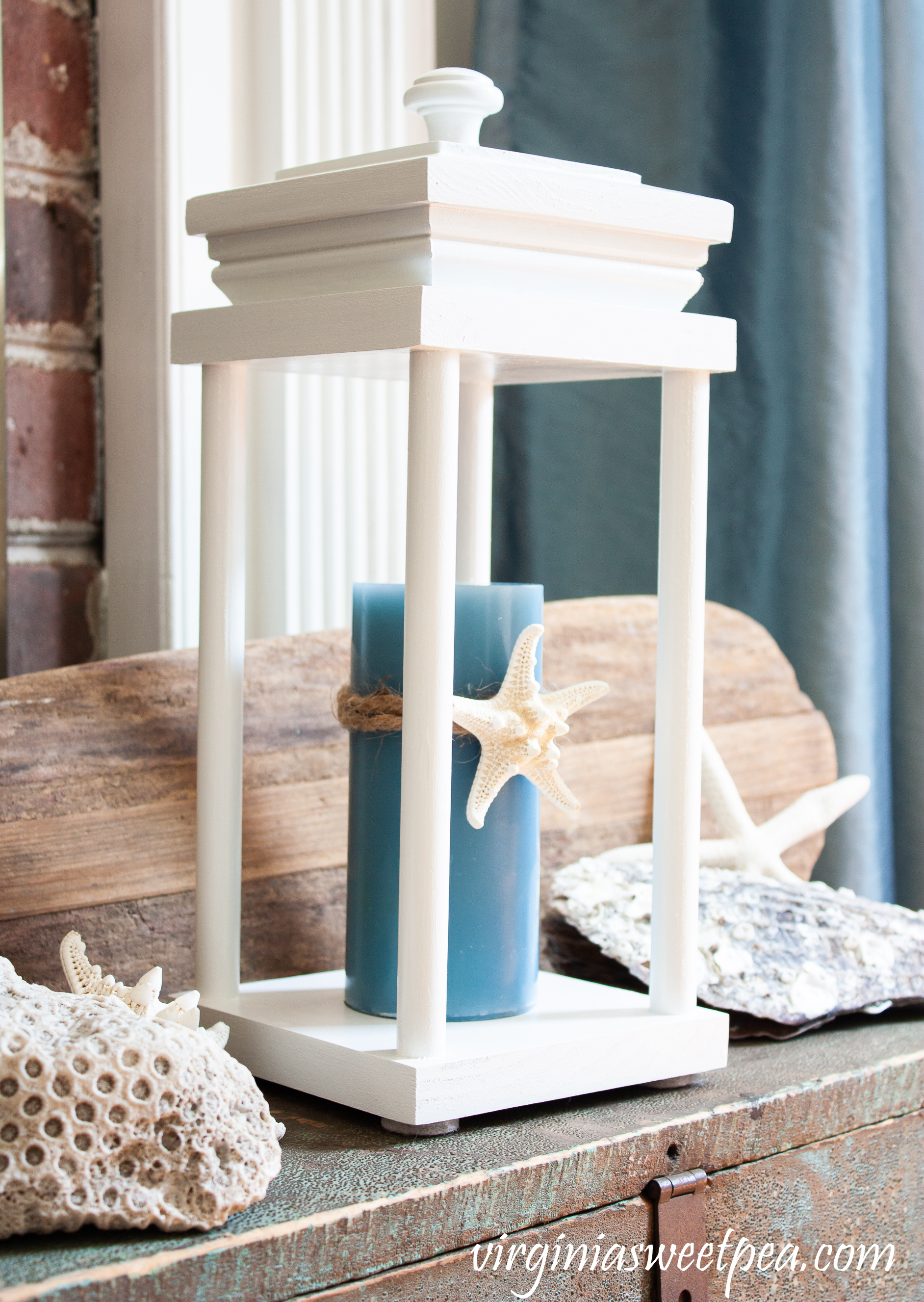 Since our inspiration picture used a lantern with a candle, I added a candle to my lantern for this vignette. To give it a coastal feel, I tied some thick twine around the candle and glued a starfish to it.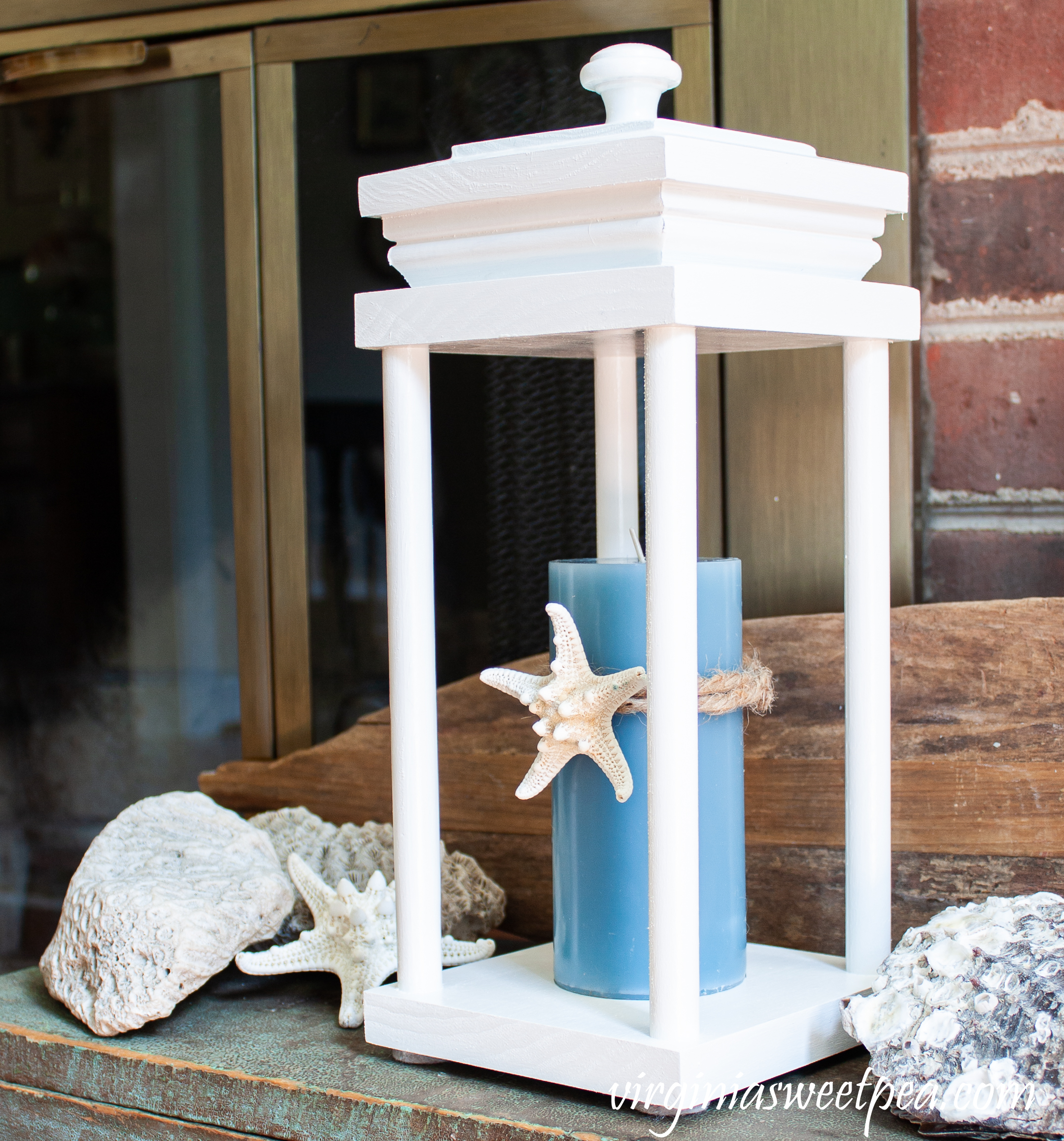 To the left of the candle are two pieces of fossilized coral that belonged to my grandmother's neighbor. She grew up in West Virginia and I was told that these were dug on her family farm. Inez had large plants on her sun porch and she used these on top of the soil for decoration. After I inherited them from Inez, I used them in my science class when we studied both fossils and coral. The starfish was also used in my class when Echinoderms were being studied.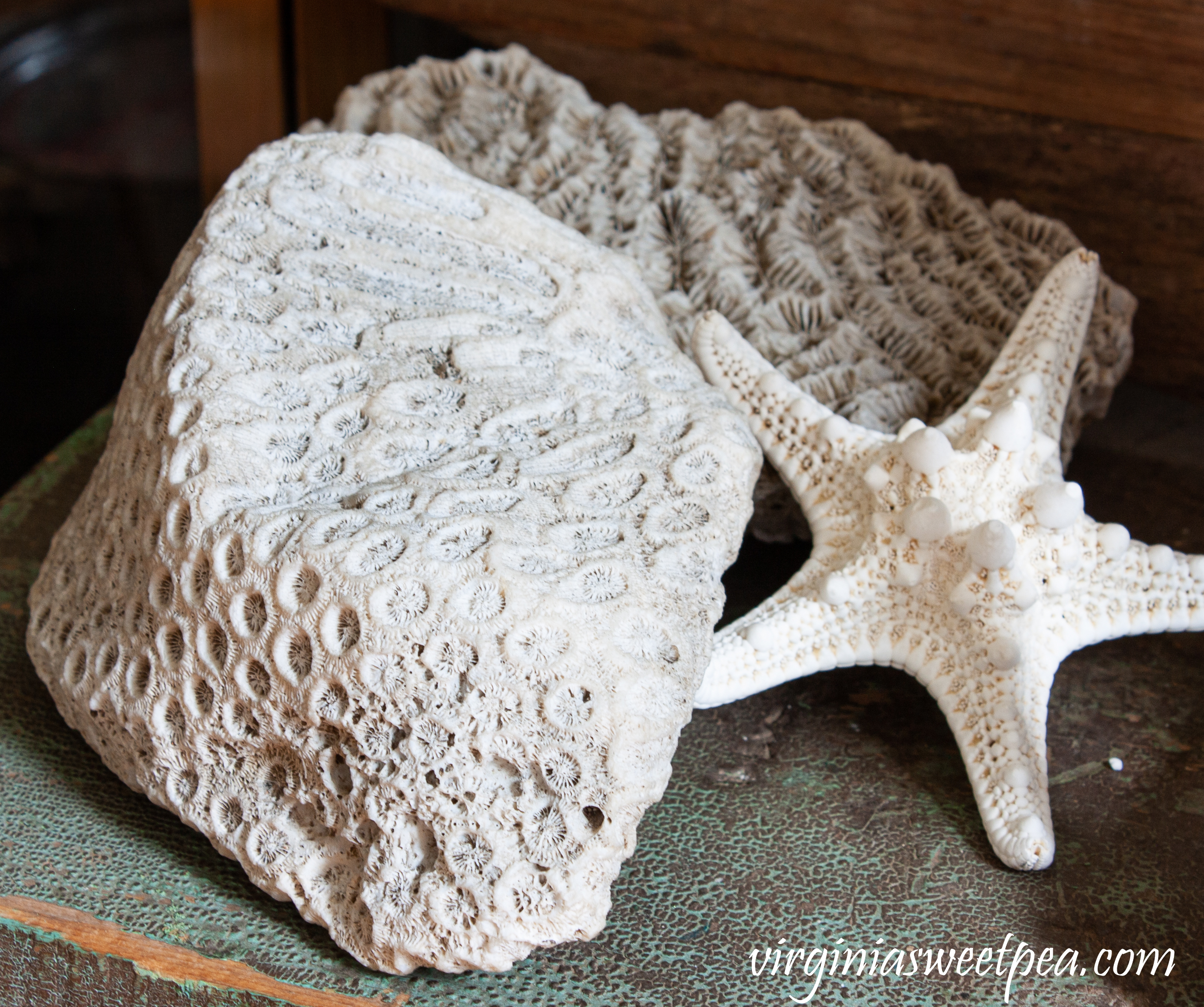 My mom used to have a beach cottage and she used this old oar as wall decor there. Our family is the type that throws nothing away, so I'm sure that this oar once belonged to some family member.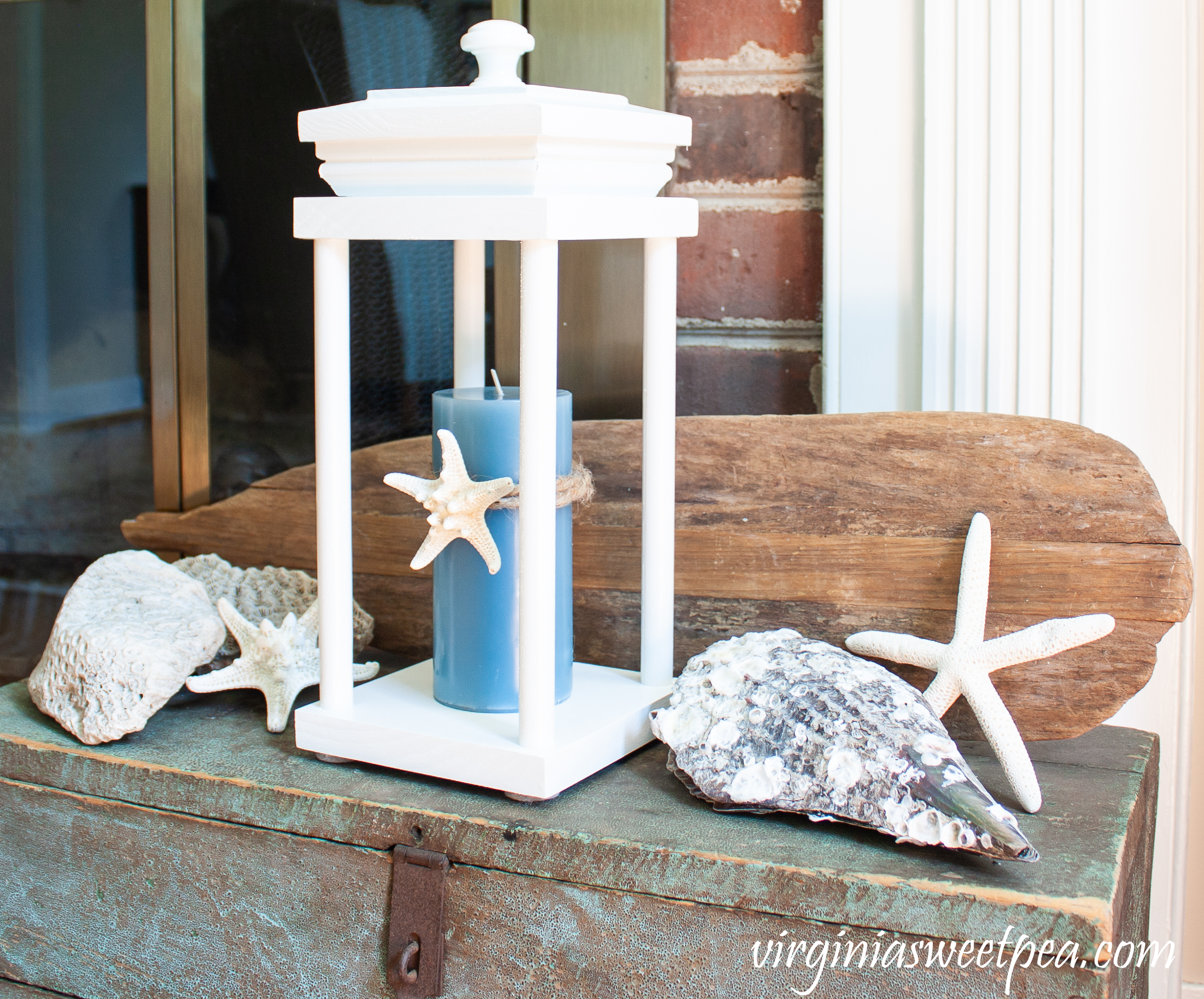 To the right of the lantern is a shell encrusted with some mollusk that I picked up on Cure Beach in NC and a starfish that I purchased on NC's Outer Banks.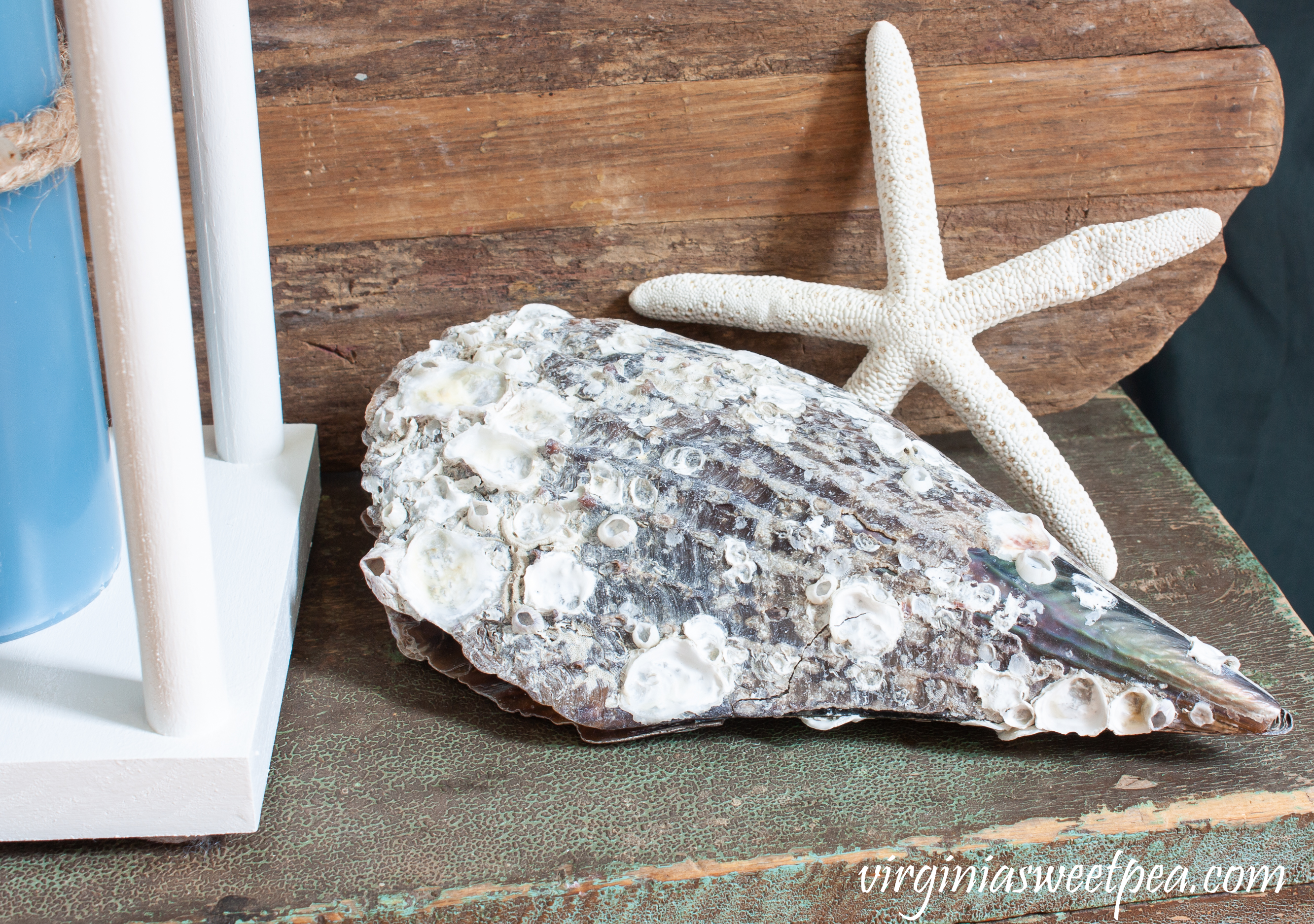 The inspiration picture used green as an accent color with the moss around the candle and large plant in the background. I used blue as my color with the candle and my blue curtains in the background.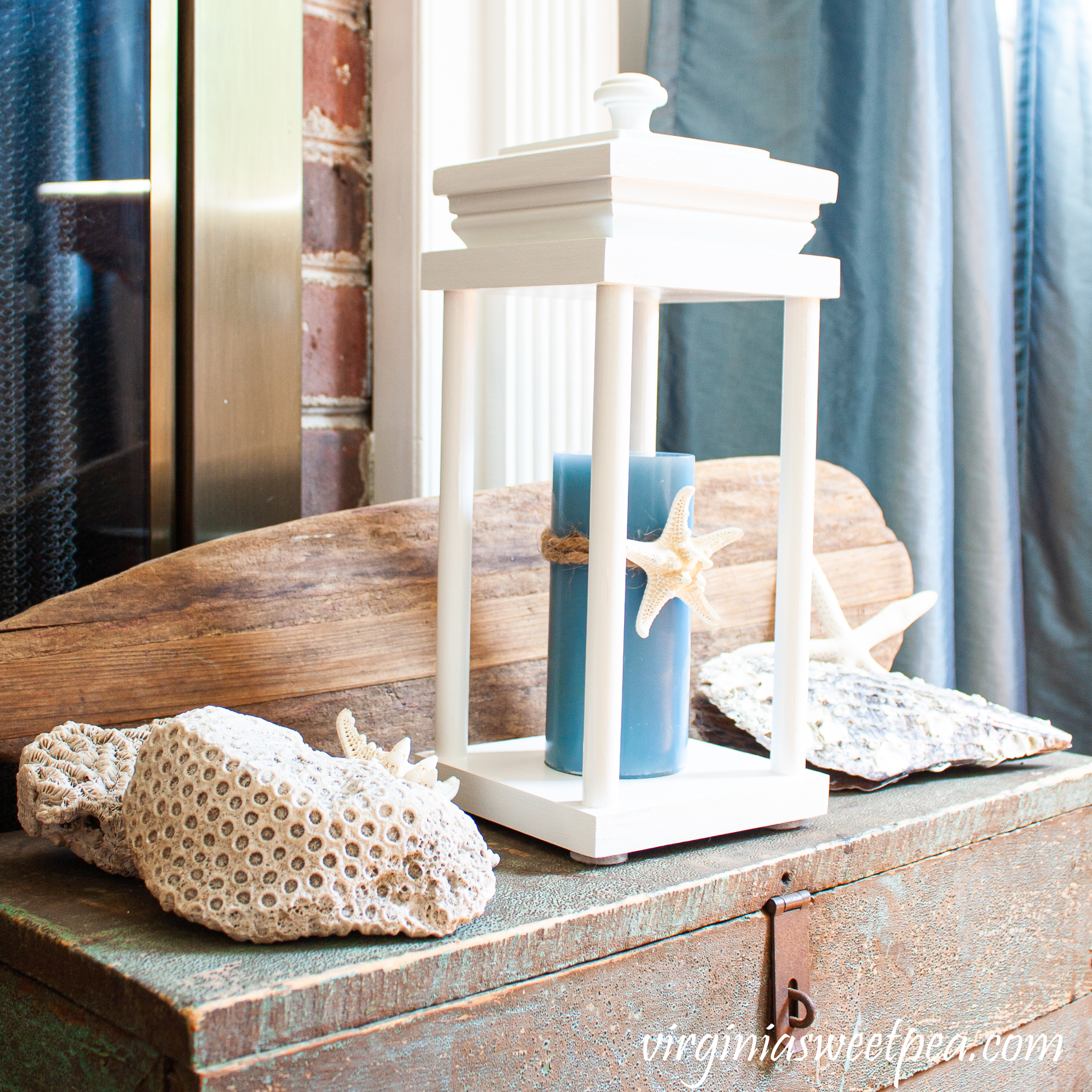 Pin It!
Please pin this post to remember for later!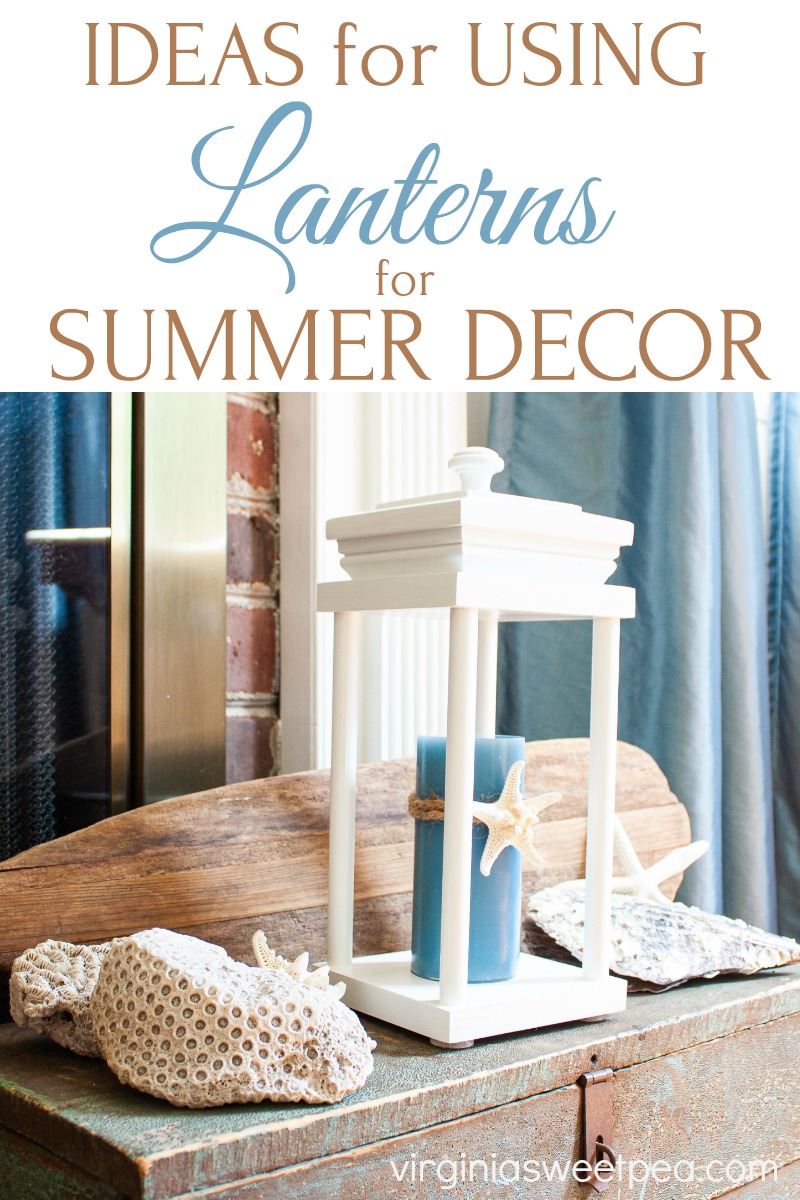 Next on the tour is Julie from My Wee Abode. I'm looking forward to seeing Julie's version of the lantern inspiration picture.
More Lantern Ideas to Enjoy
Click on the links below to visit each blogger who is sharing their version of the inspiration picture. I'm looking forward to seeing them all!
If you don't see the links, click on the blue "Click Here to Enter" button. InLinkz can be wonky and sometimes the links show and sometimes they don't!
You are invited to the Inlinkz link party!