We had two pork tenderloins left over from our party on Saturday night. I used some of the pork to create Cuban Sandwiches with a modified recipe from Cook's Country Magazine. All I can say about this recipe is, "Yum!" We've had these sandwiches for dinner two nights this week and neither of us is tired of them yet.
We love grilled sandwiches and this one is a welcome addition to my recipe binder.
Cuban Pressed Sandwiches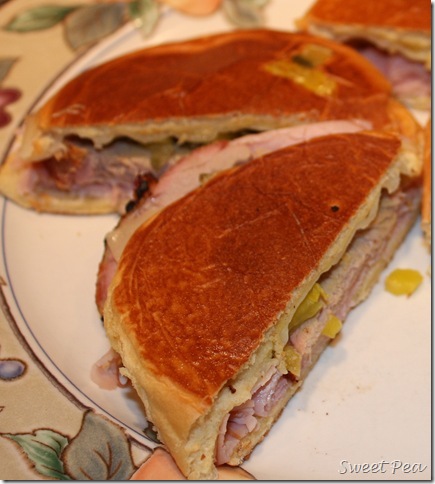 Ingredients
1/3 cup diced dill pickles
1/3 cup diced jarred banana peppers
4 potato sandwich rolls
2 T mayonnaise
1 1/2 T yellow mustard
1/4 lb. sliced baked ham, preferably Virginia or Black Forest
1/2 lb. cold roast pork, sliced thin
1/4 lb. thinly sliced Swiss cheese
3 T butter, melted (I used spray butter instead)
Instructions
Combine pickles and peppers in small bowl. Split rolls in half; top half with mayo and bottom half with mustard. Layer ham, pork, pickle mixture, and cheese onto bottom half, finishing with cheese on top. Spray the outside of each bun with butter or brush on melted butter.
Heat a large nonstick skillet over medium-low heat and grill sandwiches. Press with a heated pot or Dutch oven or if you are like me, use an aluminum foil covered brick. Turn sandwiches when the cheese starts to melt. Serve immediately.