December 2016 Stitch Fix Review–Fix #42 and $1,000 Giveaway
How can it possibly be time for another Stitch Fix review? It seems like I was just sharing my November review with you and now it's time to share again. Not only do I have a great Fix to share, I also have a special treat, a chance for you to win a $1,000 Stitch Fix gift card! Who wouldn't want to win that? You'll find the entry for the giveaway at the end of this post.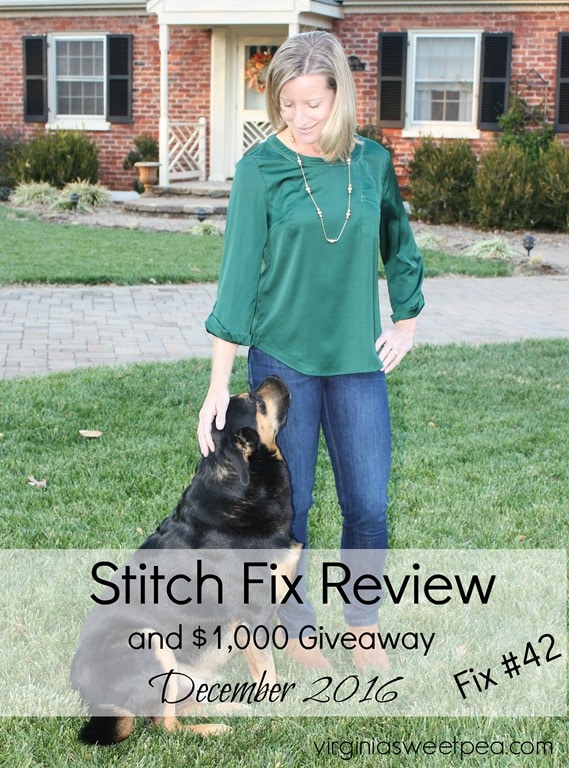 Links in this post may be affiliate which means that I earn a small commission if you make a purchase. There is no additional cost to you.
Did you see the Sneak Peek Video of my 42nd Fix that I shared last week? It's fun to give you guys a sneak peek of my Fix. This month was a great Fix and I had a tough time deciding what to keep and what to send back.
For my December Fix, I requested tops to go with the Lysse – Joylyn Ponte Leggings that I purchased last month and also a dress for work. I wear mostly dresses to work, but after wearing the leggings from last month with the RD Style Woods Cowl Neck Pullover, I realized that a leggings outfit is too comfortable not to wear more often, so I asked for more tops to go with them.
Let's see the details!
41Hawthorn – Darci Pullover Sweater
This sweater is butter soft and light weight. I love the neckline because it isn't restricting like a turtleneck but comes up high enough to keep me warm enough inside my classroom on a cold winter day.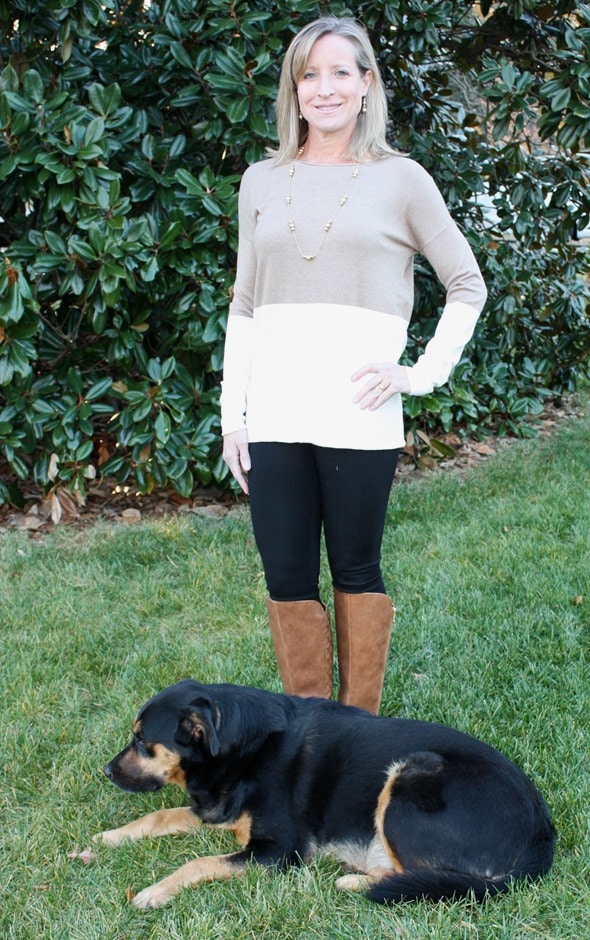 The light is a bit warmer in this location of my yard and better shows this sweater's colors. I paired it with a necklace and earring set that I picked up at Dress Barn on Black Friday. (Similar set can be found here.) My boots are from Payless (last year) but are like new because I only wore them a few times. This style is discontinued but I love the similar Smarty Riding Boot that are currently available.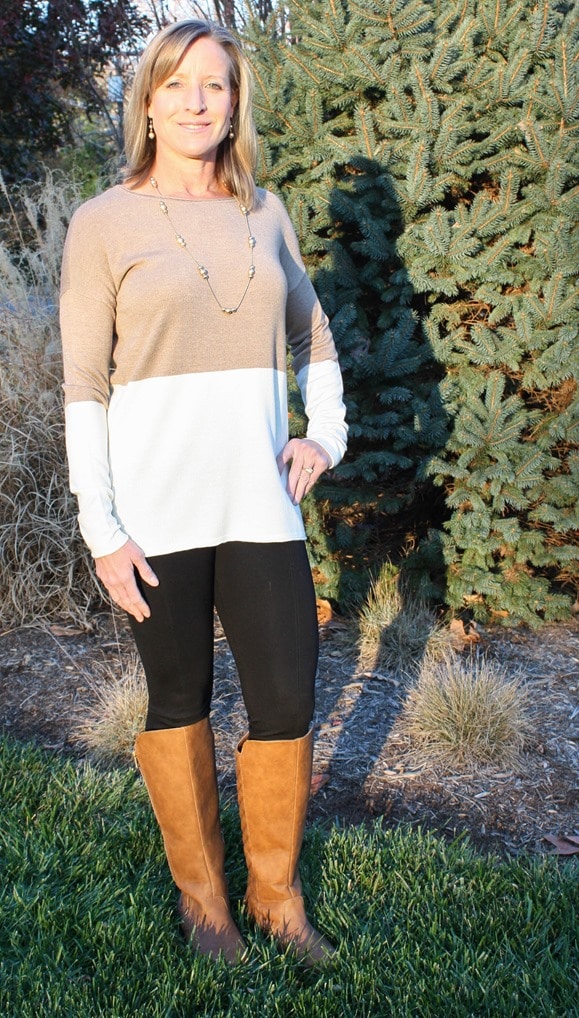 Renee C Kally Split Neck Chambray Tunic
This denim tunic is super soft and has a cute split side detail. I also like the v-neck.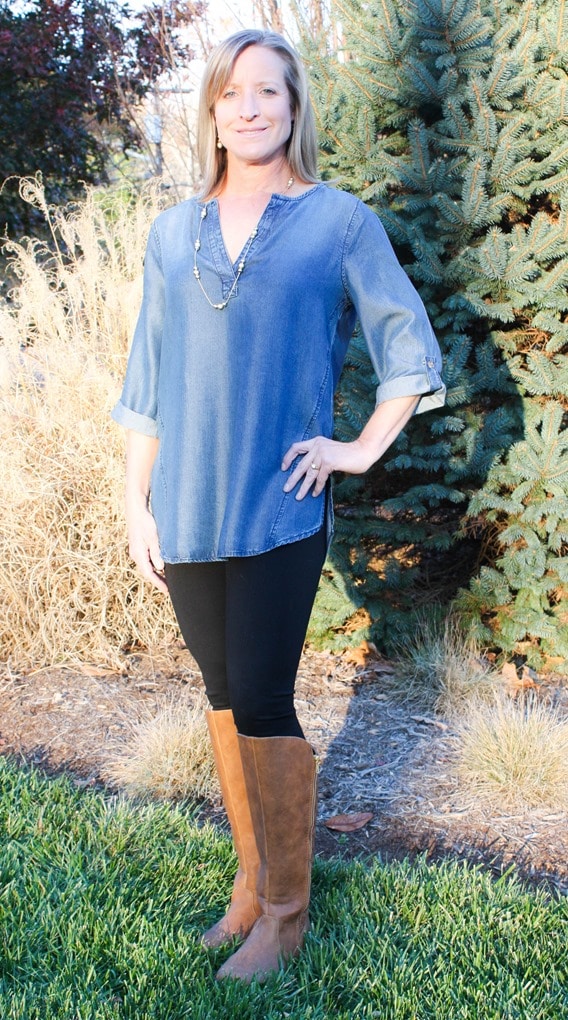 My stylist suggested belting this top to emphasize my waist but I'm more likely to wear this without the belt as it felt a bit restrictive to me. I have never like the feeling of something clinging to my waist.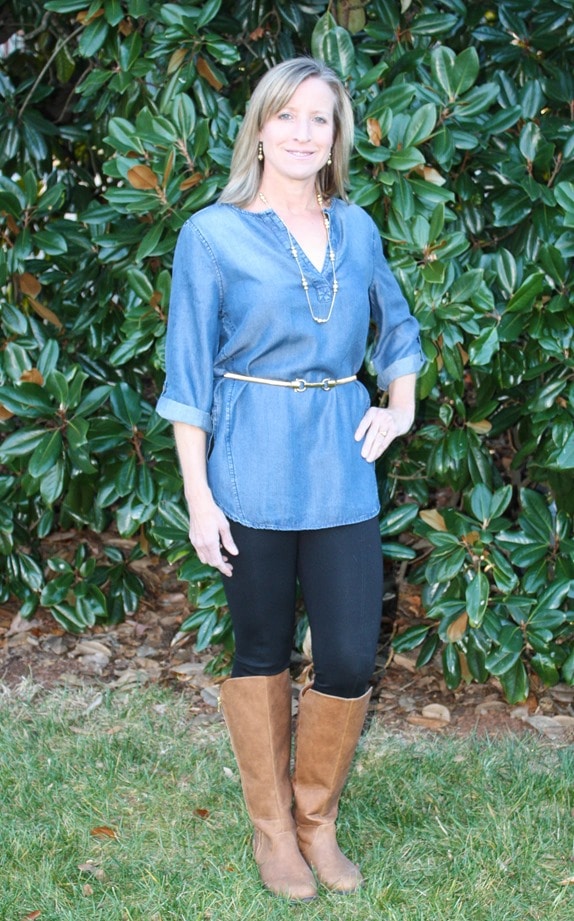 41Hawthorn Breckinridge Crochet Detail Blouse
My stylist thought that I might enjoy wearing this pretty blouse to upcoming holiday parties. It has a pretty shimmer and is the type of shirt that I can dress up for work or dress down as shown here with jeans.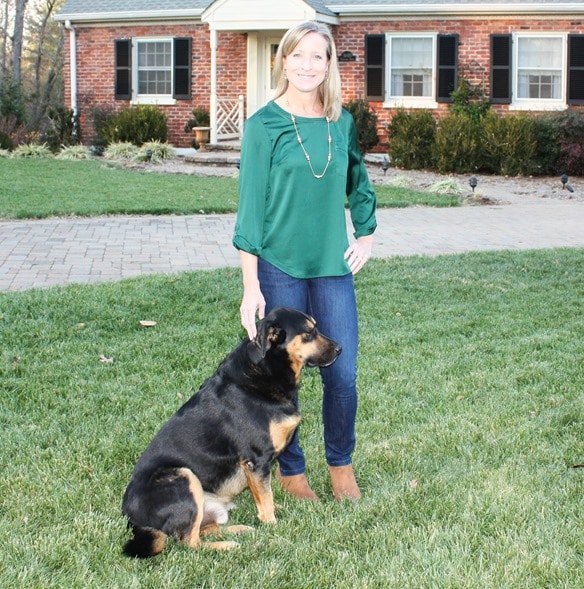 I paired this blouse with DL1961 Angel Mid-Rise Skinny Ankle Jeans that I recently purchased. I am so hard to fit in jeans and these fit like a dream! I love them! My boots are from Payless and are so comfortable.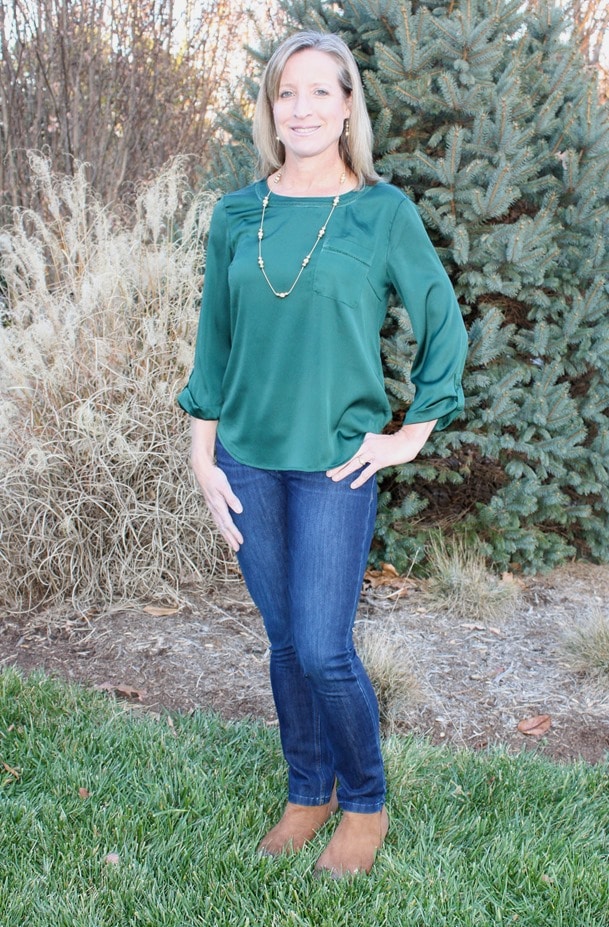 41Hawthorne Henderson Tie Neck Blouse
On occasion Stitch Fix sends what I consider to be an out of season piece; such is the case with this sleeveless blouse. I paired it with the Market and Spruce Lilly Printed Pencil Skirt from my November 2015 Fix but after looking at my pictures, don't really like the two together.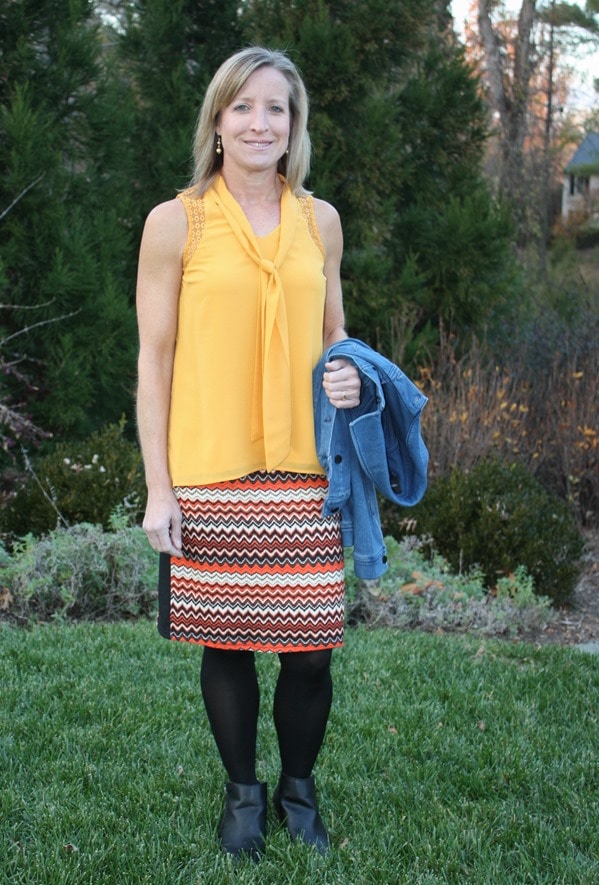 This top has a really pretty back that I love.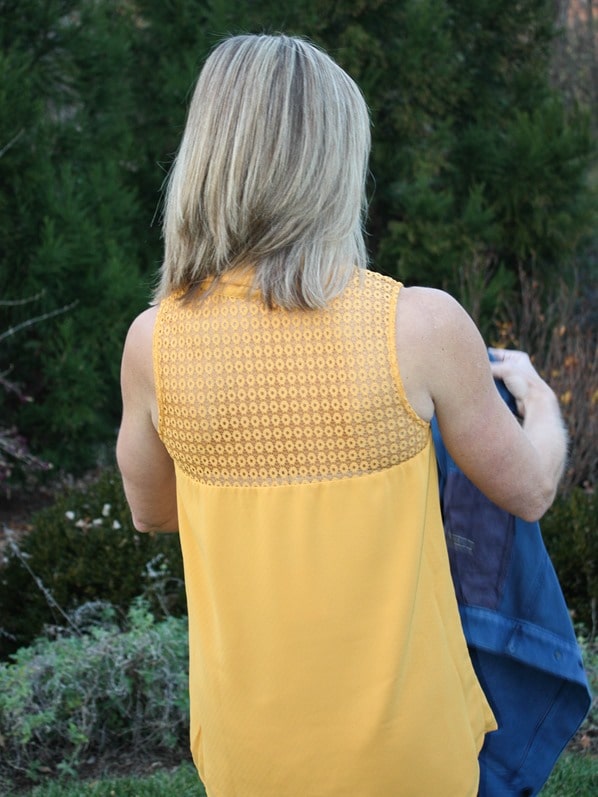 I paired it with the Liverpool Kolten Denim Jacket from my August 2016 Fix. My stylist suggested pairing this with a black cardigan or blazer but I don't own either.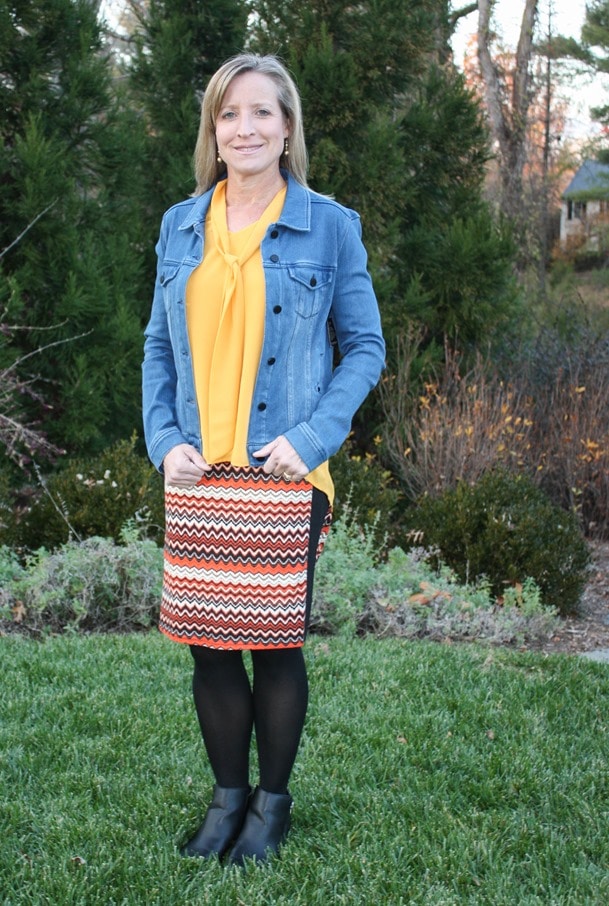 At the last minute I decided to pair this top with a gray cardigan from Loft and jeans to see if I liked the look better and I do.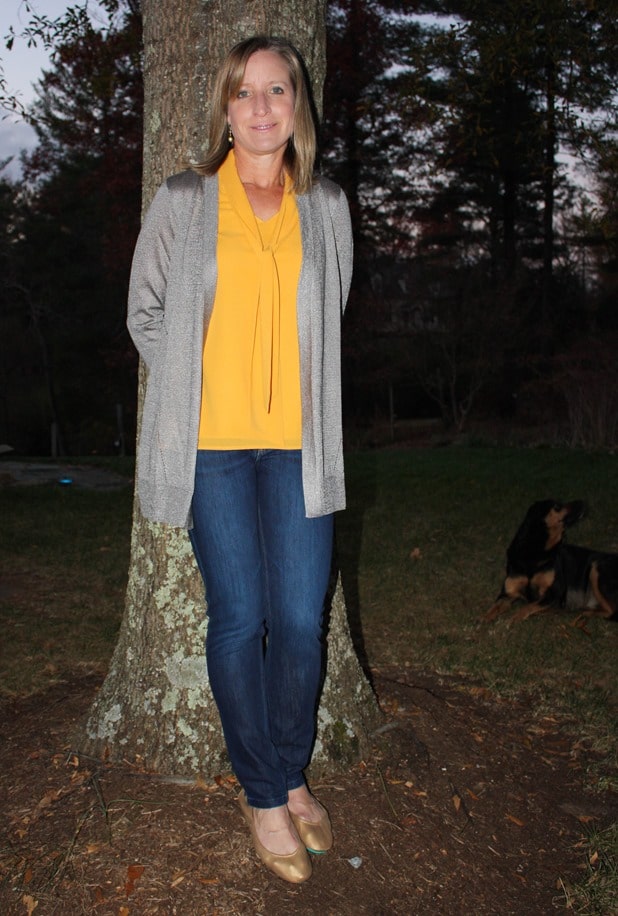 41Hawthorn Cristen Shirt Dress
I have a closet full of Stitch Fix dresses and they are always a favorite when I receive a Stitch Fix shipment. This dress is super comfortable and I love its style.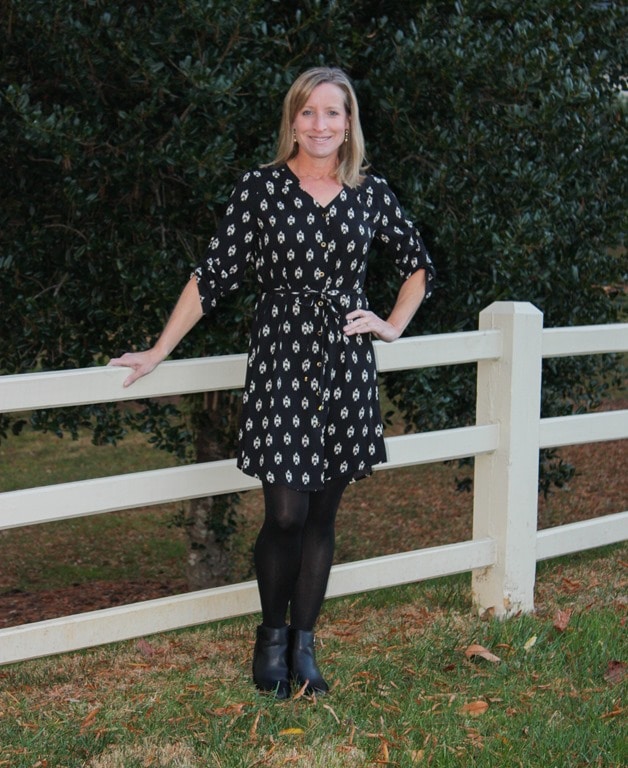 I paired it here with booties but would also wear this with tall black boots. When it gets warmer, I'll ditch the tights and wear this with black flats. A dress like this can be worn almost year-round.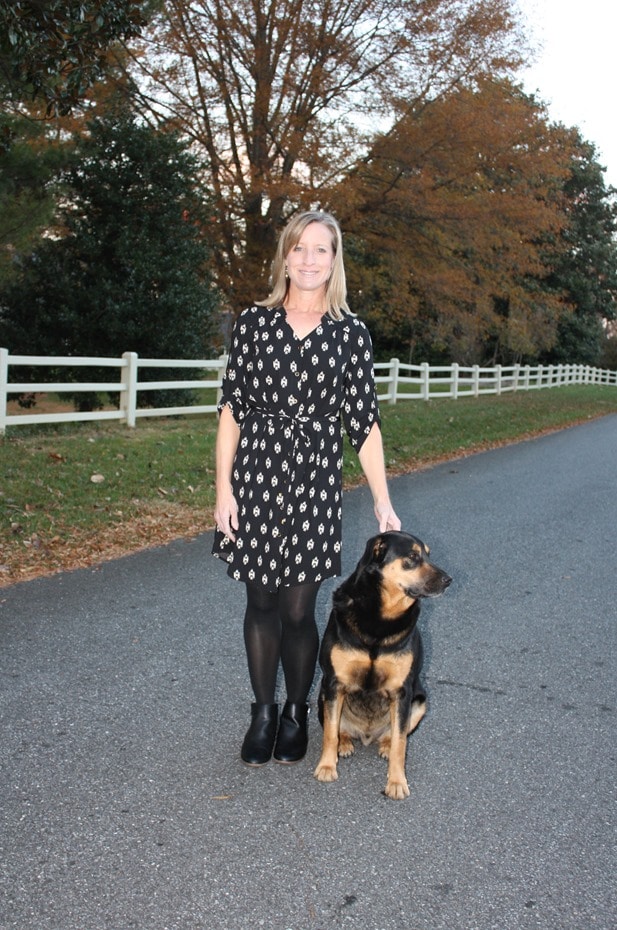 This is Fix #42 for me. I've mentioned many times in my Stitch Fix posts that I really dislike shopping for clothing and Stitch Fix has solved that dilemma for me. Last Wednesday I was off from school and decided to visit a local shopping center. After being in one store over an hour and trying on countless outfits, I came out of the store empty handed. Mr. SP was waiting for me and my remark to him was, "This is why I do Stitch Fix." So, if you are like me and don't like to shop, I encourage you to try Stitch Fix.
The Details
If you are new to Stitch Fix, it is a personal styling service. You start by filling out a detailed style profile so that your stylist will get a sense of what you like and dislike and also your sizes. Pinning to a style board on Pinterest is also a great way for your stylist to get to know you and to get suggestions for what you'd like to receive. When you order a Fix, your credit card is charged a $20 styling fee that is deducted from any item that you purchase. Since I don't want to lose my styling fee, I almost always buy at least one thing. If you buy all five items, you get 25% off your total which usually equates to getting one item for free.
Stitch Fix offers clothing, bags, shoes, and jewelry. I most often request clothing only but this month got a bag that I adore. New to Stitch Fix is the option to exchange an item for a different size.
When you receive your Fix you have three business days to try on the clothes and to decide what you want to keep and what will be sent back. A postage paid envelope is included in your shipment which makes returns a breeze.
I choose to receive a monthly shipment but that is my choice. You can choose to receive a box whenever you'd like.
In Summary
I had the hardest time deciding what to keep this month and almost kept all five items. I ultimately decided not to keep the denim shirt as I knew I'd only wear it with leggings and truthfully know that I shouldn't wear leggings too often as they aren't especially flattering on me even if they are super comfortable. I loved the sleeveless blouse but since I knew I wouldn't wear it until next spring passed on it. I loved the dress but have so many black and white dresses that I hesitated to invest in yet another one.
41Hawthorn – Darci Pullover Sweater – $58 – Keep
Renee C Kally Split Neck Chambray Tunic – Return
41Hawthorn Breckinridge Crochet Detail Blouse – Keep
41Hawthorne Henderson Tie Neck Blouse – Return
41Hawthorn Cristen Shirt Dress – Return
Gift Cards
Do you know a girl or guy who likes clothing and accessories? Get them a gift card for Christmas! I know I'd be thrilled to see one of these under the tree. A Stitch Fix gift card might be the perfect gift solution for those hard to buy for people on your list.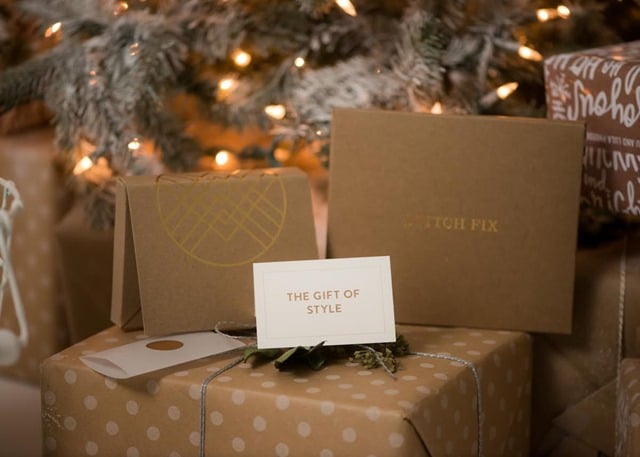 Giveaway
Would you like a chance to win a $1,000 Stitch Fix Gift Card?? I thought you would! Enter using the Rafflecopter widget below. Good luck!