DIY Crate Cabinet with Sliding Drawers
Have you seen the handy crates that Home Depot sells? We used four of these crates to make a DIY Crate Cabinet with sliding drawers.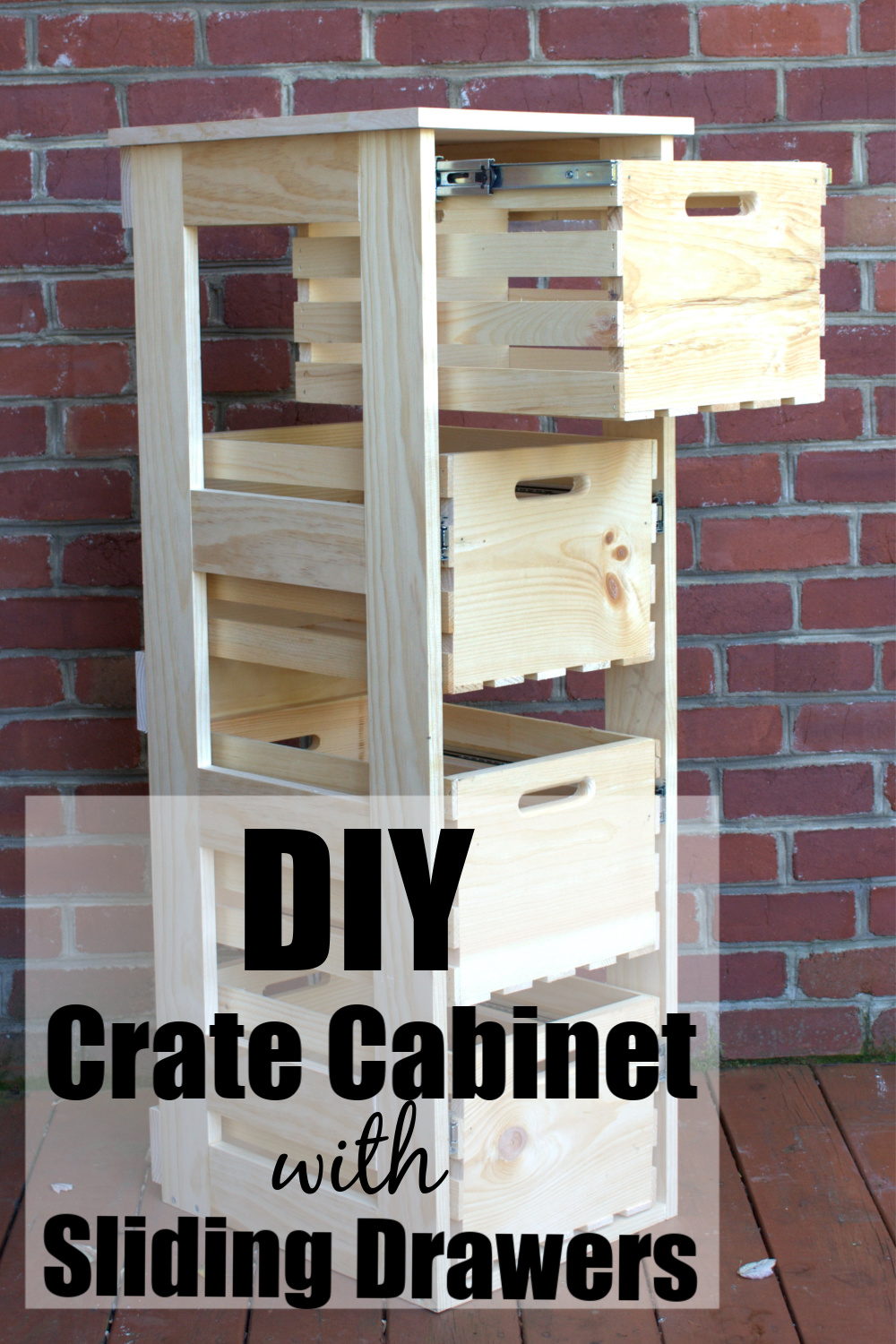 When I was at Haven over the summer there was a display showing uses for crates and ideas for things that could be made using them.
A cabinet made with crates serving as drawers caught my eye and I immediately knew that I wanted to make one.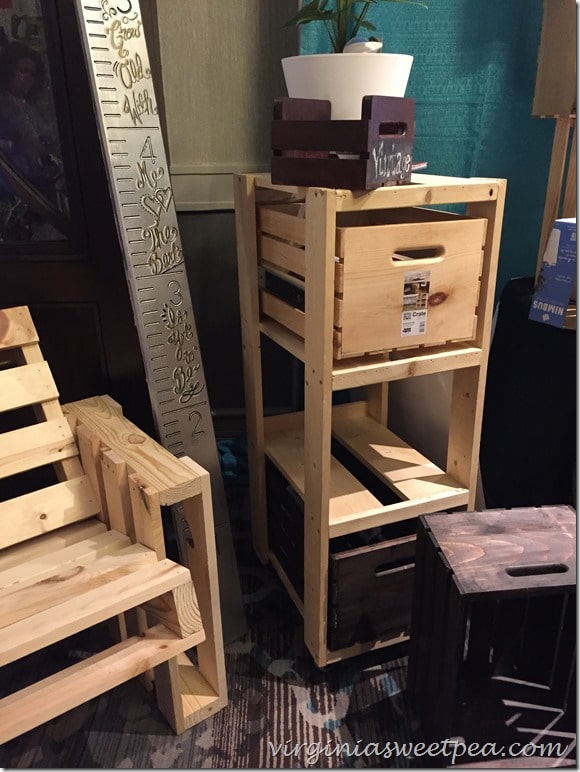 Mr. SP and I decided to make our version of this project with four drawers instead of three.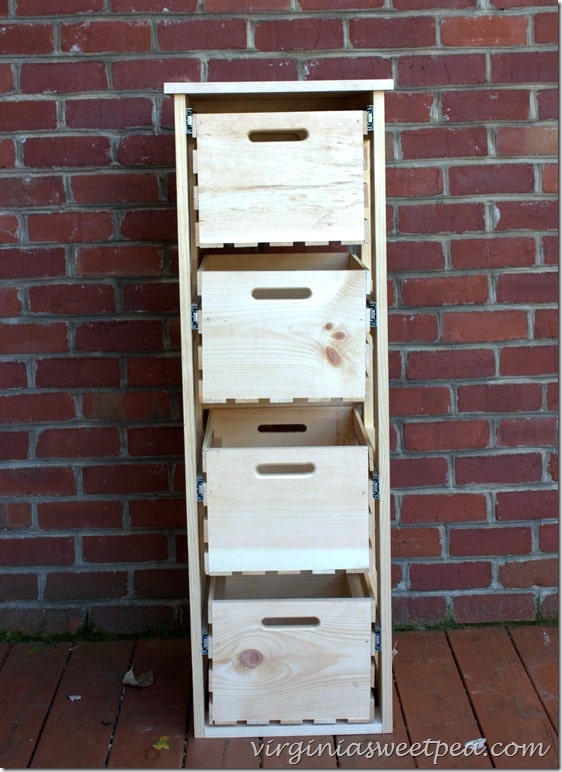 Note that the drawer slides allow the crate to come out enough for full access.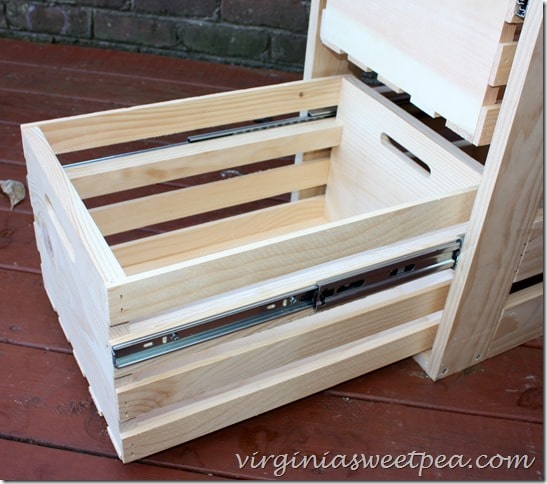 This storage cabinet has endless possibilities for use. Some ideas include storage for:
Since I'm a teacher, I can think of a million ways that I could use this in my classroom. It's not going to school, this baby is all mine!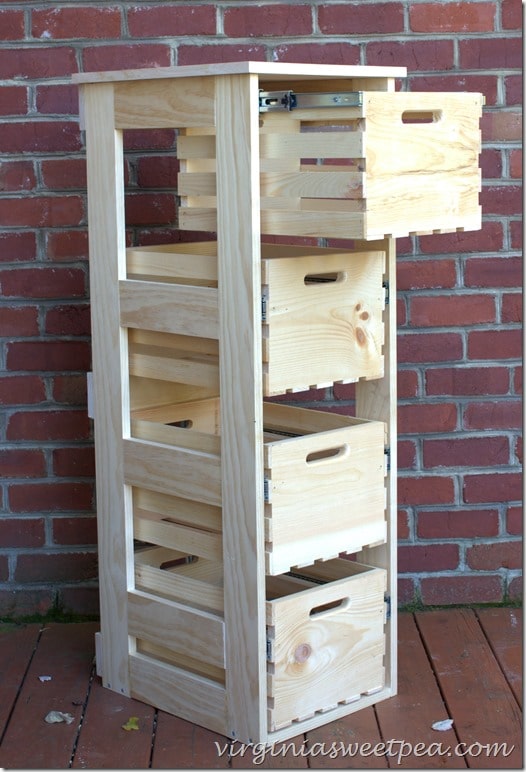 How to Build a DIY Crate Cabinet with Sliding Drawers
Materials Needed
4 – 4" x 1" x 8 ft. Poplar Planks
1 – 1" x 2" x 8 ft.
Oak Veneer Plyboard for the Top
Oak Veneer Tape
4 Pair – 16" Drawer Slides
Miter Saw
Drill
Hammer
Metal Woodworking Rule
Finishing Nails
Deck Screws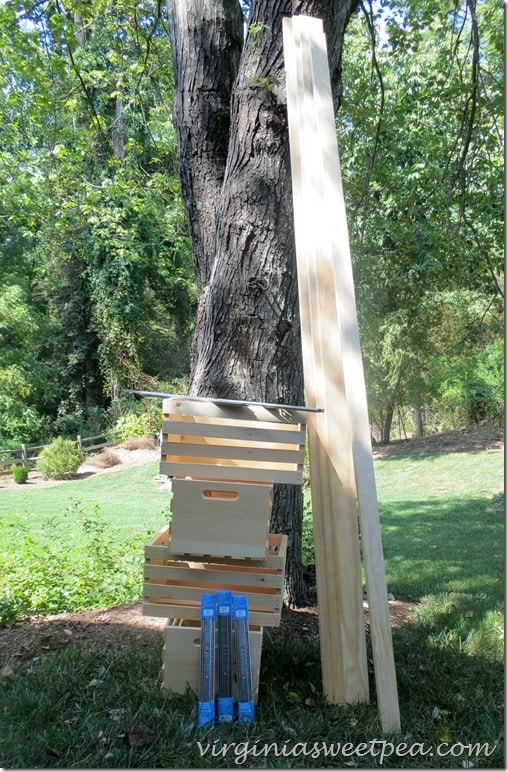 Procedure
1. Use the miter saw to cut 4 vertical side pieces 4 feet long.
We chose to make our cabinet four feet tall but we could have made it a bit shorter and spaced the drawers closer together or made it a bit taller and spaced the drawers further apart.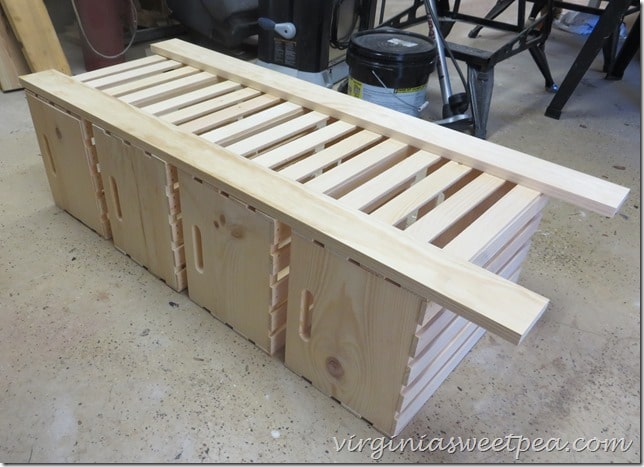 2. Cut 12 – 11"long pieces for supports used on the sides and bottom of the cabinet.
Five pieces are used on each side, and two pieces across the bottom of the frame.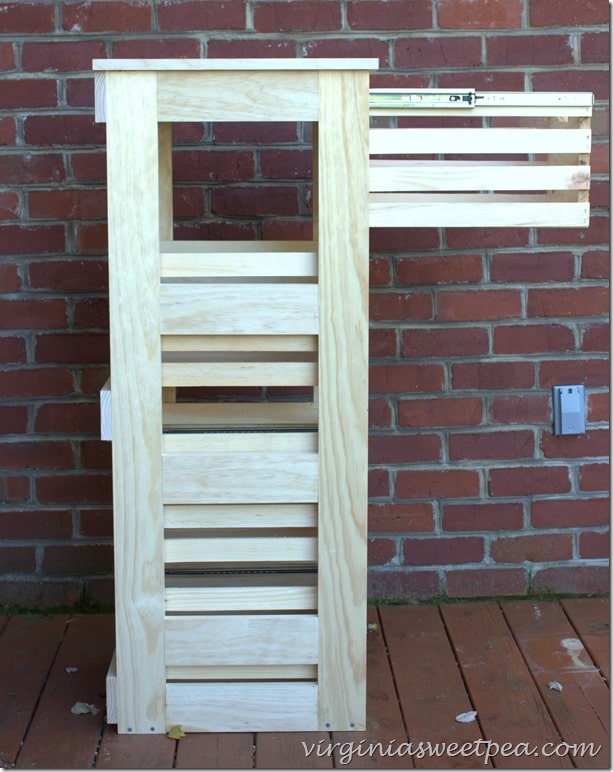 3. Cut 3 – 15" pieces for supports for the back of the cabinet.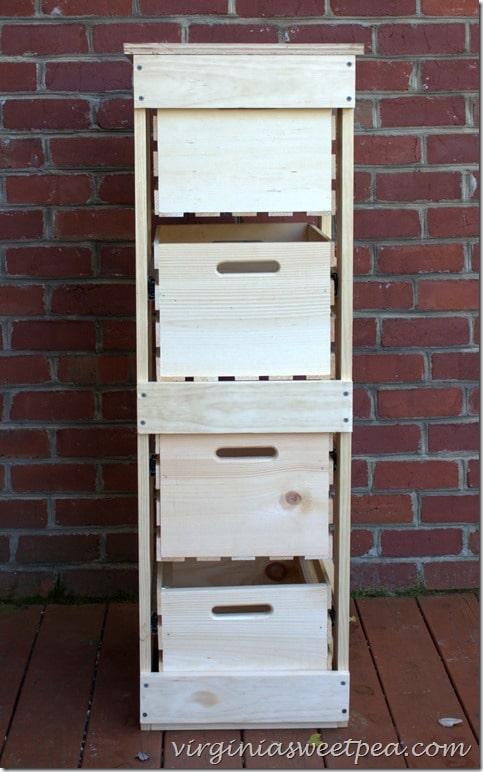 4. Cut 8 – 1 1/4" x 16 1/2" boards to attach to the inside of each crate for some added reinforcement where the drawer slides will attach.
We used our table saw to rip wide boards in half, and then the miter saw to cut the boards to length.
Glue each piece to the inside of each crate where the drawer slides will be placed.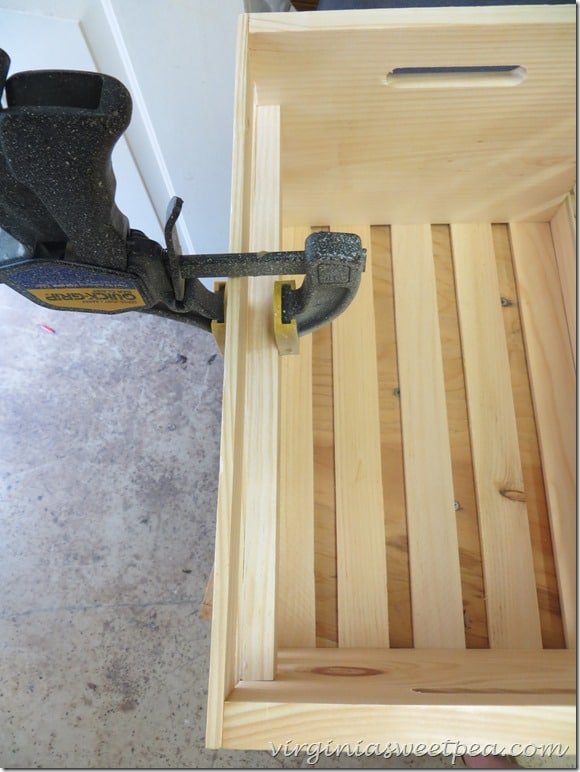 Nail each end for extra strength.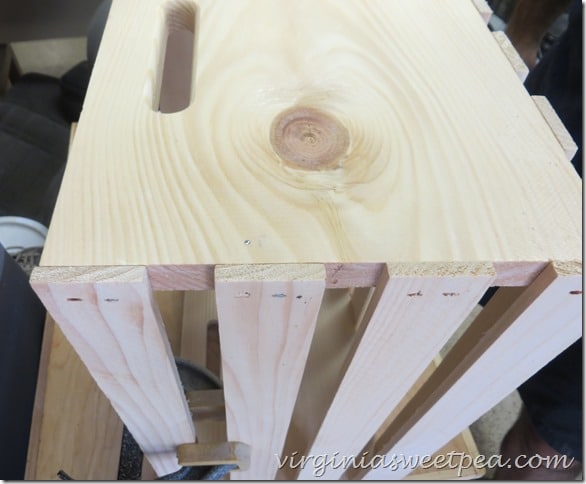 Attach the drawer slide to each crate.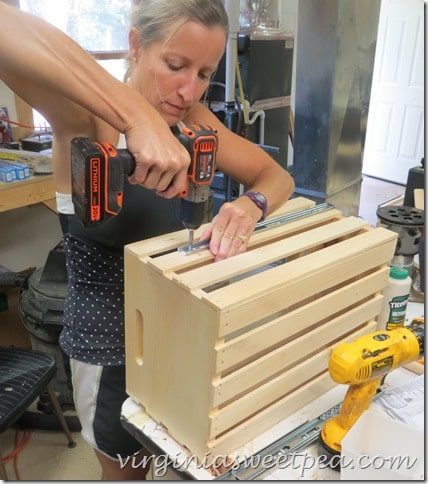 5. The next step was to make the cabinet sides.
We attached the top and bottom connecting pieces by using a Kreg Jig to make pocket holes.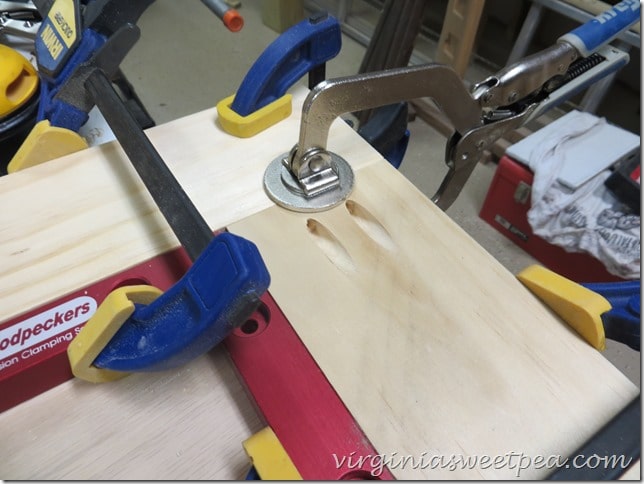 We figured out where we wanted the other 3 supporting pieces by spacing the crates out along the frame.
We then added the other three supporting pieces and made the second frame identical to the first.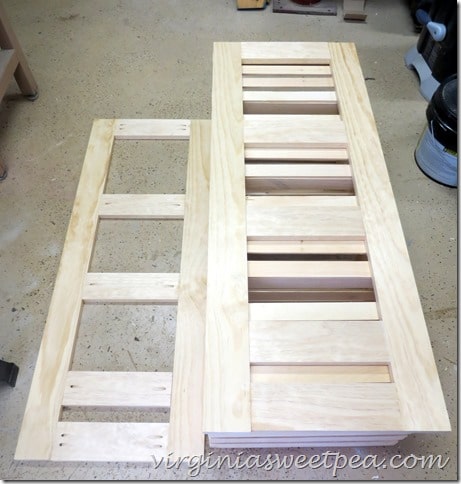 6. The next step was to attach the drawer slides to the frame.
We placed each crate in its spot on the frame.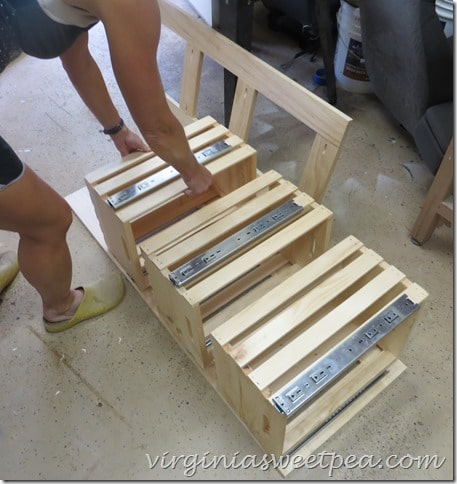 And then we marked where each slide should go.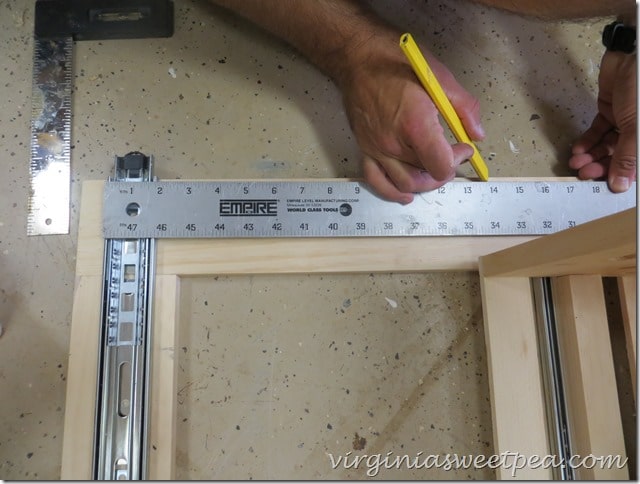 The slides were then screwed to the frame. We used a square for accuracy.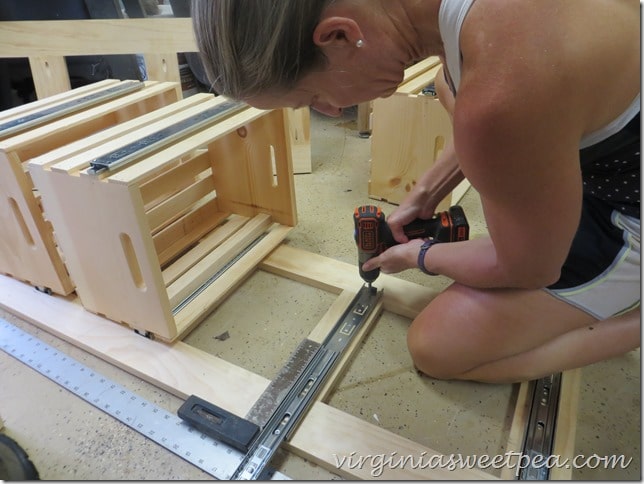 After the slides were installed on one side piece, we clamped the two sides together because each side will be the mirror image of the other.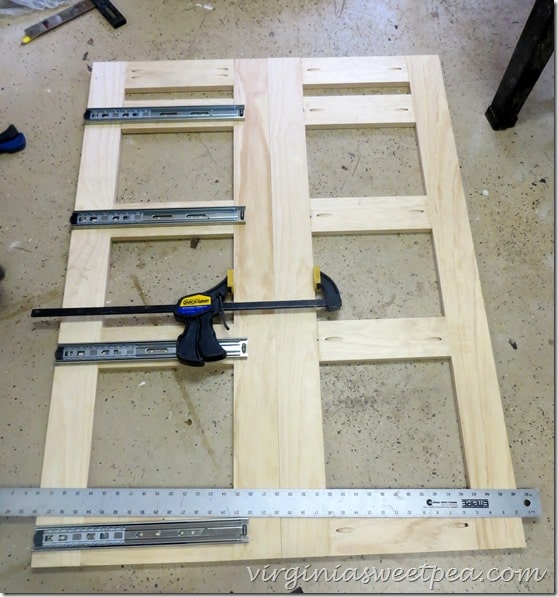 The slides were then installed on the second cabinet side.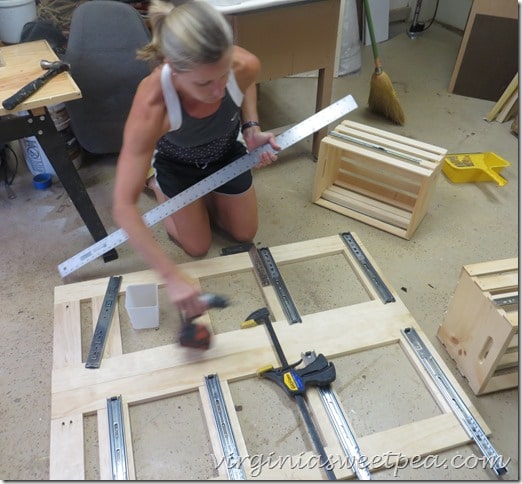 The drawers were then slid into place.
Note that the two frame sides are not yet connected to each other. We thought that this method would be the easiest way to ensure that the cabinet was wide enough to fit the drawers and slides.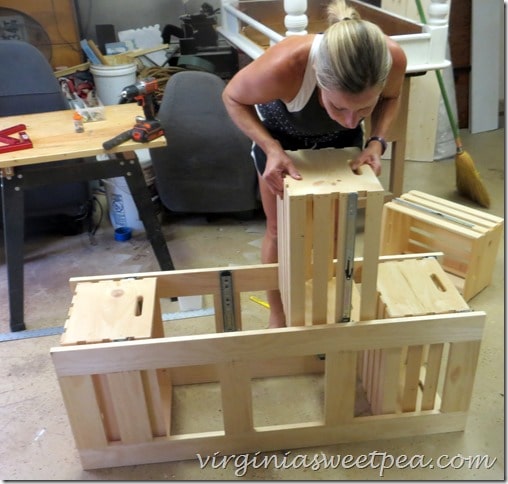 7. The next step was to square the cabinet. Clamping squares, clamps and a scrap board helped us with this step.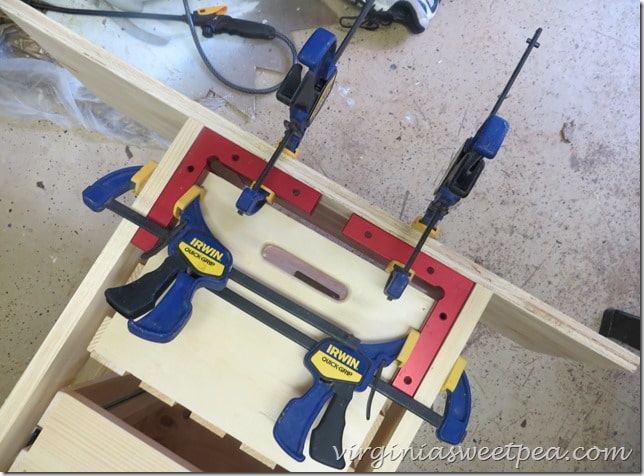 After the cabinet was square, we screwed the bottom supports into place.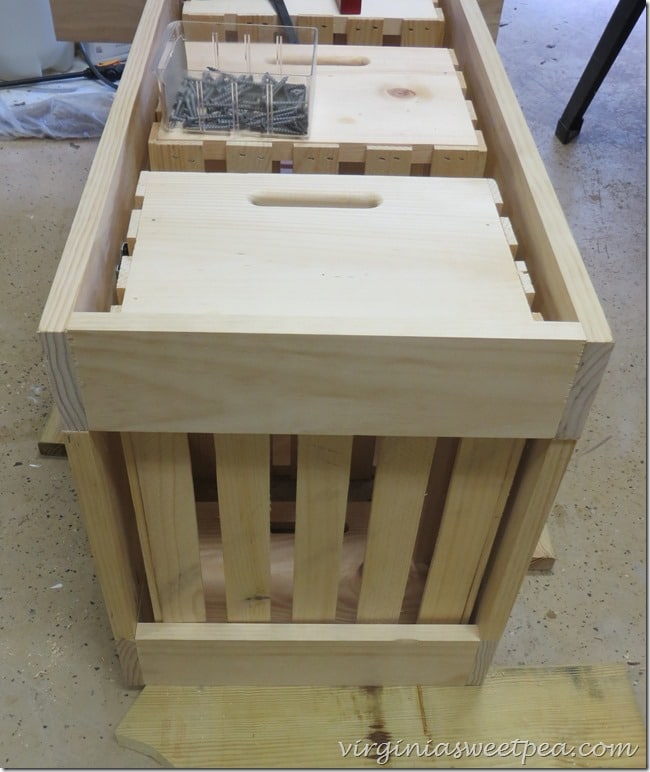 We then screwed the three back supports into place.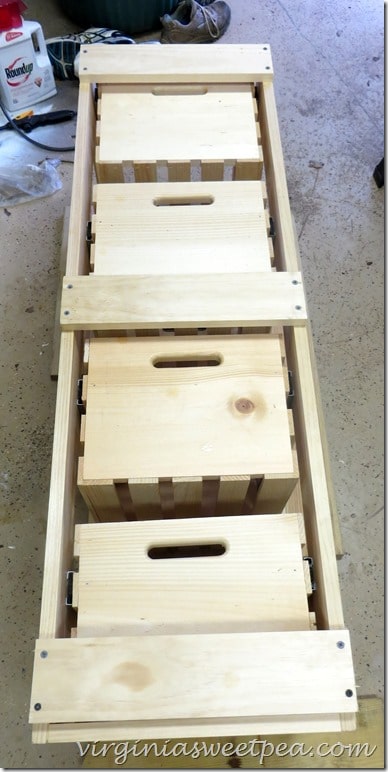 8. We then cut a 16 1/4" x 19 1/2" top for the cabinet from oak veneer plyboard and glued it into place. We wanted a finished look, so we chose to cover the raw edges of the plyboard with oak veneer tape.
Glue was applied to the veneer tape and held in place with painter's tape until the glue was dry. Veneer tape is easy to trim with a box cutter after the glue is dry.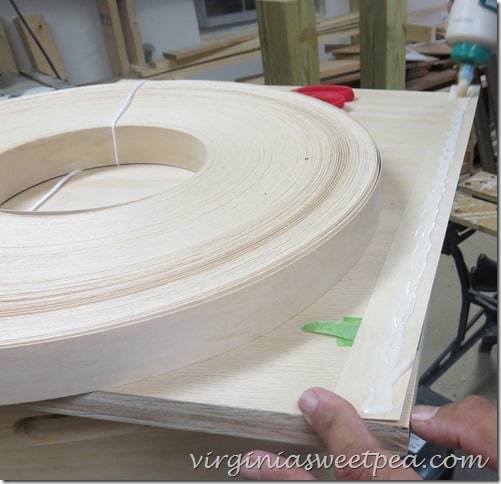 The veneer tape really gives the top a finished look! I didn't think we needed to complete this step but I'm glad that Mr. SP insisted that we do so.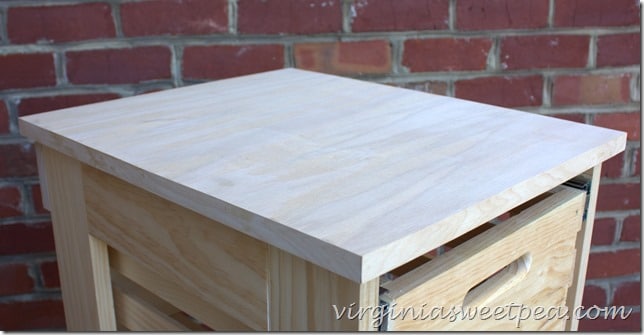 This project was a lot more involved than I imagined it would be when we started it but I'm so glad that we completed it.
I learned more about woodworking while completing the project and we now have a storage piece that we will really enjoy using.
Mr. SP wants to take this to the lake where we'll either use it for tool storage or for beach towel storage. Either use will be a good one!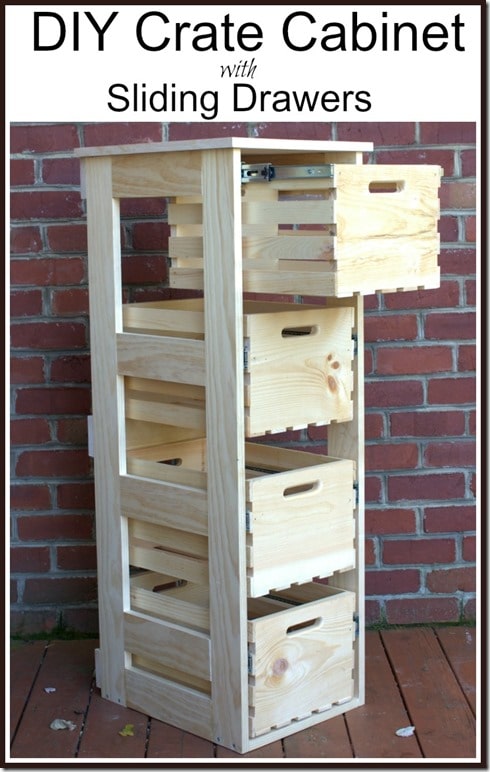 Where would you use this in your home? You might give me another idea for where to use mine!
Favorite Projects
If you liked this post, check out more popular projects.