DIY Peat Pot Easter Treat Baskets
Easter is on the way and today I'm sharing a fun Easter craft, DIY Peat Pot Easter Treat Baskets.
These treat baskets are perfect to use as a gift for friends or family or as a table favor for your Easter meal.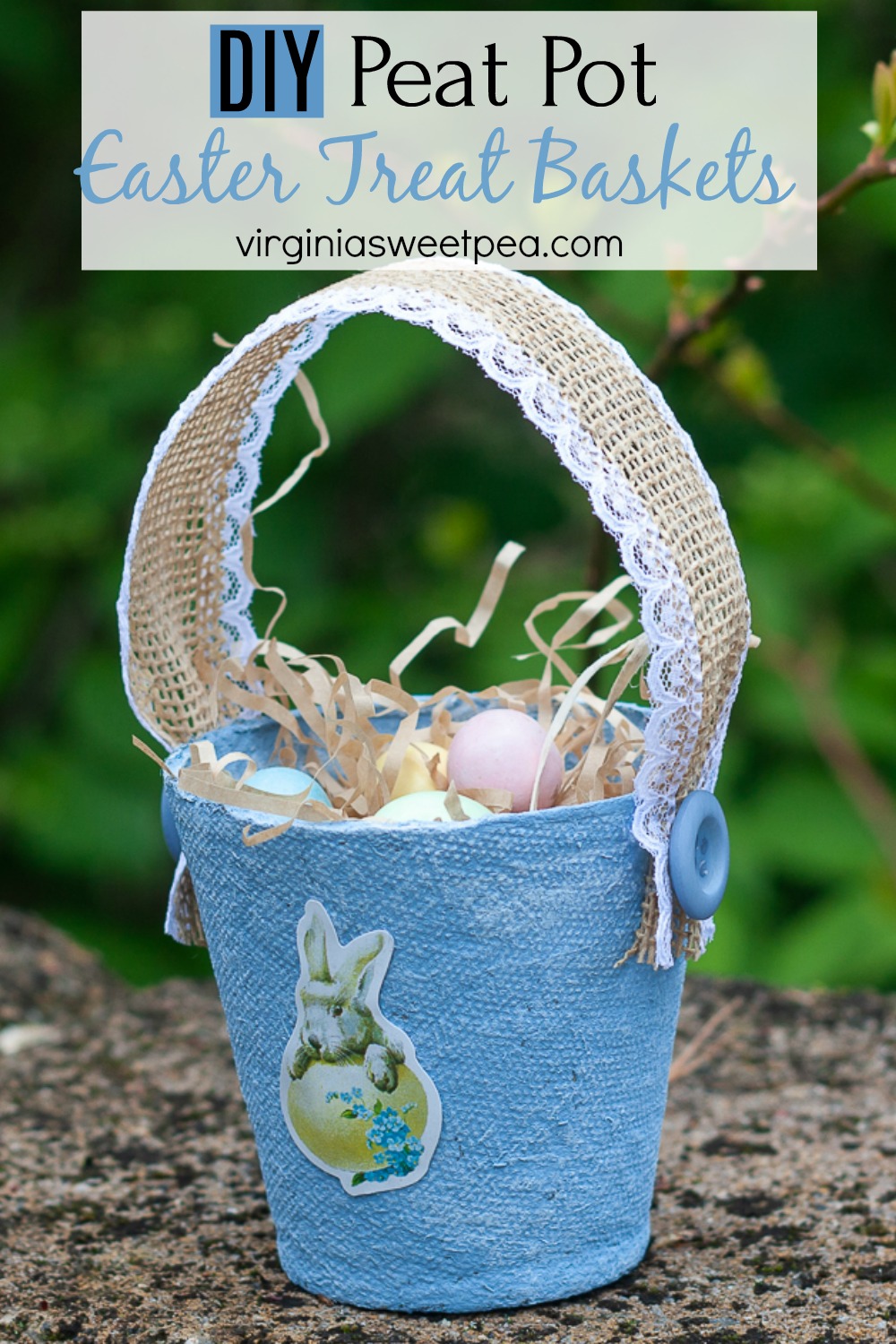 I'm sharing my Easter Treat Baskets along with a talented group of bloggers for a Easter's on the Way blog hop organized by my friend Amber from Follow the Yellow Brick Home.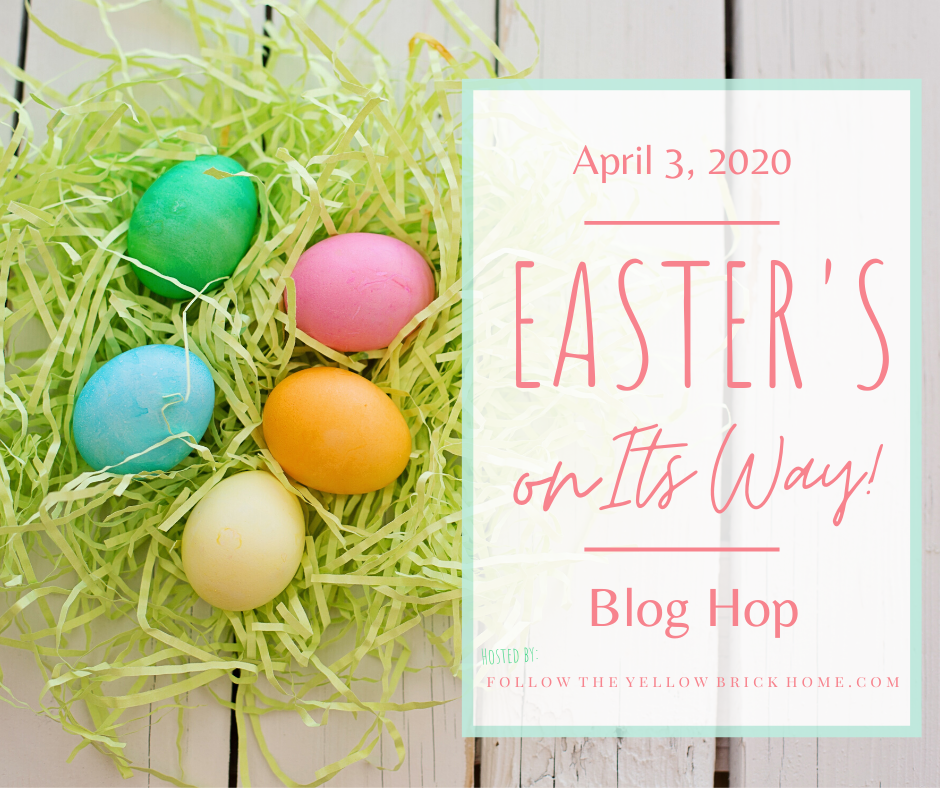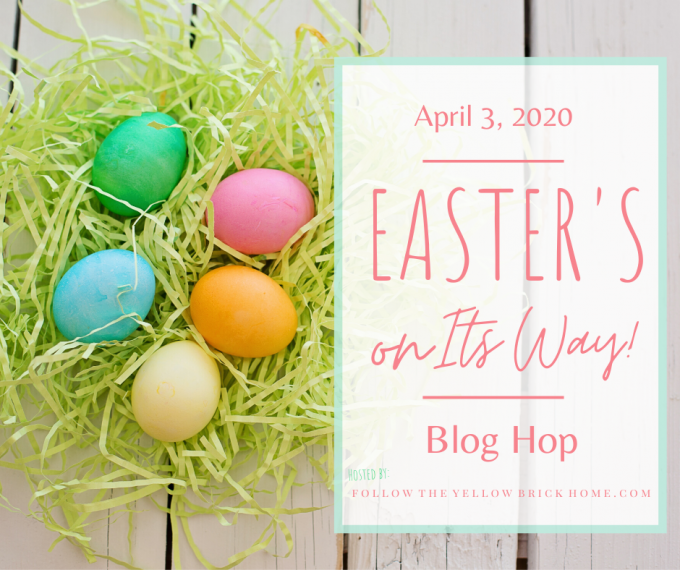 I love Amber's gorgeous old home and how she decorates it so beautifully with vintage style. I look forward to seeing Amber's decor in any season and if you've never visited Amber's blog, I encourage you to do so.
If you are visiting from Let's Add Sprinkles, welcome! Katie is a talented decorator and I am looking forward to seeing her Easter ideas.
DIY Peat Pot Easter Treat Baskets
I first made a version of this craft back in 2011 and I've never forgotten it. I recently spotted peat pots on one of our work benches and thought it would be fun to make a new version of this craft.
I always spend Easter with my husband, mom, sister-in-law, niece, and father-in-law. On a normal Easter Sunday, I would place an Easter treat basket beside each guests' plate at my mom's table as an Easter gift.
I'll have to save these treat baskets to use as gifts next year as Easter will be spent with just my husband this year.
Blue Easter Treat Baskets
I made four different Easter treat baskets and will share them by color.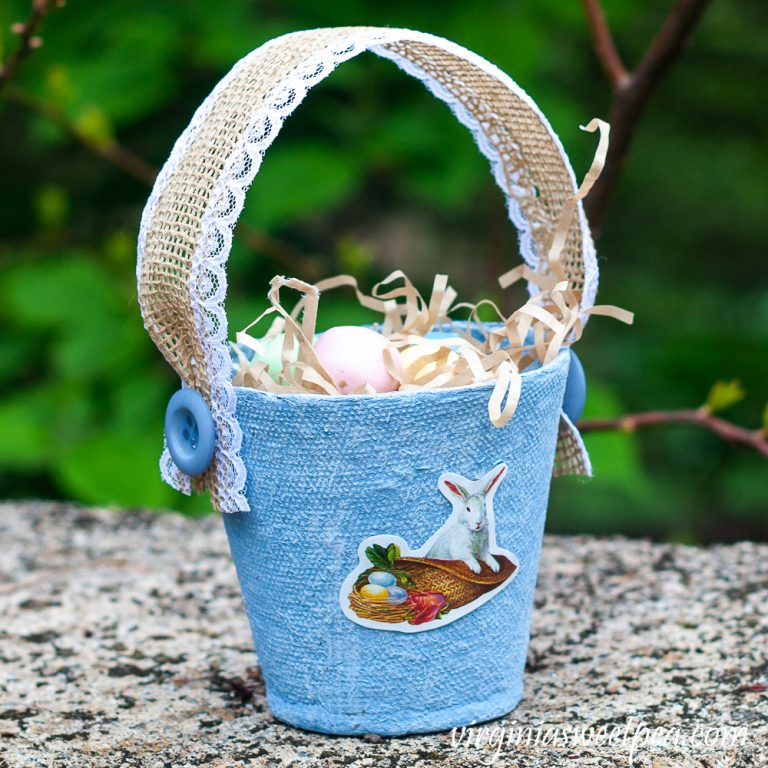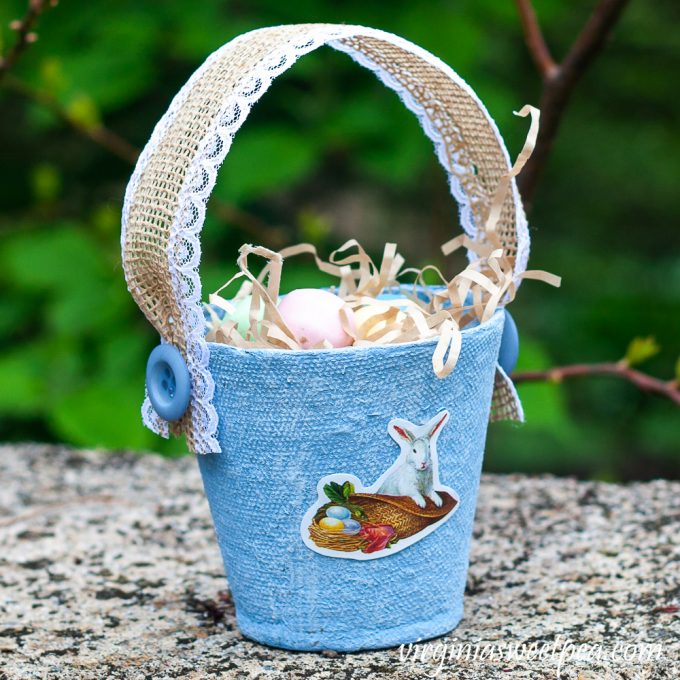 These Easter treat baskets were easy to make. I painted the peat pots, then used a hot glue gun to add a ribbon handle, then embellished the handle with vintage buttons.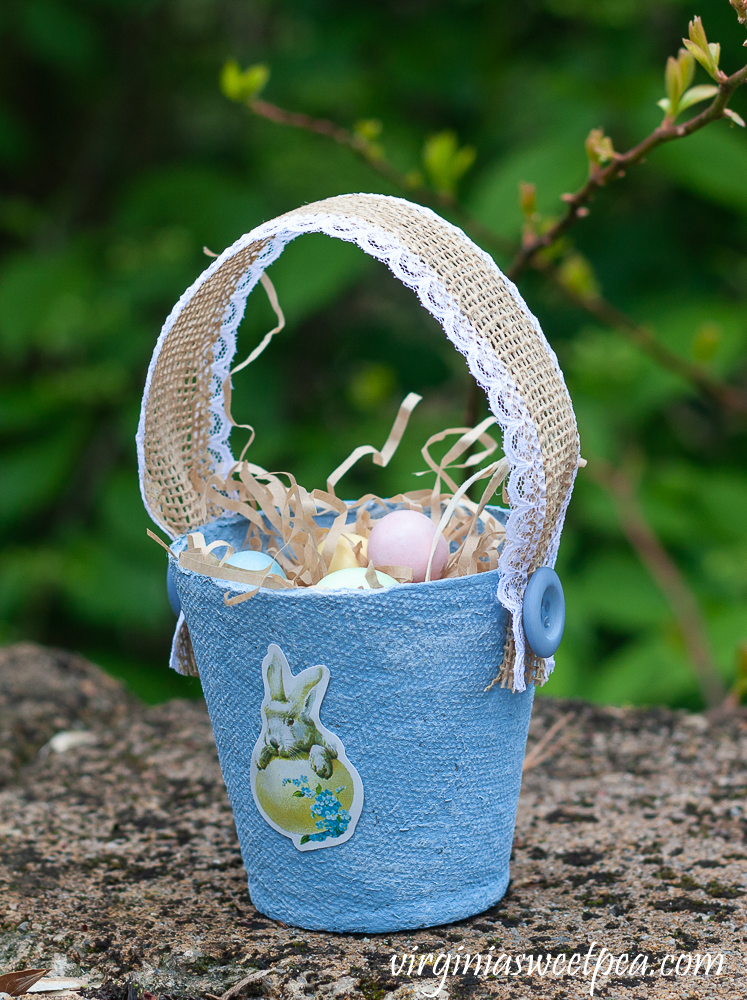 Each side of the peat pot was decorated with a bunny rabbit sticker with a vintage look.
Pink Easter Treat Basket
The burlap and lace ribbon was left over from the DIY Picture Frame Spring Wreath that I made for my mom's front door.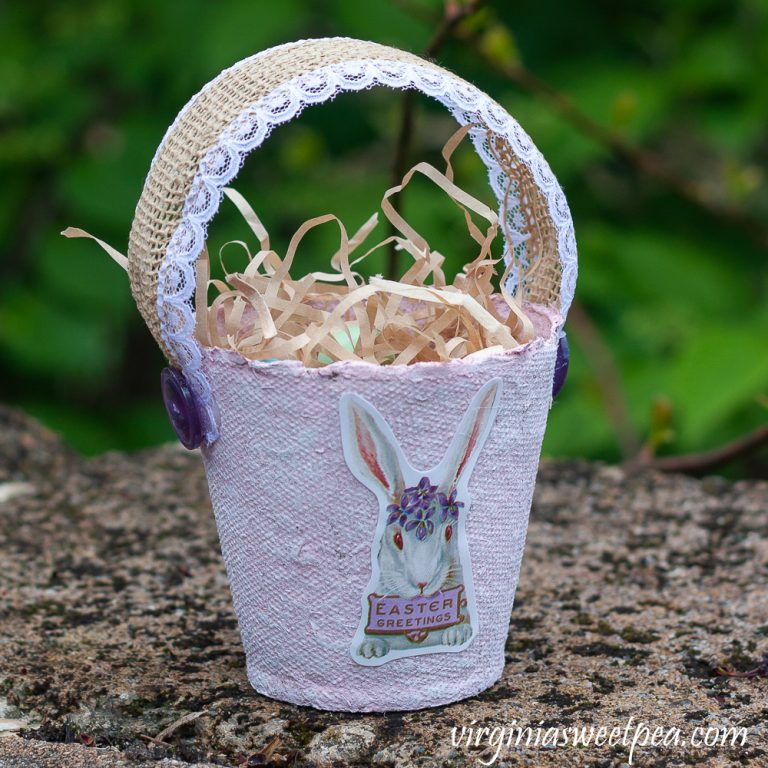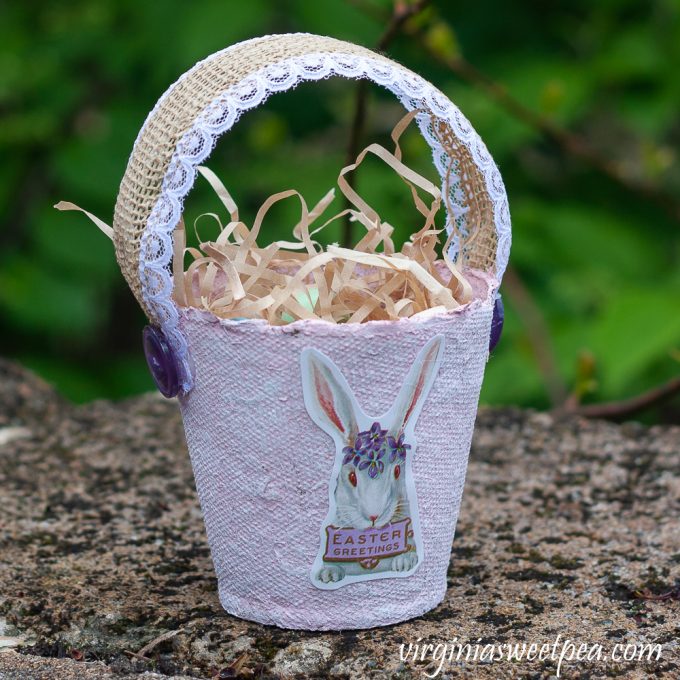 All of the buttons used for these treat baskets are vintage and either belonged to my mother-in-law or my grandmother. I inherited sewing supplies from both of these very special women.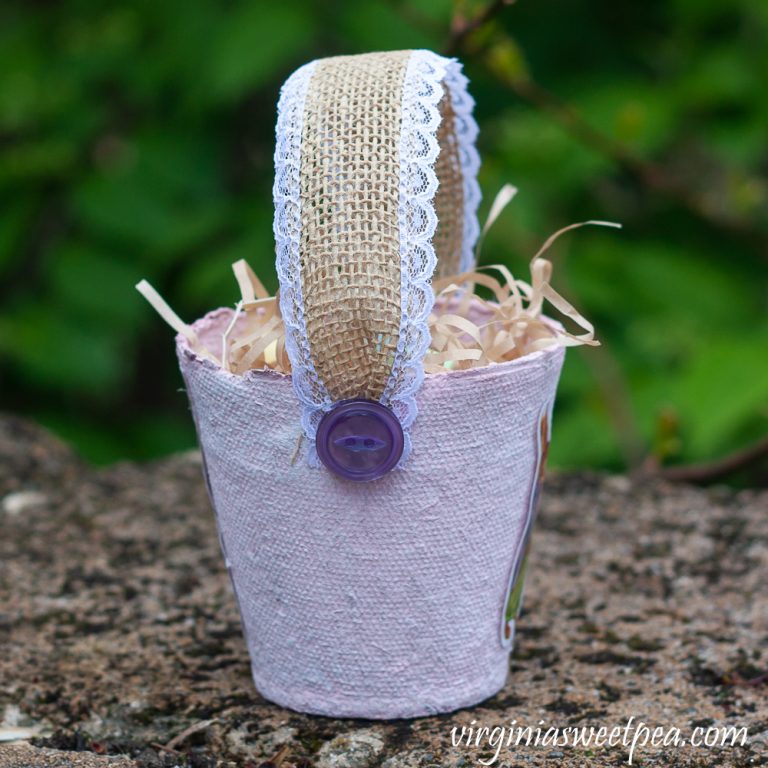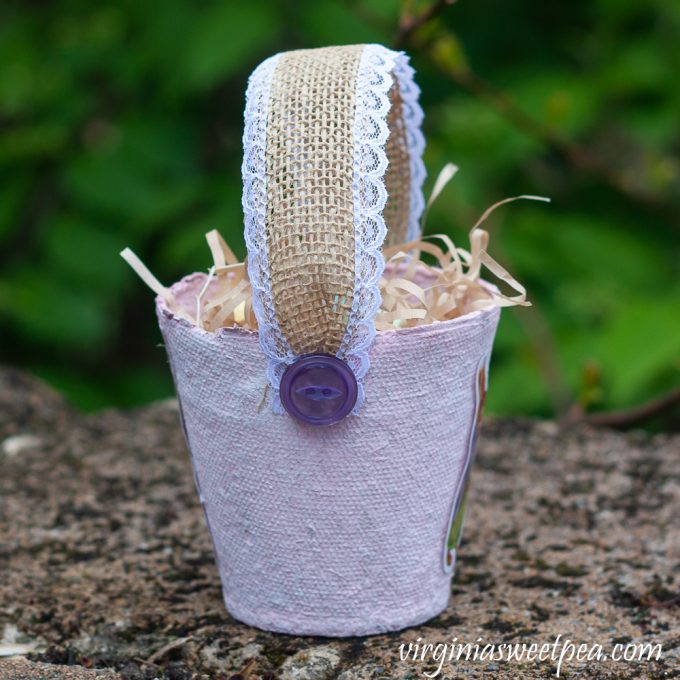 I love the Easter stickers that I used. A book of 23 stickers was just $1.99.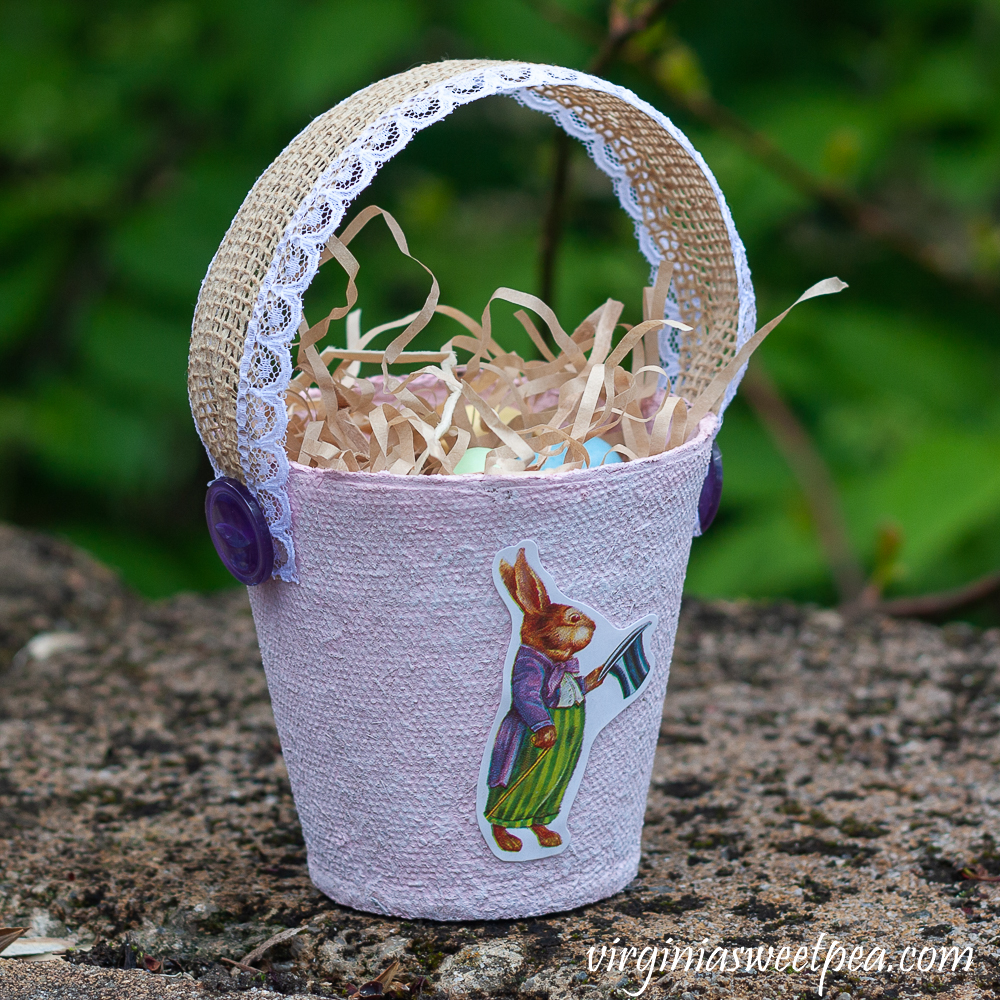 Whitewashed Easter Treat Basket
To whitewash the treat basket, I put a small amount of white paint on my brush, then dabbed the brush against a paper towel. I then brushed the white paint onto the pot.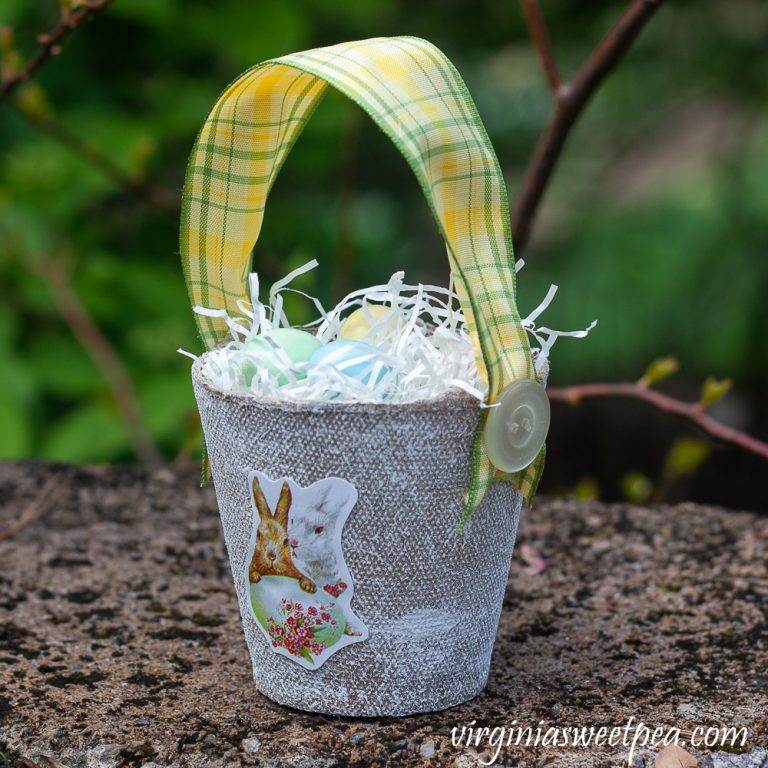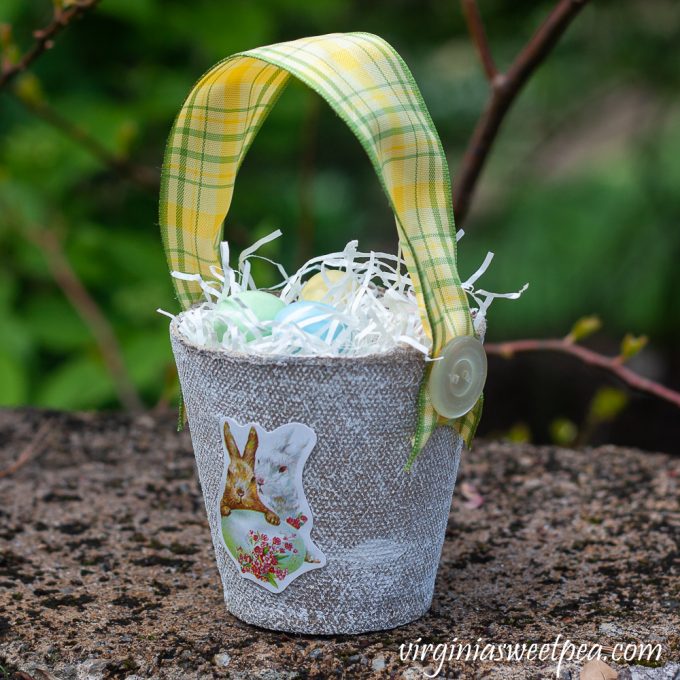 This plaid ribbon came from my craft stash. I am pretty sure that I used it at least 15 years ago for a spring wreath.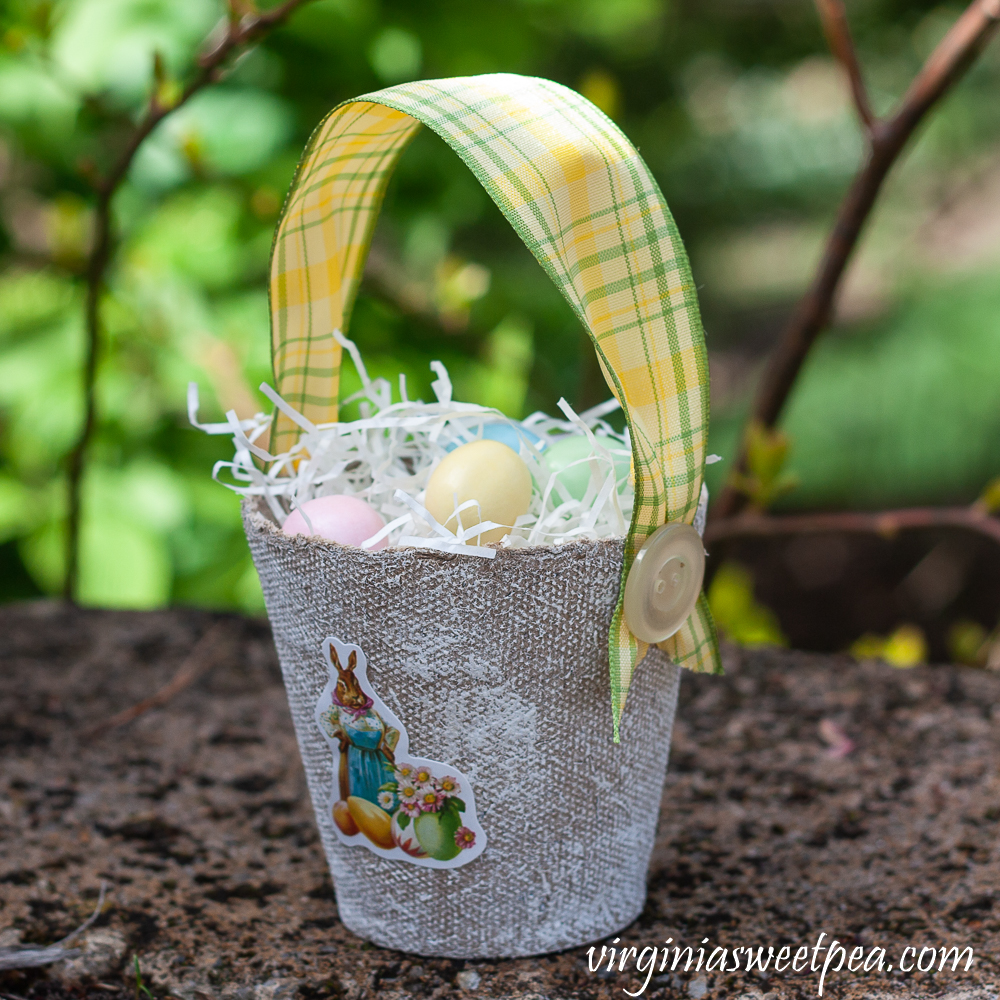 I usually do crafts at home but this craft was made at our lake house. It was nice to craft with a view!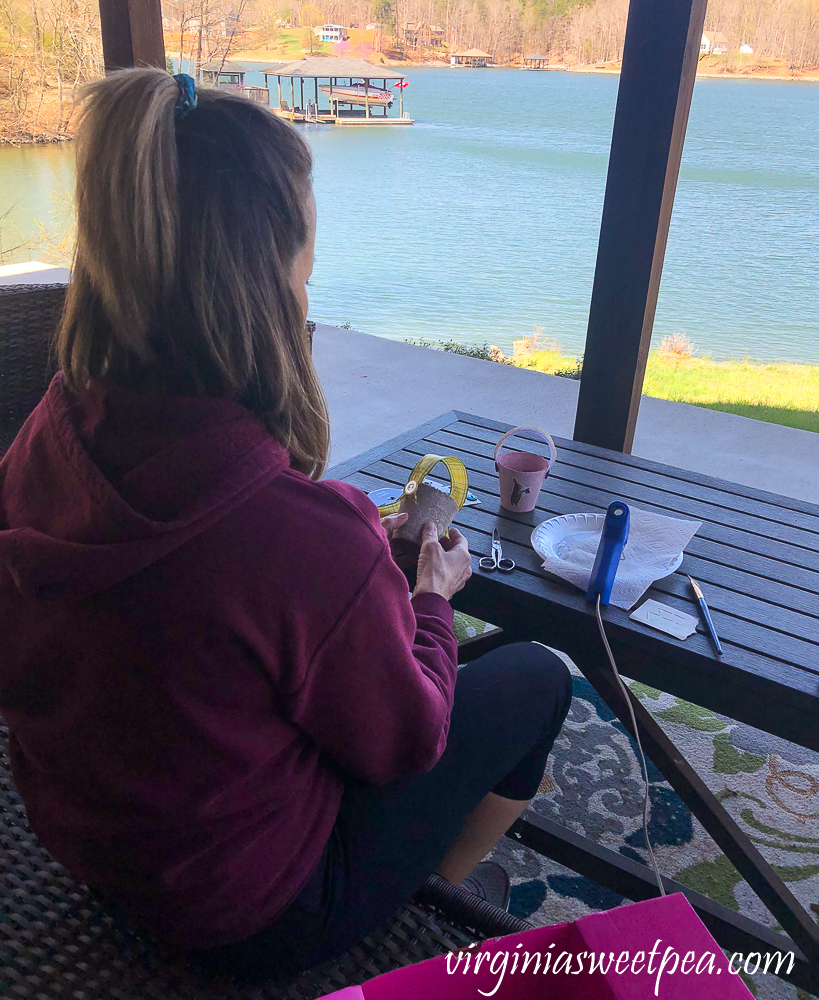 Purple Easter Treat Basket
Mr. SP and I agreed that the Easter bunny would not be visiting our house this year, so the candy that I used to fill the treat baskets is the only Easter candy that we'll enjoy this year.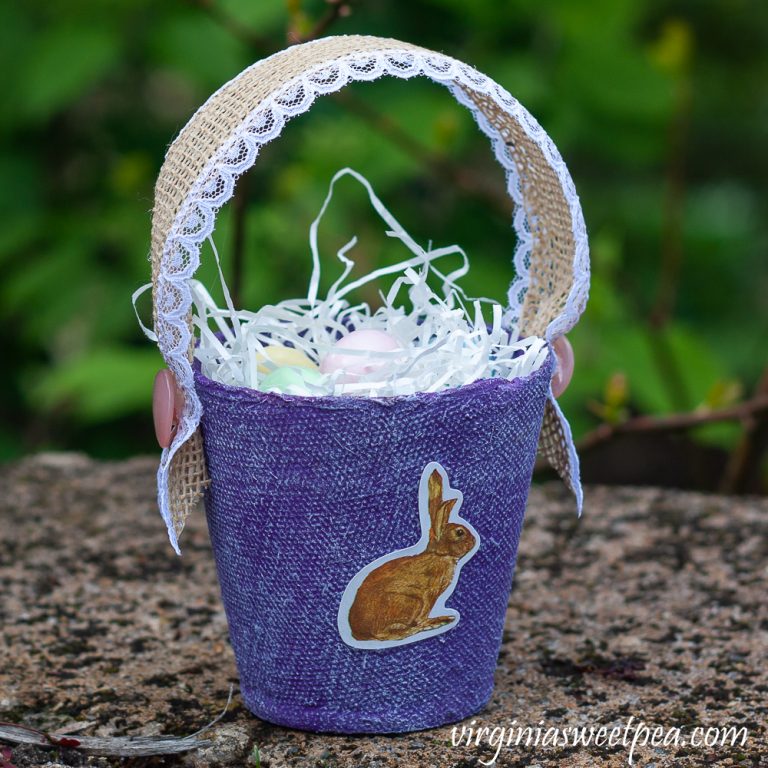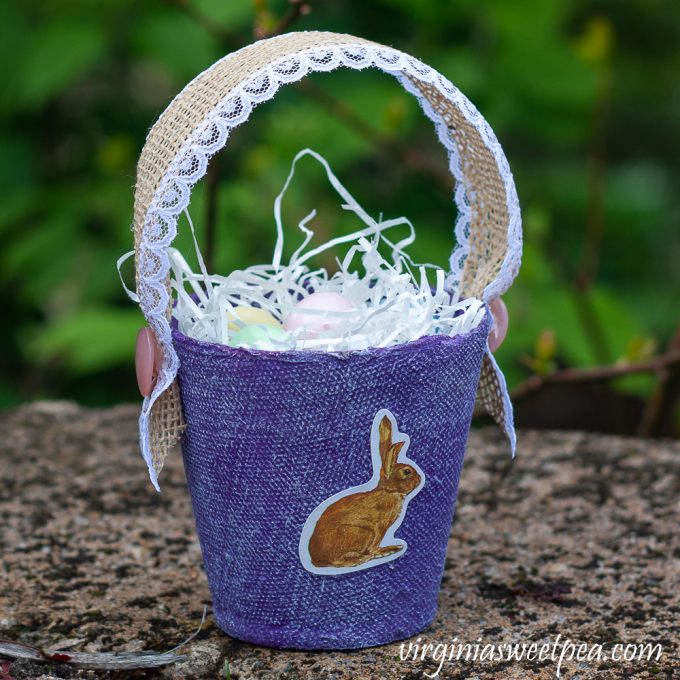 I found that the stickers wouldn't stick to the peat pots, so I used hot glue to attach them.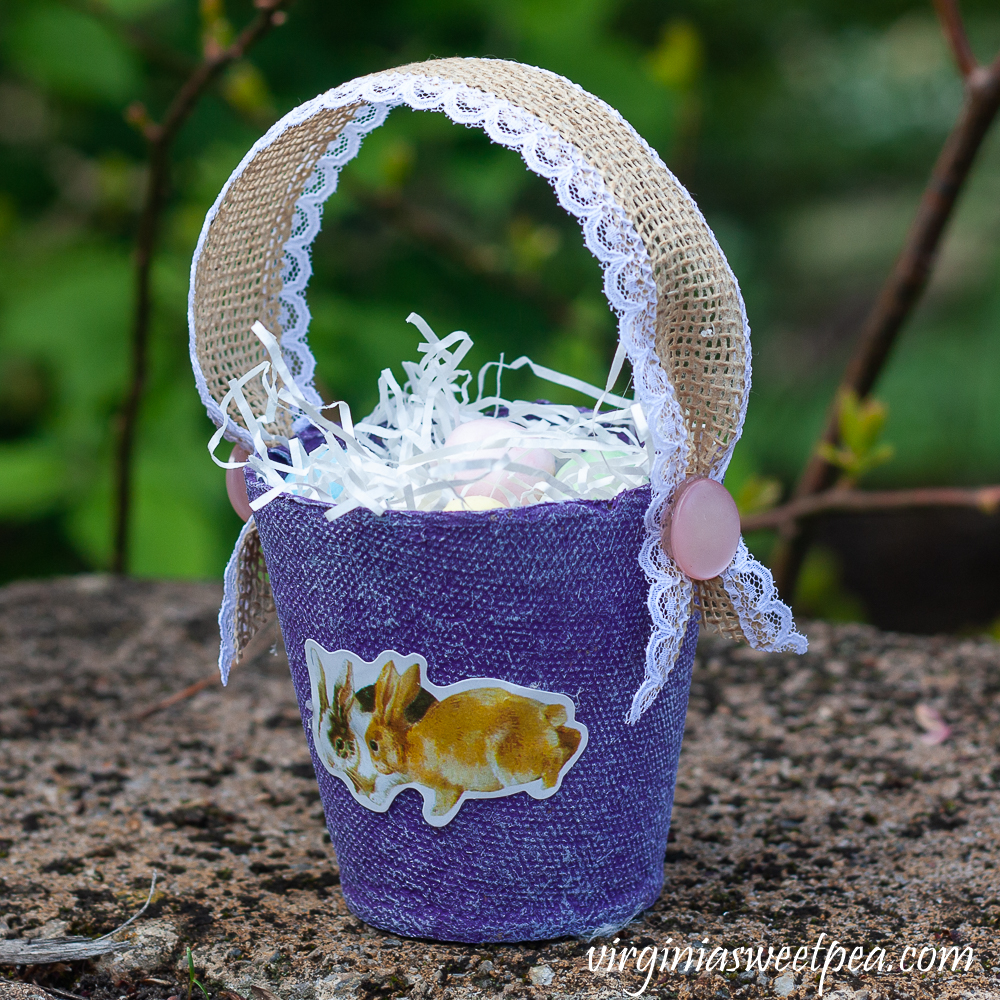 I am pretty sure that these pink button were cut off of a dress and saved to be used for another sewing project. They came from my grandmother, so it's possible that they originally were on one of my great-great-aunt's garments. (My grandmother was raised by her aunt.)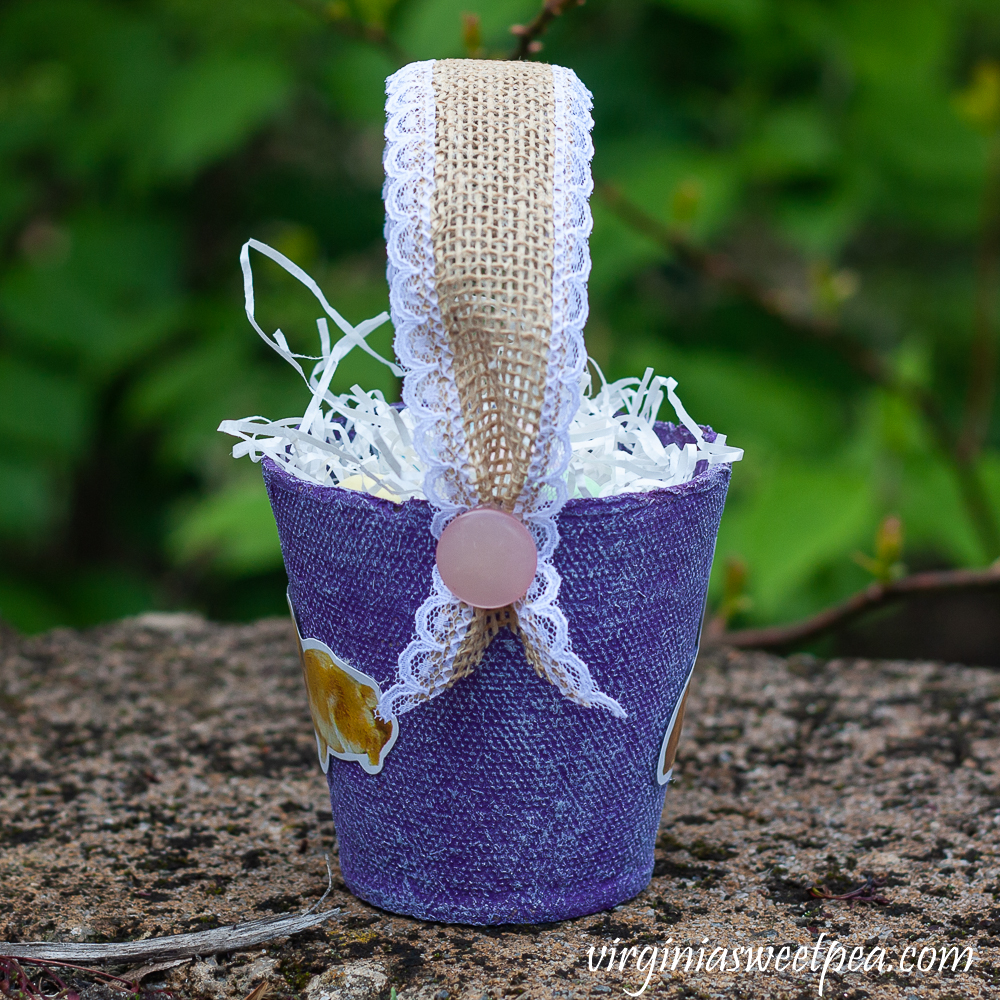 How to Make Peat Pot Easter Treat Baskets
DIY Peat Pot Easter Treat Baskets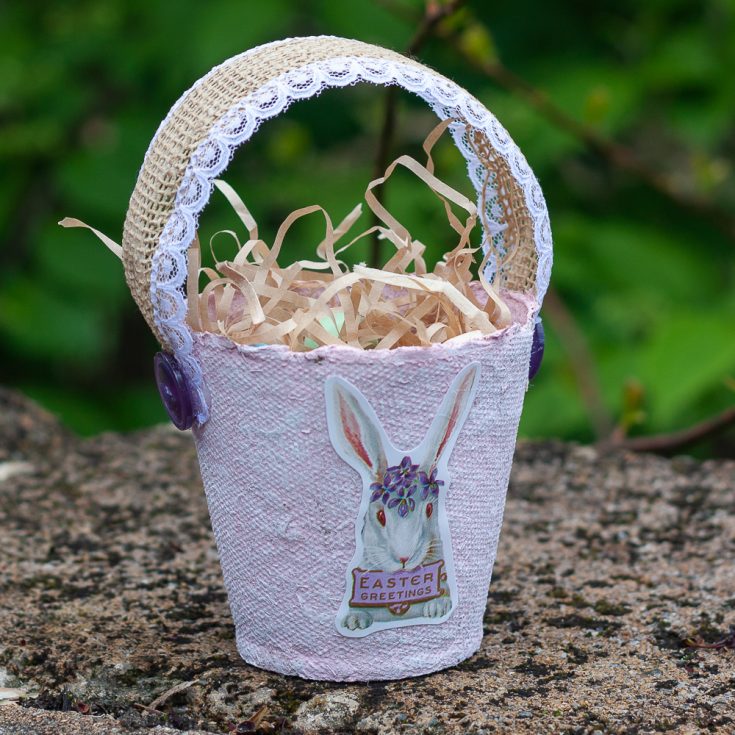 Use peat pots, craft paint, ribbon, buttons, and Easter stickers to make treat baskets to use as gifts or as a table favor.
Materials
Peat Pots
Craft Paint
Ribbon
Buttons
Easter Stickers
Filler
Easter Candy
Tools
Craft paint brush
Glue gun
Instructions
Assemble supplies
Paint peat pots with craft paint.
Dry brush white paint over the colors if desired.
Add a ribbon handle to each pot.
Embellish ribbon handle with buttons.
Add an Easter sticker to each side of the peat pot. If the sticker won't stick, use hot glue.
Add filler and candy to the treat basket.
Recommended Products
As an Amazon Associate and member of other affiliate programs, I earn from qualifying purchases.
If you are "hopping" in order today, next on the blog tour is Cecilia of My Thrift Store Addiction.
I am looking forward to reading the Easter ideas shared by my blogging friends. Click on the links below to visit each blogger who is sharing Easter ideas.