More Vintage Easter Decorations
Last week I shared how I Decorated for Easter with Vintage in our formal living room. This week I'm sharing more vintage Easter decorations from other areas of our home.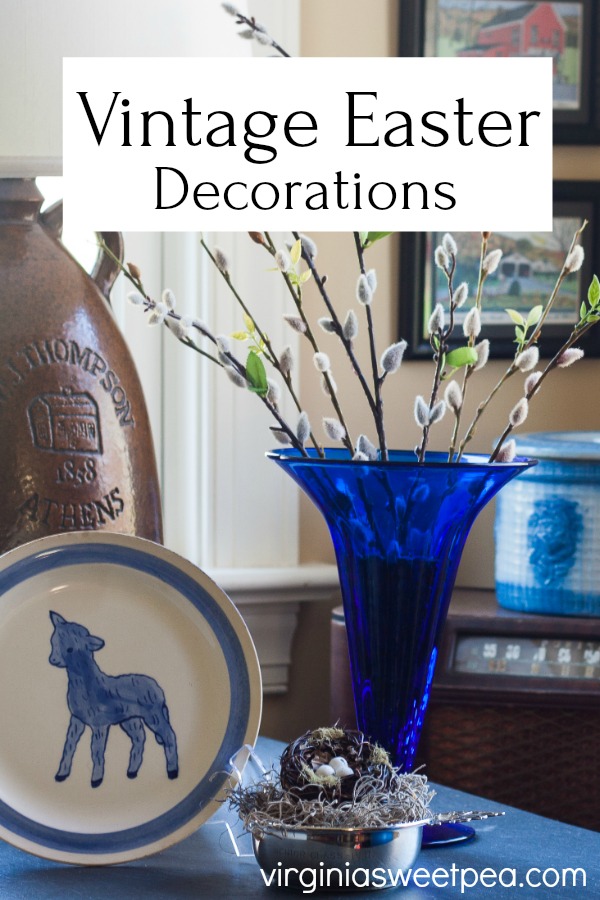 More Vintage Easter Decorations
I like decorating for Easter as much as I enjoy decorating for Christmas. Last year Easter was so early that I never got my things out to enjoy. This year I started decorating in March and I've loved having many weeks to enjoy what I created.
Easter Vignettes in the Family Room
We spend every evening in the family room and I like to have this area decorated seasonally to enjoy. Two end tables in this room are favorite spots to decorate.
On this end table I created an Easter vignette using my dad's childhood Blue Ridge Pottery lamb plate, a Blenko vase that belonged to my grandmother's neighbor, and a silver porridge bowl given to my dad in 1941.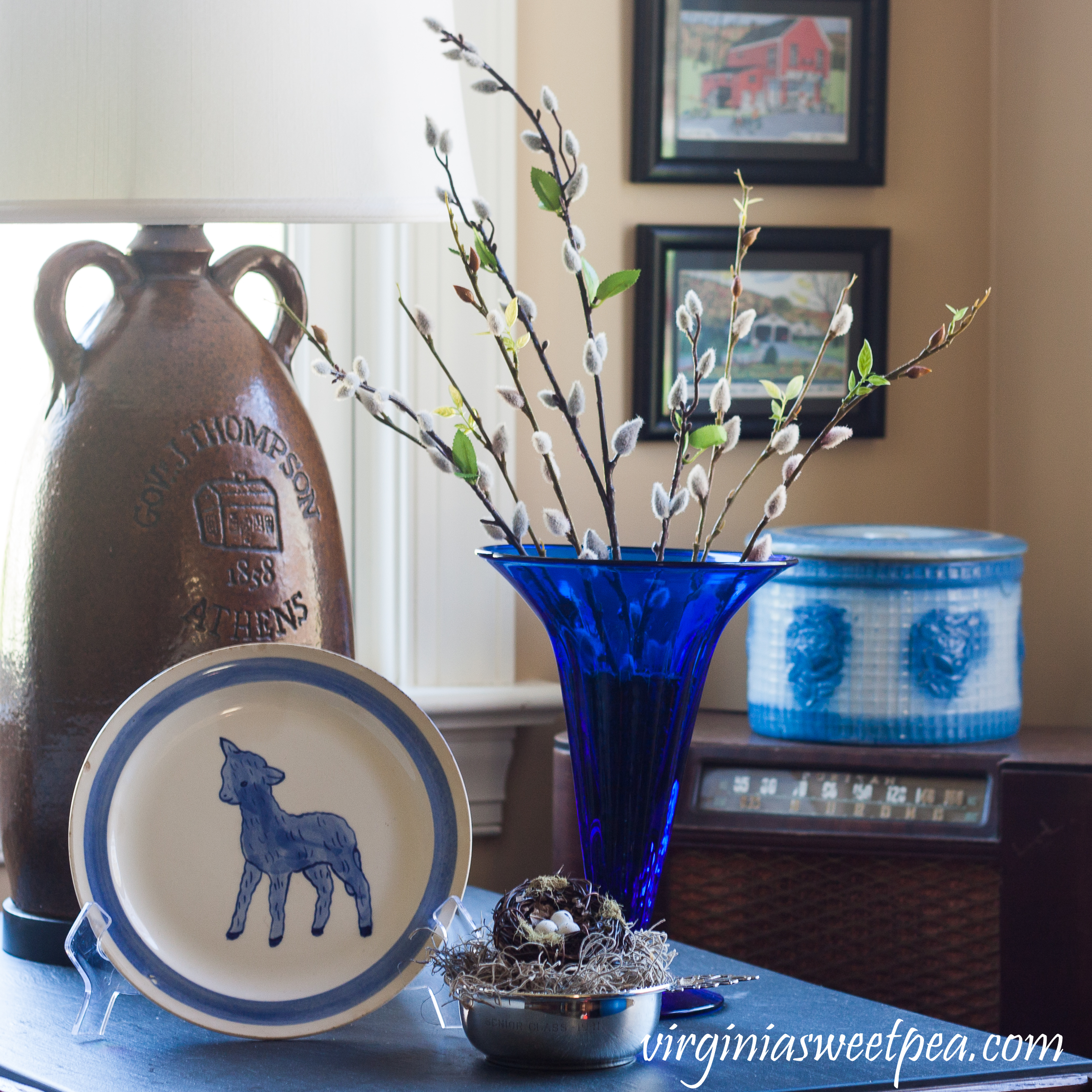 I'll leave this vignette in place after Easter since the lamb, nest, and pussy willow make me think of spring.
The blue lidded container in the background was my grandmother's and she kept it on a lazy Susan on her kitchen table.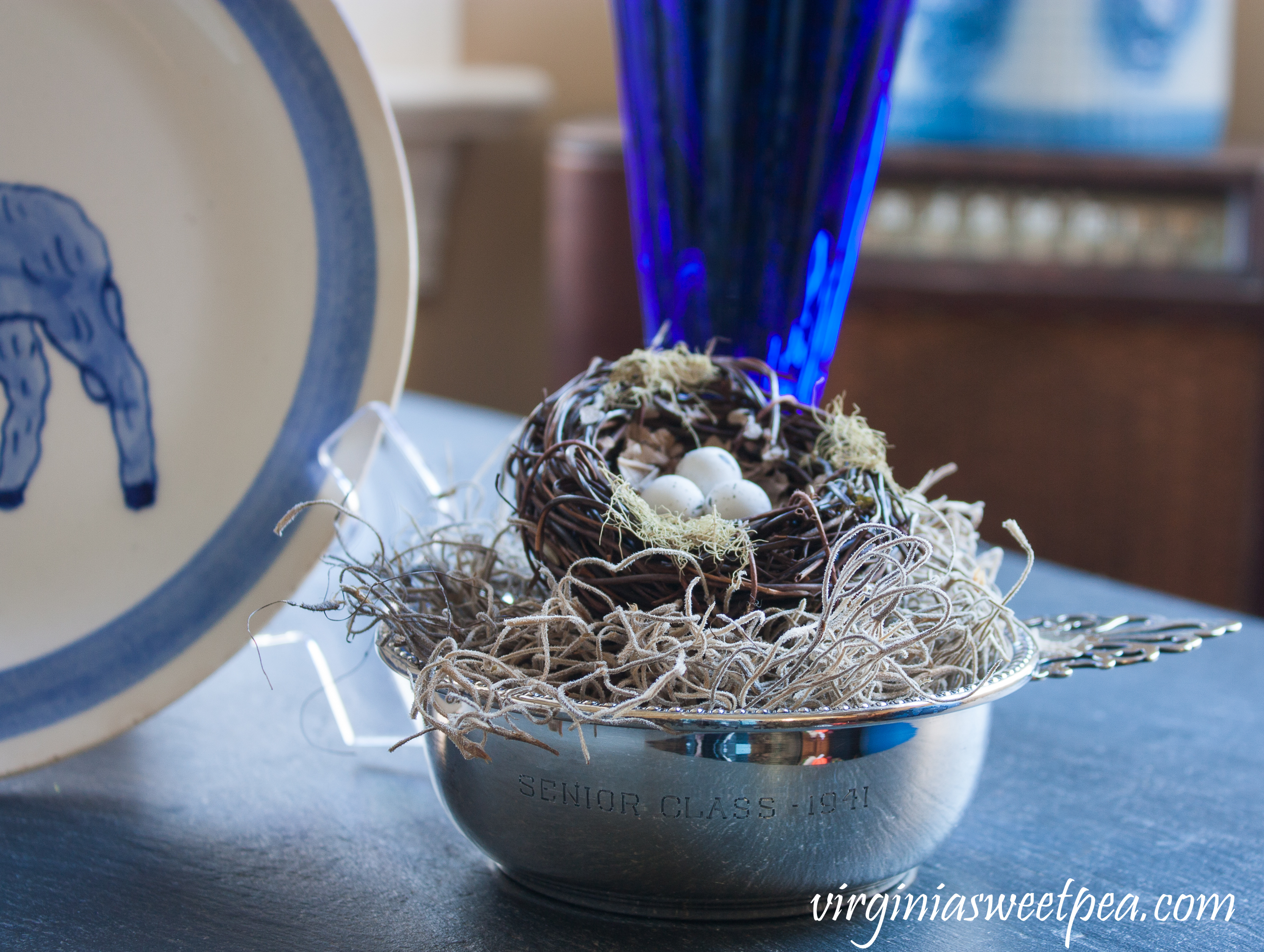 The other end table has another vintage Easter decoration, this one chick themed.
My grandfather made the chick basket in the 80's and I filled it with marble eggs that I bought from my now deceased neighbor. The paper egg is from my childhood and was always in my Easter basket filled with candy. The vintage chick card is displayed using a floral frog that was my grandmother's.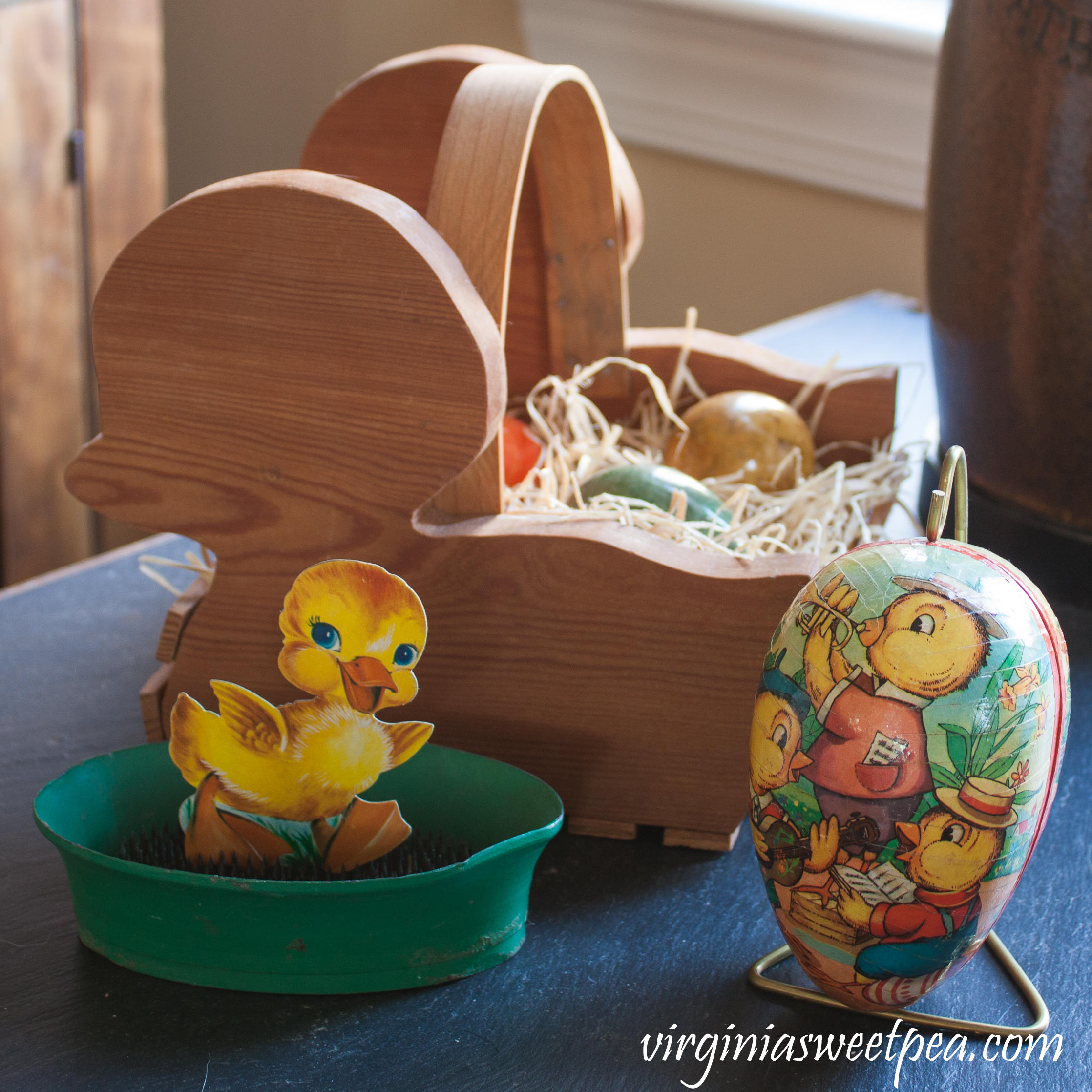 The coffee table has an Easter display using a corrugated metal tool caddy from Emory Valley Mercantile.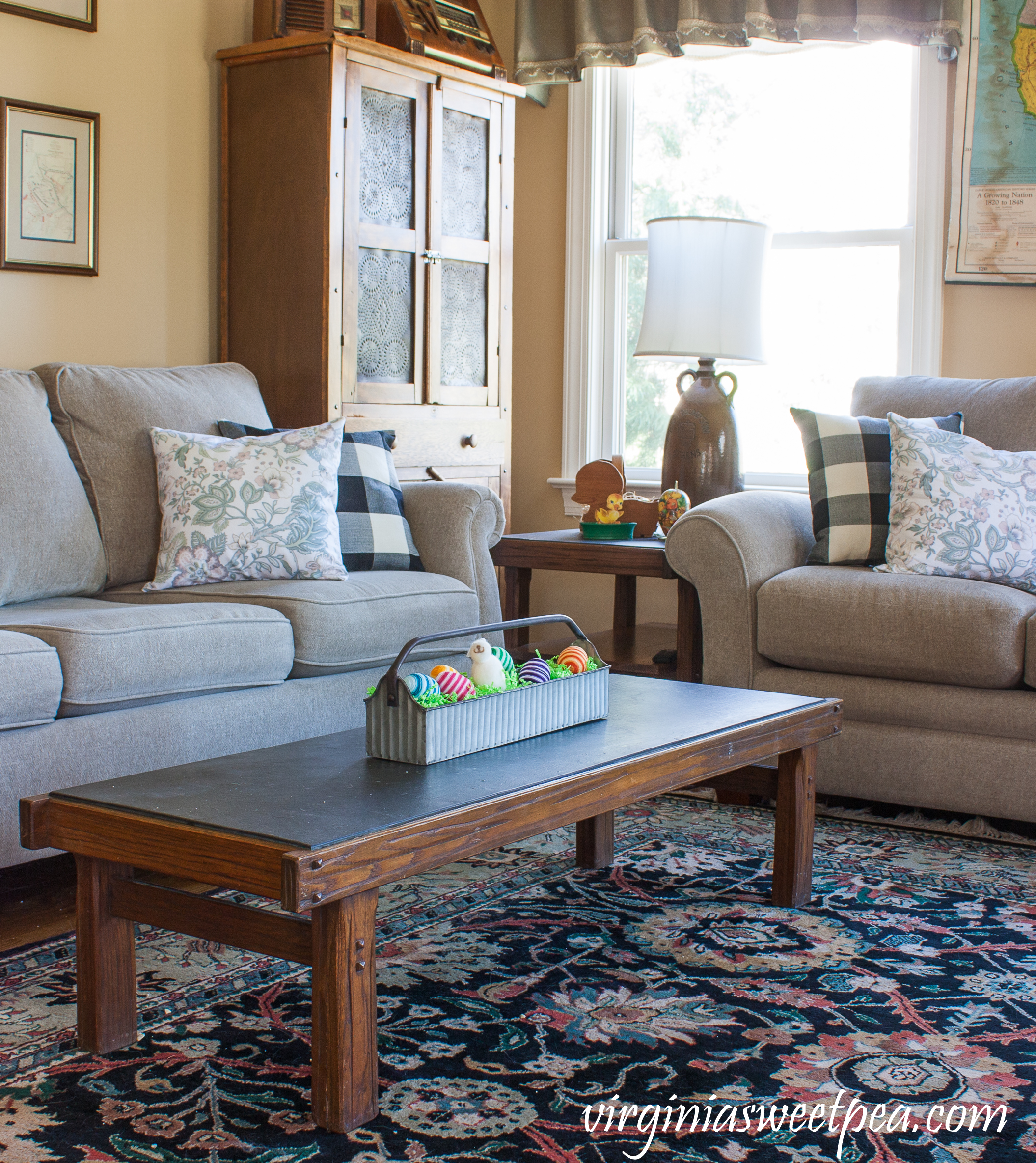 I filled the tool caddy with green basket filler, striped Easter eggs that I made a few years ago, and a bunny that Mr. SP bought for me in an airport gift shop when he was on a business trip.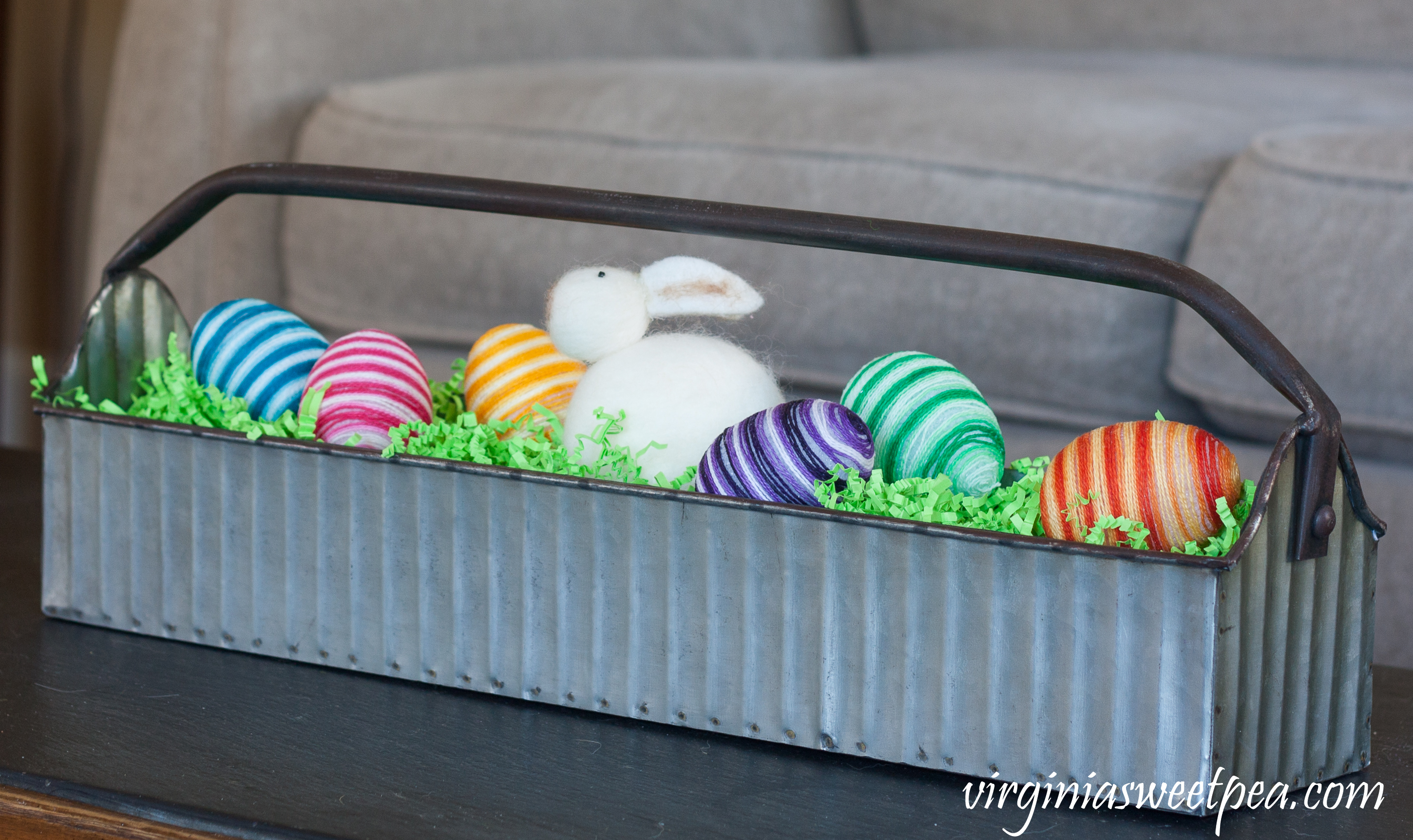 If you look on the table to the left of the sofa, you can see a wooden bunny designed to hold candy, instead it hold treats for Sherman. Mr. SP sits on the sofa in that spot each night with Sherman by his side hoping for a treat from the wooden rabbit.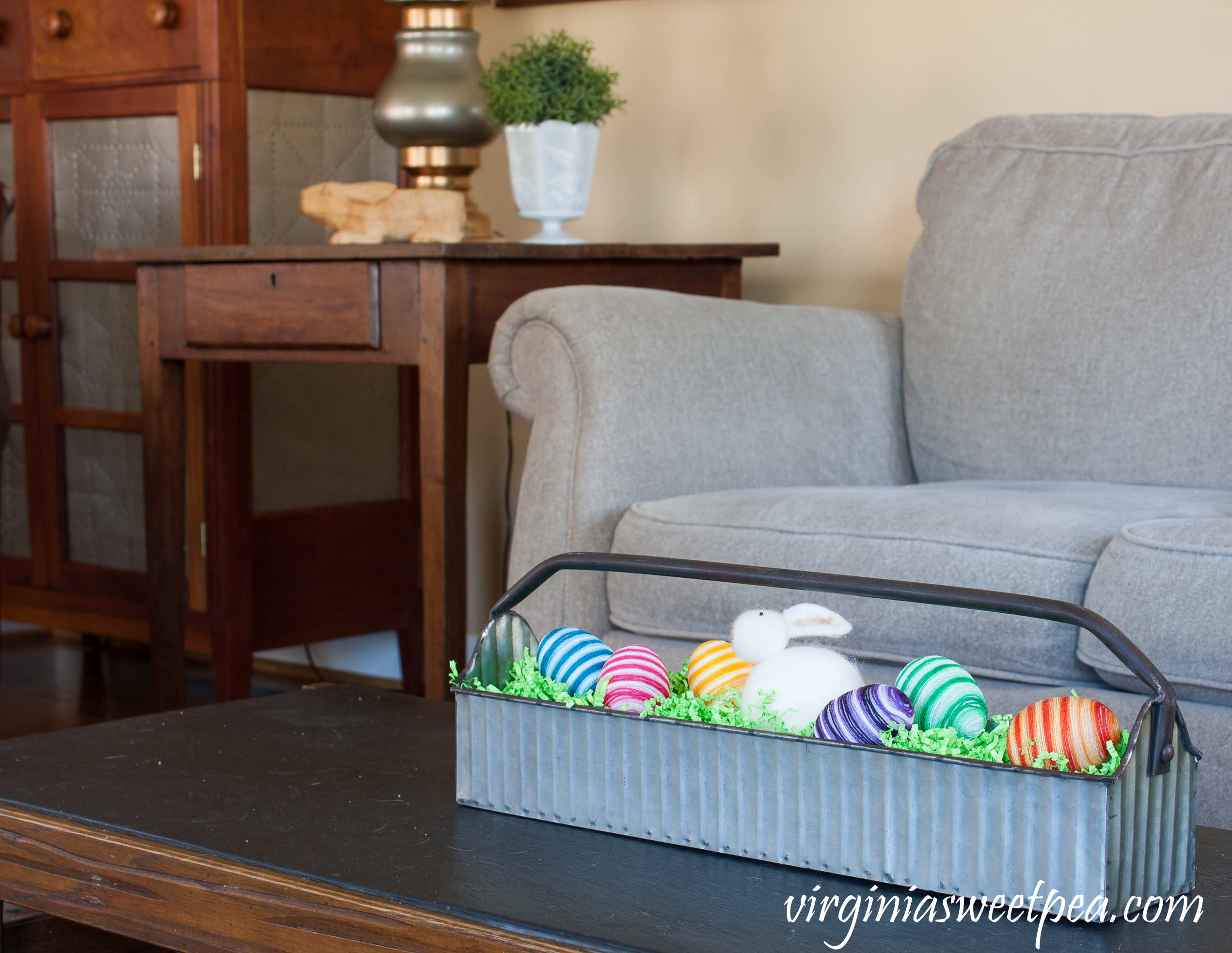 More vintage Easter decorations are found on top of the pie safe. Antique postcards are displayed on the chicken wire, bunnies are roosted on top of a vintage egg shipping crate, and carrot eggs are nestled in a wheelbarrow.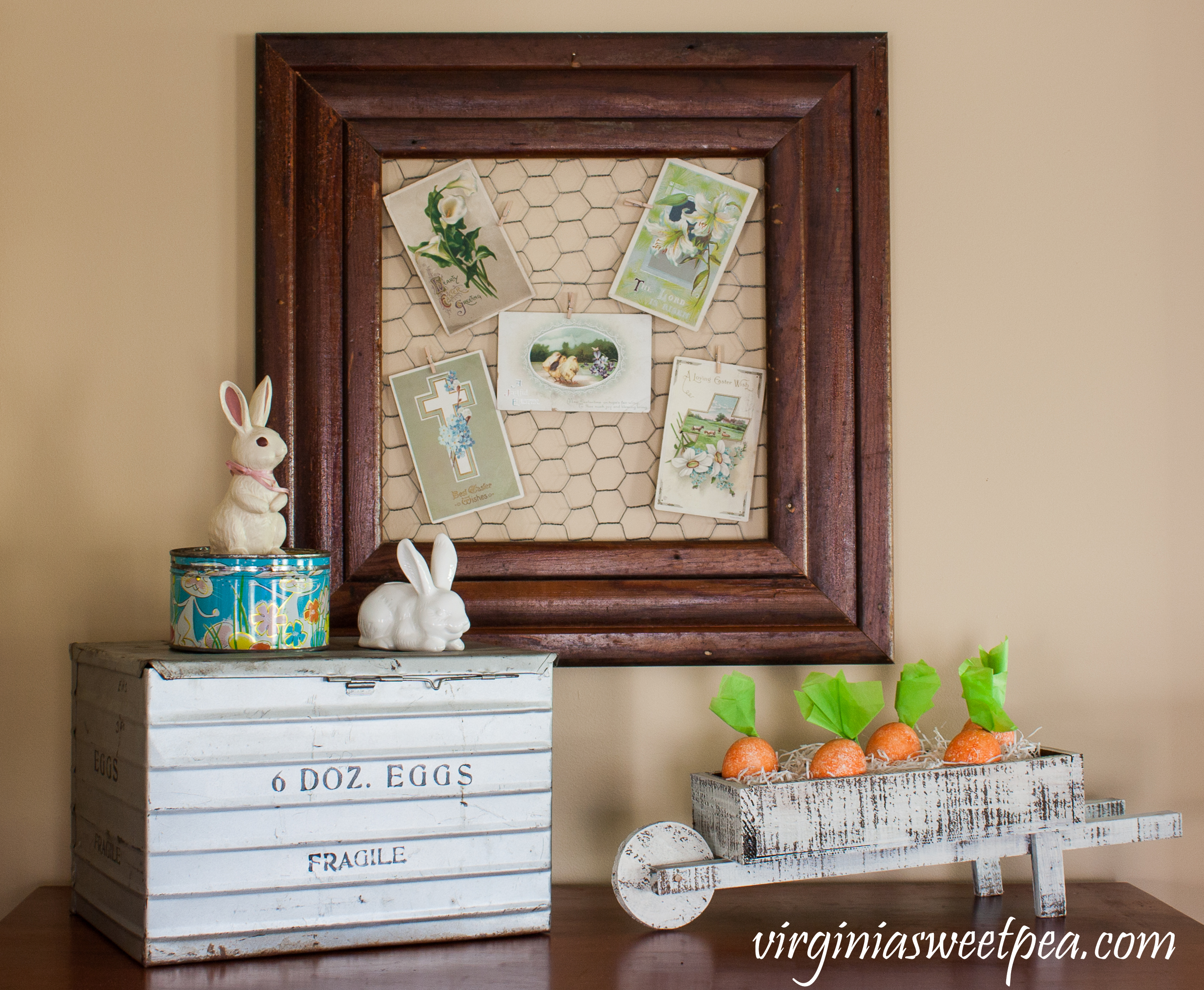 The wood for this frame came from the schoolhouse that my maternal grandfather attended as a child. You can see a picture of the schoolhouse and also enjoy seeing some of my vintage Lynchburg postcards in this post. Don't miss seeing the mountain view from both the schoolhouse and my mom's church.
The postcards that are displayed for Easter were all sent in the early 1900's. I used a few more of my vintage Easter postcards to decorate in my formal living room.
The pink-eared bunny is perched on a Mrs. Leland's candy container from the 1960's. The other bunny is an Avon piece and is a candle holder but I'm using him minus the candle.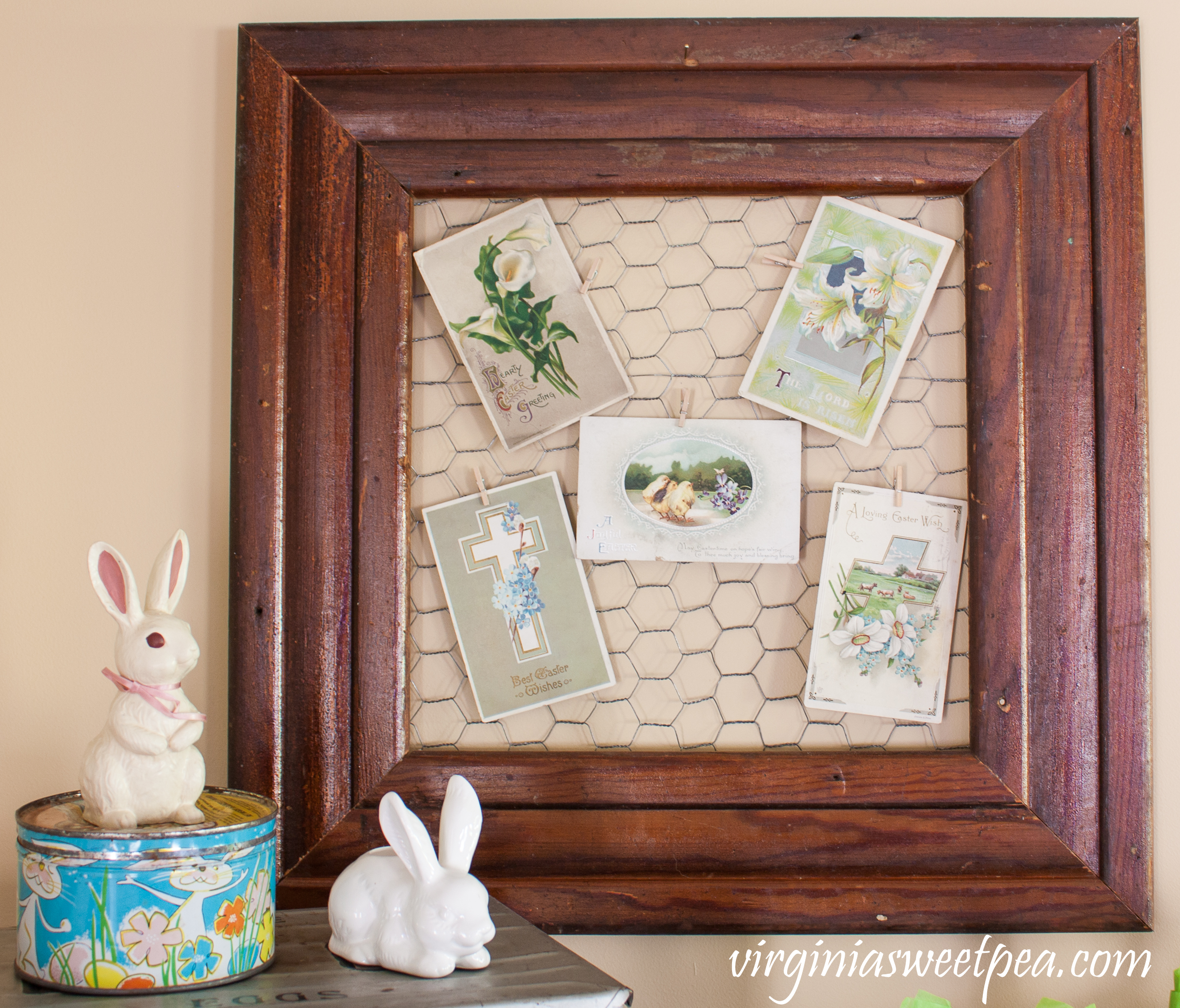 I got this wheelbarrow last year from Oriental Trading and it's still available. It looks great filled with plants for a spring or summer display.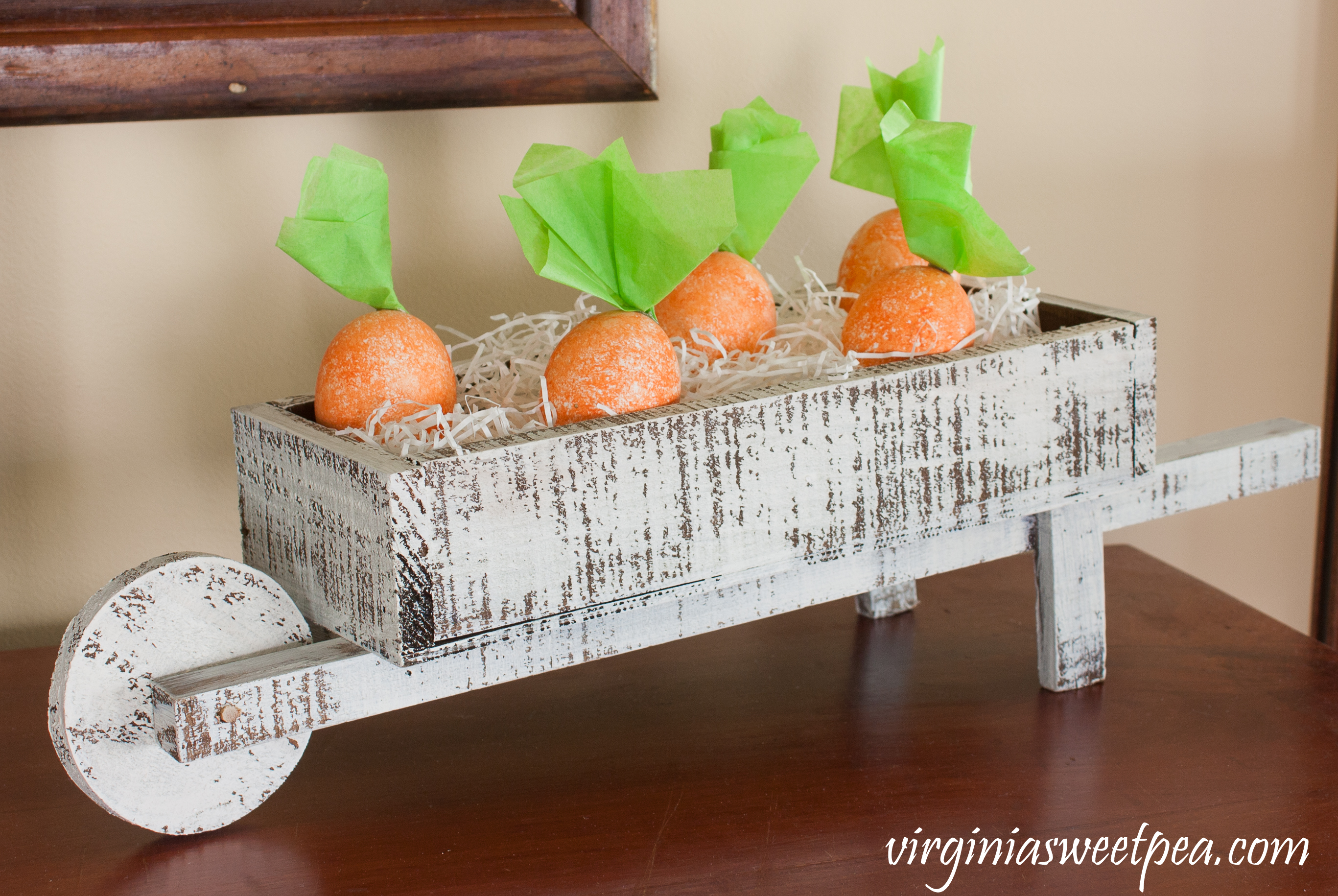 The last family room vintage Easter decoration to share is a vignette that includes a a china egg that I would guess is 75-100 years old, a metal basket with a nest perched on top, and a family Easter picture from last year.
The Bedford Humane Society does pet photos each Easter as a fundraiser. Sherman of course had his picture taken again this year and we did a family picture. It's a fun tradition!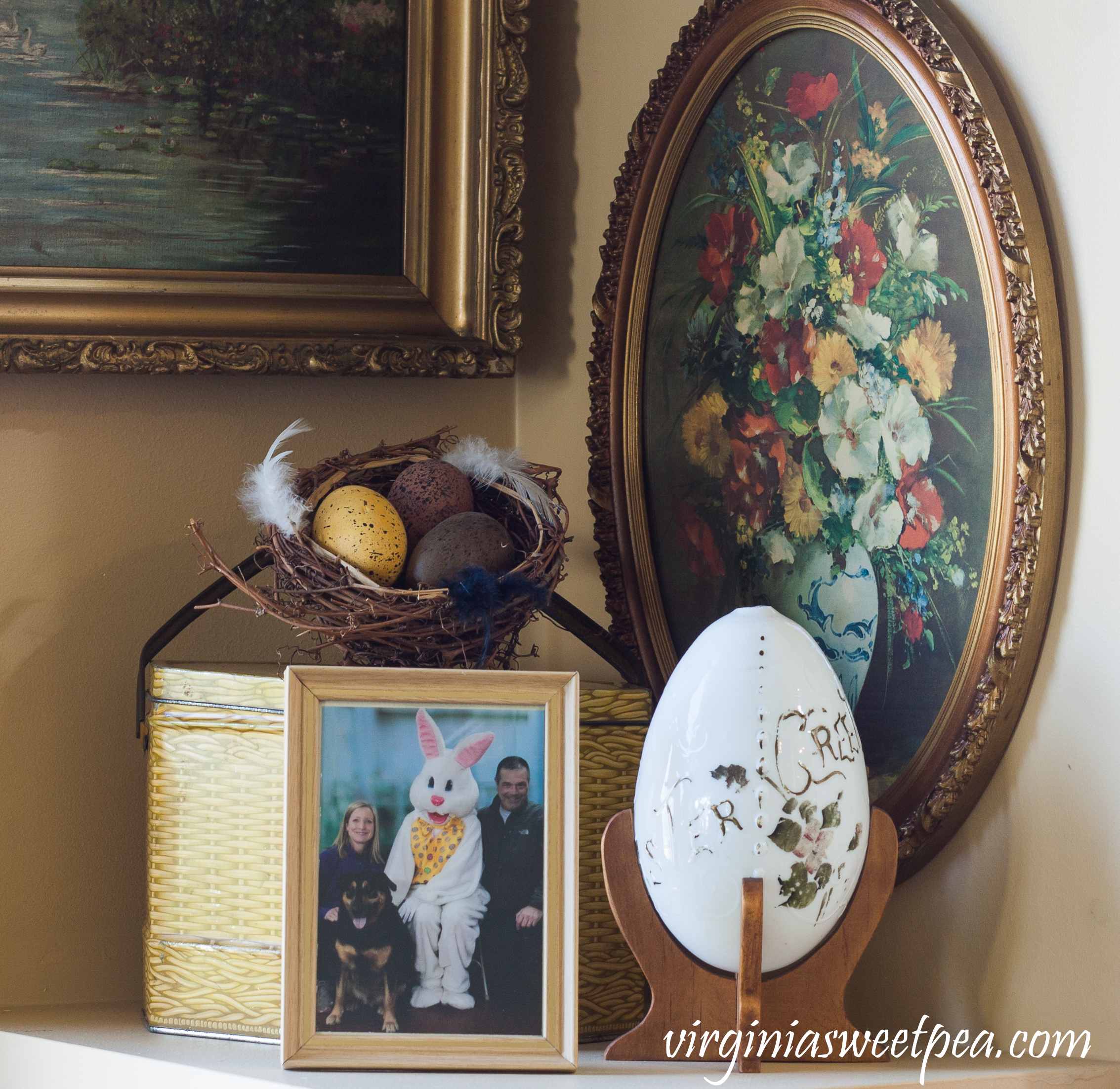 Kitchen Table Centerpiece
I enjoy having a centerpiece on our kitchen table that is seasonal. For this one, I nestled a faux chocolate bunny into a shredded paper nest surrounded by glittered eggs from Walmart. I've made my own glittered eggs in the past but I don't have a lot of them, so when I saw a dozen glittered eggs at Walmart, I couldn't resist buying them.
The pretty blue dish that I used as the base for this arrangement belonged to my friend's mom. It doesn't have any markings and I don't know how my friend's mom used it. It could have been used for decorating or for food.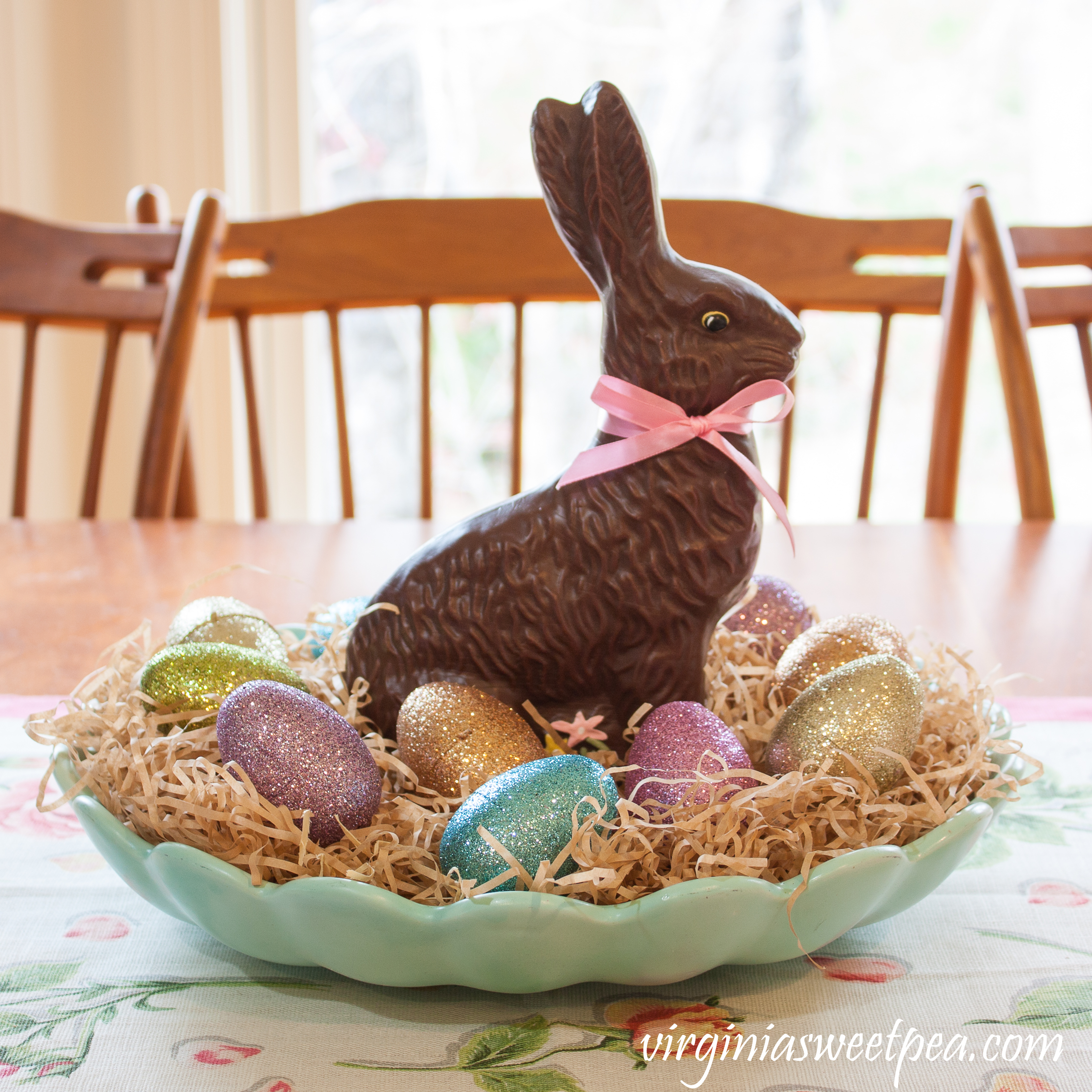 Easter in the Dining Room
Back in March I shared the Farmhouse Style Easter Centerpiece and Table in our dining room. I have really enjoyed the centerpiece that I created this spring.
You can see that I originally used the wheelbarrow filled with carrot eggs in my dining room. I like how it looks on the pie safe in our family room much better.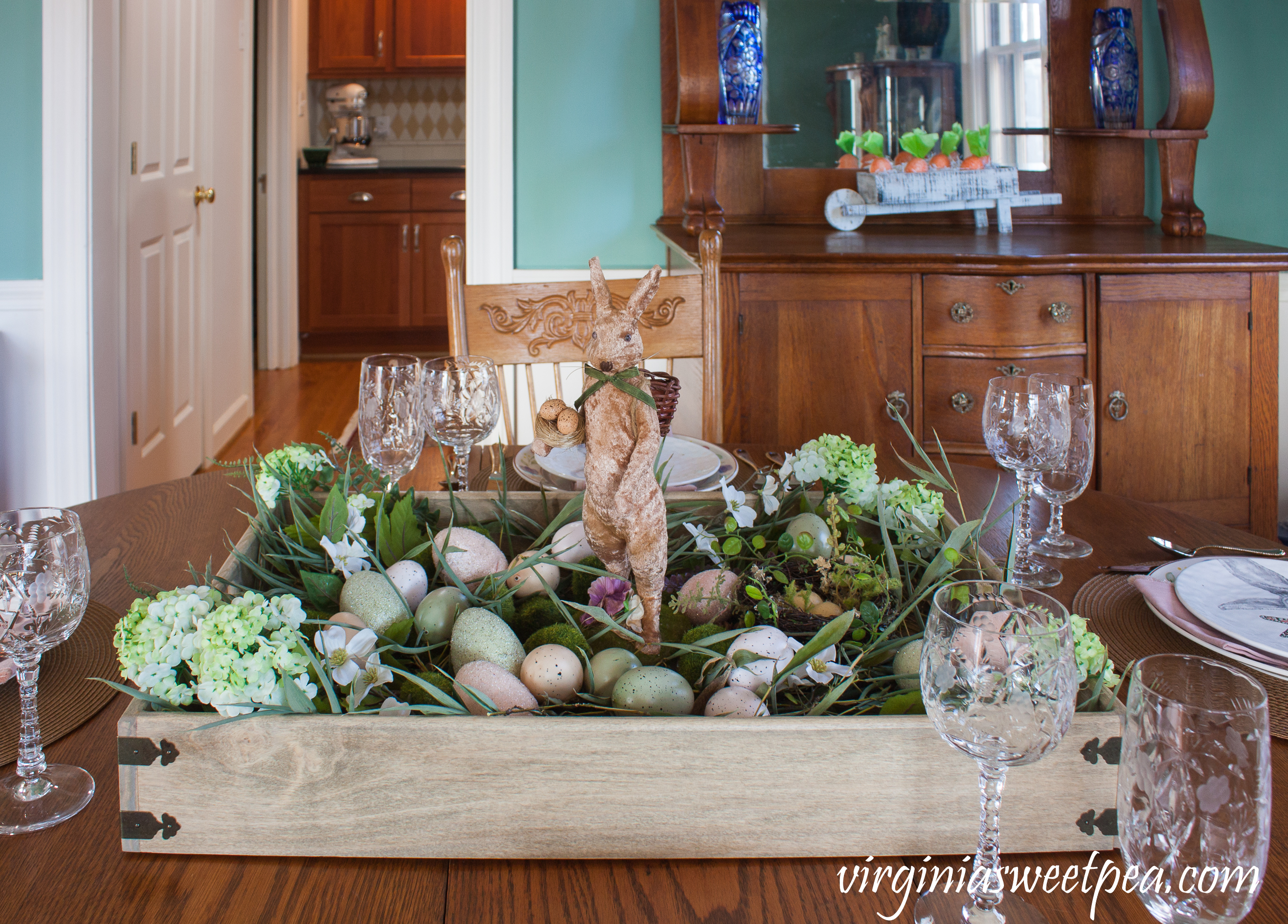 In this shot you can see a chest that belonged to my grandmother in the background. I moved the Roseville bunny dishes and egg cup that you see on the chest to the formal living room and the china egg to the family room.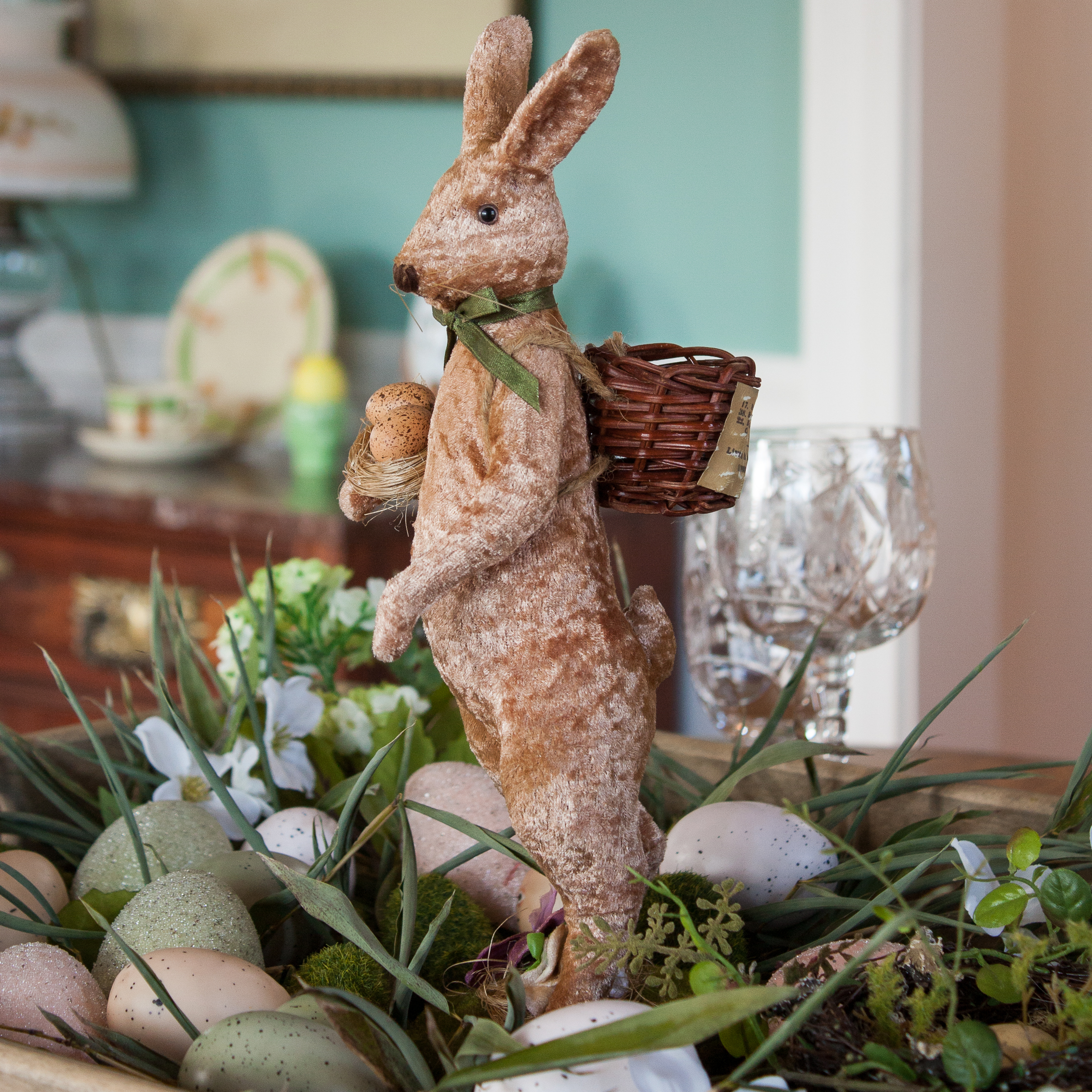 In their place I used a basket filled with shredded book pages and eggs along with two rabbits that I purchased at The Farm Basket long ago.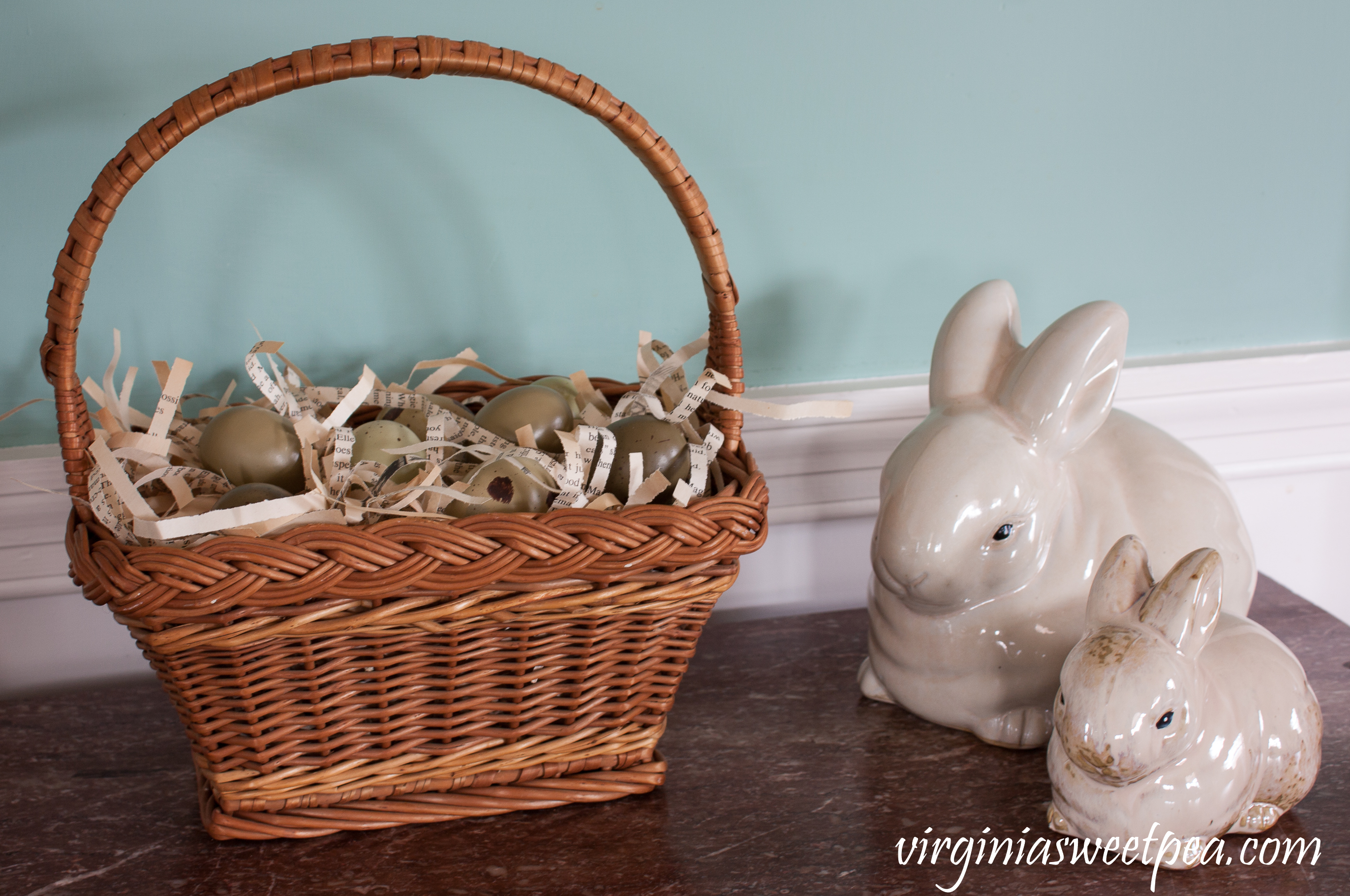 Easter on the Porch
This display is what greets you if you enter our home via the porch. I made the hanging burlap bunny and the green metal picnic basket belonged to my former teaching assistant's aunt.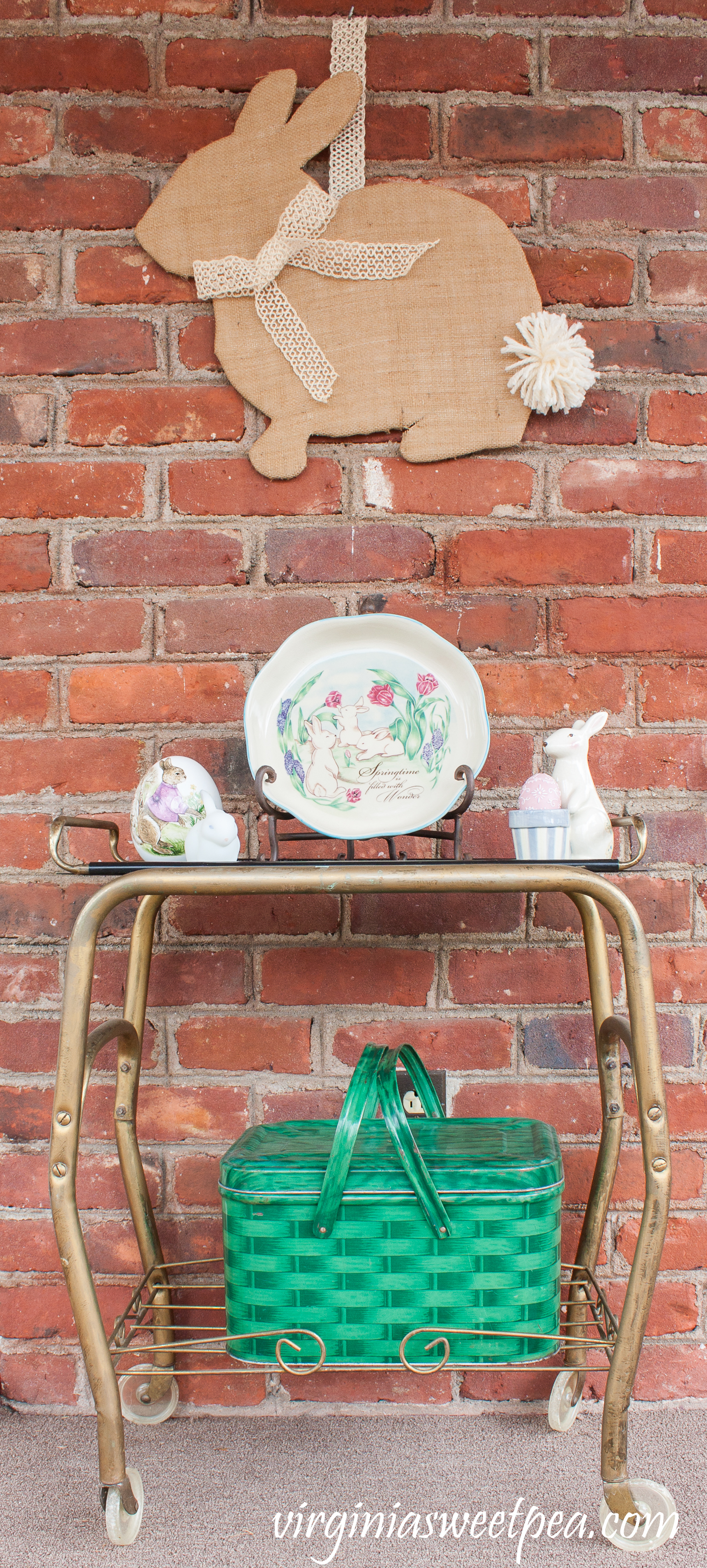 Mama gave me all of these things except for the Fenton rabbit with handpainted flowers on his back. That rabbit belonged to my friend's grandmother.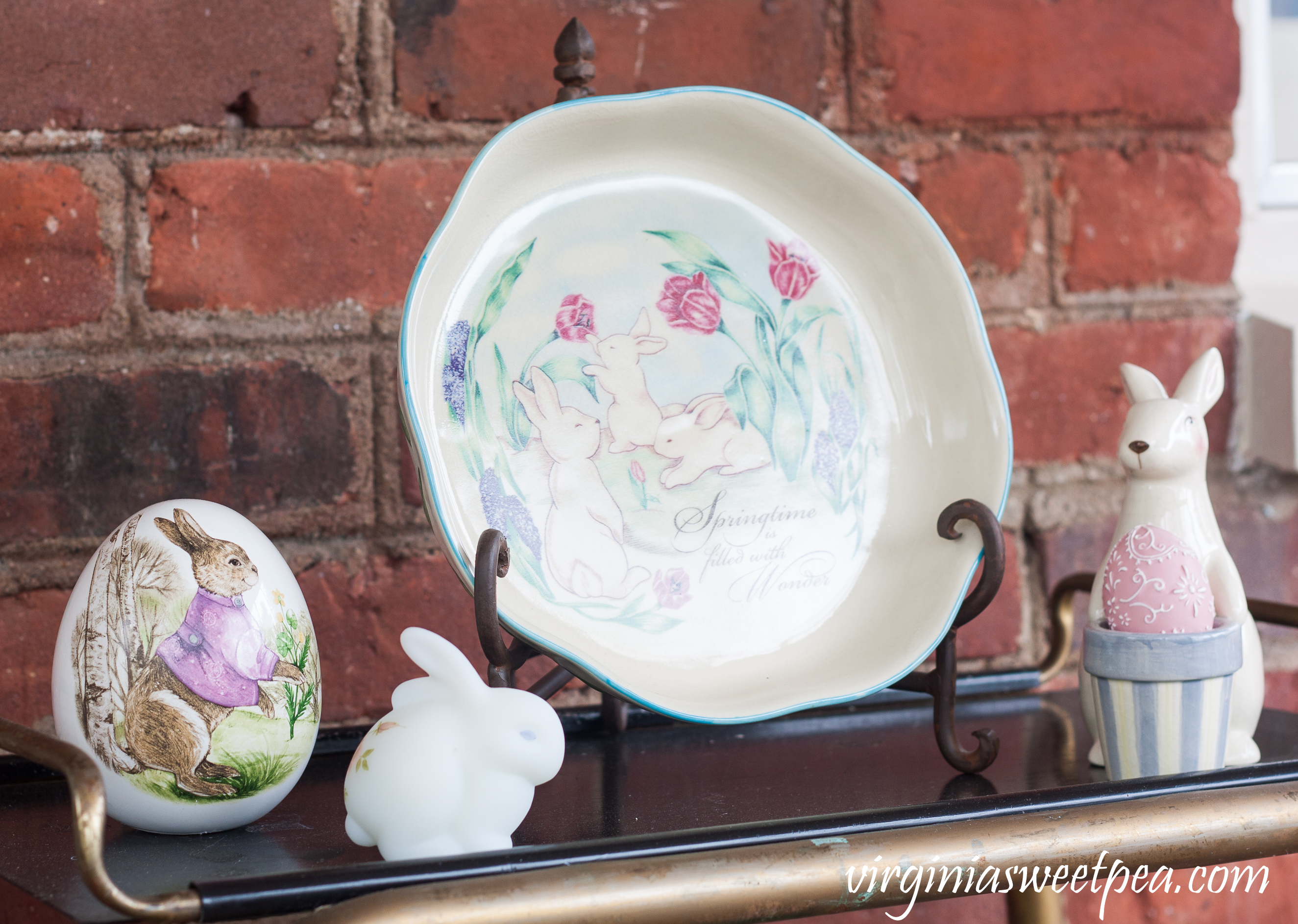 The plate and bunny to the right were both purchased by my mom at The Virginia Diner. They used to have a gift section but I don't think they have it anymore.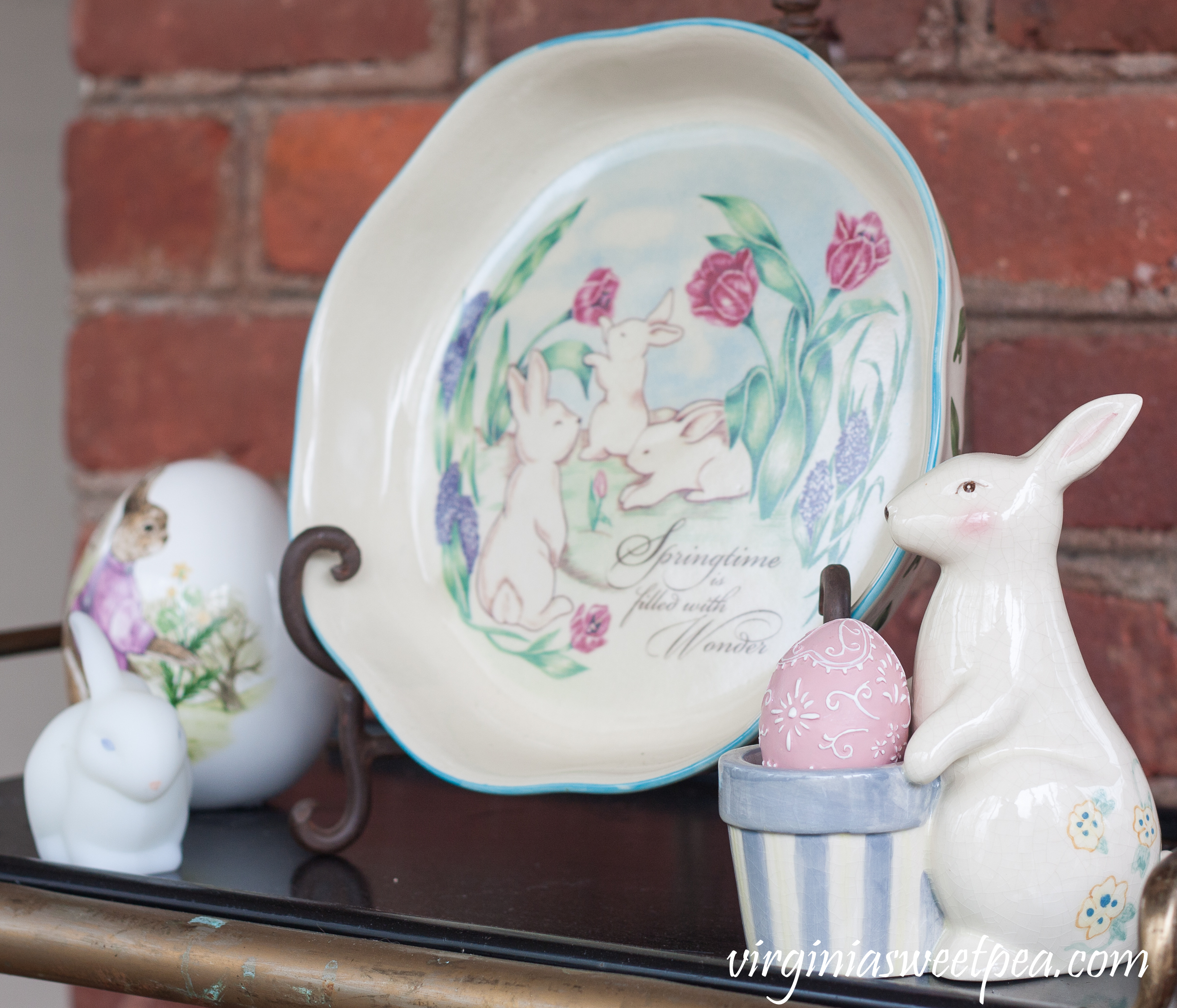 One of my good friends from college gave me the white basket and I filled it with marble eggs that I've purchased over the years. The bunny serving jellybeans is another gift that Mr. SP brought home for me following a business trip. He knows that I like rabbits!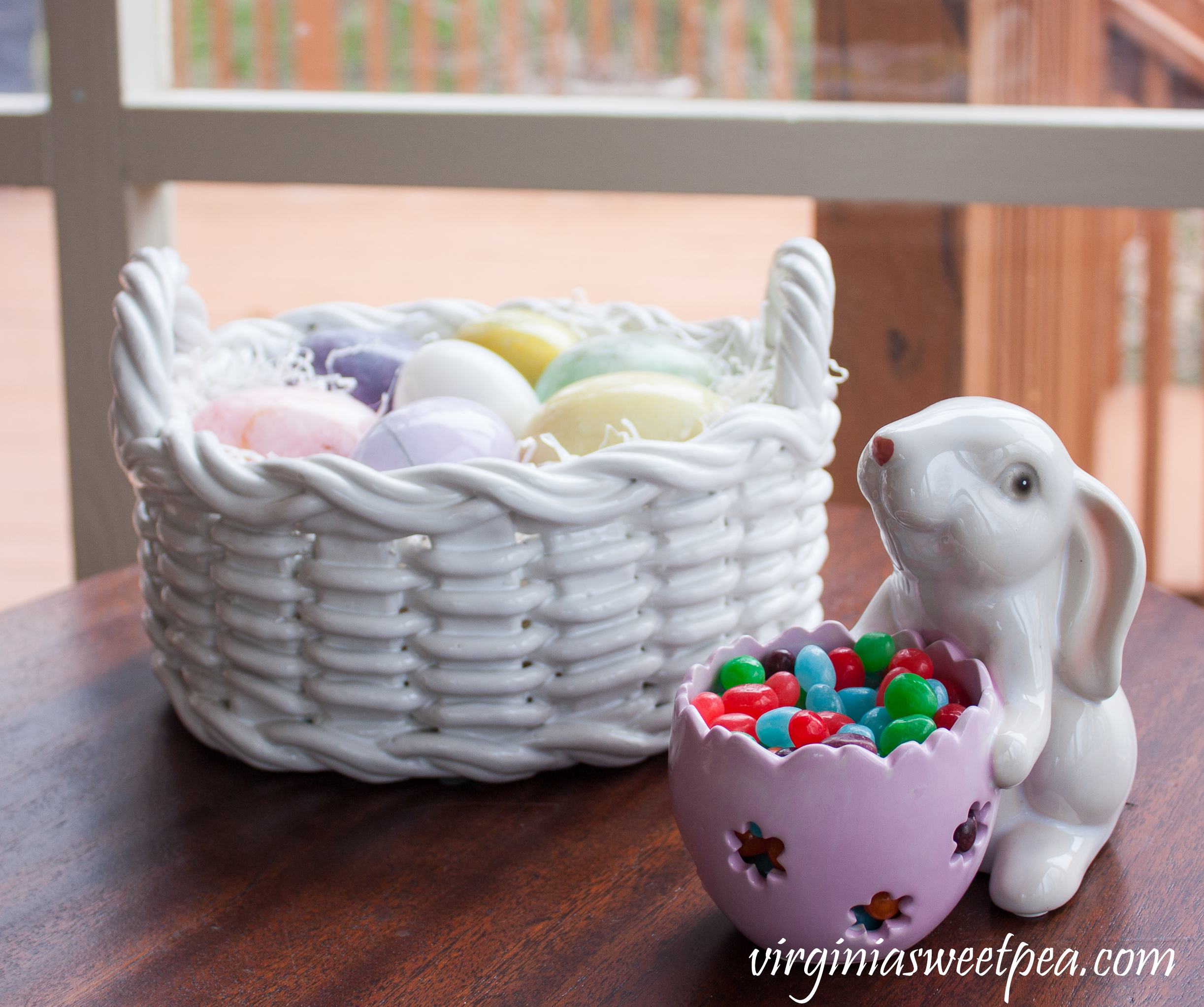 And that concludes my Easter decor for this year!
We're still not sure what we are doing for Easter this year. My father-in-law's 87th birthday is the day before Easter and my sister-in-law is coming into town for his birthday. It will be nice to have her here not only for the birthday celebration but also for Easter.