Vintage Easter Decorations in the Family Room
It is hard to believe that Easter is less than three weeks away. I like decorating for Easter almost as much as decorating for Christmas. Today I'm sharing how I decorated our family room for Easter.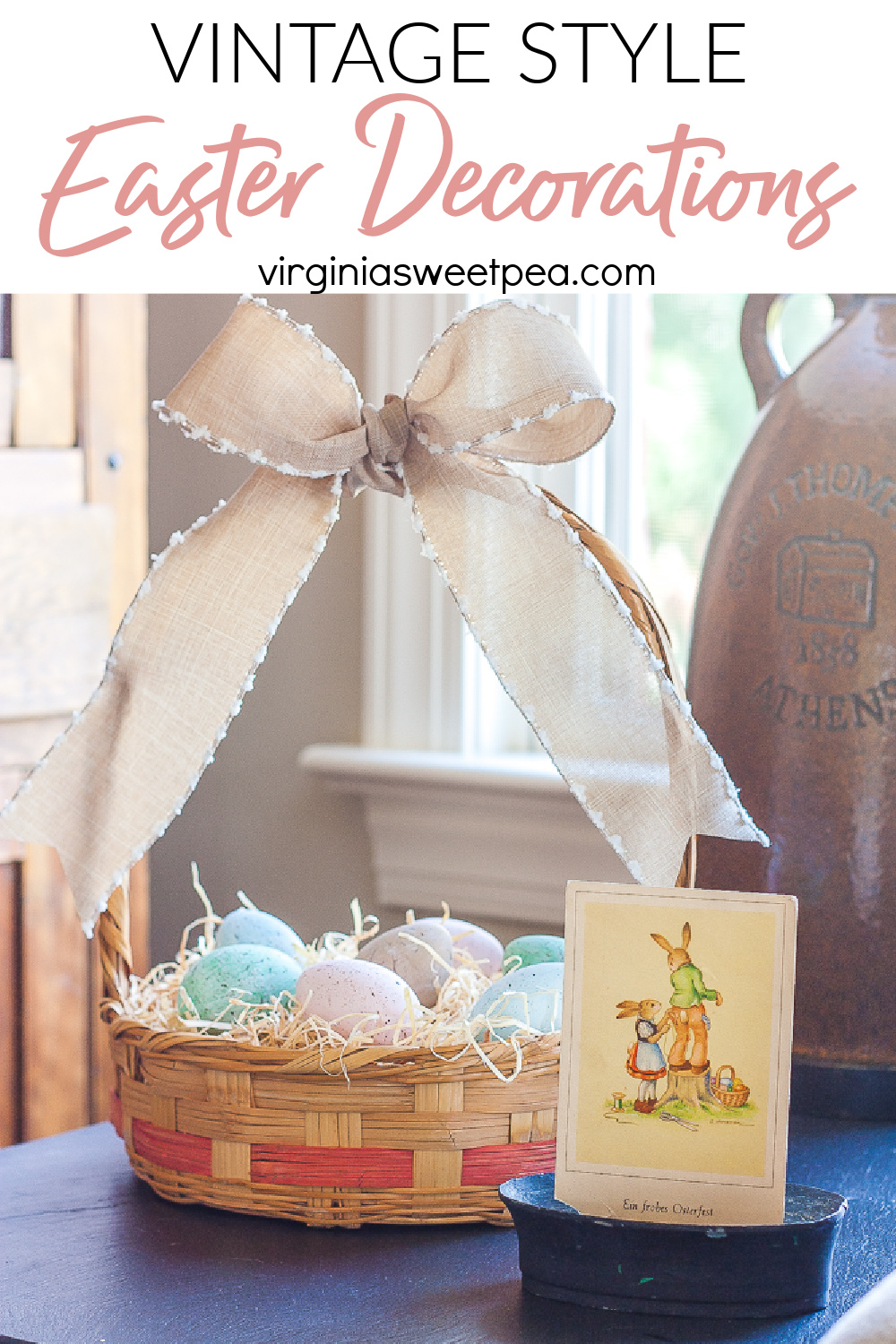 Vintage Easter Decorations in the Family Room
I'm so happy that this room is decorated for Easter because it is where we relax each evening and seeing my Easter decorations in this room makes me very happy.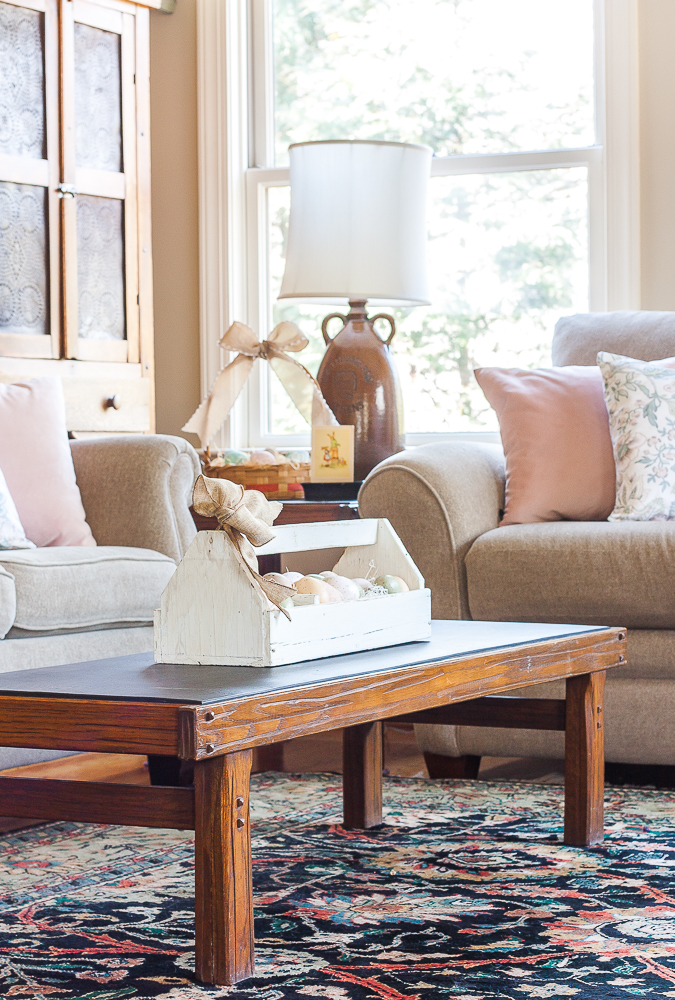 We will start with the coffee table and work our way around the room to see my mostly vintage decorations.
Coffee Table Easter Decorations
On the coffee table I filled a toolbox that my dad made with pastel Easter eggs.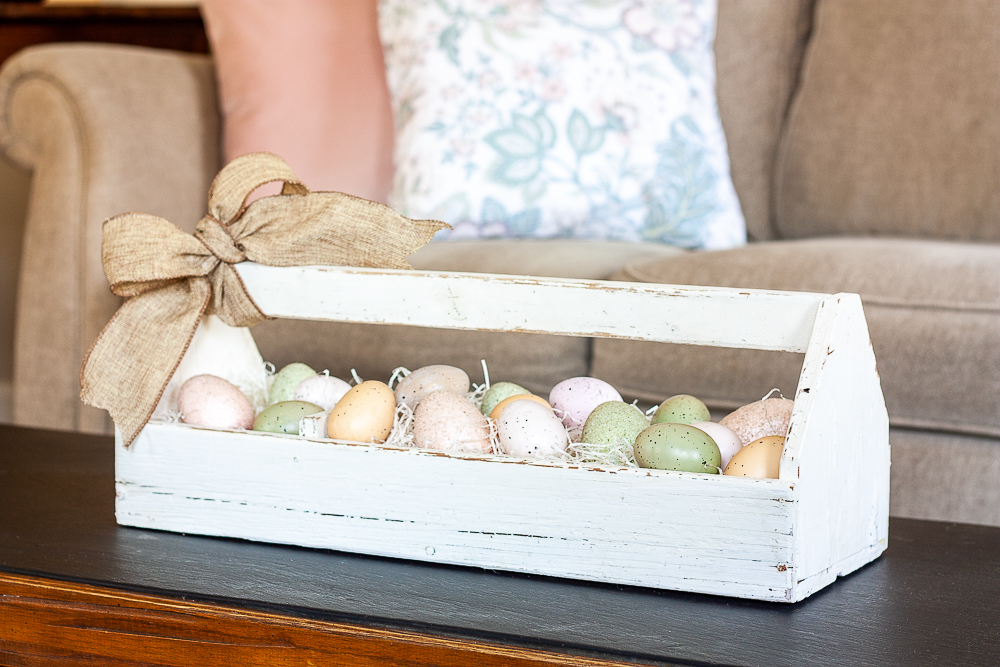 You probably remember this toolbox from my Ideas for Decorating with Vitnage Toolboxes post.
Most of these eggs came from Pier One and are no longer available. This set from Amazon is similar.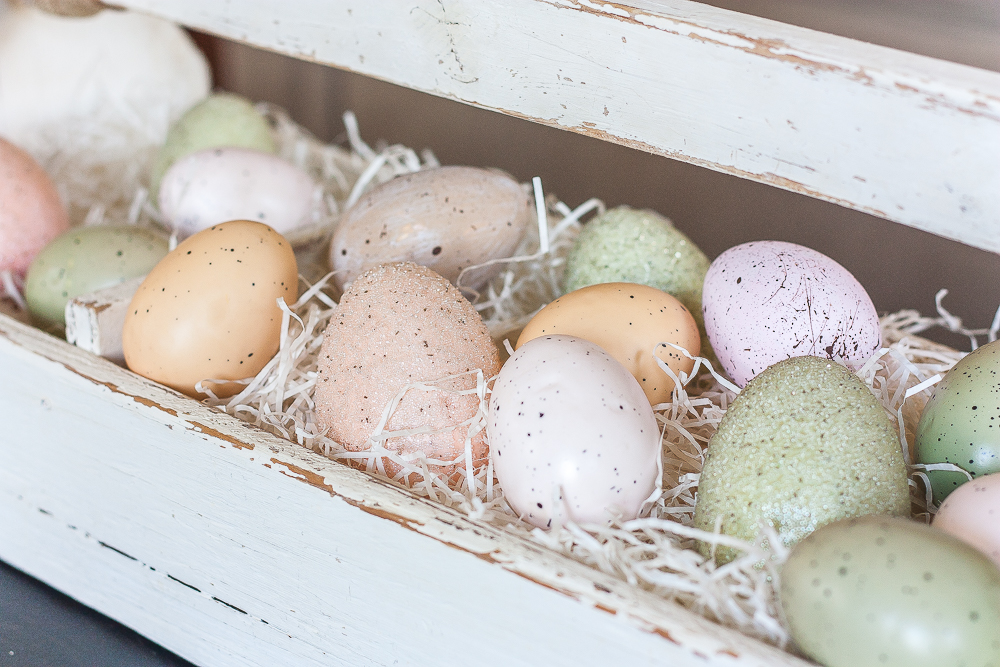 End Table Decorations
I had so much fun unpacking my Easter totes and deciding what to display where.
I filled an Easter basket that I found at Goodwill a long time ago with DIY speckled eggs that I made last year.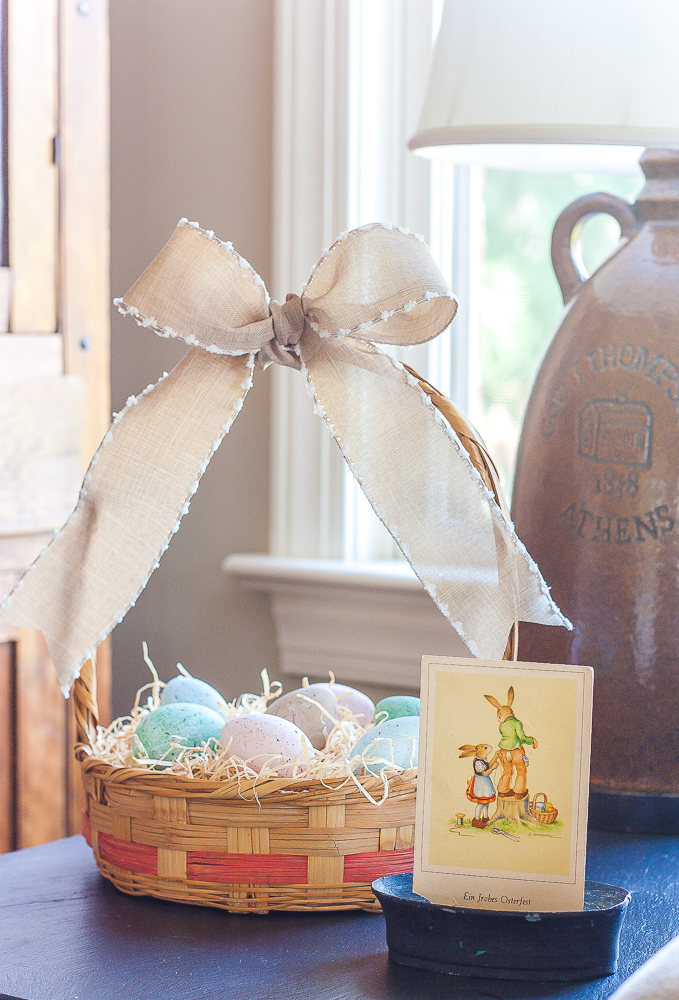 This was a simple project and they look a lot like the Pier 1 eggs that I used on the coffee table.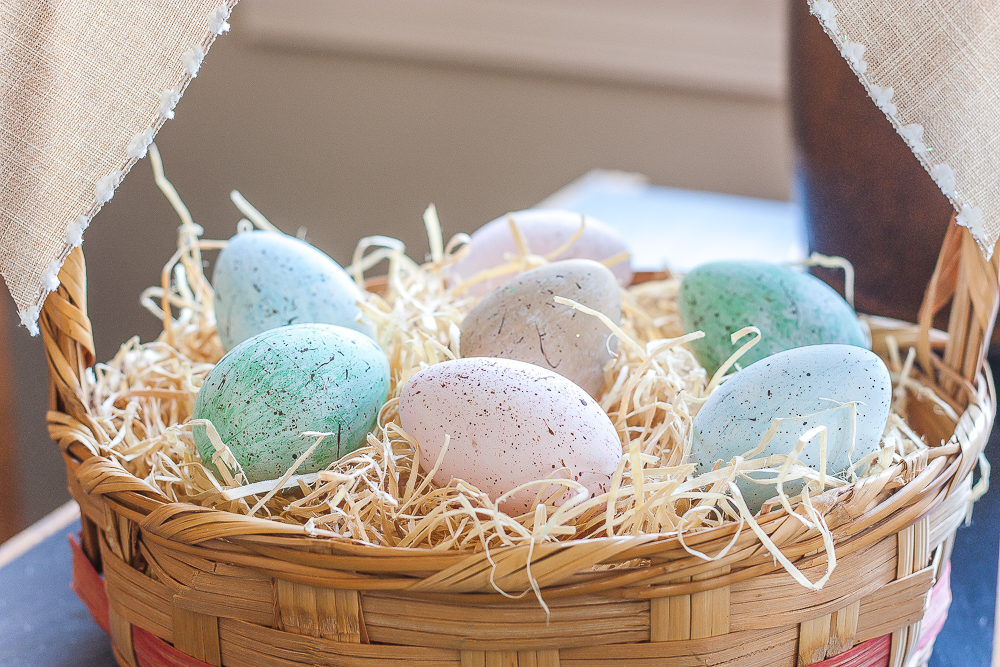 The postcard displayed beside the basket was sent to my great-great-aunt from Hattie and doesn't have a postmark, so it must have been sent in an envelope.
I'm wondering if it was sent from Germany since the postmark says, "A Happy Easter" in German.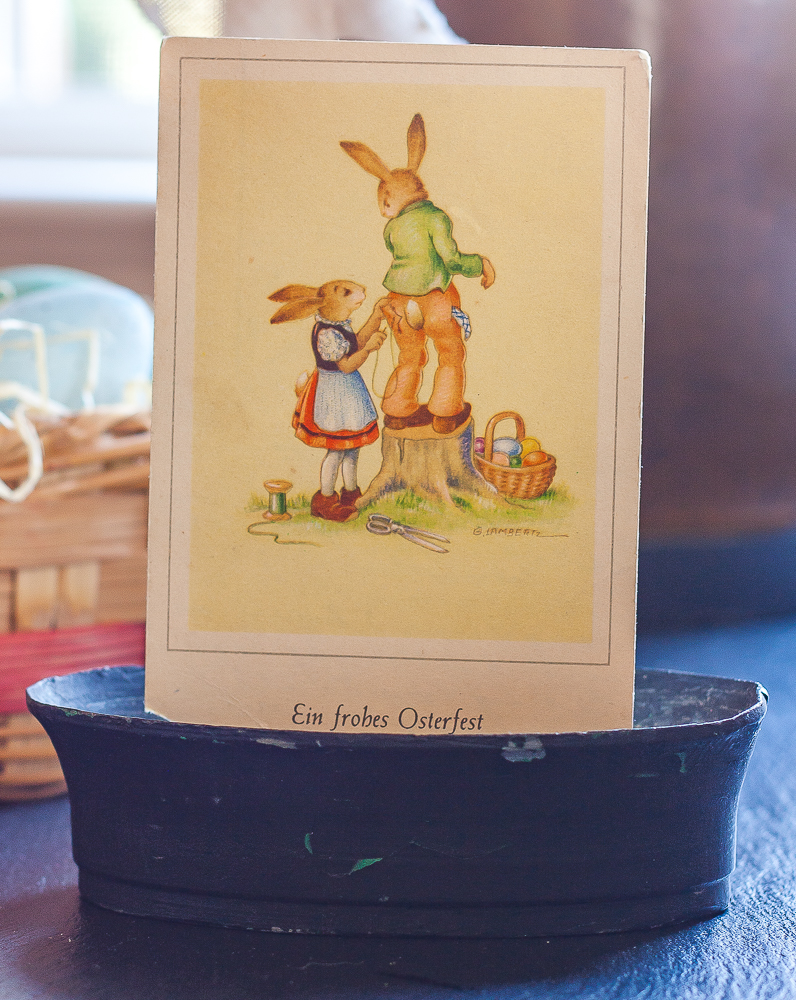 The other end table also is decorated for Easter.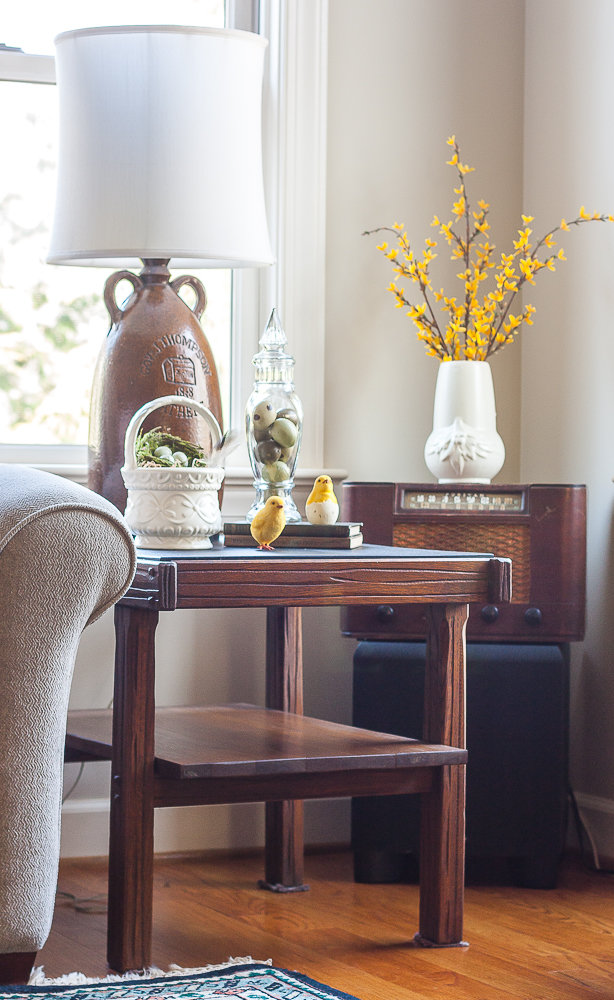 I decorated the table with a Hull pottery basket filled with a nest and feather, eggs in an old candy jar, chicks, and faux Forsythia in an unmarked vase my mom gave me when I was in college.
I found the Hull basket long ago in a local antique shop. This green version is also really pretty.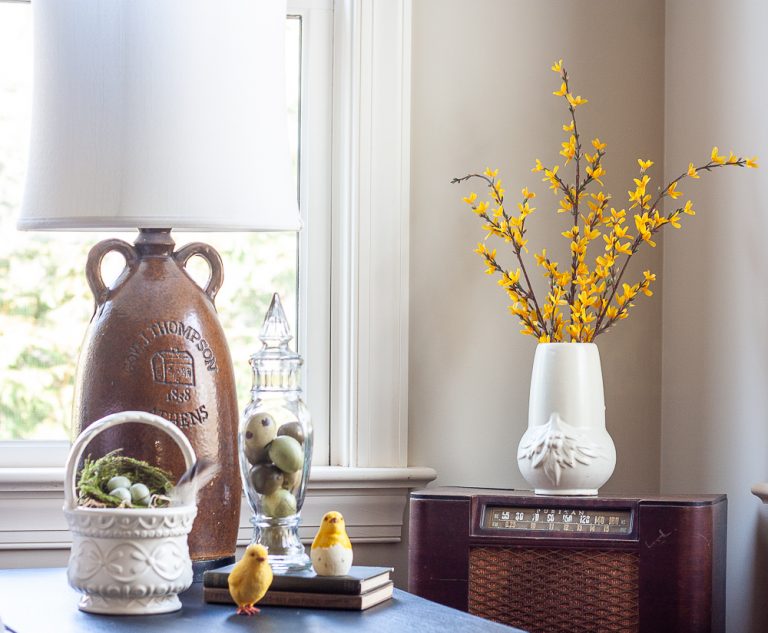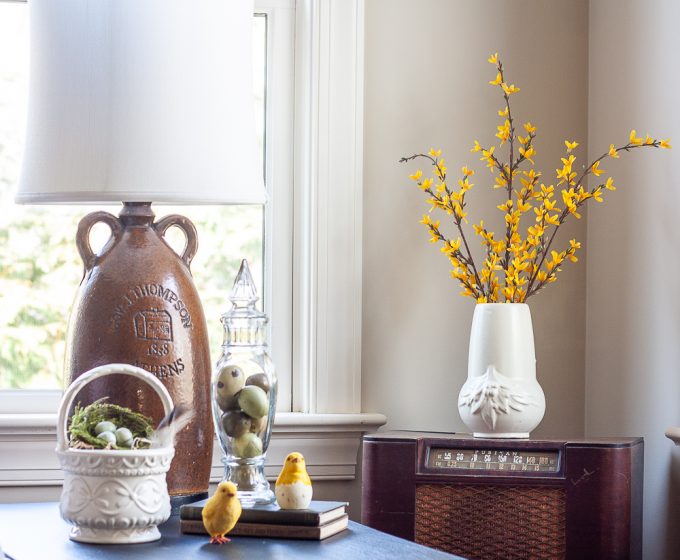 I'm pretty sure that I remember candy coming in lidded jars like this in the 70s or 80s. I love how the jar looks filled with eggs and displayed with the two chicks.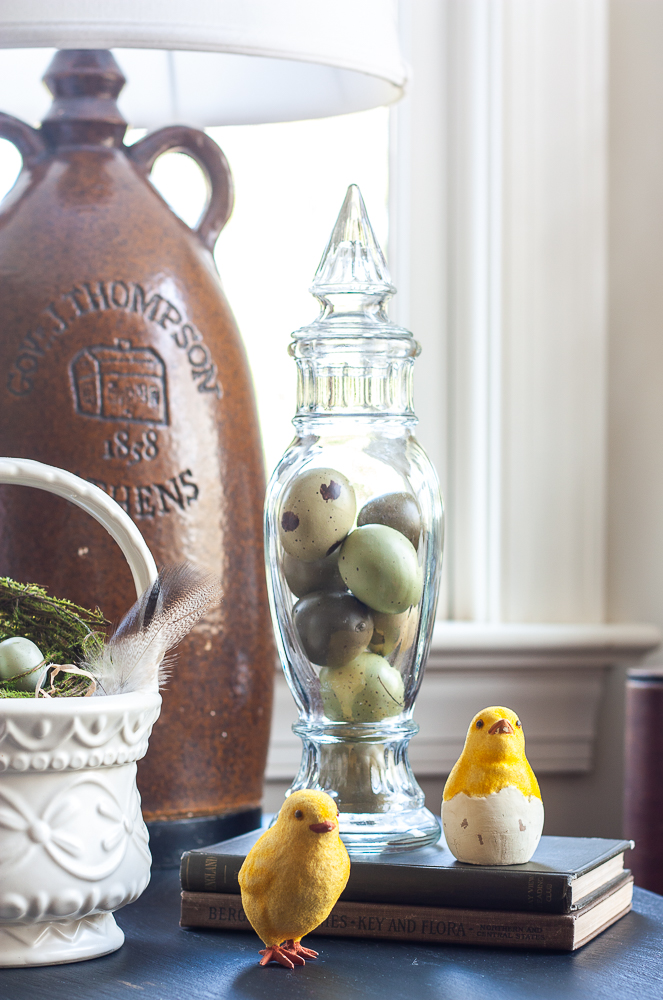 The books are England, copyright 1906 and Bergen's Botany Key and Flora copyright 1908. My mom gave both to me.
I love the pop of yellow from the Forsythia in this corner.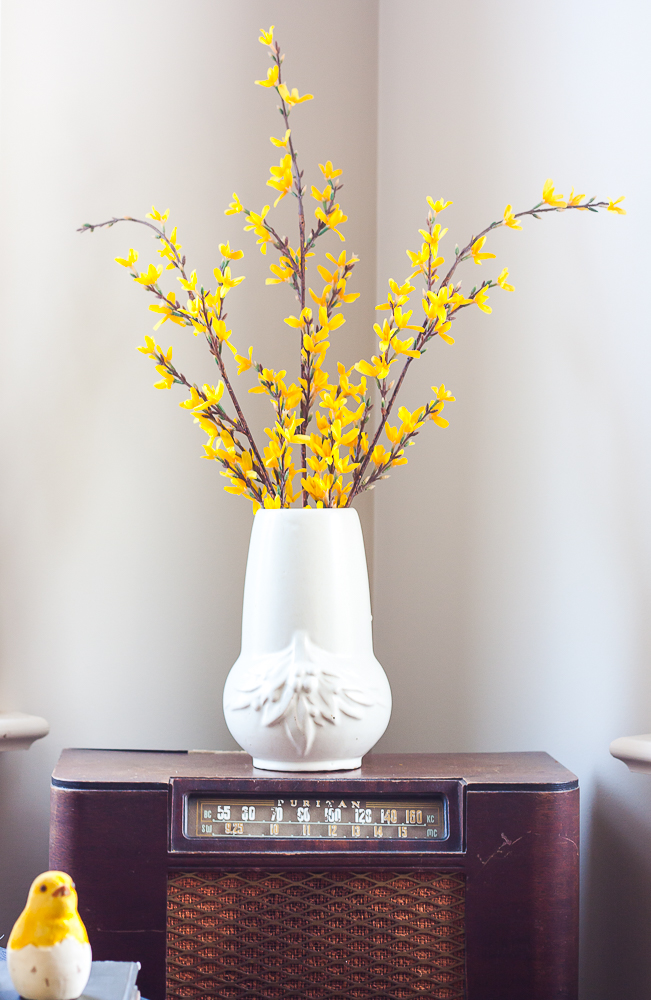 Corner Shelf Easter Decoration
This corner is decorated for Easter with blue. The cobalt blue vase is Blenko.
My grandmother and her next-door neighbor enjoyed traveling to Blenko glass in Milton, WV and this vase was purchased on one of their trips. This vase is similar.
The Blue Ridge Pottery lamb plate was my dad's and dates to the early 1940s. A lamb plate like this must be rare as I couldn't find one like it anywhere that I searched.
The butterfly art in the background is the work of Liz Bryant from Roseland, VA. My mother bought this in the early 1980s.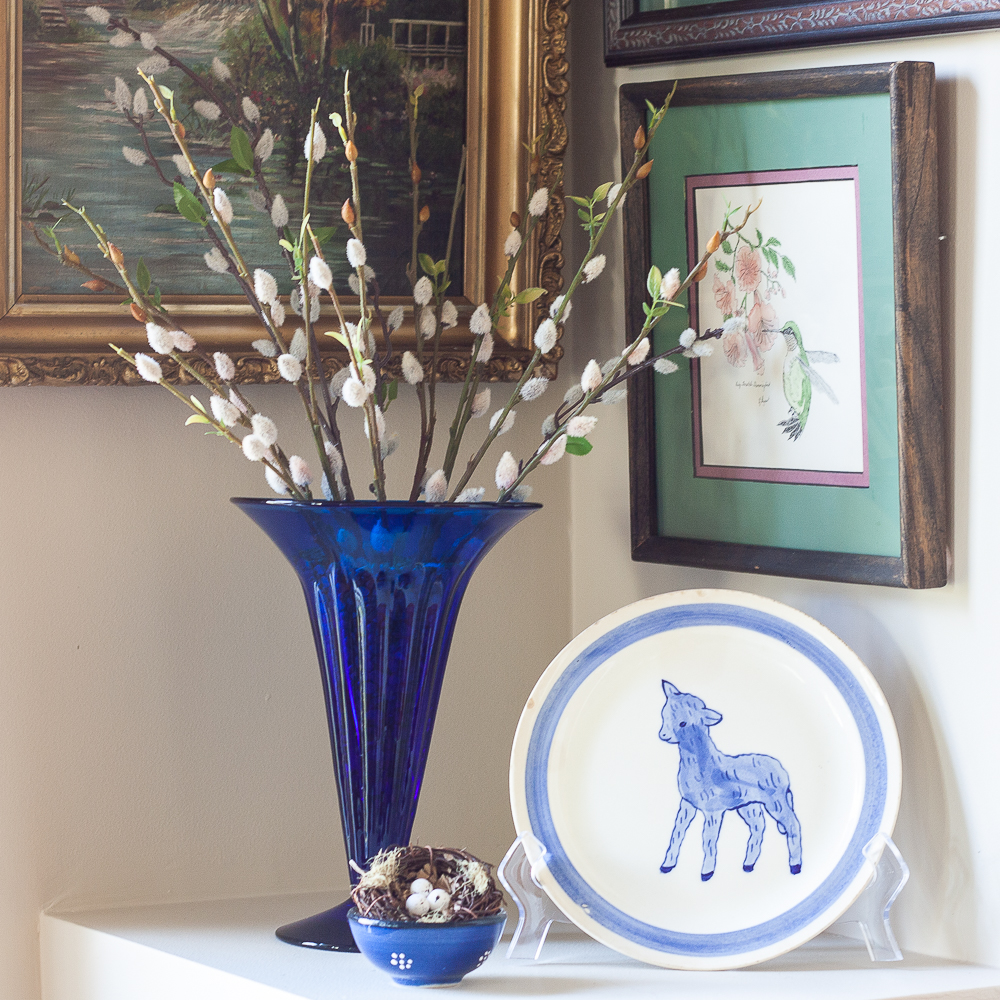 My niece purchased the small blue bowl while in Greece and gave it to me after her trip. I filled it with a tiny nest.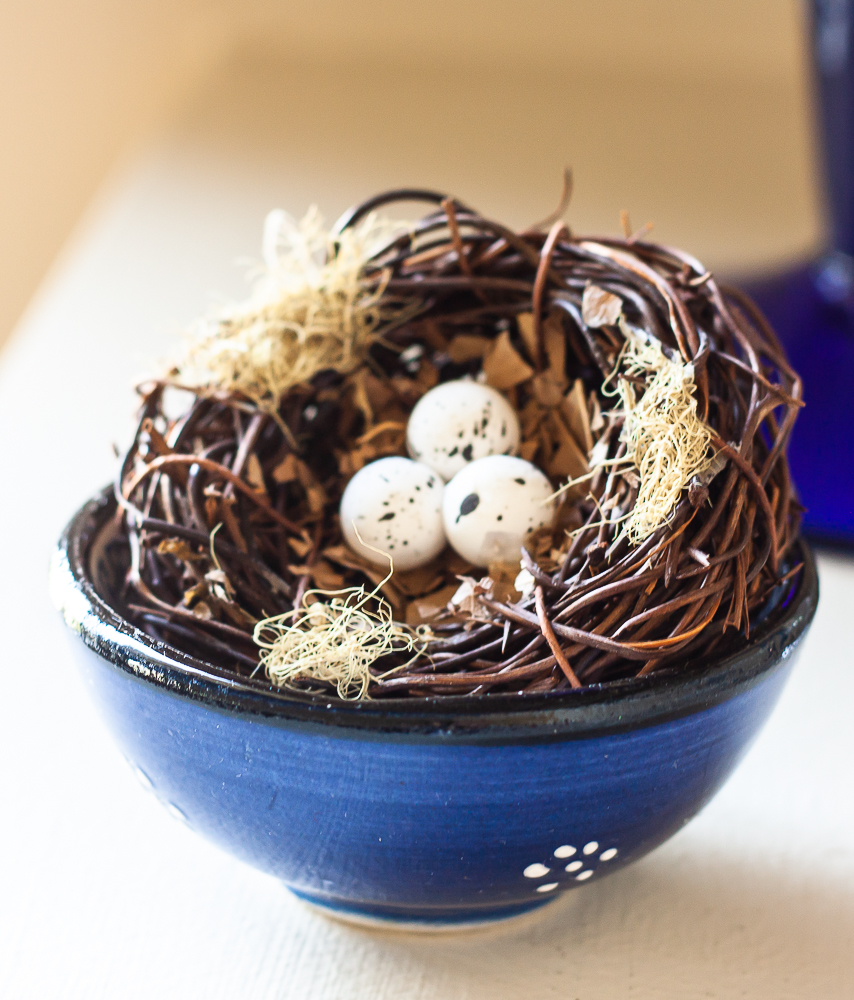 Decorations on the Pie Safe
The last spot to share is how I decorated the top of our pie safe for Easter.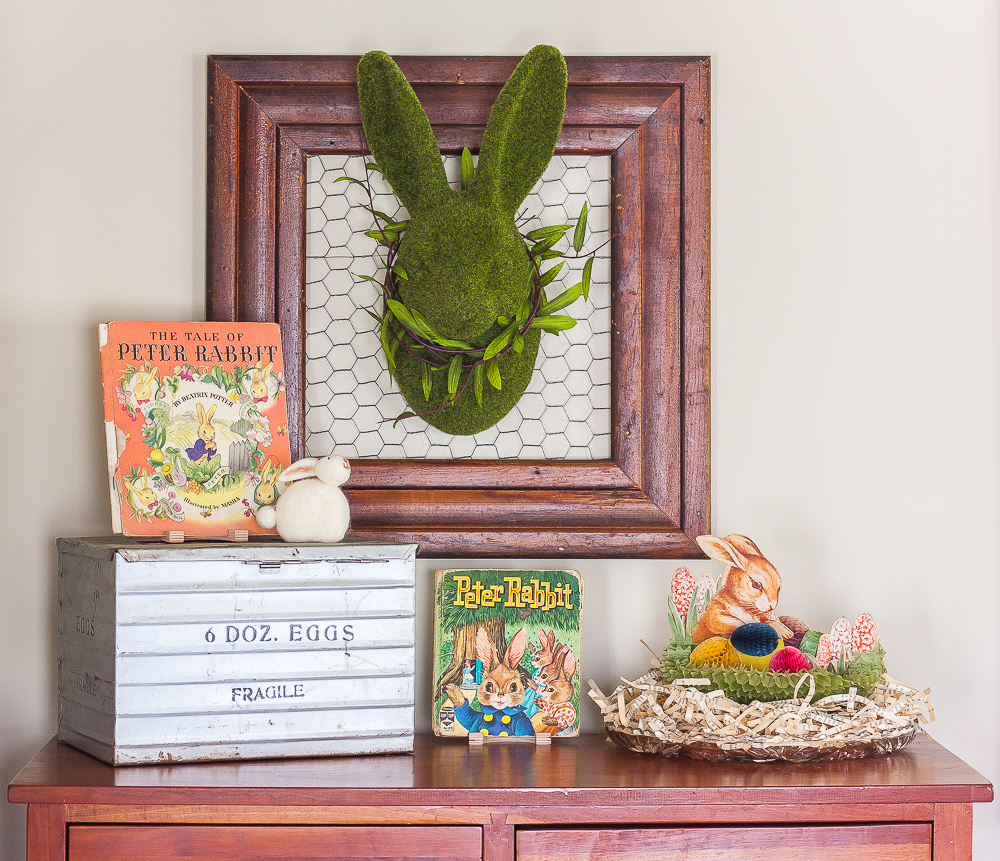 I started decorating this spot by hanging a mossy rabbit head on the chicken wire. I purchased this at the Montpelier gift shop a few years ago.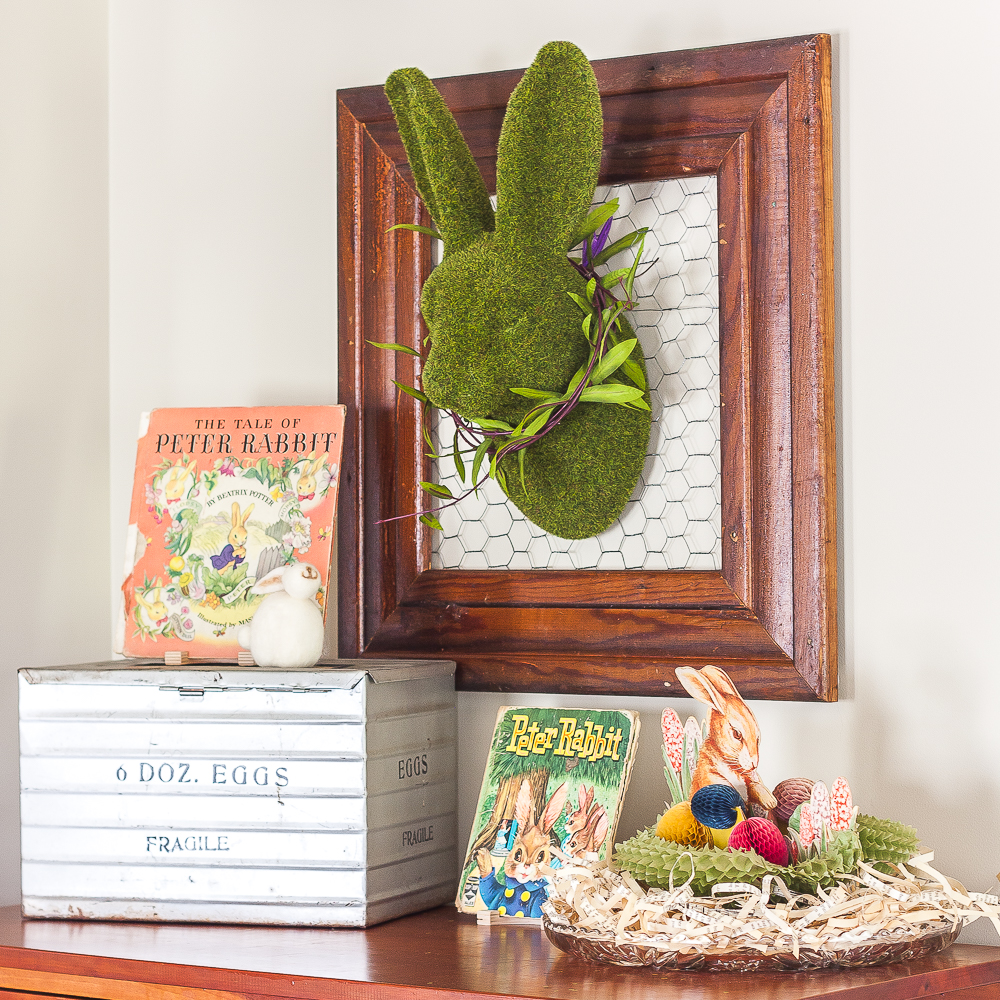 Next, I added a vintage egg shipping crate that relatives used to ship eggs from Roanoke, VA to family in Washington, DC. Don't miss seeing the inside of this crate!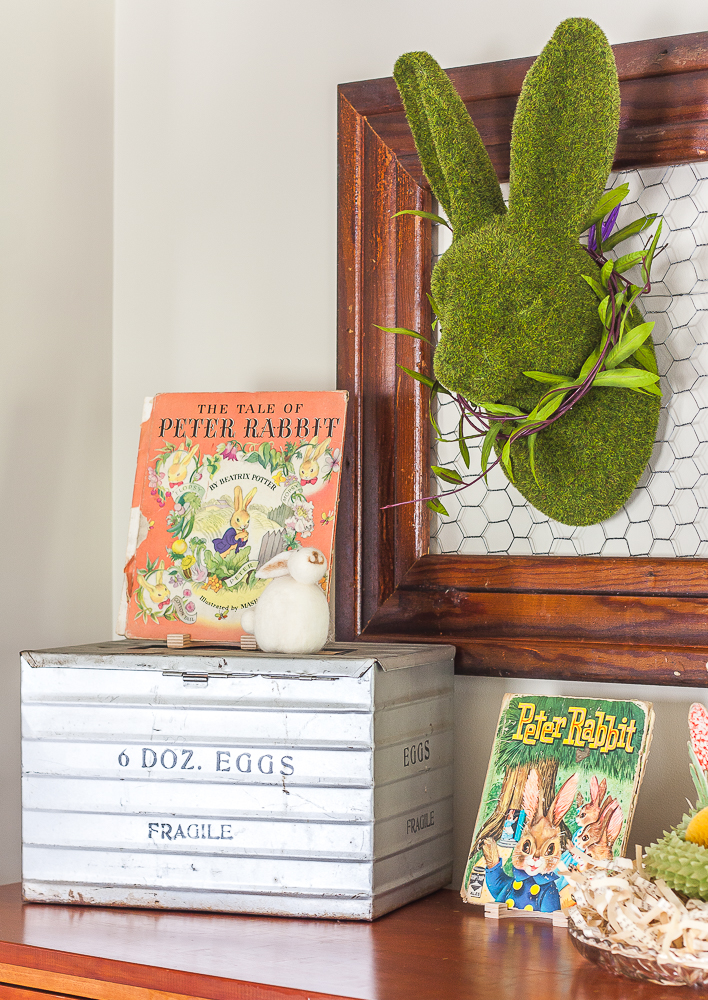 On top of the crate, I displayed my dad's 1942 The Tale of Peter Rabbit book. I photographed all of the pages and you can see them in this post. I couldn't find a hardcover of this book for sale but I did this adorable 1942 oversized copy.
My husband bought the rabbit for me at an airport many years ago when he was on a business trip.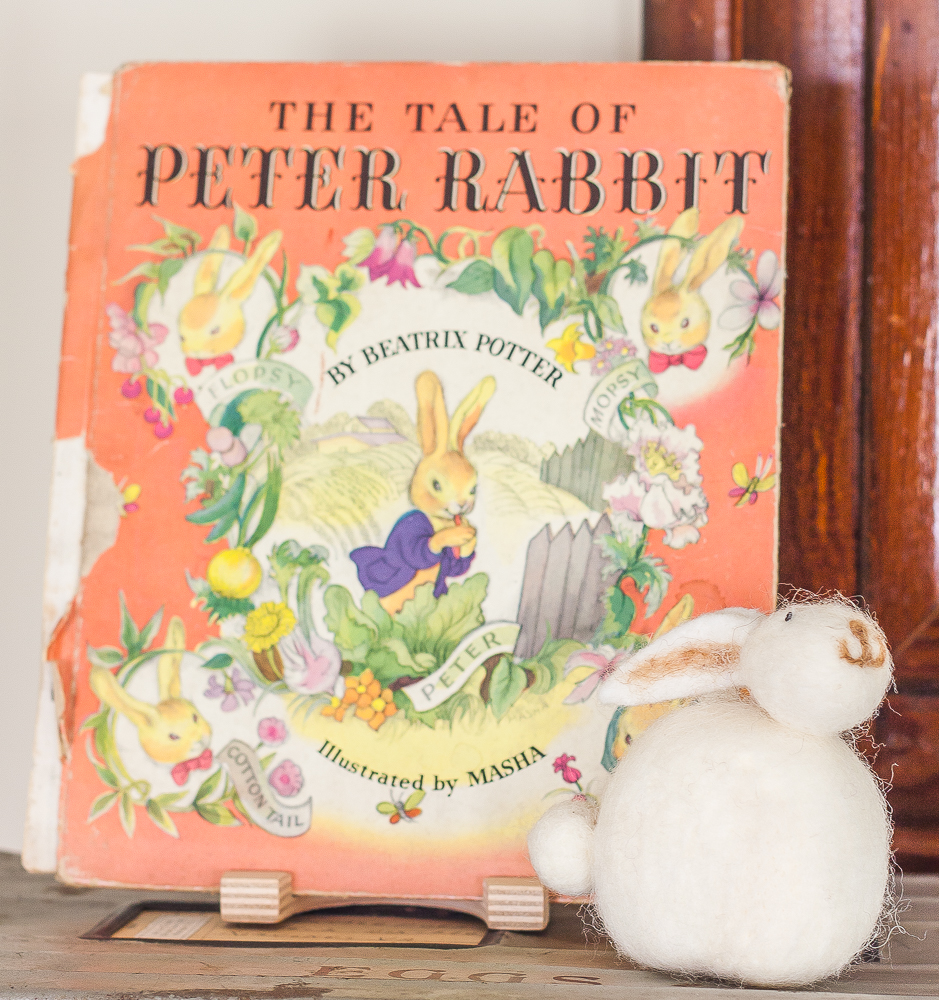 On the right side of the display, I used a 1960 Easter bunny honeycomb centerpiece that Liberty from B4 and Afters kindly sent to me.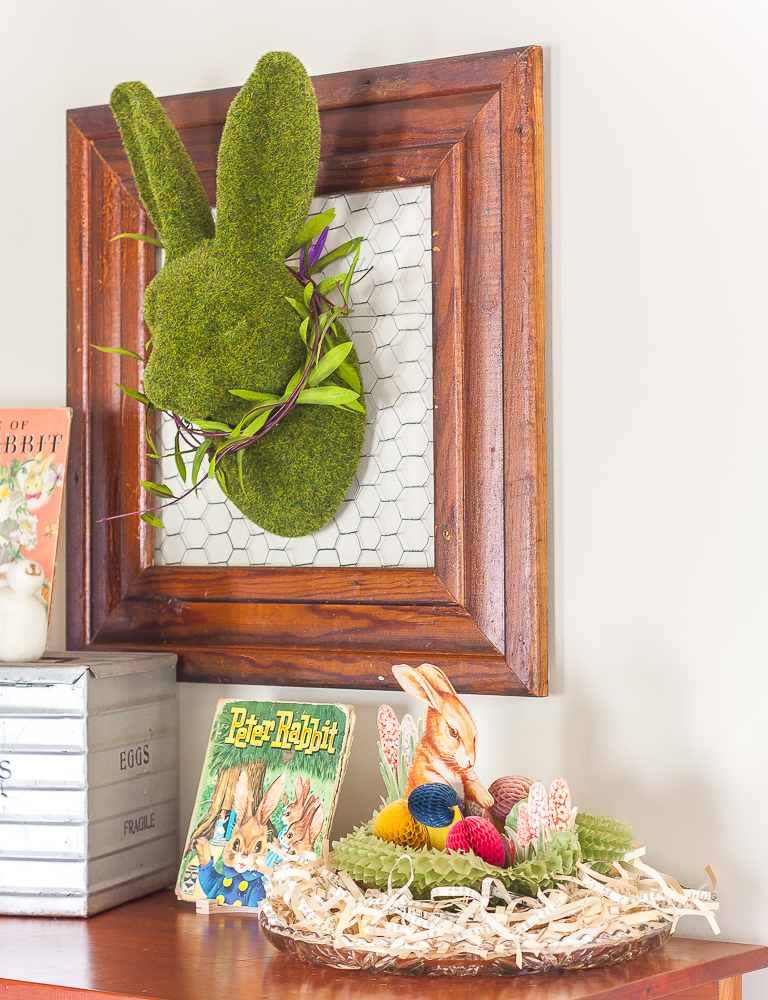 I'll share another 1960 honeycomb Easter decoration next week that Liberty also sent when I share the rest of my home's Easter decorations.
The honeycomb forms the nest and the eggs for this Easter centerpiece. I displayed it on a glass platter and surrounded it with shredded book pages.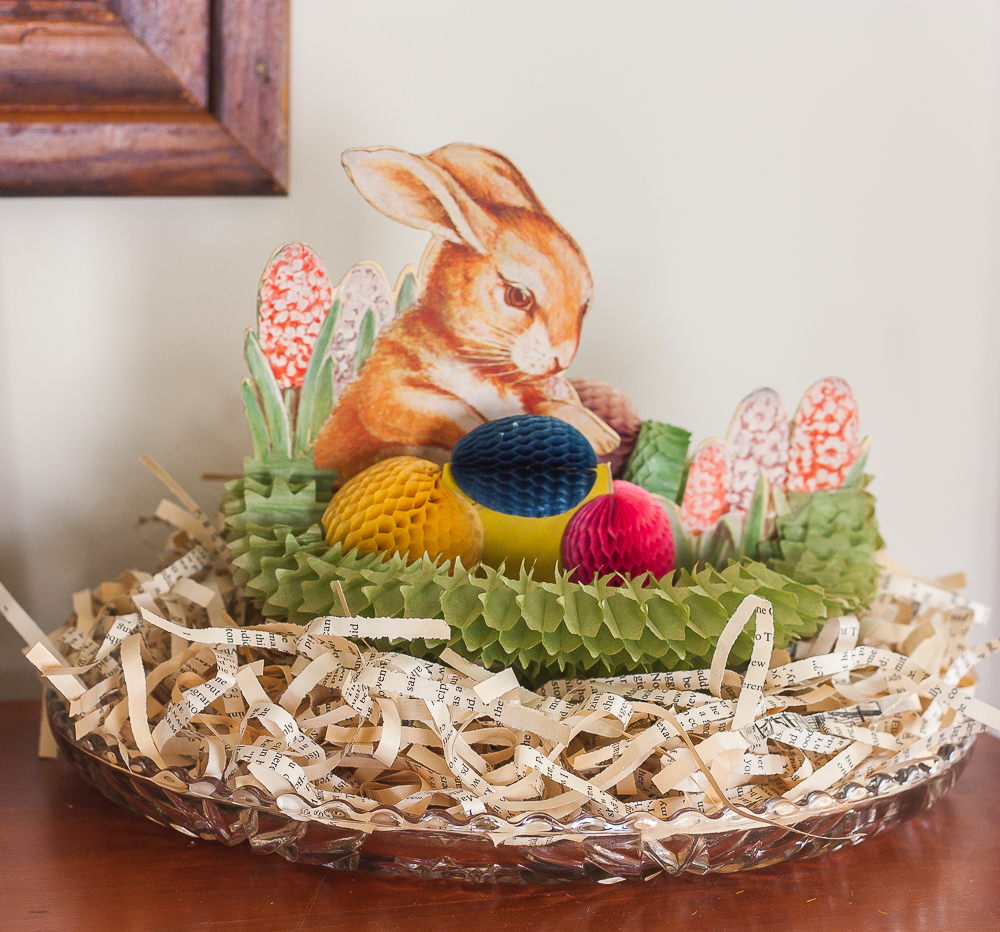 I found this cute vintage paper bunny centerpiece for sale on Etsy as well as this one.
The last thing to share is my cousin Mac's 1961 Peter Rabbit book.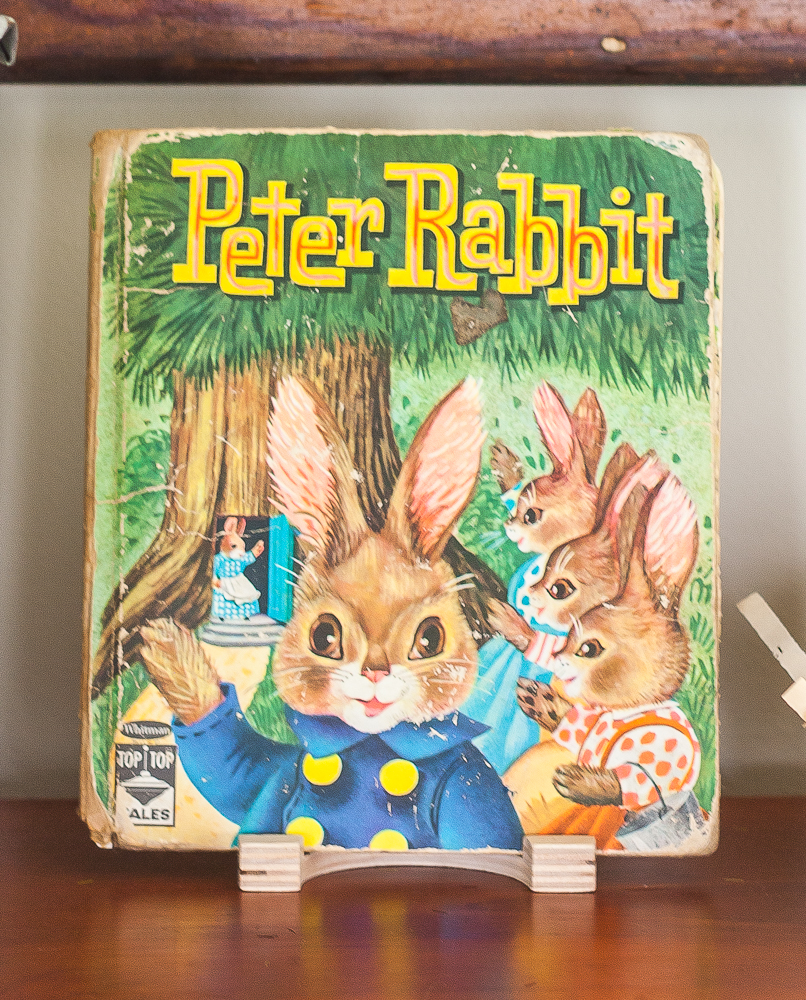 Mac was nine years older than me and spent a lot of time playing with and taking my brother and me places when we visited his family each summer.
He was one of five children and many of their books were passed on to me and my brother. Sadly, at age 32, Mac died from colon cancer.
Mac now has a grandchild and I'm hoping to be able to send this book to his daughter.
I enjoyed sharing my family room Easter decorations with you. Next Monday I will share the Easter and spring decorations in the rest of my house.