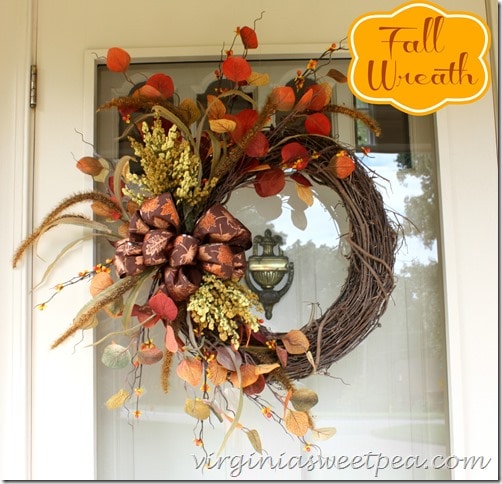 When I stop to think about it, my front door has seen a lot of wreaths over the years. I get so much enjoyment out of making wreaths to adorn my door. A preserved gourd wreath crafted from gourds that I dried and stained graced my front door in 2012 and then again in 2013. After two years of use in the fall, the gourds became bleached by the sun and it was time for the wreath to be retired. After a quick trip to Michaels and some time in the basement crafting, I had a new fall wreath for my door.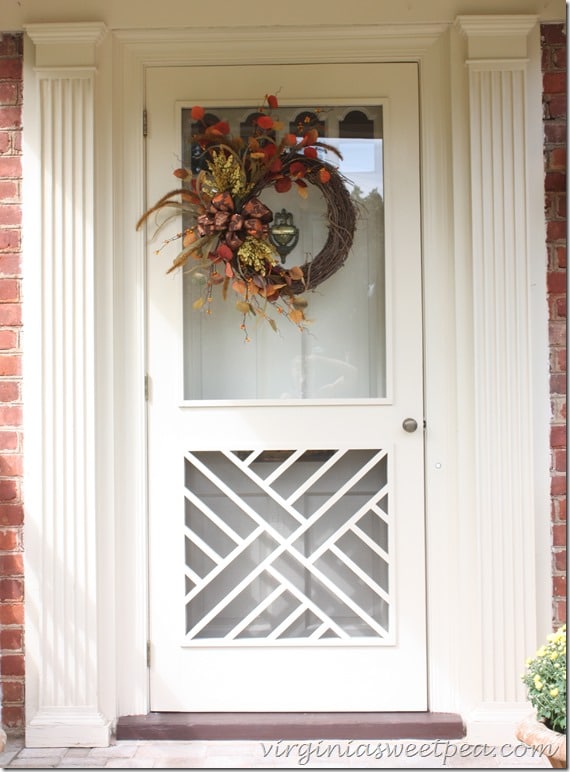 A pumpkin and fall mums complete the simple early fall look that I wanted to achieve.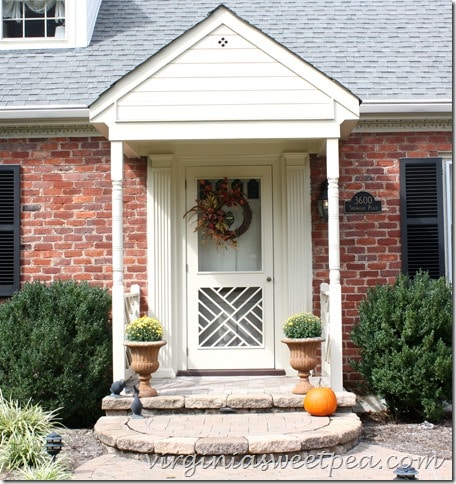 If you've never made a fall wreath, I encourage you to try. If you don't like your work, you can always take it apart and try again until it pleases you.
I do my wreath making in our basement on a work island that used to be part of a giant train set that the previous owner built with his friends. (Mr. SP kept it for a long time but it had to go when we had no space for DIY projects.) I used to work on the floor but now that I'm older, my back appreciates not having to bend over.
I found two grapevine wreaths in my stash that have been used for who knows how many years and started by wiring the two wreaths together. This makes a much more full wreath than you'll have if you use just one.
I then wired on faux stems of fall leaves and topped them with sprigs of faux bittersweet. I continued to wire on the fall stems and finally topped it off with a bow. I planned on using a burlap bow but changed my mind when I found a brown satin ribbon printed with copper leaves in my ribbon stash.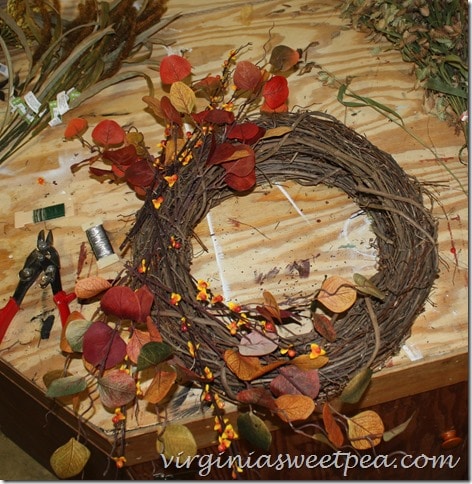 To hang the wreath, I drilled a hole in the back side of the Chippendale door and inserted a screw eye. Fishing line was wrapped around the wreath and tied to the screw eye. If you look closely, you can see the fishing line.
Our house is now ready to greet fall guests!