As the season begins to show a sign of change, I'm motivated to make new things to use to decorate my home. A Fall Hoop Wreath is my first fall project for the upcoming fall season.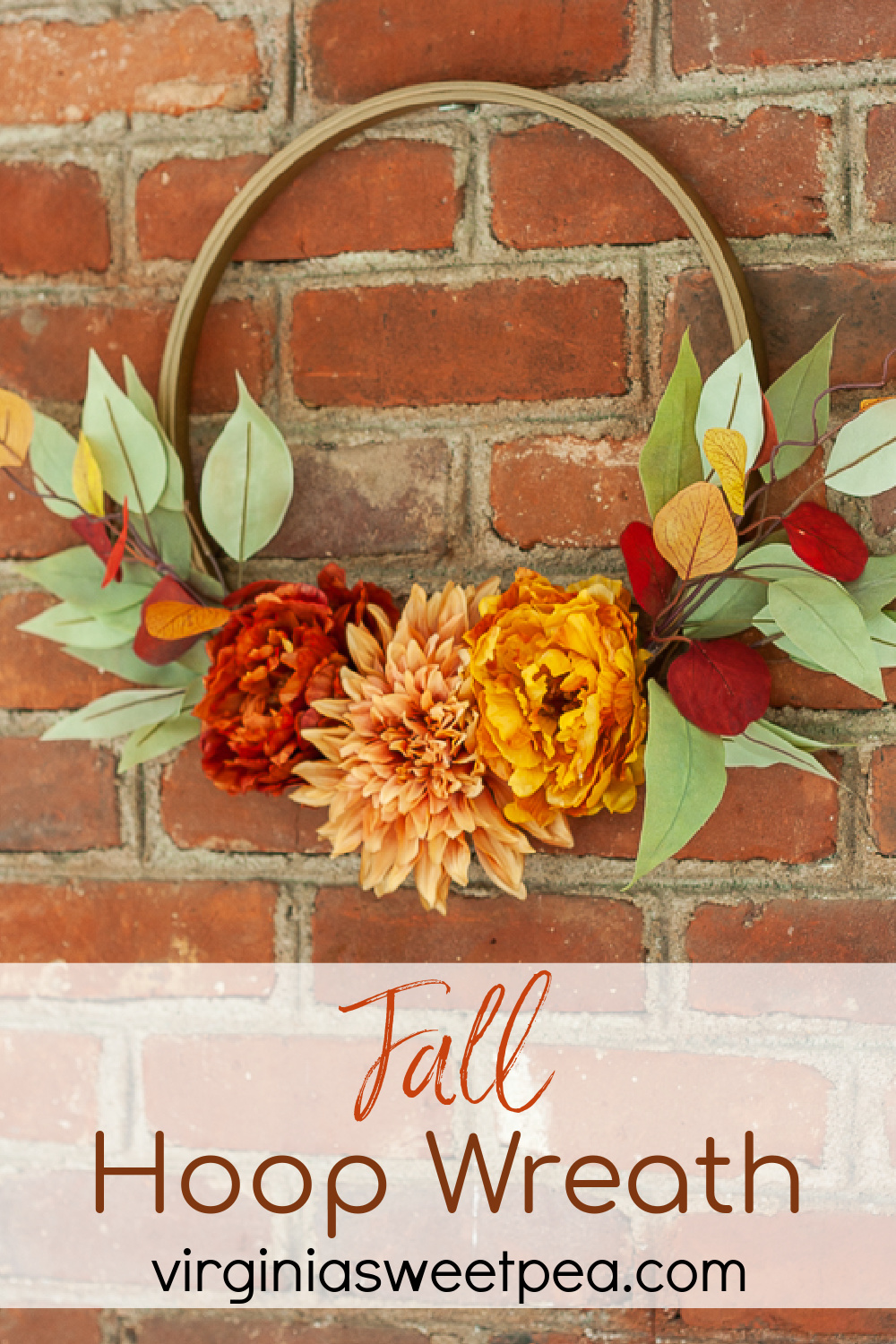 DIY Fall Hoop Wreath
Even though it won't officially be fall until well into September, this fall hoop wreath is already hanging on my screened porch being enjoyed.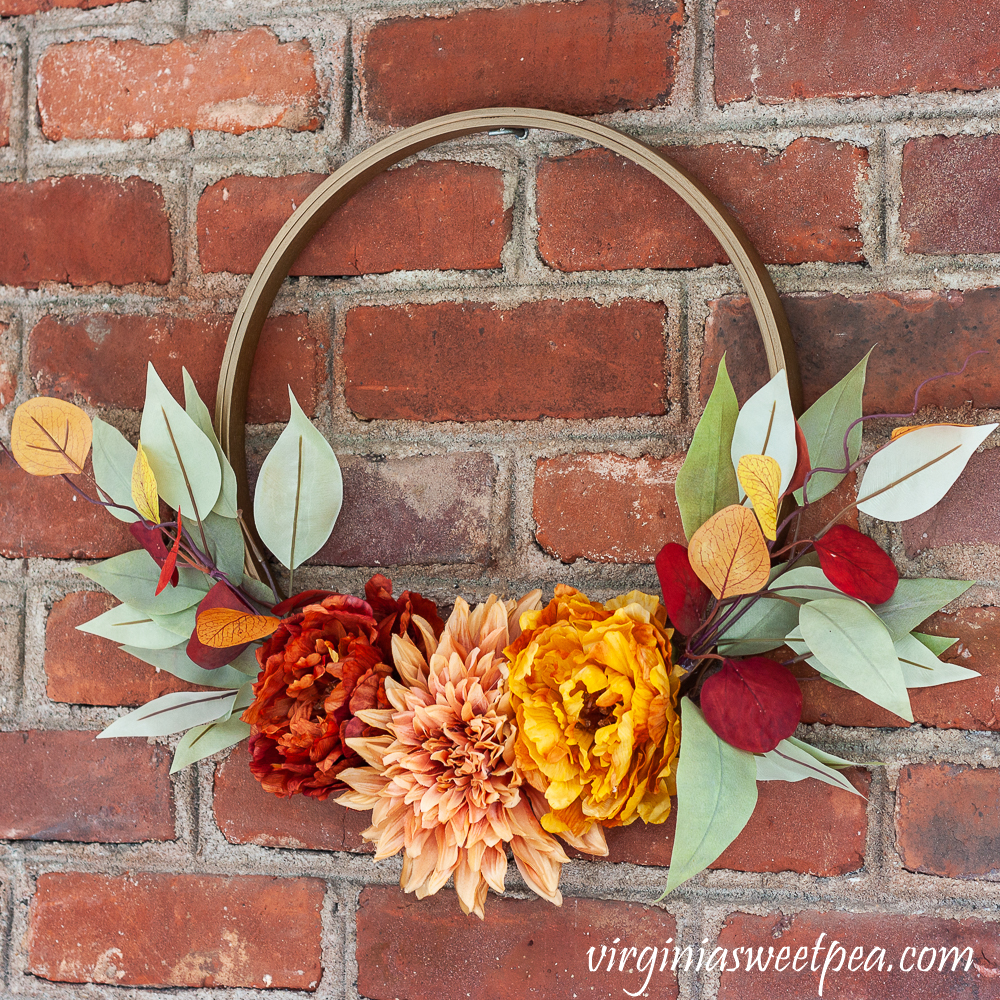 Quilting Hoop or Embroidery Hoop
I made this wreath using a large quilting hoop that I found at a local thrift store as the wreath form.
When I found this quilting hoop, it was was one hoop in a bag of quilting and embroidery hoops for sale. I used another hoop from the bag to make this pretty wreath.
Most of the hoops in the bag are too small for wreath making, but if I ever decide to do multiple cross stitch or embroidery projects, I'll be all set.
Quilting hoops are 1 to 1 1/2 inches deep and have slightly rounded edges; embroidery hoops are only about 1/2 inch and have sharper edges.
I find that a quilting hoop looks better than an embroidery hoop when used as a wreath form.
Upcoming Fall Ideas Tour
The florals that I used to make this hoop wreath are the same ones that I used to decorate the Magnolia Wreath Styled for Fall that I shared a few years ago.
That wreath was shared for a Fall Ideas Tour that I've participated in every fall for a number of years with some of my favorite blogging friends. The tour is hosted by one of my blogging favorites, Angie of Postcards from the Ridge.
Be on the lookout for this year's Fall Ideas Tour on August 31. I'm sharing my fall mantel for the tour and I can't wait for you to see it.
I decorated it early, and I'm not one bit sad about it because it brings me joy every time I walk into our living room and see it. (I love fall decor!) I loved my fall mantel last year and this one sparks equal joy.
These are a Few Fall Mantels from Past Years to Enjoy
Now let's talk about how I made the fall hoop wreath.
Hoop Wreath Supplies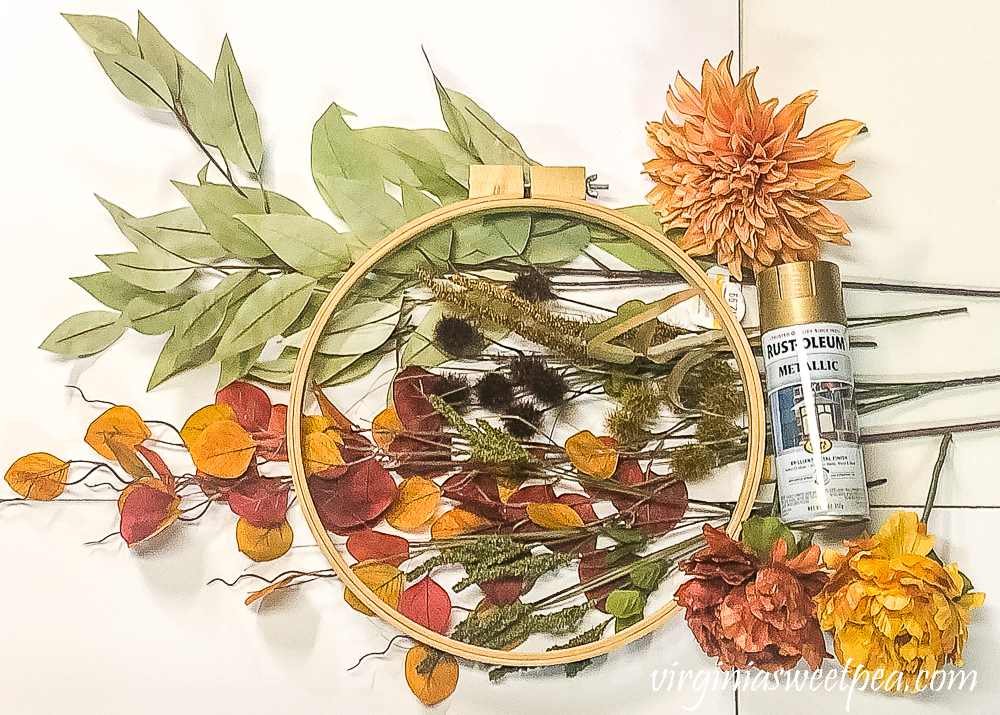 How to Make the Fall Hoop Wreath
Step One – If desired, spray paint the embroidery hoop. I used a burnt gold color but I think that this wreath would also be pretty with a natural wood hoop or painted with a brighter gold color.
Step Two – Plan the placement of the flowers and foliage.
My plan was to have the three flowers in the middle surrounded by branches of the two accent foliage pieces.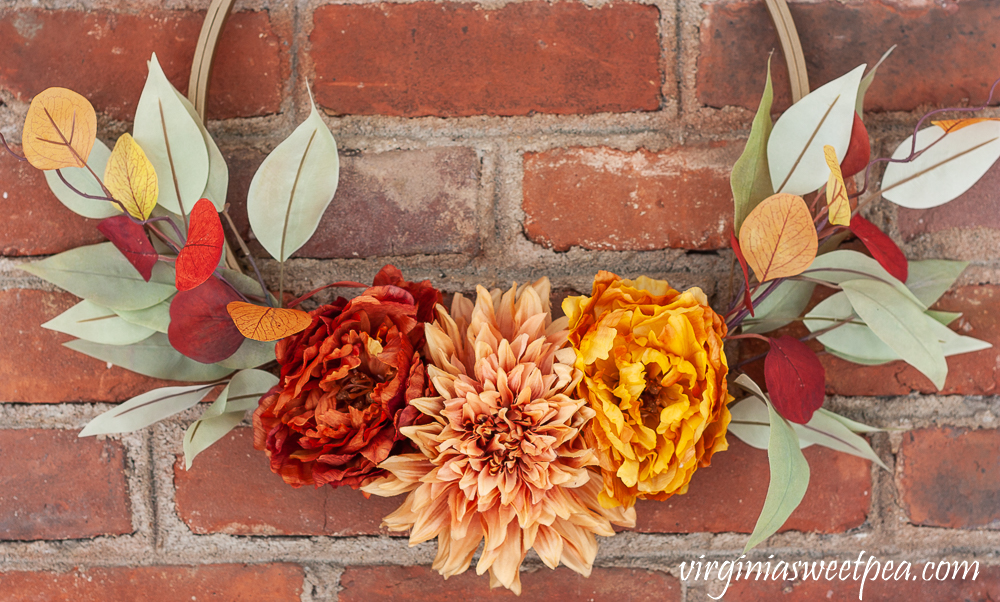 Step Three – Cut the stems off of the three flowers and use a glue gun to glue the flowers into place.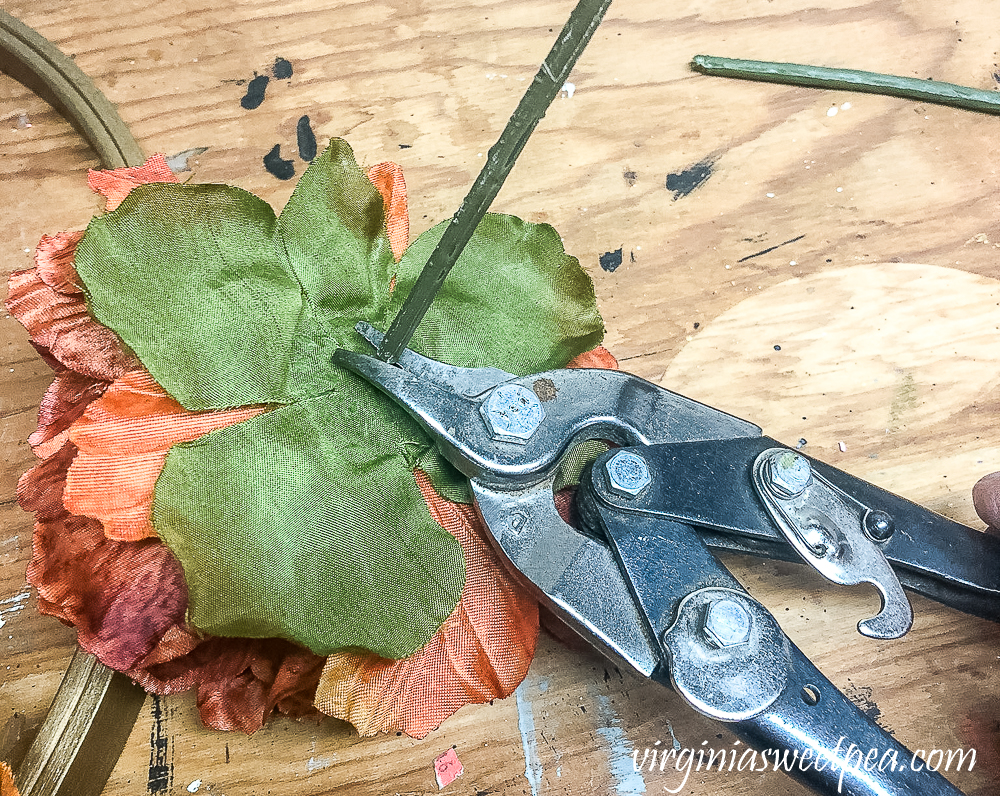 I glued the three flowers over the larger area of the quilting hoop where the screw is located to hide it.
Use a good amount of glue to make sure that the flowers stay in place.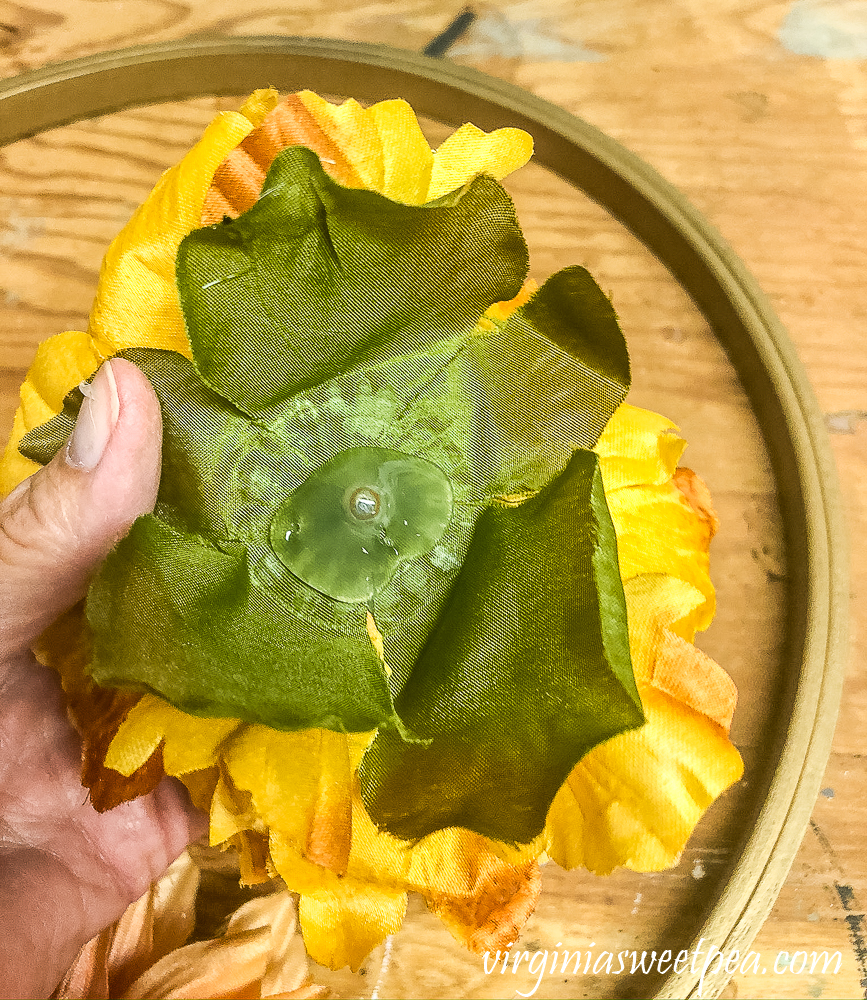 Step Four – Cut four small stems from the Osmanthus. Glue two stems to each side of the flowers.
Lift up the flowers, tuck the ends of the stems under them, and glue into place.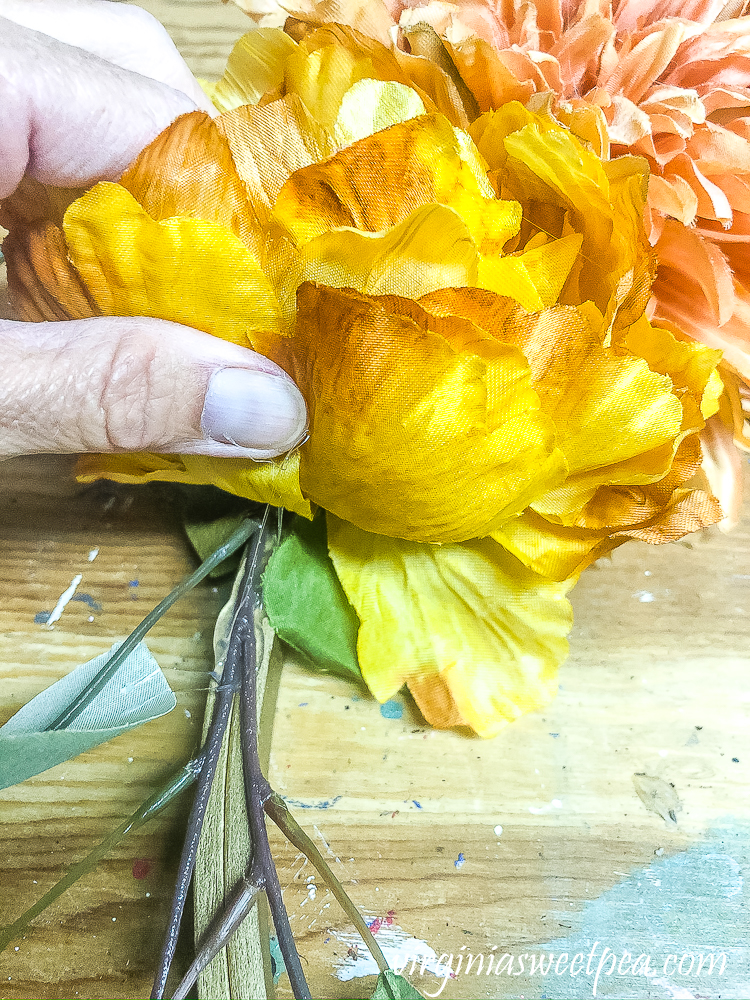 Step Five – Cut two smaller stems from colorful accent foliage and then glue one to each side.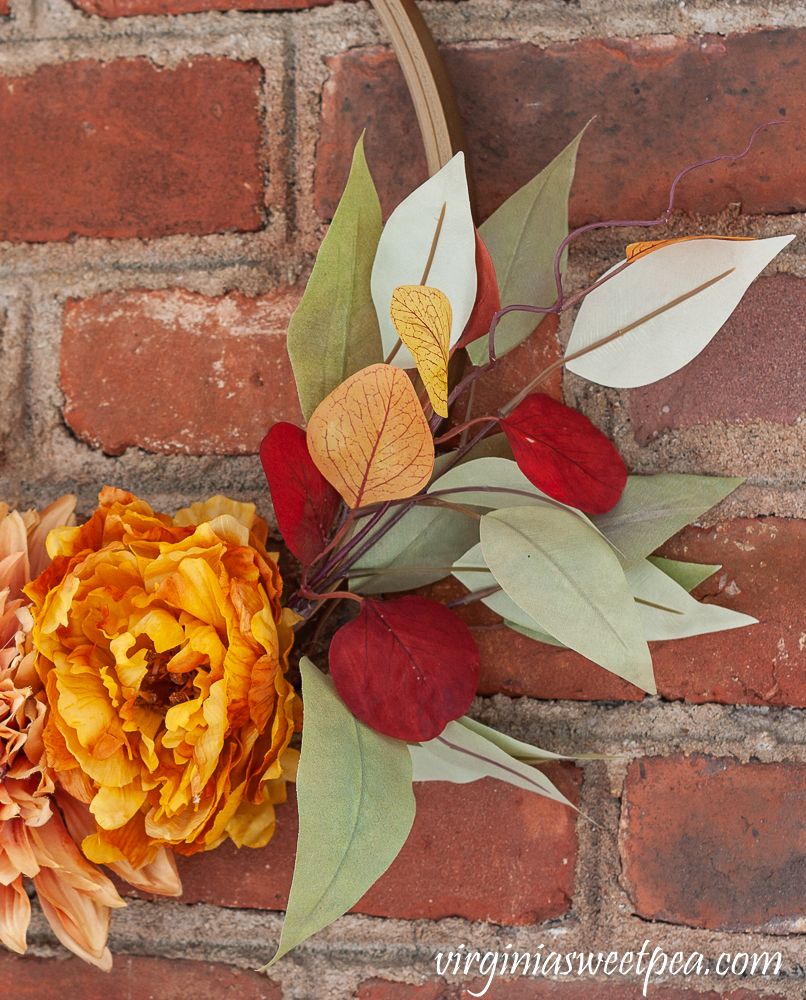 The brick wall on our porch has a hanger in place, so I didn't need to add a hanger to the wreath to hang it. If I did need one, I would use fishing line to make the hanger invisible.
Enjoy the Wreath
Our enclosed porch is visible from the street and every time I drive home, I enjoy seeing my wreath on the wall of our porch.
Our neighborhood is full of walkers and runners, and I hope that neighbors passing our home on foot also enjoy seeing my new hoop wreath.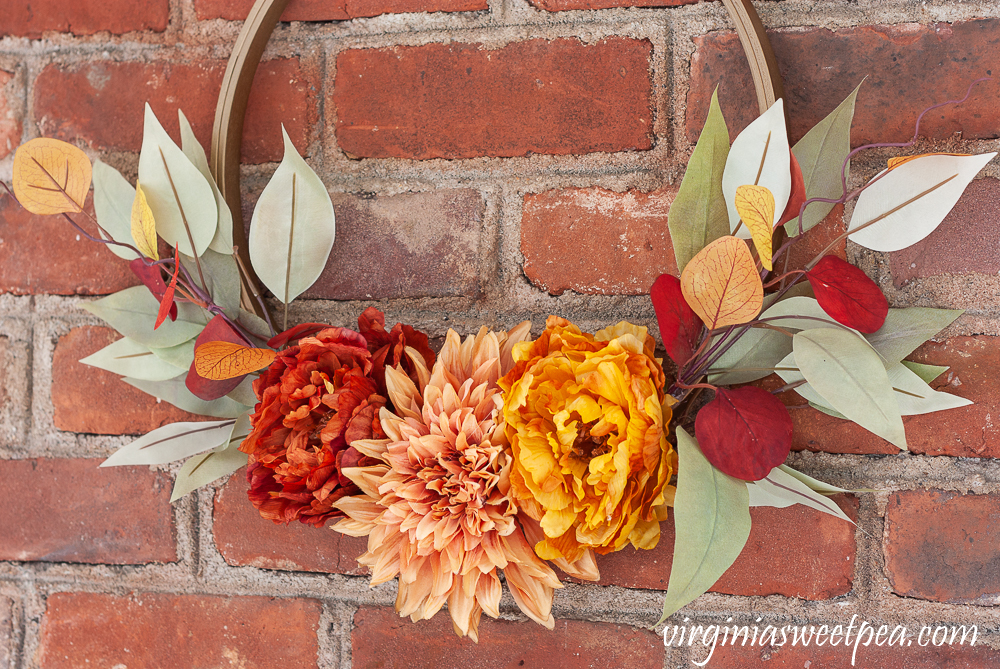 ---
If You aren't a Crafter, check out these beautiful wreaths that you can purchase

Here are a few more fall wreaths
I have a lot of fall crafts and decor in the works to share with you and I can't wait to do so!
Coming soon is a fall cloche that I decorated for this month's Pinterest Challenge. Last year for the August Pinterest Challenge we shared Fall Coffee Table Vignettes. Be sure to Check out all of the projects shared to help with planning your fall decor.