Farmhouse Style Rag Wreath
Make a farmhouse style heart rag wreath to use on a door or wall in your home.
A few years ago I purchased a heart shaped wreath form at Goodwill. I recently spotted it in my basement and used it to make a Farmhouse Style Rag Wreath.
I made this with Valentine's Day in mind but like it so much that I might leave it on display until spring.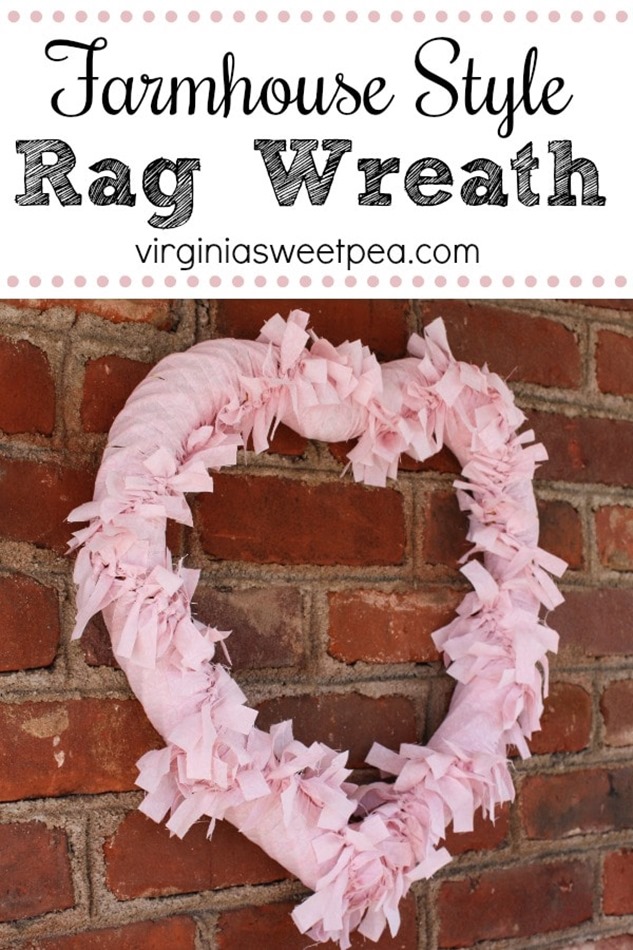 Farmhouse Style Rag Wreath
This wreath is hanging on our screened porch that we use as our main entrance. It's also very visible from the street, so I hope that my neighbors are enjoying it as well.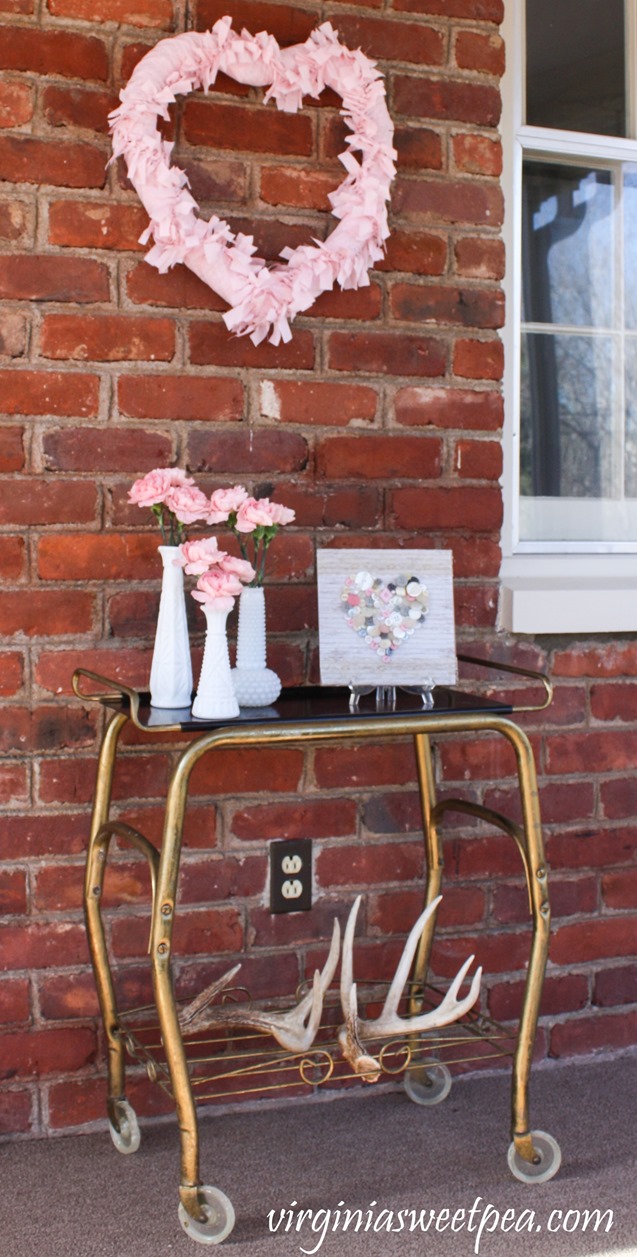 The cart below the wreath is being used to display pink carnations in milk glass vases and the DIY Button Heart that I shared with you last week. Sherman found the deer antlers on the bottom of the cart. I'm sure that he intended to eat them but I snagged them to use as decor.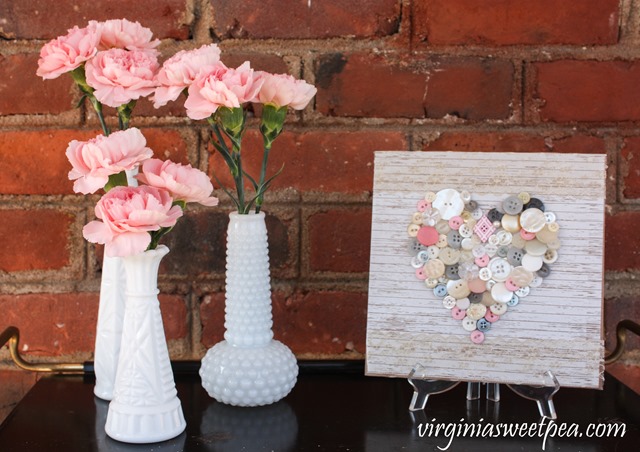 My wreath was a project where I had a general idea of how I wanted to make it but my plan changed as I worked. I originally intended to tie all of the knots on the outer edge of the wreath but decided instead to make a curving pattern with the knots as I tied them. I like things to be symmetrical and this is more free-form but I like how it turned out.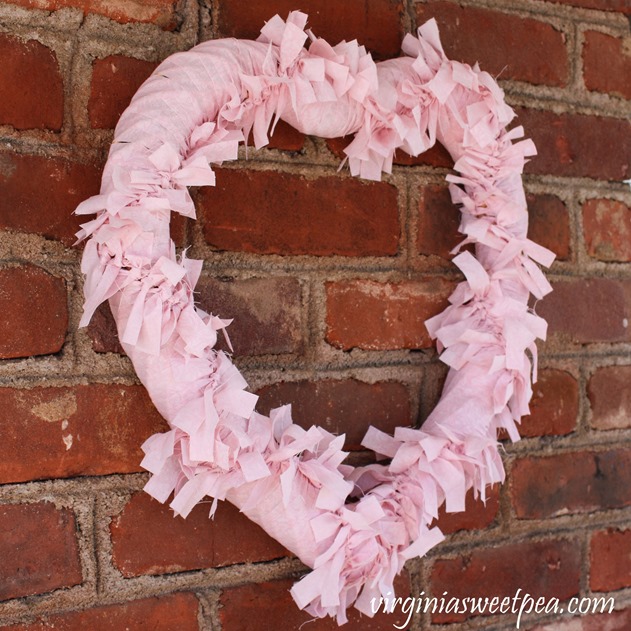 My mother-in-law was a quilter and the fabric that I used to make this was inherited from her. I wonder what project she had in mind when she purchased it?
How to Make a Farmhouse Style Rag Wreath
Supplies
This post contains affiliate links for your convenience. For full disclosure go here.
Wreath Form – Mine is from Goodwill but this one from Joann would be perfect to use.
Fabric – 3/4 yard
Procedure
Use a scrap of fabric to determine how long and how wide you want each strip of fabric to be. With my woven wreath form, I cut my strips 11" long x 1 1/2" wide.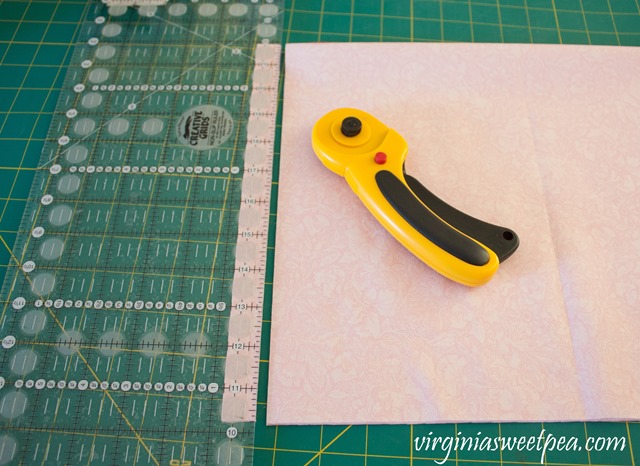 After cutting the strips, tie strips to the wreath form one at a time. I originally thought that I wanted to use two fabrics in pink but later decided just to use one. This picture shows the fabric that I didn't end up using.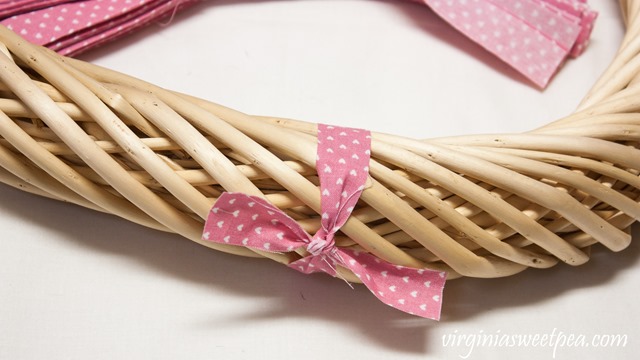 I intended to tie all of the knots on the outside edge of the wreath but as I worked decided to make a curving pattern instead.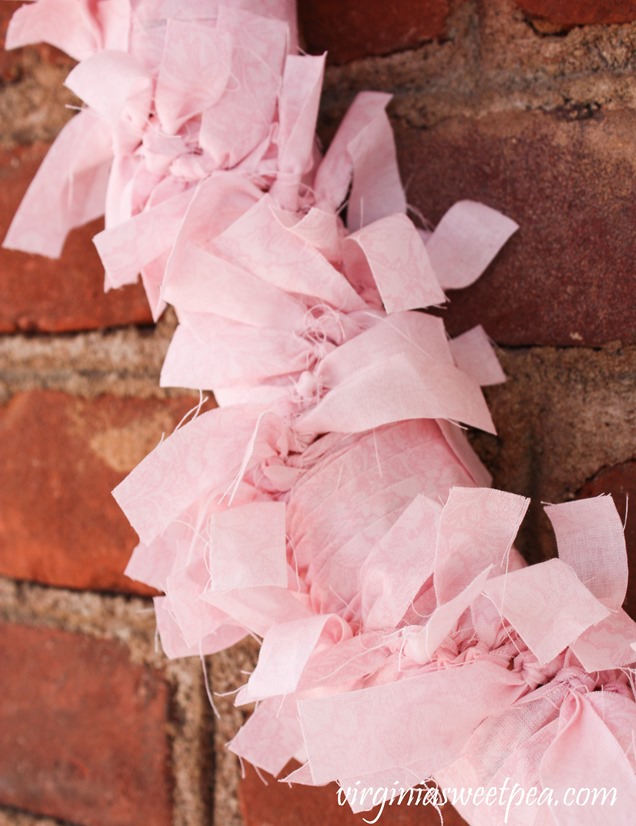 I did not count how many strips I used but would estimate that I used about 3/4 yard of fabric. I cut it folded over (wrong sides together) to save cutting time.
Enjoy!
I'm loving my new Farmhouse Style Rag Wreath and am sure to enjoy it for years to come. This was fun to make but did take a bit of time.
If you like this wreath, I hope you'll pin it for others to discover.