How to Makeover Flower Pots with Paint
Earlier this spring I pulled out the pots that I use on my deck for herbs and noticed that they were looking really worn.
I gave the pots a makeover with paint and they now look as good as new!
These pots are inexpensive ones that I purchased at Dollar General years and years ago.
For $7 pots who have stayed out in the elements for at least eight years, they have held up remarkably well.
Most of the wear and tear on the pots was on the rims.
I use these pots on my deck for herbs. It's so convenient when cooking to go out on the deck to harvest herbs rather than have to make a trip to my herb garden.
I didn't want to invest money in four new pots and decided to try a technique that I learned from my friend Christy at Our Southern home.
Christy painted her pots with chalk paint and then distressed them with sandpaper. Her idea from last spring inspired me to revive my flower pots with paint using a slightly different method.
I started by wetting the pots down with my hose to loosen the grime on both the outside and inside.
I then scrubbed them with a brush, rinsed well, and let them dry in the sun. After the pots dried, I began experimenting with paint.
Two pots were painted with two coats of Americana Decor Chalky Finish Paint in Primitive. To bring out the detail on these pots, I used a dry brush and a very small amount of paint to go over the raised detail with Velvet Finishes paint in Luxurious.
Before I brushed the paint on the pot, I dabbed my brush on a paper towel to make sure that very little paint was on the brush.
Doesn't this look better?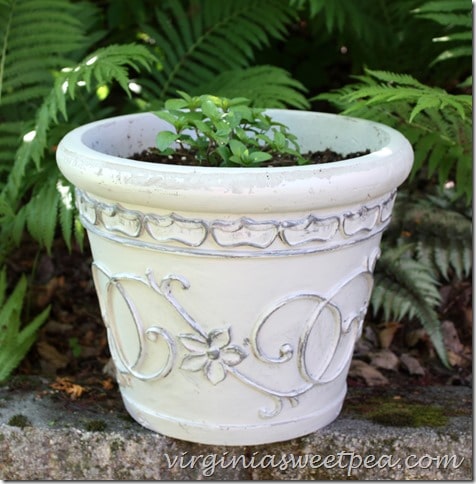 I actually did one paint experiment on a pot at a time enabling me to share a before and after comparison.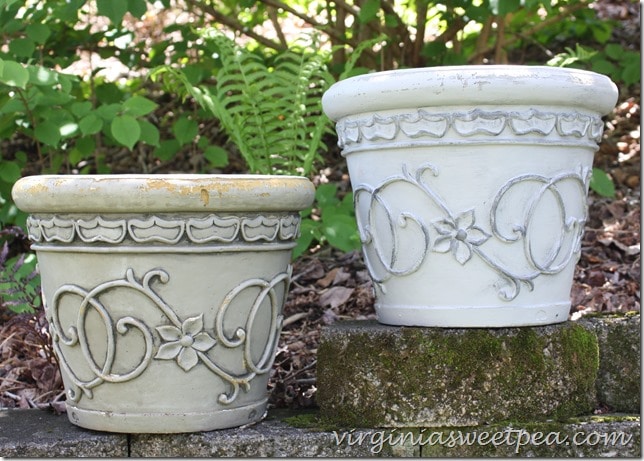 The next pot got three coats of Velvet Finishes paint in Opulent followed by dry brushing like the pot above to bring out the detail in the raised area.
After the pots were painted I sealed them with an acrylic clear sealer designed for indoor or outdoor use.
The pots are planted with Cilantro, Mint, Parsley, and Basil and are waiting to be placed on my deck.
This weekend I'm doing a deck spruce up, so these pots will have to spend this week on this table until the deck is ready for them.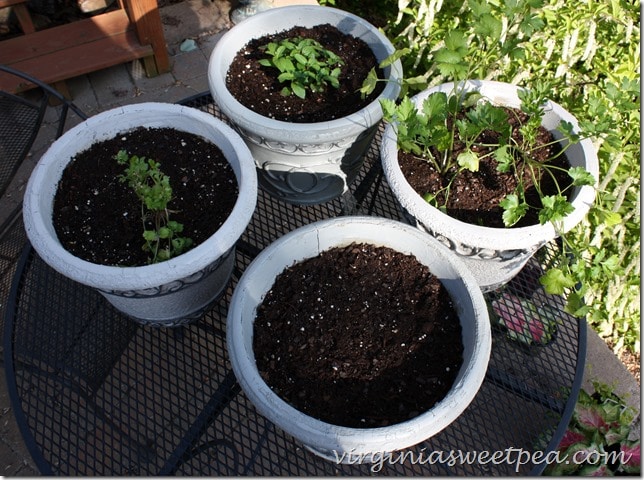 I'm so glad that I took a bit of time to revive these pots instead of tossing them.
To me, they look just as good as new and I'm hoping to get many more years of use from them before they need to be replaced.
Update: In 2020 these pots still look just as good. I do empty them after frost has killed the plants and store the pots in my shed until the next spring.