January 2016 Stitch Fix Review (Fix #31)
Greetings, friends! I hope that 2016 has been off to a great start for all. I'm back to school today and have my outfits planned out for the week thanks to my most recent Stitch Fix box.
I am a Stitch Fix affiliate and if you make a purchase, I earn a small commission. My love for Stitch Fix is genuine and all opinions are truthful and my own.
Let's take a look!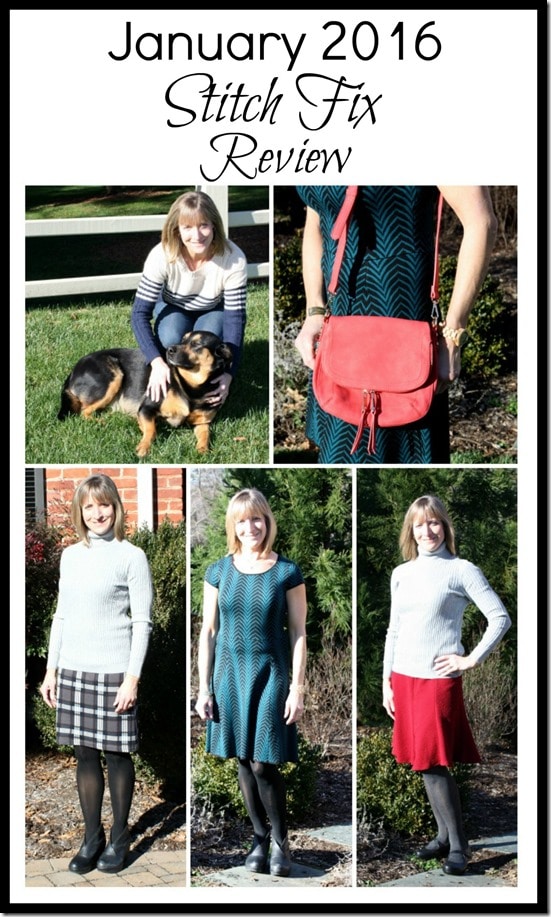 41 Hawthorn Jordanne A-line Plaid Skirt
I have loved plaid skirts since high school when I wore my mom's Pendleton wool plaid skirts on occasion. My stylist, Brittany H., noticed that I had pinned a plaid skirt to one of my Pinterest boards, so she picked this one out for me. It's super soft, lined, and fits perfectly. I bought the turtleneck at Talbots especially to wear with this skirt but will also pair it with the Brixton Ivy Elbow Patch Crew from my October 2015 box.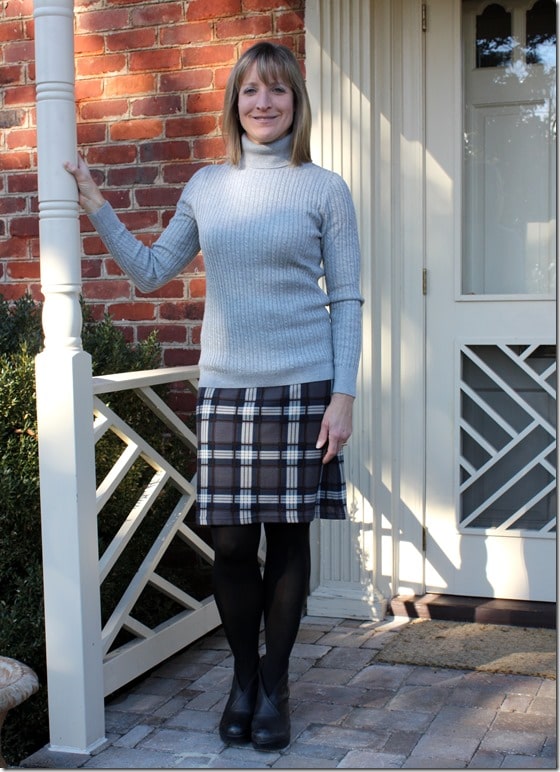 Gilli Anastasia Swing Skirt
I love the cut and color of this skirt. I also appreciate that it is lined which makes it not stick to the tights that I tend to wear all winter. I stayed in my Talbots sweater for this picture but will probably do as Brittany H. suggests and pair this with the polka dot sweater from my November 2015 box when I wear it to work this week.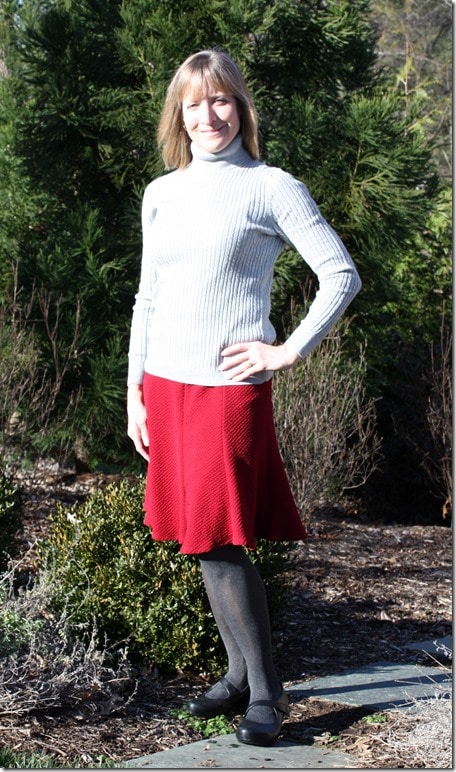 I think that my sweet Sherman approves of this outfit!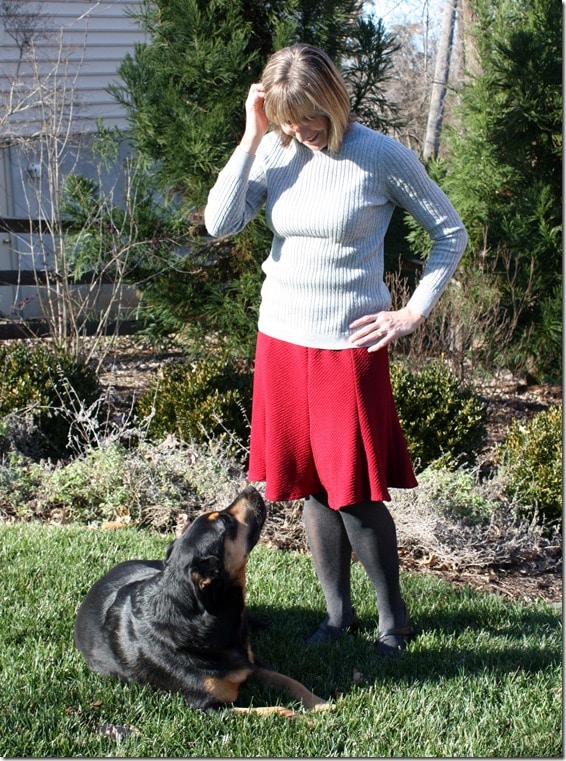 London Times Lorenzo Knit Dress
This dress is so soft and comfortable and will be perfect to wear to school right now even though it is short sleeved. I'll most likely wear it with the Skies are Blue Jinni cardigan from my September 2015 fix. Sometimes I get hot teaching, especially if we are doing a lab activity where I'm walking around a lot, so I really don't mind the short sleeves. In early spring I can lose the tights, wear it with sandals, and get another month or two of wear out of it before I store it for summer.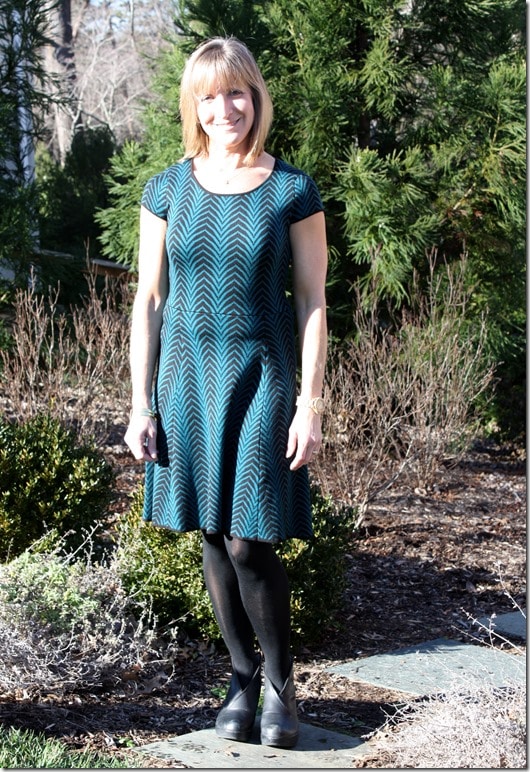 Sherman goes wherever my husband and I go, so when it's time to take Stitch Fix pictures, he's right there in the action.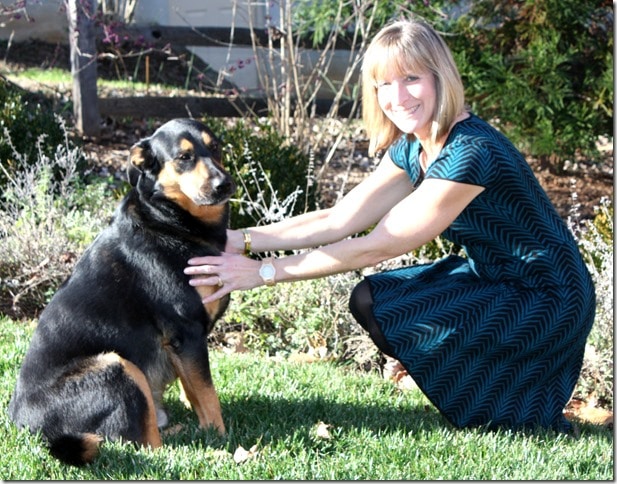 Moda Luxe Brooklyn Crossbody Bag
My friend Megan got this bag in a pretty green color this fall and when I saw her carrying it, I wanted one, too. (You can see Megan's latest Stitch Fix review here.) I requested this purse and got it in this fun light red color. I've been carrying my 1996 Coach purse all winter (I really can't believe that that purse is 20 years old!!), so a new purse is a much needed update to my wardrobe.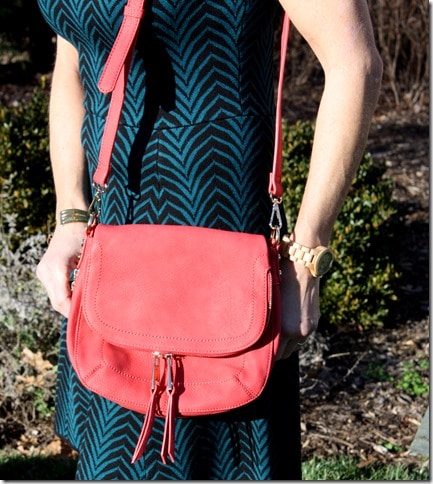 If you've ever wondered if a company like Stitch Fix has good customer service, I can attest that it does. After I'd checked out on-line and paid for my five items, I noticed that the strap on this purse had a black spot on it. I emailed customer service and almost immediately had a reply offering to replace the purse.
Pixley Bardly Cable Knit Sweater
I wasn't that crazy about this sweater when I pulled it out of the box and only kept it because with Stitch Fix, if you buy all five items, you get a 25% discount. Even though I didn't like it that much, I kept it because with the 25% discount, it basically was "free". In this sweater's defense, it is super soft and comfortable.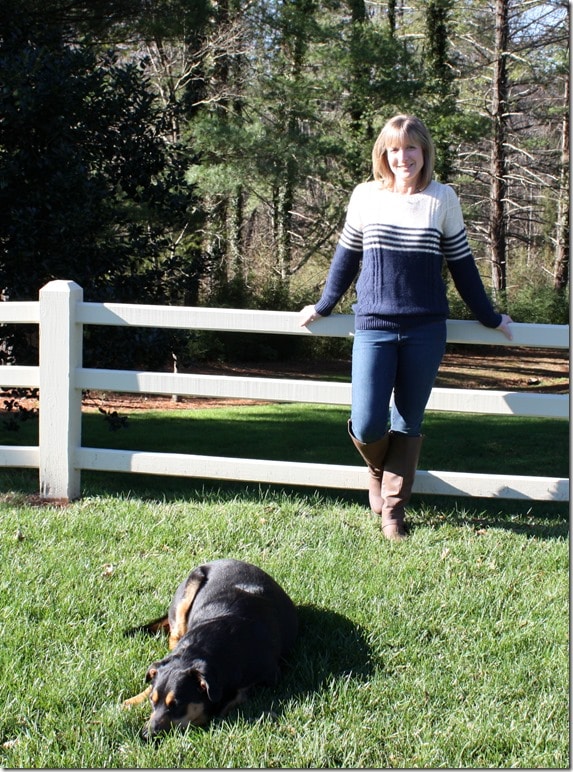 Sherman approves!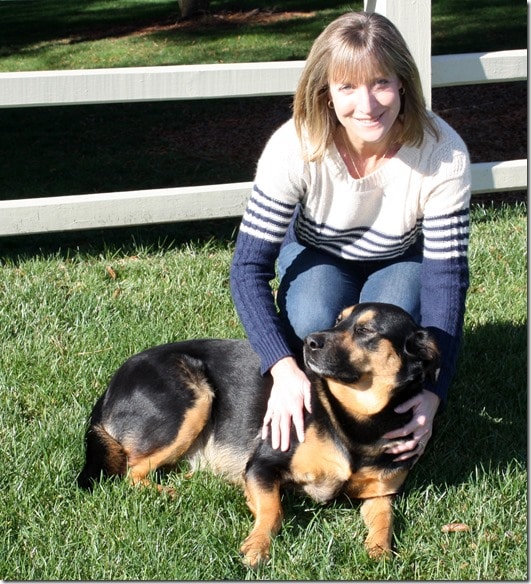 If you aren't familiar with Stitch Fix, after filling out a detailed style profile, a personal stylist picks five items especially for you. You can request a box to be sent monthly (that's what I do) or when you'd like one to ship. The box comes with a pre-paid envelope so after you've tried the clothes on, you can send back what you don't like for free.
I live in a town where the shopping is not so great, so Stitch Fix is perfect for me. I also don't like to shop and I enjoy having someone else do the work of picking clothes out for me. My 6th graders are sweet and usually compliment my clothes and now know to ask if it came from "that box you get each month." 🙂
Thanks, Stitch Fix for another great box!