January 2017 Stitch Fix Review–Fix 43
Happy New Year and Welcome to 2017. I'm starting the New Year off in a great way with five new items to wear to work thanks to my January 2017 Stitch Fix shipment.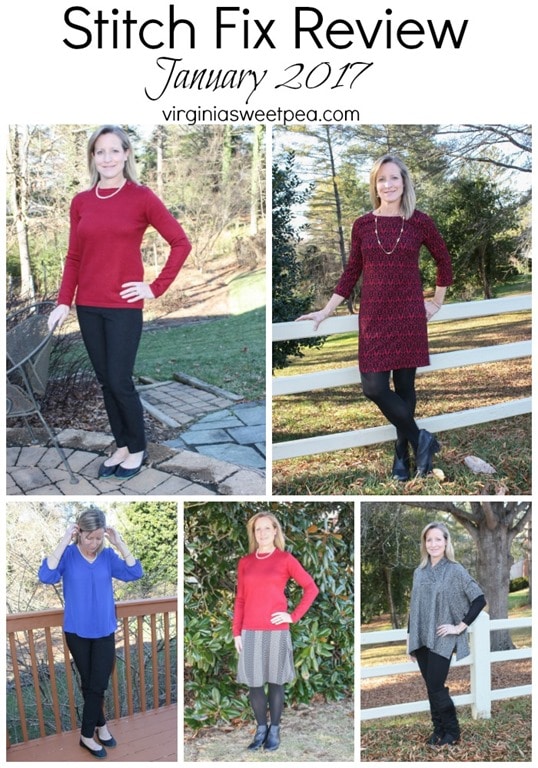 I am a Stitch Fix affiliate and if you make a purchase, I earn a small commission. My love for Stitch Fix is genuine and all opinions are truthful and my own.
If you are new to Stitch Fix, these details will help you to understand the service.
Stitch Fix Details
Stitch Fix is a personal styling service. When you sign up for Stitch Fix, you fill out a detailed style profile that helps your stylist know your likes and dislikes. Since I've received 42 Stitch Fix shipments, my stylist knows my likes and dislikes very well and I almost always like every item in my Fix, a good problem to have!
When a Fix arrives, you have three days to try the clothes on and to decide what to keep and what to send back. Stitch Fix includes a postage paid envelope making returns super easy.
I choose to receive a monthly box but that is my choice. When you sign up for Stitch Fix, you can choose how often a box is delivered.
I do not like shopping and love receiving clothing from Stitch Fix. I get clothes that I like without having to do any work other than pinning things that I like to my fashion board on Pinterest. My stylist, Brittany H., checks my Pinterest board for inspiration and also reads my note to her each month to see if I have any special requests.
You can find links to all of my Fixes here and also be sure to check out my Stitch Fix Review Board on Pinterest where I pin my favorite looks.
My January 2017 Fix
For my January Fix, I asked Brittany to send a dress, a skirt with two coordinating tops, and a sweater or top to wear with the Lysse Joylyn Ponte Leggings from my November 2016 Fix.
Brittany did a great job of selecting five items that I really liked and I kept them all this month. I'll be sporting these new looks at school for the first week of 2017. It's so much fun to have new things to wear!
Skies Are Blue Gisela Textured Knit Dress
The Gisela Textured Knit Dress is exactly the type of dress that I enjoy wearing to work. It's comfortable while still looking both stylish and professional. Black and red are two of my favorite colors and there was a time when they were the only two colors you would have seen in my closet in winter.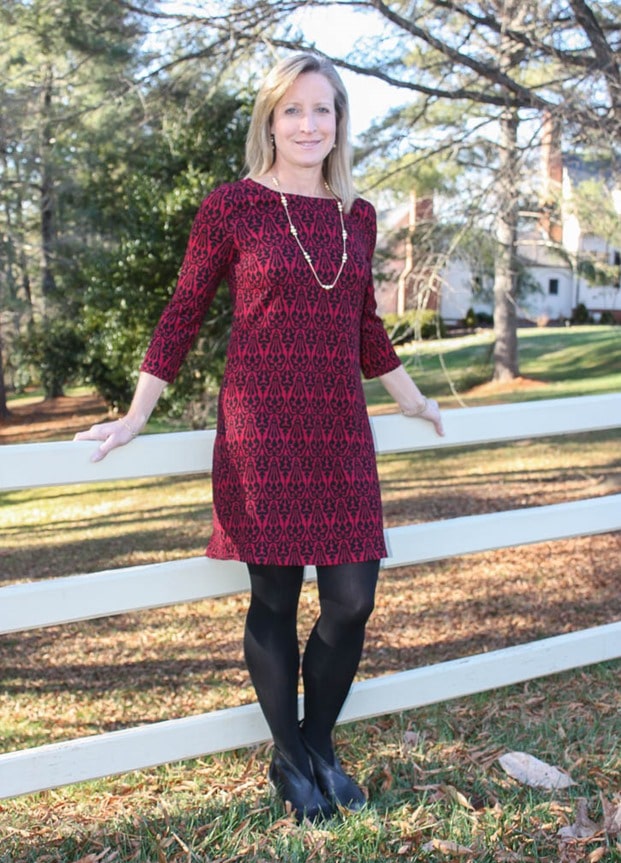 I paired the dress with tights and my Jambu heels (similar here) but I know that I'Il also wear it with booties or tall boots.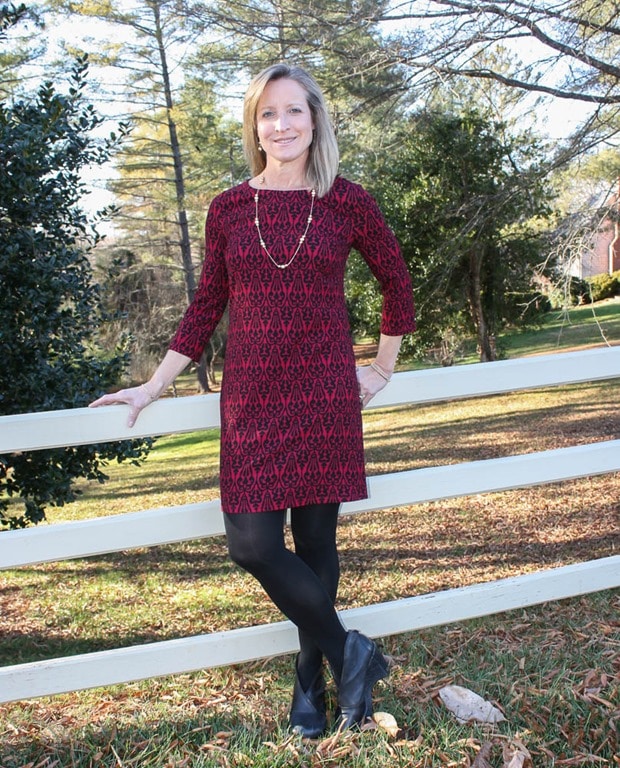 Gilli Patricia Sweater Knit Swing Skirt
The Patricia Sweater Knit Swing Skirt has a fun pattern that can be paired with so many colors. It has a black elastic waist which makes it super comfortable and when a shirt is tucked in, the elastic looks almost like a belt.
I first paired the skirt with a 41Hawthorne Presley Colorblock Sweater from a long ago Fix. I didn't write about every Fix in my first year of using Stitch Fix's service and this sweater must have been purchased during that time period.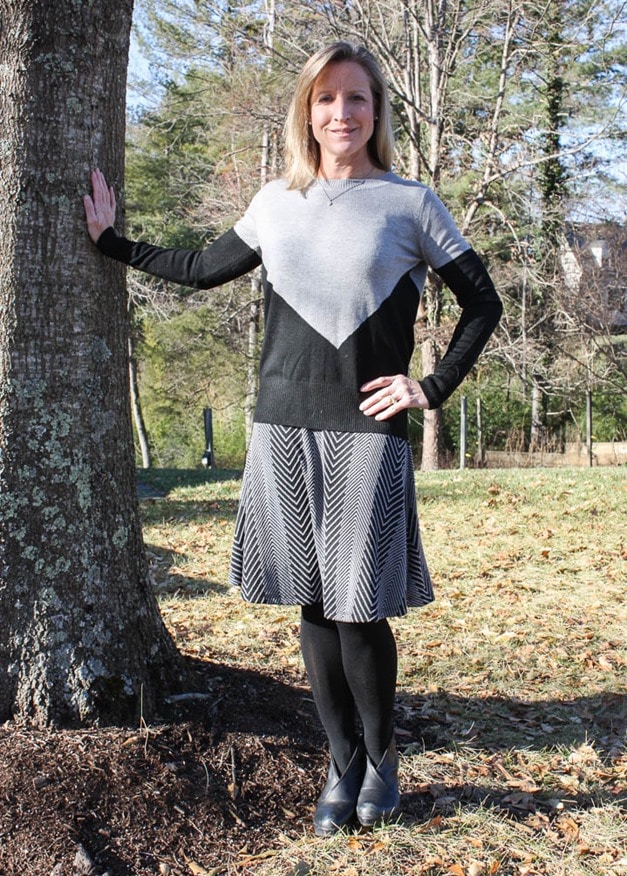 I have always loved how this sweater buttons up the back. If you search for it, you'll find that it came in many colors and I wouldn't be surprised if it still is available for a Stitch Fix purchase.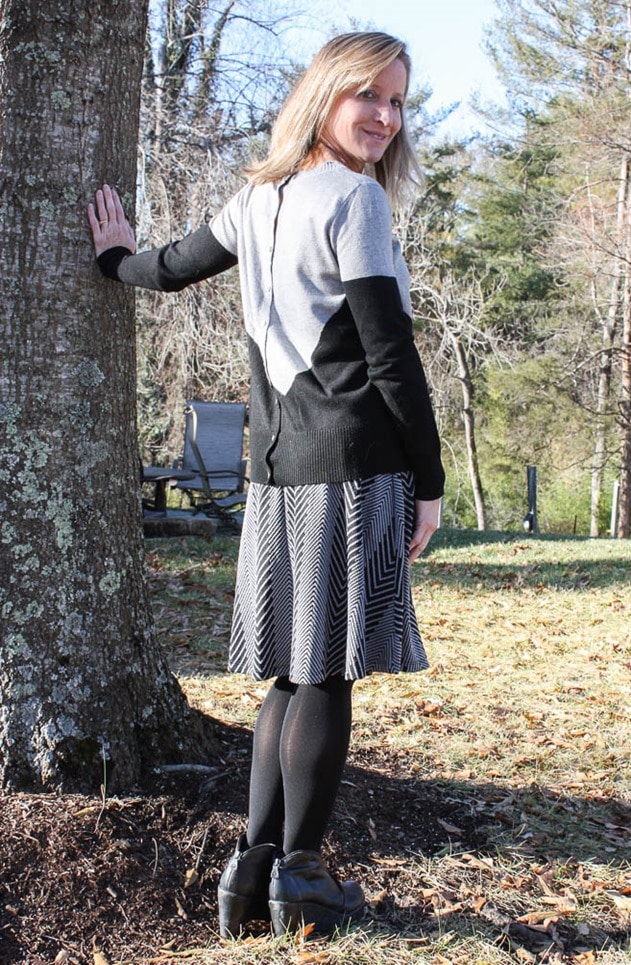 RD Style Harrie Button Detail Pullover
Brittany suggested that I pair the Patricia Sweater Knit Swing Skirt with the Harrie Button Detail Pullover and I love how they look together. This outfit again shows you how much I enjoy red paired with black. I switched my Jambus to booties which are super comfortable for standing all day in my classroom.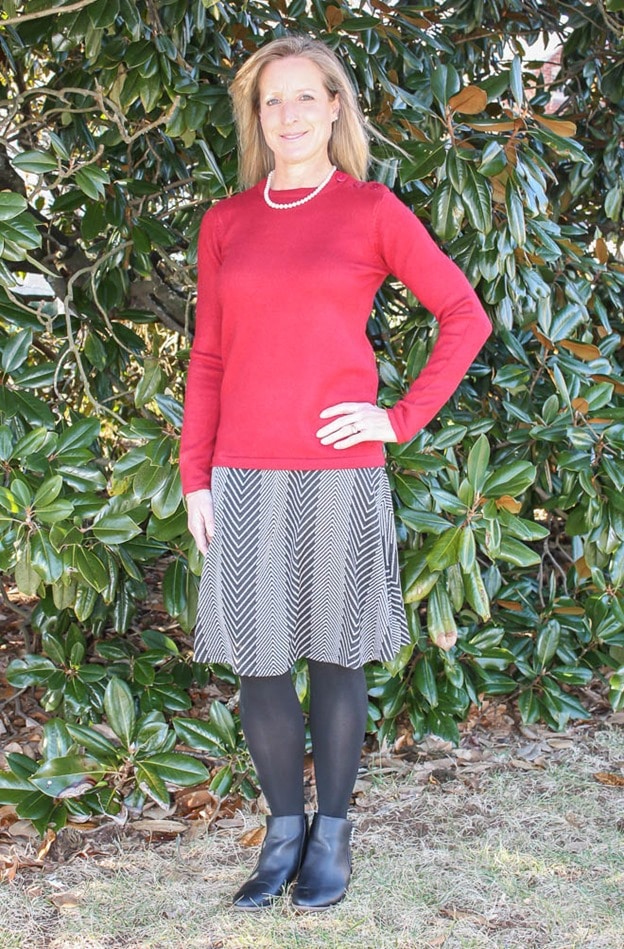 Here I paired the sweater with the Margaret M Emer Printed High Waisted Crop Pants from my August 2015 Fix. I love these pants and wear them frequently.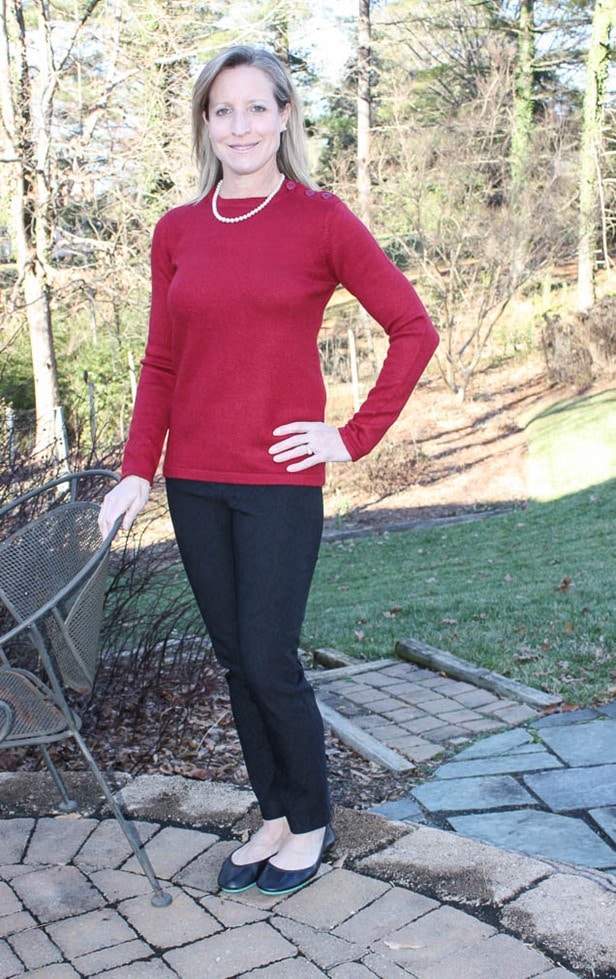 BRIXON IVY Elmar Embroidered Cutout Blouse
The Elmar Embroidered Cutout Blouse was one that Brittany spotted on my Pinterest Board. Brittany suggested that I wear it tucked into the Patricia Sweater Knit Swing Skirt but I've yet to try that look.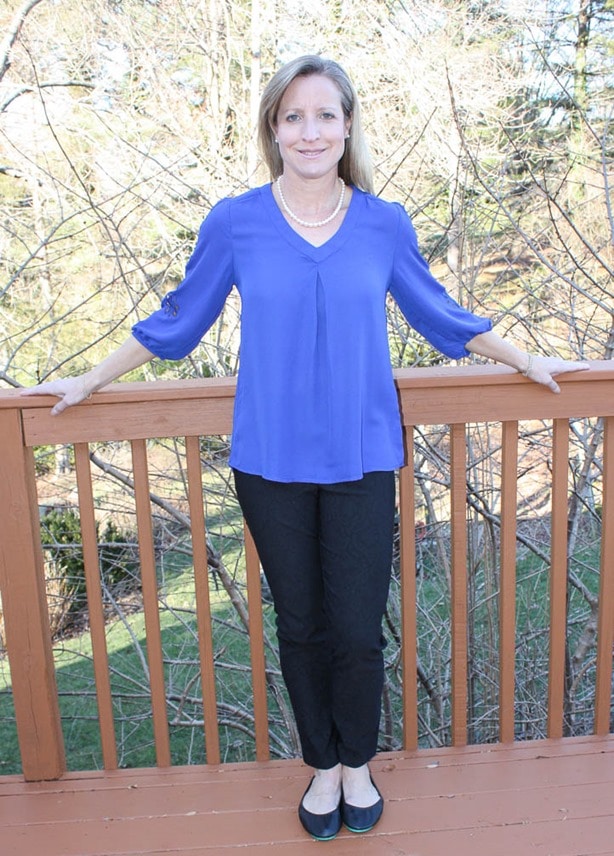 I like the unique cutout design on each sleeve of this blouse and it's a color that I don't have much of in my wardrobe.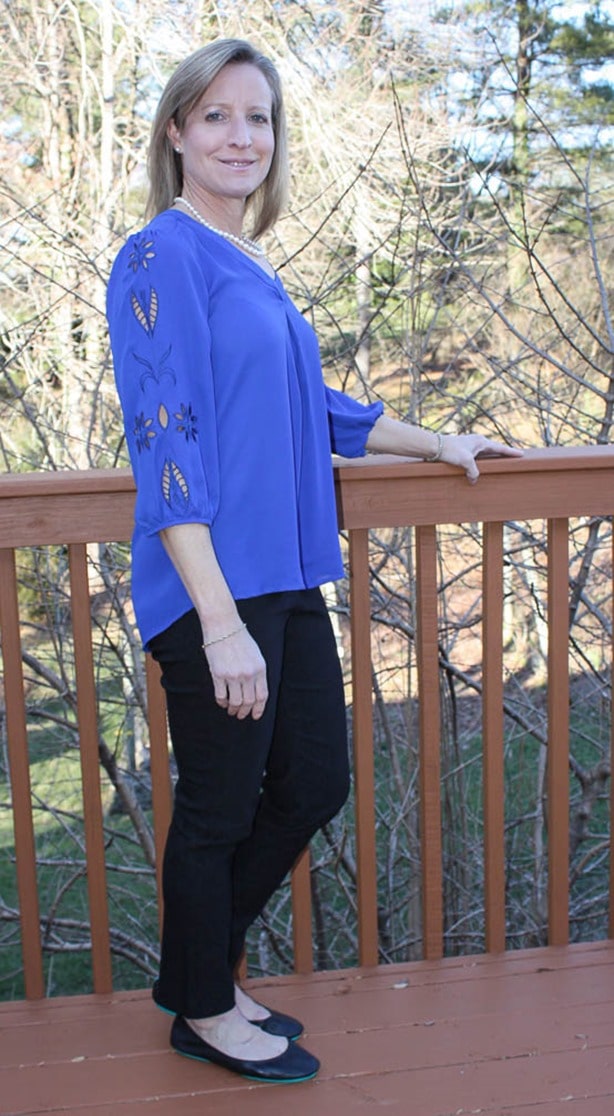 This is a blouse that can easily transition to spring and even summer wear.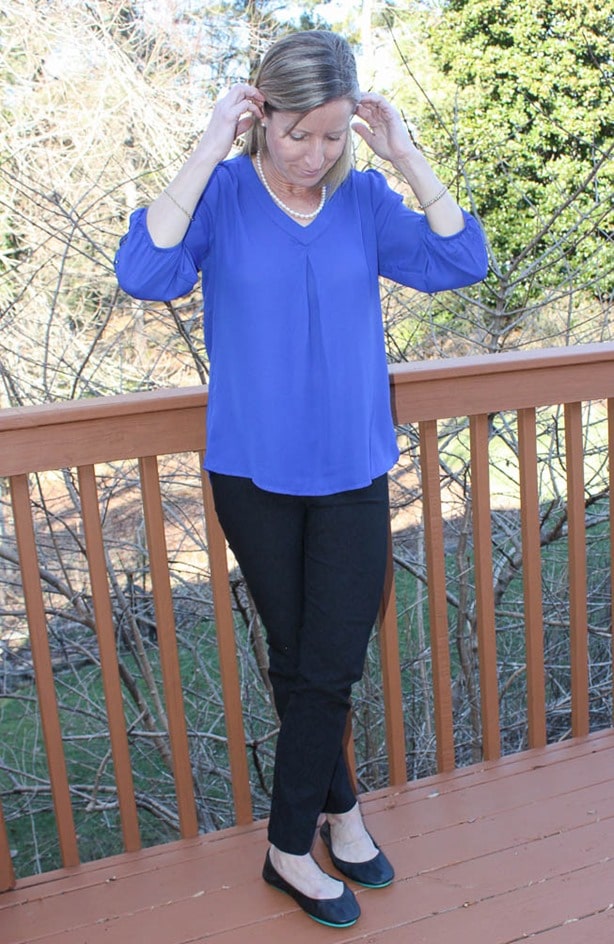 RD Style Calandri Contrast Sleeve Poncho
One thing that I adore about Stitch Fix is that I receive clothing that I'd never give a second glance if I saw it in a store. The Calandri Contrast Sleeve Poncho is the perfect example. This is not the type of sweater that I usually like because I typically prefer a fitted look. When I tried this on, I liked it so much that I immediately knew that I would keep it.
The sweater is designed to look like a black top is worn under it but the sleeves are actually faux and are sewn to the sweater's arms.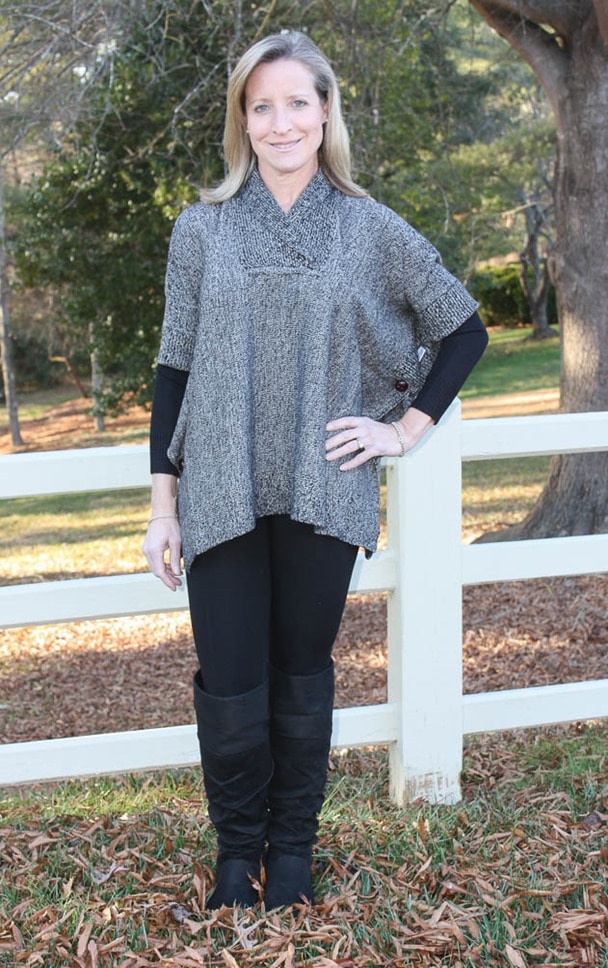 I will indeed need to wear something under this when I wear it out and about because its loose design is a bit breezy and I could get cold without an extra layer. I'm mostly likely wear one of the Duluth No-Yank Tanks that I got for Christmas with this. It won't be seen but will keep me warm. I wear these tanks all summer and love them.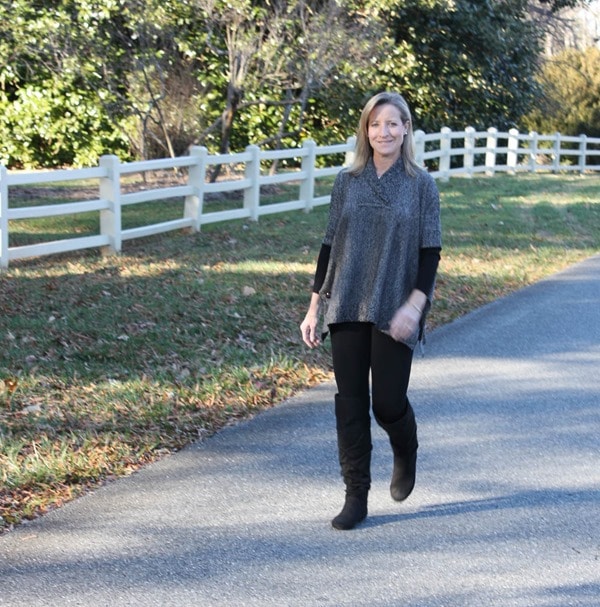 My dog makes an appearance in nearly all of my Stitch Fix posts but for this one he was too tired to come outside for most of the pictures. Our poor boy was worn out from holiday travel and festivities. He loves to walk past our next door neighbor's home because there are often squirrels or deer in their yard to chase. This week he got a special treat and chased a coyote there.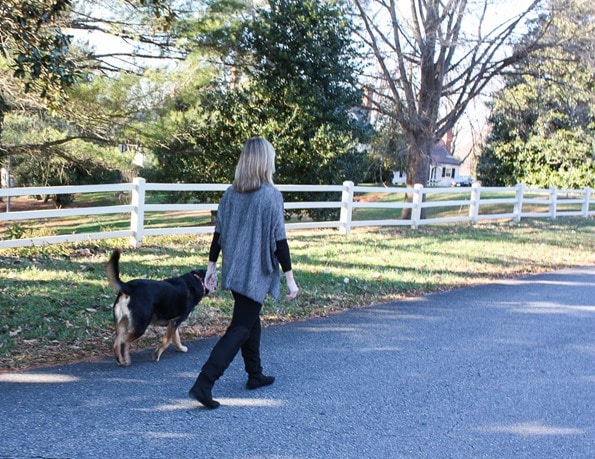 In Summary
Skies Are Blue Gisela Textured Knit Dress – $64 – Kept
Gilli Patricia Sweater Knit Swing Skirt – $64 – Kept
RD Style Harrie Button Detail Pullover – $74 – Kept
BRIXON IVY Elmar Embroidered Cutout Blouse – $64 – Kept
RD Style Calandri Contrast Sleeve Poncho – $68 – Kept
Since I kept all five items, I received 25% off taking my total spent from $334 to $250.50. I also had a $20 gift card given to me by a sweet friend which brought my final payment to $230.50. With my gift card and 25% discount, each item cost $46.10.
If you are looking for a gift to give a Stitch Fix loving friend or that friend who is hard to buy for, consider a Stitch Fix gift card. I love it when I receive one!
For more Stitch Fix looks, be sure to check out my other Stitch Fix reviews. And if you haven't tried Stitch Fix, what are you waiting for? It's so much fun to received a box of five items picked just you.