This post and photos may contain Amazon or other affiliate links. As an Amazon Associate I earn from qualifying purchases. If you purchase something through any link, I may receive a small commission at no extra charge to you. All opinions are my own.
It's hard to believe that we have enjoyed our house at Smith Mountain Lake for a year. Our home was completed in December 2015 and we've spent many happy weekends there since then.
Sherman loves to go to the lake. Not only can he swim whenever he wants but there are plenty of deer there to chase. He likes to hang out on the front porch in case a deer or squirrel comes close to his territory.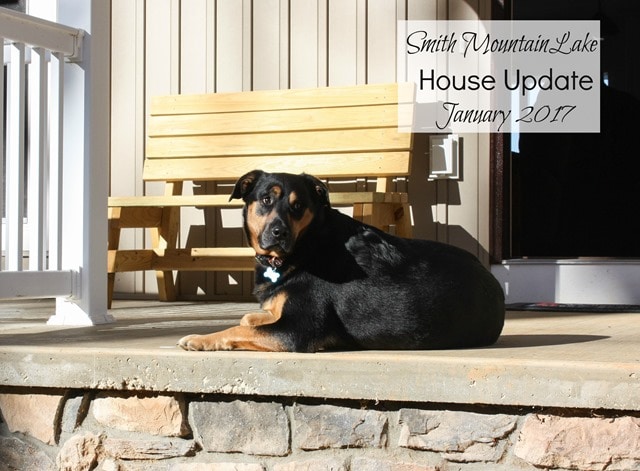 The 2×4 bench on our front porch was my most popular blog project in 2016. As soon as it warms up, I plan to stain it a darker color.
I intended to do regular updates on our progress there each month in 2016 but the last one ended up being in May when I shared the Americana Themed Décor of one of the guest rooms. You can see all of the house updates here.
To be honest, from May on, we enjoyed the lake and did not complete many projects there.
I thought I'd fill you in on a few things that we have accomplished.
We bought a new sofa and recliner for the lake house as Christmas gifts to each other. The sofa we had at the lake came home with us and is now in our family room. Both the sofa and recliner were purchased locally at Grand Home Furnishings. The manufacturer is Homestretch whose products are Made in America.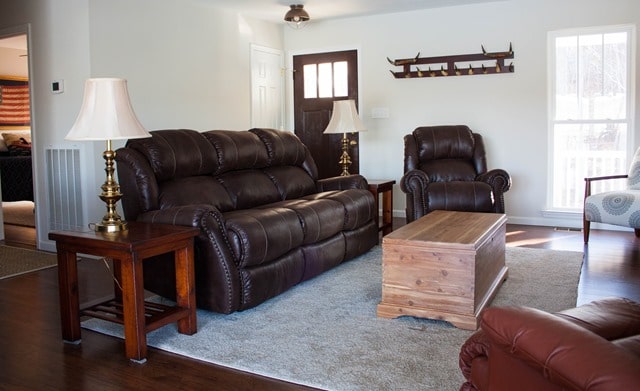 We moved the recliner that my father-in-law gave us to the opposite side of the room where we had a TV and console. We don't have means of watching TV at the lake and realized that it isn't important to us, so we stored both pieces.
The painting over the fireplace is called "Winter Retreat" from from Minted.
The horn piece on the wall is from a store that my great-great aunt and uncle ran in Vinton, VA. Guys would have their coats on this rack while they ate lunch. I have yet to hang anything else but I have spent a lot of time thinking about it. Decorating decisions come slowly for me!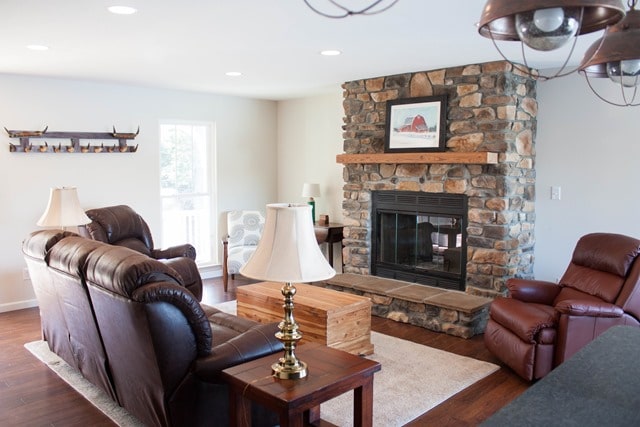 I debated getting a fancy rug for this room but ended up getting an inexpensive carpet from a local carpet store. Our friends gave us the locally made cedar chest and you can read about how I made it over here. Our pendant lights are from Cabela's.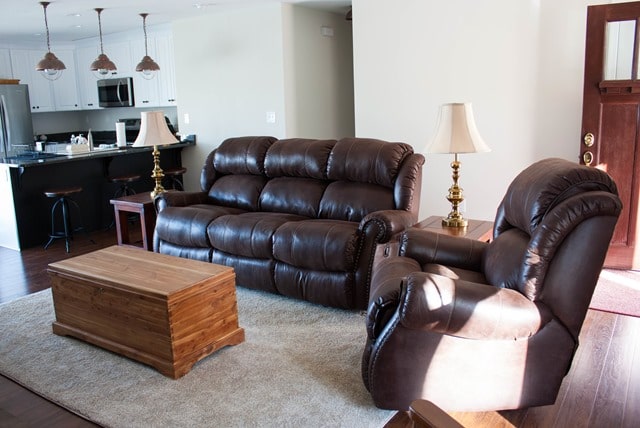 A major accomplishment in the spring was getting our driveway paved. Our house is close to the lake which means traveling down a steep hill to get from the main road in our subdivision to our home. Before paving the driveway, it was gravel, and had become deeply rutted from the construction trucks. The driveway had become so bad that we hesitated for anyone to come down it without four wheel drive. Paving it made it look so nice and anyone can drive in now to visit.
This is a view of the driveway from the house looking up to the subdivision road. If you look back at pictures from last January and February, you'll see the difference!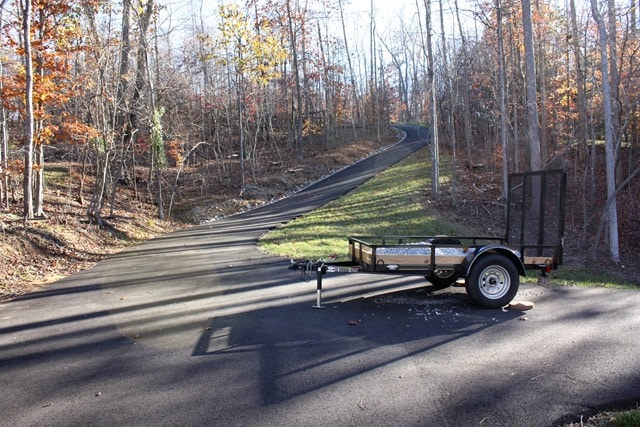 We have yet to do any landscaping but we did get grass to grow.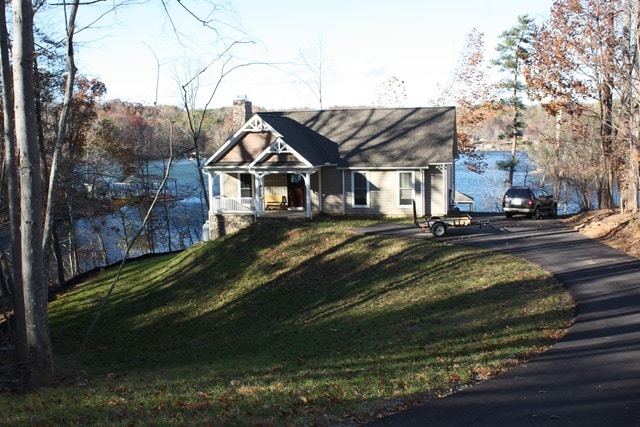 As you can imagine, paving the driveway was a big expense, which meant we didn't have a lot of cash for other lake projects in 2016.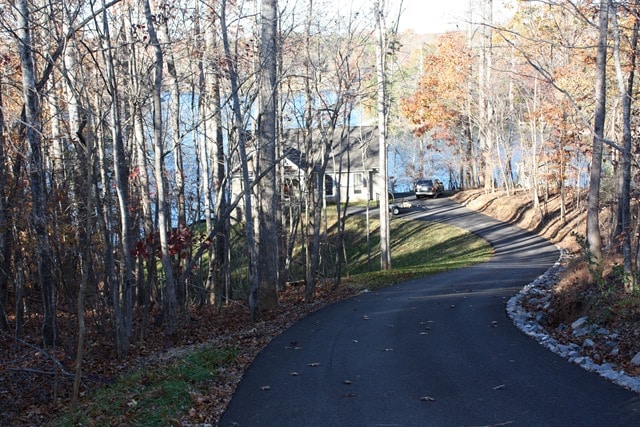 In the summer and fall we mowed the grass, raked the leaves, and cleaned the house. Other than doing those chores, when we were at the lake we tried to simply enjoy our time there. In very late fall we nearly completed one outdoor landscape project that I hope to share with you very soon.
In December we had trees cut down along the shoreline which really opened up our view. The trees with white ties around the trunks were removed.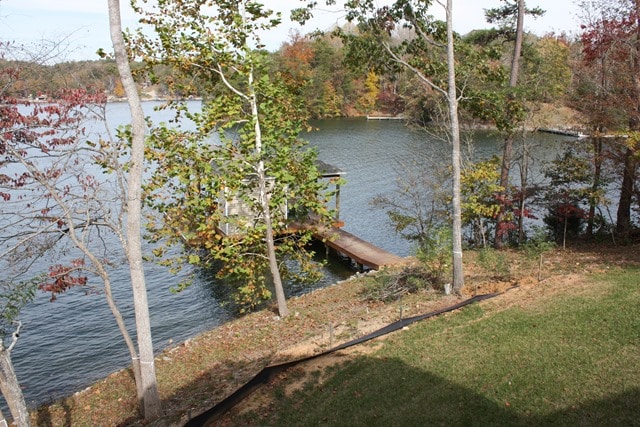 We kept all of the trees on the left side of our lot for privacy. There's a Hickory tree in the left side of the picture below that marks the first tree not cut down.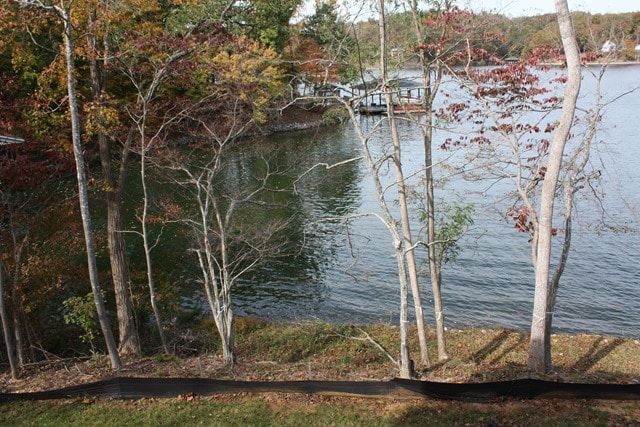 Here you can better see all of the trees that we didn't cut. To the right of the picture you can see white tags meaning those trees were cut down.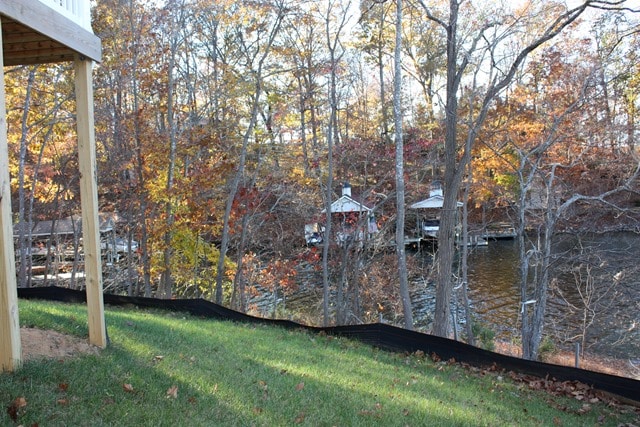 Here you can see the new view with the trees gone. You also get a sneak peek of our landscape project, we built a retaining wall that is oh-so-close to being finished.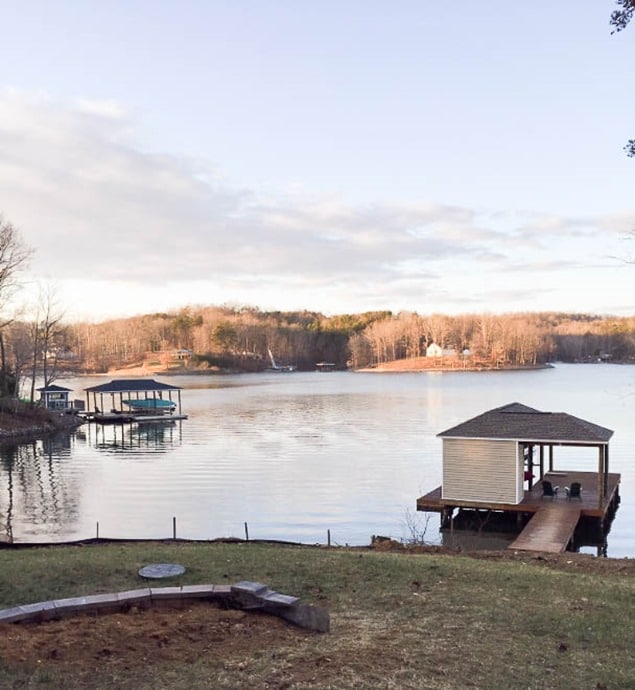 This picture was taken from the deck. It looks so different with the trees gone.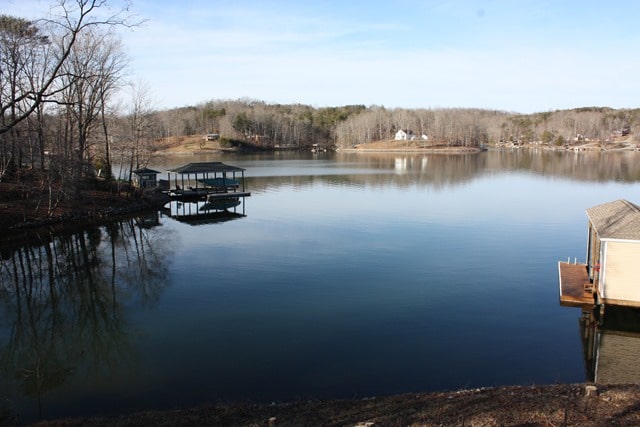 2017 plans include a backyard patio and walkway to the dock. One of the trees taken down was directly in the path of where we want the walkway to go. After a summer of walking through either mud or dust to get to the dock, we are both more than ready to install a pathway.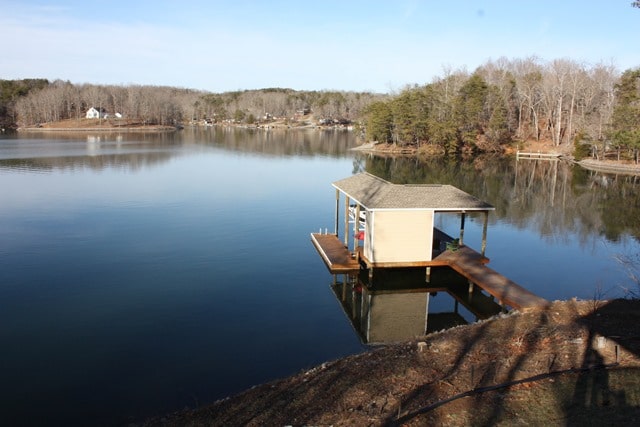 The pine tree is our property line and the tree guys removed bunches of smaller trees in this area.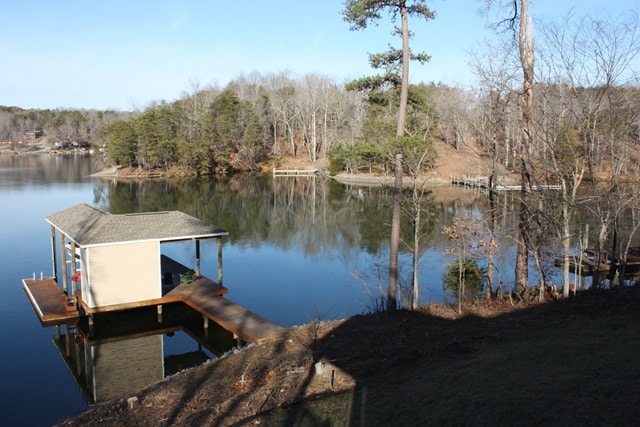 Here you can see the cove to the right of our dock. One of my favorite things to do this summer was to strap on my water jogging belt (affiliate link) for a "run" around this cove. The belt is also great for floating in the water.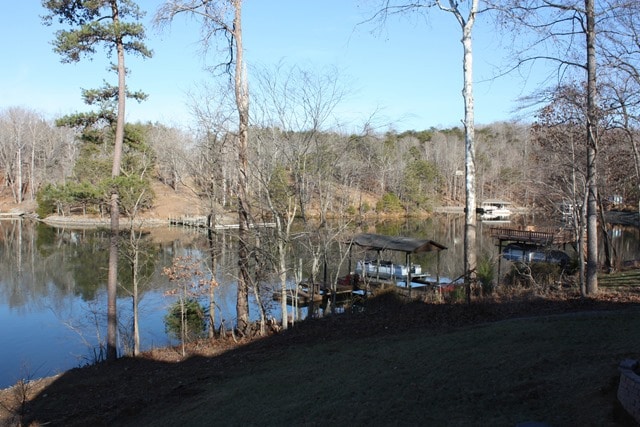 From the inside of the house, cutting down the trees makes the water look even closer to our home. You almost feel like you can jump off the deck directly into the lake.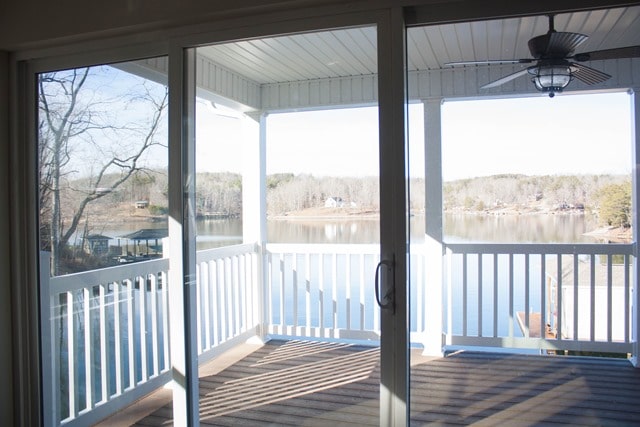 Other plans for the lake house for 2017 include building a walkway to the front door and landscaping around the front of the house. I love gardening but I am clueless when it comes to landscape design. I plan to do some research to figure out what I want to plant where. Mr. SP has a plan for the walkway and we hope to install it very soon (weather permitting). (Update: See the completed walkway and patio here and here.)
We also need to hang pictures in the second guest room and work on the décor in the master bedroom. (Update: See the master bedroom here and the guest room here.)
Our master bedroom has had a few updates. Mama bought me a beautiful rug for my birthday and I purchased the upholstered headboard this summer. I plan to put an Ikea Rast dresser on either side of the bed. I brought one from home to see if the size would work and it's perfect. Working on these dressers will be a winter project. Bring on the snow so that I can have some time off to work on them! We'll need new lamps as well. I found the one on the Rast in someone's trash and made it over. It works for now.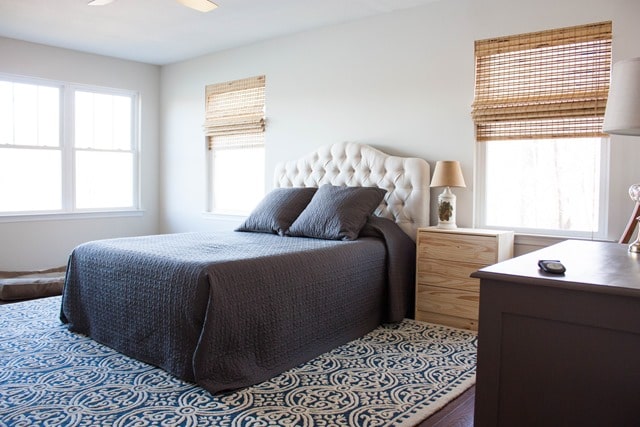 I'd love to have light colored bedding but my reality is Sherman is constantly on our bed. Since I can't say no to him, something darker is needed. This Ikea bedspread works for now. I'm thinking about hanging the mirror behind the pillow over the bed. It's an old Southern Living at Home piece that I had in the attic.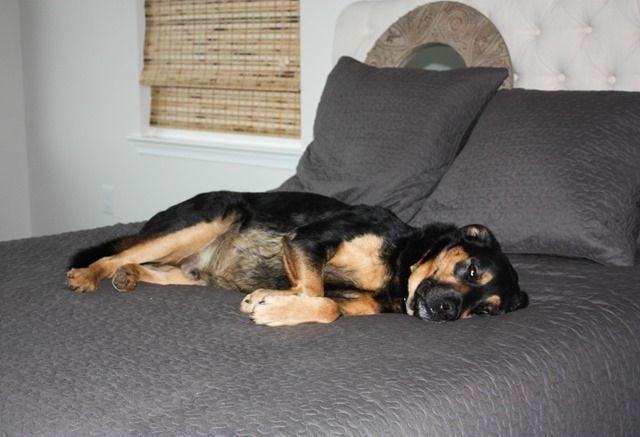 That's my update! I hope you enjoyed seeing the changes that took place at the lake in 2016.