July 2016 Stitch Fix Review (Fix #37)
It's time for another Stitch Fix review. It seems like a just showed you my June Fix and now it's time to share what I received for July. June was a great fix where I kept all five items and this one is almost as good. To tell you the truth, since I'm on summer break, I pretty much live in running clothes and I haven't even worn all of my June items.
I am a Stitch Fix affiliate and if you make a purchase, I earn a small commission. My love for Stitch Fix is genuine and all opinions are truthful and my own.
If you are new to Stitch Fix, I'll explain it quickly. You fill out a style profile sharing your sizes, likes, and dislikes, and request a box whenever you want one. I get a box monthly, but that's my choice. You can get one more or less often, it's up to you. After a box is requested, a personal stylist selects five items just for you. Your style profile helps with this and also a Pinterest board that you can share with your stylist. My stylist (Brittany H. who is awesome) usually sends a few things to me that I've pinned. You can receive clothes, shoes, jewelry, or bags. I request clothing only almost always. A $20 styling fee is charged to your credit card and is deducted from any purchase that you make. I almost always buy at least one thing so that I don't lose my styling fee.
Let's see what I received this month!
Donna Morgan Cam Gathered Waist Dress
I pinned a similar dress to my Pinterest style board and I like this one even better than the one I pinned. This is the exact kind of dress that I like to wear to work. It's a fabric that doesn't wrinkle, it's comfortable, and look at that pretty print. Gosh, I just love this dress!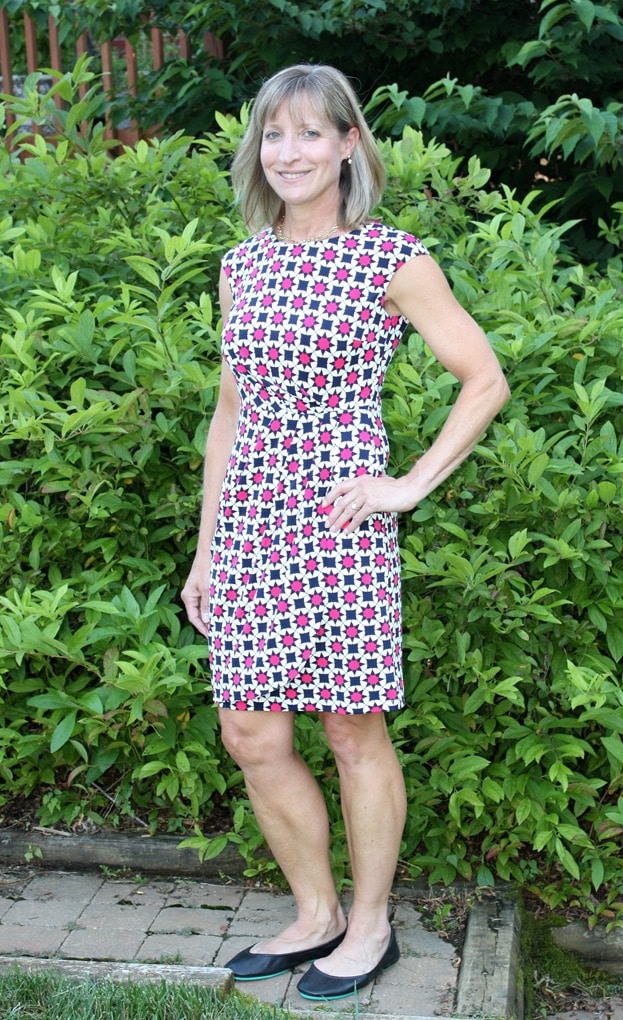 I often go to the gym before school and a dress like this is perfect for packing. No matter how I fold it, it doesn't wrinkle. If I had a desk job, I'd wear heels with it but since I stand on concrete all day, I need comfortable shoes. Tieks don't look comfortable but believe it or not, they truly are.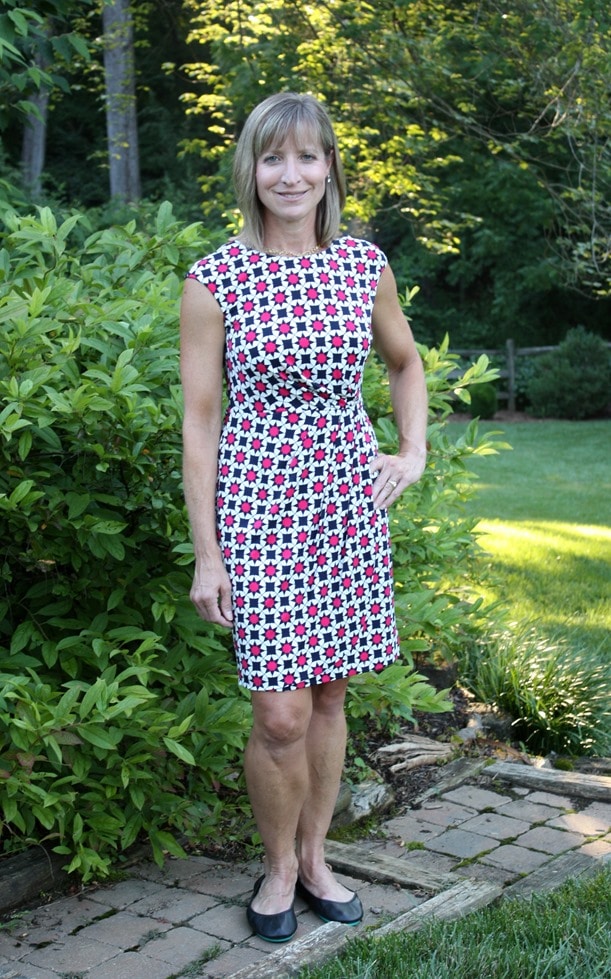 This dress had two drawbacks that made me return it: the arm holes were a bit tight and there was no zipper. No zipper meant that I felt like I was wrestling it on and off and it really messed up my hair. I also was afraid that I'd get makeup on it when I took it on or off.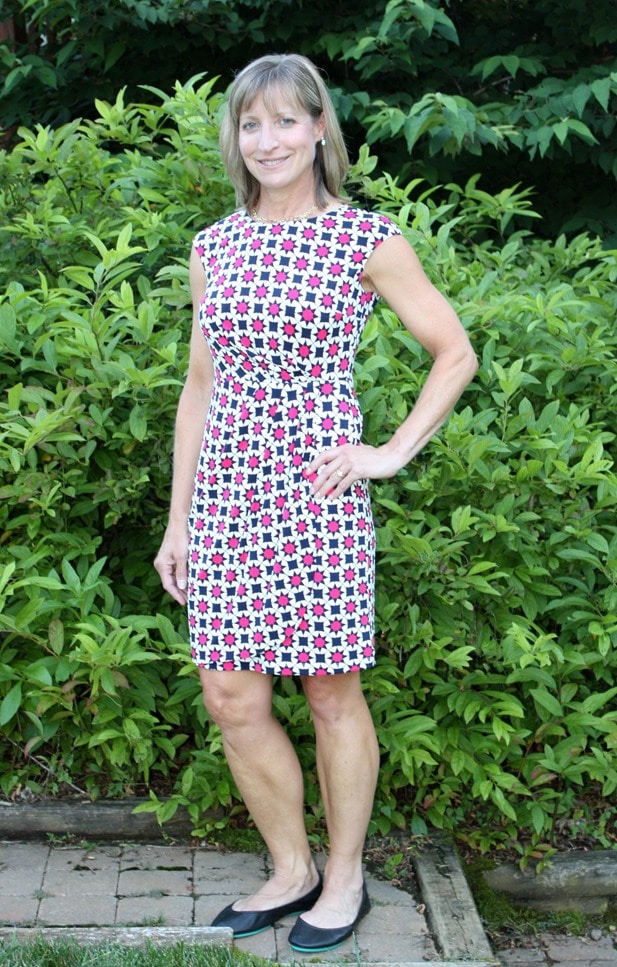 Dear John Finnegan Printed Cuffed Short
I received a pair of pink striped Dear John shorts in my April fix that I adore. I pinned a pair with a print and Brittany H. selected these for me. These shorts have a bit of stretch which I appreciate.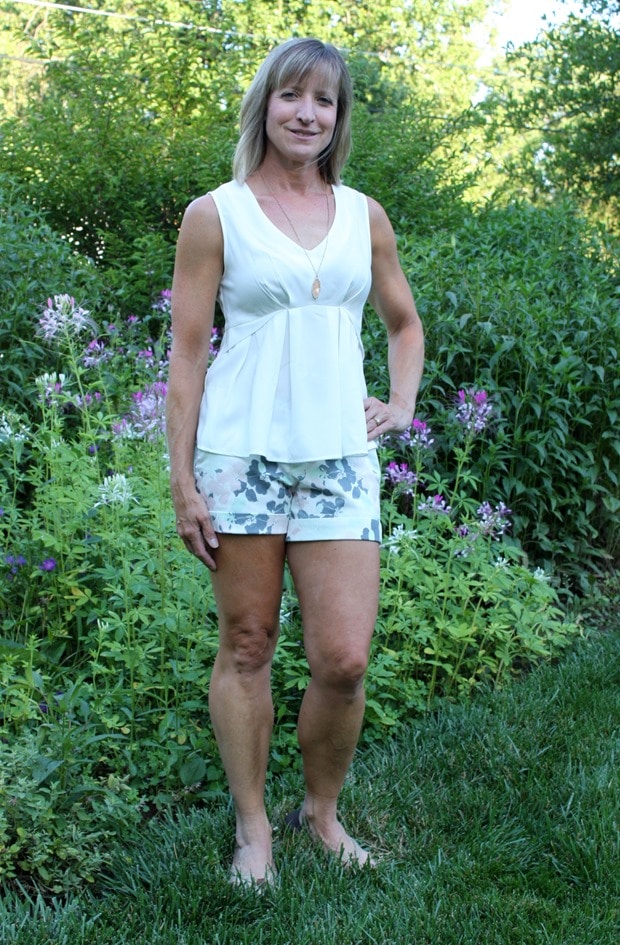 I paired the shorts with an Alice Blue Gower Peplum Top that I received in my April fix. I'm sure that I'll also end up pairing gray or pink with these shorts.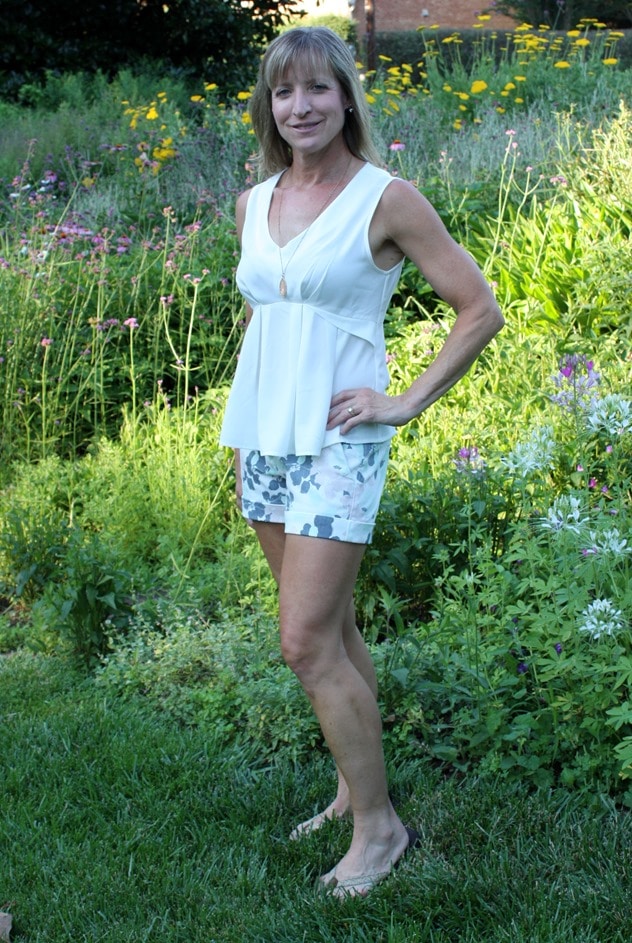 Skies are Blue Abiga Lace Detail Knit Tank
When I pulled this shirt out of the box, I thought that it was way too bright for me to like, but I was wrong, I adore it! I've paired it here with white shorts but it will also look great with skirts or pants for work.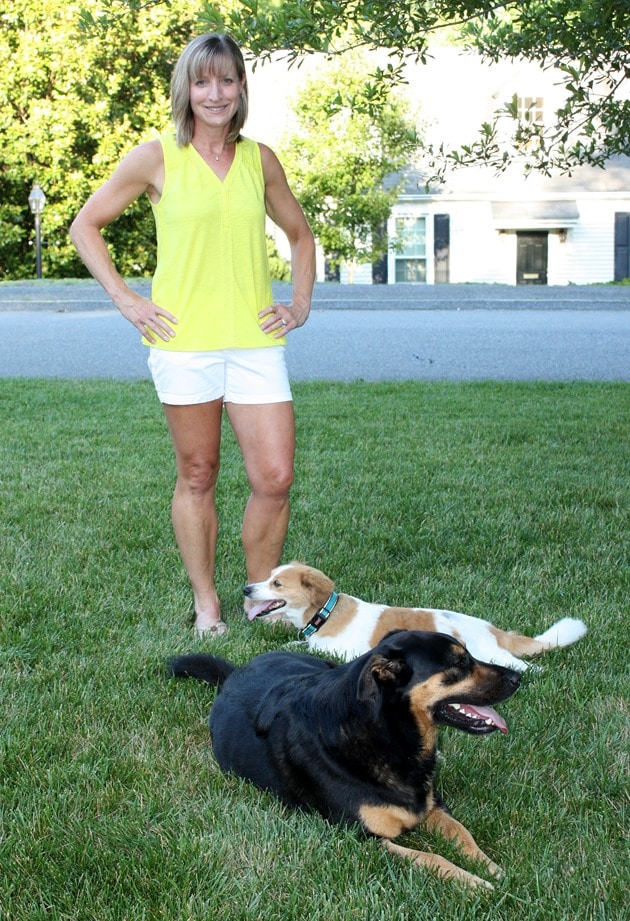 Sherman likes to join me for Stitch Fix pictures and this month we also have Augie who lives next door.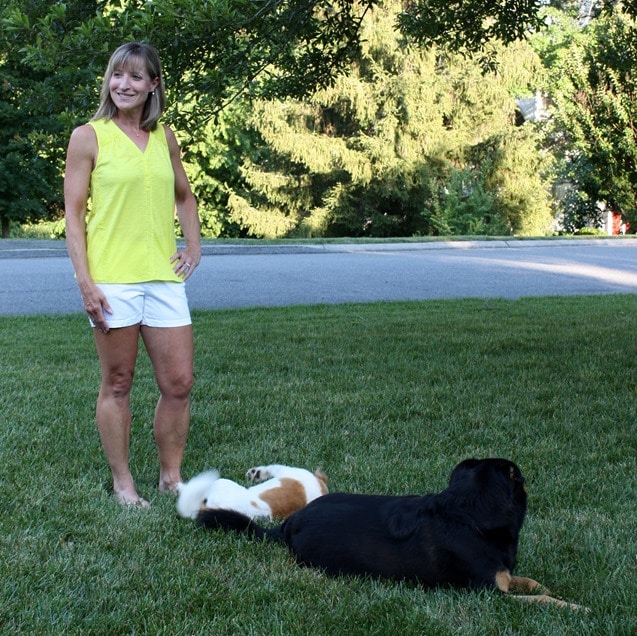 This top has cute lace side details. The lace also extends down the front below the three buttons.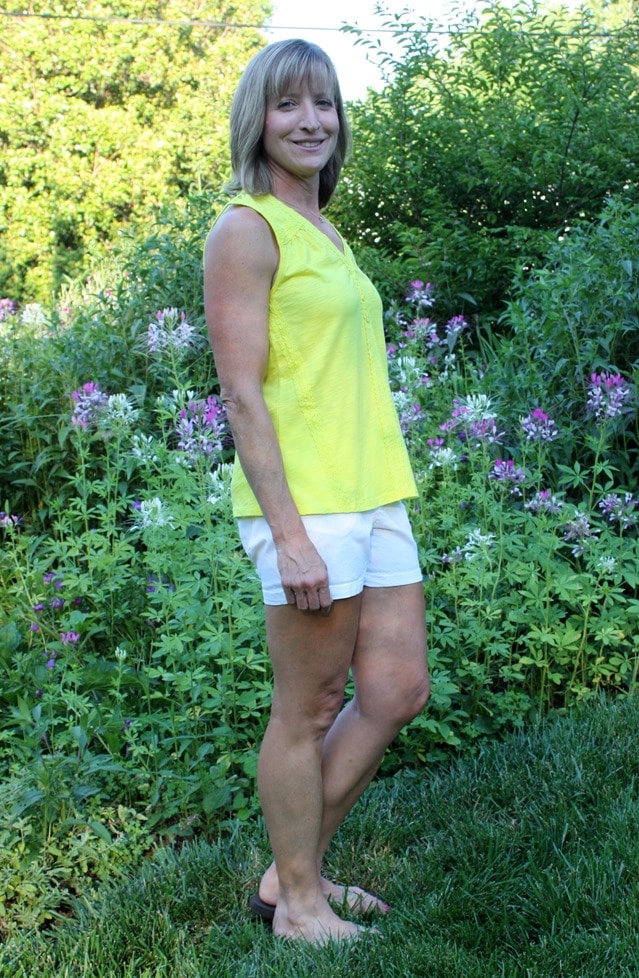 The best part about this top is the lace detail in the back.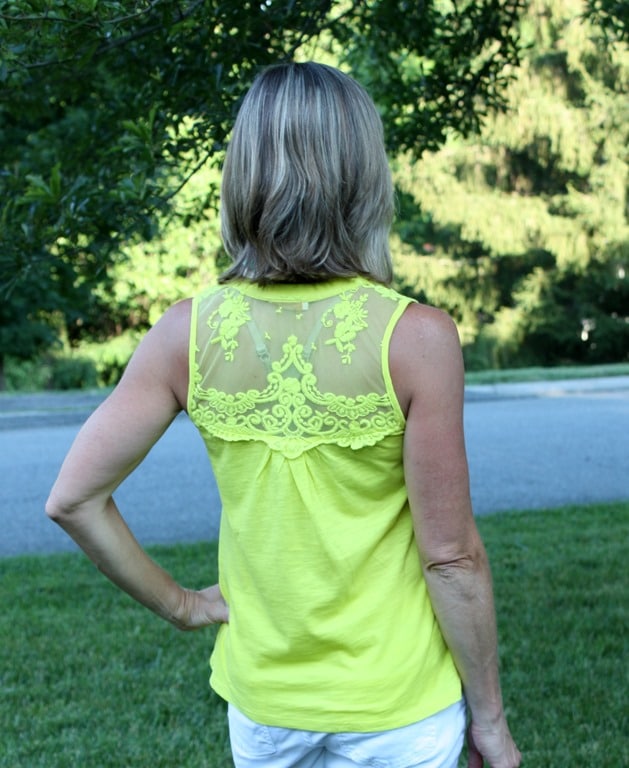 Paradigma Camillia Aline Eyelet Skirt
I enjoy receiving skirts that I can wear to work and this eyelet one is great because it can be paired with so many colors. Here I'm wearing the Market and Spruce Jenson Embroidered Detail Top from my June Fix.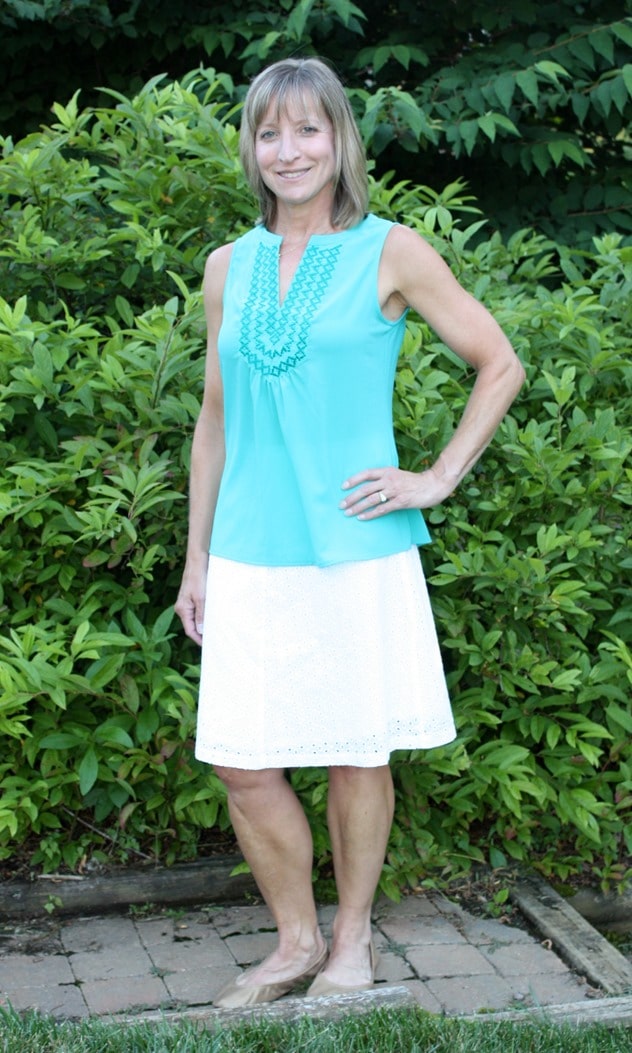 I liked this skirt but didn't keep it because it's $88 price tag was too pricey for me. Another reason that I didn't keep it was that I used to own a very similar skirt that I purchased at TJ Maxx and have since donated.
Market & Spruce Marsay Trench Jacket
I saw this trench jacket on Pinterest, thought it was cute, and pinned it to my style board. I was right, it is super cute, but it's no fun to take pictures of a coat in the heat of late June! Luckily the sun was going down as these pictures were taken so I wasn't too miserably hot.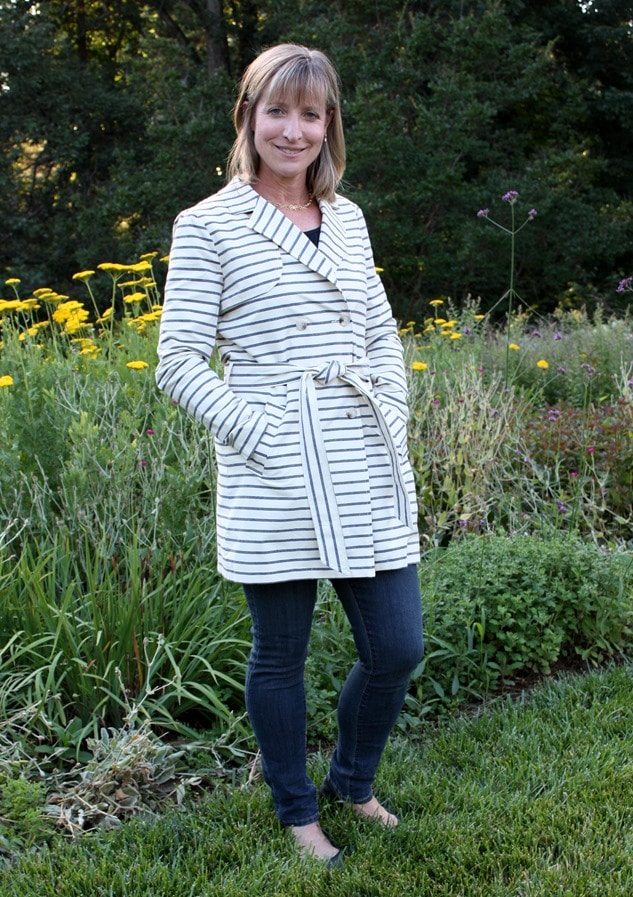 I think a trench coat is a classic that everyone can use in their wardrobe. I love the double breasted look, the tie, and I especially loved the pockets. When I pinned this coat, I didn't think about the fact that I already own a trench coat. Ooops!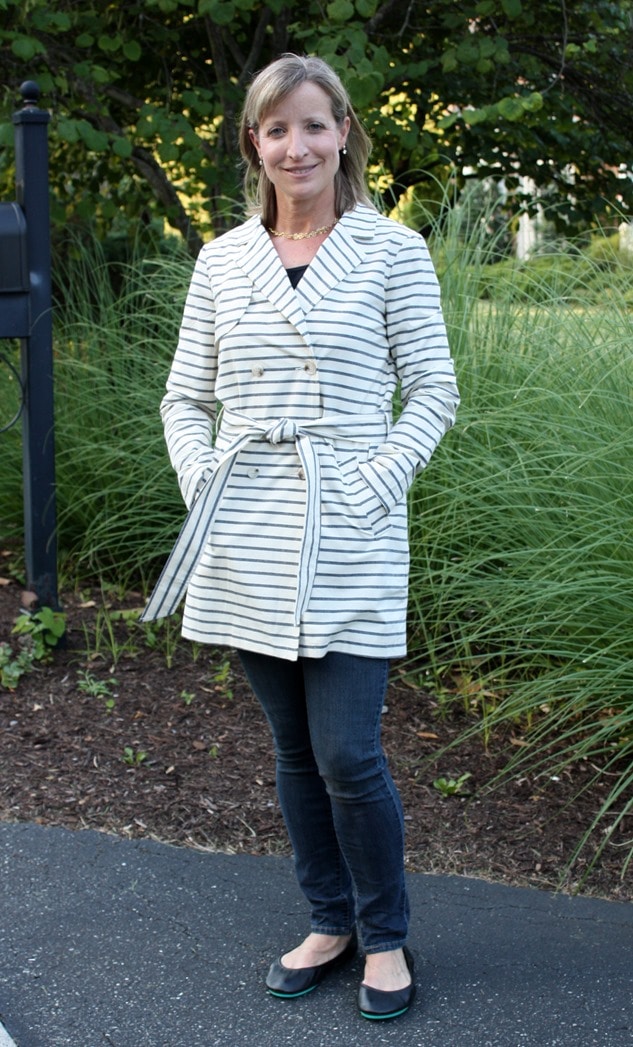 What Did I Keep?
It was a hard decision this month for what to keep and what to send back. I ended up keeping two things but I very easily could have kept all five.
Donna Morgan Cam Gathered Waist Dress ($118) – Return
Dear John Finnegan Printed Cuffed Short ($58) – Keep
Skies are Blue Abiga Lace Detail Knit Tank ($48) – Keep
Paradigma Camillia Aline Eyelet Skirt ($84) – Return
Market & Spruce Marsay Trench Jacket ($88) – Return
If you are like me and don't like shopping but want nice clothes, I encourage you to give Stitch Fix a try. I absolutely love this service and look forward to what I'll receive each month.
You can see all of my fixes here. I'll have to say that last month was my favorite fix of all!