June 2016 Stitch Fix Review (Fix #36) & $700 Giveaway!
My favorite package each month is my Stitch Fix delivery. My latest box came on my 47th birthday and it was a winner! I loved the five items that I received and kept them all. My June 2016 Stitch Fix Review is a special one because not only did I keep all five items, but I'm offering you a chance to win a $700 Stitch Fix gift card. Is that not an awesome prize?? You can enter at the end of my post.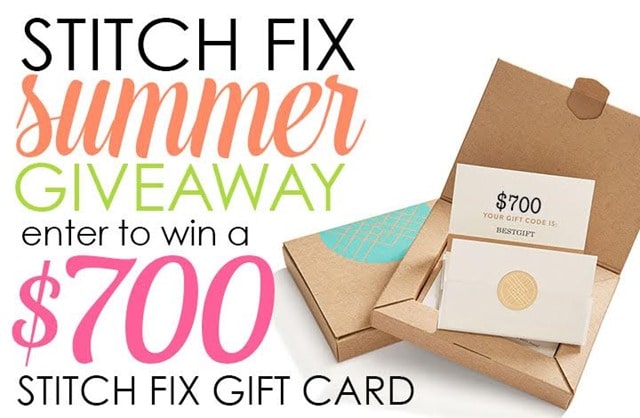 I am a Stitch Fix affiliate and if you make a purchase, I earn a small commission. My love for Stitch Fix is genuine and all opinions are truthful and my own.
If you are new to Stitch Fix, after filling out a detailed style profile, a stylist selects five items for your box. The items can include clothes, jewelry, bags, or shoes. I ask for clothing only and every once in a while request a bag. I get a monthly shipment but how often a box is sent to you is your choice. Since I'm on my 36th box, my wardrobe is almost entirely from Stitch Fix. I don't like to shop but I like clothes, so this service is perfect for me.
Let's see what I received for my 47th birthday fix!
Adelyn Rae Taliya Dress
This was the number one item that I wanted this month and I was so glad that my stylist, Brittany H., was able to find it for me. I'm wearing it today at work for the last day of school. 🙂 It might seem dressy for teaching 6th grade but I like to dress up and am just as comfortable in this as I'd be in pants or a skirt. My shoes will be Tieks at school as I know I couldn't stand in fancy shoes all day. Fancy shoes will be for date nights this summer!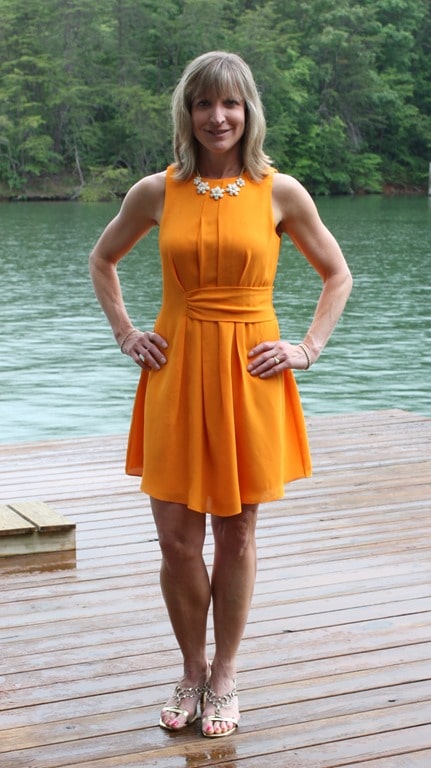 My necklace is from a local boutique, Frolic by Celebration. Celebration is a bridal shop and Frolic is in the old prom dress room. Their clothing is super trendy and reasonable priced but I'm 20 years too old for most of it. I'm glad that I can support their business by buying accessories.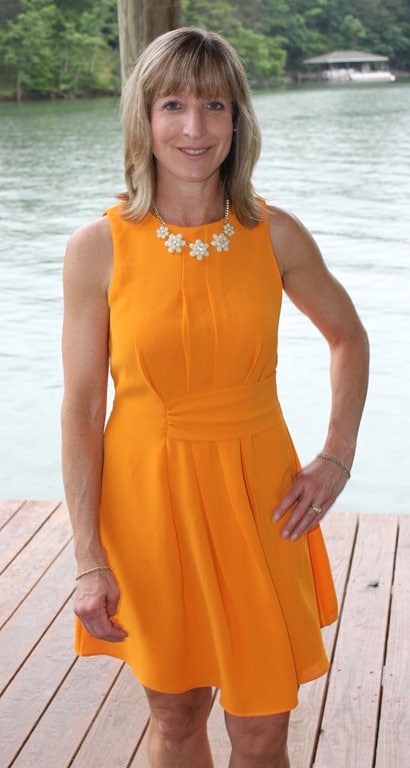 Pixley Sondra Textured Knit Dress
I pinned this dress after seeing it on a Stitch Fix Facebook group and am so glad that Brittany sent it to me. I wasn't expecting this dress's super soft material nor its comfortable elastic waistband. I like that I can dress it up or down or even wear it over a swimsuit.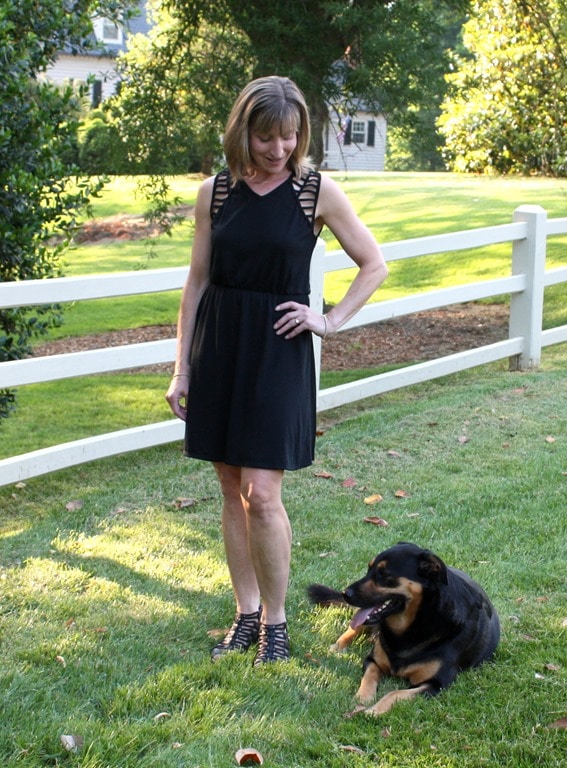 I received my box on a Thursday and wore this dress to a party the next night. I'm confident that I'll wear and enjoy it all summer. My shoes are Jambu and believe it or not, are super comfortable. I can stand on concrete all day in my classroom in these and not think once about my feet. My shoes are two years old but this pair is quite similar.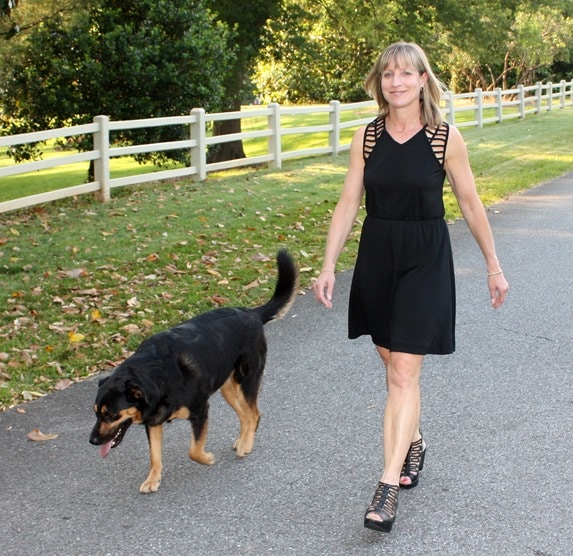 Market and Spruce Jenson Embroidery Detail Top
I asked Brittany for casual shirts that I could wear with shorts this summer and she found two that I just love. The cut of this shirt is flattering and I love both the detail and color. When I go back to school in August, this will be perfect paired with a skirt.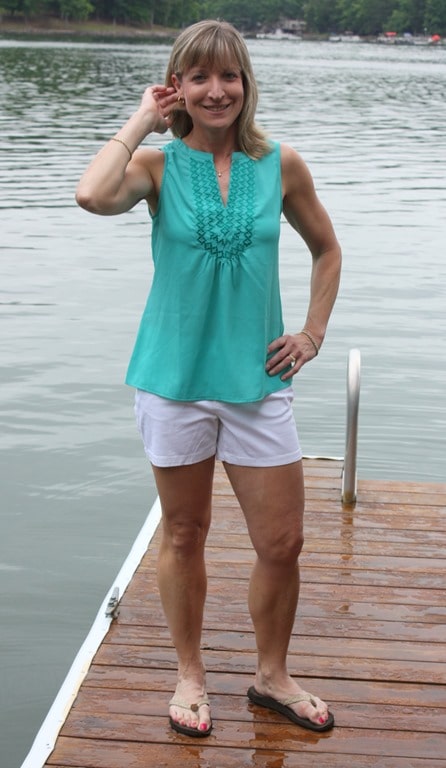 Fun2Fun Rinal Front Pocket Blouse
It's hard to see in the picture, but this blouse's print is blue anchors. Brittany suggested that I pair it with the Dear John shorts that I received in my April fix.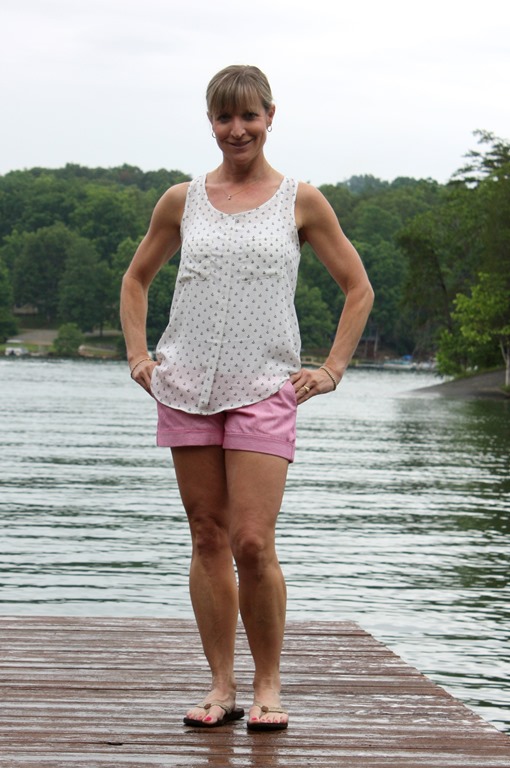 Here I paired it with blue shorts to match the anchors. This blouse will be perfect to wear on hot summer days.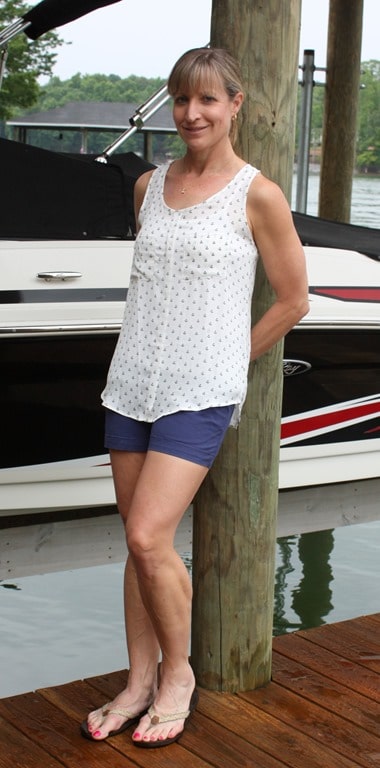 Market and Spruce Ralphie Romper
I went out on a limb and asked Brittany for a romper. I really debated this because truthfully, I am probably too old to wear a romper. At 47, this is my 3rd go-around wearing them. I remember a yellow one that I wore when I was about ten, two cute ones from The Limited that I wore on my 1994 honeymoon, and now in 2016, I am embracing the romper trend again.
The rompers that I pinned on my style board were out of my price range but Brittany found this one that met my price point.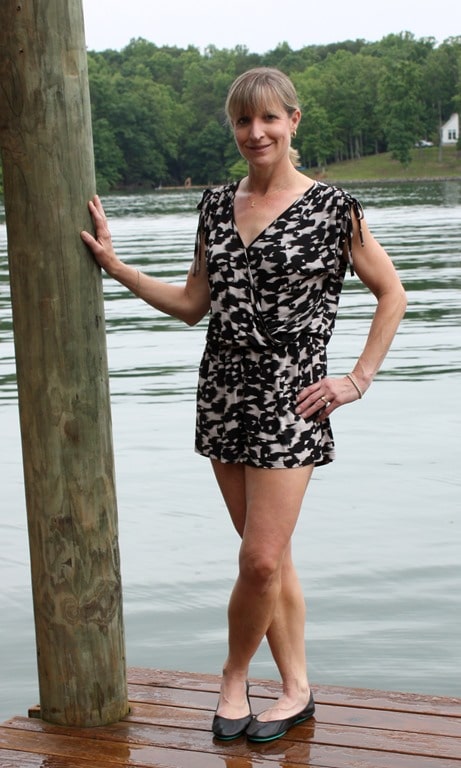 This piece is so soft and comfortable and I'm going to rock it all summer even if I'm too old to wear it. 🙂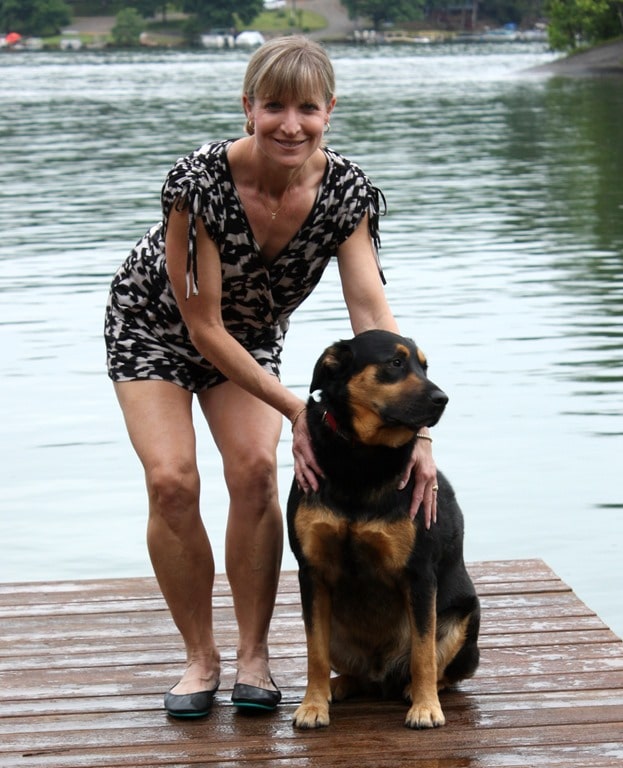 Thanks to all of you who enjoy following along with my Stitch Fix adventures. You can see all of my Stitch Fix posts here or if you need some spring fashion ideas, check out my April and May fixes. You can sign up for your own Stitch Fix account here.
Now for the exciting part, you can enter to win a $700 Stitch Fix gift card. I've teamed up with a group of Stitch Fix loving bloggers to bring you this giveaway. I can't wait to see who wins and I hope it is one of my readers.