Low Calorie Hot Chocolate
What is it about cold weather that makes one crave hot chocolate? It's so warm and chocolatey good yet can be so bad for the diet, particularly post-Christmas where most all of us did our share of overindulging.
I came up with a low calorie hot chocolate that can be enjoyed without the guilt.
I've tried low calorie hot chocolates from the grocery store but haven't been all that thrilled with the taste. I think my mistake was buying a box of Starbuck's Salted Caramel Hot Cocoa mix whose packets contain 160 calories each. Made with 1 cup of skim milk, my mug of hot chocolate was a 250 calorie treat that I couldn't justify night after night.
This started my search for a hot chocolate mix that I could make that wouldn't break the calorie bank. After reading recipe after recipe, I tried this one and liked it. At 78 calories per cup, it's a fat-free and sugar-free treat that I can enjoy without an ounce of guilt.
If you are wondering how many calories mini marshmallows add, I have good news! Ten mini marshmallows are just 22 calories. The three that I added to this cup brings the calorie total to just under 85.
To prepare a cup of low calorie hot chocolate, add 1/4 cup of mix to 1 cup of cold water. Whisk until combined and then heat until warm.
Be sure to start with cold water or the mix won't dissolve completely. Also, watch this carefully if you heat it in the microwave. After one minute in my microwave, it boiled over and made a big mess. After that, I started making mine on the stove.
Low Calorie Hot Chocolate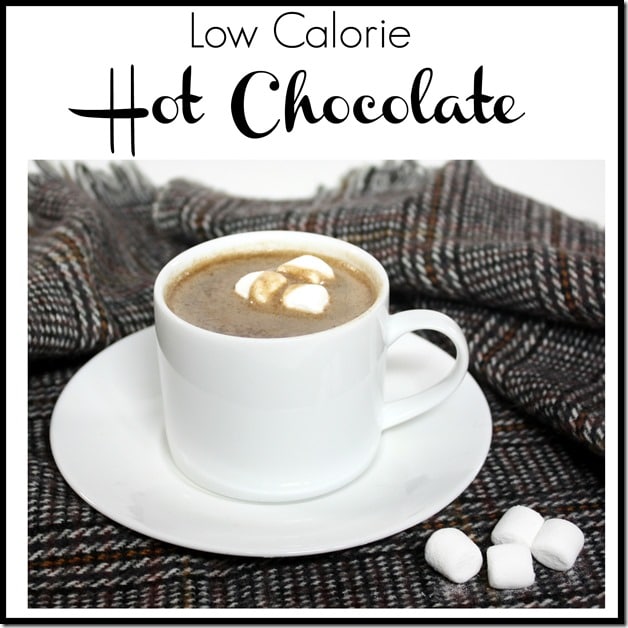 Ingredients
3 cups nonfat dry milk
1 cup Splenda (in the yellow bag)
1/2 cup cocoa
1 (1 ounce) fat-free and sugar-free pudding mix (I used chocolate)
Instructions
Put dry milk in a food processor and pulse until it is no longer granular looking. Add Splenda, cocoa, and pudding a pulse until combined.
To prepare, add 1/4 cup of mix to 1 cup of cold water. Whisk until combined. Heat until warm.



If you are interested in another low calorie beverage that I adore, try my Russian Tea. To tell you the truth, I prefer this over hot chocolate. I'm one of those odd people who loves sweets but doesn't crave chocolate.