Hot Chocolate Bar with Vintage
Now that it's cold in my neck of the woods, I'm craving hot beverages. From coffee to hot tea to hot chocolate, a warm beverage is a pleasure to enjoy in the cold months of the year. Today I'm sharing a Hot Chocolate Bar with Vintage that I set up in anticipation of enjoying many cups of hot chocolate this winter.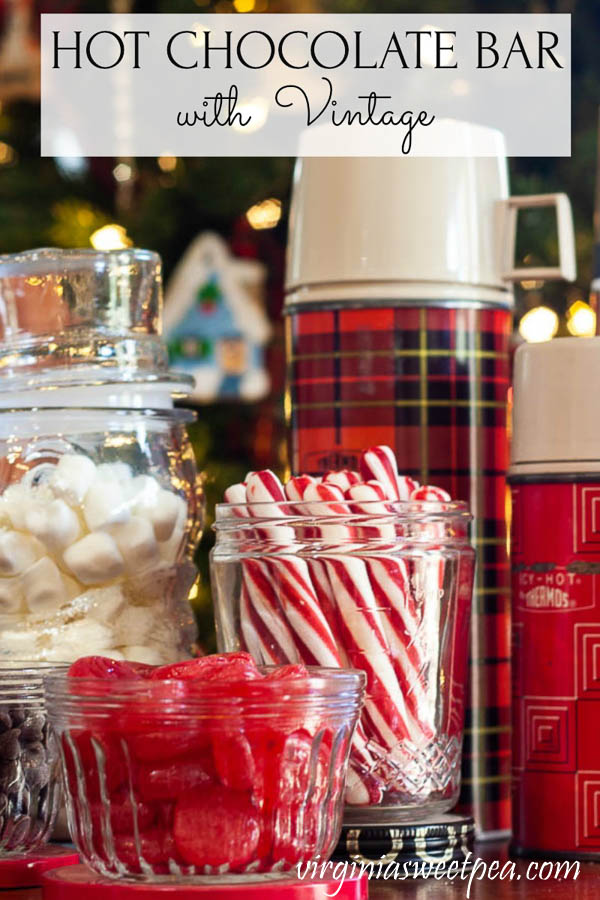 Hot Chocolate Bar with Vintage
Today's Hot Chocolate Bar with Vintage is a monthly Pinterest challenge hosted by Cindy from County Road 407. Each month Cindy selects a picture from Pinterest and challenges our group to create our own version of the look.
Last month our group shared Thanksgiving Place Setting Ideas and I got so many ideas from the ladies who participated.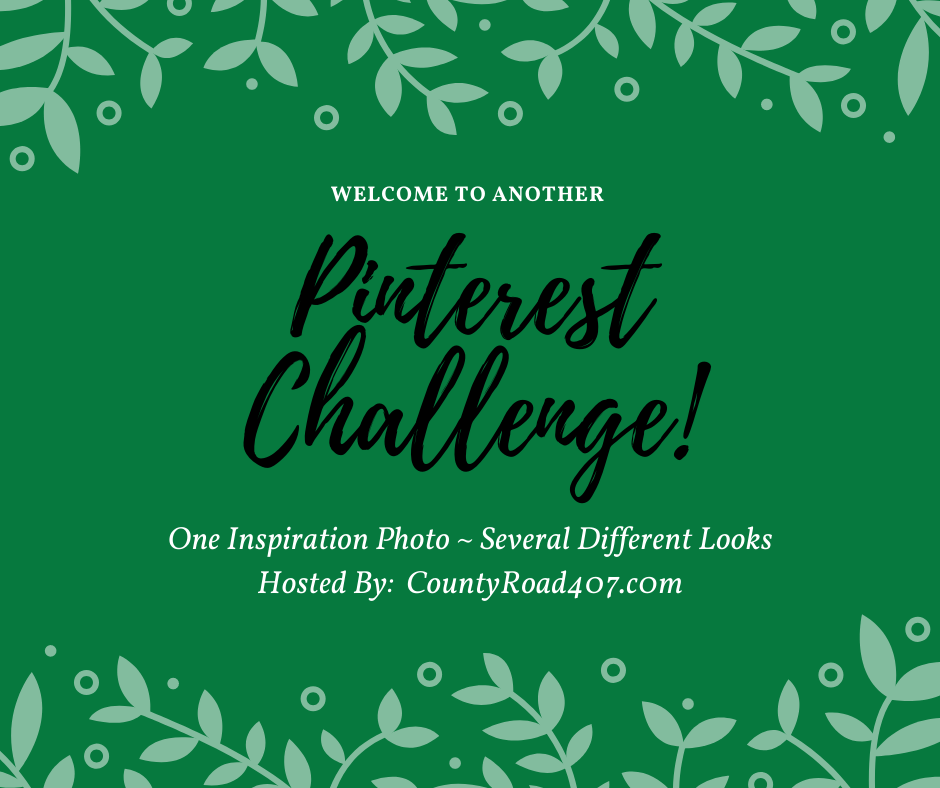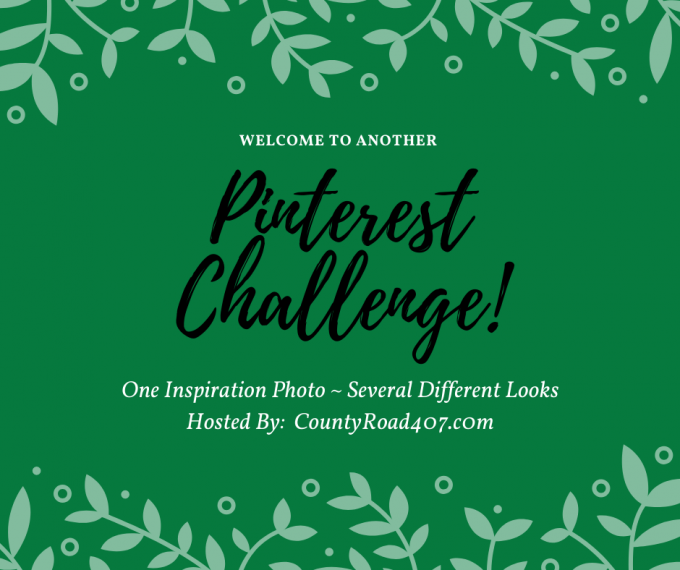 Many thanks to Cindy for hosting this challenge!
If you arrived here from French Ethereal, welcome! I'm sure that you enjoyed seeing Barbara's Hot Chocolate Bar.
You'll find a list of all of the participating bloggers at the end of this post. I'm looking forward to seeing how everyone created their own version of this look.
Our Inspiration for this Challenge
This month we were challenged to create a Hot Chocolate Bar inspired by this beautiful one designed by Jessica of Pen+Paper Flowers.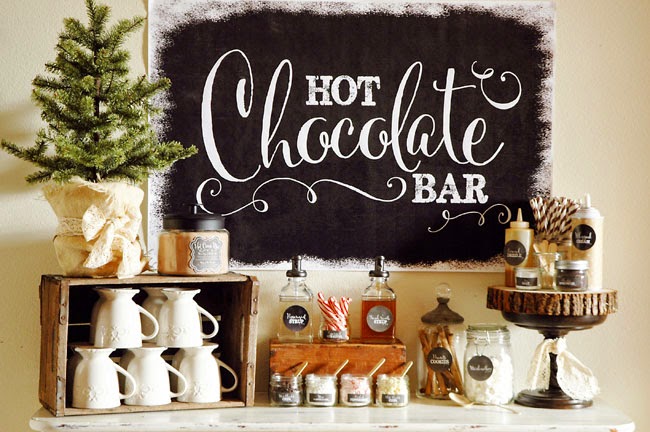 I loved how Jessica used a crate to hold her mugs and how she served delicious hot chocolate add-ons in small mason jars. I also loved how she used a wood slice on top of a compote to create an elevated serving space for more hot chocolate condiments.
I've always wanted to set up a hot chocolate bar and this challenge was the perfect opportunity to do so. My version reflects my decor style as I used vintage.
My Hot Chocolate Bar with Vintage
I shopped my house for Christmas things along with vintage to use for my hot chocolate bar.
Guests can grab a Santa mug and enjoy a cup of hot chocolate while relaxing in our family room. Filling a thermos with hot chocolate and sipping it while riding around looking at Christmas lights sound like another activity that I would like to do closer to Christmas.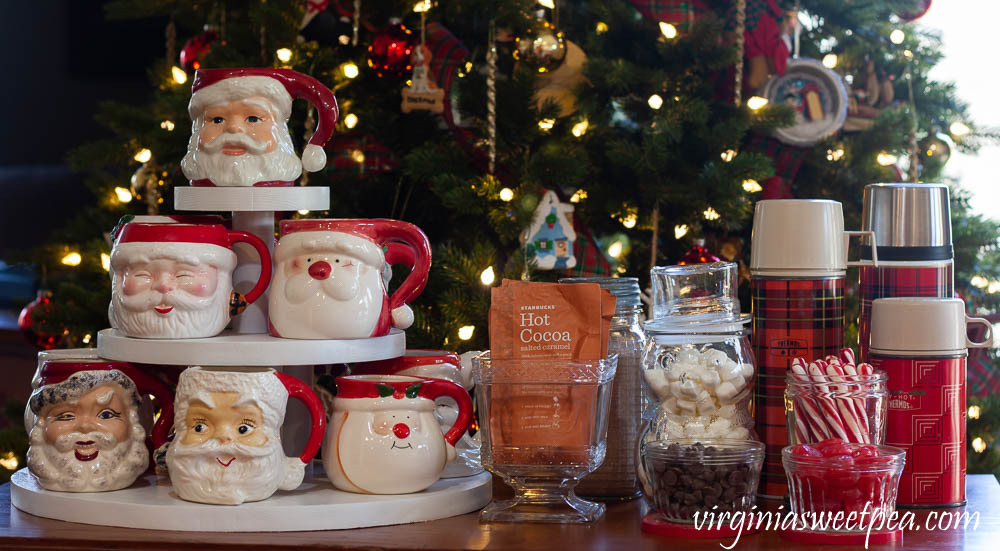 Santa Mugs
My mom's friend passed along her Santa mug collection to me a few years ago. The mugs are displayed on a DIY cupcake stand that my husband helped me make a few years. ago.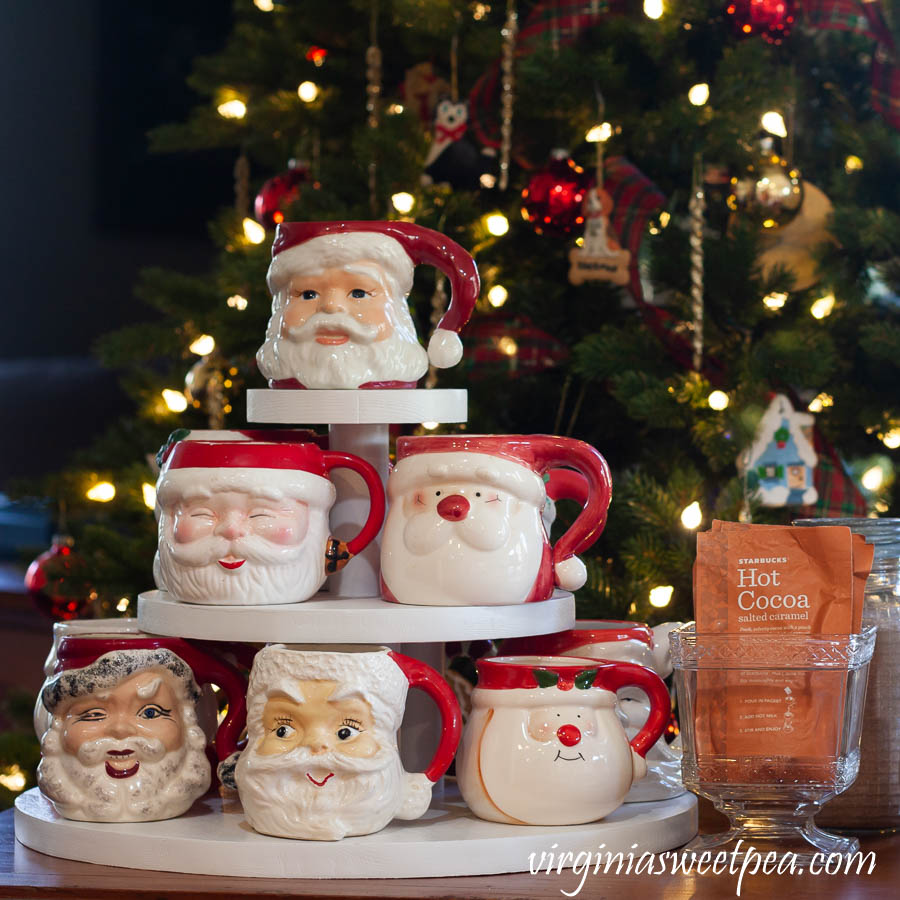 The mug on top of the stand is Longaberger and the rest are various ages, some old and some new.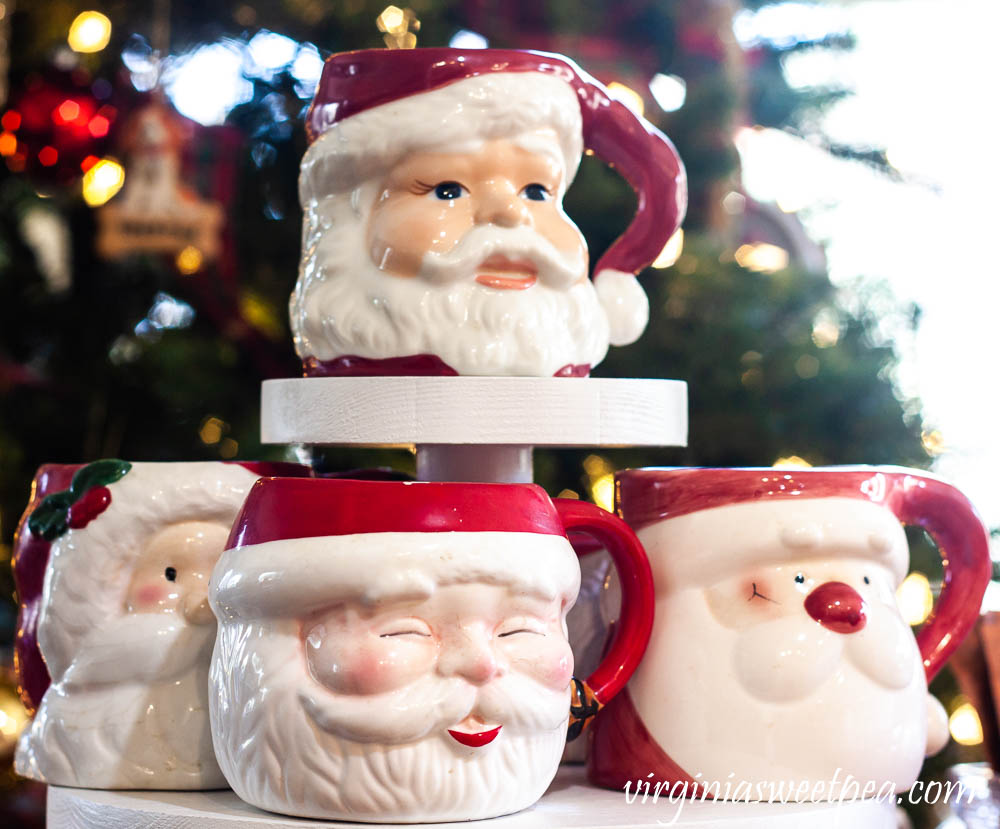 Hot Chocolate & Condiments
Hot chocolate mix is served in my maternal grandmother 1930's Mason jar with a unique square grid pattern.
Marshmallows are a must in any cup of hot chocolate that I enjoy. Marshmallows are served in a snowman jar that I found at Goodwill.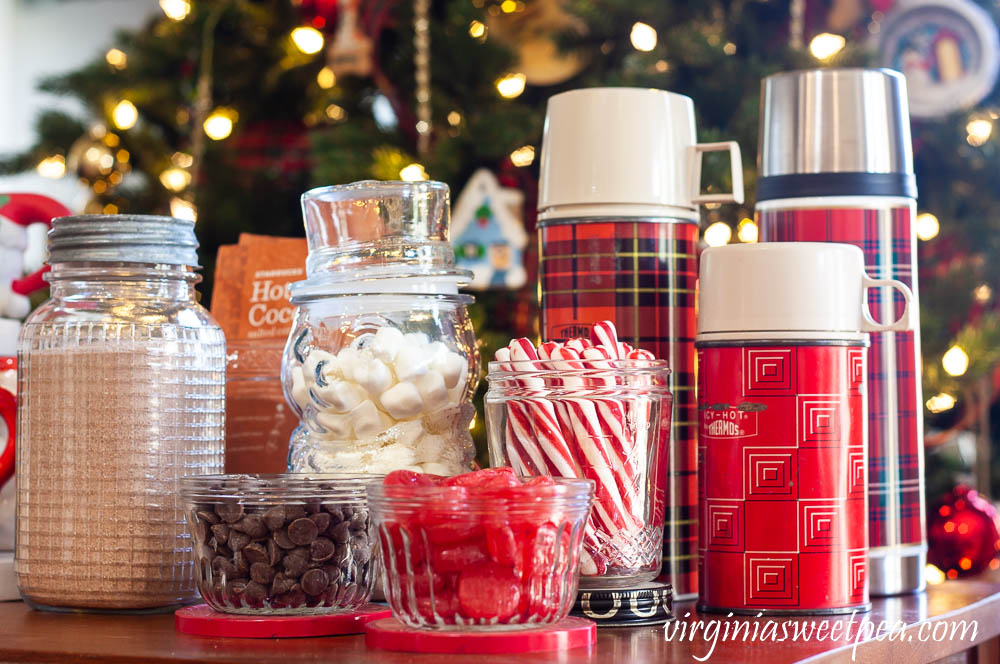 Starbucks Salted Caramel Hot Cocoa packets are served in a vintage compote that belonged to my paternal grandmother.
Other hot chocolate add ons include chocolate chips, cinnamon candies, and peppermint sticks for stirring.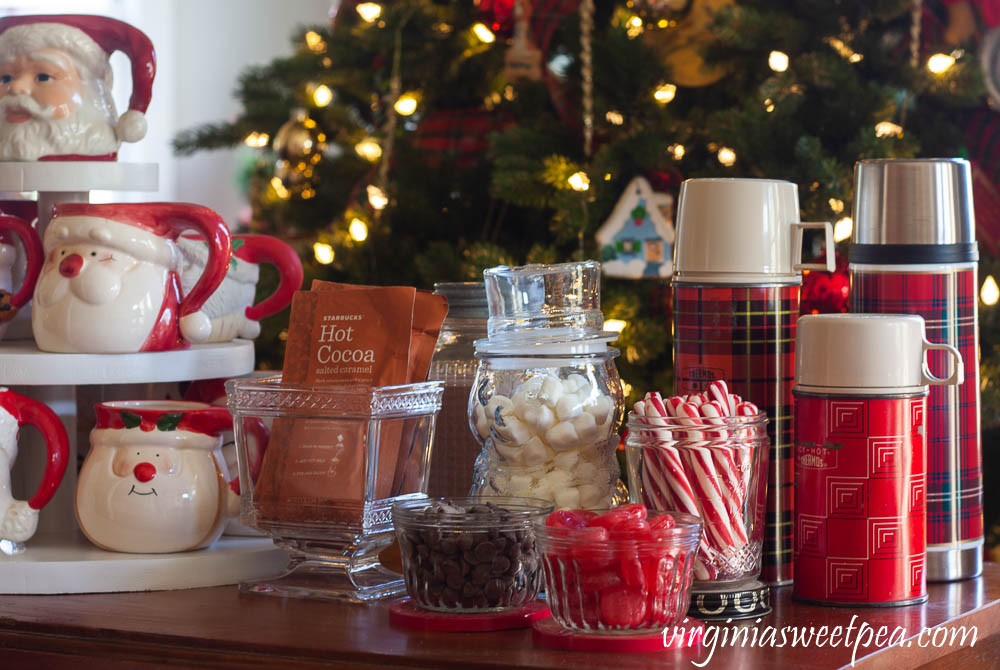 Vintage Jars
The chocolate chips and cinnamon candies are served in vintage jelly jars inherited from my paternal grandmother.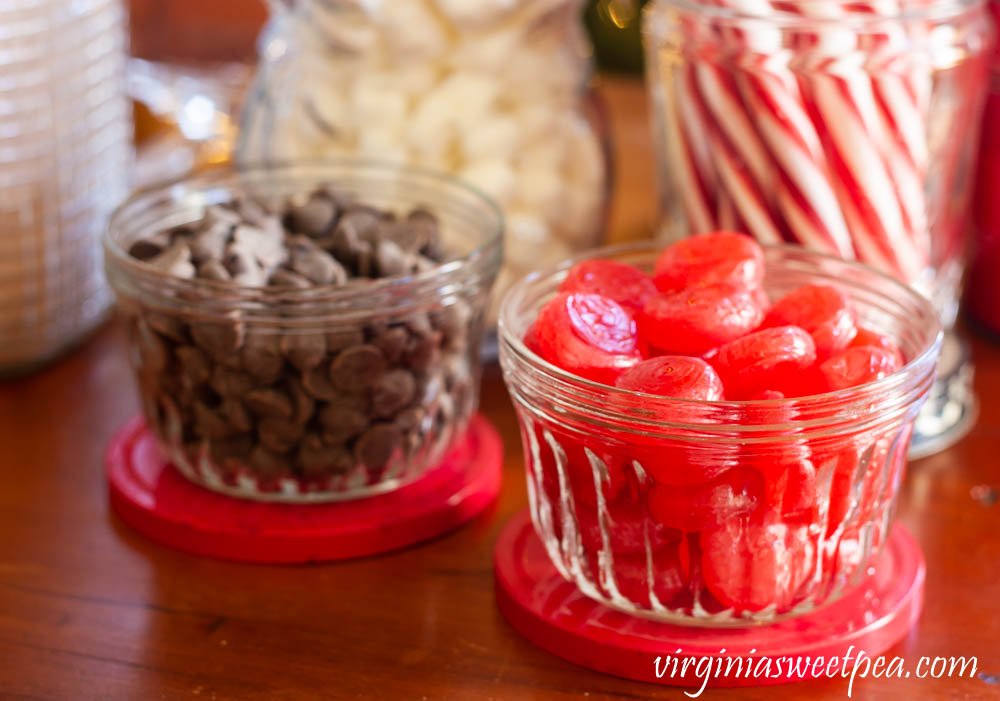 One of the jars lids still has a masking tape label from when Granny made plum jelly in 1986.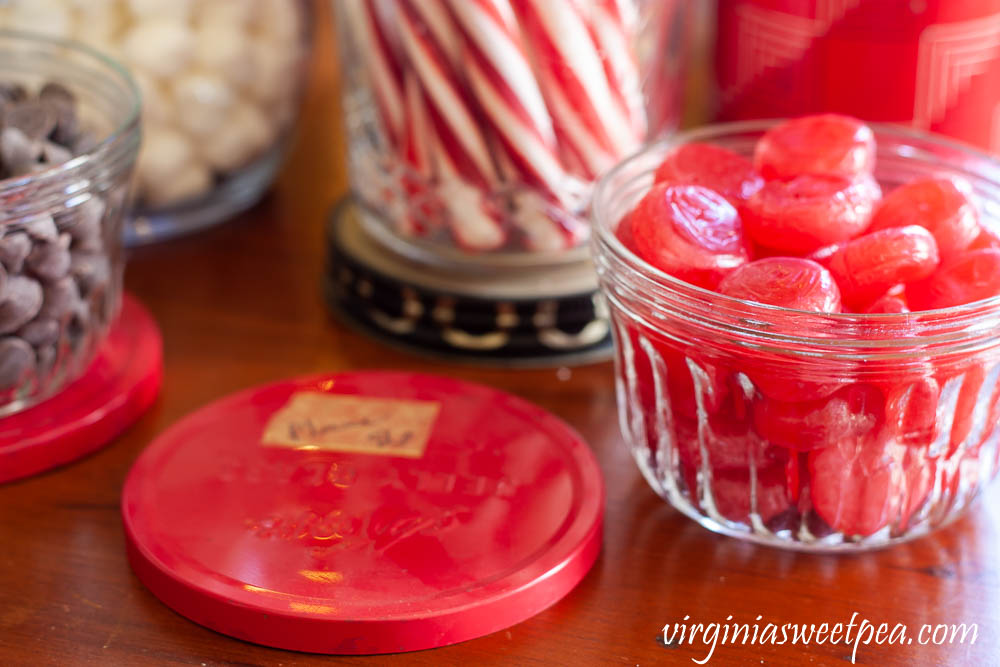 Peppermint sticks are served in a Nescafe Coffee jar that also belonged to my maternal grandmother.
Does anyone else love peppermint sticks as much as I do? My favorite brand is Bob's peppermint sticks but these are from the dollar store as I couldn't find Bob's brand for sale in any grocery store or pharmacy in my town.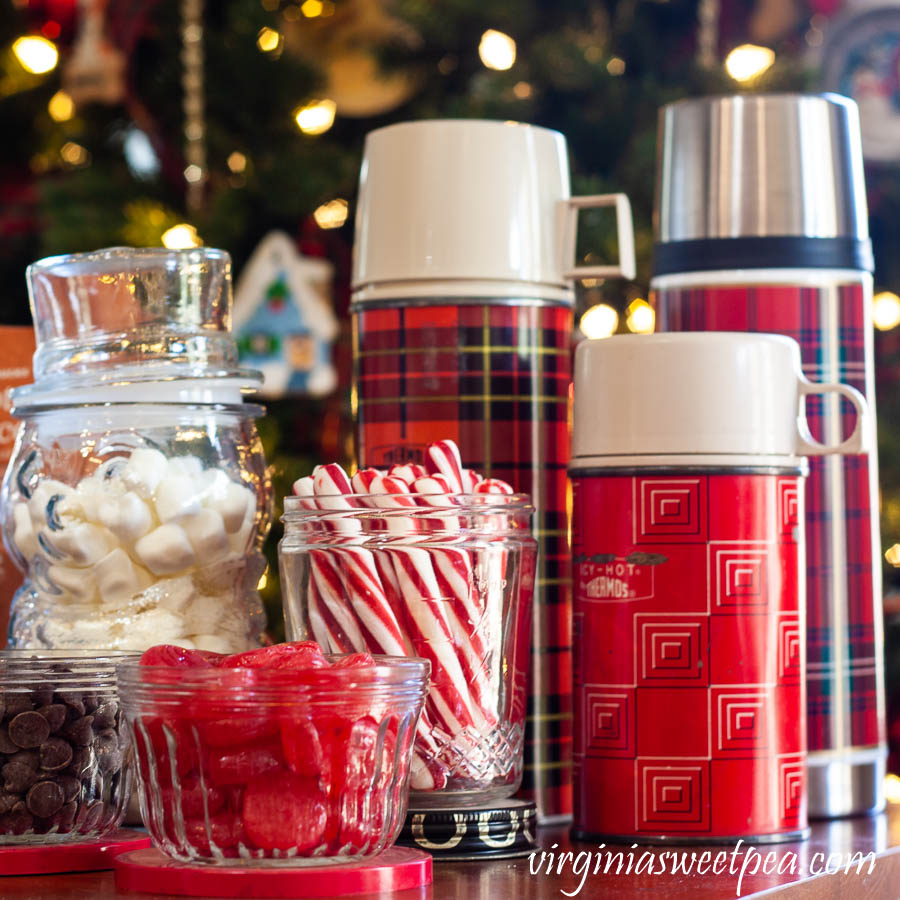 Plaid Thermoses
For vintage lovers like me, a collection of thermoses is a must. The two thermoses with plastic lids are vintage and the one with the silver lid is new.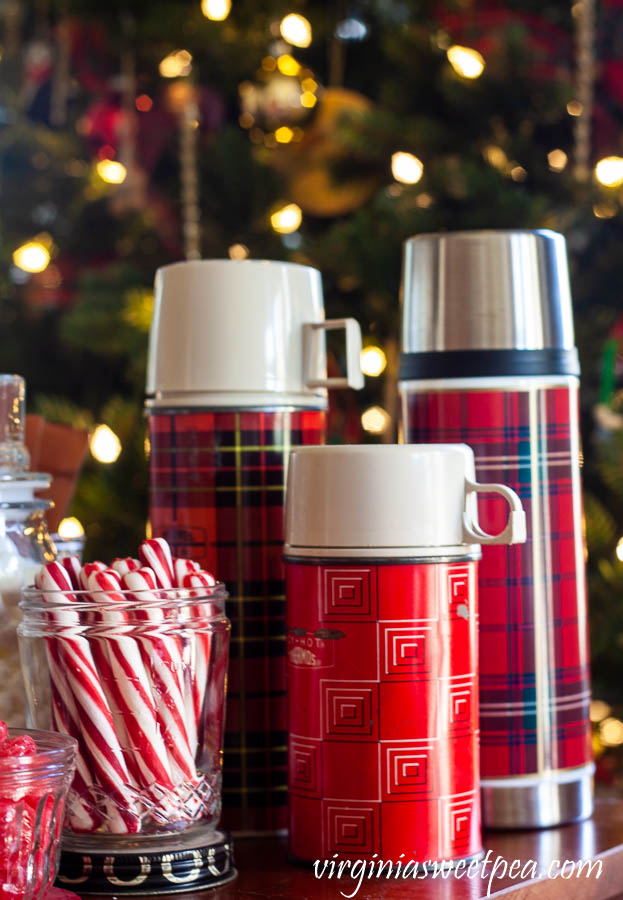 I can only imagine the coffee or hot chocolate that my vintage thermoses carried over the years.
The new thermos was an impulse buy last Christmas at Williams Sonoma. We were in Williamsburg shortly after Christmas and when I saw it on sale, I couldn't stop admiring it. We had to take turns going into the store because Sherman was with us. When it was my husband's turn to shop, he came out of the store with the thermos for me.
Hot Chocolate Bar in Real Life
For this blog post, I set up my hot chocolate bar in front of our Christmas tree in our family room. If you toured our family room last week, you noticed that the Santa mugs were on display on our pie safe.
I moved the mugs back to that spot and moved the rest of this display to our kitchen in the coffee bar area. Our Keurig is there which quickly heats water for hot chocolate. The hot chocolate add-ons along with the hot chocolate powder and packets are on a tray there, ready to be used.
One of my Christmas traditions is to pack away our regular coffee mugs and replace them with Christmas ones. I have a large number of Christmas mugs as it was a common gift to receive from students at Christmas. We enjoy using our Christmas mugs every November and December.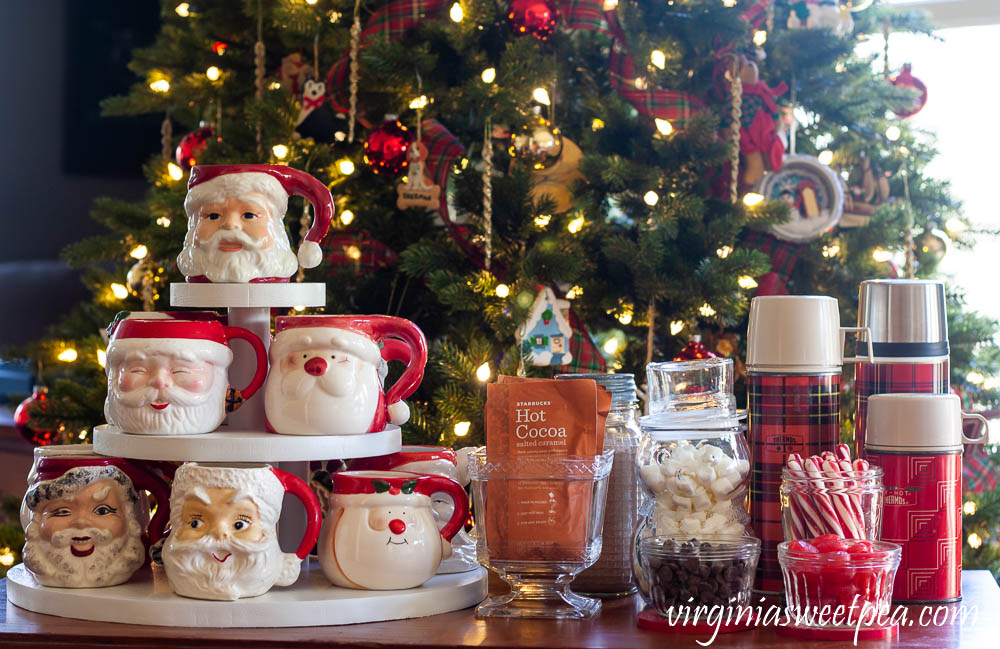 Many thanks to Jessica of Pen+Paper Flowers for this month's Hot Chocolate Bar inspiration photo and thanks to Cindy of County Road 407 for organizing this challenge.
Next on the tour is Lora of Lora B. Create and Ponder. Lora is a fellow vintage lover and I can't wait to see her farmhouse style hot chocolate bar.


More Hot Chocolate Bars to Enjoy
Click on the links below to visit each blogger who is sharing their version of the inspiration picture. I'm looking forward to seeing them all!

You are invited to the Inlinkz link party!
More Christmas Inspiration