May 2015 Stitch Fix Review (Fix #24!)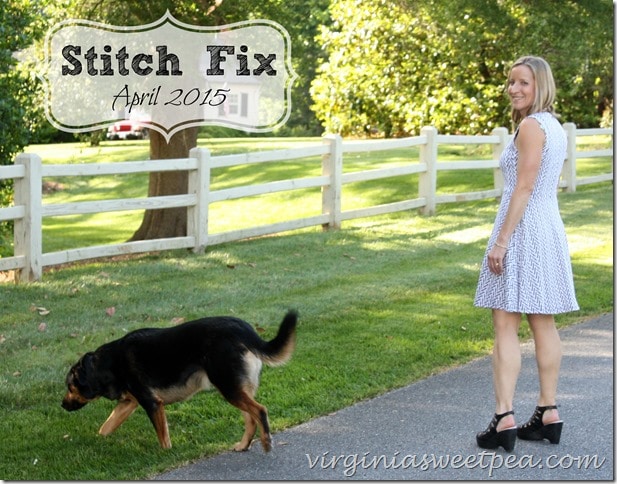 I am a Stitch Fix affiliate and if you make a purchase, I earn a small commission. My love for Stitch Fix is genuine and all opinions are truthful and my own.
Sometimes I wonder if Stitch Fix keeps a record of how many "fixes" each customer has received. I have a feeling that I am one of their top loyal customers as I just received my 24th shipment.
I love getting an email letting me know that a "fix" is on the way. I wasn't expecting this one until Thursday and was pleasantly surprised when it was waiting for me after school on Wednesday.
If you aren't familiar with Stitch Fix, after filling out a style profile, five items are sent to you that your personal stylist thinks that you'll like. I request to only receive clothing but you can also receive jewelry and hand bags. Shipments come to you as often as you'd like, I choose to get one every month. You can see what was in my May 2015 box here. I kept a dress and cardigan and love both!
Pulling the neatly wrapped bundle of clothing out of the box each month is so exciting.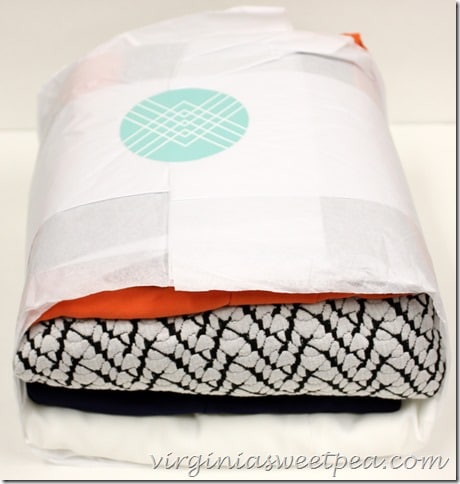 Since I'll be attending the Haven Conference in July, I asked my stylist to send clothing that would be great to wear there. Each month your stylist sends a note along with your items. You also receive style cards with pictures suggesting two ways to wear each piece.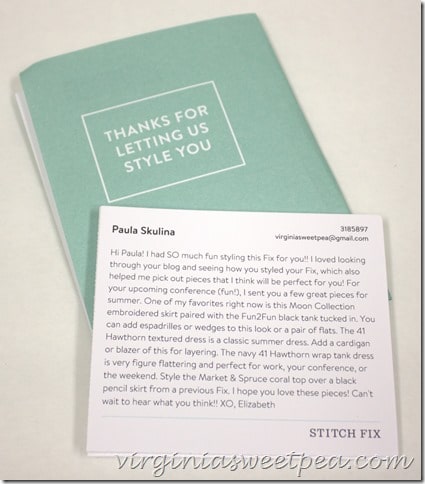 Amy Embroidered Skirt and Fun2Fun Blouse
It's been a number of years since I've owned a longer skirt. When I pulled the Amy Embroidered Skirt out of the box, I liked it immediately because of the fun pattern along both the hem and waist line. Elizabeth, my stylist, suggested wearing this skirt with the Fun2Fun black tank tucked in. I couldn't get it to look right tucked in, so I left it out.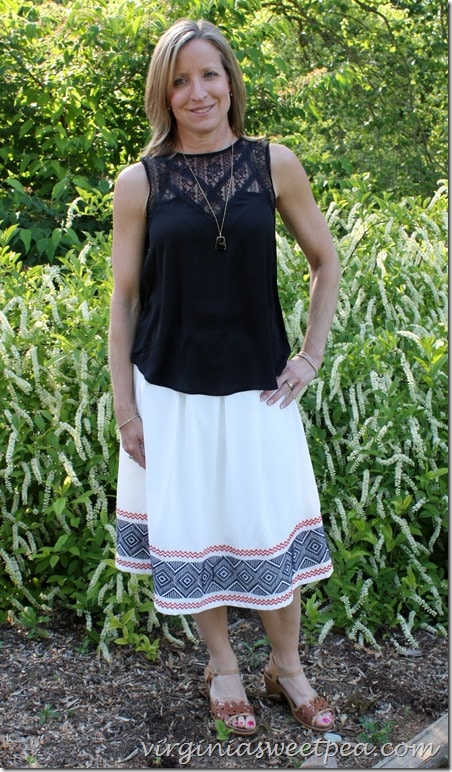 I love this blouse but not with this skirt. The lace detail at the top is pretty and I think that this would look great with a different skirt or with shorts.
Barrymore Solid Pleat Detail Top
Elizabeth suggested to wear the Barrymore Solid Pleat Detail Top with a black pencil skirt that I received in a previous fix. She's right, this top would look great with that skirt. I paired it with the Amy Embroidered Skirt to see if I would like the two together and I do.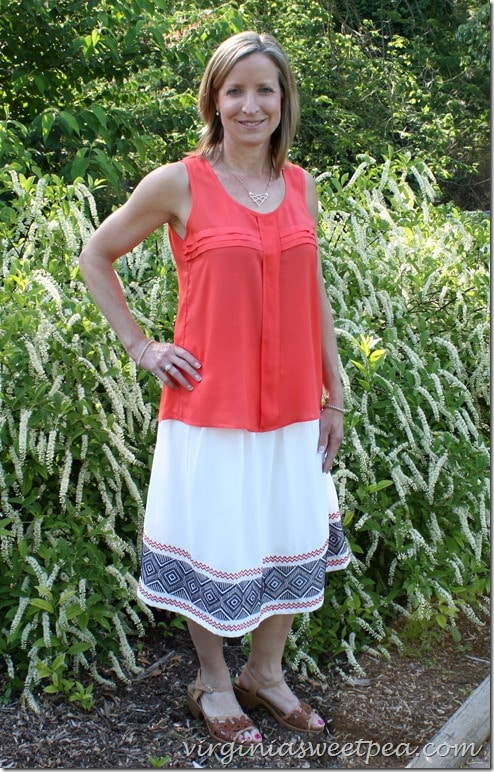 I didn't like the orange top tucked in and wanted to show this skirt's cute patterned waist, so a looked in my closet for another blouse that could possibly work with this skirt. A navy top, also from Stitch Fix, looks better tucked in than the previous two blouses did.
The necklace is from Rocksbox and I'm planning to buy it. (Rocksbox is similar to Stitch Fix but it's jewelry instead of clothing. You can wear the three items sent to you for a month and then you either buy what you like or send it back postage free. See this post for a discount code.)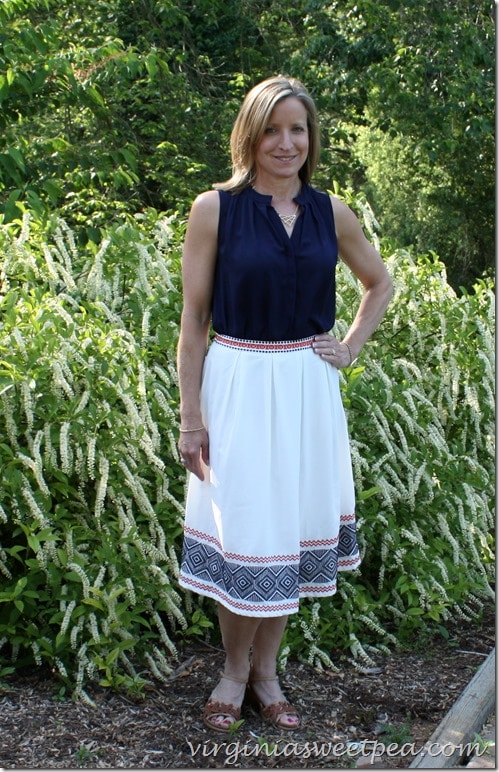 41 Hawthorn Noah Textured Dress
This dress is so comfortable! It has hidden pockets which is a fun feature. This is a dress that I could easily pack for my conference without worrying about wrinkles and comfortably wear all day. It also is perfect for work.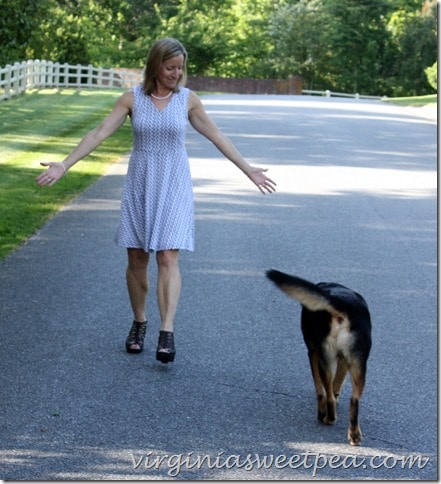 This dress's fabric is thick for a summer dress, so I probably wouldn't wear it to an outdoor event on a hot summer day.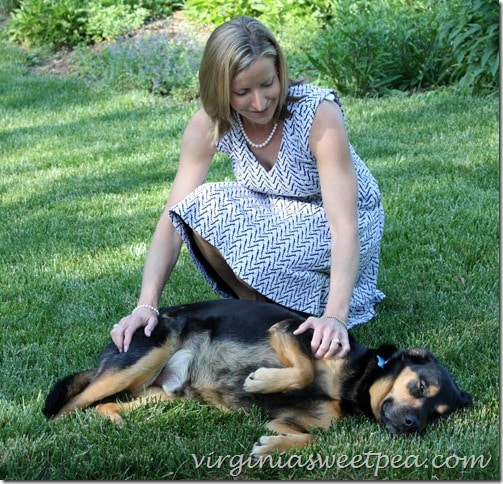 41 Hawthorn Rocco Faux Wrap Tank Dress
I always have loved a wrap dress and this one is no exception. This is a perfect travel dress, it could be balled up in a suitcase and pulled out with no wrinkles. It's super comfortable and I've always loved navy blue. I remember one of my first years of teaching one of my girls asked me if I knew that I'd worn something navy for 7 days in a row. 🙂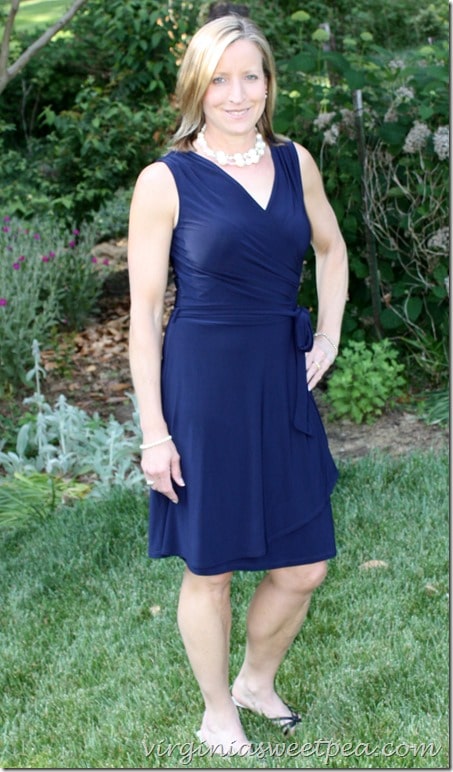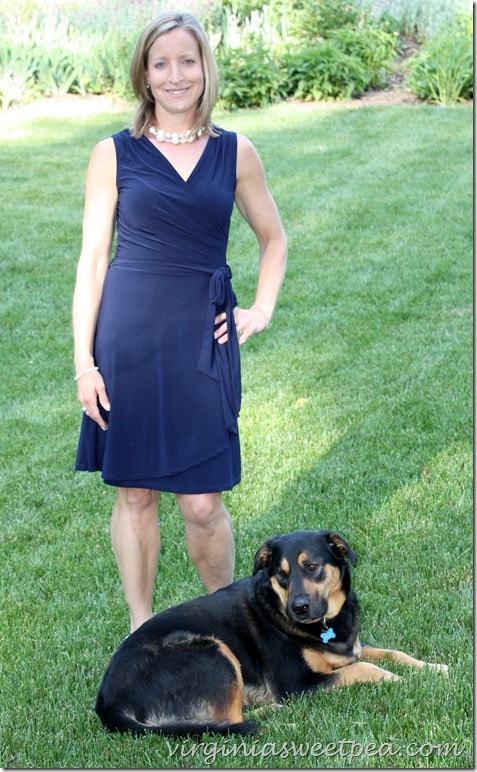 My necklace is vintage. My aunt let me have my grandmother's jewelry and it was among her things. It could have been hers or it could have belonged to one of her aunts. I hope my aunt will remember the original owner. I wore it to school not long ago and several of my girls commented on it.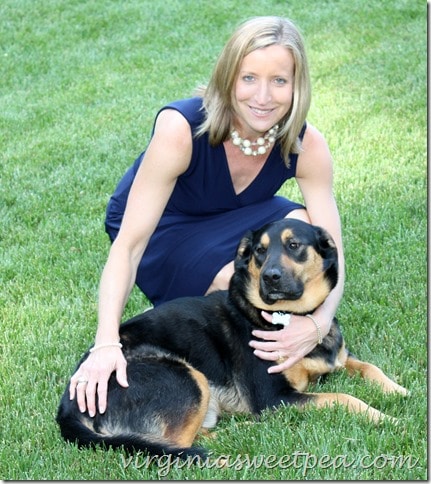 Stitch Fix charges a $20 styling fee that is deducted from what you purchase. If you purchase all five items, you get a 25% discount. I almost always buy one item per month and two times have purchased all five items.
I really struggled with what to keep this month. It's great when you like nearly every item and have a debate over what to keep. I finally had my husband read this post and make the decision for me. He's always been able to shop for me and pick out things that I like. Just ask my tennis friends, one in particular wants him to be her personal shopper for tennis.
Amy Embroidered Skirt – Returned
I liked this skirt but it was over my budget and I worried that I would get it dirty too quickly when I wear it to work.
Market and Spruce Top– Returned
I didn't like this enough to keep. The back is longer than the front and I already have several tops with this design. Also, orange is not my favorite color to wear.
Fun2Fun Lace Detailed Blouse – Returned
I really liked this blouse but decided to invest my money in the dresses since I can use them for both work and Haven.
41 Hawthorn Noah Textured Dress – Purchased
41Hawthorn Faux Wrap Tank Dress – Purchased
Have you tried Stitch Fix? I obviously like it since I'm on my 24th fix!