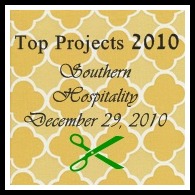 Rhoda of Southern Hospitality is hosting a "Top Projects 2010" party. I thought it would be fun to recap some of my favorite projects of the year.
Where to start? We completed one of the biggest projects in our married lives in 2010, a new driveway. There's not a day that goes by that I don't admire it and truly appreciate that we were able to have this work done for our home. You can also see another favorite project in the picture below, a new Chippendale door.
In 2011 we will have a green lawn thanks to a newly installed irrigation system and we'll work more on the landscaping.
Extending one of our flowerbeds was another favorite project. I love having more planting space and I also love to look at my flowers when I sit on our patio.
I learned to use power tools this year, thanks to Mr. SP. My first project was a tree to hold my Swarovski snowflakes.
Mr. SP let me back into his shop in March to make a knock-off handbag.
4th of July required another workshop invasion to make this centerpiece.
We stenciled a wall in our family room in August. I intend to extend the stencil out a bit in 2011 and Mr. SP intends to replace his handcrafted TV cabinet with something else.
Projects slowed down for me once school started. I managed to craft school pride bracelets out of tennis balls just in time for football season.
Getting better at tennis is an ongoing project for me. In October my bestie and I came oh so close to winning our division of a charity tournament.
At the end of November I crafted a Pottery Barn knock-off garland that I've really enjoyed this holiday season.
The way it goes for me is always a project, never enough time. I hope you'll join me in 2011 for another year of project fun!