The Story of a 100+ Year Old China Cabinet
I'm sharing the story of my mom's oak china cabinet that is original to her 1912 home.
Mama's home and this cabinet have stayed in our family through the years. In 2009 my mom started restoring her home and moved there in 2010. When she moved, this cabinet was returned to its original home.
Today I'm sharing the story of this cabinet and Mama's home.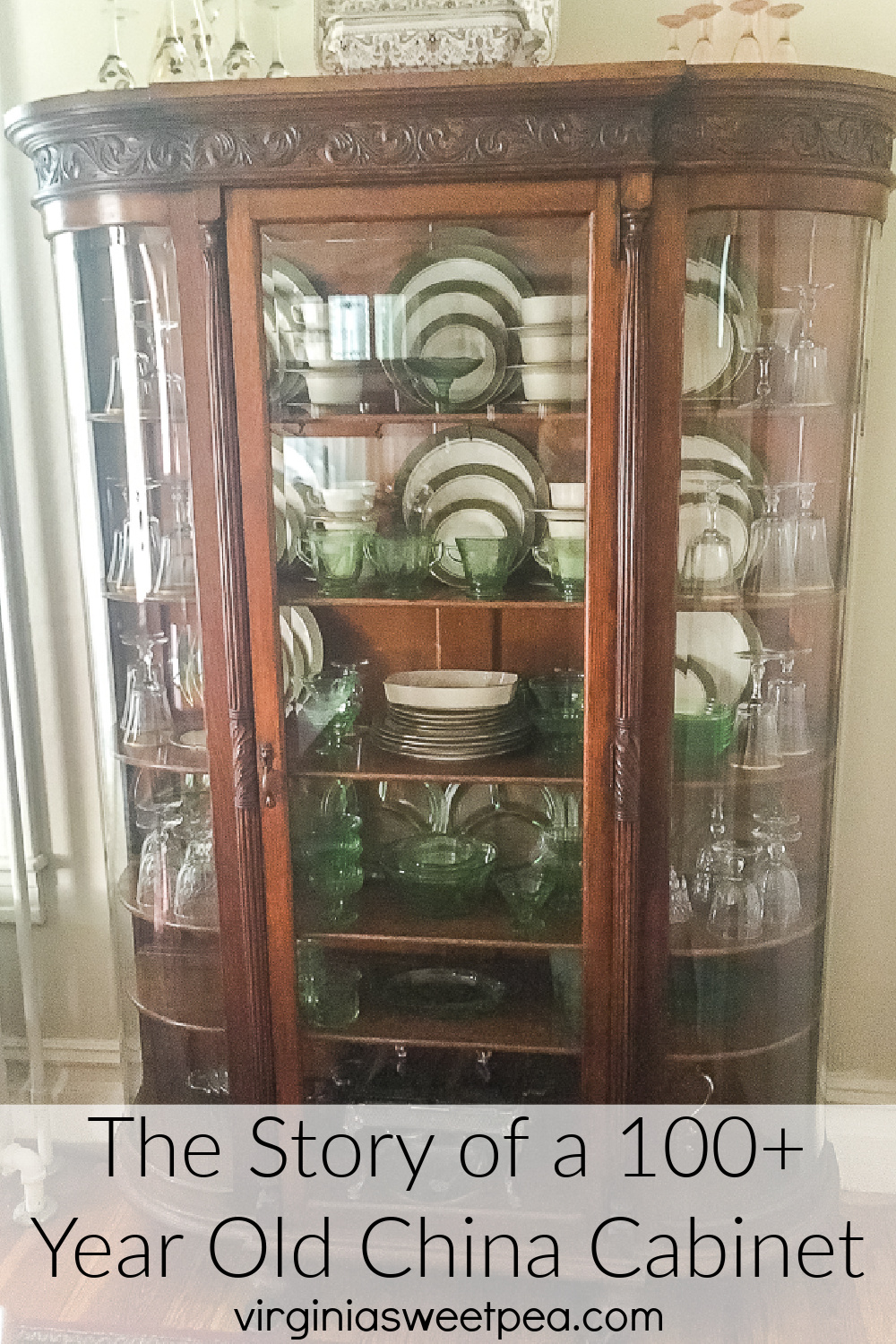 I'm sharing Mama's china cabinet story for this month's Lifestyle of Love Blog Hop hosted by Cindy of County Road 407. This is an every other month themed series where we share our love of antiques and vintage.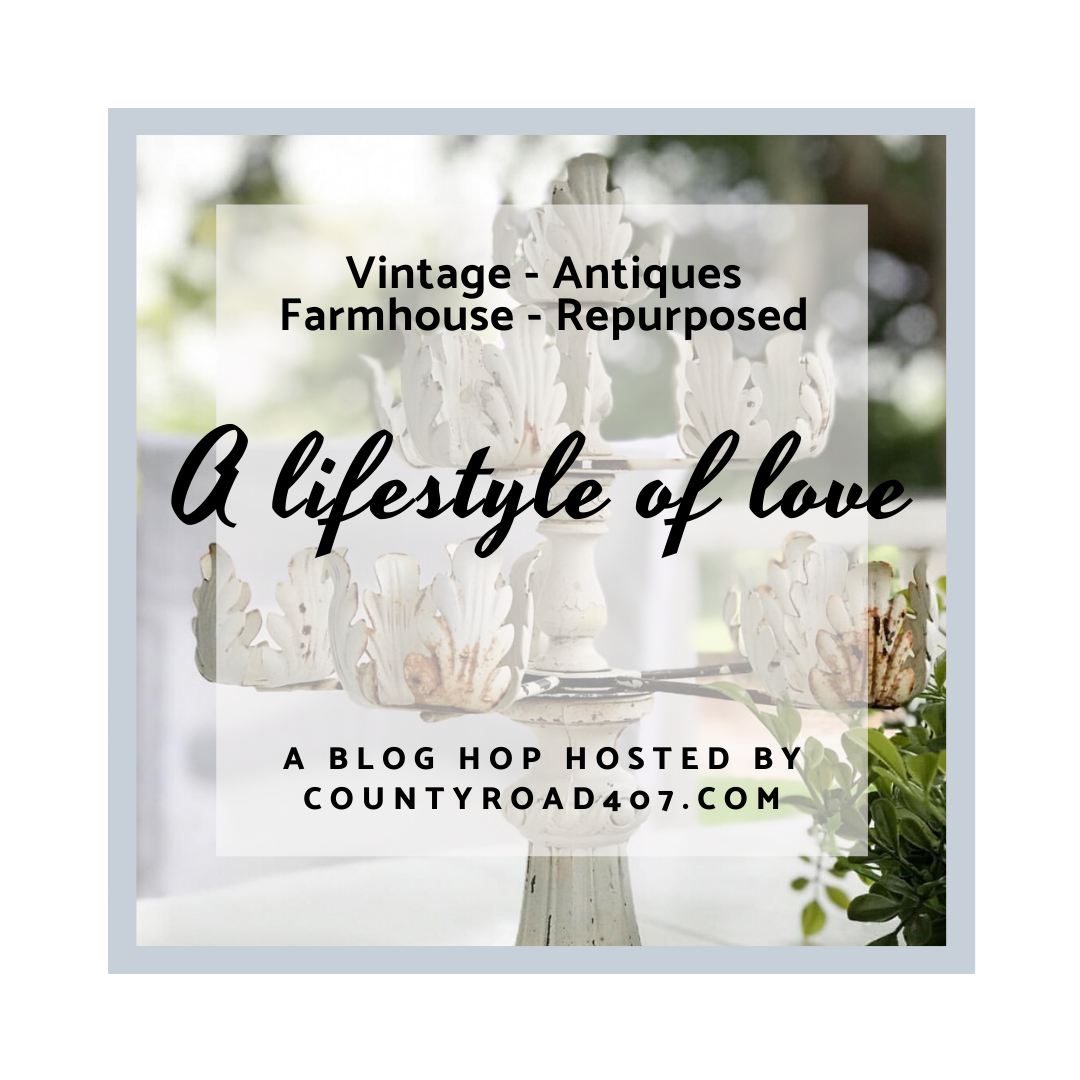 The theme this month is china cabinets and at the end of my post, you'll find links to the china cabinets that my blogging friends are sharing. I'm really looking forward to reading what everyone shares!
If you arrived from Our Southern Home, welcome! Christy and I have been blogging friends for many years and I adore her classic southern style.
Mama's Antique Oak China Cabinet
We'll start with pictures of Mama's oak china cabinet and then I'll go into the history of this piece.
I want to thank my sweet Mama for helping me out with this post. She sent pictures and information for me to share with you today.
Welcome to Mama's dining room furnished with inherited family treasures. See the footed glass bowl on Mama's dining room table? My grandmother used it to make a centerpiece for the reception hall for my parents' 1968 wedding.
The dining room table and chairs originally belonged to my paternal grandmother. My grandmother did the needlepoint on all of the chairs.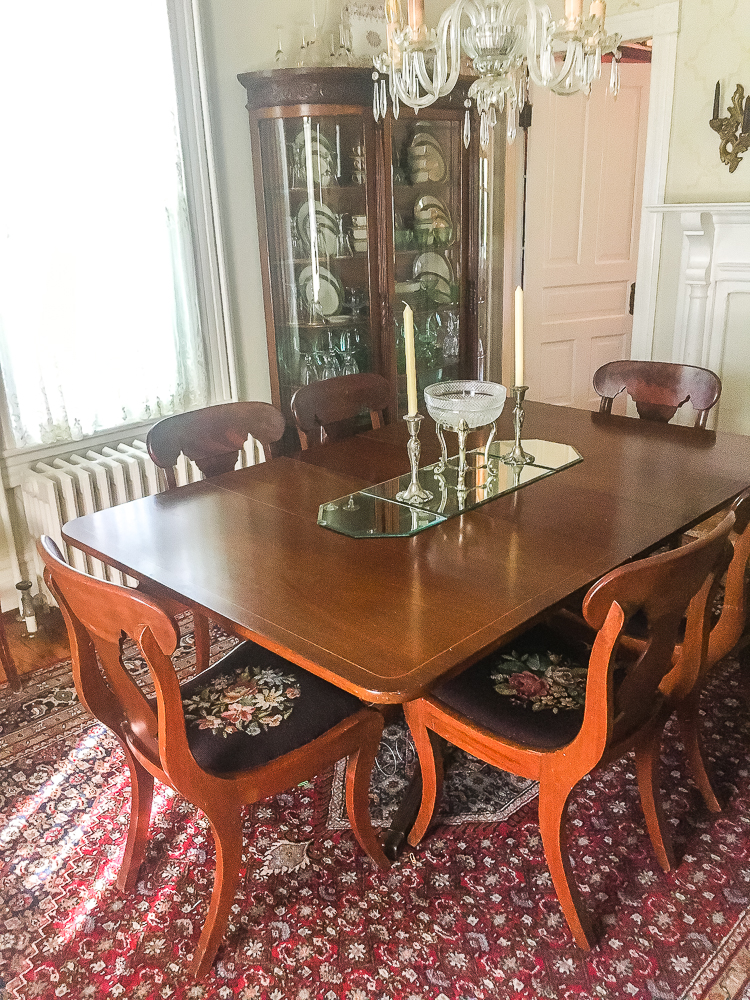 This is the china cabinet that is original to the home. Mama doesn't know if it was purchased when the home was new or if it was a piece that my great-great-aunt and uncle had when they built the home.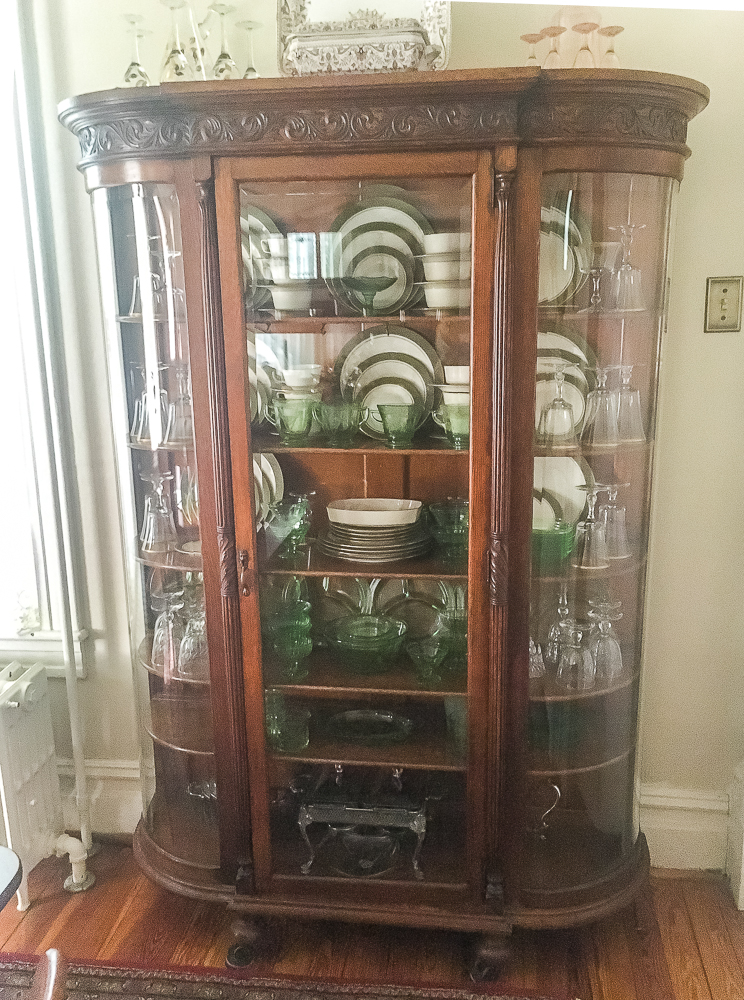 When I visited Mama at Easter, this china cabinet was filled with my paternal grandmother's china. Mama loves to redecorate and since Easter, she's switched out the display to her 1968 wedding china (Franciscan Antique Green) and crystal, green depression glass, and silver.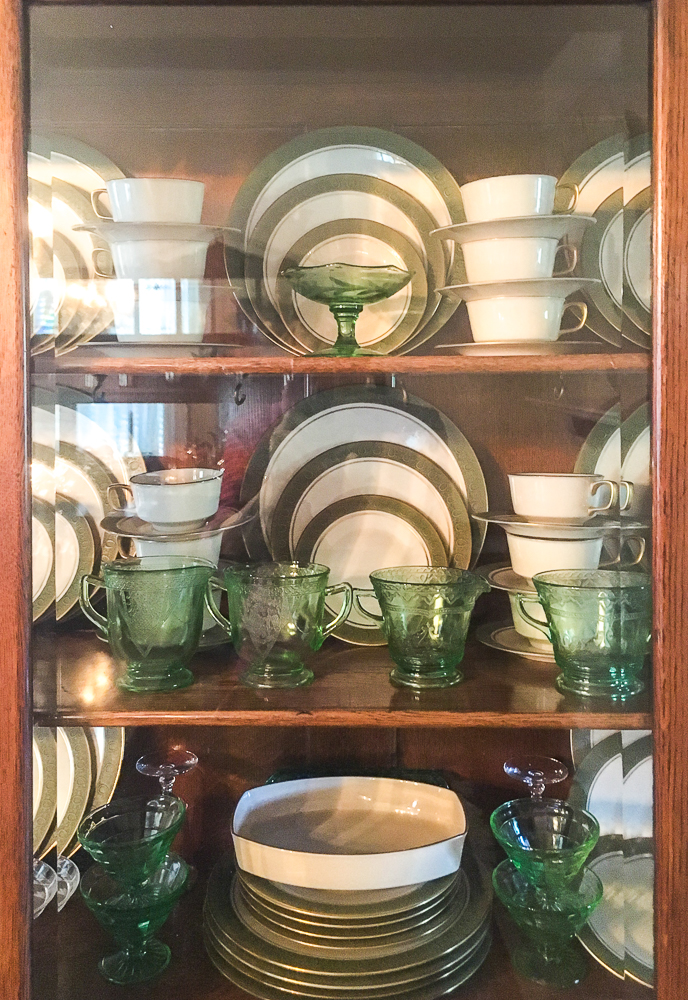 I love visiting my Mama because her home is choked full of antiques and almost all of them are inherited pieces.
The sconces over the mantel belonged to my paternal grandmother. Mama bought the chandelier in an antique shop when she was restoring her home. When I say she was restoring her home, I mean she did the work herself along with help from my cousin's husband and other family members.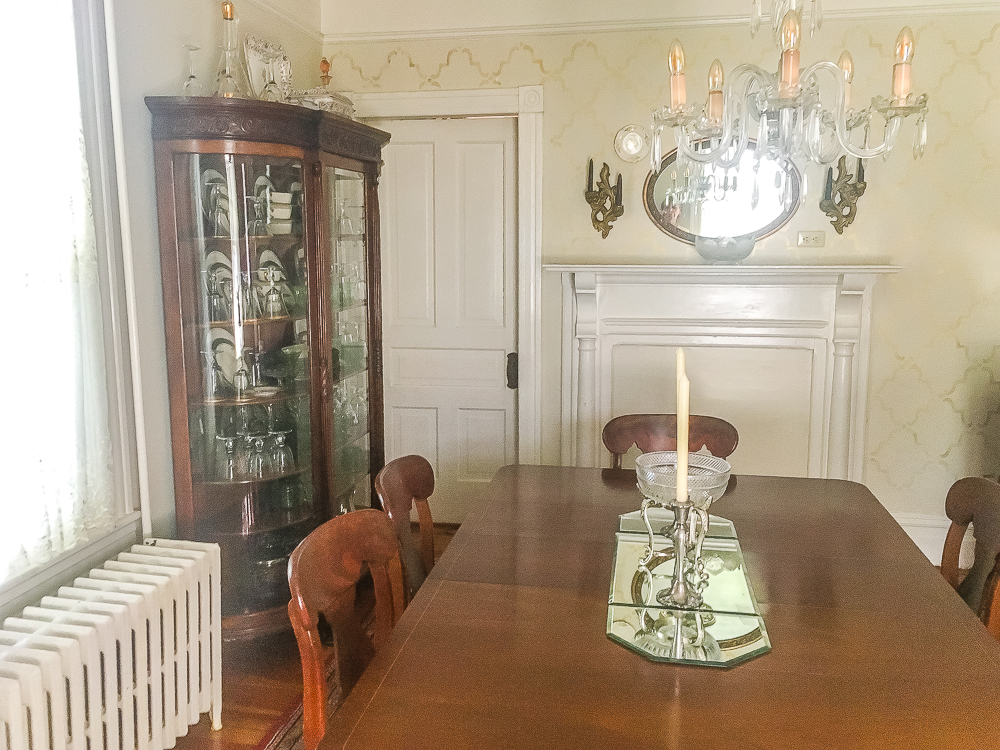 The buffet was also inherited from my paternal grandmother. The silver cups on the buffet are engraved baby cups that belonged to me, my brother, and my dad. The silver spoons are baby spoons used to feed the three of us as babies. The Jefferson cups are awards from Mama's teaching career.
I gave the mirror over the buffet to Mama as a gift. It was found in an antique shop in Roanoke, VA.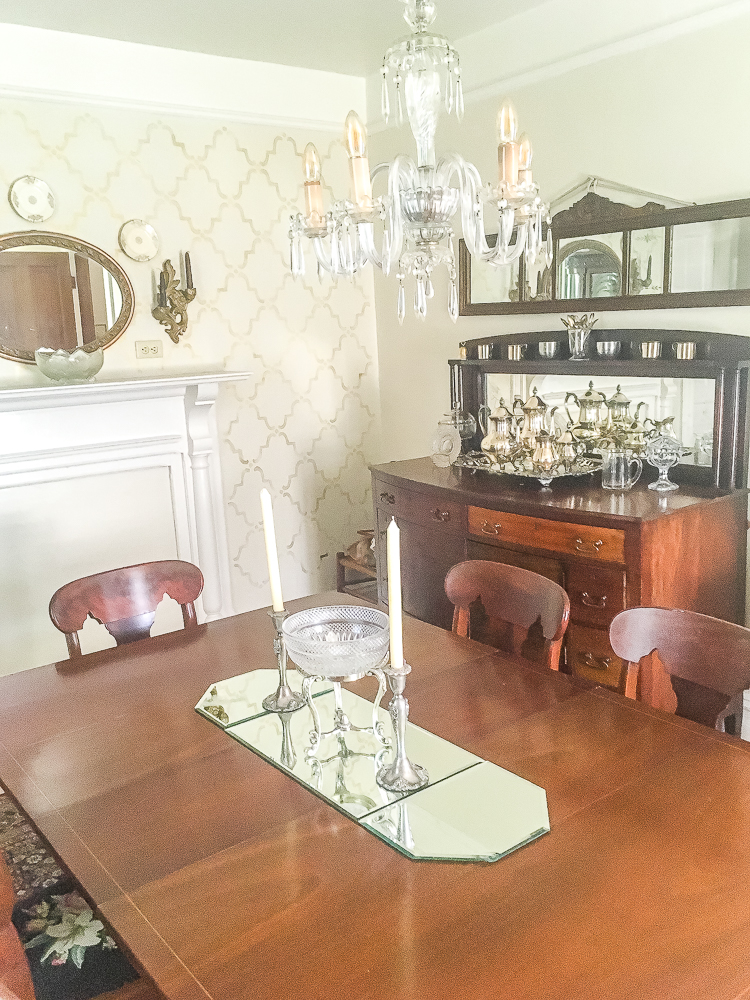 To the right of the buffet you can see some of my paternal grandmother's national award winning Garden Club pressed flower projects. The sewing machine belonged to a family member. Usually Mama has a music cabinet in this spot but it appears she has moved it elsewhere.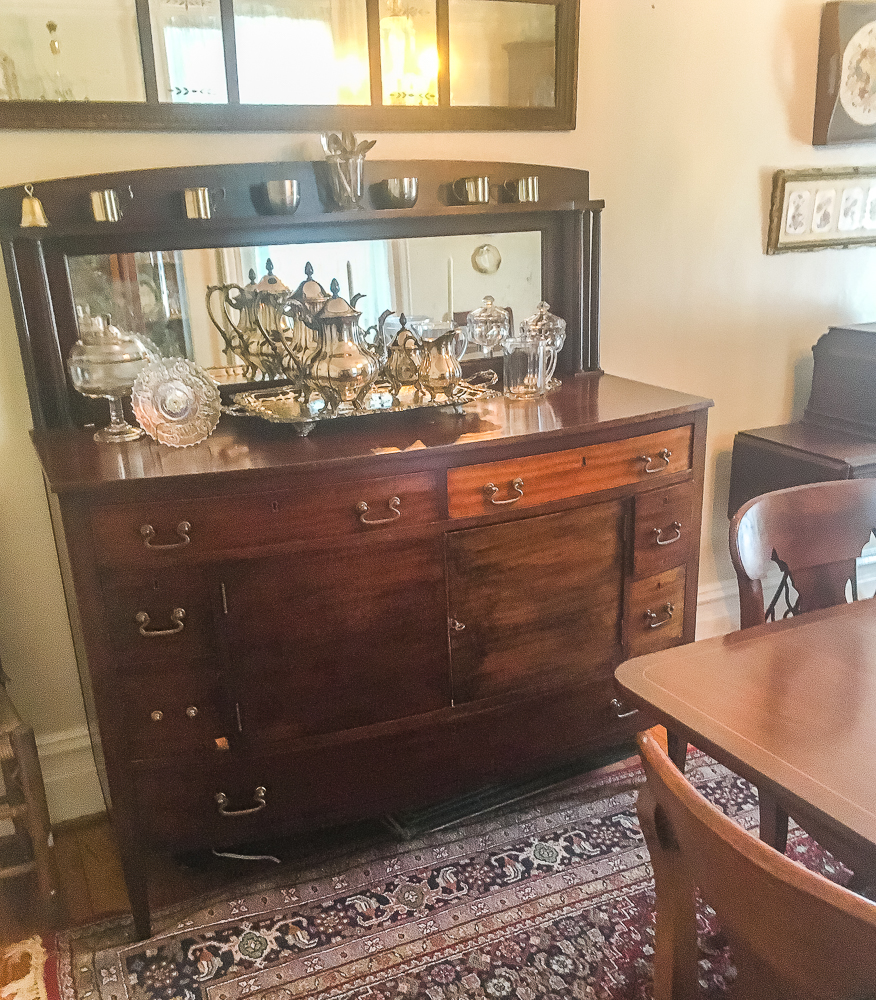 This corner hutch was inherited along with the table, chairs, and buffet. The plates also were inherited from my paternal grandmother.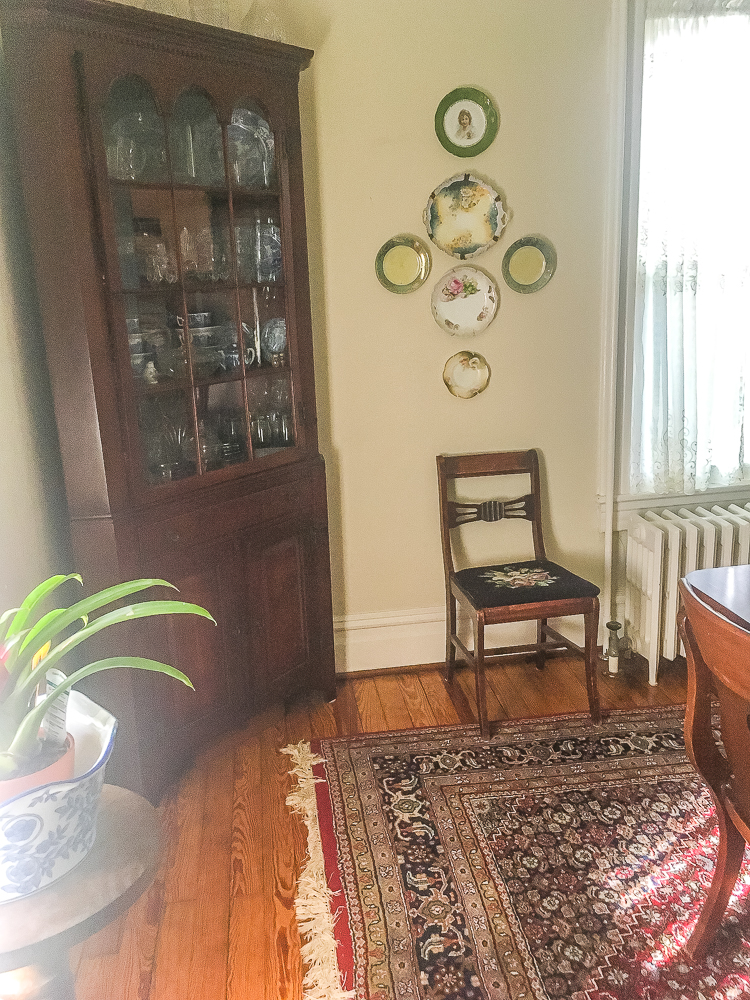 Mama filled this corner hutch with her Spode Blue Italian china and glassware.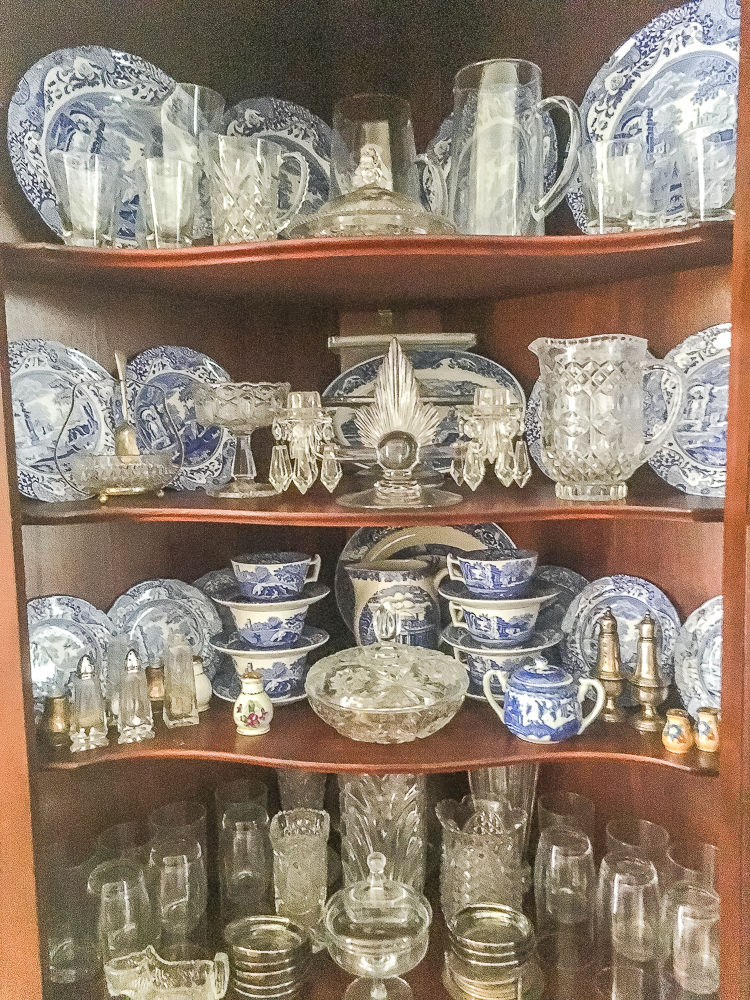 The History Behind the Oak China Cabinet
The story of the china cabinet starts with Jim and Sallie Scanlon building their house on Walnut Avenue in Waynesboro, VA in 1912.
Sallie Scanlon was my maternal grandmother's aunt.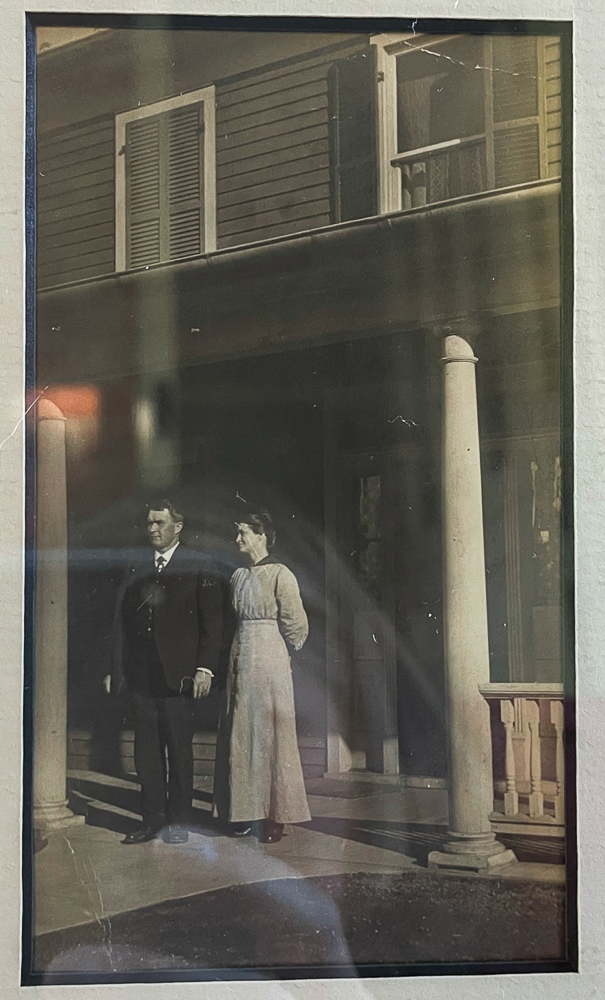 Before moving to Waynesboro, Jim and Sallie lived in the Covesville area of Albemarle County, near the Nelson County line. Nelson County is where I grew up and where many of my family members on my mom's side live.
Jim traveled a lot for work and Mama was told that he admired New Orleans style homes and he emulated that design when he built the house.
Mama recently framed the house's building permit along with pictures of the house being constructed.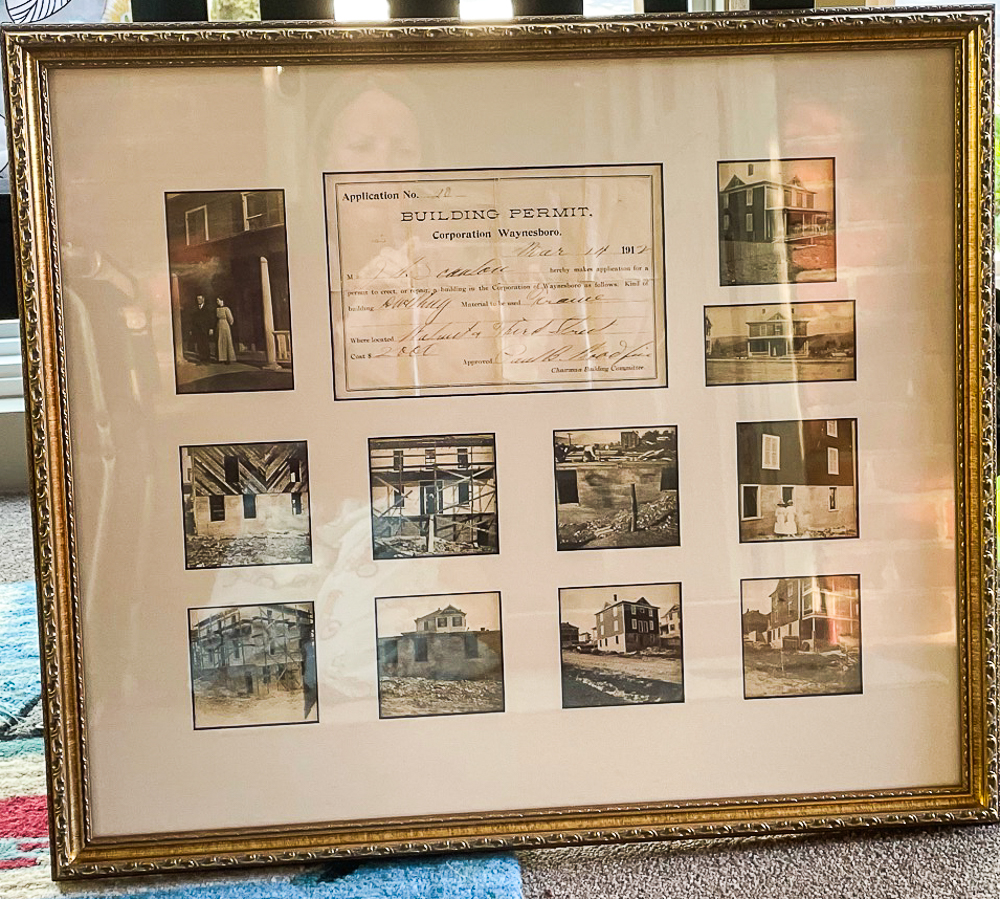 Mama's house is now white with black shutters but originally it was painted red. Go to this post to see what the home looked like when it became Mama's in 2009.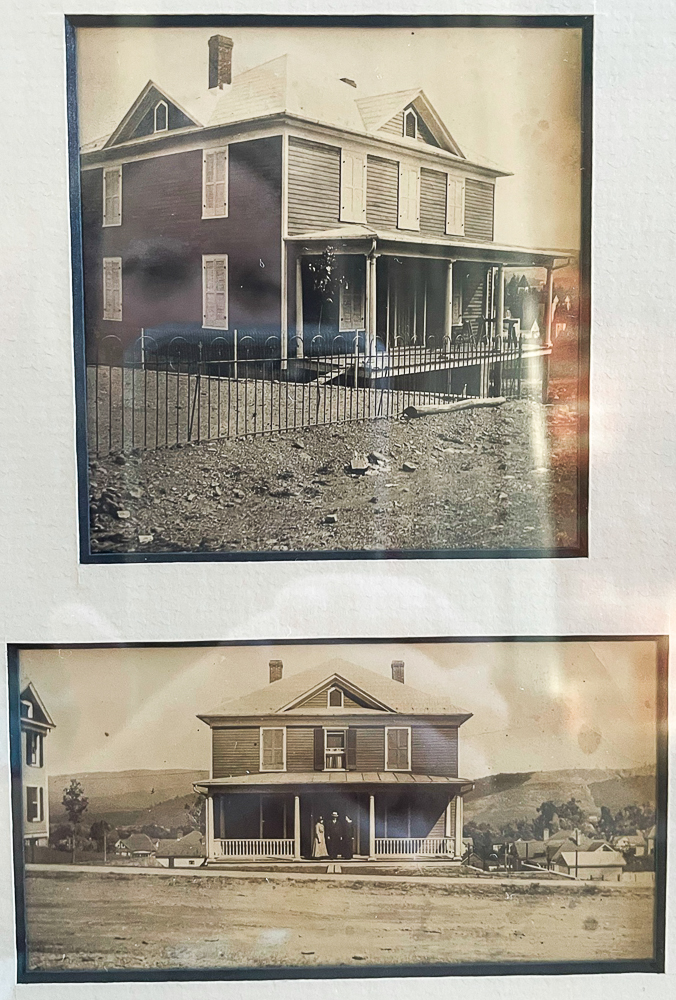 Sadly, Sallie contracted Typhoid Fever in 1916 and died at the age of 39. Typhoid fever also killed her sister, my maternal great-grandmother Nellie, and my grandmother's brother, Nelson. My grandmother was sent to live with another sister, Lillian, who raised her and was a much loved grandmother to my mom and her three sisters. Granny's dad sadly was killed leaving Granny and her sisters all alone at a very young age. Sisters Frances and Nannie were raised by another sister, Emma.
Jim continued to live on Walnut Avenue until his children, Creed and Maggie Scanlon, graduated from Waynesboro High School. You can see their diplomas hanging in my mother's stairwell here.
Eventually, Jim, Creed and Maggie moved to Pittsburgh and the house was rented until my grandmother inherited it from Creed in the early 1980s.
When they moved, a room was built in the attic to store the china cabinet. The room was sealed so that renters could not access the china cabinet.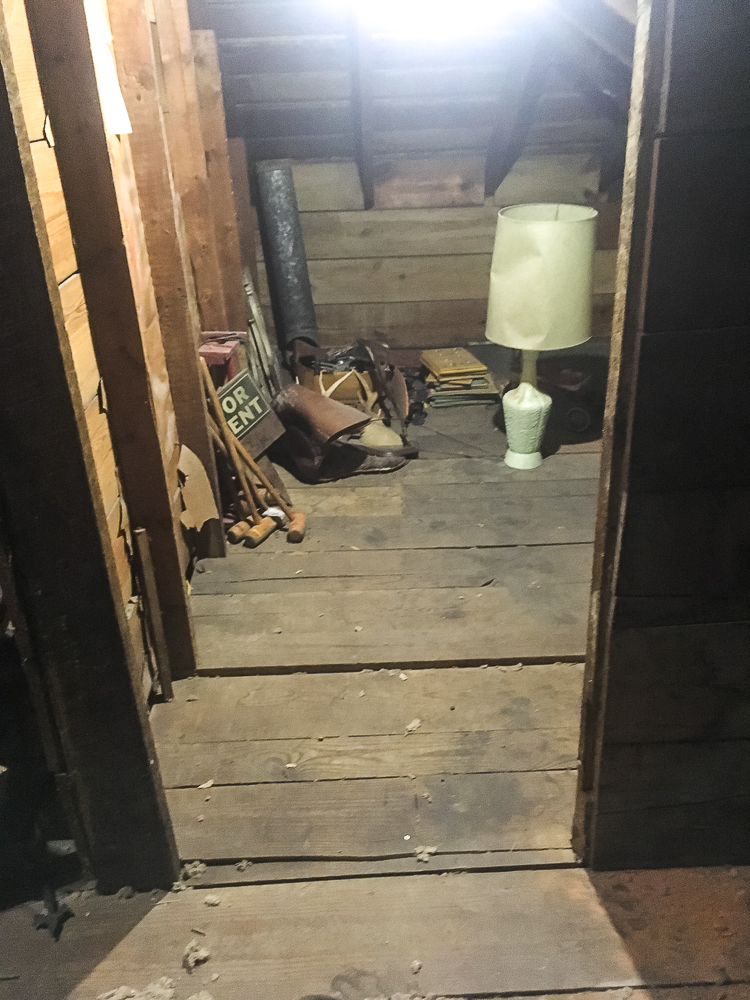 Maggie contracted polio as a child and was always somewhat disabled. She wore knee-high lace-up black boots to help stabilize her legs and never married. Maggie and Creed lived together until her death.
In the 1970s Creed married for the first time and his new wife wanted the china cabinet, so it was moved to Pittsburgh. When Creed's wife died, he moved into a retirement home and gave the china cabinet to my maternal grandmother.
My mom and dad drove to Pittsburgh in my dad's Ford F150 and moved the cabinet into my grandmother's Nelson County home. It resided there until Granny died in 2002 and Mama inherited the cabinet. It was then moved to the home where I grew up. In 2010 it was moved back to its original home on Walnut Avenue.
This cabinet is a beast and moving it is a nightmare. It is a miracle that the glass was never broken in any of its moves.
Another Piece of Furniture Original to the House
Maggie's piano is another piece of furniture that has been returned to its original home.
Maggie was an accomplished piano player. When the family moved to Pittsburgh, Jim asked Aunt Lillian who raised my grandmother to keep the piano until he could ship it to Pittsburgh. He never did ship the piano and my mother grew up playing it. The piano was moved to the home where I grew up and I also played it.
It's now back in it's original home.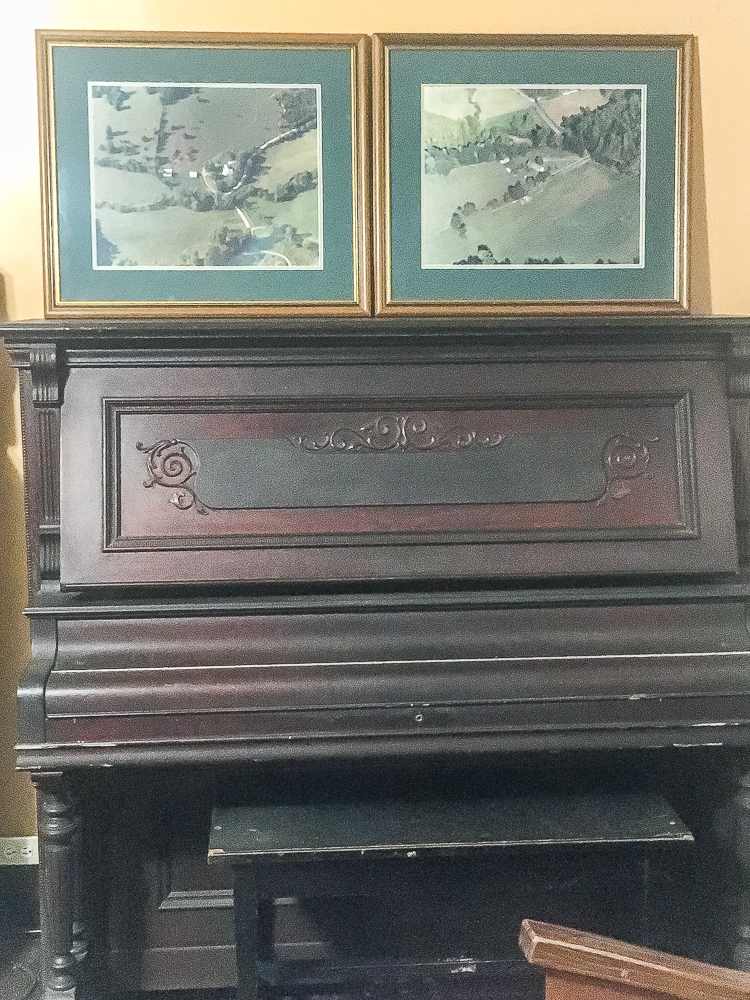 The photograph on the left is an aerial view of my grandmother's farm and the one on the right my mom and dad's farm. Mr. SP took me flying on one of our first dates and we took these pictures of the farms and had them framed for my grandmother and my parents.
Mama and I both have framed a lot of Maggie's sheet music.
These are on display in Mama's family room.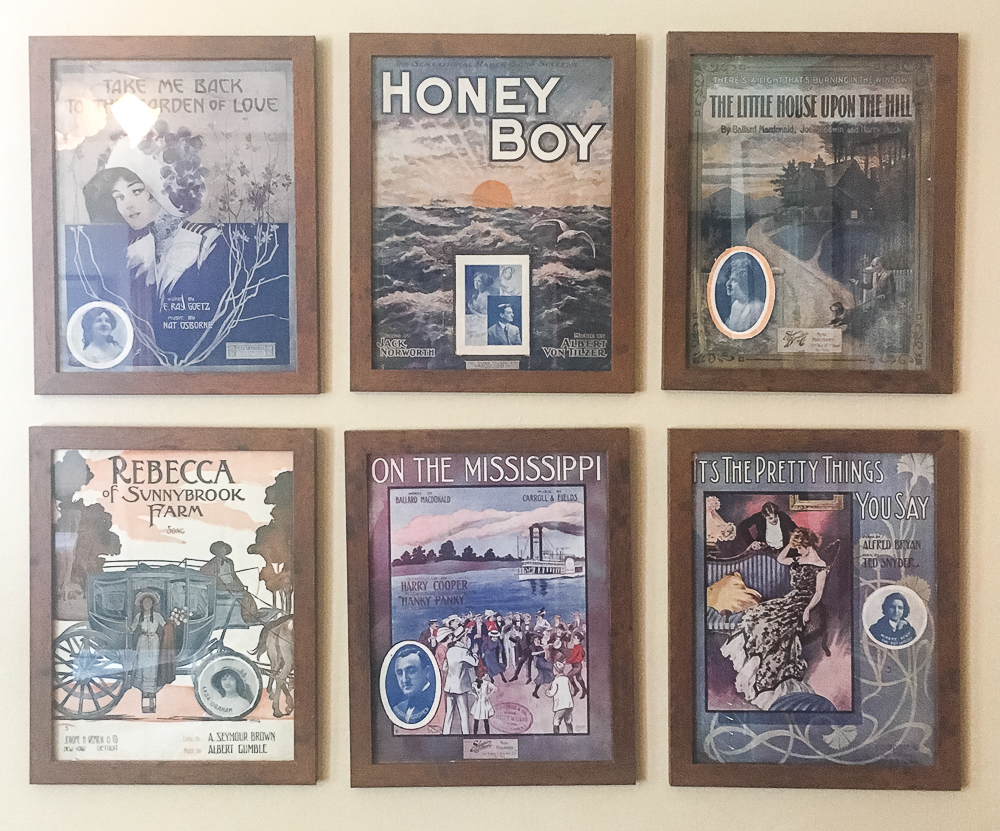 Here you can see some of Maggie's sheet music hanging in my formal living room.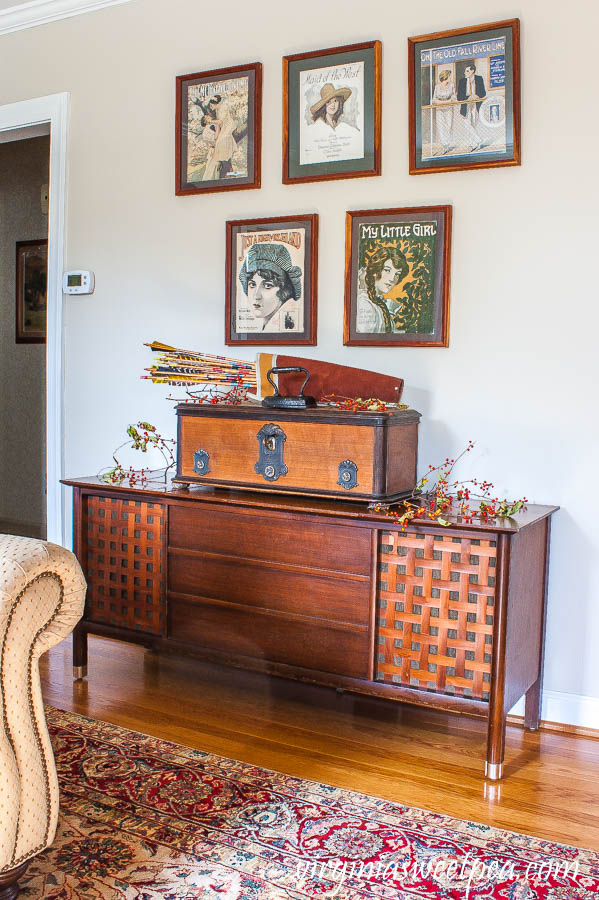 Here is more hanging in my family room.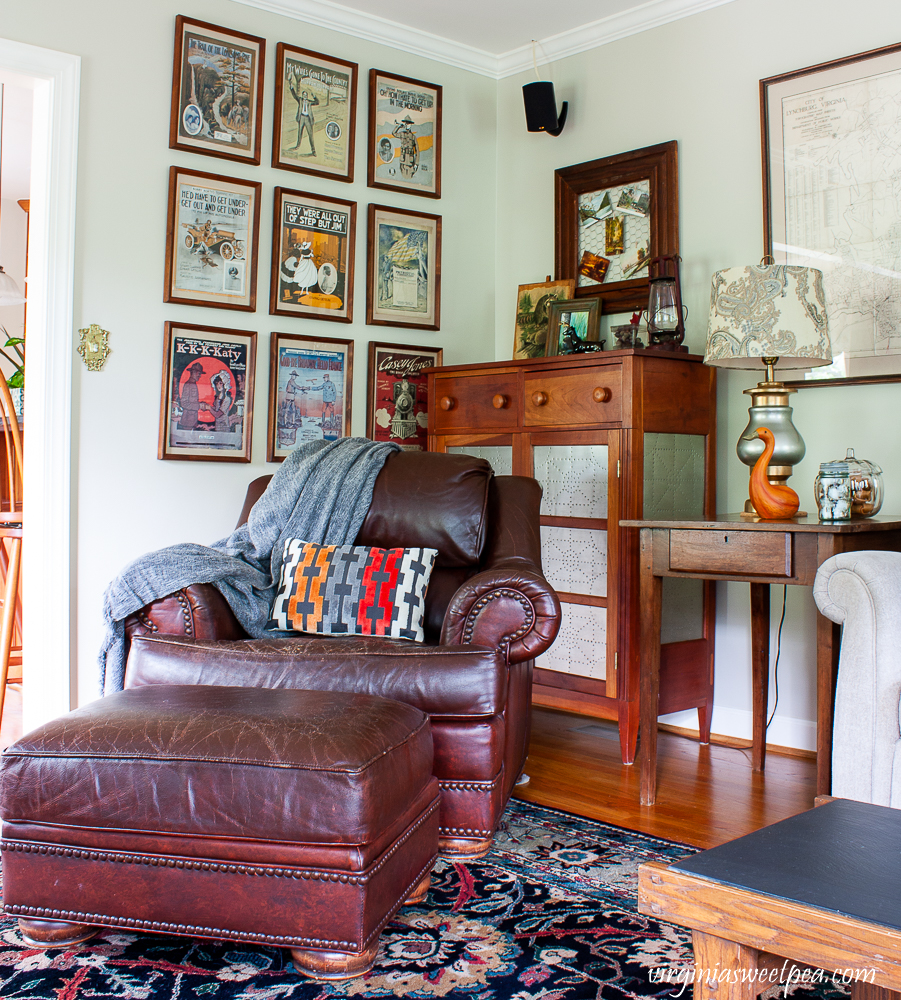 Maggie is in the center of the second row.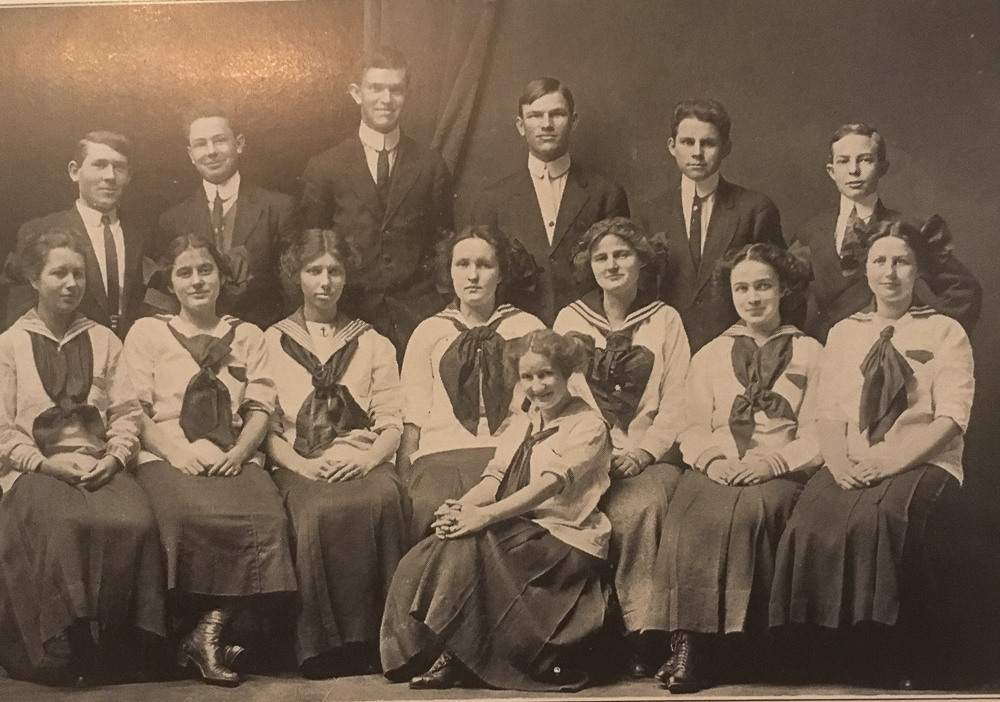 The picture is from Maggie's 1911 Waynesboro High School yearbook.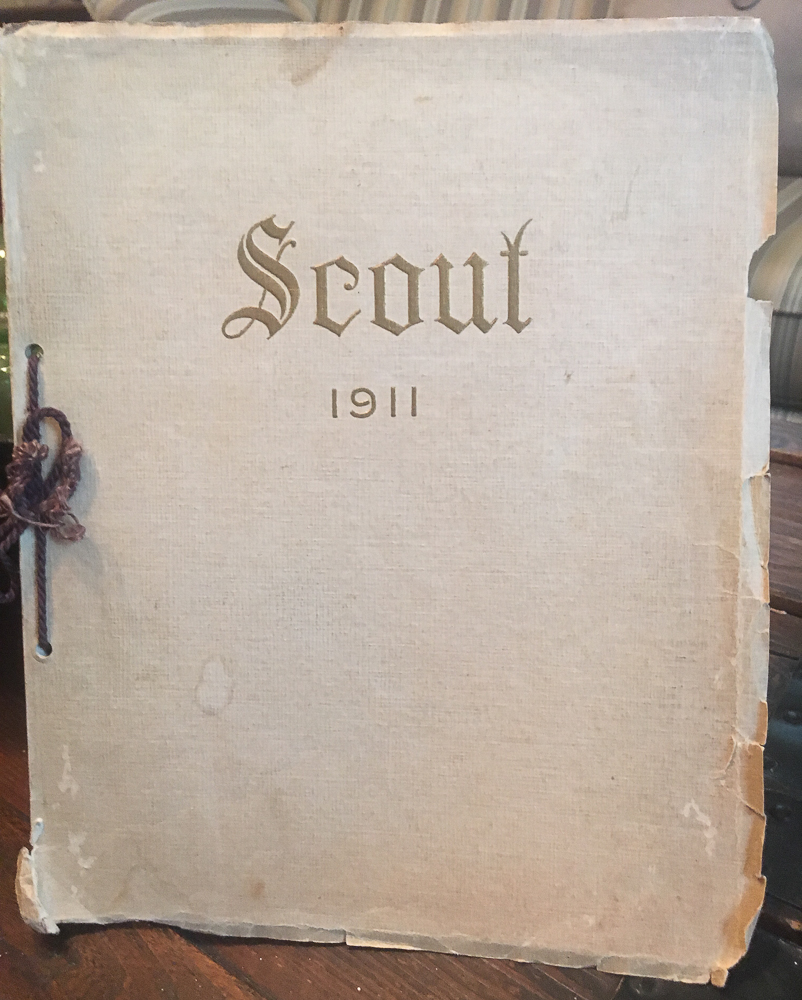 Maggie was a Sophomore in 1911.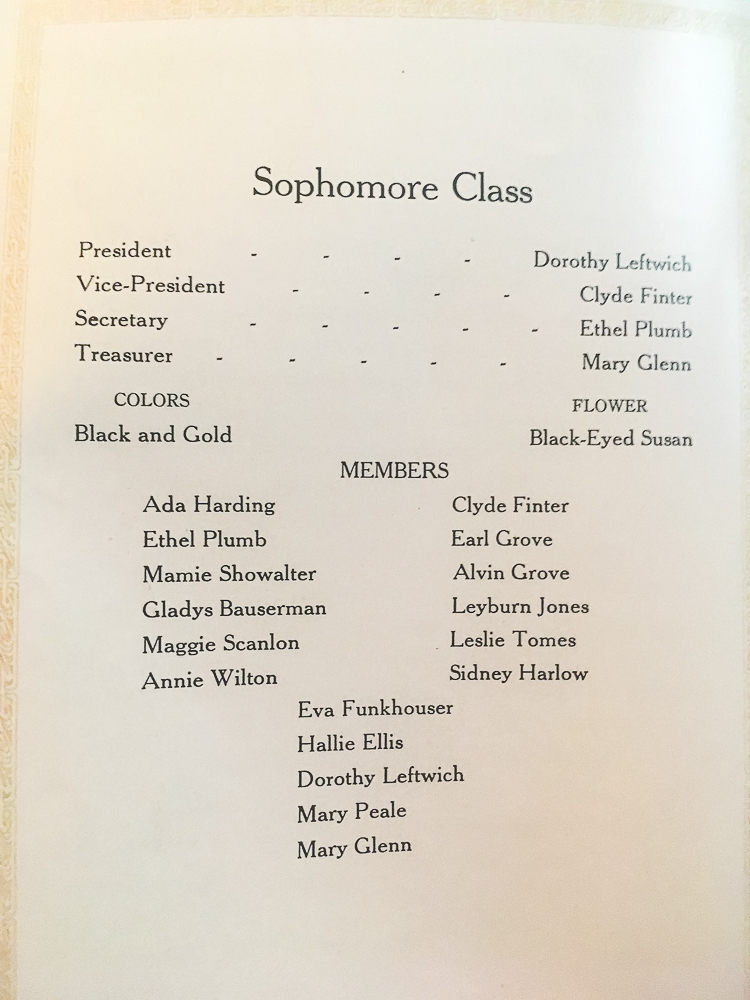 A Mystery to Investigate
When Mama was in her attic taking pictures of the storage room that was made for the china cabinet, she realized that there may be a second storage area to open.
The graffiti is from the years that the house was used as a rental.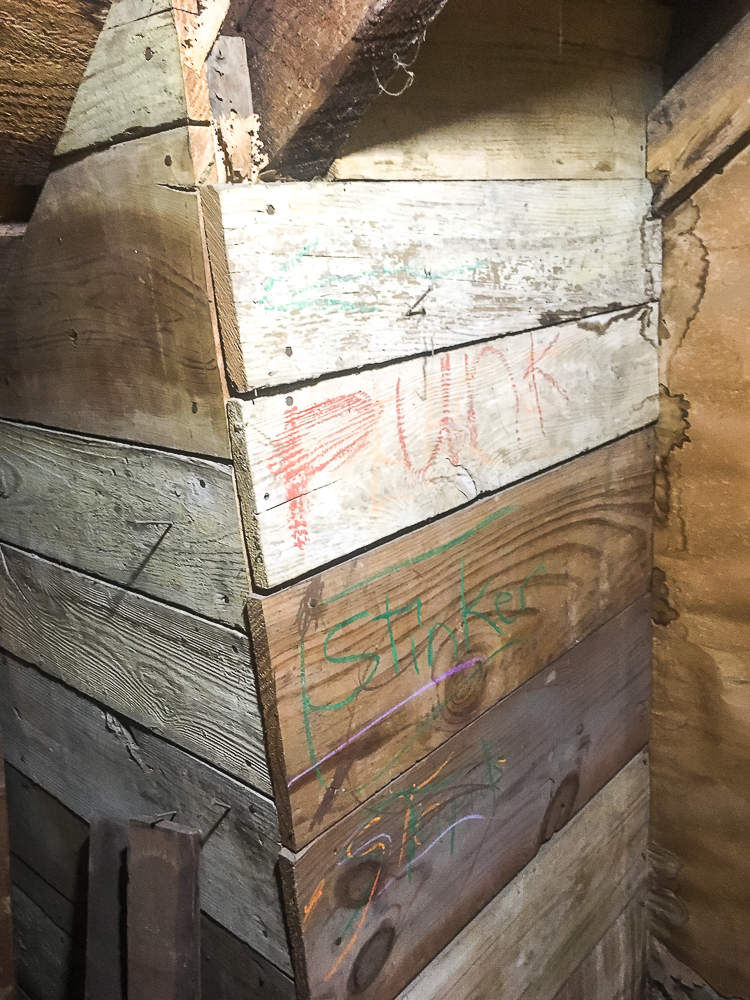 Mr. SP and I are visiting Mama for Mother's Day and we plan on removing a few of these boards to see if some family treasures may have been hiding in this area for 100 years waiting to be discovered.
UPDATE: On Mother's Day we went into the attic and removed a board to see if there was anything hidden in this area. There was only an empty space behind the board that we removed. No treasure but it was fun to investigate!
More on Mama's 1912 Home
These are the posts that I've shared about my mom's house restoration over the years.
More Lifestyle of Love Posts to Enjoy
If you are hopping in order, next on the tour is Coco from The Crowned Goat. Coco is a talented decorator and I truly enjoy every post that she shares.
More China Cabinets to Enjoy
Click on the links below to see the china cabinets that my friends are sharing.