November 2015 Stitch Fix Review (Fix #30)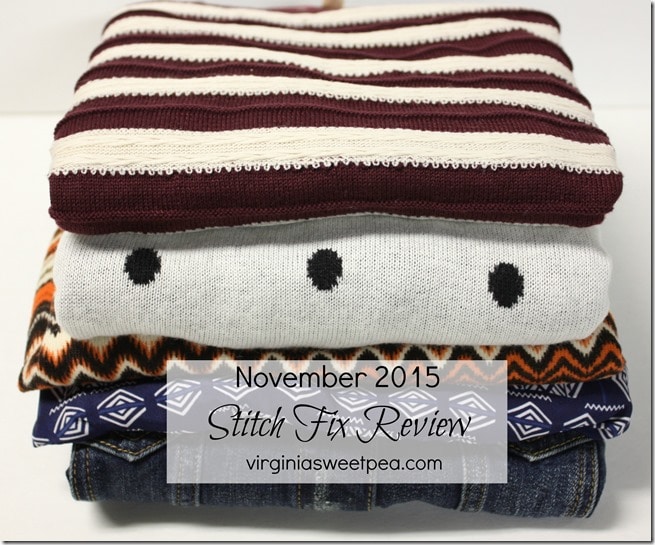 I am a Stitch Fix affiliate and if you make a purchase, I earn a small commission. My love for Stitch Fix is genuine and all opinions are truthful and my own.
30 Stitch Fix boxes? Wow! You can tell that I love Stitch Fix!
If you aren't familiar with Stitch Fix, after filling out a style profile, five items are sent to you that your personal stylist thinks that you'll like. I request to only receive clothing but you can also receive jewelry and hand bags. Shipments come to you as often as you'd like, I choose to get one every month. You can see what was in my October 2015 box here. I kept a sweater with the most adorable lace elbow patches. I love it and the first time that I wore it to work, I got bunches of compliments.
Each month your stylist sends a note along with your items. You also receive style cards with pictures suggesting two ways to wear each piece.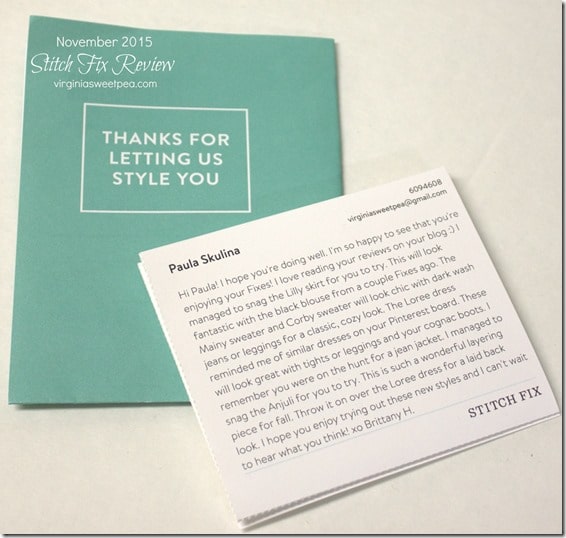 Collective Concepts Loree Dress
I liked this dress the minute I unfolded it from my box. It has a pretty pattern and is one of my favorite colors, navy blue. I could wear this to work from September through May which is a real plus. I'm wearing it here with boots and tights but in warmer months I think it would look great with bare legs and sandals. This dress has super soft fabric that seems like it would not wrinkle. This is a great feature for me because I often change after work for a run and stuff my clothes into a gym bag. I like pieces that emerge from my bag unwrinkled. I purchased these boots a month ago and have really enjoyed wearing them. They are on sale now for $44.99.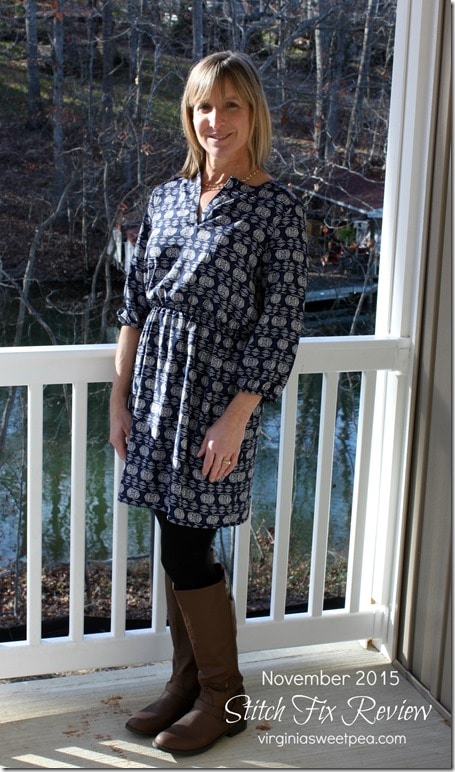 Just USA Anjuli Dark Wash Denim Jacket
I've been asking for a jean jacket for months and finally received one. This jacket has stretch which I love and the distressed detail gives it character. This jacket will be great for casual wear or to wear to work.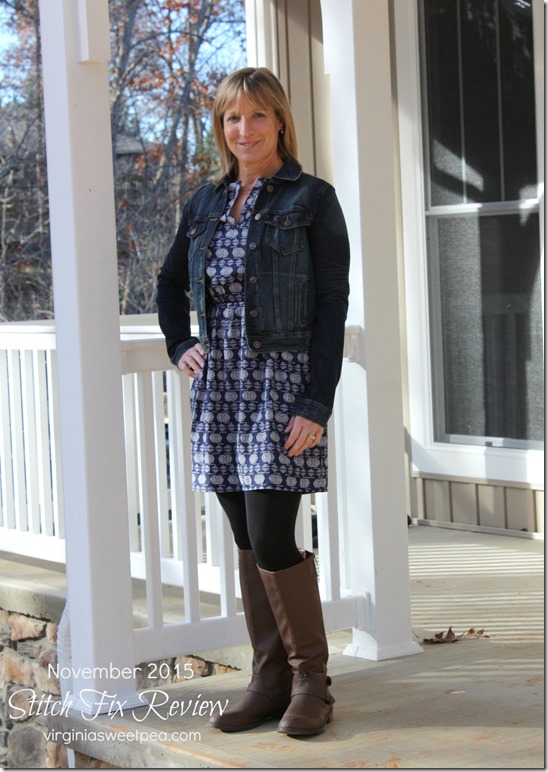 Market and Spruce Lilly Printed Pencil Skirt
I pinned this skirt to my style Pinterest board and was pleasantly surprised to find it in my box. It has a fun chevron pattern and a black stripe on each side. Brittany H., my stylist, suggested that I pair it with this top that I received in my September Fix. I was pleasantly surprised to find that this skirt is lined which is a feature that I love because I hate it when my skirt sticks to my tights.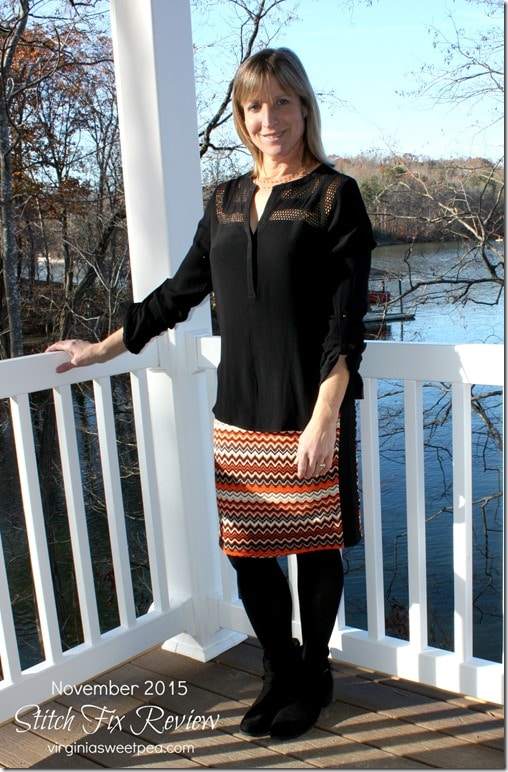 I've paired the skirt with black tights and booties. I've worn these booties several times a week since I purchased them last month. They are on sale for 29.99. At that price I'm tempted to buy the same shoe in a different color.
Market and Spruce Mainy Pullover Sweater
I've always been a sucker for polka dots and loved this sweater the minute I pulled it out of the box. It is soft and I like that when I pull it on that it won't mess up my hair. My hair gets so full of static in the winter and I hate it when I get it styled, pull on a sweater, and then have hairs sticking out everywhere.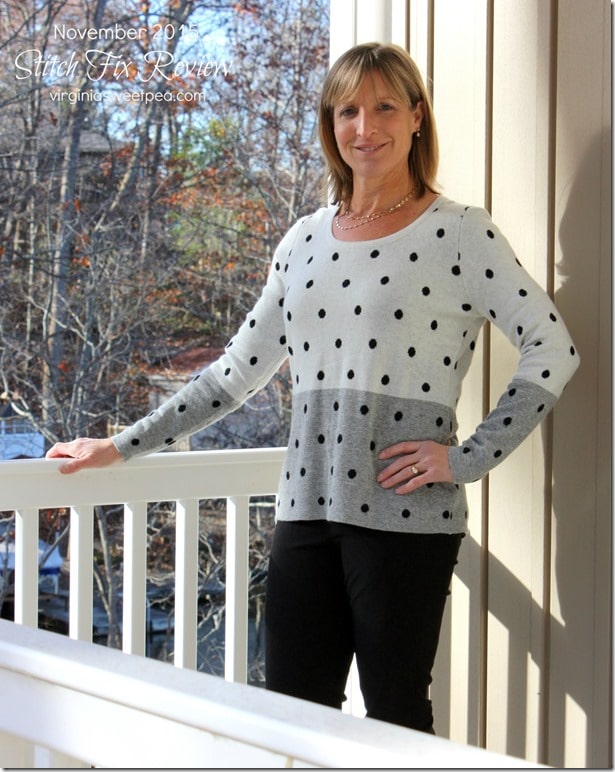 Skies are Blue Corby Pullover Sweater
I requested sweaters this month and was pleased to see two in my box. This one has great colors and I liked that it wasn't super thick. Sometimes my classroom gets hot in the winter and if I have on a sweater that is too thick, I get uncomfortably warm.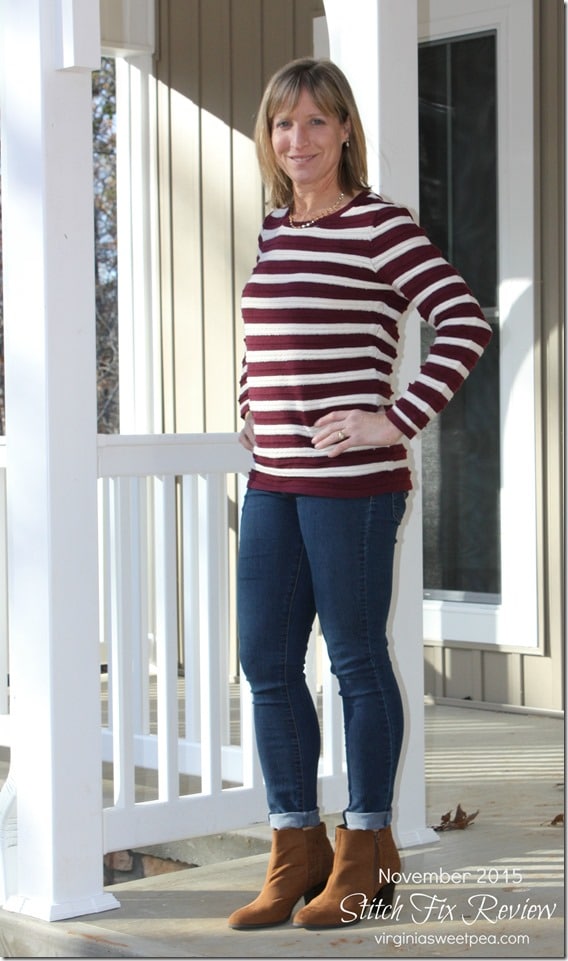 Stitch Fix charges a $20 styling fee that is deducted from what you purchase. If you purchase all five items, you get a 25% discount. I almost always buy one item per month and many times have purchased all five items.
It was easy to decide what to keep this month. Some months I really have to debate depending on what the items cost and what I'm really needing for my wardrobe at that time.
Collective Concepts Loree Dress – Returned
Although I liked this dress, I decided not to keep it. The elastic in the front rode up a bit which felt slightly uncomfortable to me. I also have several dresses that are similar to this in my closet from other Stitch Fix boxes.
Just USA Anjuli Dark Wash Denim Jacket – Returned
I loved this jacket but it was too small. I hope to get a larger size in a future box. If I do, I'll buy it for sure!
Market and Spruce Lilly Printed Pencil Skirt – Purchased
I love this skirt's fun pattern and the fact that it was lined. I know I'll enjoy wearing this all winter.
Market and Spruce Mainy Pullover Sweater – Purchased
I requested sweaters and love this one. In fact, I've already worn it! One of my sweet friends hosted a "Friendsgiving" dinner party on Saturday night and I wore it there.
Skies are Blue Corby Pullover Sweater – Returned
I originally thought that I'd keep this sweater but found that when I bent my arms, it became tight and was uncomfortable.
Have you tried Stitch Fix? I obviously like it since I'm on my 30th fix!