November 2016 Stitch Fix Review – Fix #41
Can you believe that it is November? I can't, especially since it was eighty degrees all weekend! Since it is the beginning of the month, it's time to share my latest Stitch Fix review, this time for Fix #41.
You can see all of my Stitch Fix reviews here.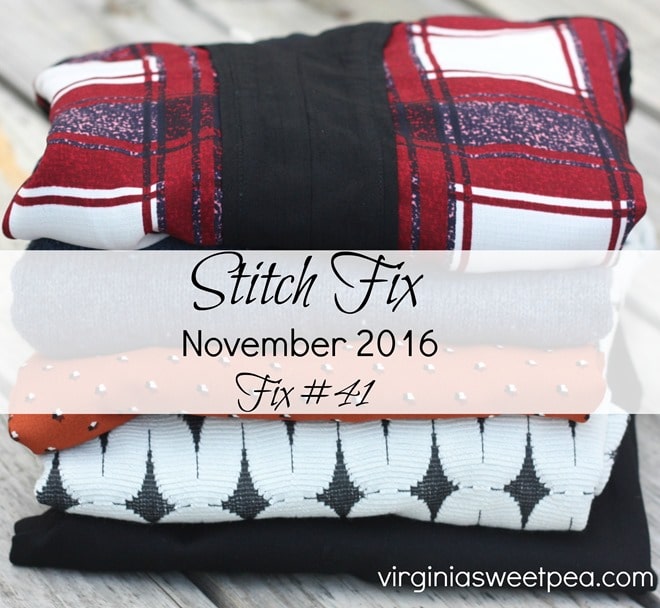 Last week I shared a Sneak Peek Video of this Fix and I had a feeling that this would be a Fix where I liked everything. I was right and I ended up keeping all five items.
If you are new to Stitch Fix, it is a personal styling service. You start by filling out a detailed style profile so that your stylist will get a sense of what you like and dislike and also your sizes. Pinning to a style board on Pinterest is also a great way for your stylist to get to know you and to get suggestions for what you'd like to receive. When you order a Fix, your credit card is charged a $20 styling fee that is deducted from any item that you purchase. Since I don't want to lose my styling fee, I almost always buy at least one thing. If you buy all five items, you get 25% off your total which usually equates to getting one item for free.
Stitch Fix offers clothing, bags, shoes, and jewelry. I most often request clothing only but this month got a bag that I adore. New to Stitch Fix is the option to exchange an item for a different size.
When you receive your Fix you have three business days to try on the clothes and to decide what you want to keep and what will be sent back. A postage paid envelope is included in your shipment which makes returns a breeze.
I choose to receive a monthly shipment but that is my choice. You can choose to receive a box whenever you'd like.
Now let's see what I received in my November 2016 box!
The links in this post are affiliate which means if you sign up using my link and receive a shipment, I receive a Stitch Fix credit.
41Hawthorn – Hellen Shirt Dress
I loved this dress the second that I pulled it out of the box. I've always been a fan of plaid, especially if it has red in it.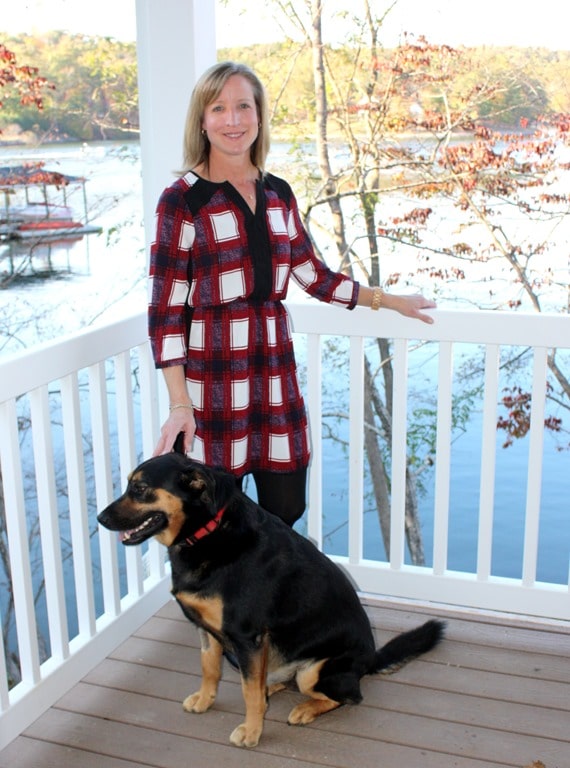 We went to the lake this weekend, so my Stitch Fix pictures were shot there. Isn't the view from the deck pretty? It was like summer over the weekend with 80 degree temperatures both Saturday and Sunday. I thought that our boat riding days were over for 2016 but we took a ride both days which was so pleasant.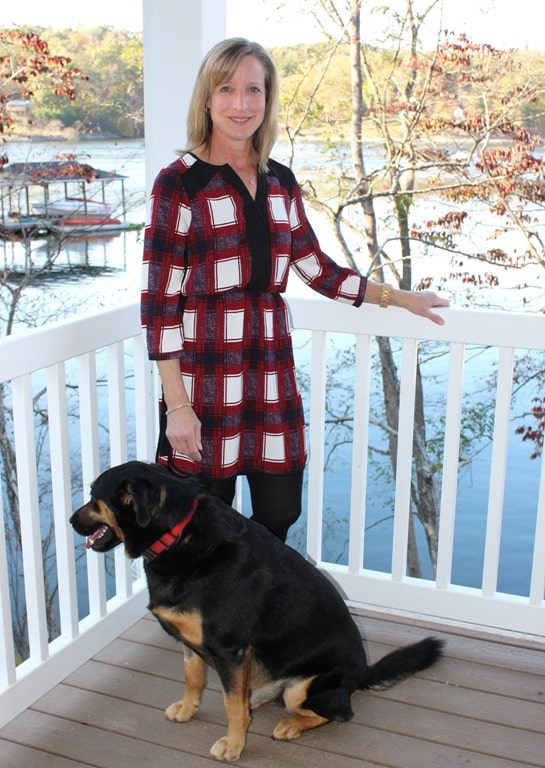 I paired this dress with tights and booties from Payless that are brand new. I have been wearing boots from Payless for years and like that I can get something fashionable for an inexpensive price.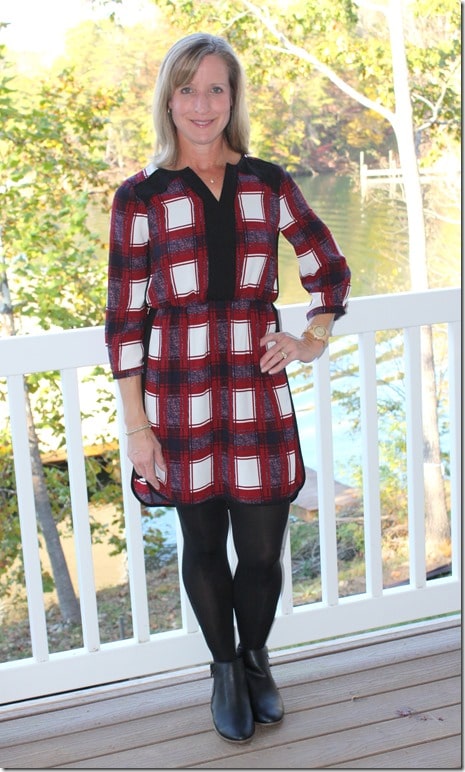 This dress is going to be perfect to wear to work for the rest of fall and over the winter.
Renee C – Addae Knit Dress
I love the fun pattern of this dress and also its style. I'm not crazy about how I styled it here with tights and booties, but we don't have a full length mirror at the lake, and I thought it looked fine until I looked at my pictures. I'm wearing this to work today with bare legs and Tieks.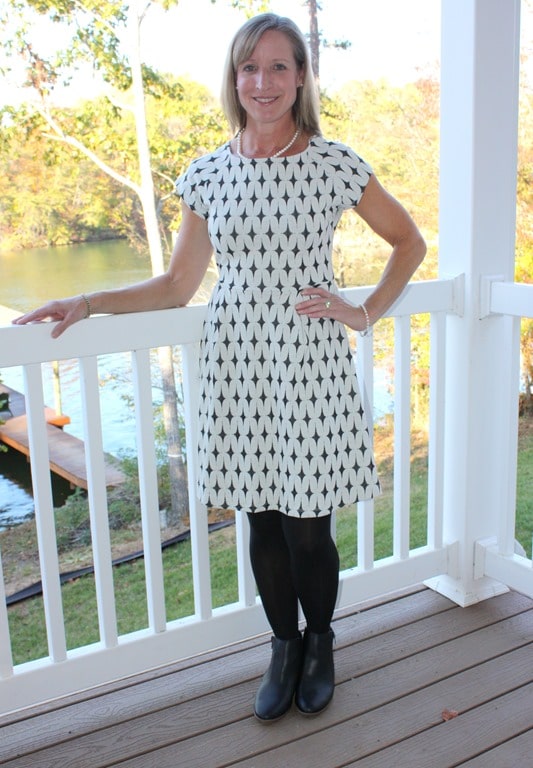 Paired with a black sweater, I may actually like the booties and tights with this dress.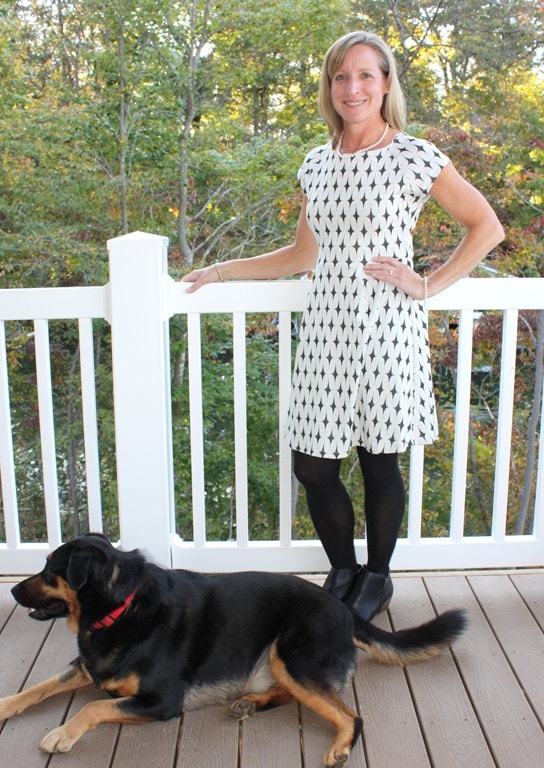 This dress will be one that I can enjoy almost year round.
Papermoon – Dauwens Crew Neck Blouse
This blouse is the perfect color for fall. The trim is blue and it has a subtle pattern. I've paired it here with jeans and boots for a weekend look but will wear it with a skirt to work.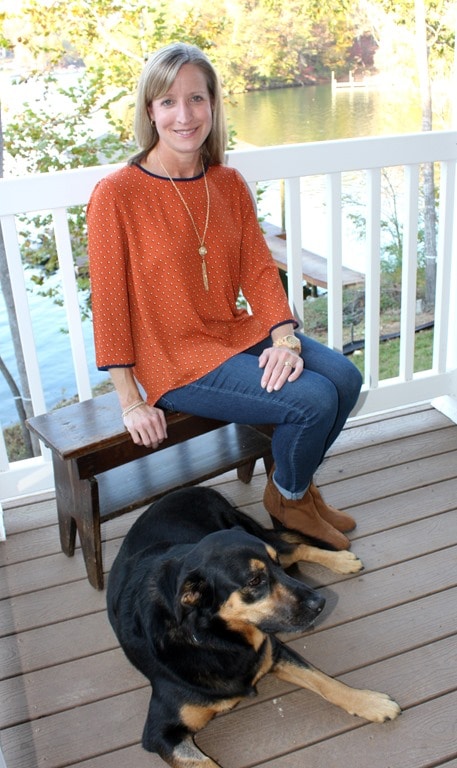 My skinny jeans are from Walmart and my boots are Payless from last year. You can't beat $20 for a pair of jeans!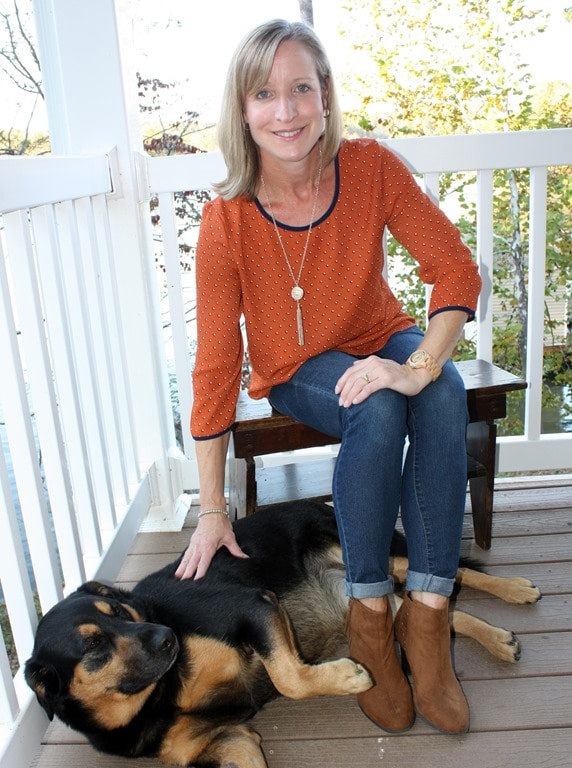 RD Style Woods Cowl Neck Pullover
This cowl neck sweater will be perfect for when it finally gets cold. It's longer in the back than the front which is appreciated when paired with leggings like I did here.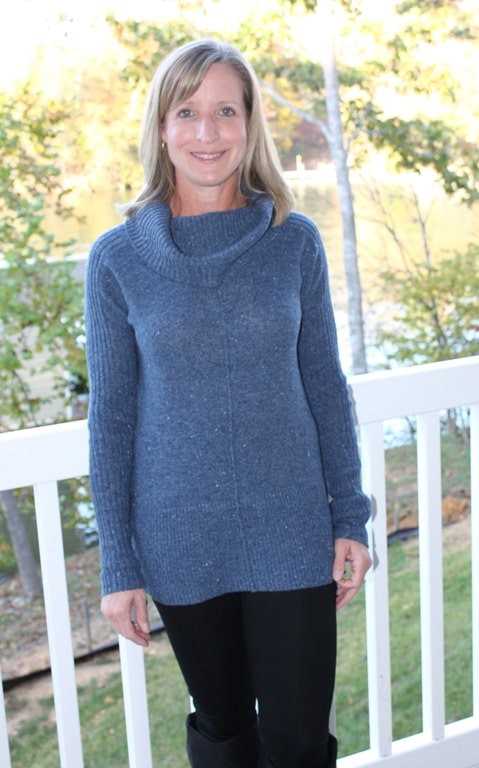 These boots also are a last year's Payless purchase.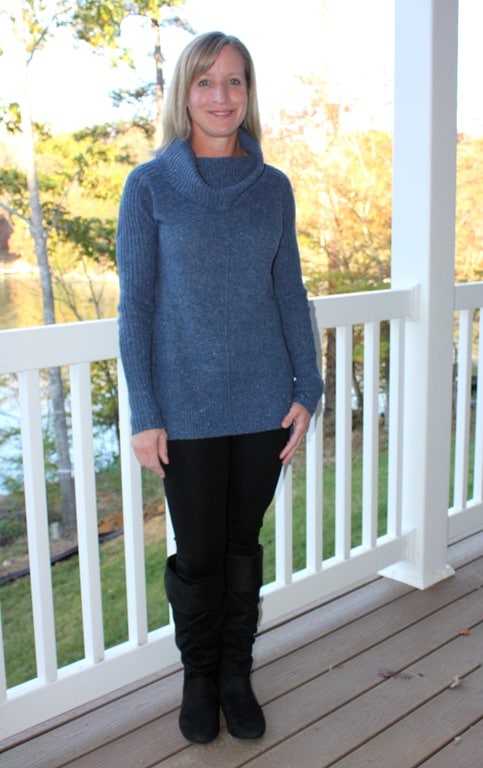 This will be a cozy outfit to enjoy all winter.
Lysse – Joylyn Ponte Legging
I was not a fan of leggings until I tried these on. They have compression which sucks everything in and makes even my big legs look lean. I also like their wide waistband. If you don't do Stitch Fix but are interested in these leggings, I found a similar pair for sale here.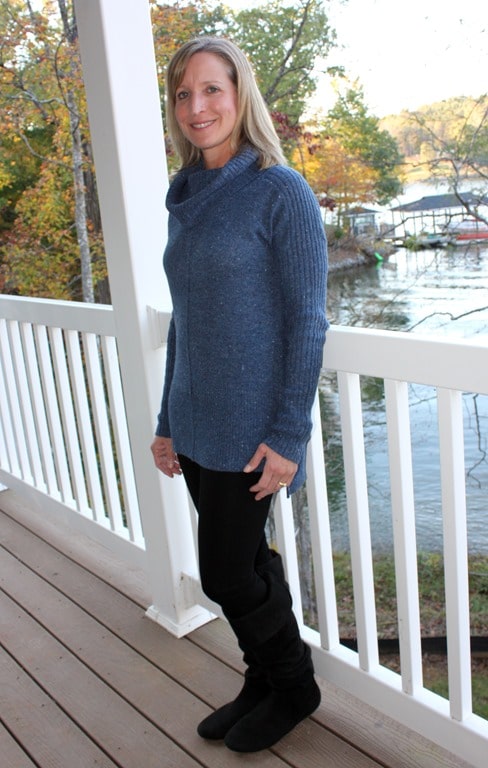 In Summary
41Hawthorn – Hellen Shirt Dress – $74 – Keep
Renee C – Addae Knit Dress – $74 – Keep
Papermoon – Dauwens Crew Neck Blouse – $48 – Keep
RD Style Woods Cowl Neck Pullover – $78 – Keep
Lysse – Joylyn Ponte Legging – $78 – Keep
Buy 5 Discount – $88
I'm loving that I have four new outfits to wear this month. Now that I have some awesome leggings, I'll be looking for some new tops to wear with them.
If you've been thinking about trying Stitch Fix but haven't, I encourage you to do so. I really enjoy the surprise of what I'll receive each month.
Did you know that Stitch Fix now offers the same service for men? My husband is expecting his second Fix this week. You can read about his first one here.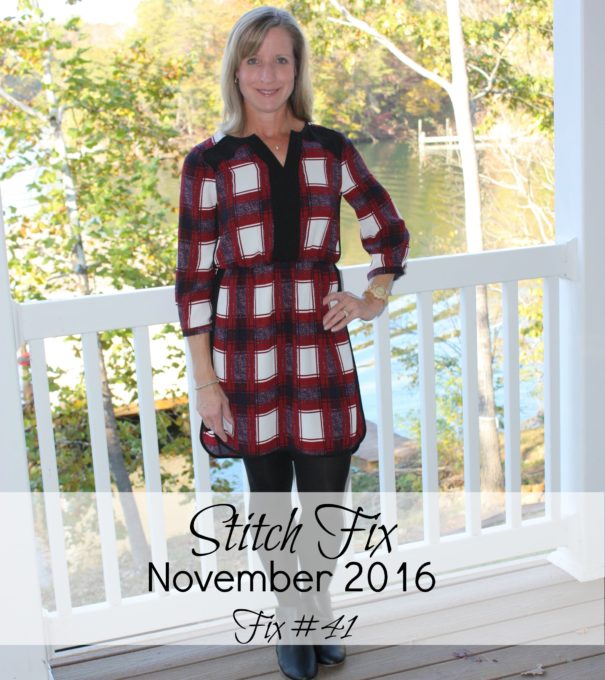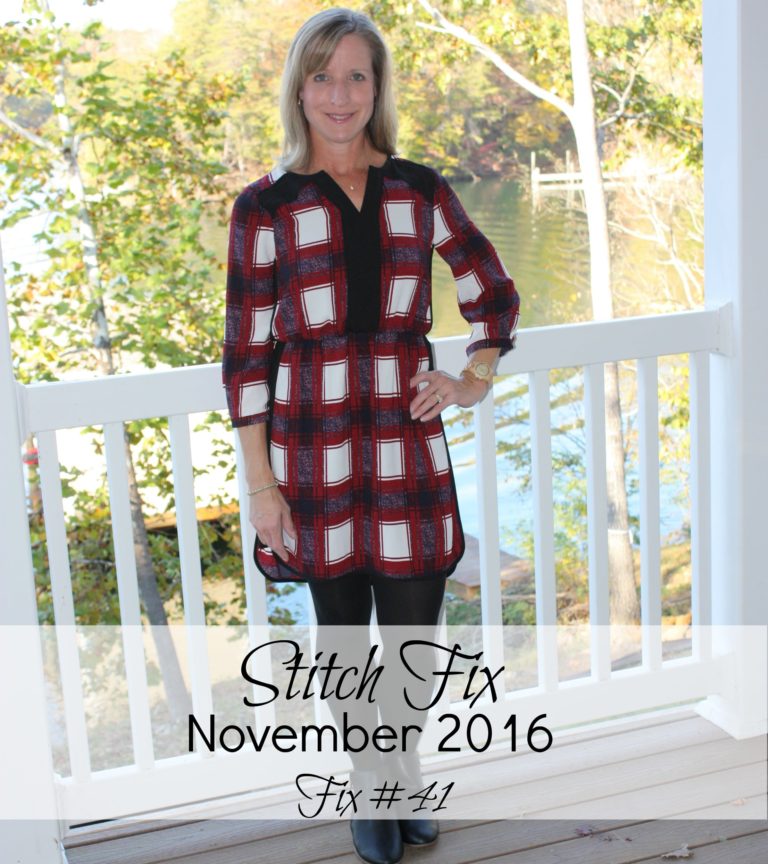 We are almost into the Christmas gift buying season. If you know someone who might like Stitch Fix consider giving them a gift card for Christmas. I know that I'd like one as a gift!