Bird Themed Table Centerpiece
A bird themed table centerpiece is perfect to use to decorate a table for spring.
I displayed this centerpiece on my dining room table but it also would look great on a chest, coffee table, kitchen counter, or on a porch in a protected area.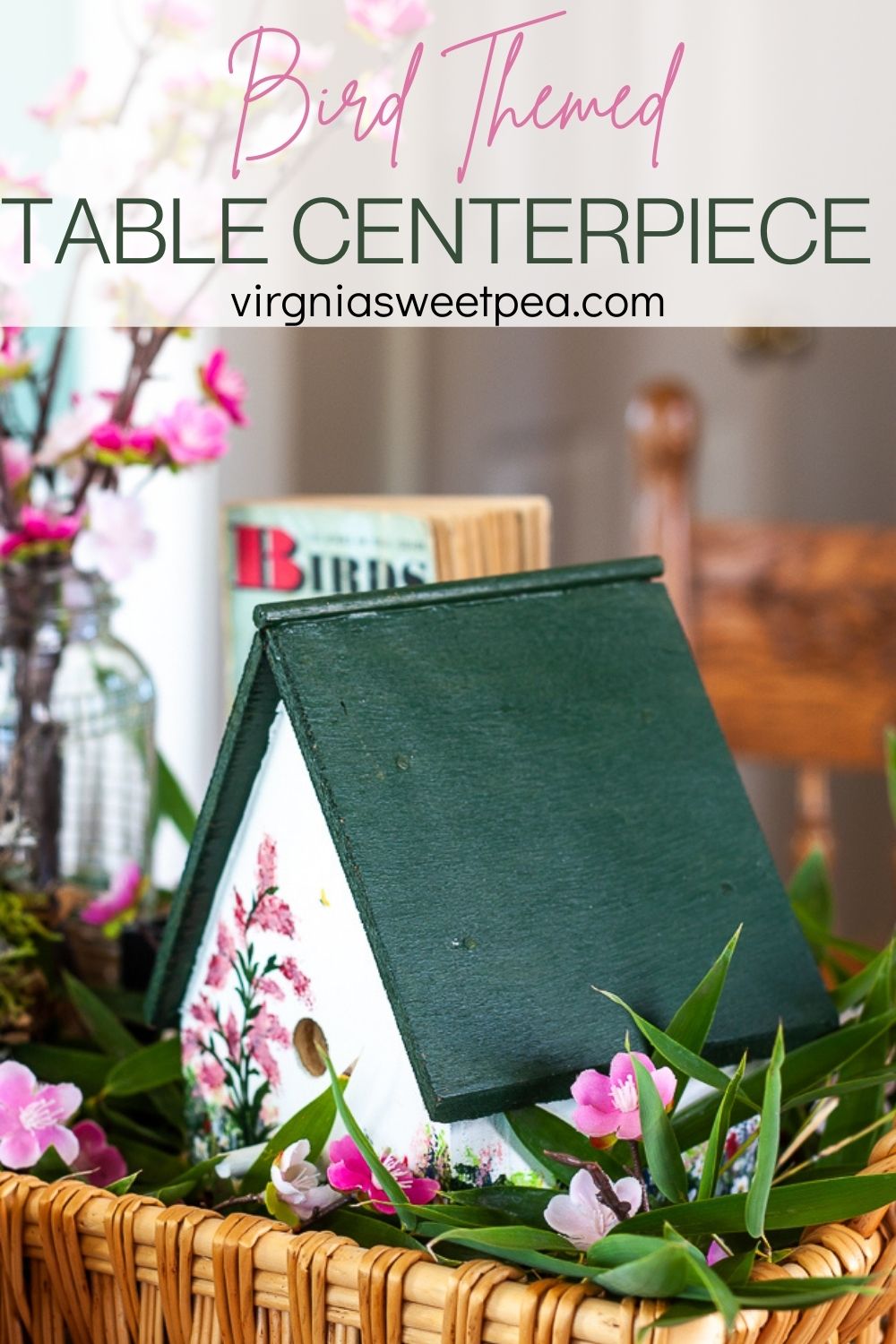 I'm sharing my bird themed table centerpiece for this month's Pinterest Challenge hosted by Cindy of County Road 407. Cindy selects a picture from Pinterest and challenges our group to create our own version of the look.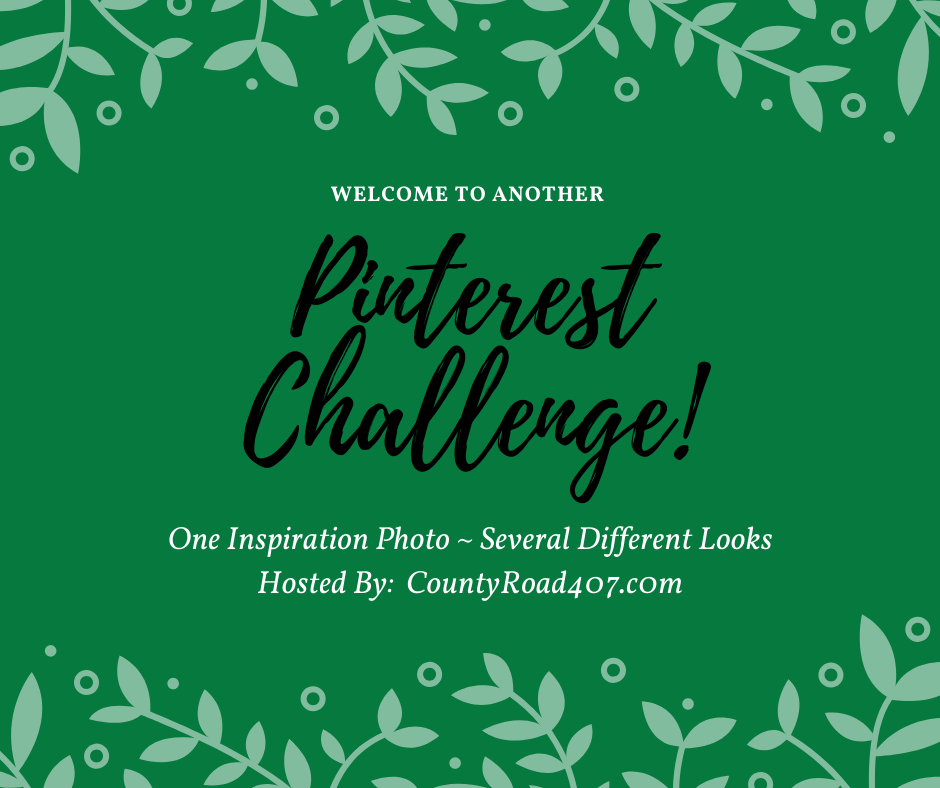 If you arrived here from DIY Beautify, welcome! I always enjoy visiting Cindy's Texas home to see how she has decorated for the season.
You'll find links to all of the bloggers who participated in this month's Pinterest Challenge at the end of this post.
Our Inspiration for this Month's Challenge
The inspiration for this month's challenge comes from Doreen of Hymns and Verses. Doreen created a Bird House Tablescape for Spring and our inspiration picture is her beautiful bird themed centerpiece.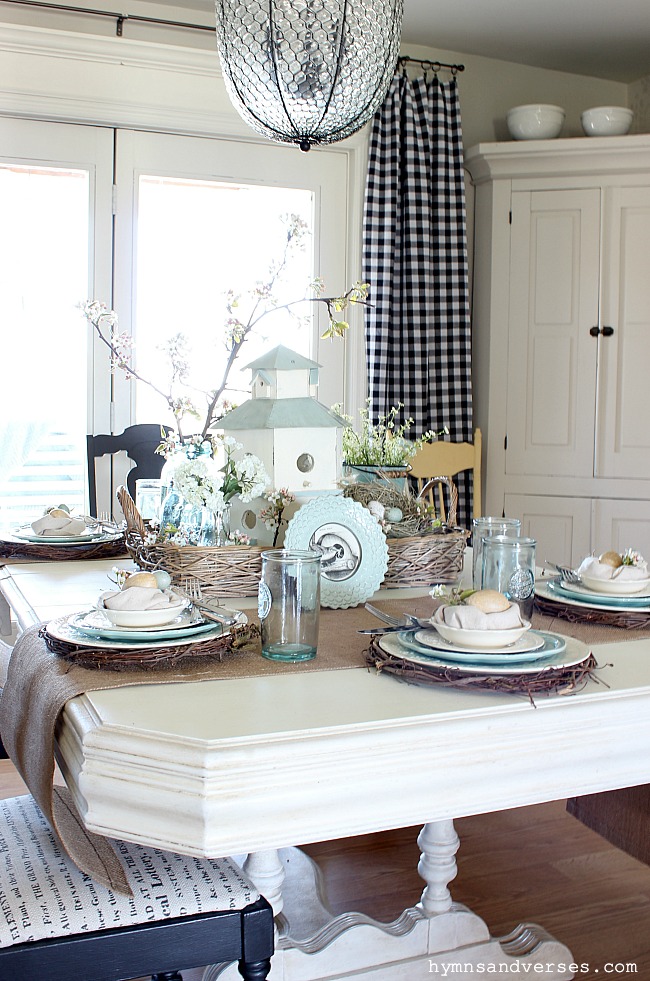 Doreen created a beautifully set table for spring. For this challenge, I focused on Doreen's table centerpiece.
The design elements that Doreen used for her centerpiece include:
Bird House
Bird's nest with eggs
Two Mason jars filled with flowering branches
An enamel pail filled with delicate white flowers
Rectangular basket
Bird plate in front of the basket
After seeing Doreen's beautiful centerpiece, I shopped my house to create my own version.
Bird Themed Table Centerpiece
I was able to quickly gather what I wanted to use for my centerpiece but what I didn't have was a rectangular basket with handles to use.
As luck would have it, I spotted one in a van parked next to us at the city landfill one day. The two men unloading the van appeared to have cleaned out an estate and they were throwing away so much good stuff.
I spotted a rectangular basket with handles on top of one of their piles in the van. The moment one of them grabbed that pile, I immediately asked if I could have the basket. The man gave it to me which made me happy because at least I saved one good thing from the dumpster that day.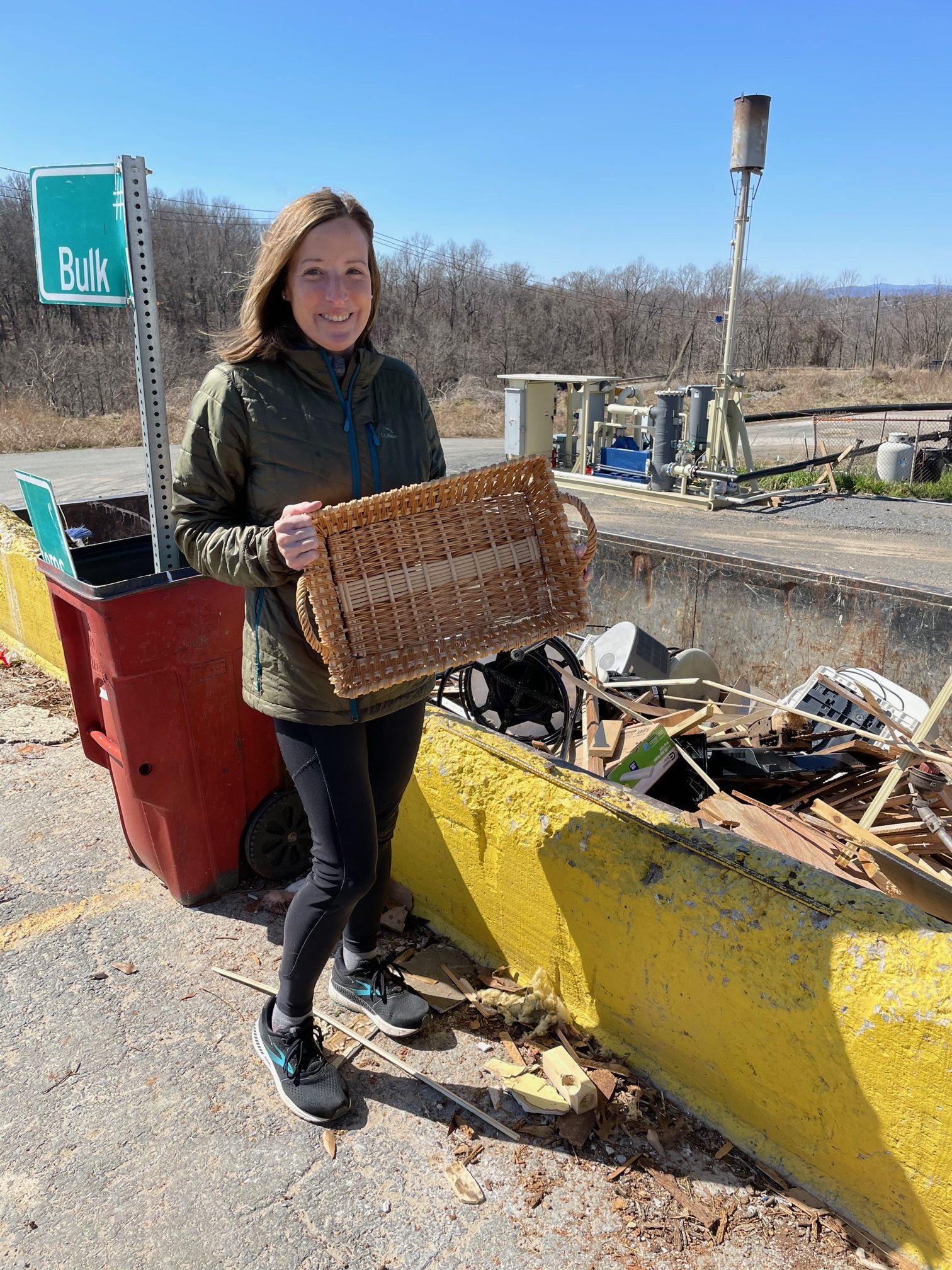 After washing and drying the basket, it was ready to be used as the base of my bird themed table centerpiece.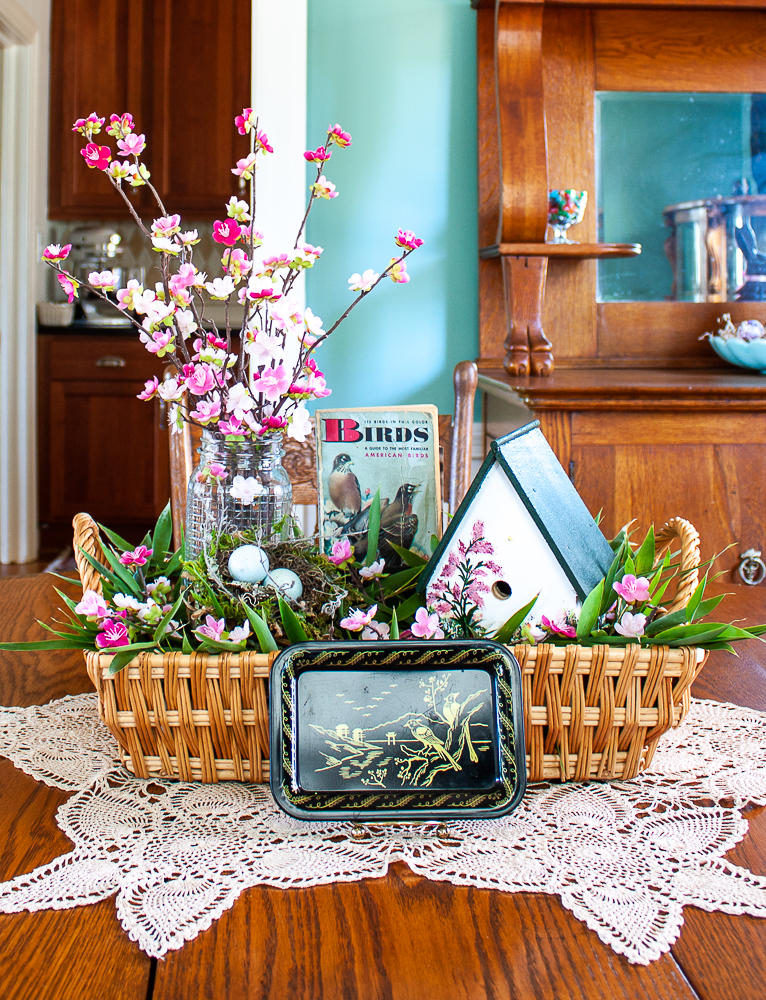 Did you notice the Easter decor in the background? Don't miss my spring home tour that includes both spring and Easter decor and also how I decorated our family room for spring and Easter.
Centerpiece Details
Doreen used a large birdhouse in the center of her basket. I used a bird house that my dad made in the 1990s. He gave this one to my grandmother and she had her talented neighbor paint it.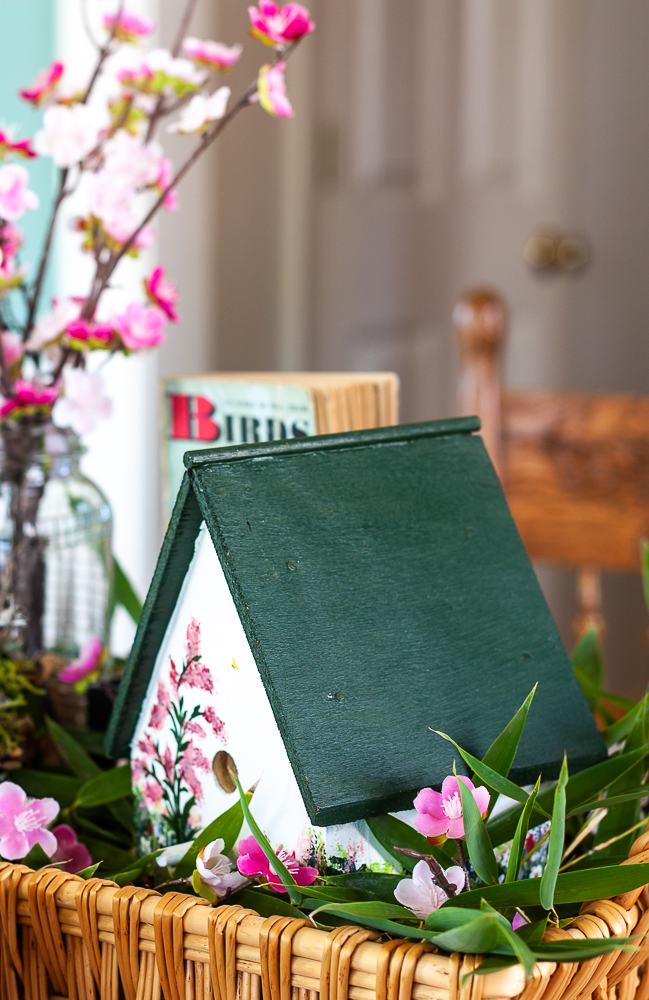 My grandmother wrote on the bottom of the birdhouse the maker and who painted it.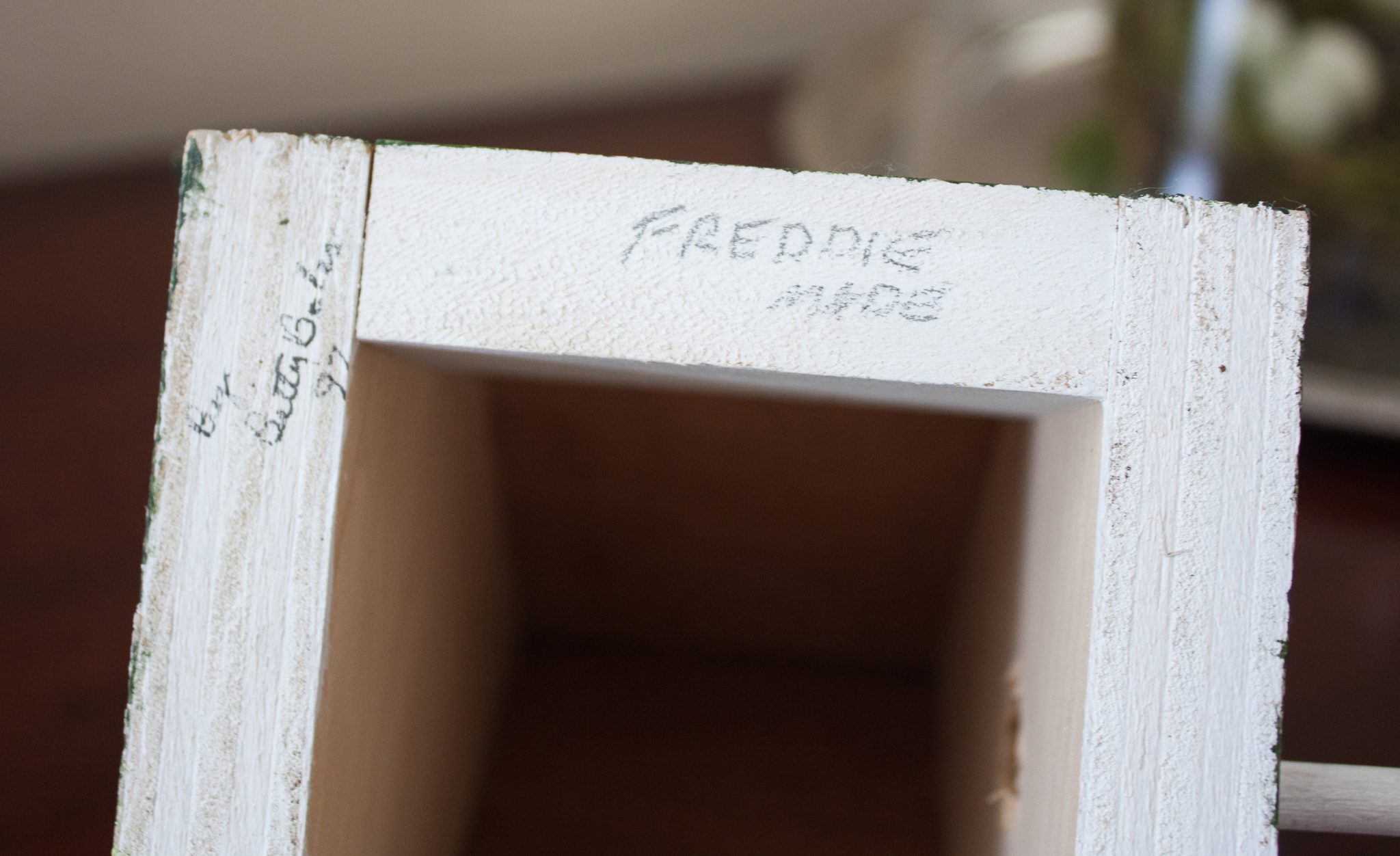 I have two more birdhouses that my dad made in my basement. If I were artistic, I would paint them like Betty Bales did for my grandmother.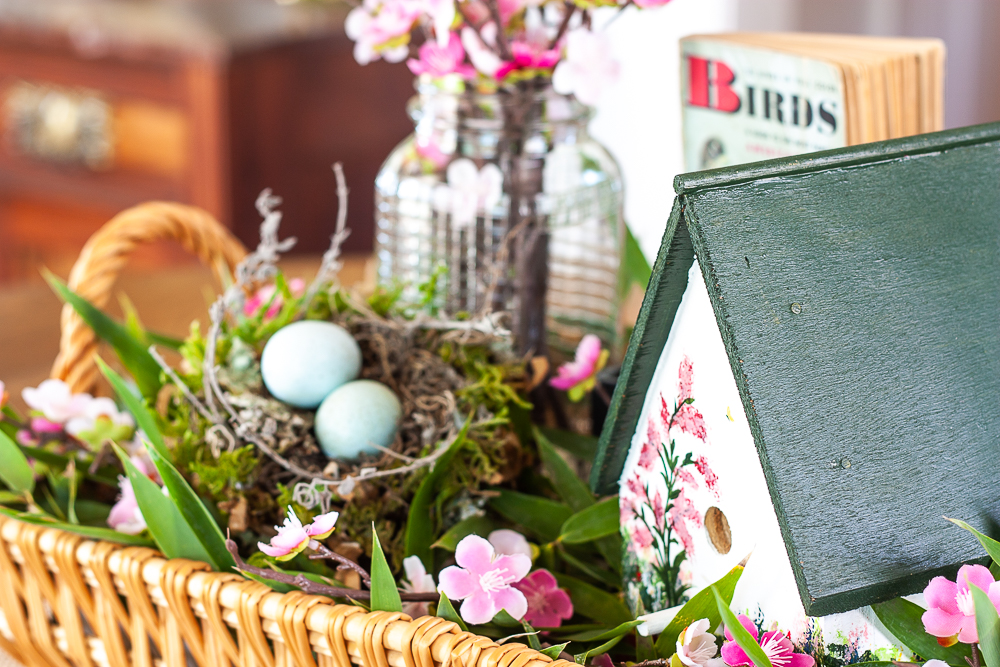 Doreen included a nest filled with eggs in her centerpiece. My nest is one that I made last year. I love how realistic mine looks.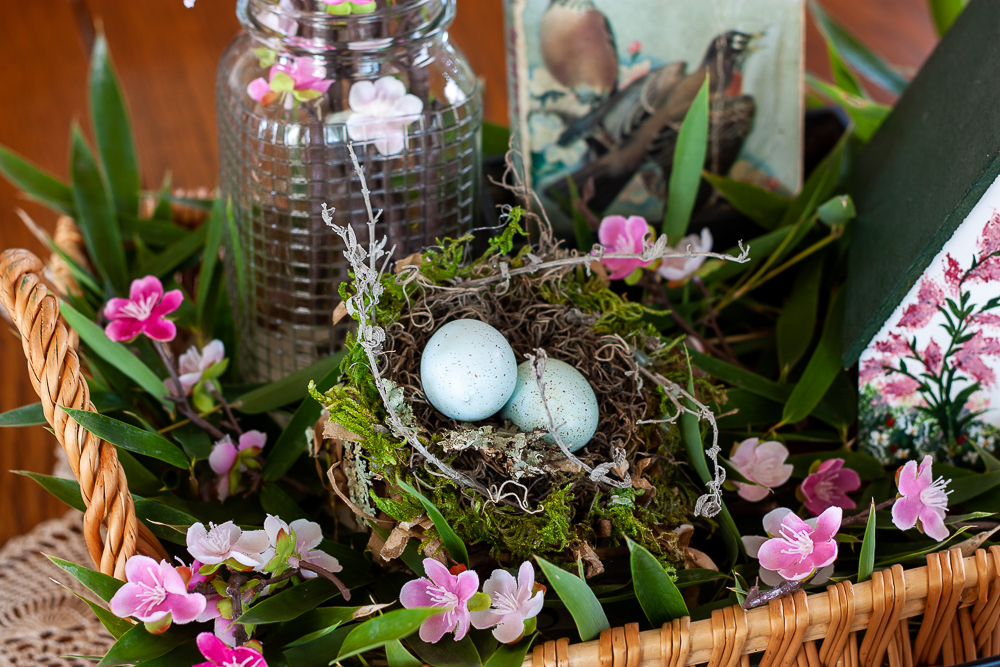 Doreen used two vintage blue Mason jars filled with flowering branches in her centerpiece.
My basket is a bit smaller than Doreen's and I only had room for one jar. I filled it with flowering branches from last year's pink and green spring mantel.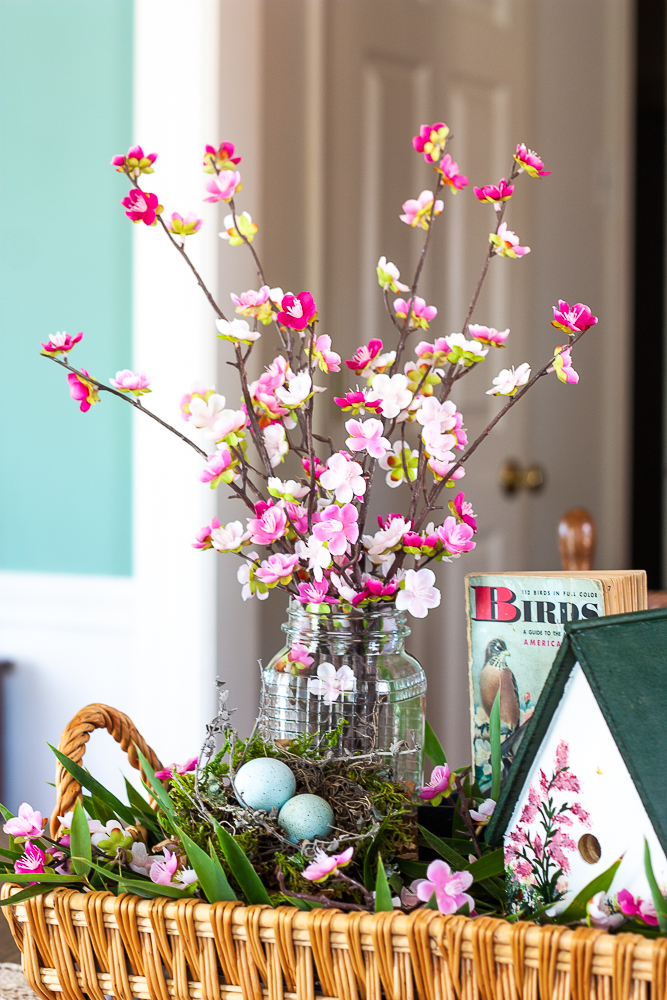 The canning jar that I used for the flowers was given to me by my mom and was used for many years by relatives to can vegetables from the garden.
It's waffle grid design is unique and I have never seen one like it for sale in an antique shop.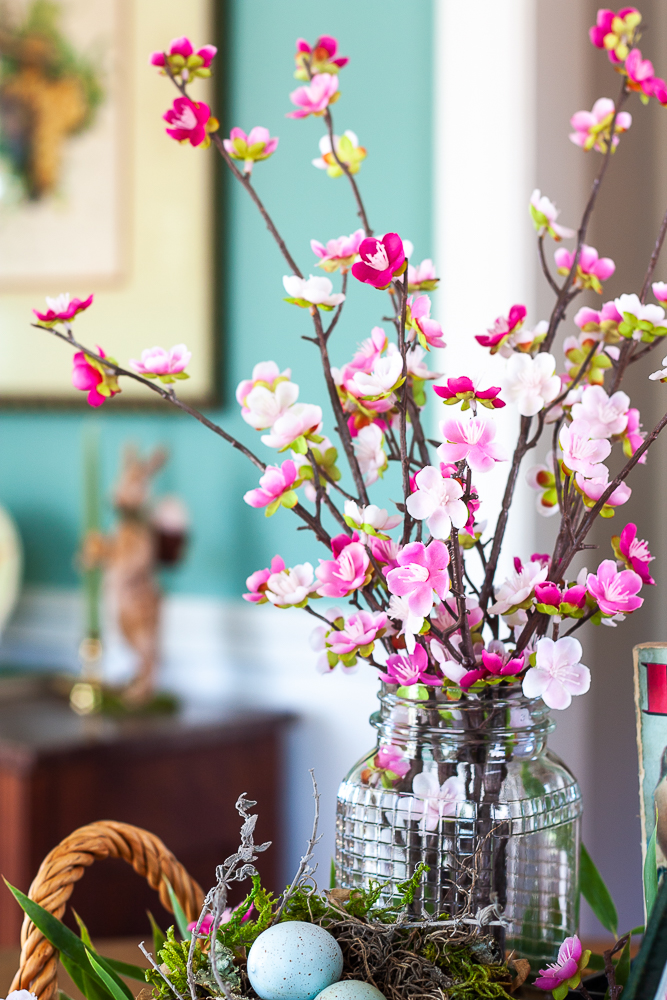 Doreen included an enamel bucket filled with delicate white blooms in her centerpiece. I didn't have room for an enamel bucket, so instead I included a 1949 Birds A Golden Nature Guide that belonged to my grandmother.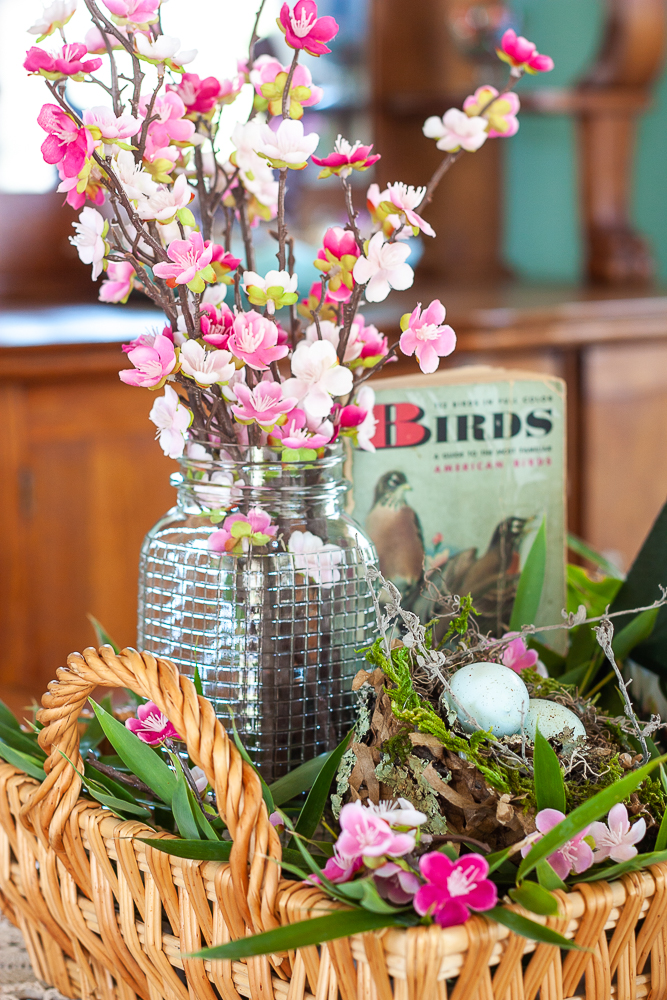 You can't see it in the picture, but I displayed the book using one of my grandmother's rectangular shaped flower frogs.
My grandmother must have really enjoyed this book over the years as it is worn and it's filled with newspaper clippings about birds, the most recent from 1972.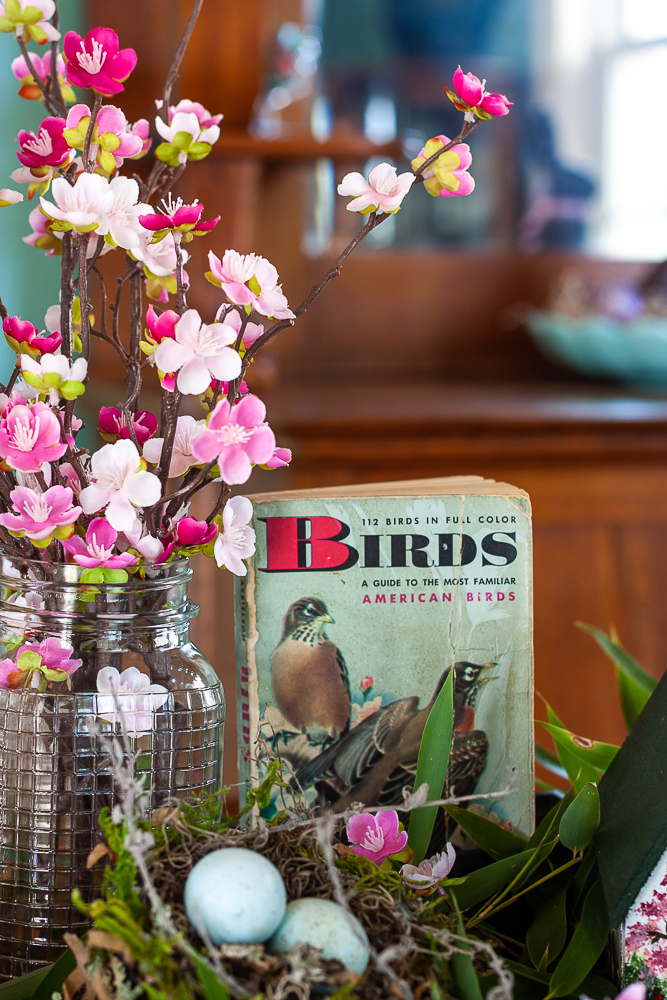 All of the items that I used are elevated by two large books that I placed in the bottom of the basket.
To hide the books, I camouflaged them with evil Bamboo that grows between my house and the house next door. More pink blooms add color to the evil Bamboo. Bamboo is very invasive, that is why I call it evil!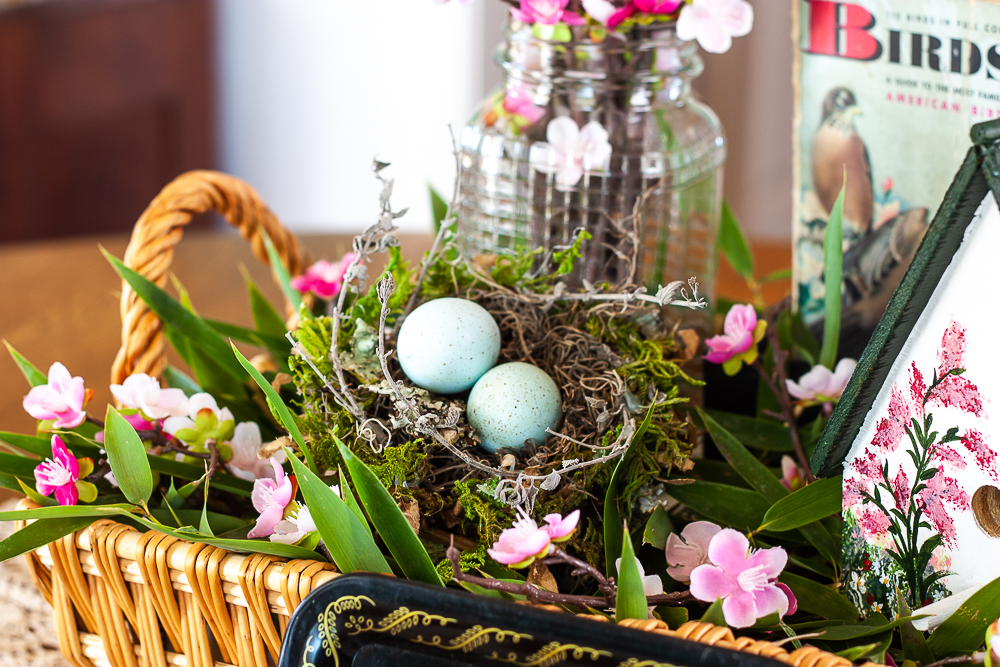 Doreen displayed a bird plate in front of her basket. Doreen actually added her bird motif to a plate she already had. You can get a copy of the bird art that she used on her blog post.
Instead of a plate, I used a bird tray that my friend gave to me a few years ago.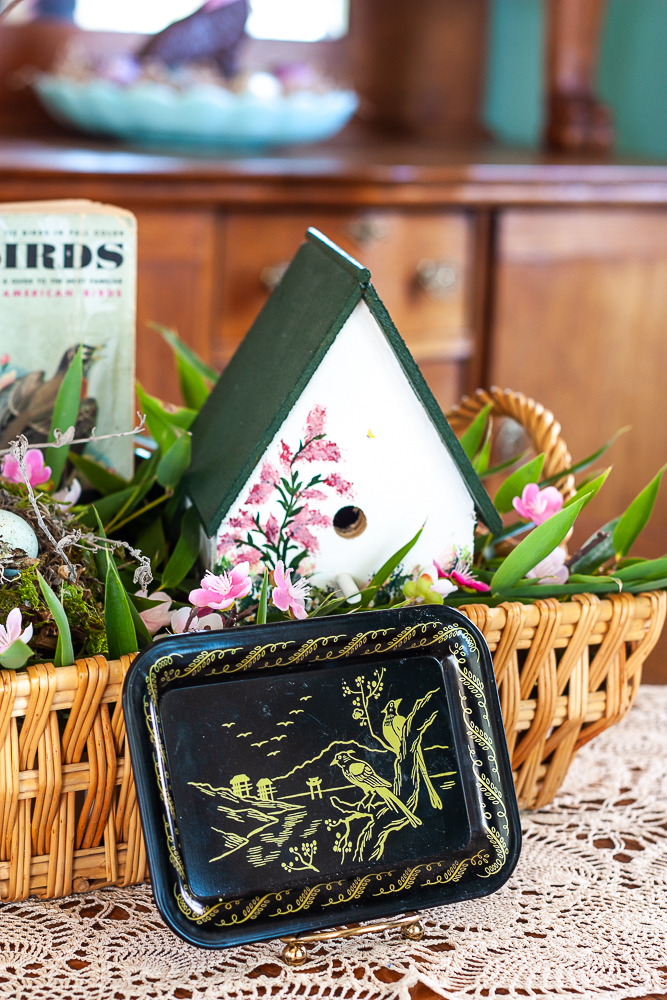 The needlework under my basket was completed by Mr. SP's grandmother. His mom gave this to me early in our marriage and I have so much enjoyed it over the years.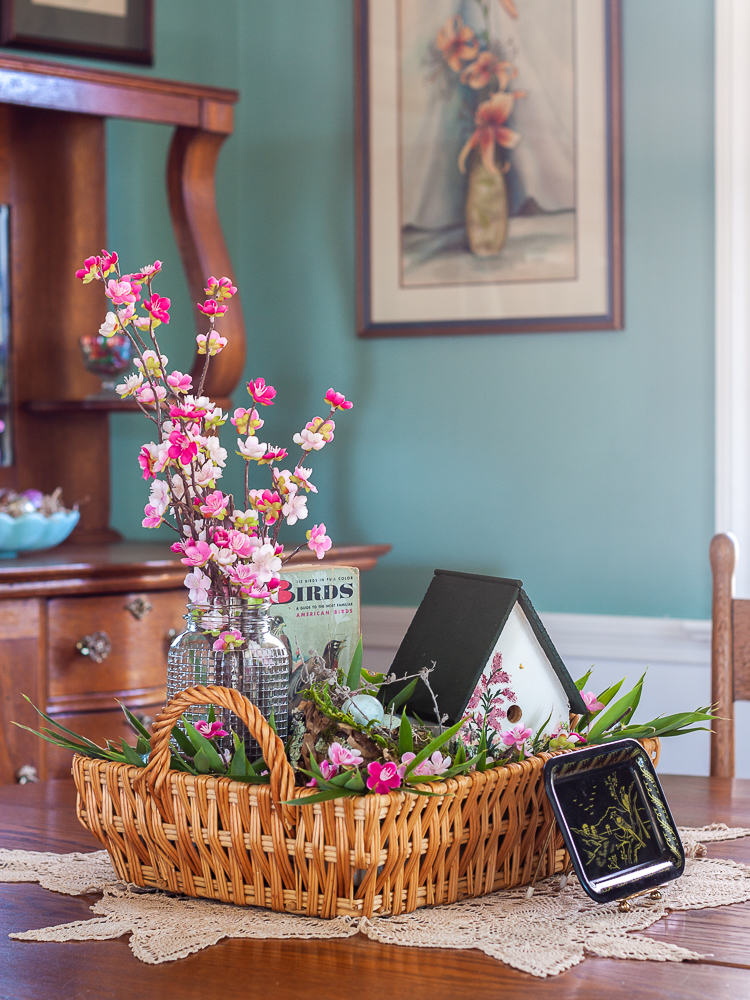 I love how my centerpiece looks on our dining room table and it's in a spot where I get to enjoy it multiple times a day which makes me happy.
The next blogger sharing her version of our inspiration picture is my dear friend, Julie, of My Wee Abode. Julie lives in a 400 square foot loft apartment in California that she has decorated beautifully. I'm looking forward to seeing what she created for this challenge!
More Projects to Enjoy
Many thanks to Cindy for organizing this fun monthly challenge!
Click on the links below to visit each blogger who is sharing their version of our inspiration picture.