This post and photos may contain Amazon or other affiliate links. As an Amazon Associate I earn from qualifying purchases. If you purchase something through any link, I may receive a small commission at no extra charge to you. All opinions are my own.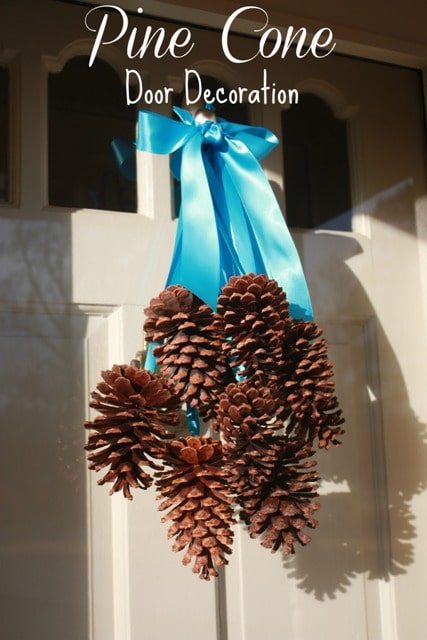 A front door wreath for winter is puzzling.  I couldn't decide on something that would be suitable for this cold time of year, so my door has been plain until I was inspired to make a display of pine cones hung from blue satin ribbons.  I am thrilled with the result of this simple project.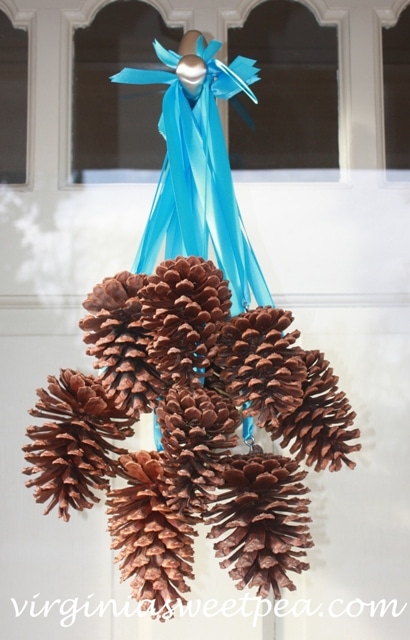 The how-to is quite easy.  I drilled a small hole into the end of each pine cone and then inserted a screw eye.  I used eight pine cones that I picked up in North Carolina last fall.  In my area of Virginia, we don't have pines that produce cones this large.  If I used cones from my area, I would have needed a lot more than eight cones.

I then threaded ribbon through the hook, varying the length, and knotted the end.  When I had four cones prepared, I draped the ribbon over the 3M hanger already on my door.
I varied the ribbon length of the final four cones to make a fairly symmetrical arrangement.
I then used wider blue ribbon to make a bow to camouflage the hanger.
It even looks pretty from the inside.
Happiness is a pretty door in January!