St. Patrick's Day Vignette and Vintage Post Cards
We had quite the weekend! Harsh winds moved into our area on Friday and as a result of having downed trees on the power lines in our neighborhood, we were without power from Friday morning until Sunday night. It sure was great to finally have lights and heat!
St. Patrick's Day Vignette
Last week when the calendar rolled over from February to March, I created a St. Patrick's Day vignette on our screened porch. We use this porch as our main entrance and I like to have a seasonal display in this area to enjoy.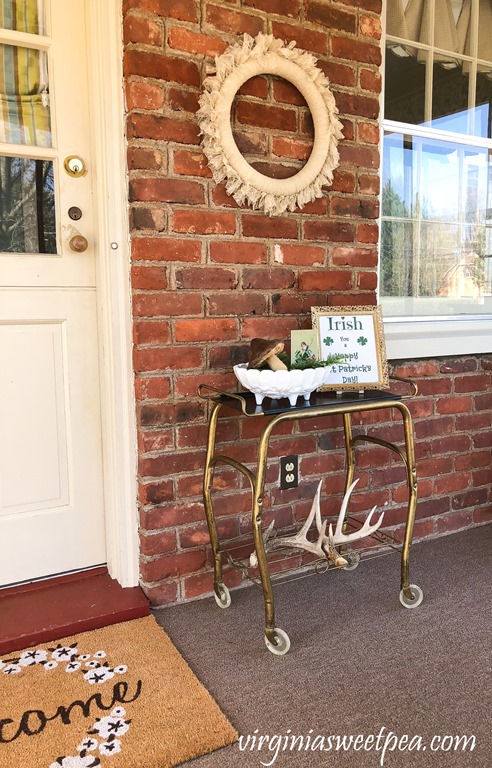 I made the wreath using lace that belonged to my friend's mother. I got our new doormat at Sam's Club and love it.
For my St. Patrick's Day vignette, I started the display by printing out and framing a printable that I designed a few years ago in a vintage frame.
I then created a quick and easy arrangement in a milk glass compote.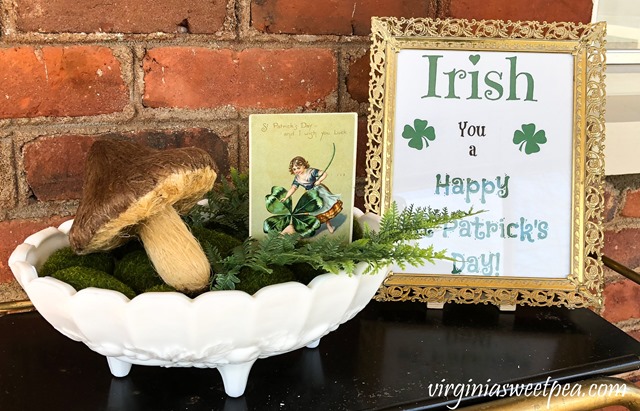 The arrangement started with a layer of moss covered "stones" from the dollar store. I topped the stones with a large faux mushroom, fern stems, and a vintage St. Patrick's Day postcard.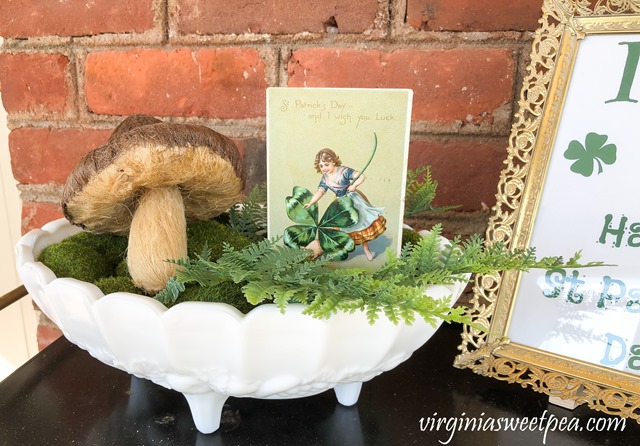 On the opposite side of the porch are two rockers that we use quite frequently. The shamrock pillows are a DIY project using felt shamrocks from the dollar store.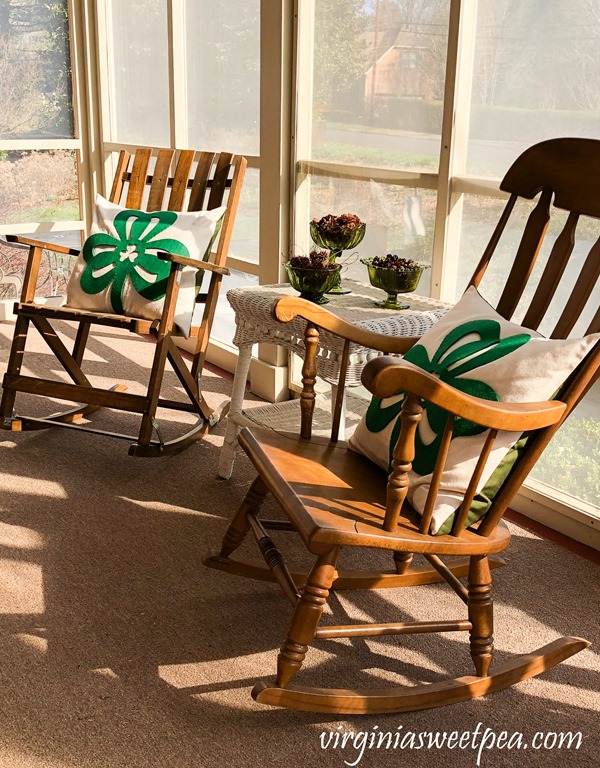 On the wicker table between the two rockers, I filled three green vases with items from nature picked up on walks with our dog, Sherman.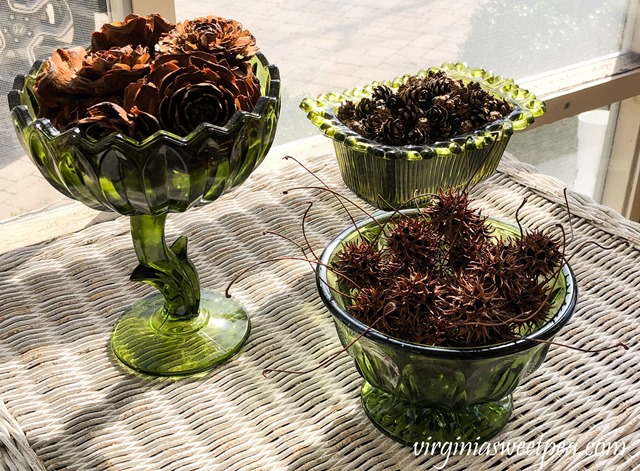 Vintage St. Patrick's Day Postcards
I enjoyed sharing my collection of vintage Valentine's Day postcards with you and thought you might enjoy seeing my small collection of St. Patrick's Day cards.
I used this card in my St. Patrick's Day vignette.
It was sent in 1908 from my great-greataAunt Fannye who lived in Norfolk to her sister Willye in Roanoke. It appears that Fannye met a new man and thought that Leap Year was bringing her luck.
Fannye eventually married Frederick Dodenhoff. I wonder if he is who Aunt Fannye is referring to?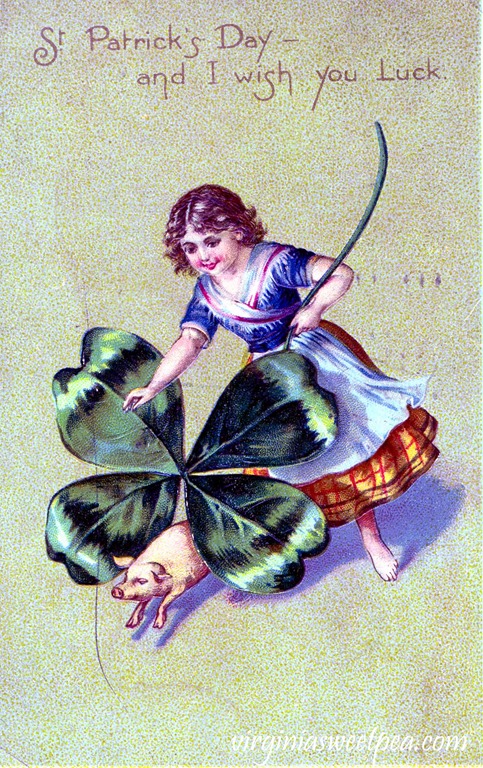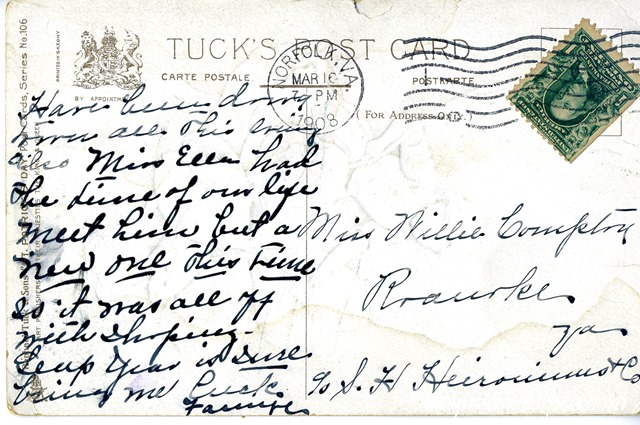 I love the design on this card. I have it displayed with the two that I'll share next using my DIY Card Display that I made last spring.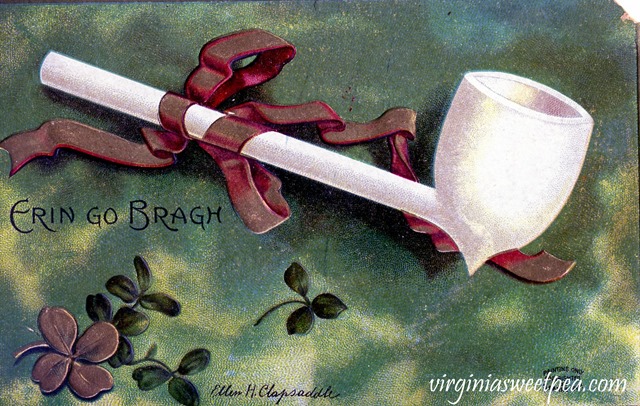 This one was sent to Aunt Willye in 1910.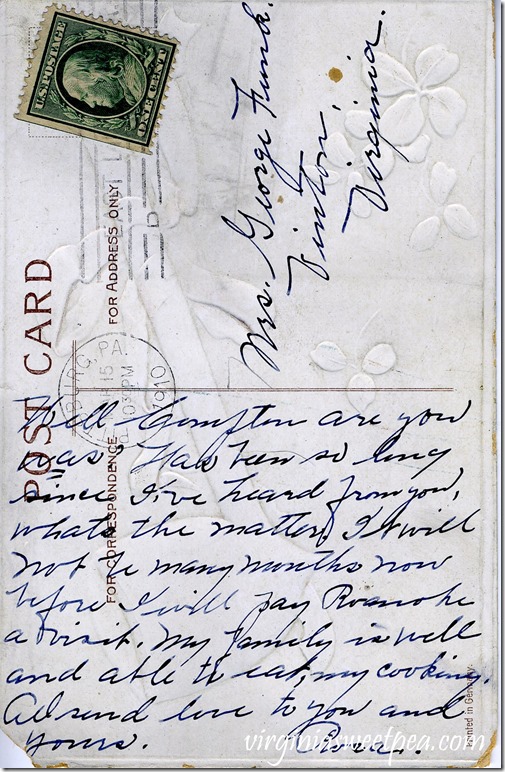 This postcard is made out of leather. In person it's quite pretty but it didn't scan very well. Note that the sender put the date, 3-20-1906, on the card.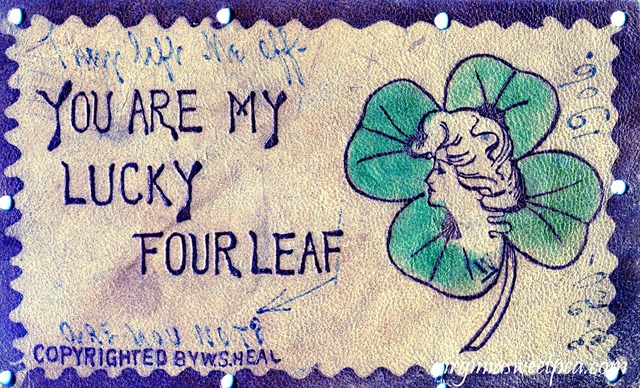 The postmark on this card is Roanoke, so Aunt Willye must have received it from a local friend. Perhaps it was from her soon to be husband, George.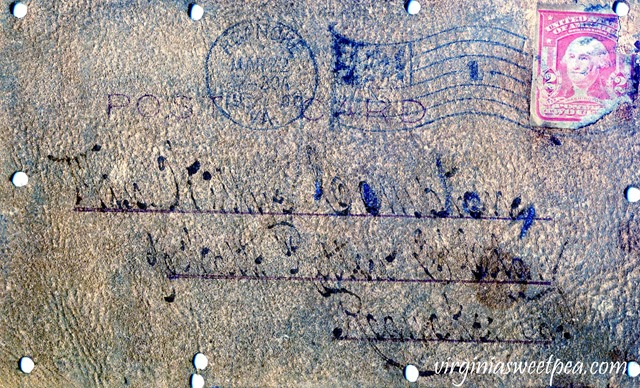 I didn't do a very good job of scanning this one. In person it's quite pretty.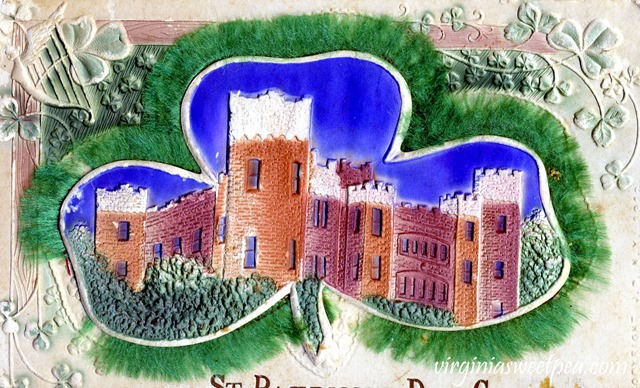 I don't know who this card originally belonged to. My mom could have given it to me as there is a Maggie on her side of the family.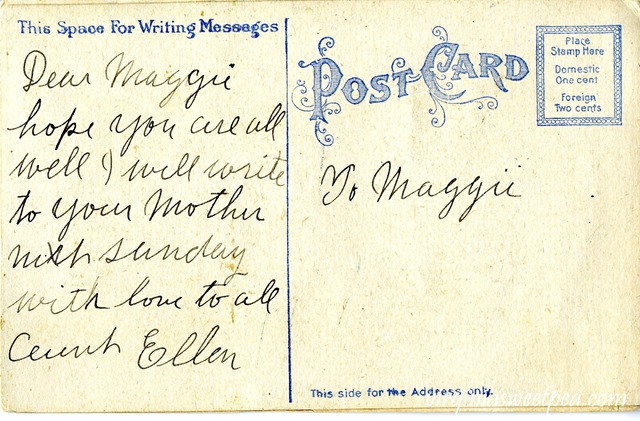 We don't do much to celebrate St. Patrick's Day but I do enjoy getting out the few St. Patrick's Day things that I have.
Since St. Patrick's Day is on a Saturday this year, I'm sure a lot of people will have a great time celebrating.
See the St. Patrick's Day decor in my formal living room here.