St. Patrick's Day Decorating Ideas
Get ideas for bringing the St. Patrick's Day celebration into your home with these creative St. Patrick's Day decorating ideas!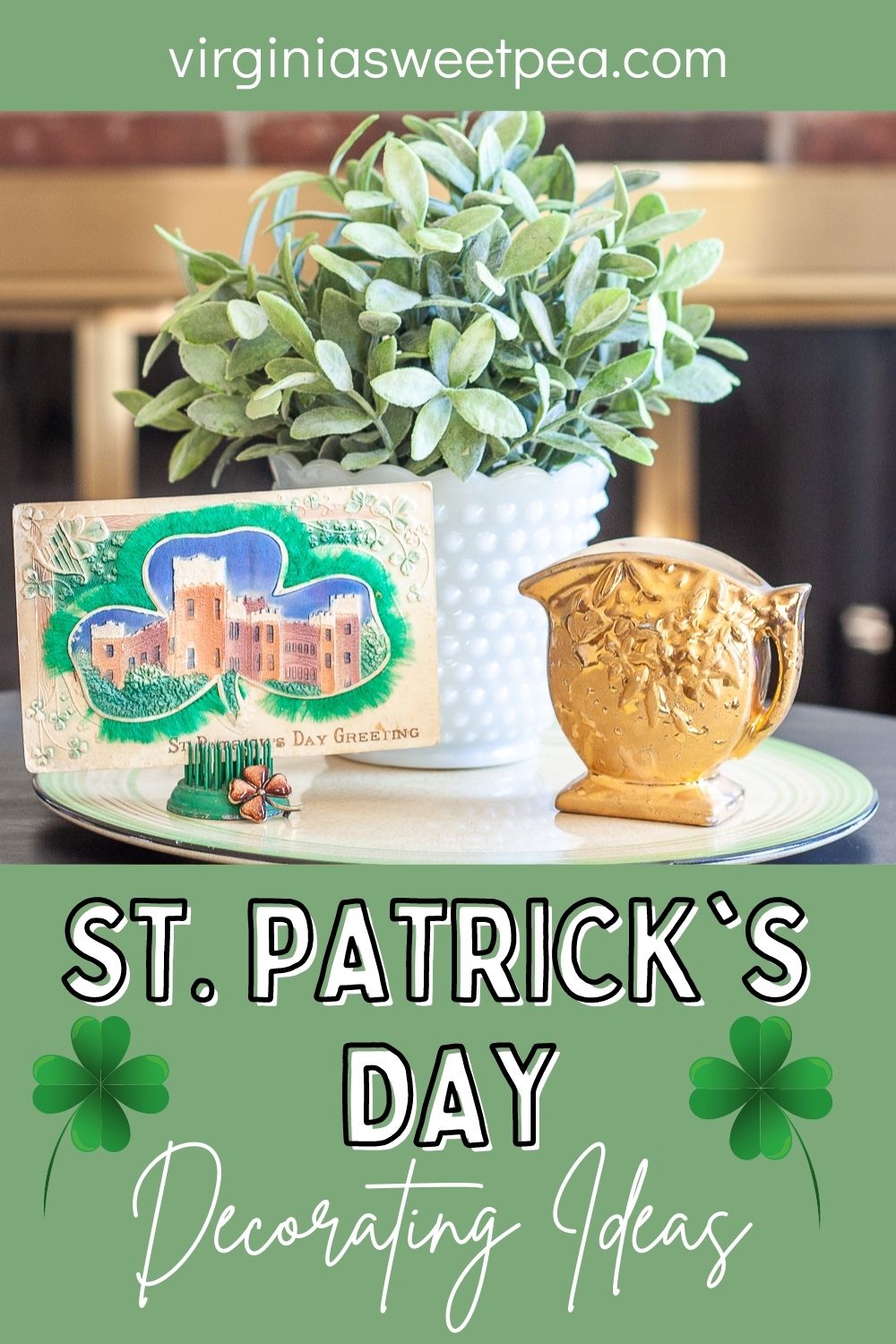 I had so much fun decoration my formal living room St. Patrick's Day and I'm excite to share how I decorated with you.
St. Patrick's Day Decorating Ideas
Here is our living room decked out for St. Patrick's Day.
Sherman is the family member who enjoys this room the most. You can see by the color of his white fur sofa cover that he spends a lot of time relaxing on "his" sofa.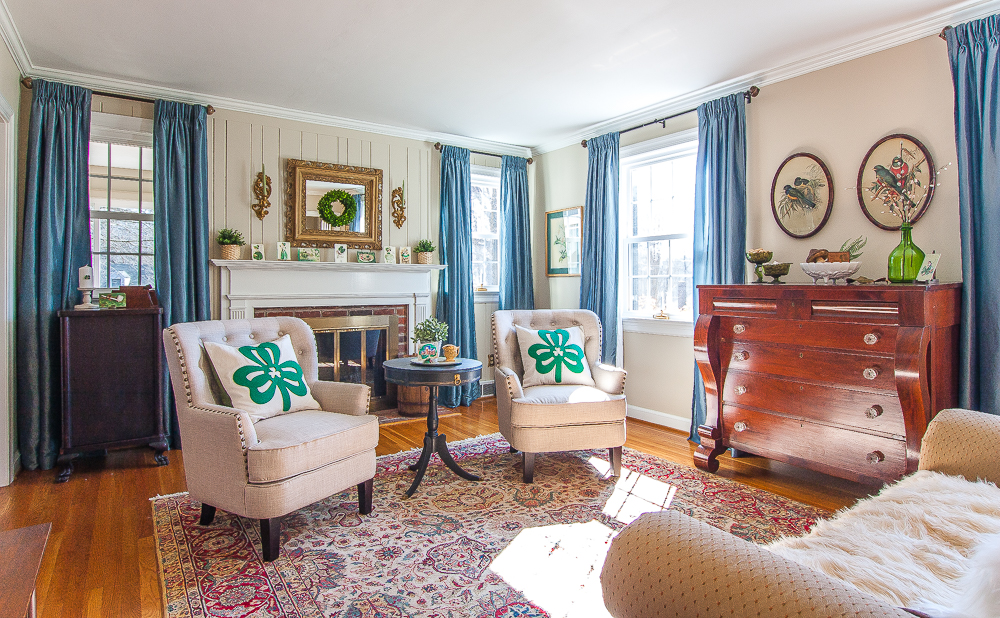 St. Patrick's Day Mantel
I recently shared our St. Patrick's Day mantel. If you missed that post, be sure to check it out to see all of the interesting vintage St. Patrick's Day postcards that I used to decorate it.
St. Patrick's Day Vignettes
After I decorated the mantel, I moved on to creating St. Patrick's Day vignettes.
The first one that I created was this one using a faux plant in a vintage hobnob milk glass planter, a gold pitcher marked 14K, and an antique St. Patrick's Day postcard.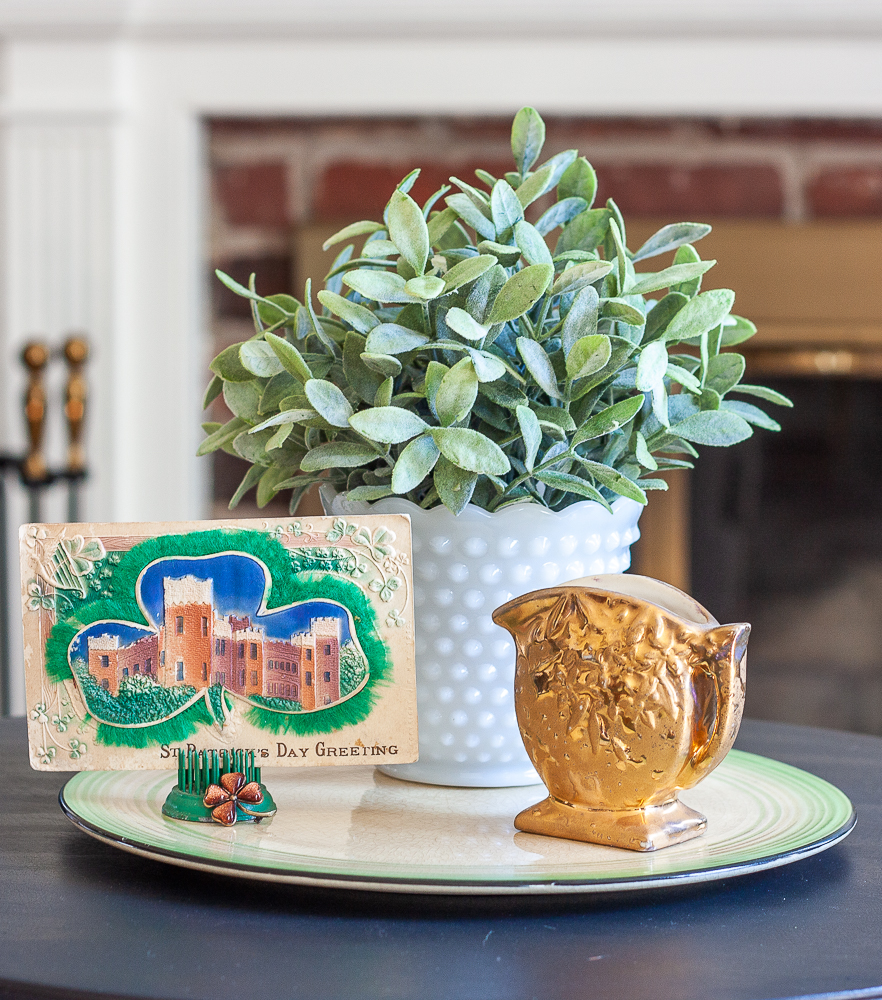 I used one of my grandmother's flower frogs to display the postcard and accented the frog with an antique clover pin that either was my grandmother's or belonged to one of her aunts.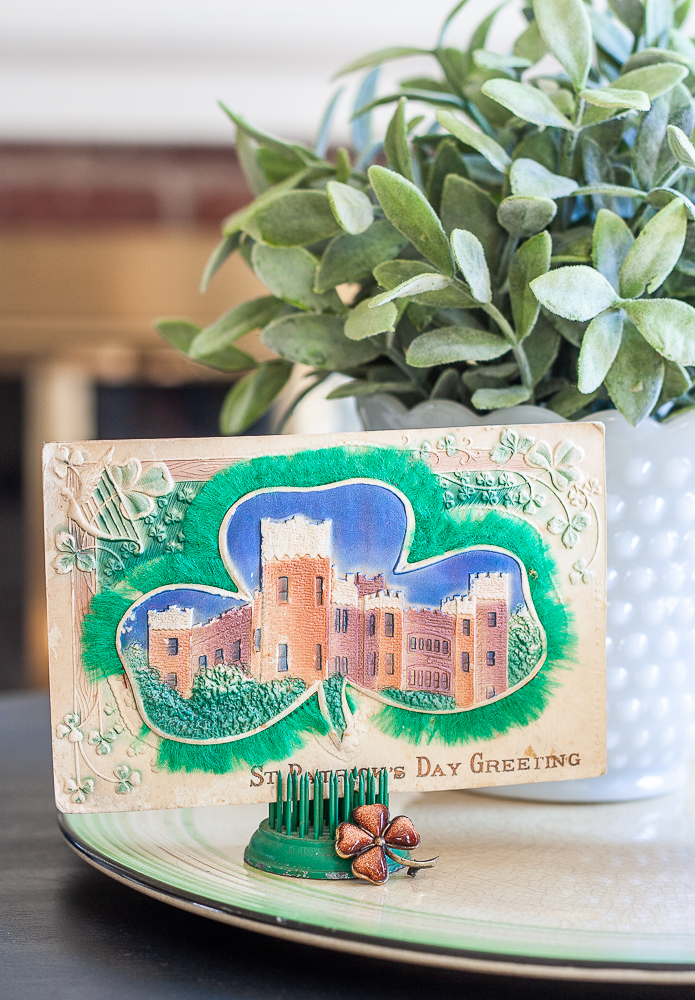 I inherited a bunch of costume jewelry from my grandmother and great-great-aunts. You can the jewelry in this post.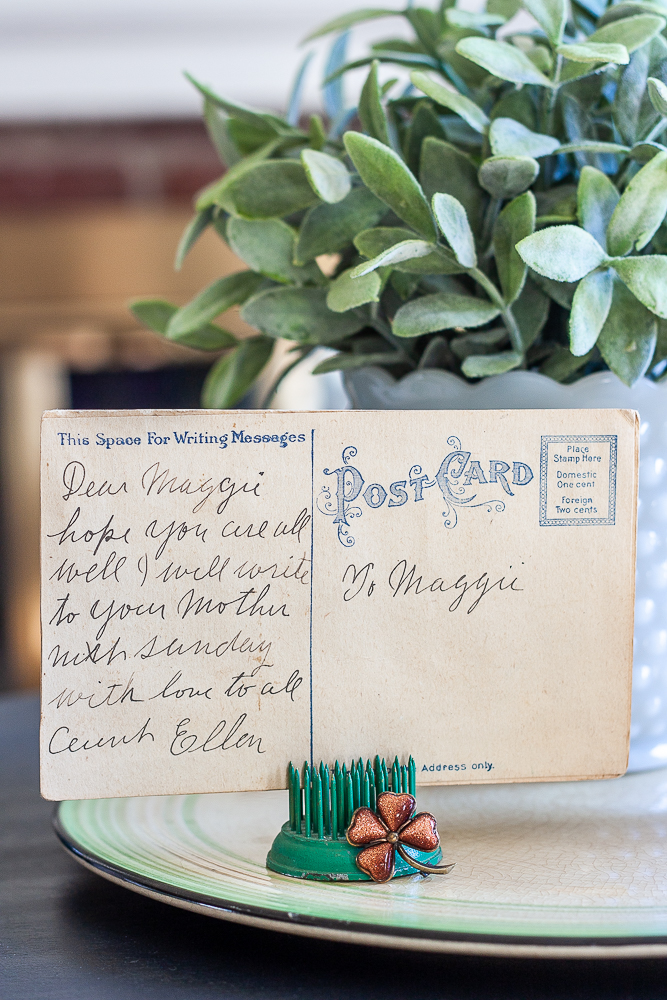 This postcard was never mailed. I believe this postcard to be from my mother's side of the family. Mama lives in the 1912 home where Maggie grew up.
When I share my family room, Maggie's framed sheet music is one of the walls.
I created another St. Patrick's Day vignette on the music stand to the left of our fireplace.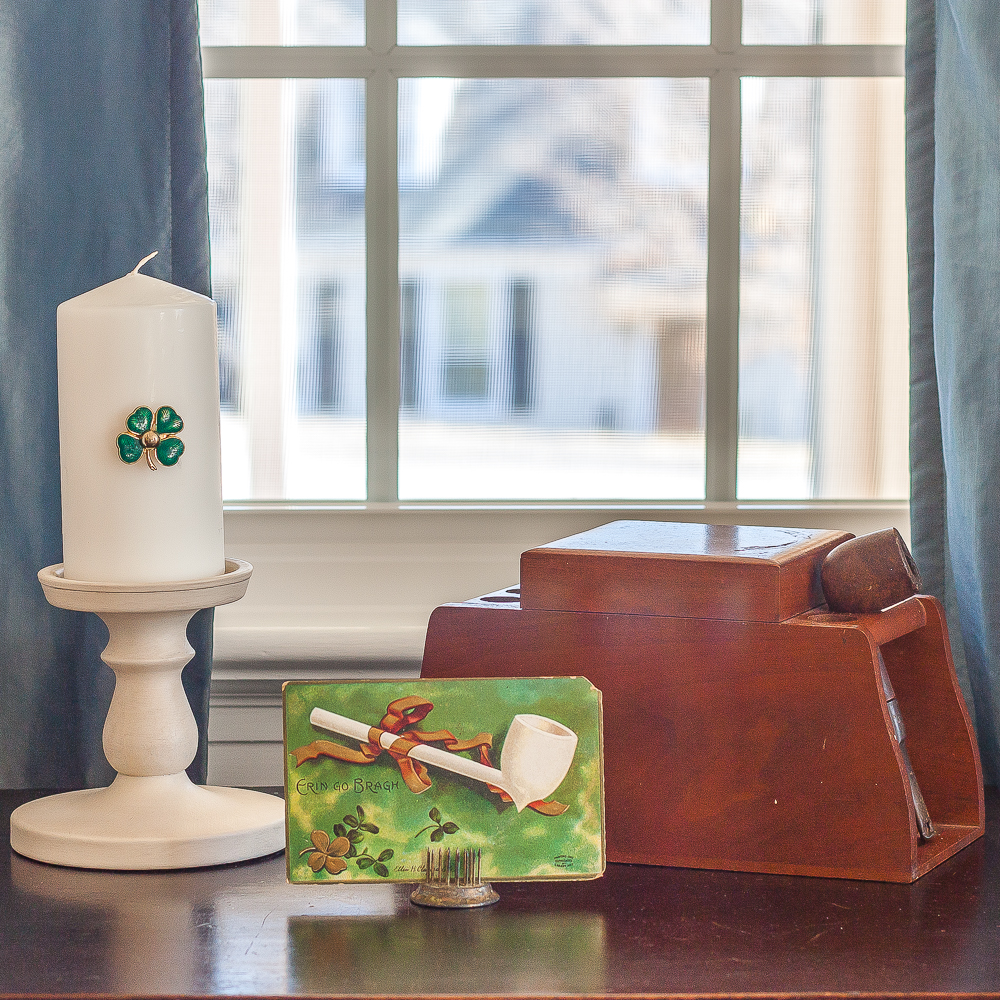 I glued a clover bolo tie clasp to a white candle to coordinate with the postcard.
My dad was very active in 4-H as was I and also my grandmother. I think this clover was part of a bolo tie that my dad wore. I also have two of his 4-H jackets.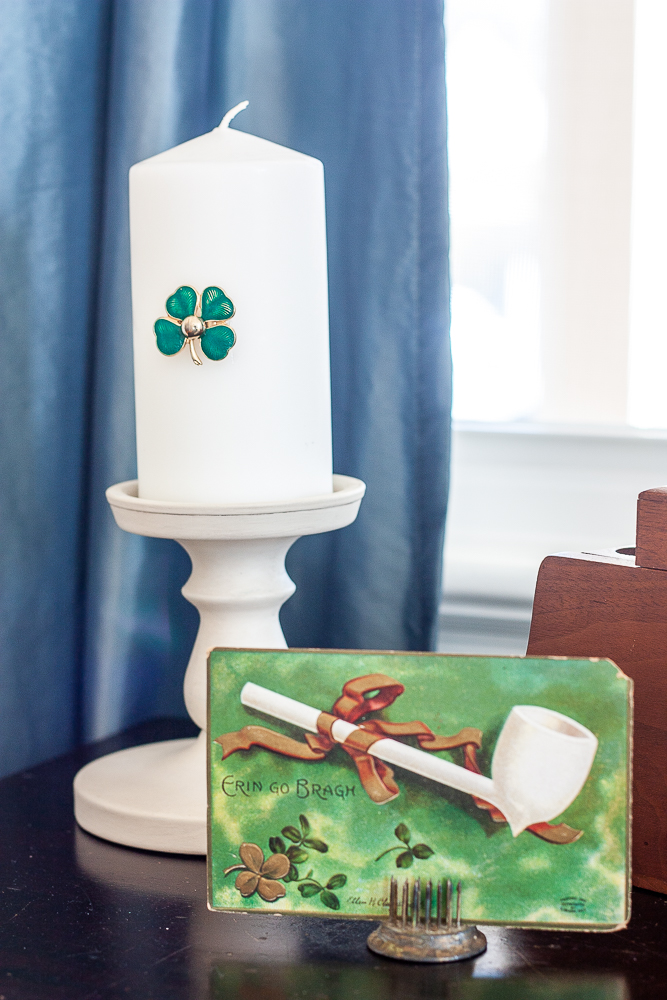 When I shared my St. Patrick's Day mantel, I shared what Irish expressions such as Erin Go Bragh means.
The signature at the bottom of the card says Ellen H Clapsaddle. I looked her up and found this:
Ellen Hattie Clapsaddle was an American illustrator/commercial artist in the late 19th and early 20th centuries.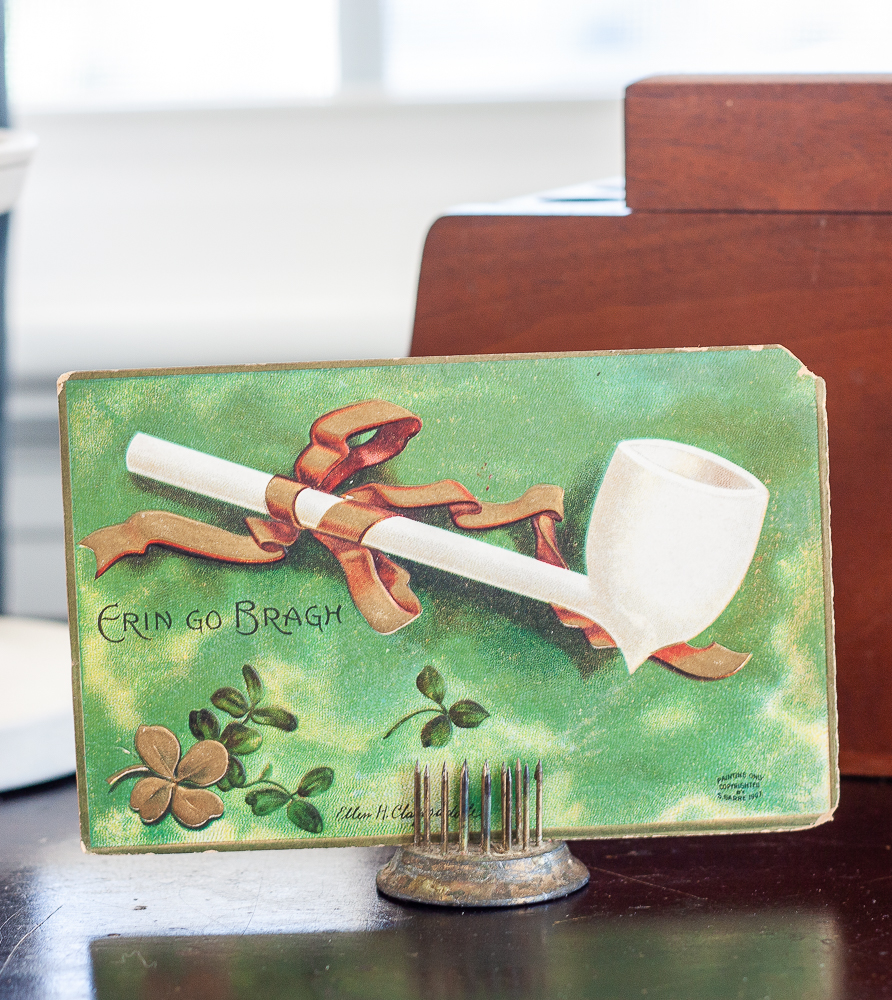 If you like my Erin Go Bragh Ellen H. Clapsaddle postcard, I found an identical one for sale on Etsy.
This postcard was sent to my great-great-aunt in 1910.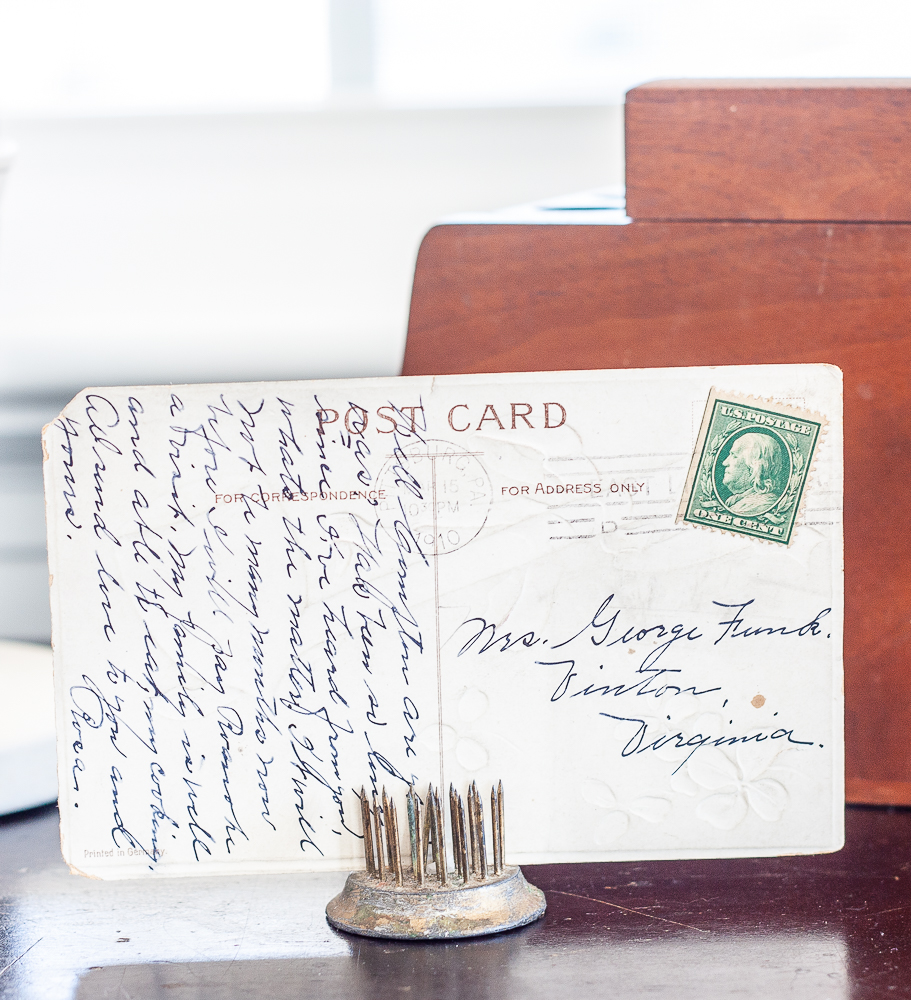 Since the postcard has a pipe illustration, I displayed it with my maternal grandfather's pipe and tobacco box.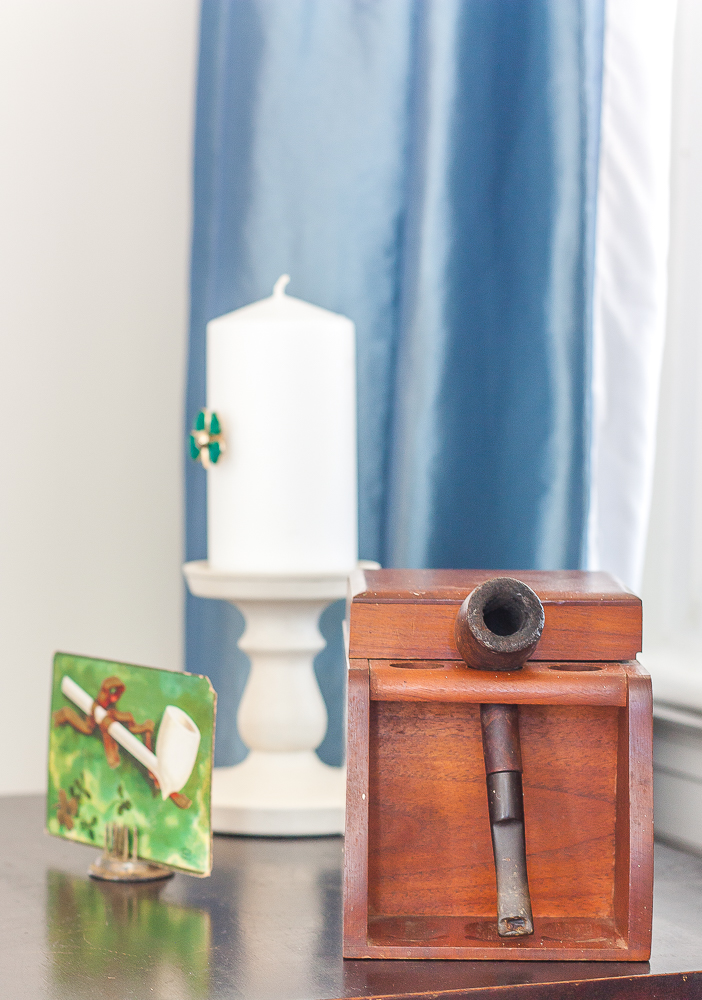 Decor on the Chest of Drawers
A spot that I always decorate seasonally is on my grandmother's chest.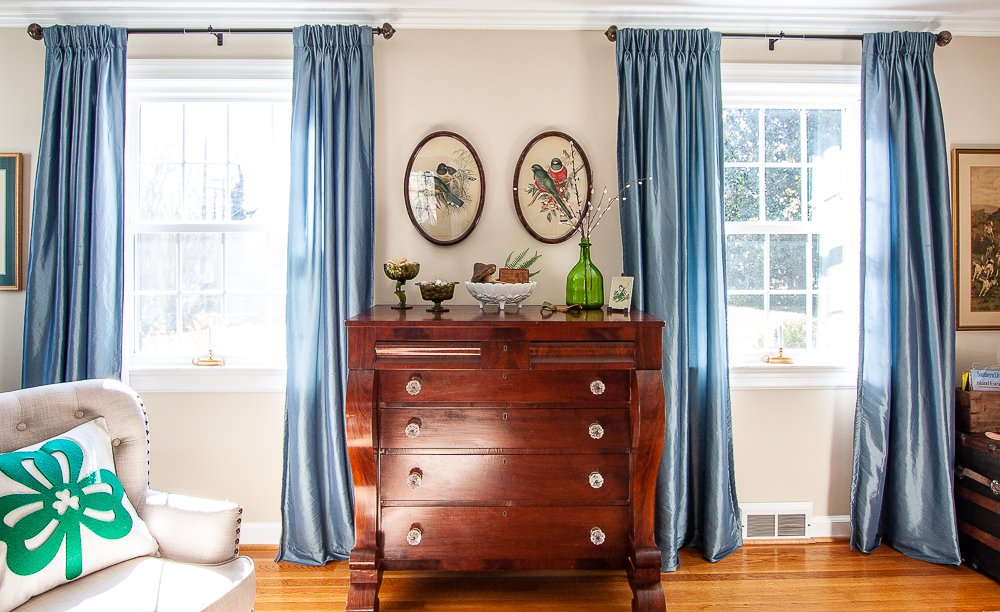 In the center of the display is my Indiana milk glass fruit centerpiece bowl.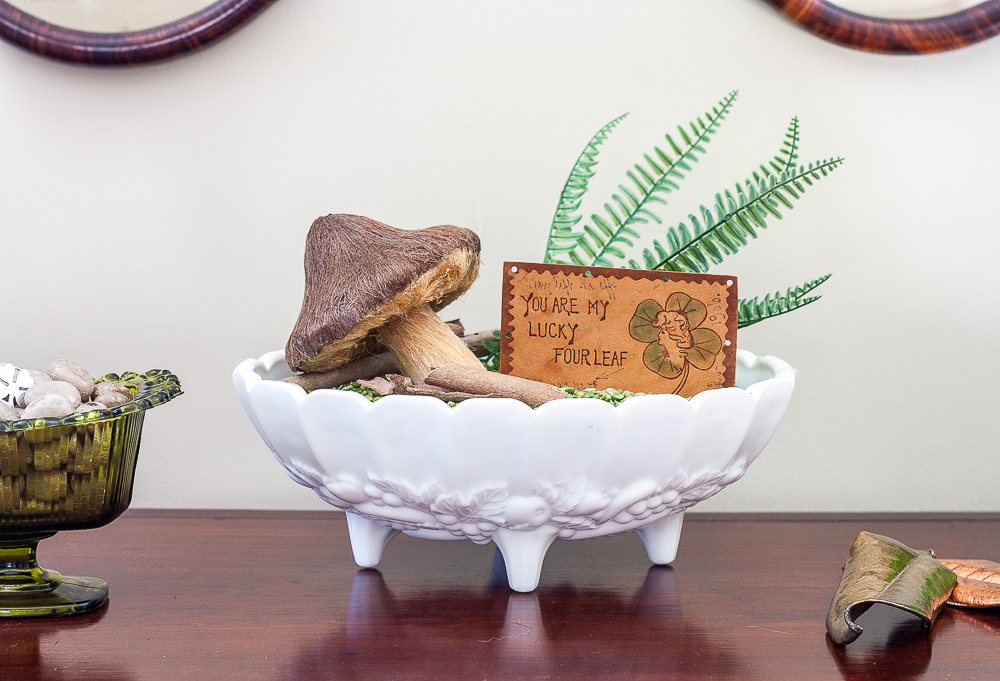 I filled the bowl with slit peas, then added a mushroom, ferns, bark, and a leather postcard that my great-great-aunt received in 1906.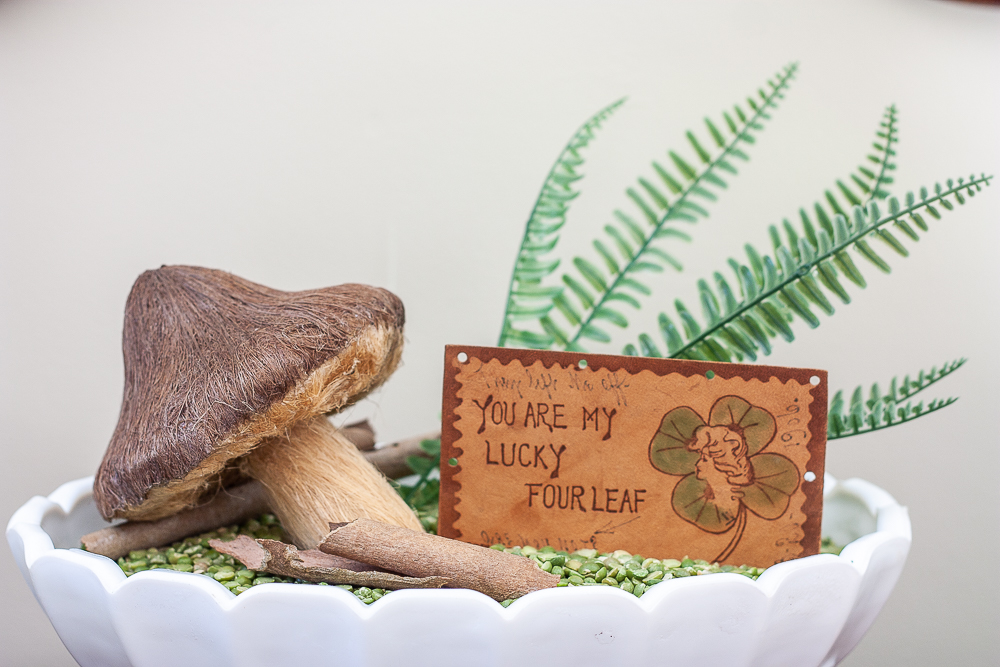 You can see scanned copies of all of my antique St. Patrick's Day postcards in this post.
To the right of the fruit bowl, I decorated with a green jug filled with faux pussy willow and another antique postcard. The Magnolia leaves are from Williamsburg and are coated in a thin coat of painted metal.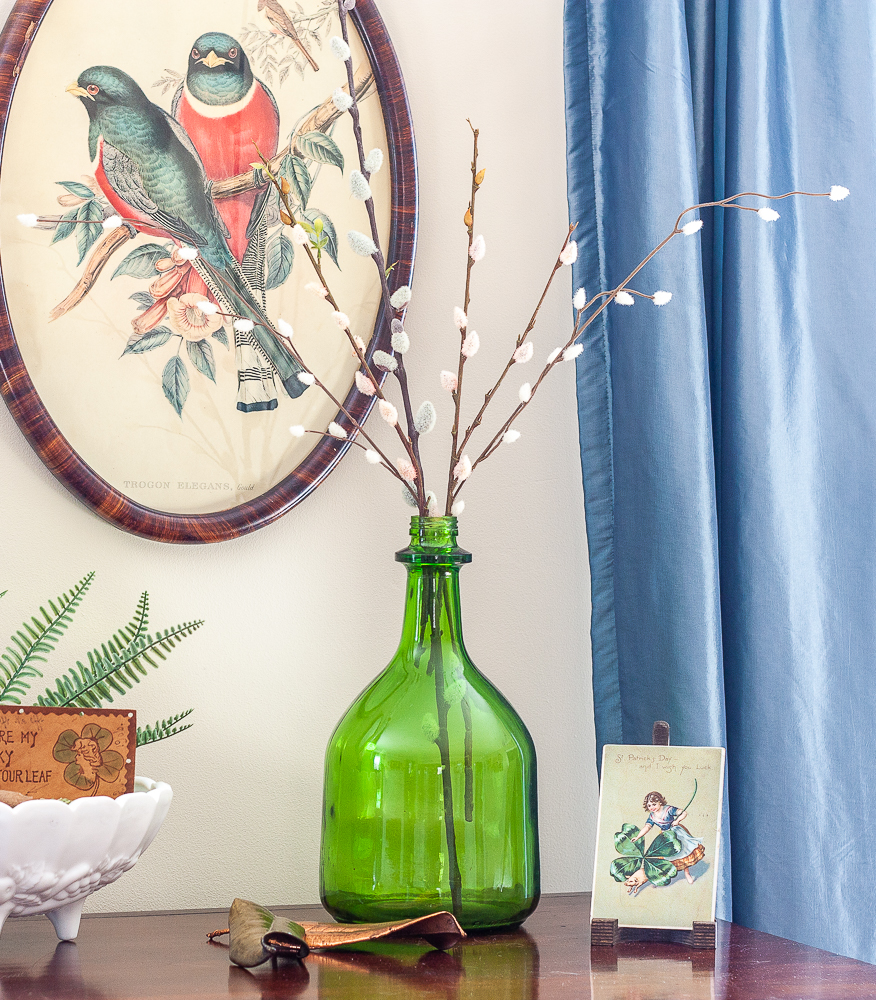 This postcard was sent to my great-great-aunt in 1908 from my other great-great-aunt who raised my grandmother.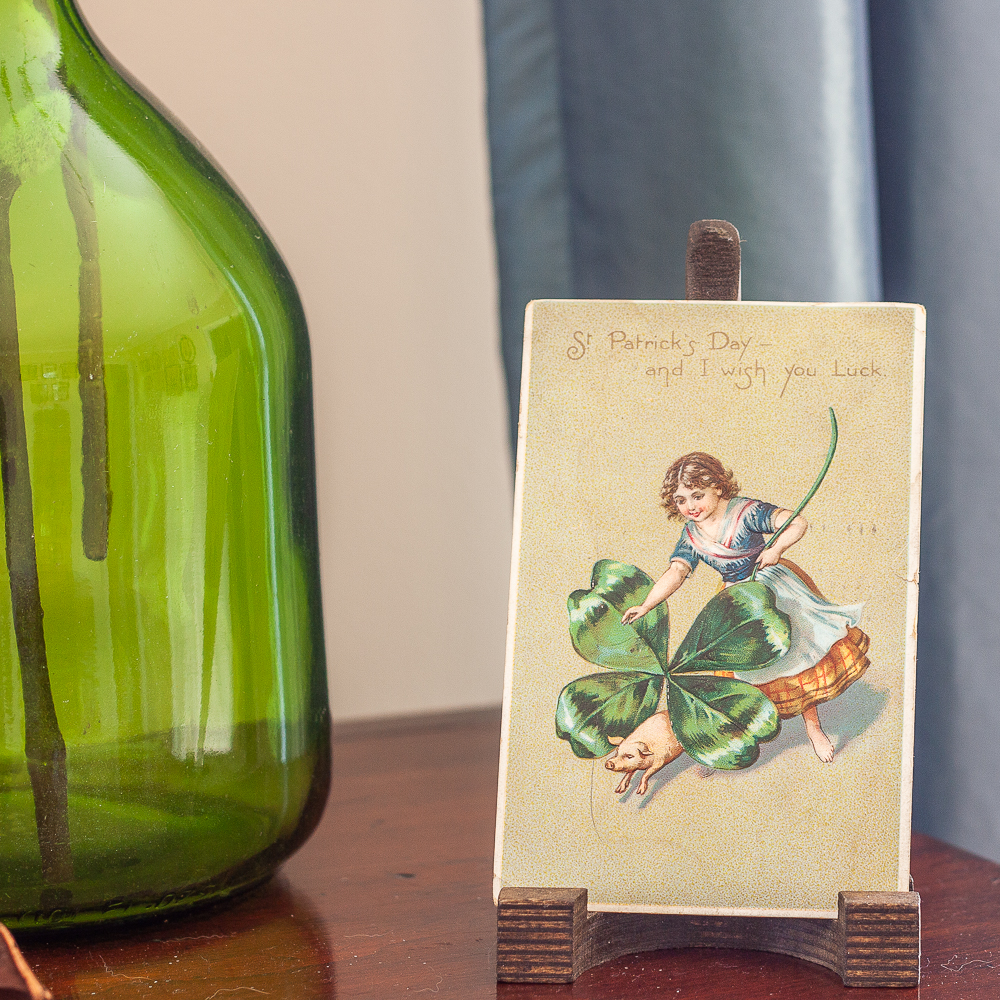 Apparently 1908 was a Leap Year and Fannie thought it would bring her luck with finding a boyfriend.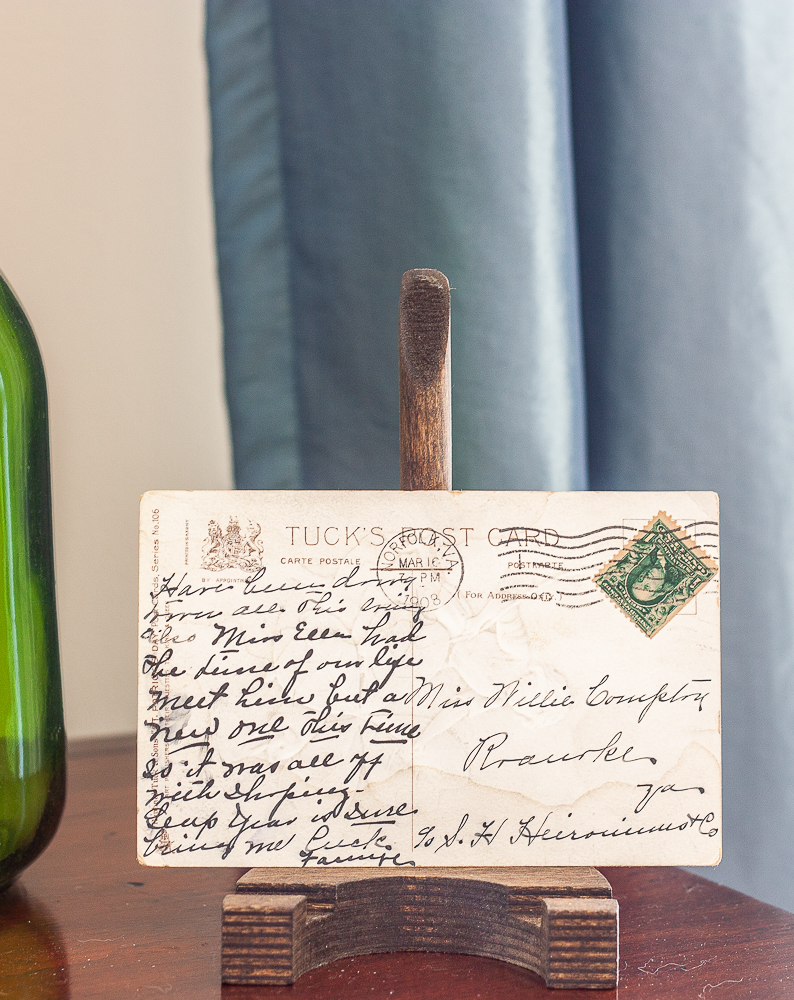 On the left side of the dresser, I decorated using two vintage green glass bowls.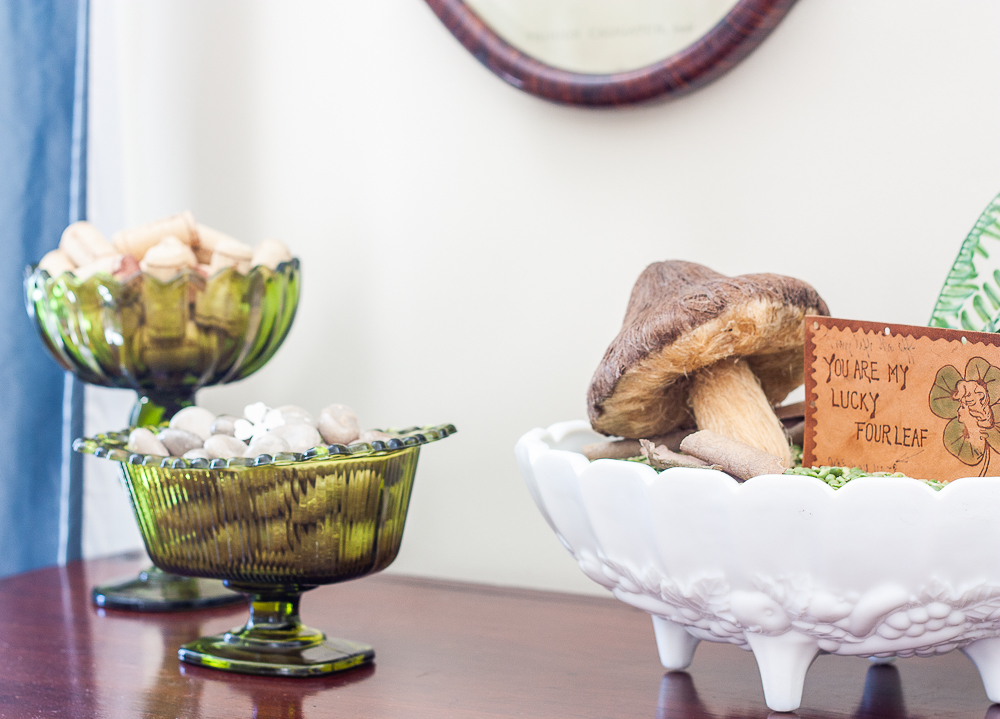 The bowl on the left is an Indiana Glass Green Lotus bowl that I found a long time ago at Goodwill. I filled it with corks.
The bowl on the right originally had a lid. It is also an Indiana Glass piece. I filled it with polished stones that my grandmother told me came from the Celanese plant in Narrows, Virginia. I added a silver clover to the stones.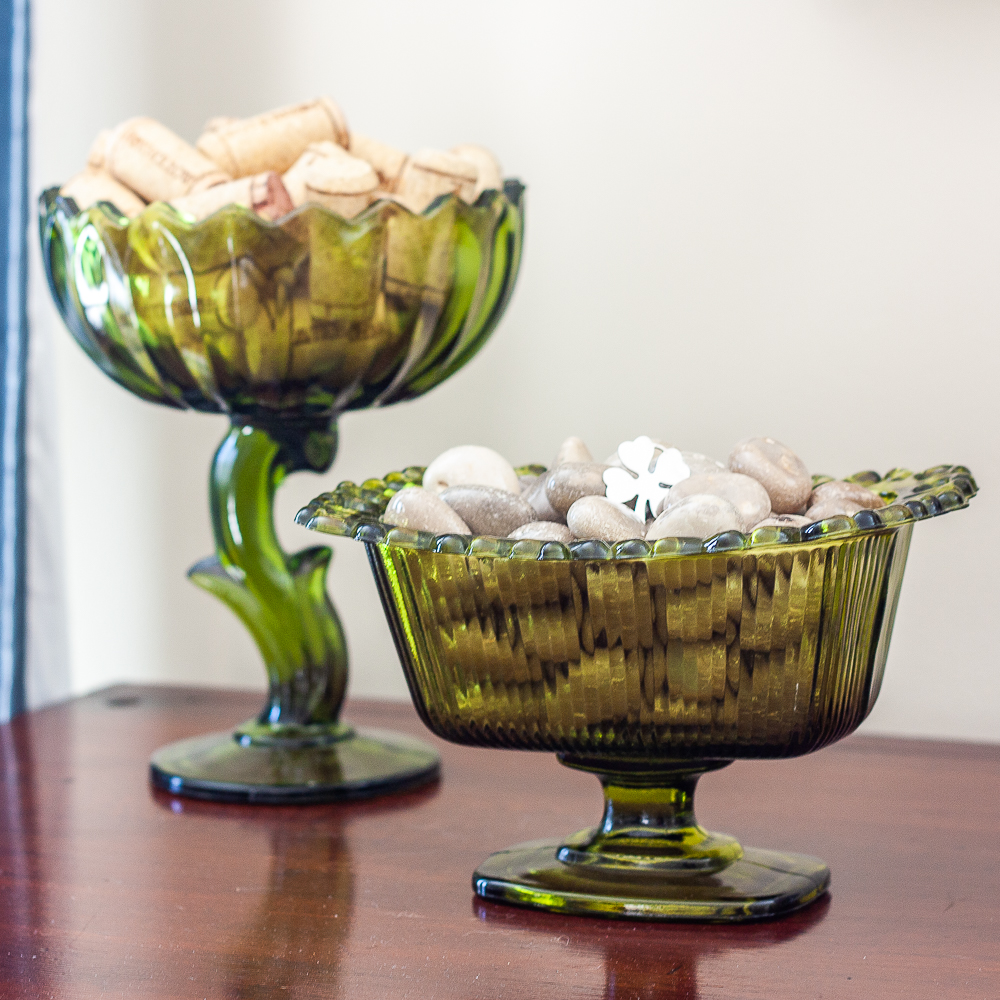 Dining Room St. Patrick's Day Decor
The dining room is decorated for St. Patrick's Day with this display.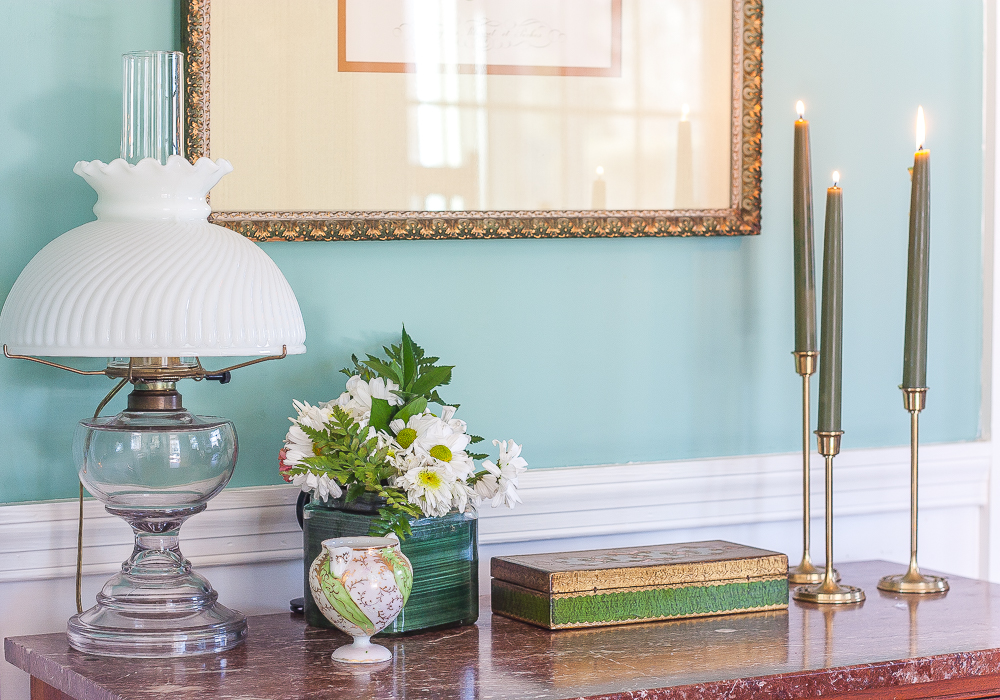 The flower arrangement is a refreshed one that Mr. SP brought home to me after my surgery. The original arrangement was for Valentine's Day.
A week after Valentine's Day, I pulled out the flowers that had died and filled in the empty spaces with ferns and other greenery from flowers that a friend brought to me.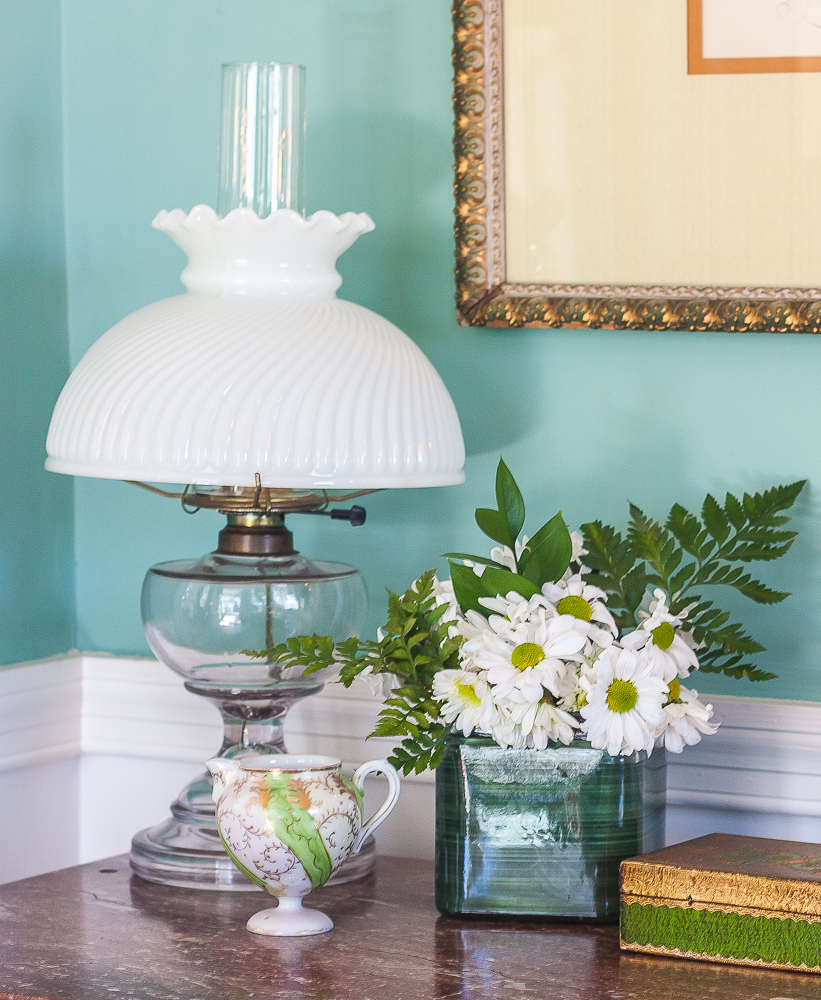 Granny left notes in a lot of her things which is so handy because I love reading them to know the history.
Fannie, whose name you see on some of my vintage postcards, raised my grandmother. She was married to Frederick Dodenhoff who Granny called Uncle Dodie. Fannie and Dodie acted like grandparents to my dad and both he and my aunt also called them what Granny called them, Aunt Fannie and Uncle Dodie.
The note in this pitcher says: "Uncle Dodie brought this pitcher to Marguerite Brown from a trip to Spanish American War Vets, Oregon, I think. She gave it to me before she died."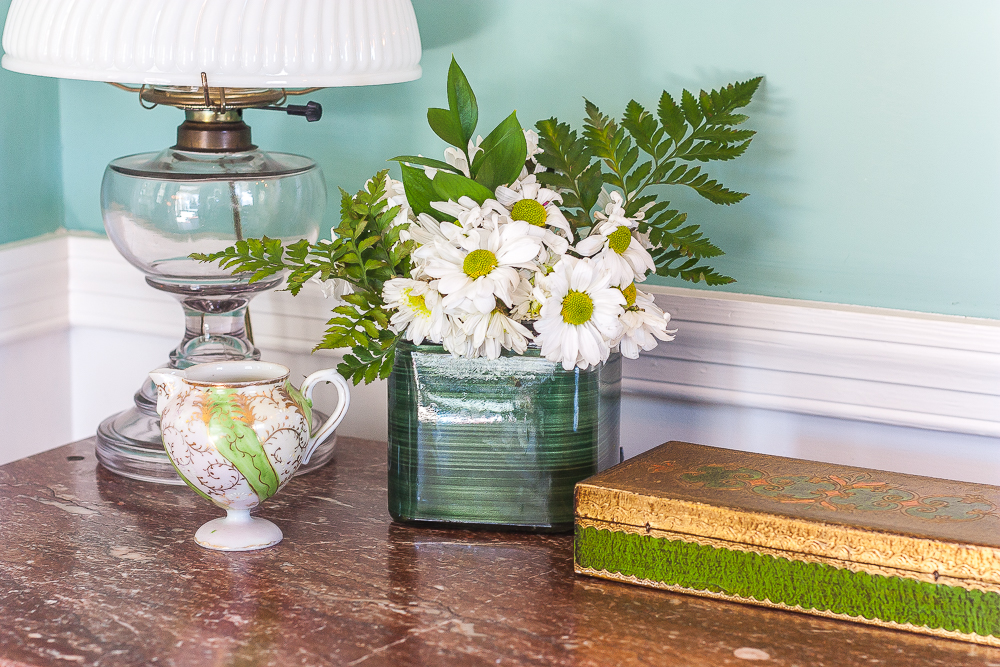 I am eager for my aunt to read this post to tell me who Marguerite Brown was.
My grandmother's name was Marguerite, so perhaps this is a relative.
The box in the middle of the table was also my grandmother's.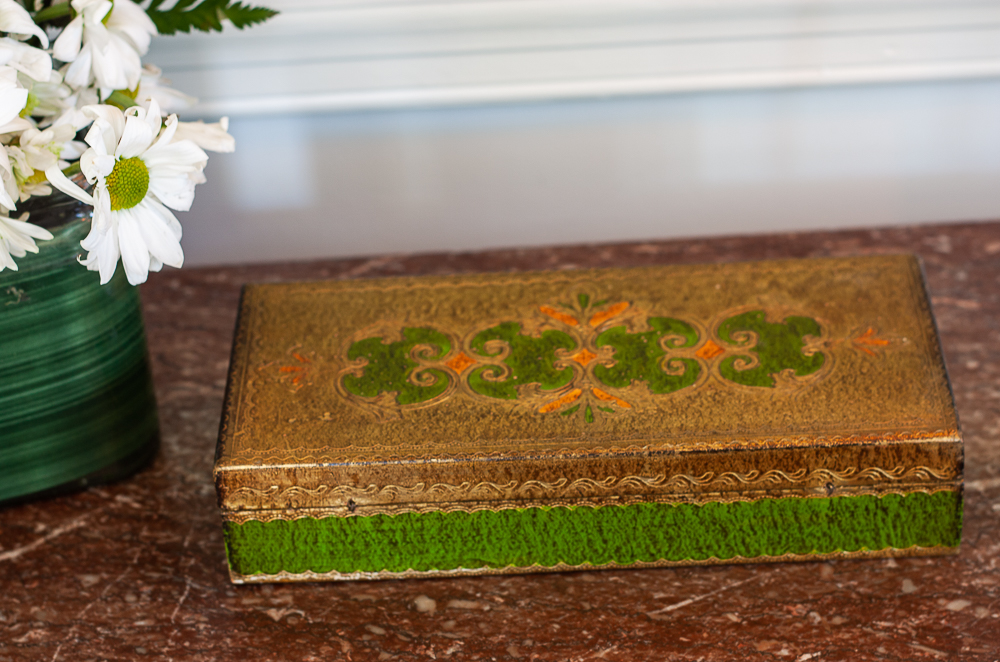 St. Patrick's Day Decorations on the Porch
I went all out for St. Patrick's Day this year and even decorated the porch.
For this vignette, I decorated with an antique lamp used to hold a green candle, a hobnob milk glass ashtray filled with coffee beans, and a St. Patrick's Day free printable in a vintage frame.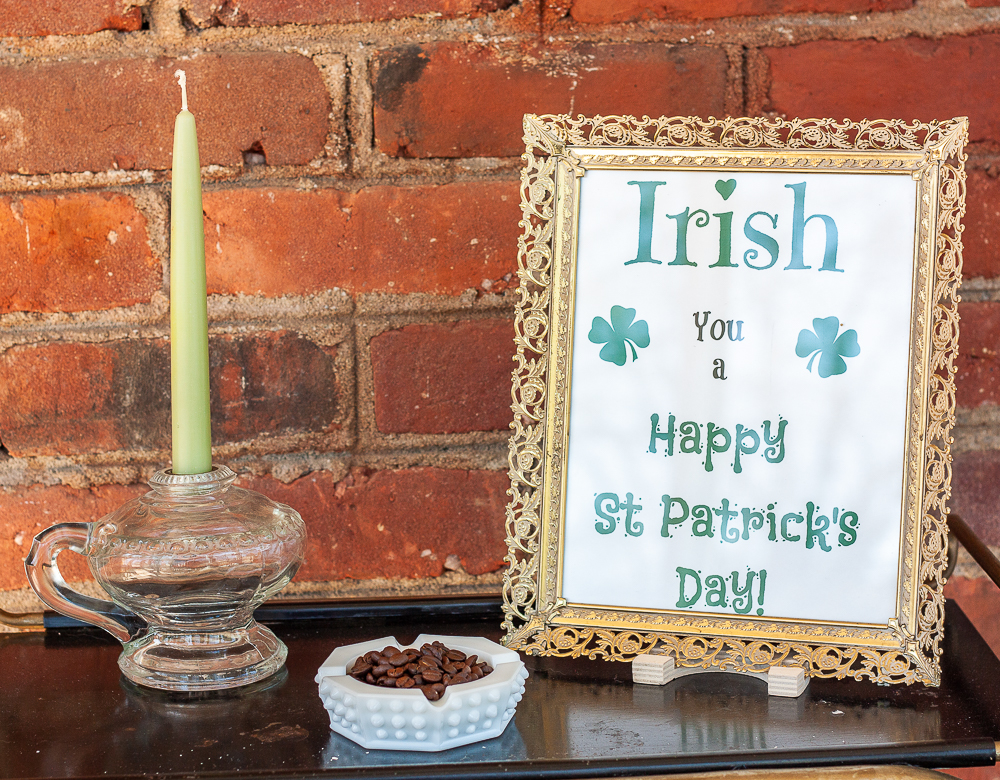 The last St. Patrick's Day vignette to share is this one on a table on our enclosed porch.
The glass surrounding the candle was originally a sconce in the farmhouse where my grandfather grew up. (See the farmhouse in this post as well as this one.) The candle base was my grandmother's.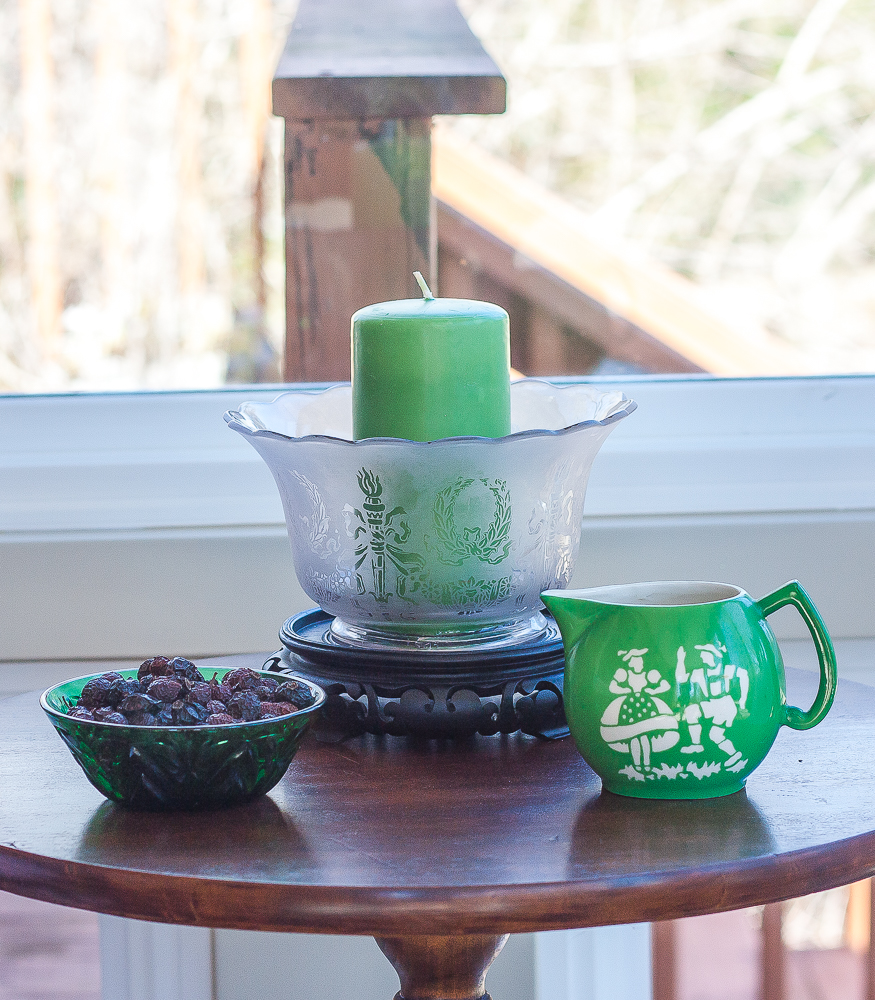 The green glass bowl was my grandmother's and she wove a basket over it in bible school when she was a child.
The pitcher was also my grandmother's and is marked, "Made in Czechoslovakia."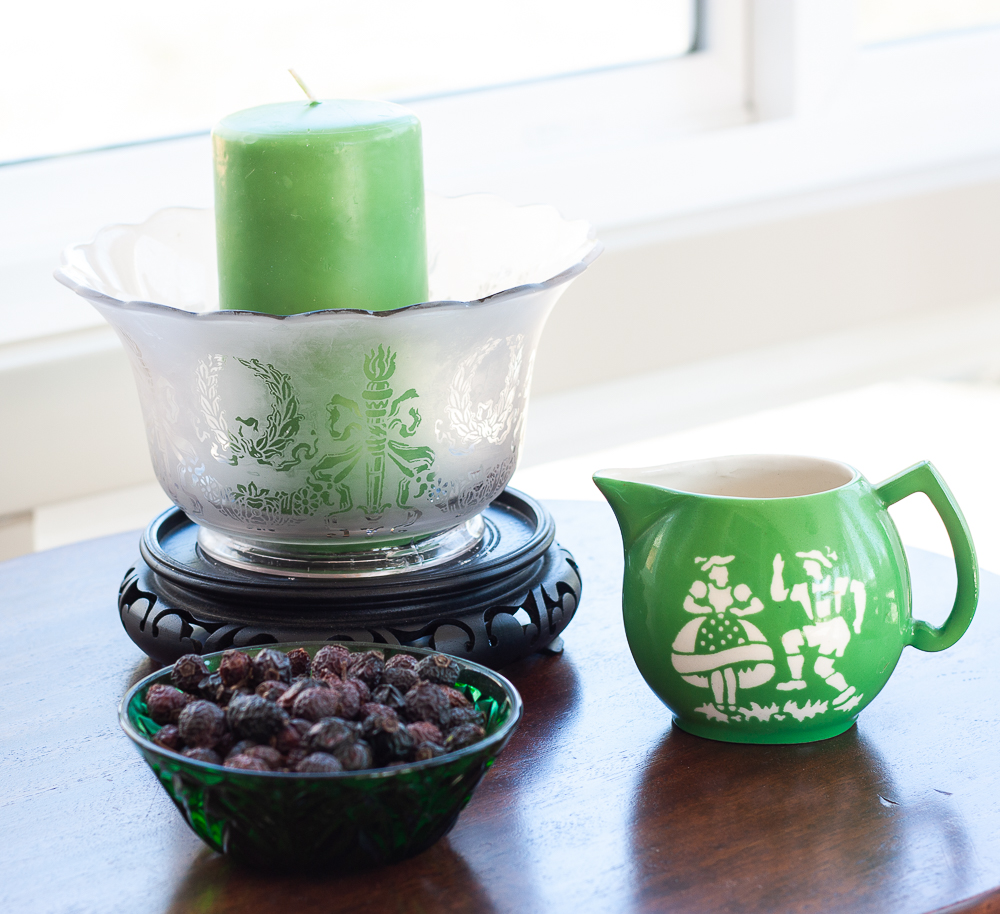 I'll leave you with a funny story. The bowl filler in the green bowl is from the early 90s and originally was scented. One Thanksgiving my father-in-law was at my mother's house and she had a bowl filled with this on the counter in the kitchen. My father-in-law ate some of it thinking that it was candy or some sort of snack. I don't know what it really is but I do know that it isn't poisonous.
I hope you got some St. Patrick's Day decorating ideas and that you enjoyed seeing my decorations and reading the history behind my decor.