St. Patrick's Day Mantel with Vintage Postcards
I'm bringing a touch of Irish to my home with a St. Patrick's Day mantel.
I've decorated for St. Patrick's Day for many years but have never done an official St. Patrick's Day mantel. I love what I created and it's perfect to enjoy for the beginning of March.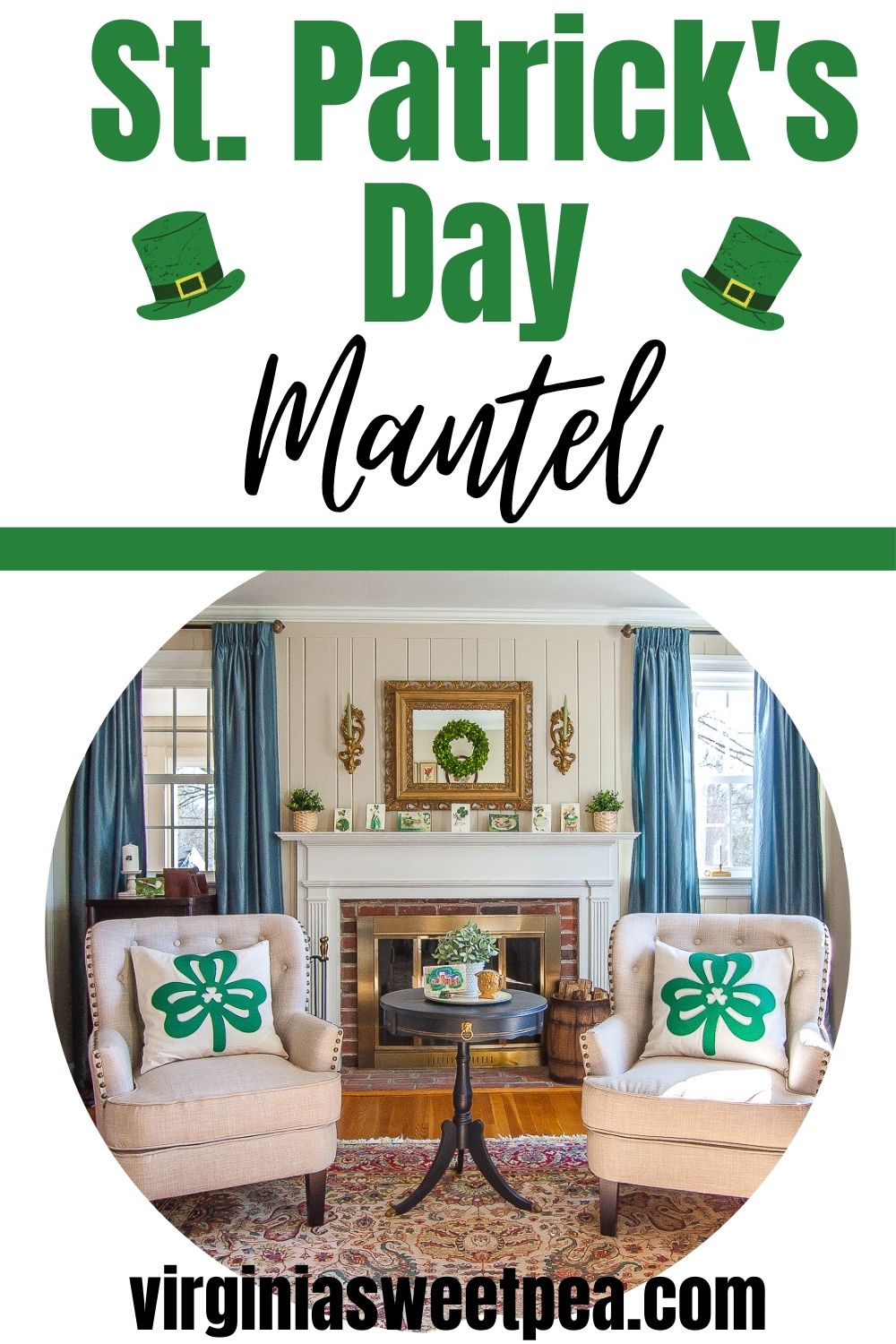 I loved how I decorated our formal living room for Valentine's Day and was sad when February 14 was over and it was time to take down my Valentine's Day decor.
St. Patrick's Day Mantel
Instead of jumping straight to spring decor, I decorated our living room for early March for St. Patrick's Day.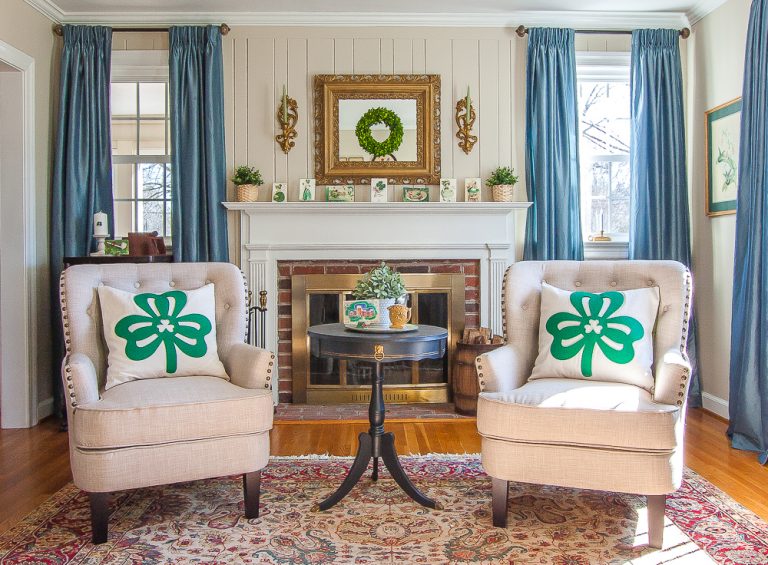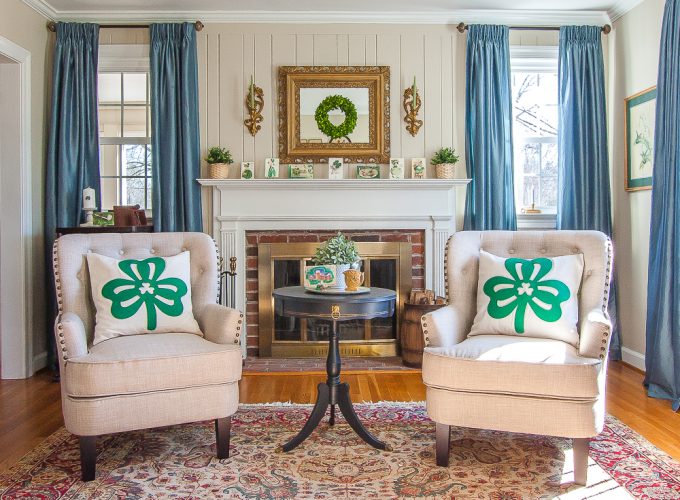 Today I'm focusing on how I decorated the mantel and I'll share the rest of the room's St. Patrick's Day decor next week.
The shamrock pillow covers are a DIY from a few years ago. I made pillow covers using a drop cloth and then sewed on shamrocks from the Dollar Store.
This project resulted in an invitation to demonstrate how I made the pillow covers on WSLS tv in Roanoke.
I'll share the details of the St. Patrick's Day vignettes on the table between the chairs and on the music stand next week.
St. Patrick's Day Mantel Details
To decorate the mantel for St. Patrick's Day, I used green candles, a faux Boxwood wreath, faux Boxwood plants, and vintage St. Patrick's Day postcards.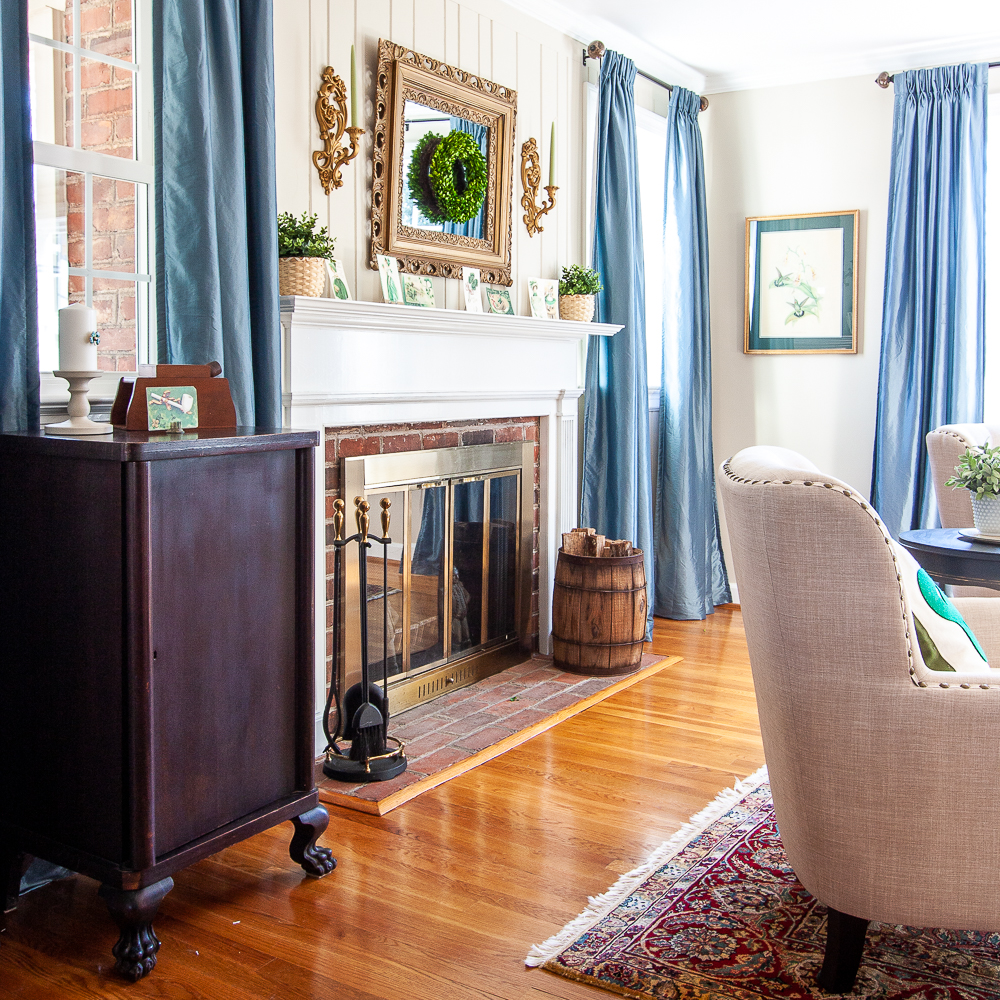 For the first time, instead of using my collection of early 1900s vintage postcards, I decorated the mantel with copies of vintage St. Patrick's Day postcards that I found online.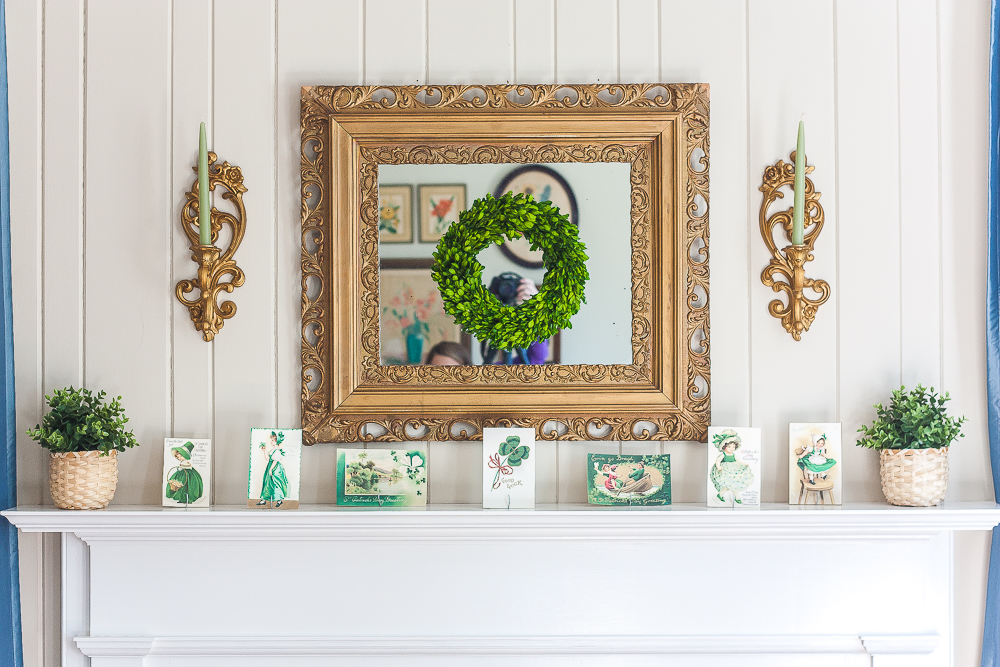 I did use vintage St. Patrick's Day postcards from my collection in the rest of my living room decor.
A few years ago I scanned both the front and back of these postcards and shared them along with a St. Patrick's Day porch vignette. It's fascinating to see the stamps and to read the messages on the cards.
I enjoyed searching the Internet for vintage St. Patrick's Day postcard copies to use on my mantel. If you want to use these images, you can find them here.
Vintage Postcards
This postcard left me with some questions. The first one was the meaning of "From the Ould Sod."
The Ould Sod or Auld Sod is a reference to Ireland as a homeland, a country of origin.
Then I wondered about Erin Isle. I have not been to Ireland and know very little about it.
The Aran Islands are 3 rocky isles guarding the mouth of Galway Bay, in western Ireland. They're known for their ancient sites. The largest island, Inishmore, is home to the prehistoric fort of Dún Aonghasa, perched on top of a high cliff. Nearby is the Worm Hole, a rectangular natural pool. The medieval ruins of the Seven Churches are in the northwest.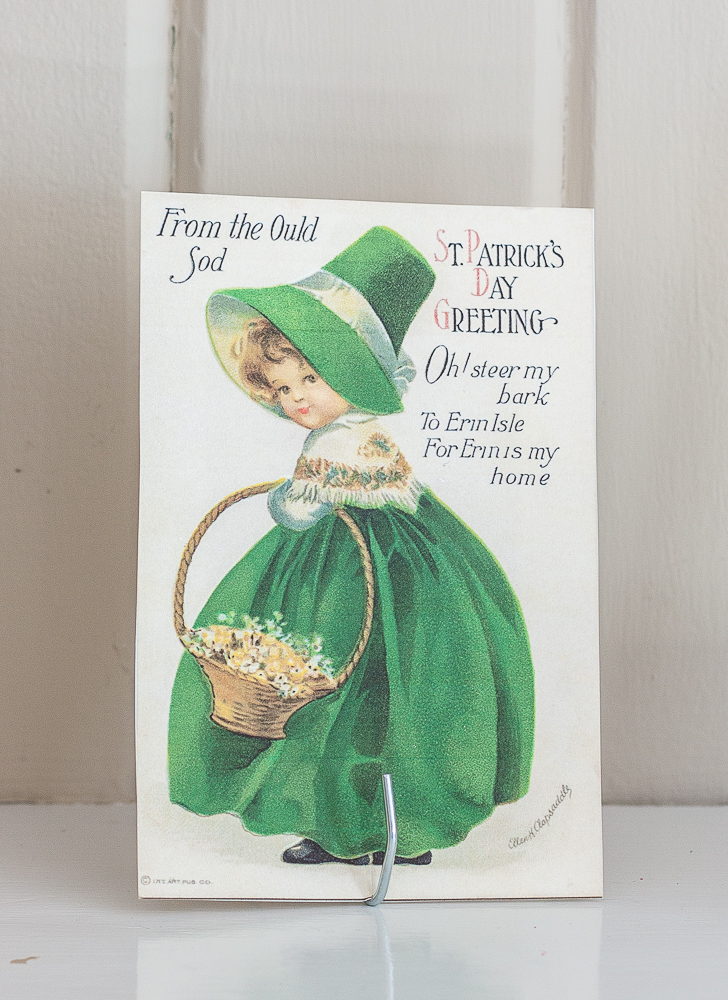 I realized that I did not know the meaning behind common Irish saying like "The Wearing of the Green".
"The Wearing of the Green" is an Irish street ballad lamenting the repression of supporters of the Irish Rebellion of 1798.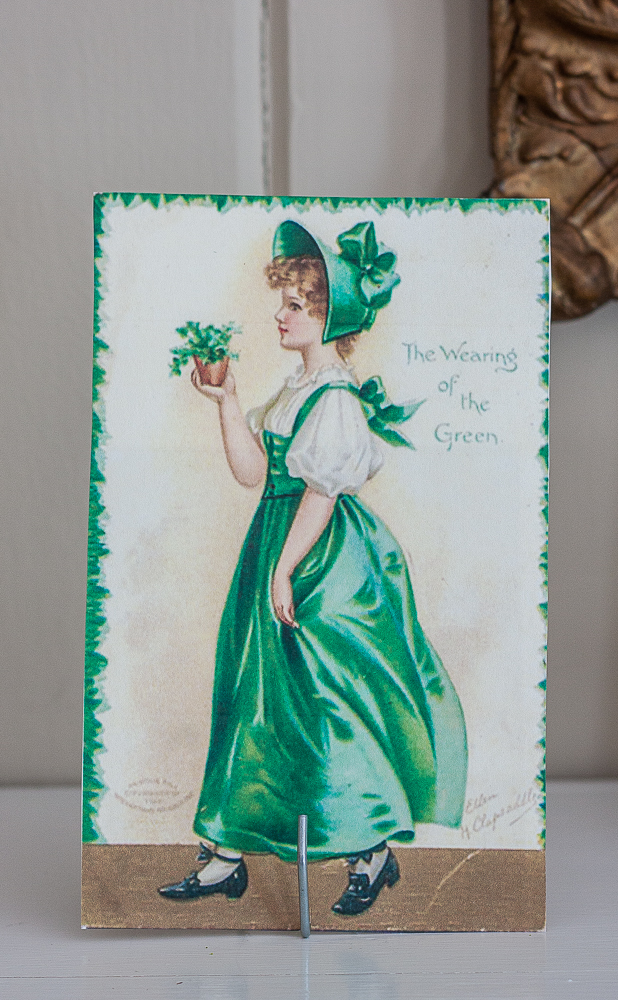 I loved this postcard's river scene.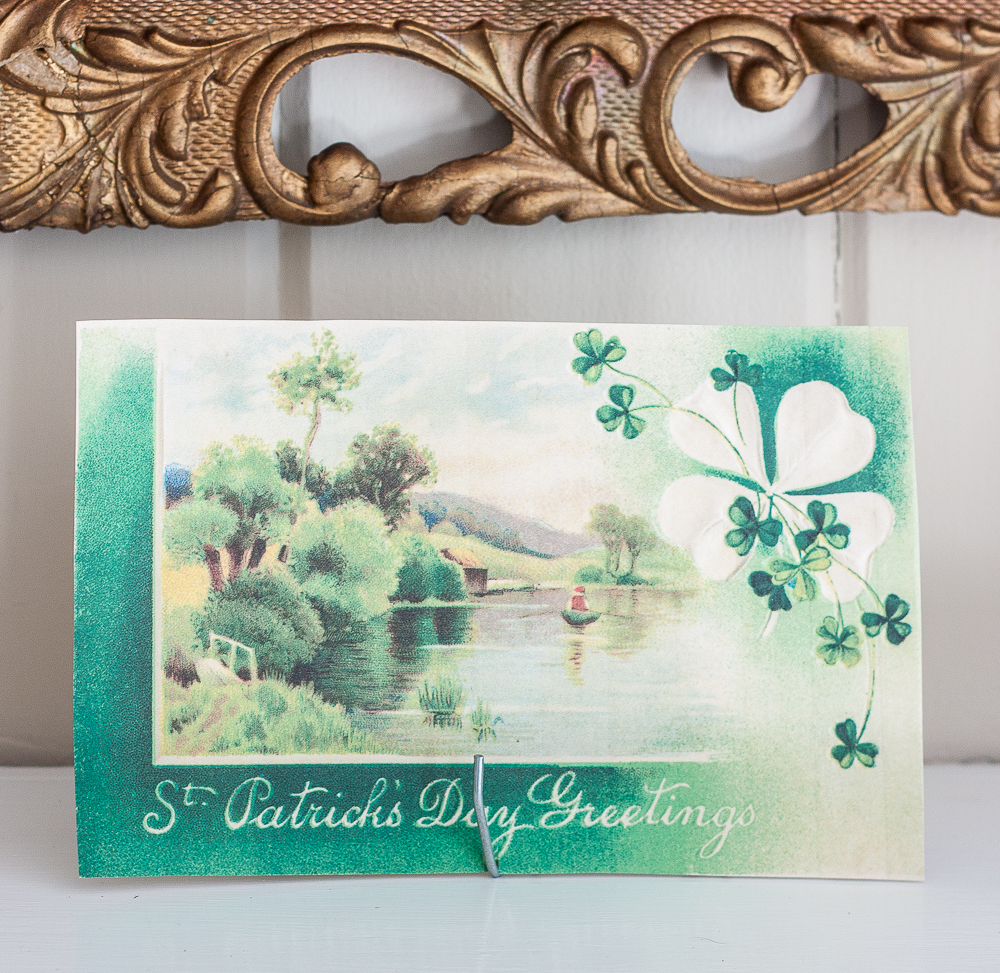 This postcard spoke to me because I sure could use some good luck for a change of pace.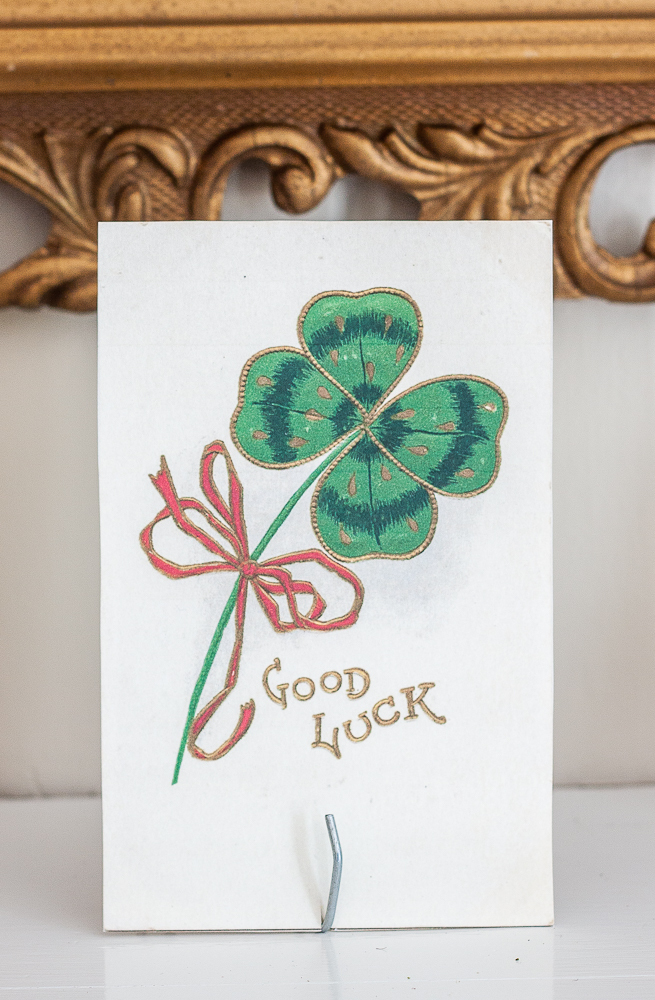 This postcard led me to looking up the meaning of Erin go Bragh.
Erin go Bragh, sometimes Erin go Braugh, is the anglicisation of an Irish language phrase, Éirinn go Brách, and is used to express allegiance to Ireland. It is most often translated as "Ireland Forever."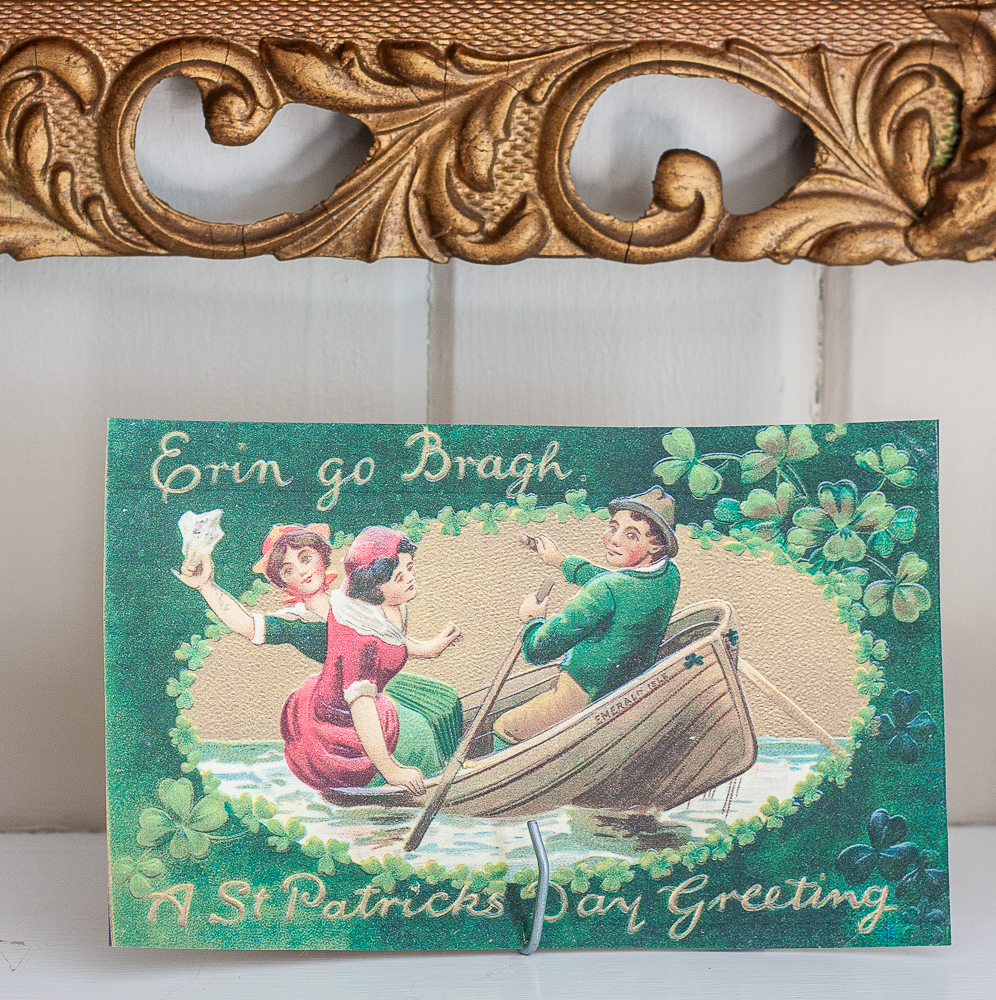 I searched for information about Biddy McCarty but couldn't find anything. I wonder if this was a lyric from an Irish song?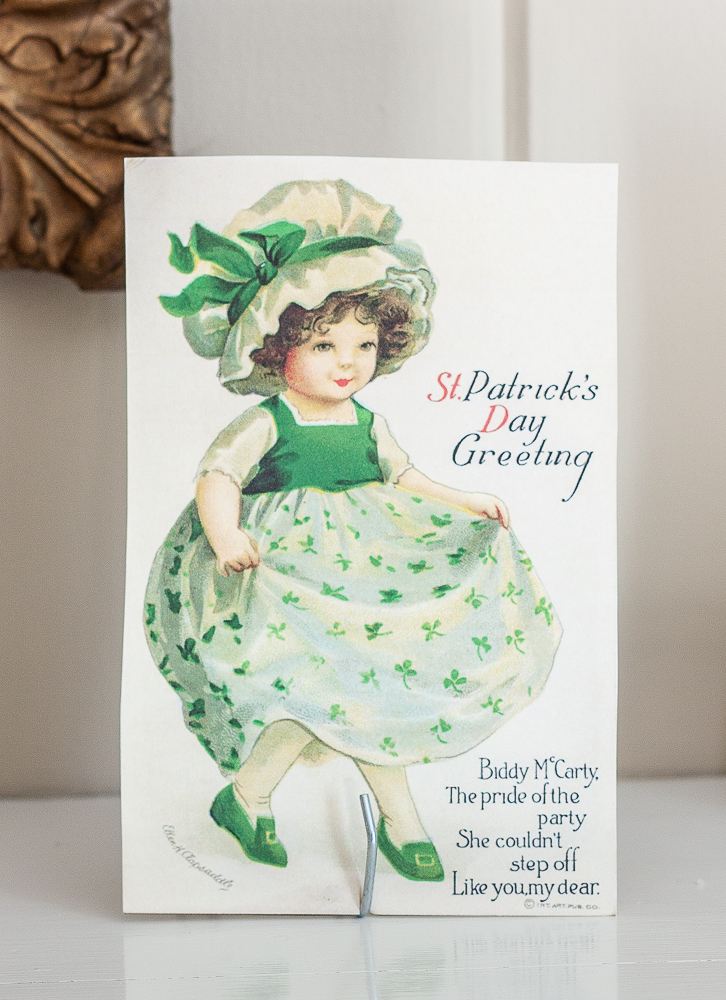 Isn't the graphic on this "The Wearing of the Green" postcard darling?
"The Irish Americans would wear the green as a reminder that they were nationalists first and foremost."

"The colors of the Irish flag are green, white and orange, the green symbolizing the Irish nationalism, the orange symbolizing the Orangemen of the north and the white symbolizing peace."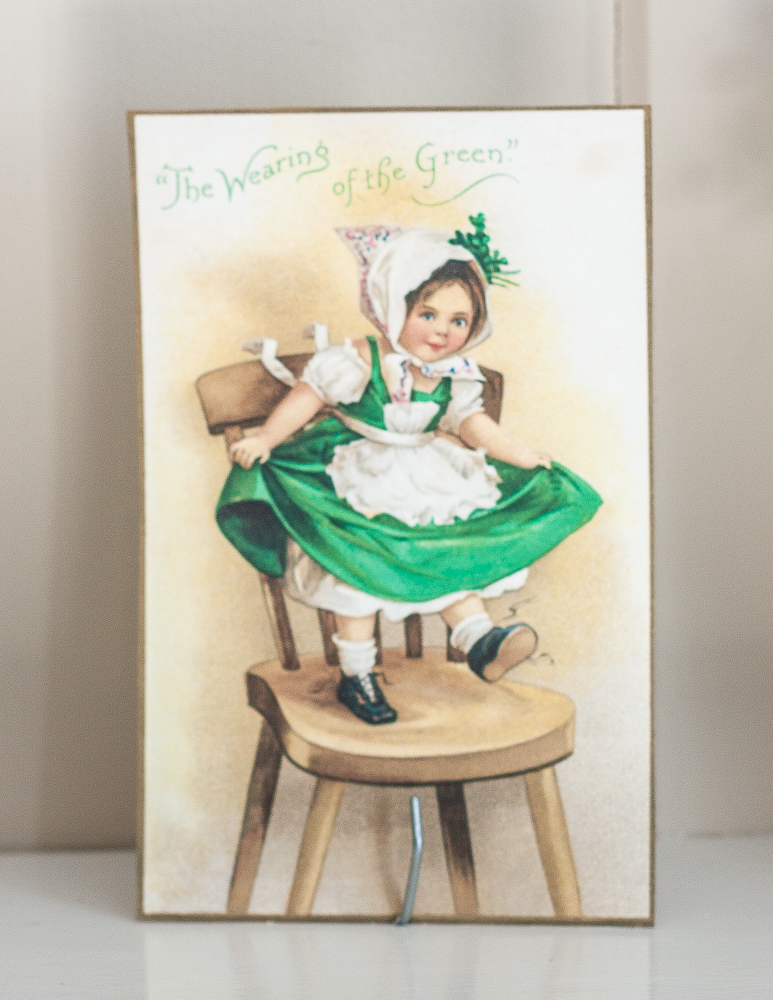 I so much enjoyed decorating my mantel for March and especially enjoyed finding vintage postcards to use to decorate it.
To make the cards more sturdy, I glued a piece of a box to the back of each card. My display stands are hooks used for hanging pinch pleat drapes.
Another great way to display postcards or greeting cards is by using DIY Card Holders that I made a few years. ago.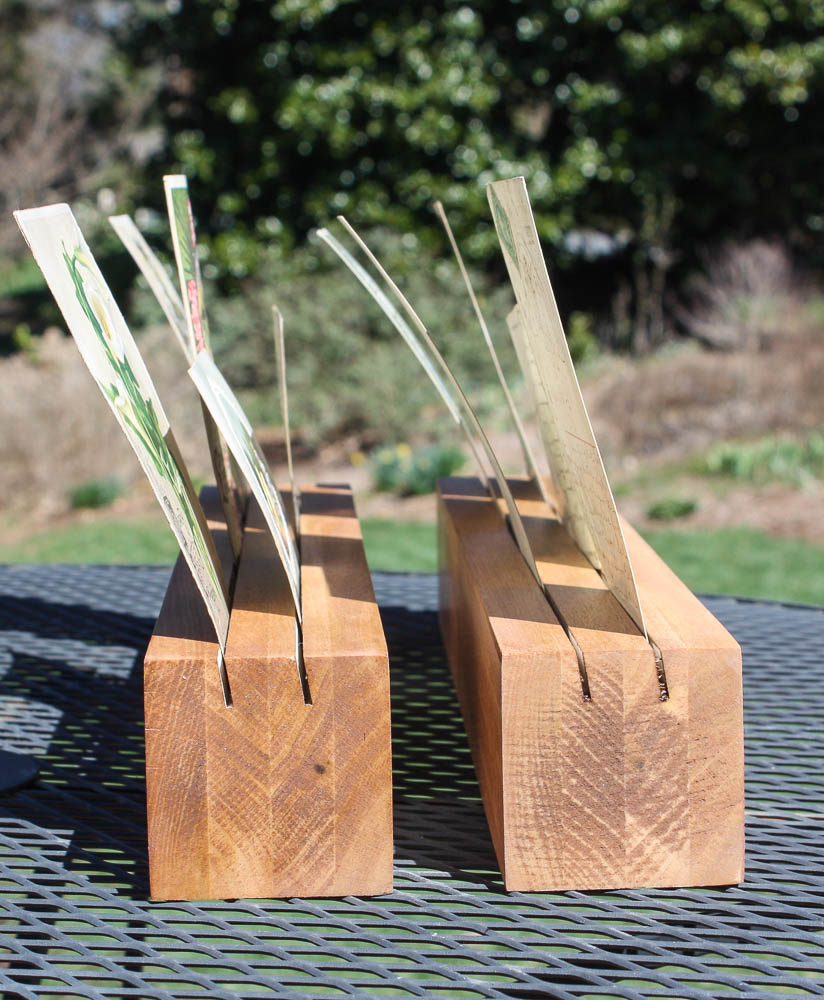 I would love it if you would pin this post to Pinterest for others to discover!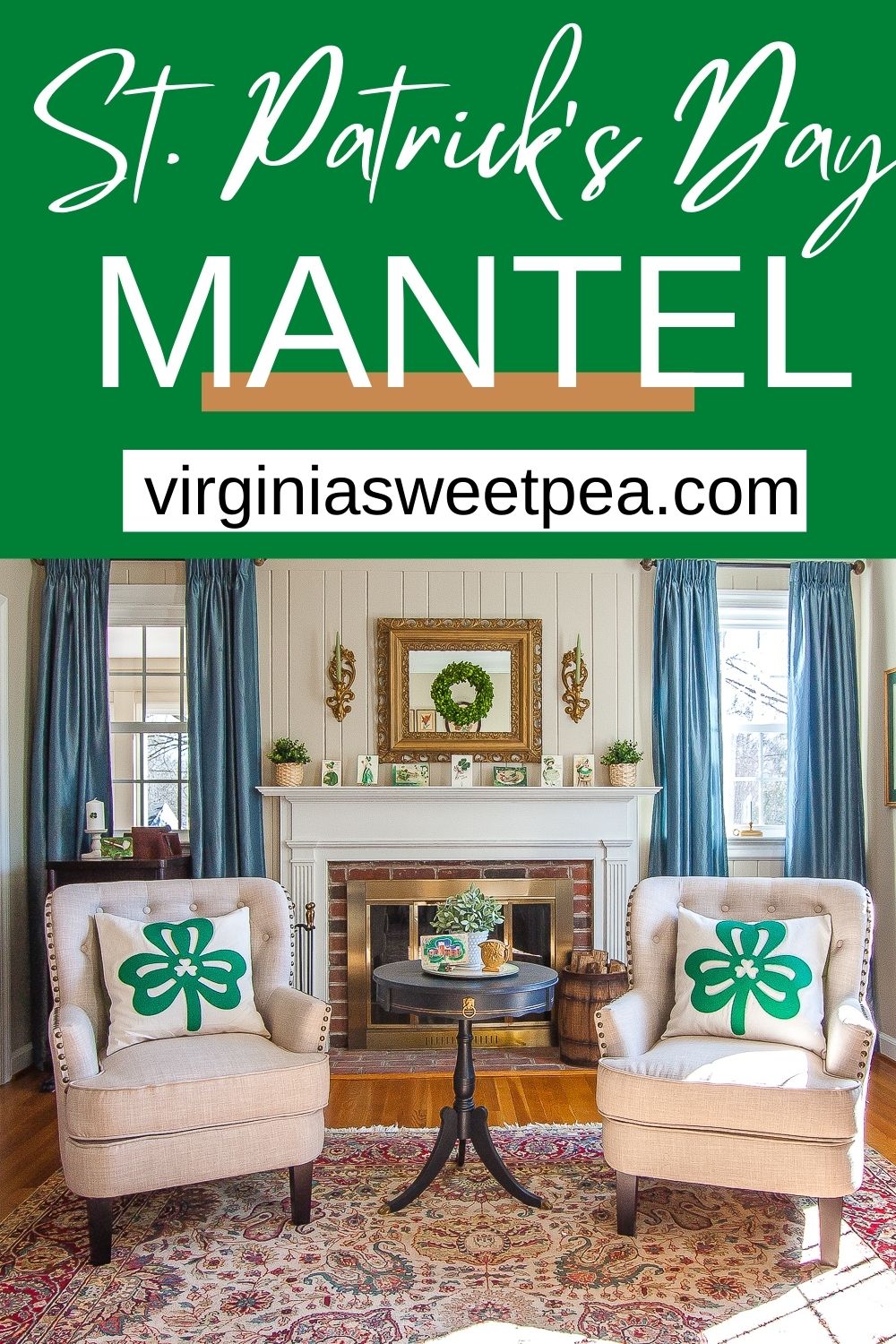 St. Patrick's Day Projects and Decor Ideas
Get inspired for decorating for St. Patrick's Day with these projects.