Early Spring Vintage and Green Decor
When the calendar rolls over to March, I automatically start to dream of spring. Spring is just around the corner and I can't wait for it. To celebrate impending spring, I decorated our living room with vintage and green decor. My Early Spring Vintage and Green Decor also celebrates March's holiday, St. Patrick's Day.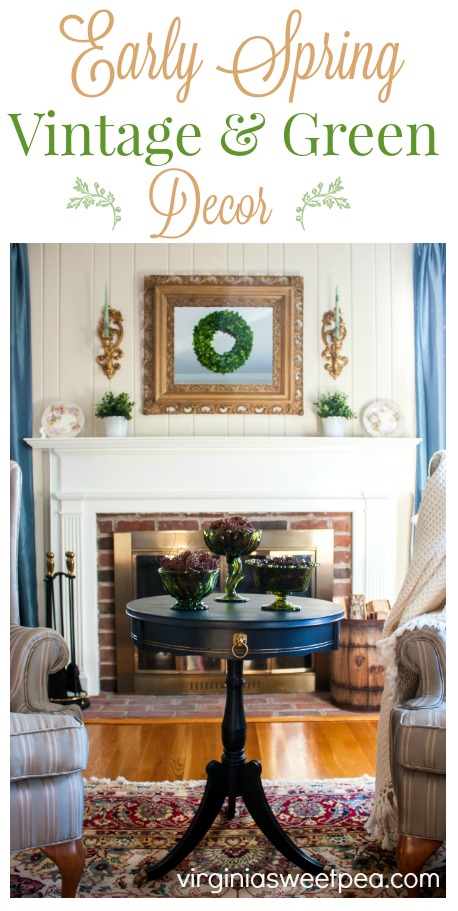 I'm sharing my
Early Spring Vintage and Green Decor
along with a talented group of bloggers for a
Sharin' O' The Green

Blog Hop.
This tour is organized by my friend Amber from
Follow the Yellow Brick Home
. I love Amber's gorgeous old home and how she decorates it so beautifully with vintage style.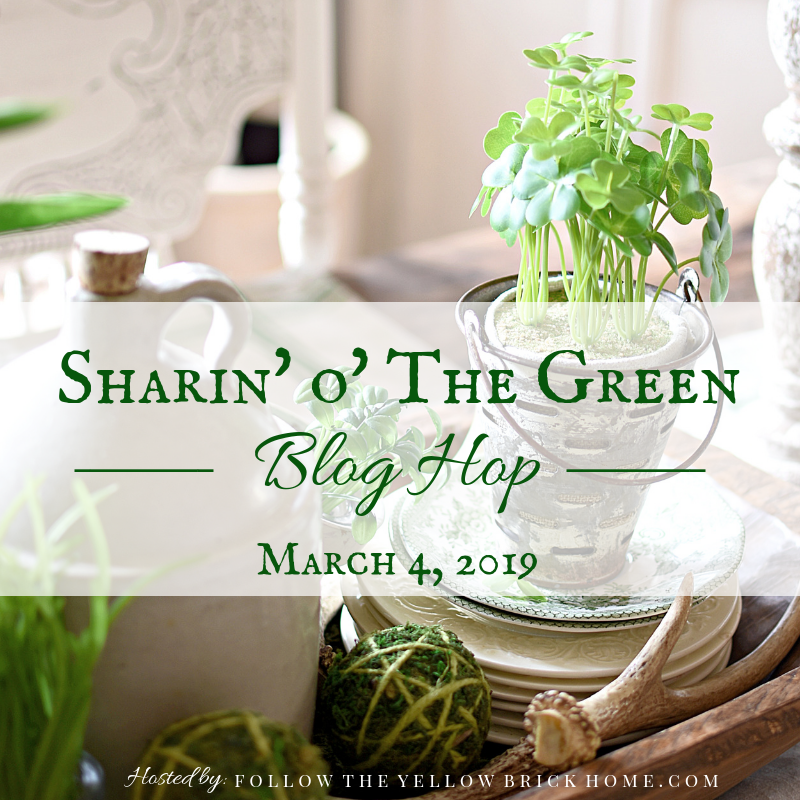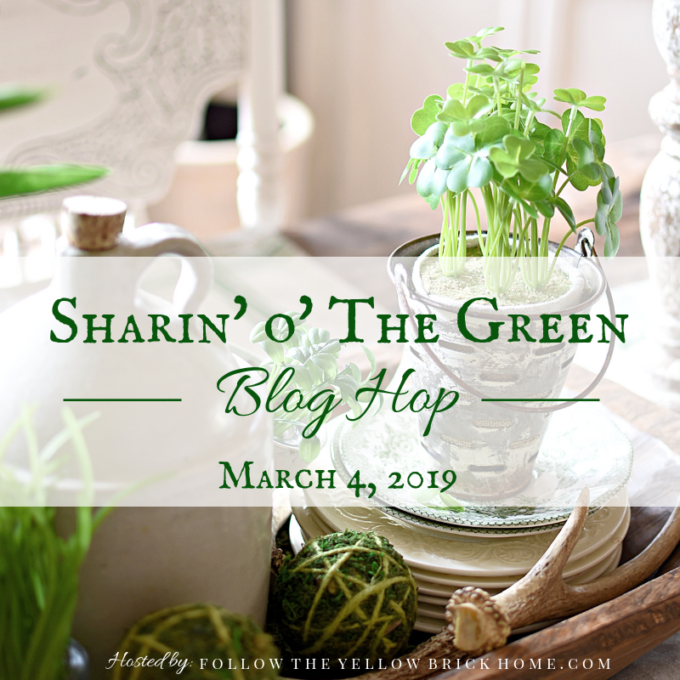 If you are looking for spring decorating inspiration, you are sure to enjoy this tour. You'll find links to all of the participants at the end of this post.
If you are visiting from County Road 407, welcome! Cindy has a lovely Texas farmhouse and is a talented decorator. I'm sure you enjoyed visiting her home.
Early Spring Vintage and Green Decor
To decorate my living room for early spring and also St. Patrick's Day, I shopped my house for all things vintage and green to use. I'm loving the look I created and when St. Patrick's Day is over, I can easily transform this space to pure spring decor.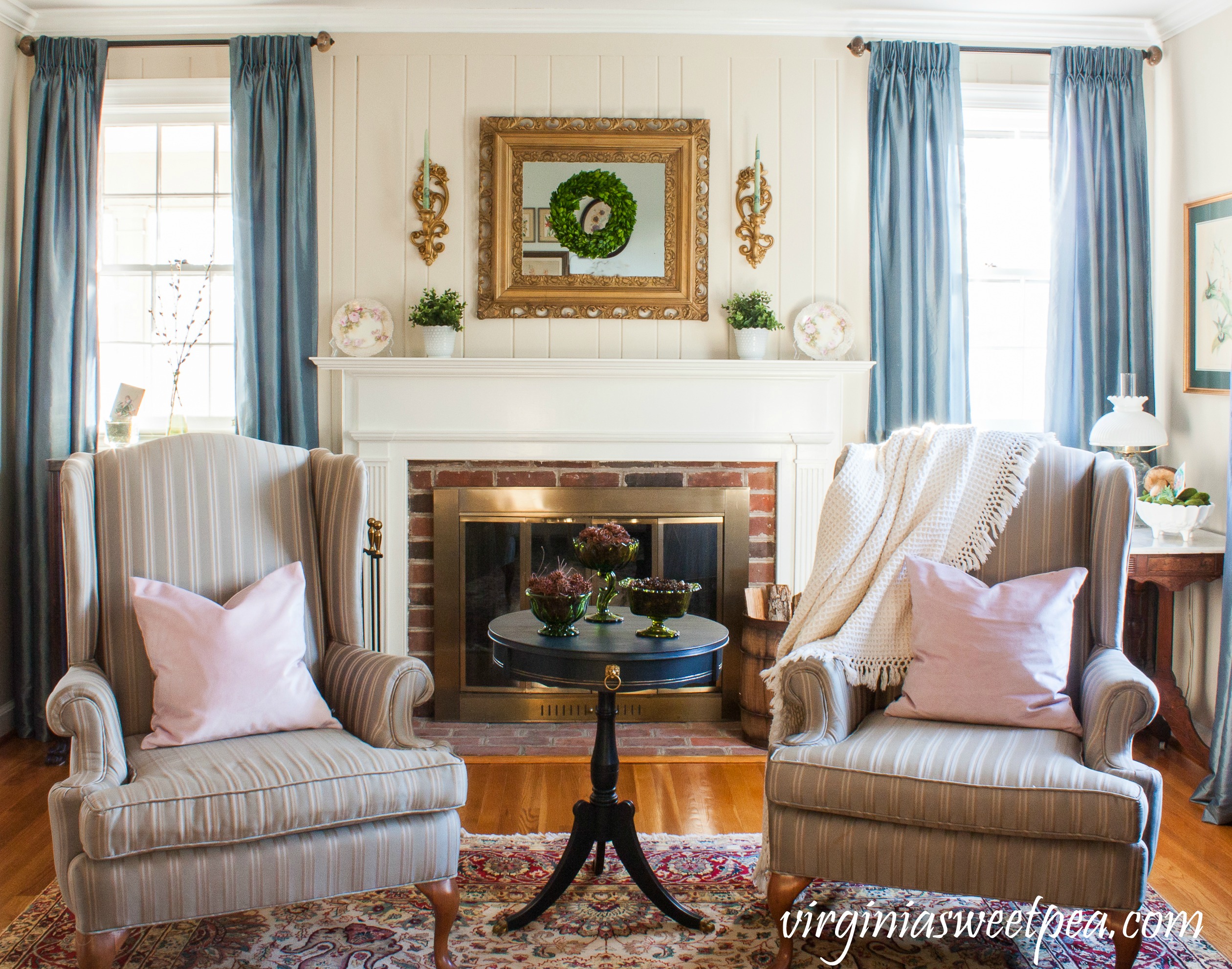 This post may contain affiliate links for your convenience. For full disclosure go here.
The Mantel
For my early spring mantel, I kept the rose plates that I used on my Valentine's Day mantel and added two faux boxwood plants in vintage Fenton hobnail planters. I also added a faux boxwood wreath and green marbled candles. I am continuing to use the pink velvet pillow covers that I purchased for Valentine's Day on the wing chairs on either side of the fireplace. I switched out the gray throw that I used for Valentine's Day to a cream one that was a 1994 wedding present.
You may remember from my Valentine's Day mantel post that I didn't know anything about the rose plates that my aunt passed along to me at Christmas. I've since found out that they these plates belonged to my great-great Aunt Bessie. My aunt reports that Bessie was a Seventh Day Adventist, a vegetarian, an animal lover, and interested in human rights before it became fashionable to do so. She was a working woman who worked for the federal government in DC. Ahead of her time and the rest of the family may have considered her odd.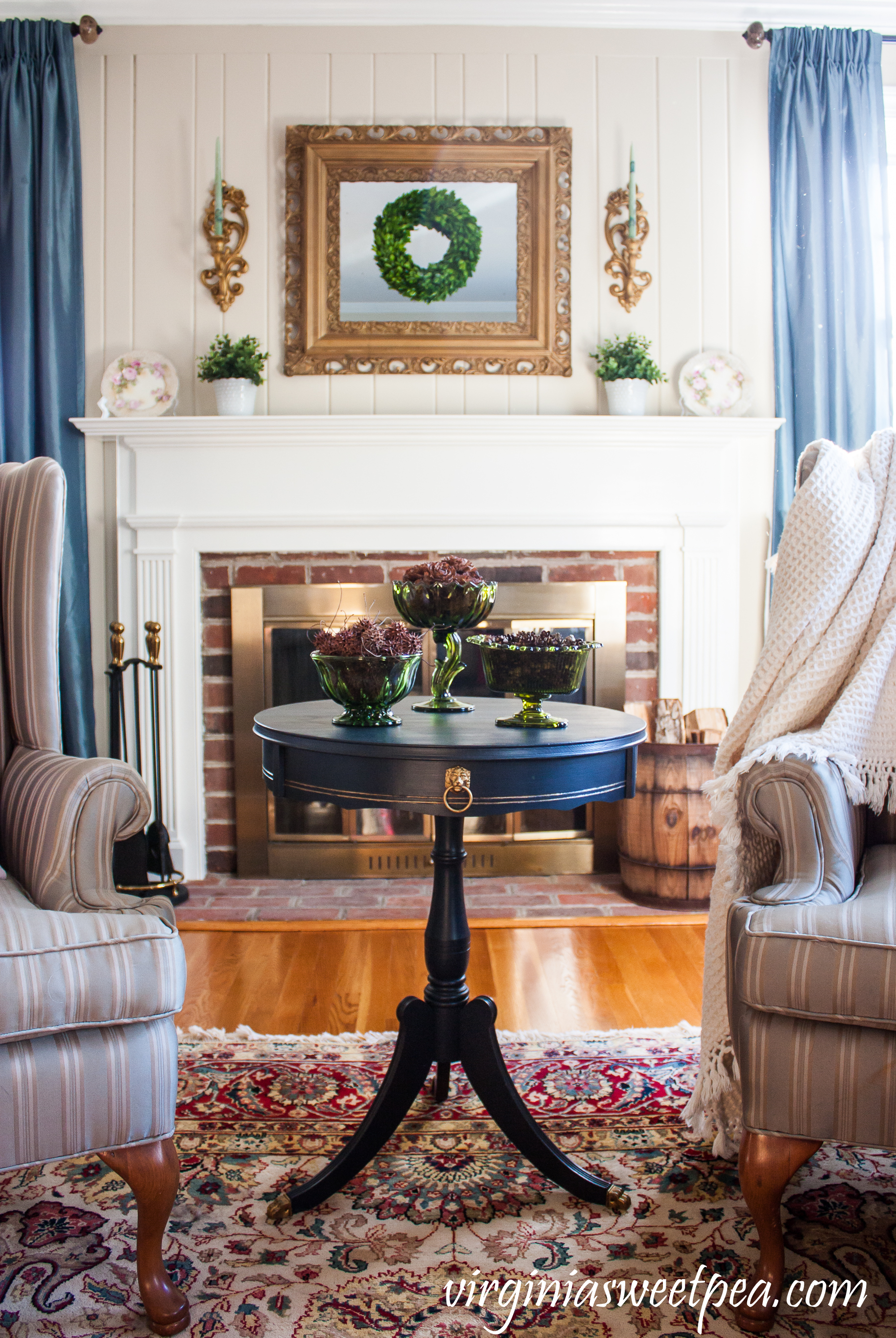 The table in front of the fireplace holds three vintage vases filled with items from nature collected on walks with our dog, Sherman.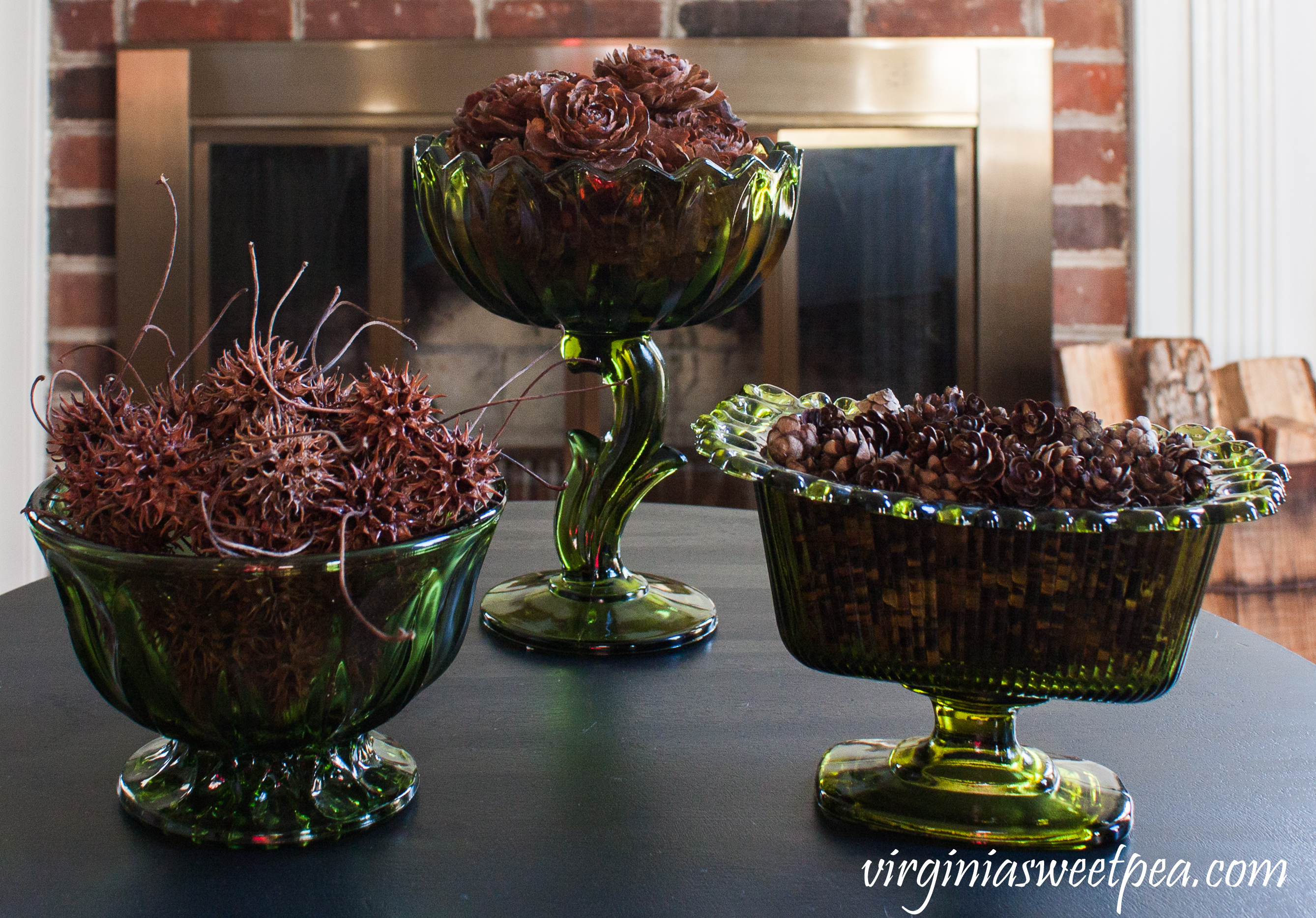 In this view of the mantel you can see the antique music stand to the left of the mantel and marble topped table to the right of the mantel, both decorated for St. Patrick's Day.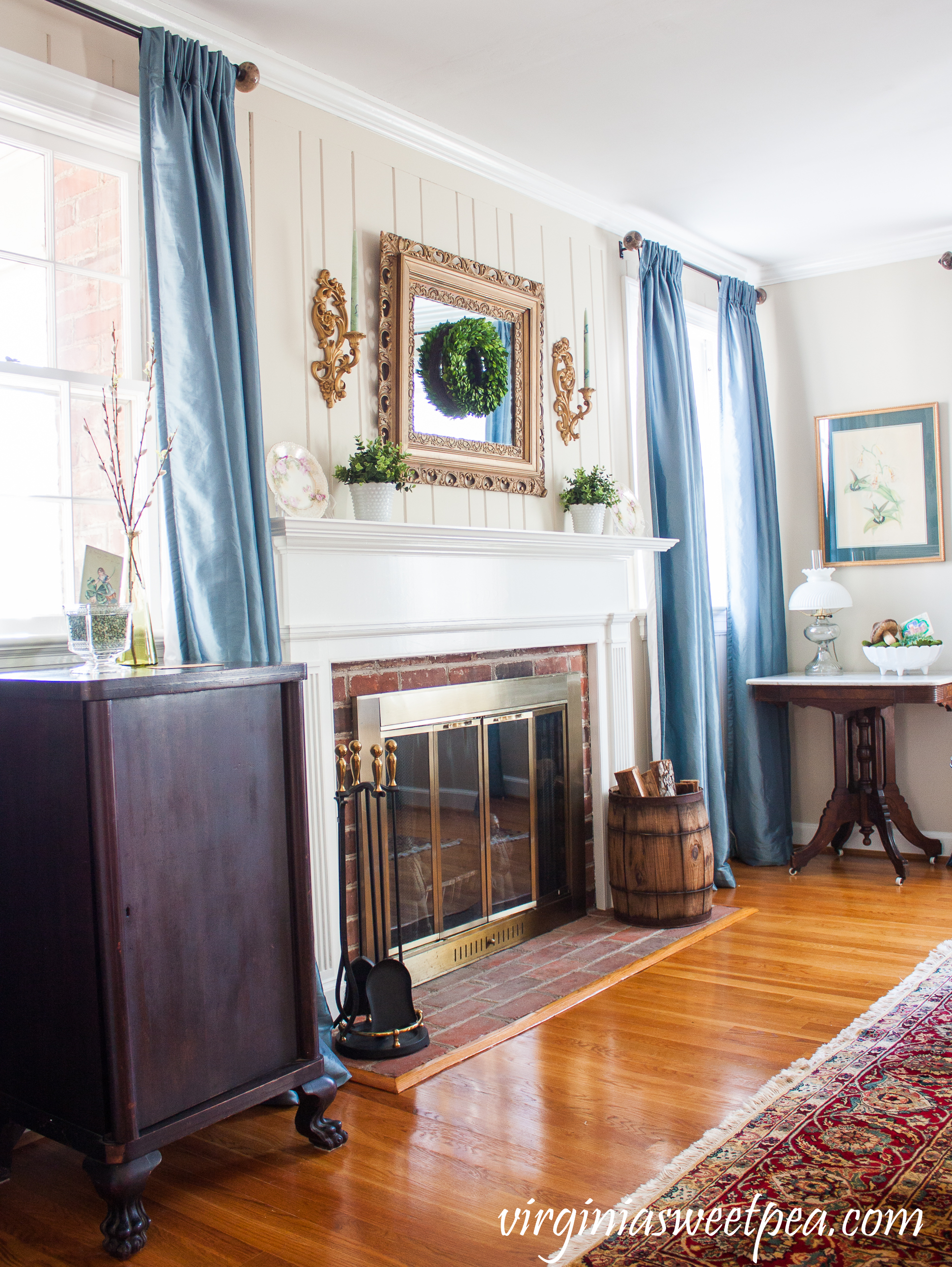 St. Patrick's Day Vignettes
For this St. Patrick's Day vignette, I filled an antique compote with split peas to display a 1908 postcard sent to my great-great Aunt Willye in 1908. A green vase that belonged to my grandmother is filled with faux pussy willow.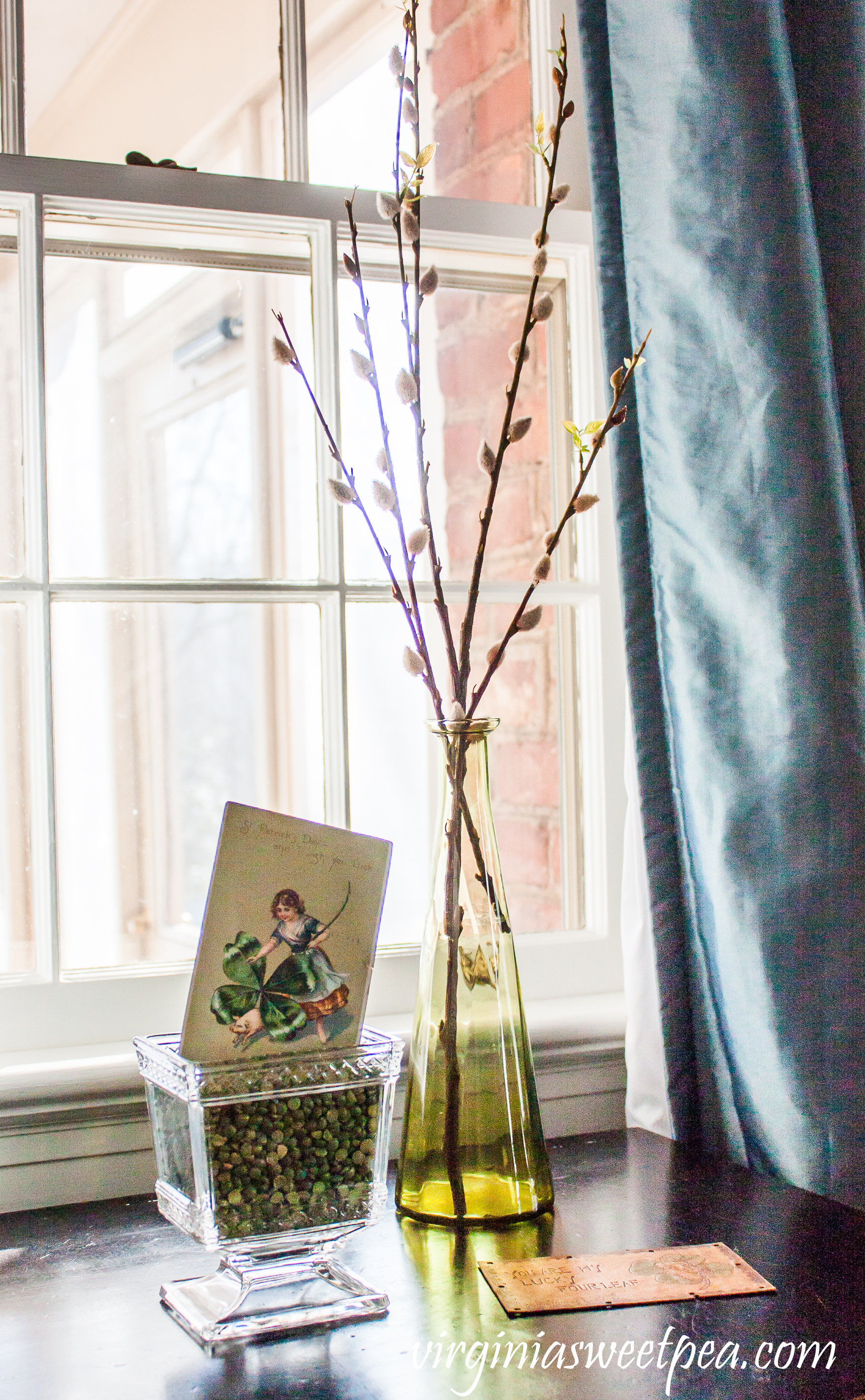 Pigs are said to bring good luck, so I suppose that's why this postcard shows a pig under a four leaf clover. You can see more of this postcard's details and read the back of it by visiting this post.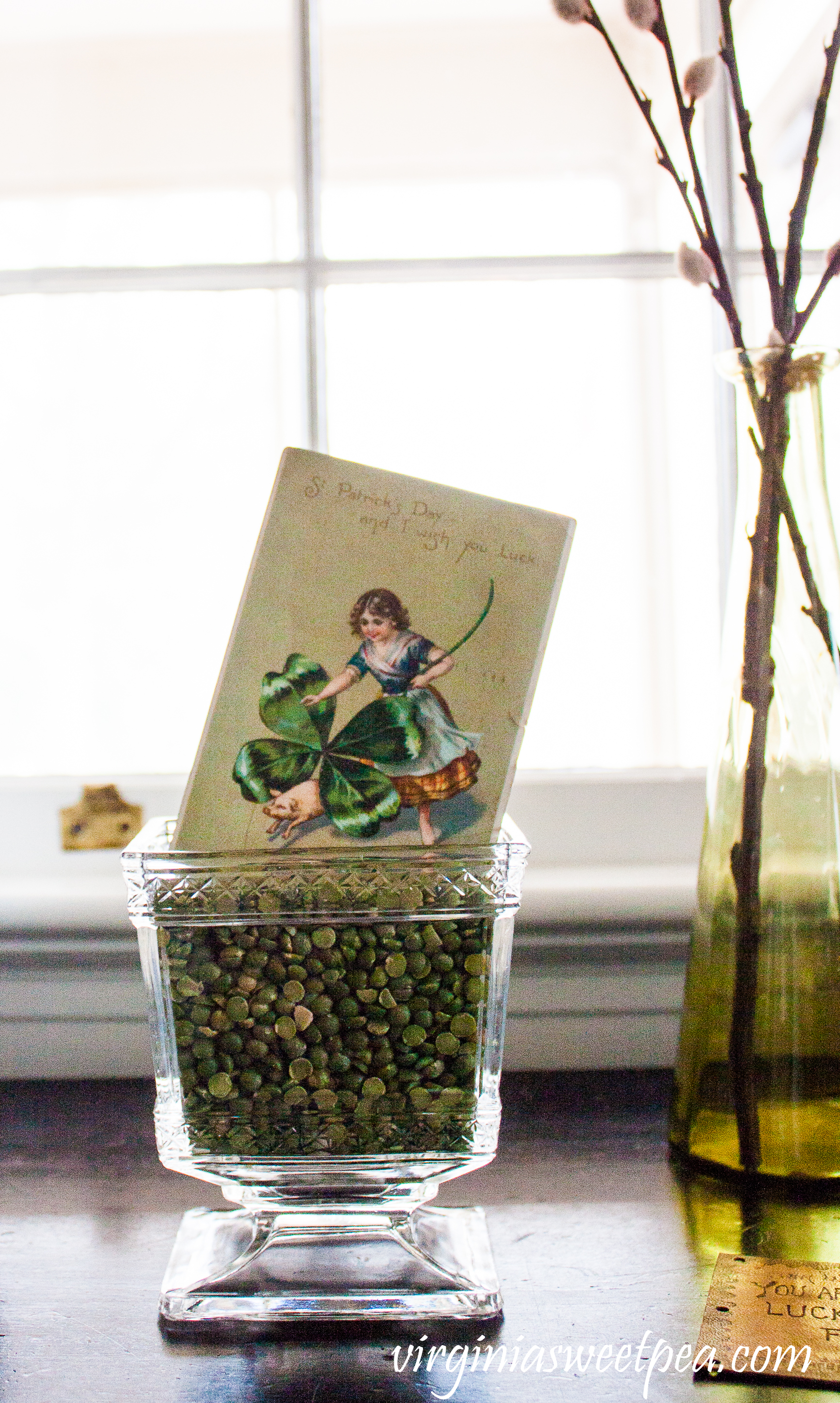 This leather postcard was sent to Willye in 1906.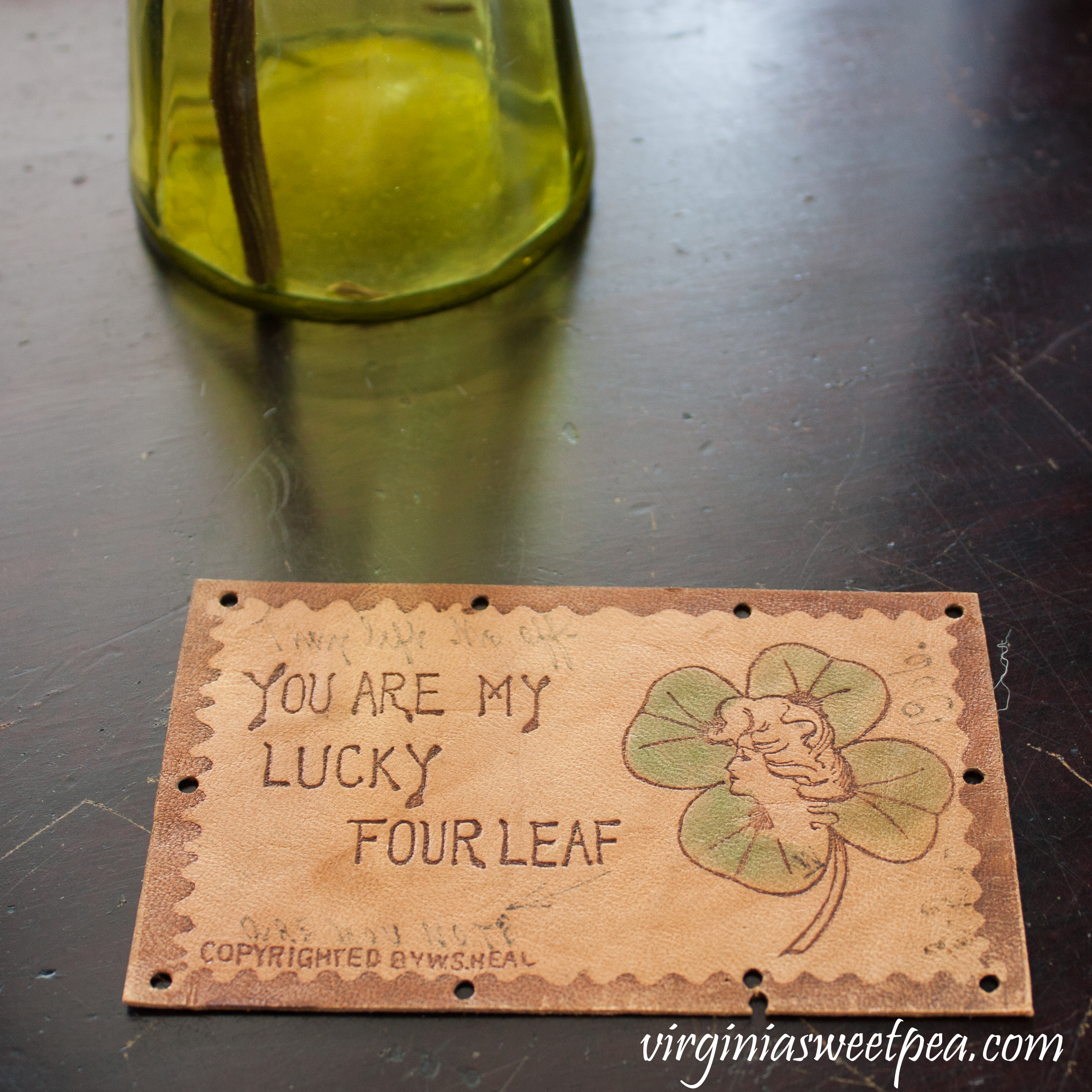 The table to the right of the fireplace has another St. Patrick's Day vignette, this one in a milk glass compote. The arrangement started with a layer of moss covered "stones" from the dollar store. I topped the stones with a large faux mushroom, fern stems, and a vintage St. Patrick's Day postcard.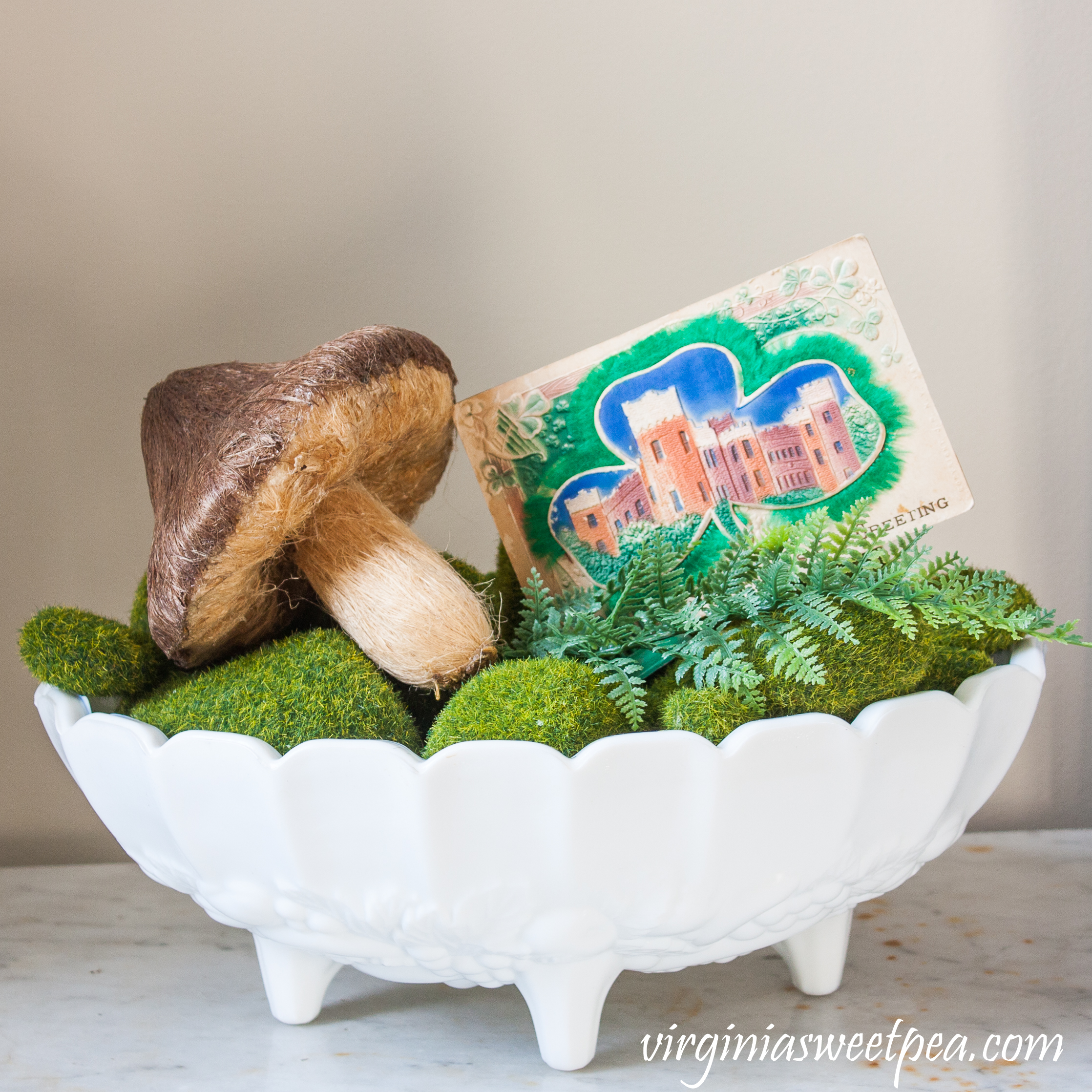 Chest of Drawers Decorated for Spring and St. Patrick's Day
Our Sherman spends most of the day in our living room. I didn't have the heart to make him move when I was taking these pictures. If you came to visit me during the day, he would be here or on the love seat which has become "his" sofa.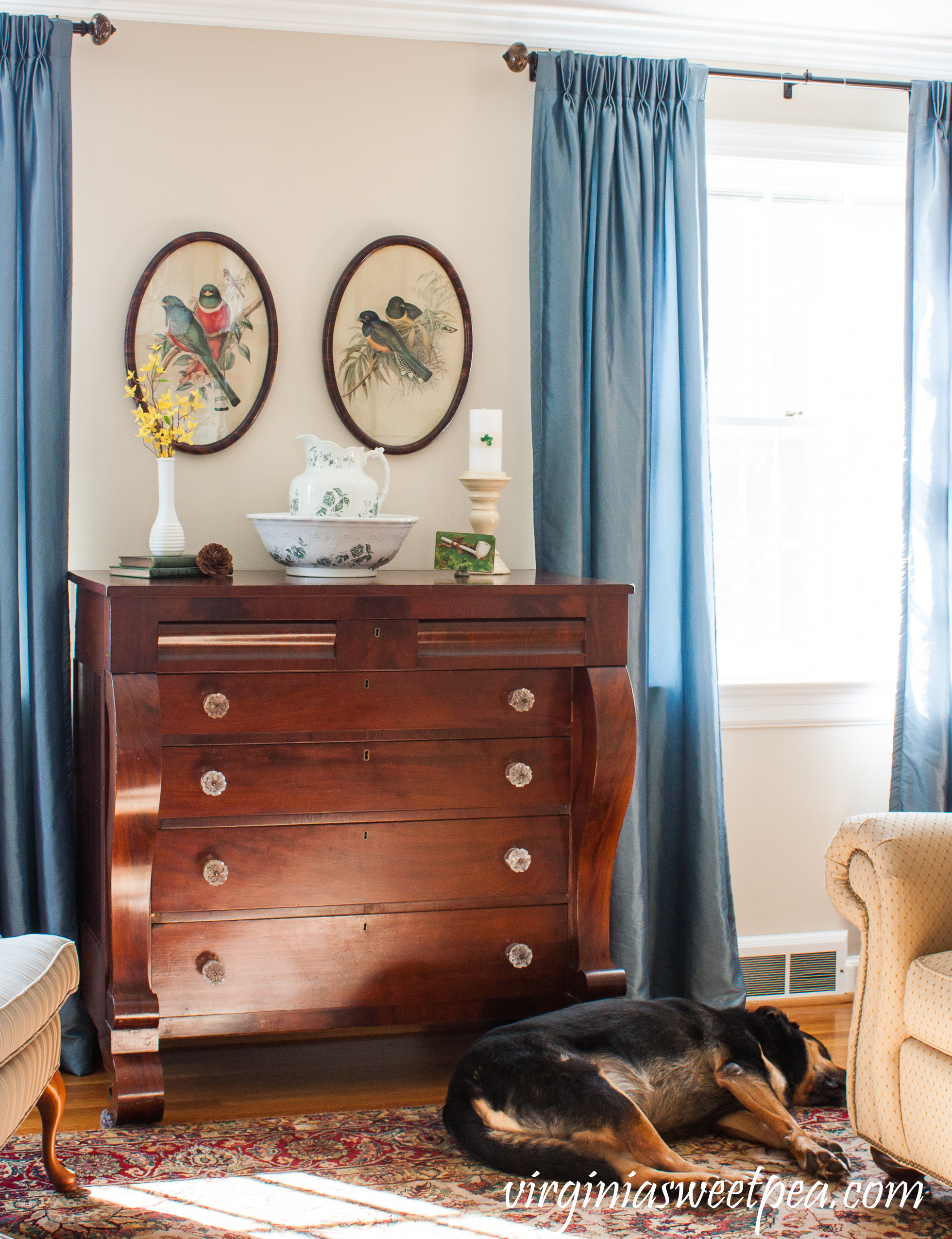 My mom gave me this bowl and pitcher for Christmas one year and I usually display it on an antique washstand that is in our guest bedroom. Since it has a green floral design, I borrowed it from the guest room to use for spring decor. The markings for both are "A. U. Wilkinson, England, Royal Semi Porcelain".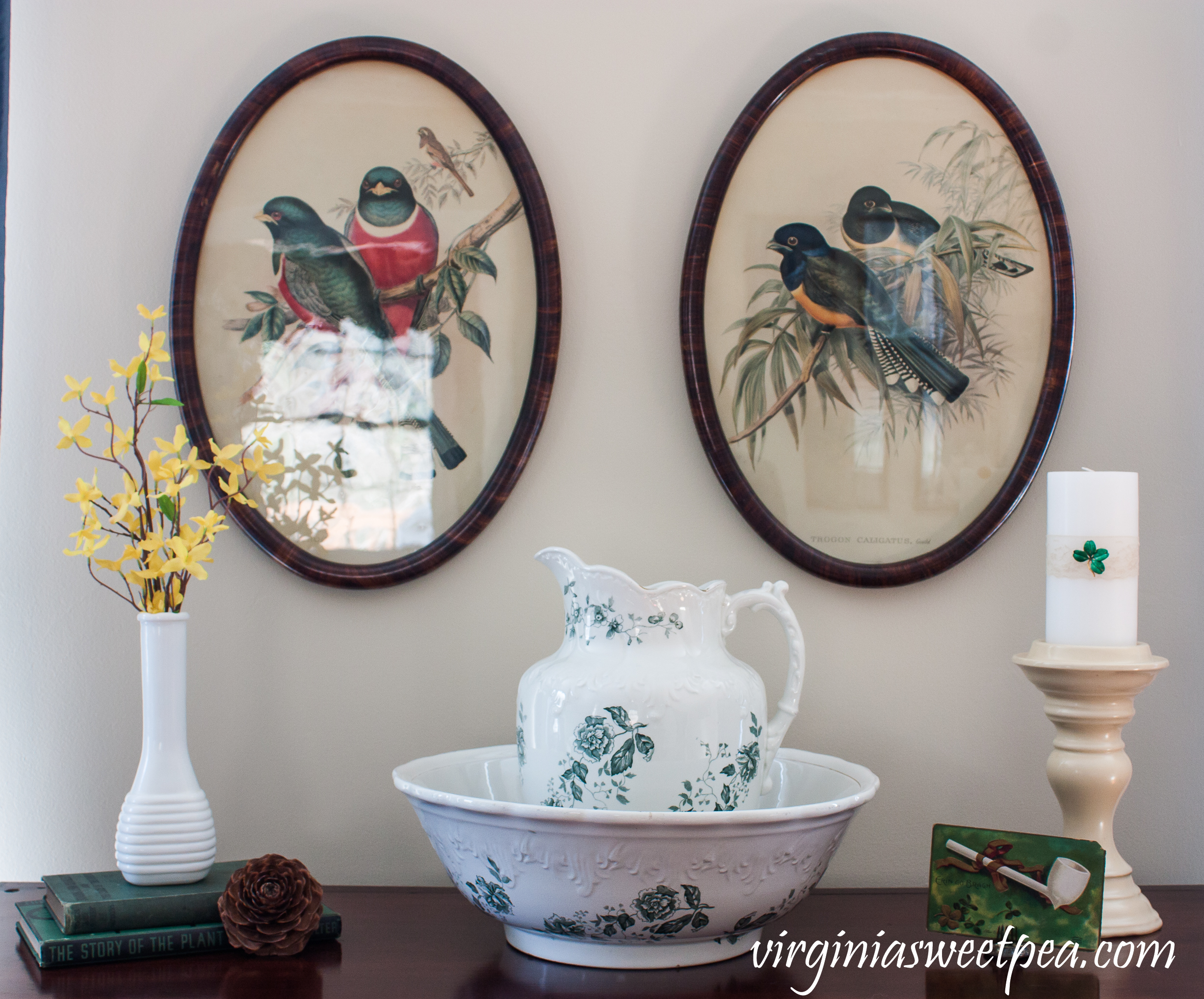 A milk glass vase filled with faux Forsythia is elevated by two vintage books. A 1938 "The Story of the Plant Kingdom" belonged to my grandmother's cousin, Freeman Funk, the son of Willye whose postcards I've shared. The other book is a 1921 "Foods and Cookery and The Care of the House" passed along to me from my mother. The "rose" is a Deodora Cedar cone that I picked up on a walk with Sherman.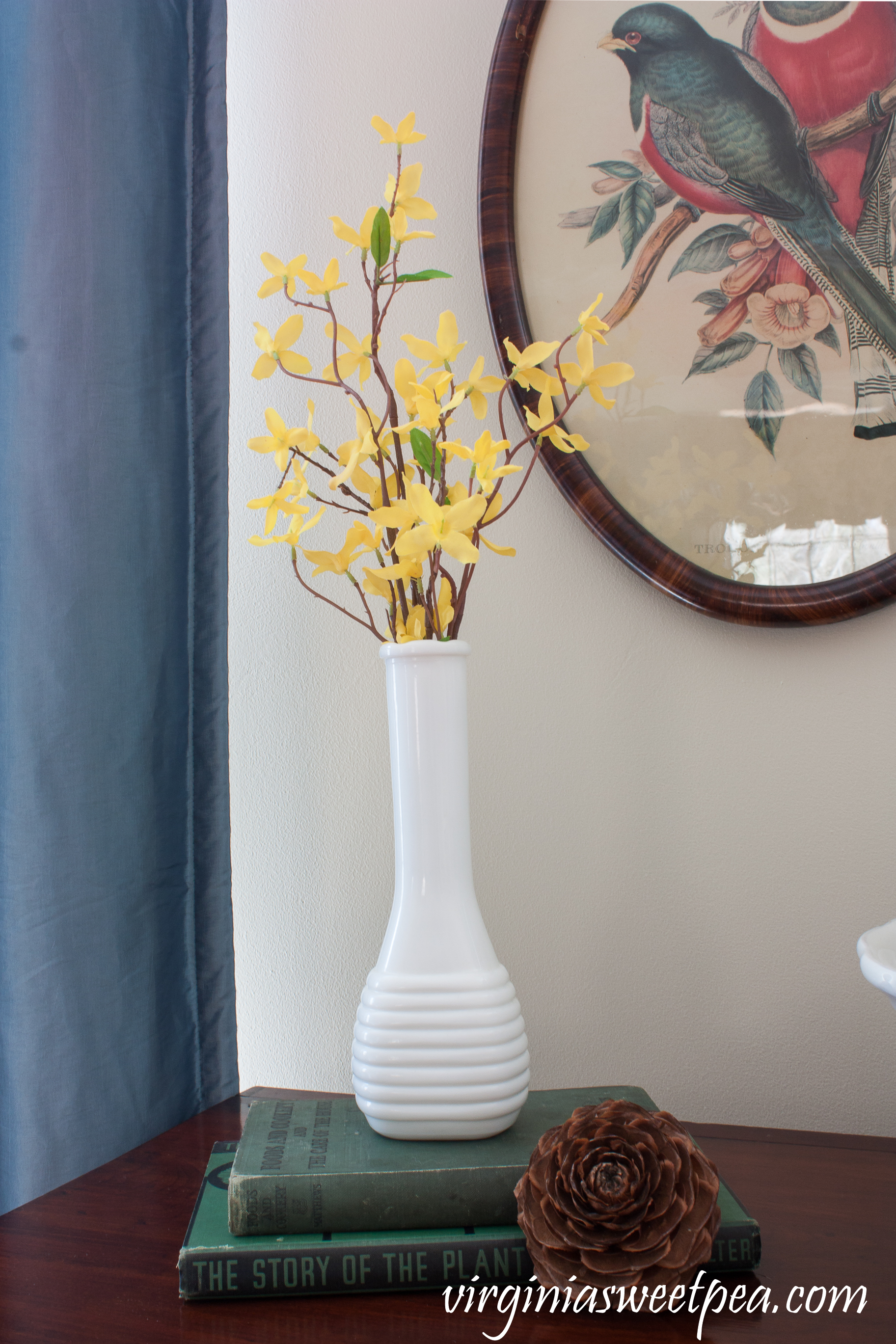 To jazz up a plain white candle for St. Patrick's Day, I attached a four leaf clover pin that I found in my grandmother's jewelry box to a section of lace and tied it to the candle. The St. Patrick's Day postcard was sent to Willye in 1910.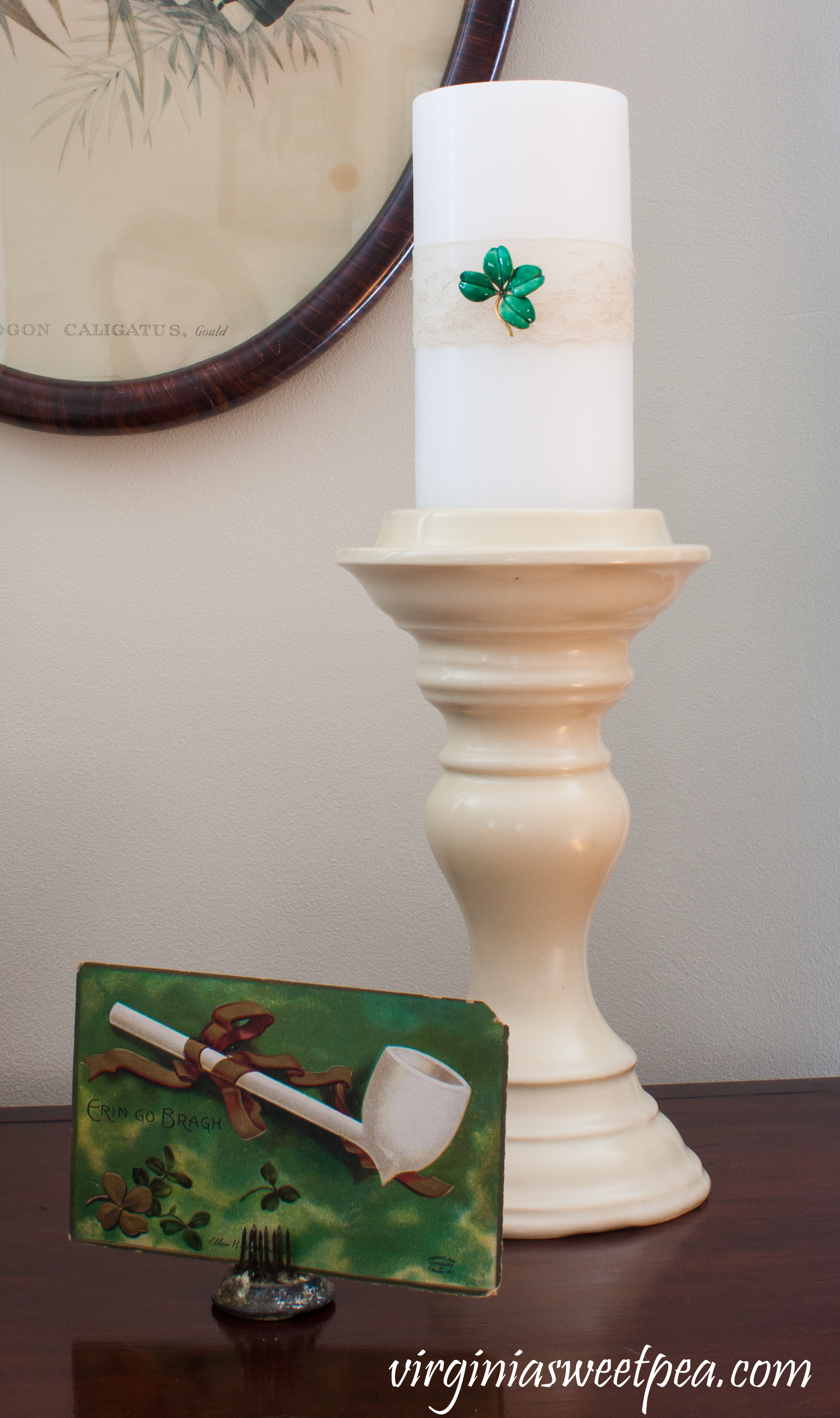 The four leaf clover pin could have been my grandmother's or it could have belonged to my great-great aunt Fanny (Willye's sister) who raised my grandmother. Willye raised my grandmother's sister Zonie and brother, Paul. Fanny and Willye lived next door to each other so the children grew up together.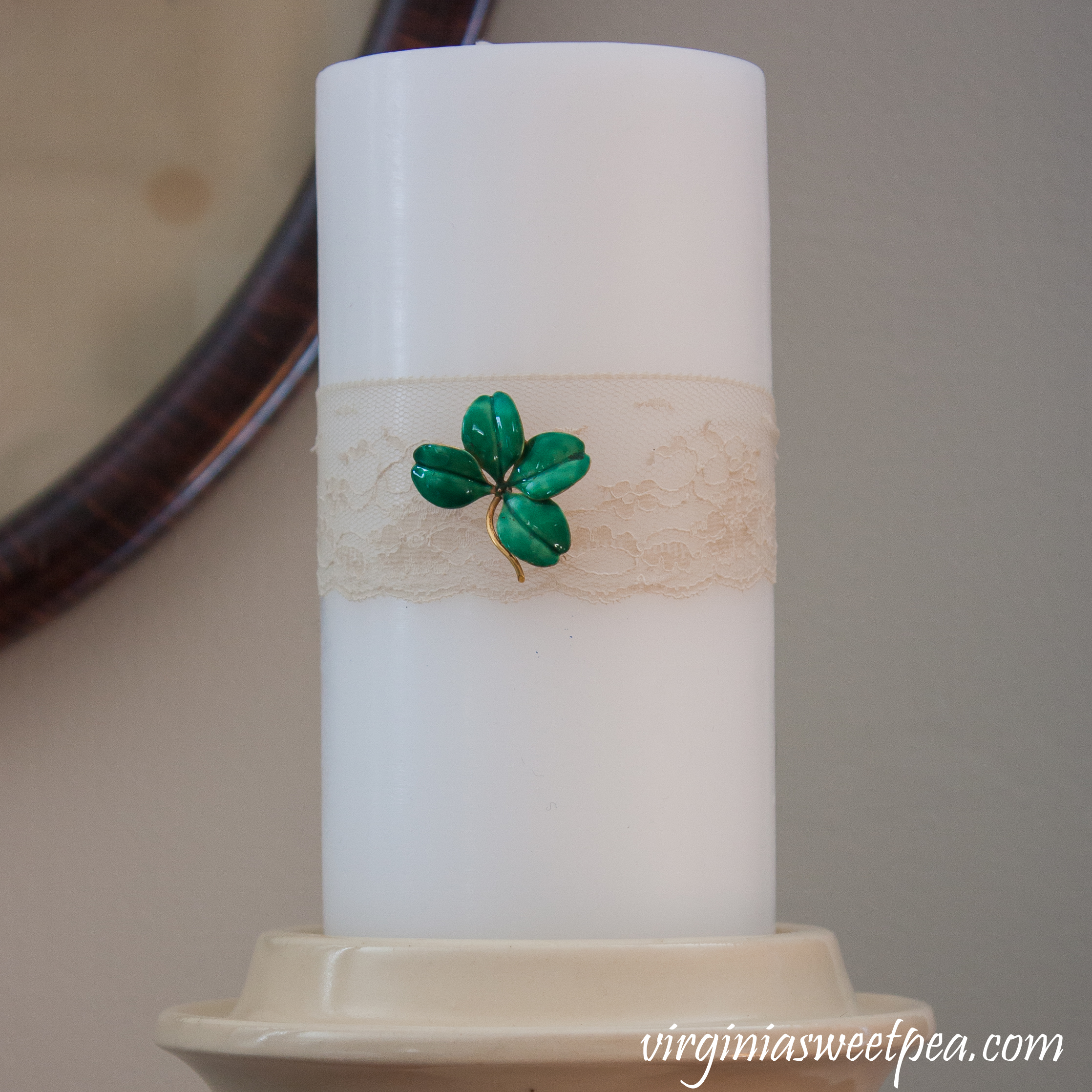 Pin It!
I hope you enjoyed the tour of my living room decorated for early spring and St. Patrick's Day with vintage and green. I would love it if you would pin this post for others to discover.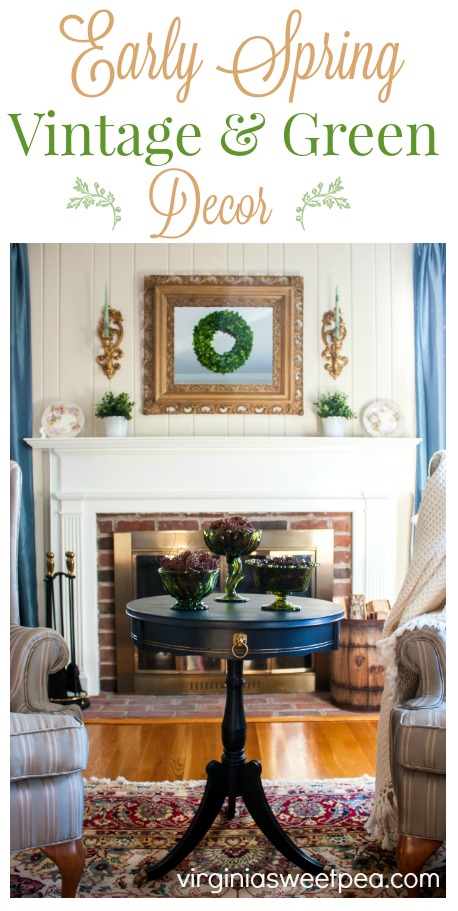 Next on the tour is The Painted Hinge. Michelle is sharing Vintage Farmhouse Shelf Styling Ideas for St. Patrick's Day.
More Green Decor Inspiration
Visit all of the homes decorated for spring with green by using the links below. I'm looking forward to getting some ideas for spring decor from these talented ladies.
Another Way to Visit Each Home on the Blog Hop
Click on the links under each picture to visit each participating blogger.

Follow The Yellow Brick Home | A Stroll Thru Life | Our Southern Home | Decor To Adore

My Thrift Store Addiction |Let's Add Sprinkles | Art and Sand |Petite Haus

Have A Daily Cup of Mrs. Olson|Itsy Bits and PiecesCounty Road 407| Virginia Sweet Pea

The Painted Hinge |Calypso In The Country |Bluesky at Home |Lora Bloomquist