Stitch Fix Review for October 2018-Fix #62
It's October and we are now enjoying fall. For this month's Stitch Fix box, I asked my stylist for things to wear to a fall wedding. I received three beautiful looks, each perfect for a wedding, date night, work, or even for casual wear.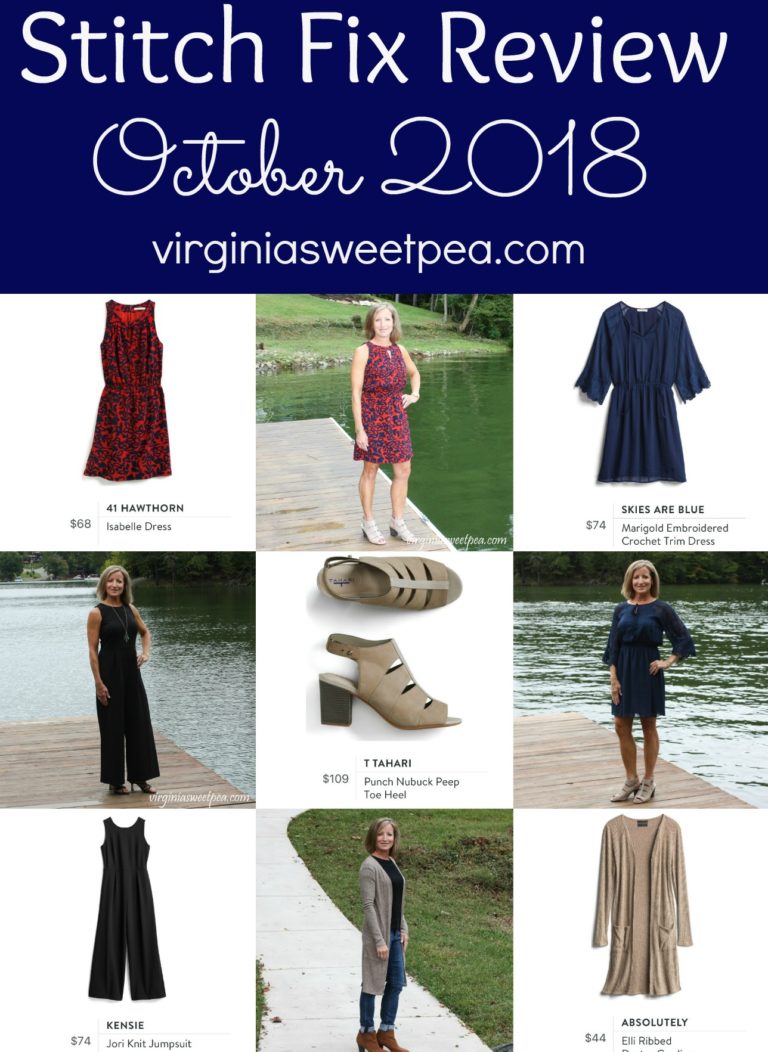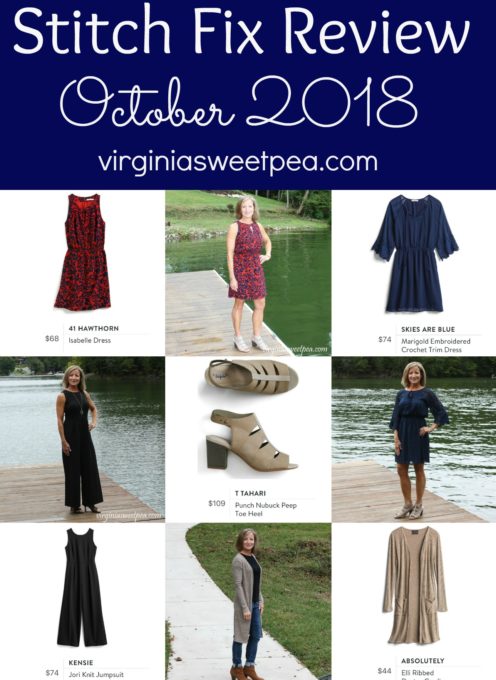 I am a Stitch Fix affiliate and if you make a purchase, I make a small commission. My love for Stitch Fix is genuine and all opinions are truthful and my own.
October 2018 Stitch Fix Review
If you are new to Stitch Fix, these details will help you to understand the service. Feel free to email me with any questions you might have about Stitch Fix. I can also send you a link to use that will give you $25 off your first box.
Stitch Fix Details
Stitch Fix is a personal styling service. When you sign up for Stitch Fix, you fill out a detailed style profile that helps your stylist know your likes and dislikes. Since I've received 62 Stitch Fix shipments, my stylist knows my likes and dislikes very well and I almost always like every item in my Fix, a good problem to have!
When a Fix arrives, you have three days to try the clothes on and to decide what to keep and what to send back. Stitch Fix includes a postage paid envelope making returns super easy.
When you sign up for Stitch Fix, you can choose how often a box is delivered. You can pick a monthly options or schedule a box when you'd like to receive one.
I do not like shopping and love receiving clothing from Stitch Fix. I get clothes that I like without having to do any work other than pinning things that I like to my fashion board on Pinterest. My stylist, Brittany H., checks my Pinterest board for inspiration and also reads my note to her each month to see if I have any special requests.
You can find links to all of my Fixes here and also be sure to check out my Stitch Fix Review Board on Pinterest where I pin my favorite looks.
For more Stitch Fix looks, be sure to check out my other Stitch Fix reviews. And if you haven't tried Stitch Fix, what are you waiting for? It's so much fun to received a box of five items picked just you.
This Month's Stitch Fix Items
I'm attending a family wedding this fall and thought it would be fun to request items that I might possibly wear on my cousin's special day. I usually do not request shoes, but this month I did, along with requesting dresses, a jumpsuit, and a wrap to wear in case the wedding day is cool.
41 Hawthorne Isabelle Dress
This dress fits my style perfectly and I love everything about it. I love the style, fabric, colors, pattern and it fits me perfectly.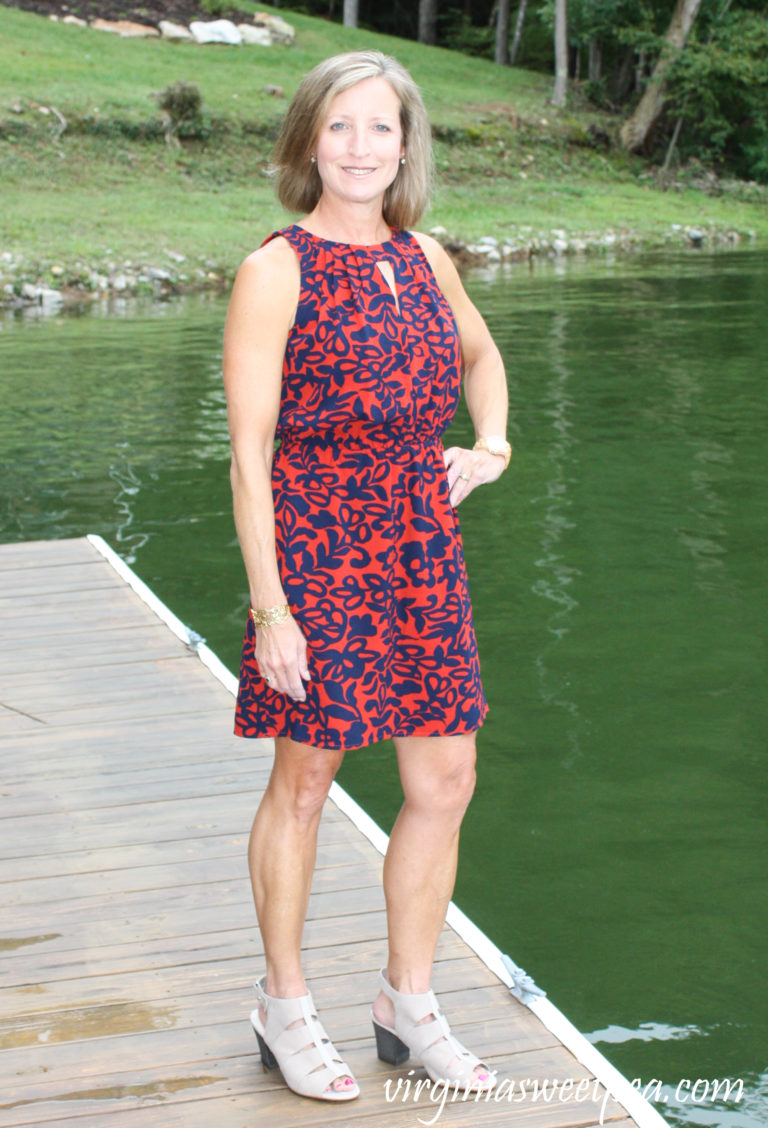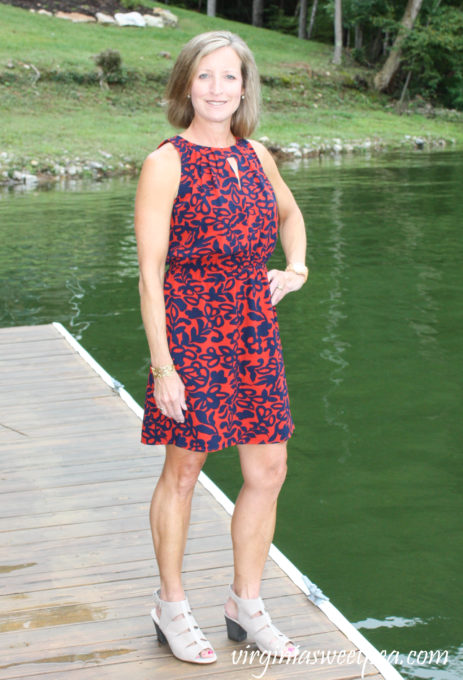 We took these pictures the day after the lake got five inches of rain. The lake was flooding, the first time I've ever experienced that. We saw water even with docks, escaped boats, and rip-rap that was totally under water.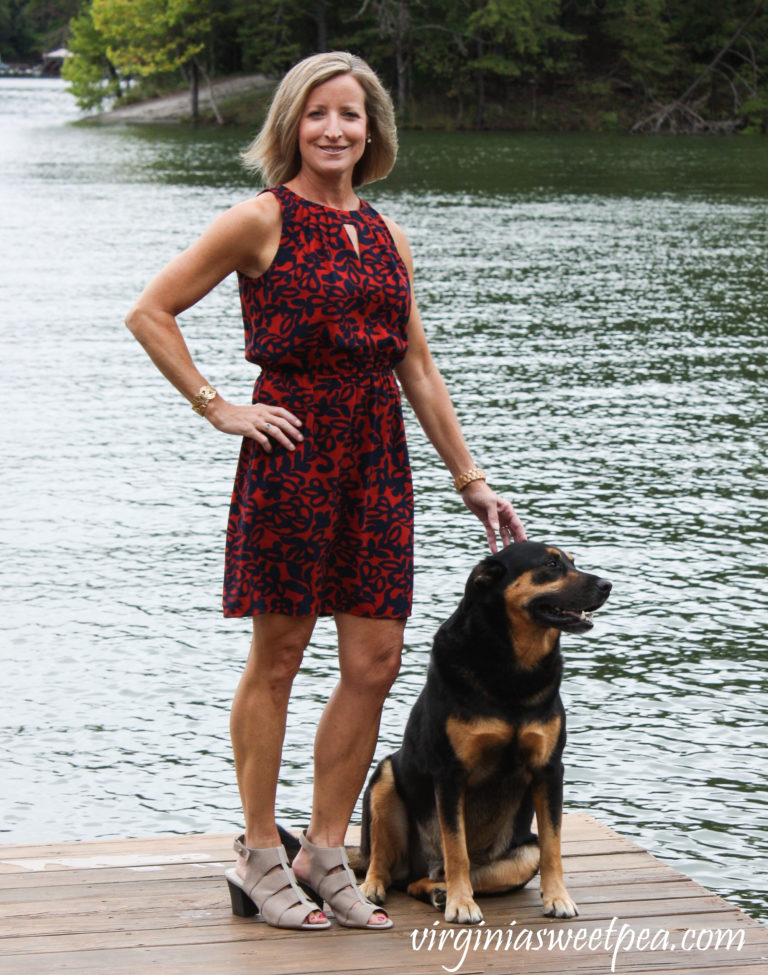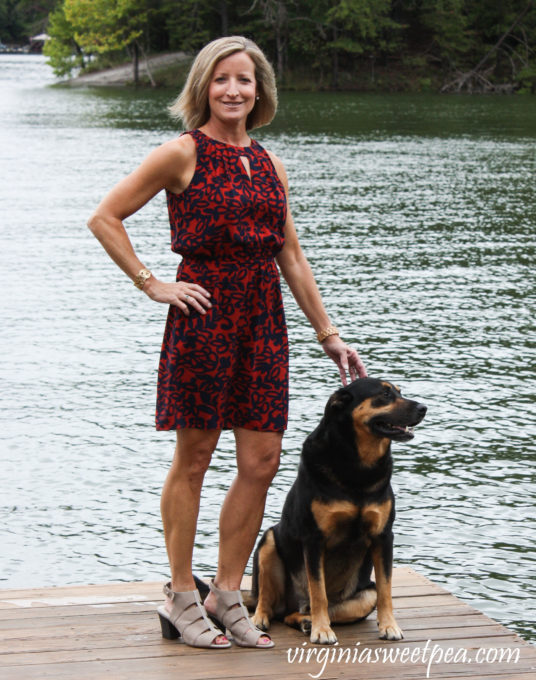 I loved this dress too much not to keep it. I have a stretchy blue blazer that I received from Stitch Fix long ago that will be perfect to wear over this dress. Since I have the blazer, I'm thinking that I can wear this dress into winter with the addition of tights and boots.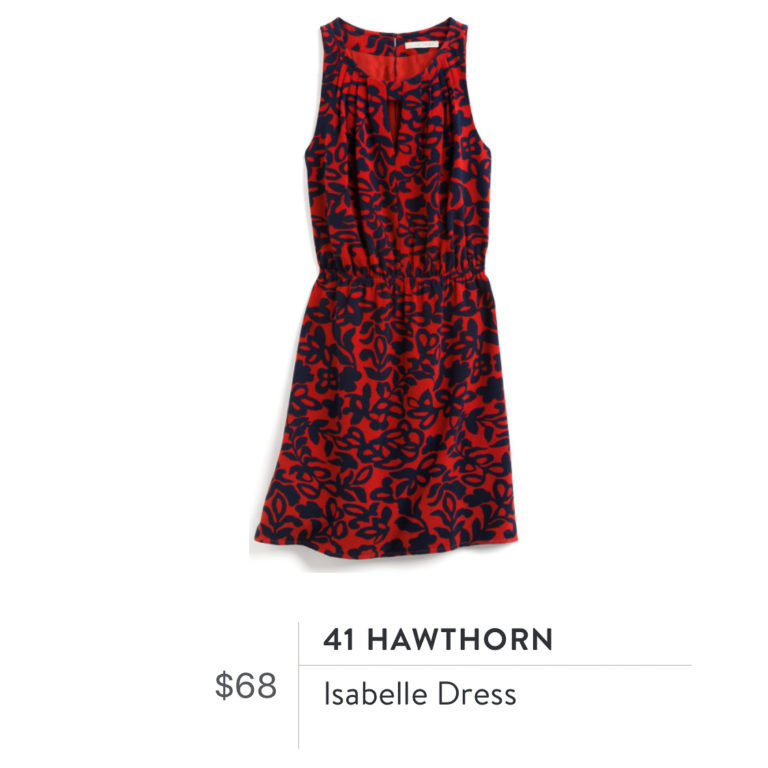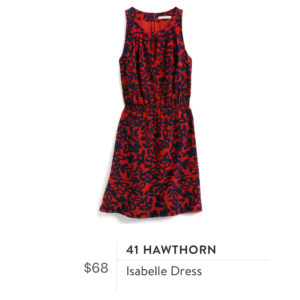 T Tahari Punch Nubuck Peep Toe Heel
These heels are the second pair of Stitch Fix shoes that I've tried. I loved their style and color but I've gotten used to not wearing heels and in my older age, I'm finding that I just can't tolerate them. I do love how they look with this dress!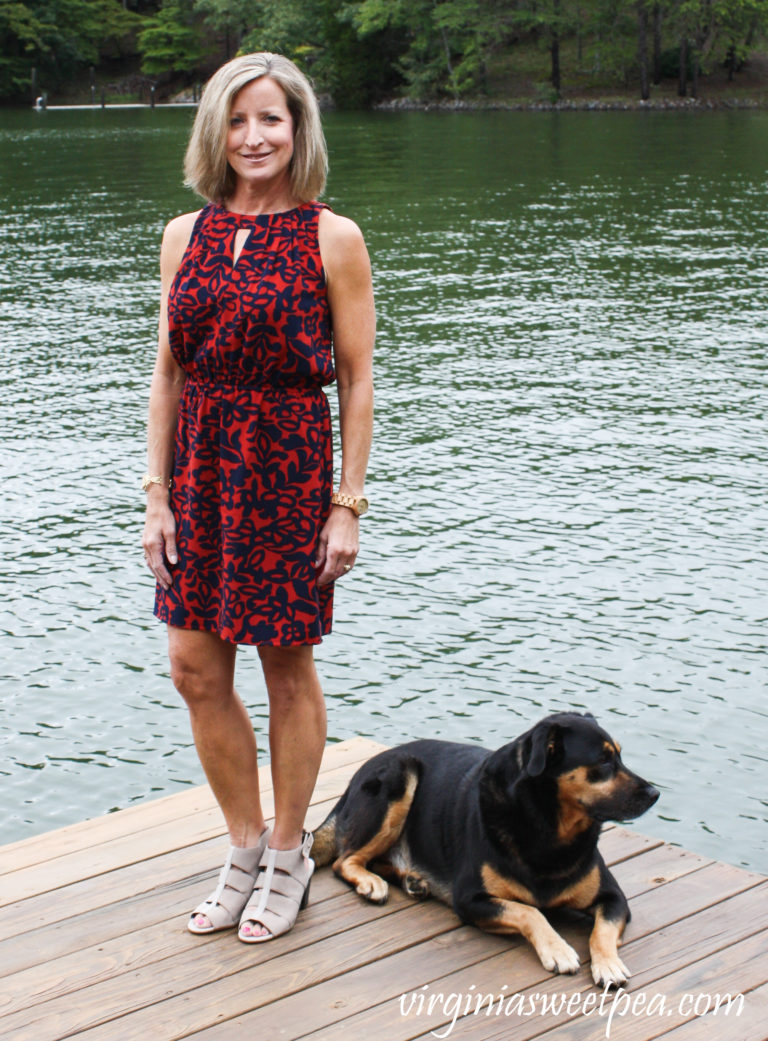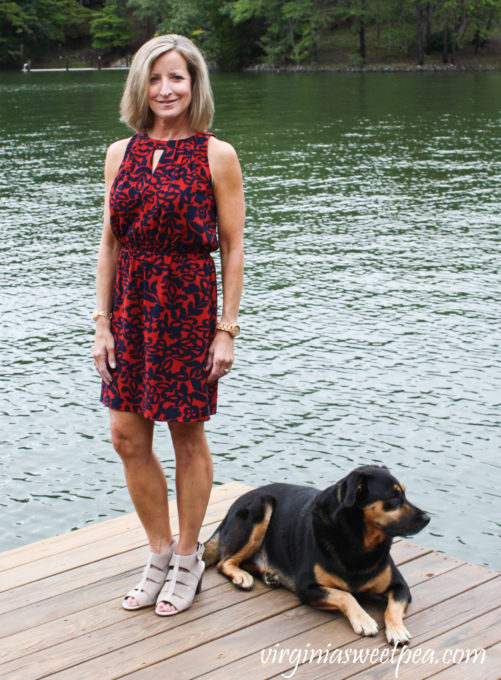 Even though these shoes were comfortable, I knew that I'd rarely wear them, so I sent them back.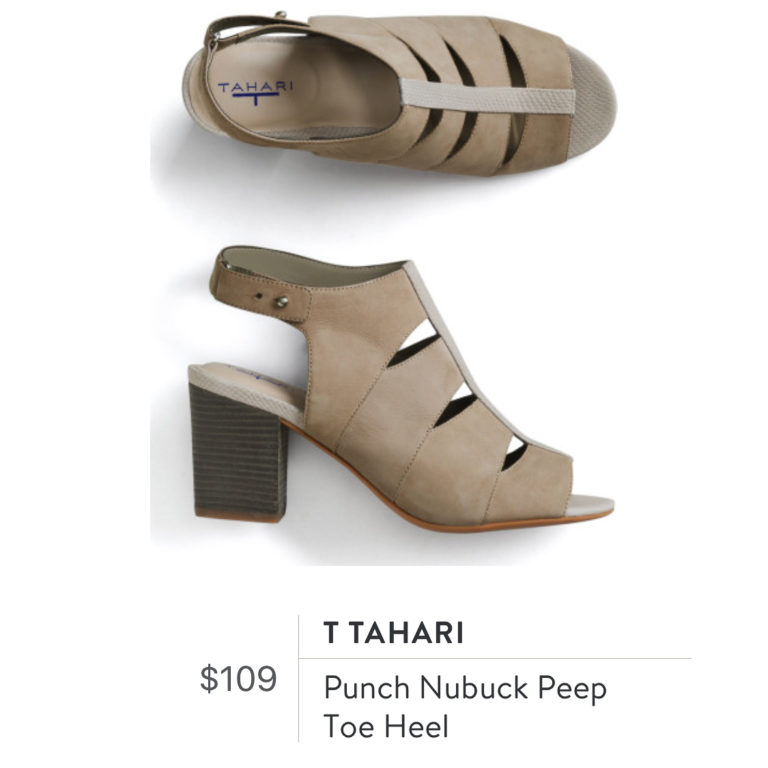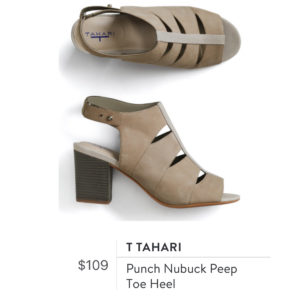 Skies Are Blue Marigold Embroidered Crochet Trim Dress
I also loved this dress! It's not only a pretty color and style, it also has a pretty crocheted trim on the sleeves which is a nice touch. I also like its tie neck.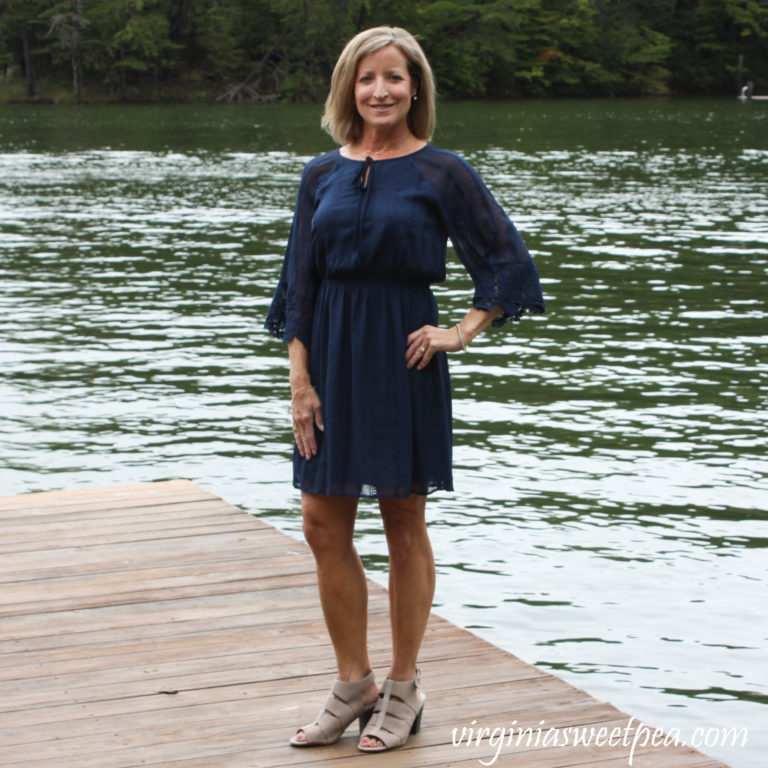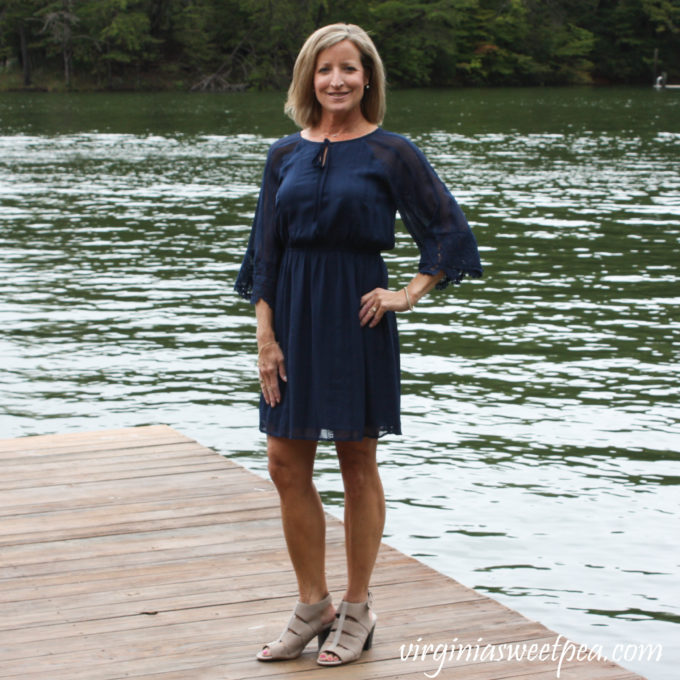 You can see here that we raised our boat extra high because we didn't know how high the water would rise. If it rose high enough to take our boat in this position, then there would have been a heap of trouble at Smith Mountain Lake!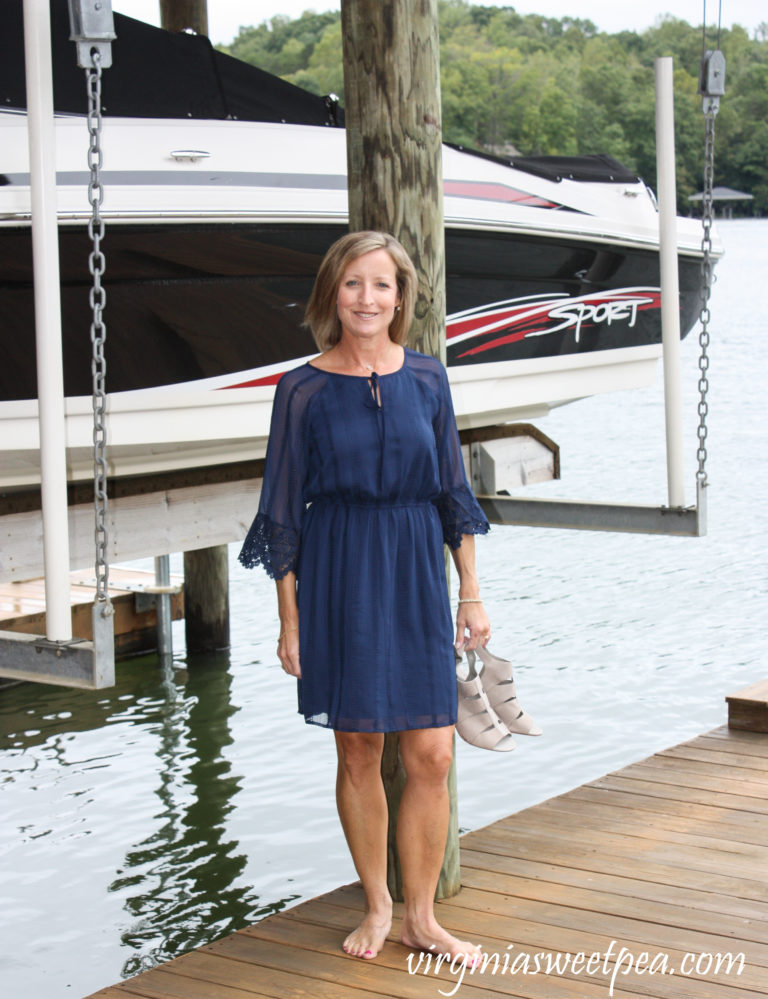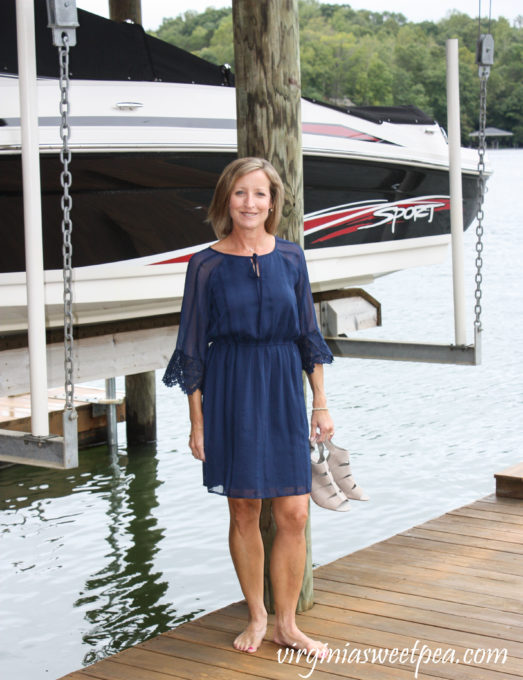 I already knew that I was buying the 41 Hawthorne dress but I really loved this dress as well and couldn't resist keeping it. It will look great this fall with tights and boots.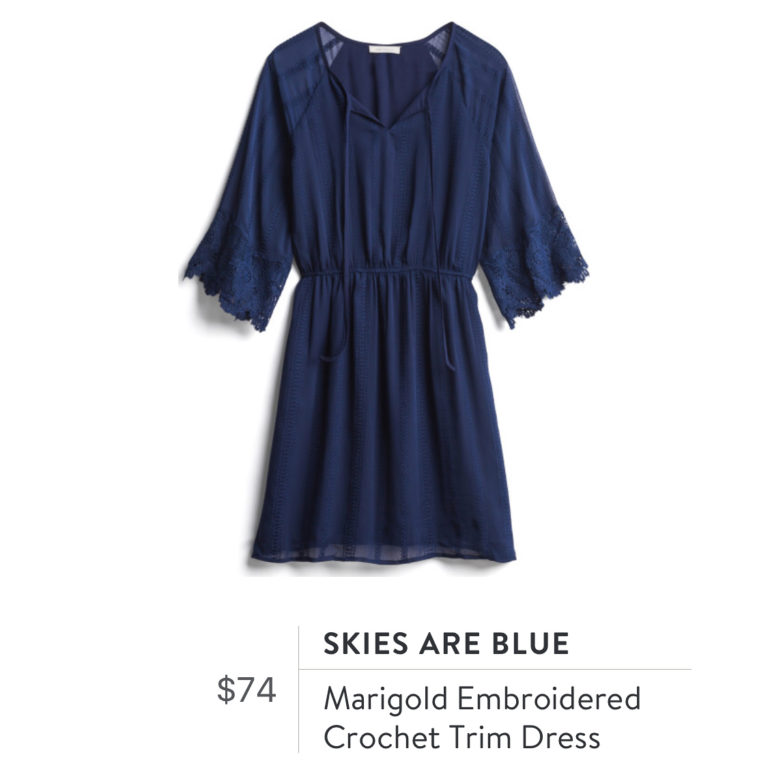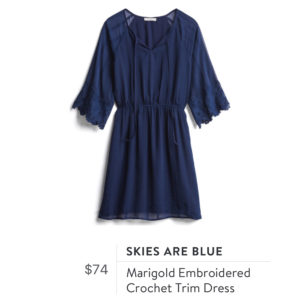 Kensie Jori Knit Jumpsuit
The last memory I have of wearing a jumpsuit is in third grade. I distinctly remember squatting down to put something in my desk and splitting the seat of my blue zip-up jumpsuit. Fast forward 40+ years and I'm once again in a jumpsuit.
This back-zip jumpsuit is 100% comfortable. I loved how it looked and felt and if I were still teaching, I'd wear it to work. This jumpsuit would be great for upcoming holiday parties, date nights, or dressed down with casual shoes for a weekend.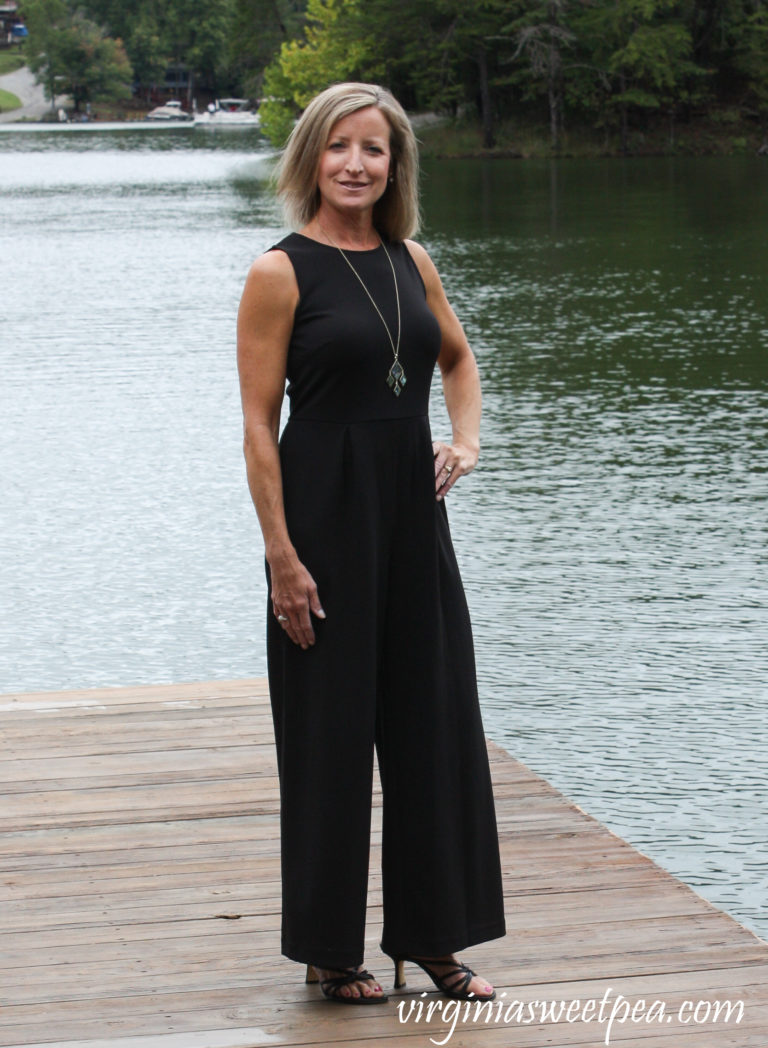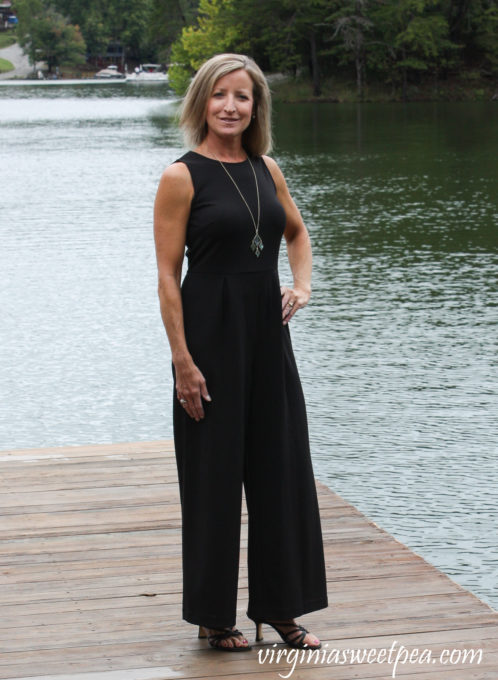 My necklace was purchased from a summer Rocksbox shipment. Rocksbox is a jewelry subscription service that sends three pieces of jewelry that you can wear for as long as you like each month. When you send your three pieces back, or buy what you like, a new box is sent. If you'd like a free month of Rocksbox, sign up with this code: PAULABFF54. I rejoined Rocksbox in January and am LOVING their service. I've received the cutest jewelry and have purchased quite a few items.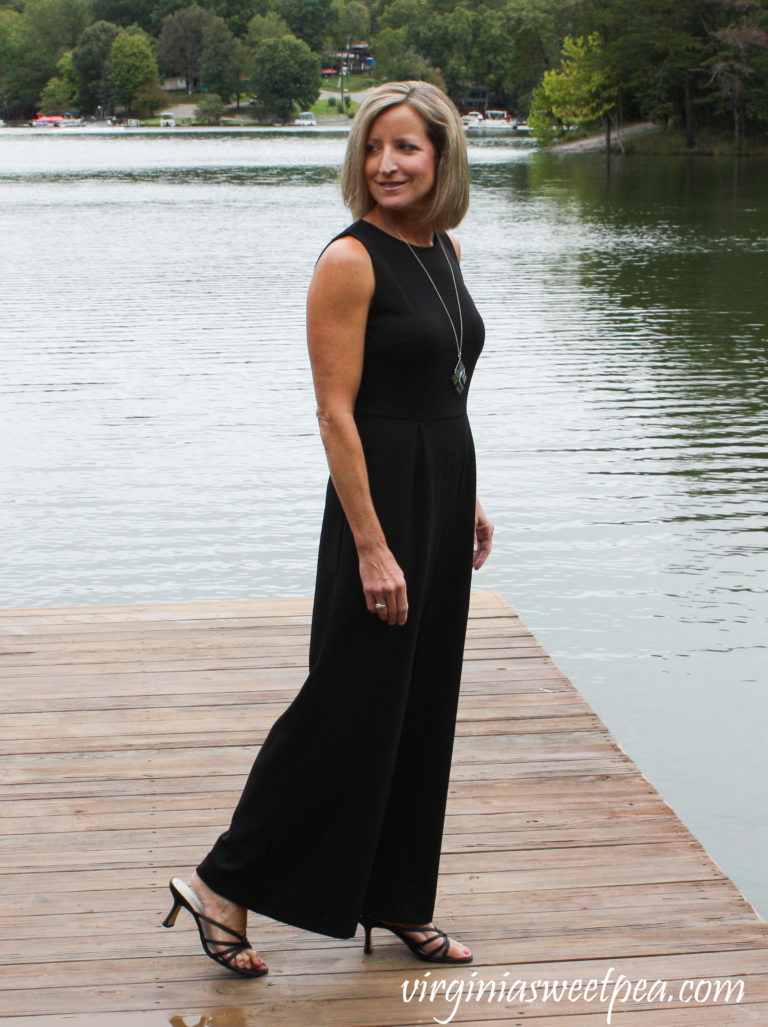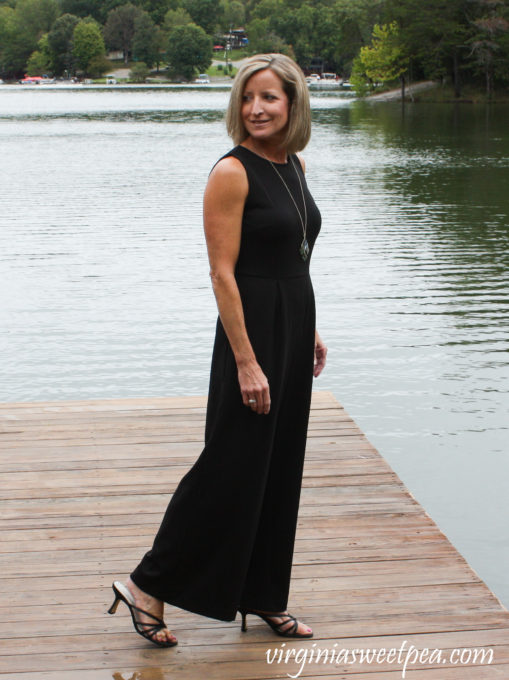 Even though I really loved this jumpsuit, I returned it because I wouldn't have enough opportunities to wear it to justify its cost.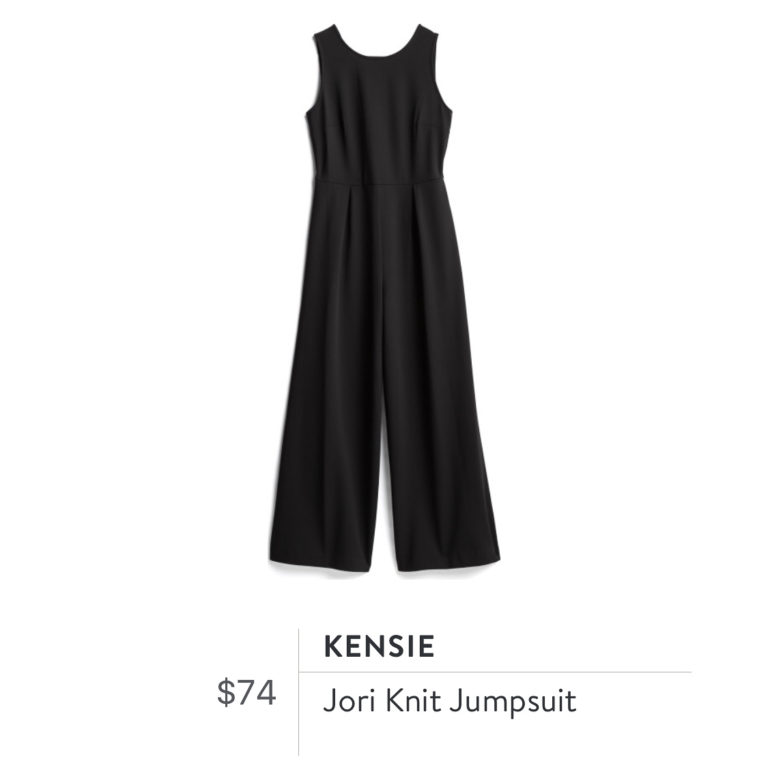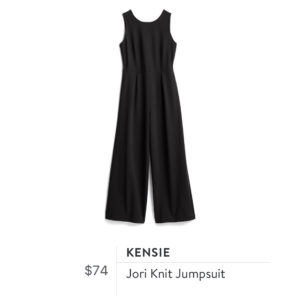 Absolutely Elli Ribbed Duster Cardigan
My stylist couldn't find a traditional wrap for me to try but she thought that I might enjoy this cardigan if the wedding evening ends up being chilly.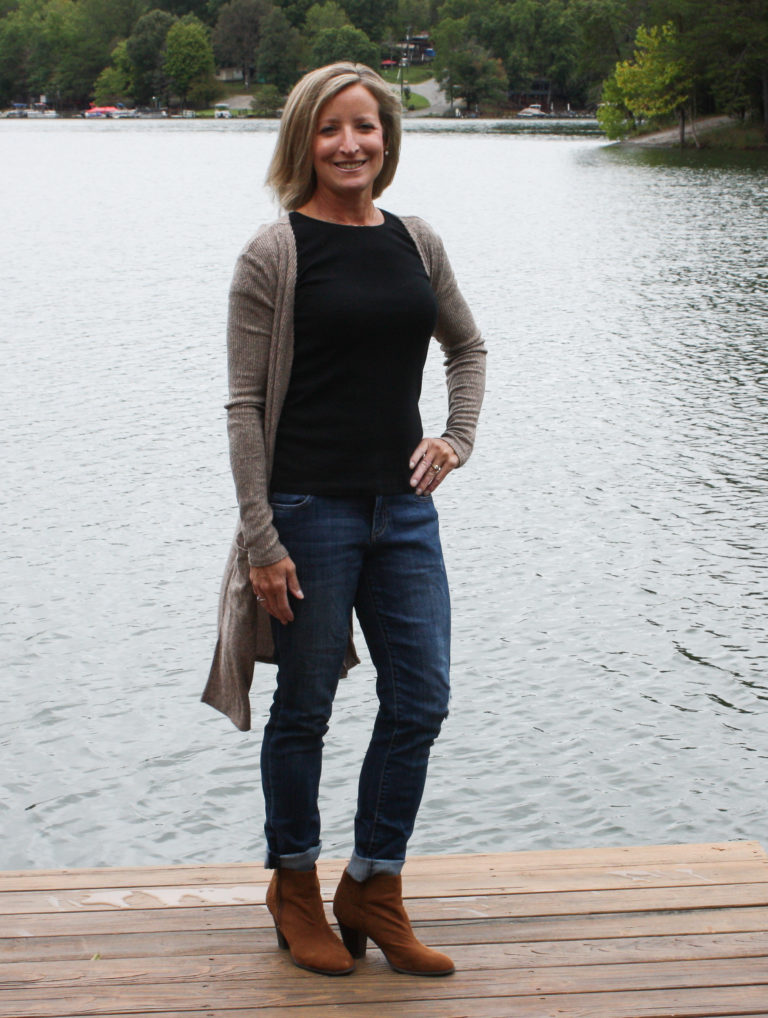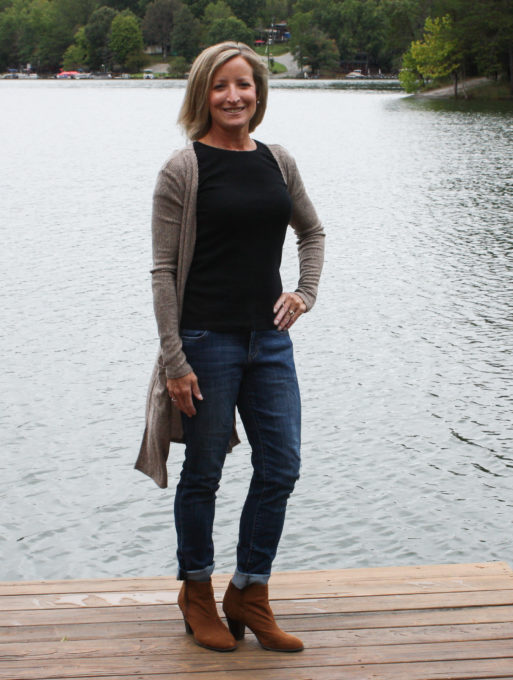 This cardigan is lightweight and super soft. I loved its cozy feel and long length.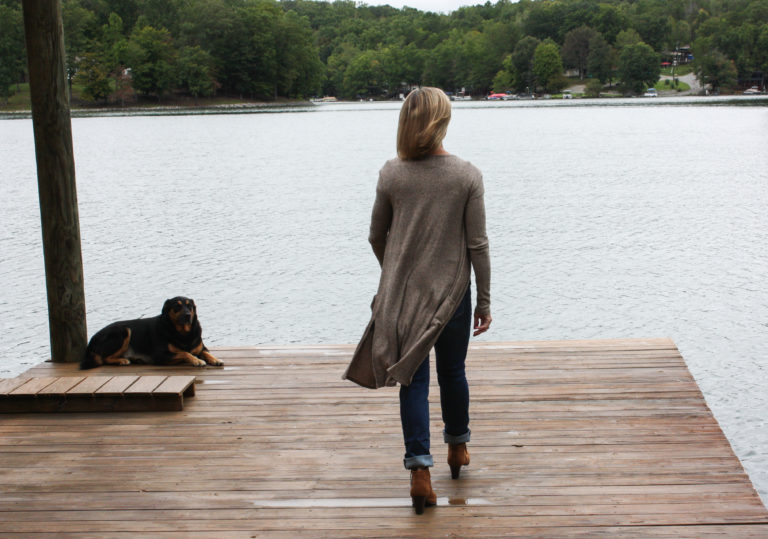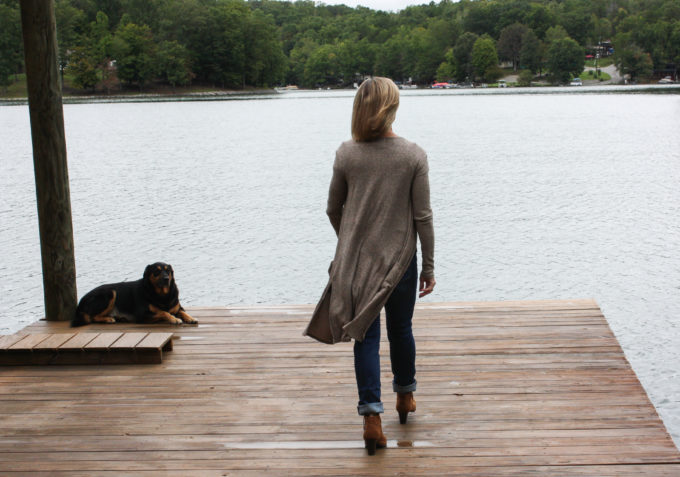 Sherman approved of all of my Stitch Fix pieces this month.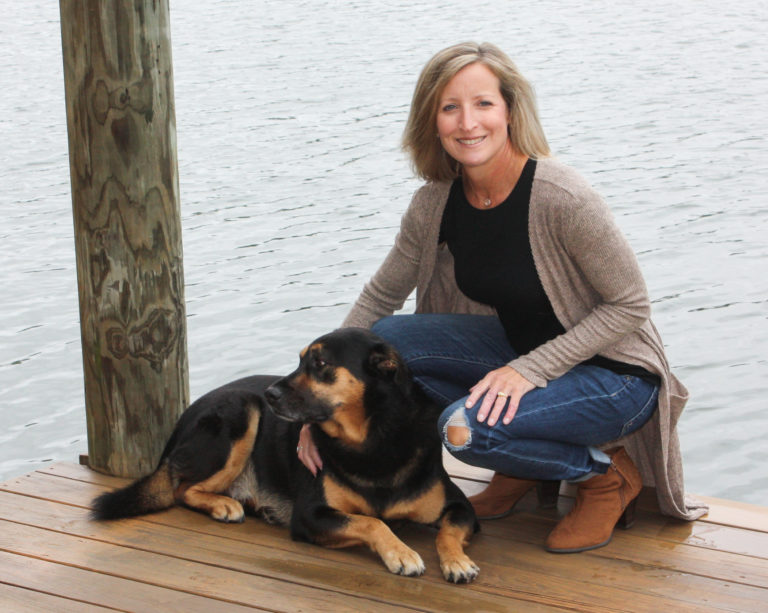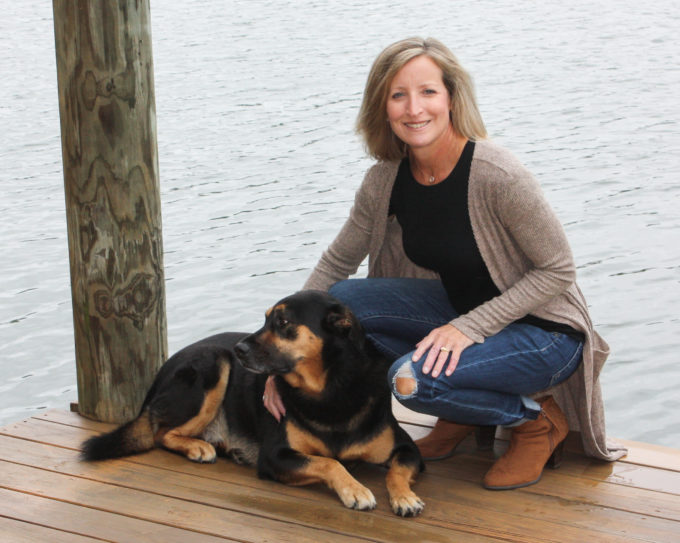 Even though I liked this cardigan, I didn't keep it because I really don't need it.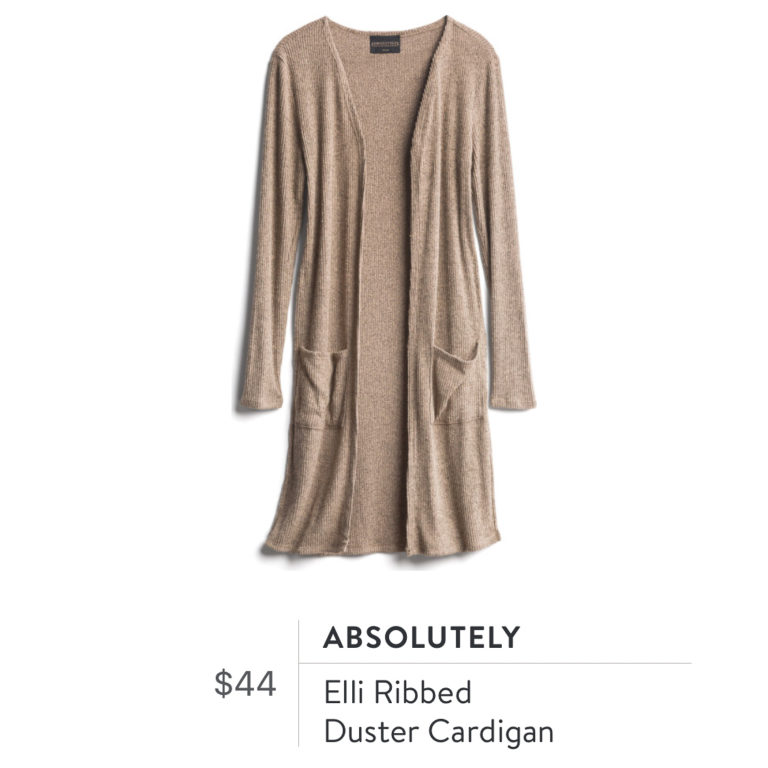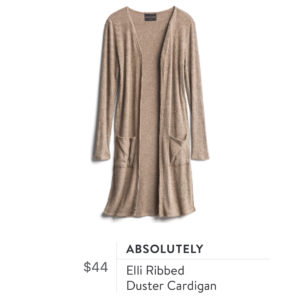 Mr. SP's Stitch Fix
Not only did I get a Stitch Fix box, so did my husband. I don't have any pictures of him modeling his clothes but he did very much like his Fix.

We both liked the Harker Rye shirt and chinos. The shirt is described as being red, but in person it definitely looks pink. Pink isn't a color that Mr. SP likes to wear, so we knew that the shirt was a no. The pants were almost a yes, but they were a tad bit tight, so back they went.
The Tommy Hilfiger blazer was a keeper. It fit Mr. SP perfectly and with its grey color, it can be worn with a variety of shirts.
The 01Algo shirt fit perfectly and we both liked it. The only reason it was sent back was after purchasing the jacket, there wasn't room in the budget for anything else.
We liked the fabric and cut of the Bonobos polo but the pink color made it an automatic no. Mr. SP didn't even try this on.
It was fun for Mr. SP to get a box and he now has a new blazer to enjoy.
Stitch Fix men is now offering sizing up to 3x, so now men of all sizes can enjoy receiving this service. Think about treating the special man in your life to a box. My husband certainly enjoyed receiving his.
TRY STITCH FIX
If you've been thinking about trying Stitch Fix but haven't, I encourage you to give it a try.
I love receiving my box each month and have so much fun trying on all of the styles sent to me. Stitch Fix also offers gift cards, so if you need to give a special lady or gentleman a gift, consider a gift card for a Stitch Fix purchase.