Stitch Fix for April 2015 – My 23rd Fix!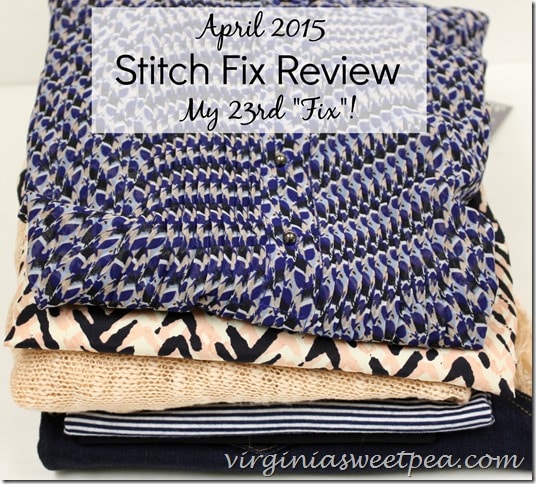 I am a Stitch Fix affiliate and if you make a purchase, I earn a small commission. My love for Stitch Fix is genuine and all opinions are truthful and my own.
It's been a year since I've shared the contents of my monthly clothing shipment from Stitch Fix. For those of you who haven't heard of it, Stitch Fix is a service where a stylist picks out five items of clothing and/or jewelry or handbags that match your style profile. The styling fee is $20 which is subtracted from whatever you purchase. If you purchase all five items, you get a 25% discount off your order. Out of 23 "fixes", I've kept all five items twice and only once not bought anything. A postage paid envelope is included with each order. What you don't want goes into the envelope and is returned at no cost to me. I love the easy return feature of Stitch Fix.
When I opened this month's box I liked several items and wasn't sure about two of them. It's actually helpful to photograph what I receive because it gives me a better idea of what looks good and what doesn't.
Daniel Rainn Soloman Blouse and Liverpool Mira Skinny Jeans
I loved the lightweight material of this blouse. It's too thin to wear without a cami underneath and one was included with the shirt. This would be perfect to wear to work with a skirt or pants.
The skinny jeans were really jeggings. When I took them out of the box I thought to myself, "There's no way that these will stretch over my legs." I managed to shimmy into them and even though they are skin tight, I'll have to admit that they are super comfortable.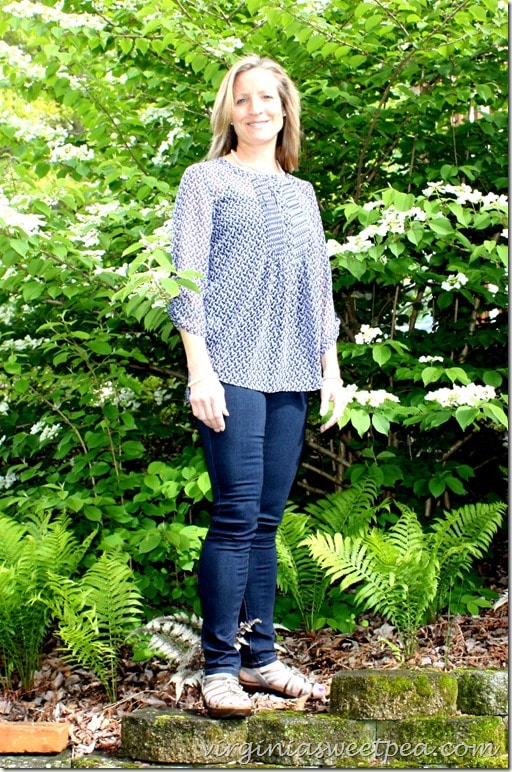 I was being a goof when Mr. SP took this picture but included it so that you could better see this blouse's cute pintucks and buttons.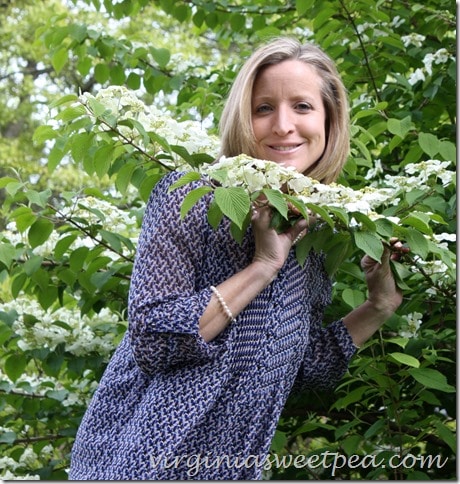 Even though I really liked this blouse, I returned it because its price was out of my budget.
Loveappella Lyndrel Knit Top
I liked this top's fun stripes and soft fabric. It would be great to wear this summer with shorts or right now to school with a skirt or pants.
I wasn't in love with this top and the price was a bit high, so back to Stitch Fix it went. The skinny jeans, although super comfortable, aren't especially flattering to my large legs, so they were returned as well.
Pixley Marie Abstract Chevron Elastic Waist Dress
When I pulled this out of the box I knew that I would like it. This is the perfect dress to wear to school or to wear just about anywhere all summer. It also helps that it is two of my favorite colors, pink and blue.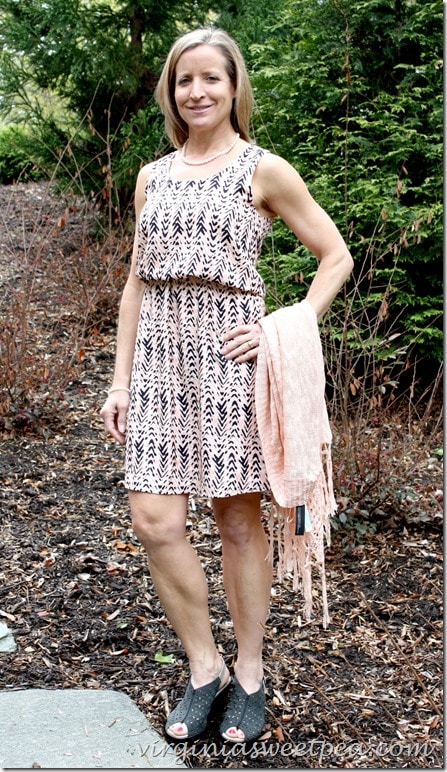 I'm keeping this one even though it is similar to two other Stitch Fix dresses that I purchased in 2014.
Sweet Rain Cardigan
I actually laughed when I pulled this cardigan out of the box and though that it was silly looking. Then I put it on with this dress and changed my mind. It's soft, comfortable and I actually like the fringe. That's the great thing about Stitch Fix; I never, ever would have tried this on in the store and I actually like it.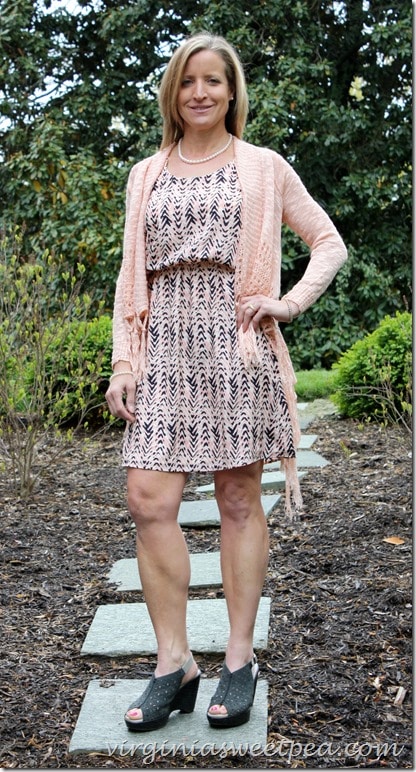 My shoes are Jambu Vera Wedge. I've had these since last spring and love that I can stand on concrete at school all day in them in comfort. Jambu makes sports sandals and they must incorporate that technology into their dressier shoes. (I ordered mine from Zappos but they are no longer available there. The link is an Amazon one which gives me a very small commission if you use it.)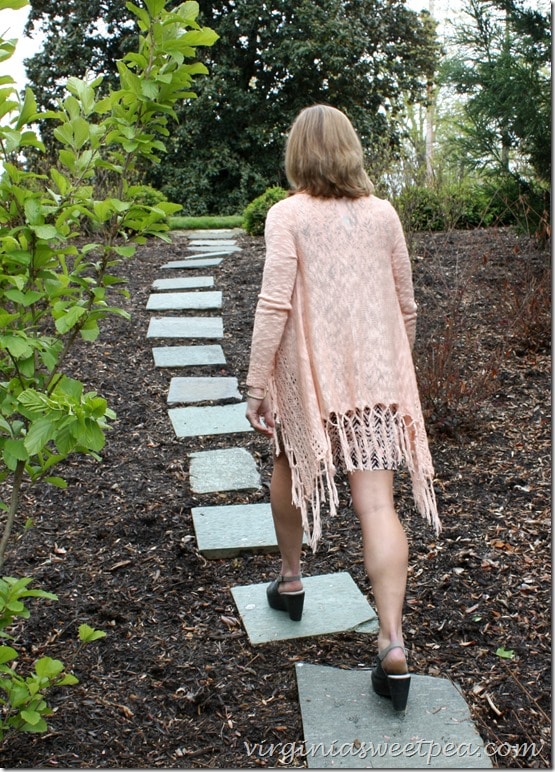 After much debate and a peak into my closet to see what else I could pair this with, I decided to keep it.
I love Stitch Fix because I don't like to take time to shop but I like to have nice clothes to wear to work and also out and about. Even if I did like to shop, my town doesn't offer a lot of choices for shopping, so Stitch Fix is perfect for me.
On a side note, I've been meaning to order some shoes to wear to work and writing this post led me to order these: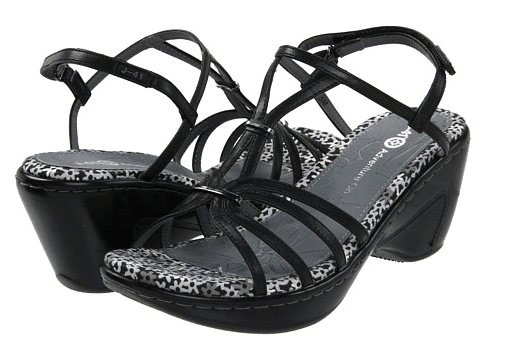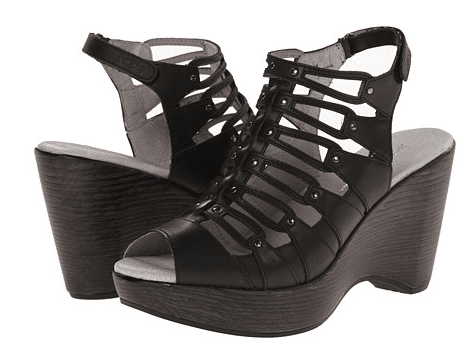 I hope I like them. It's always fun to have something new to wear!