Stitch Fix Review-December 2017-Fix #52
December is here and it's time to share another Stitch Fix review. This was a great Fix and I kept it all!
December 2017 Stitch Fix Review
Opening my Stitch Fix box is so much fun! I forgot to leave a note this month with requests and even without a note Brittany H. nailed this Fix sending me five things that I loved. I did a Facebook Live sharing this Fix, if you missed it, you can catch it here. If you are new, you can see all of my Stitch Fix reveals here.
I am a Stitch Fix affiliate and if you make a purchase, I earn a small commission. My love for Stitch Fix is genuine and all opinions are truthful and my own.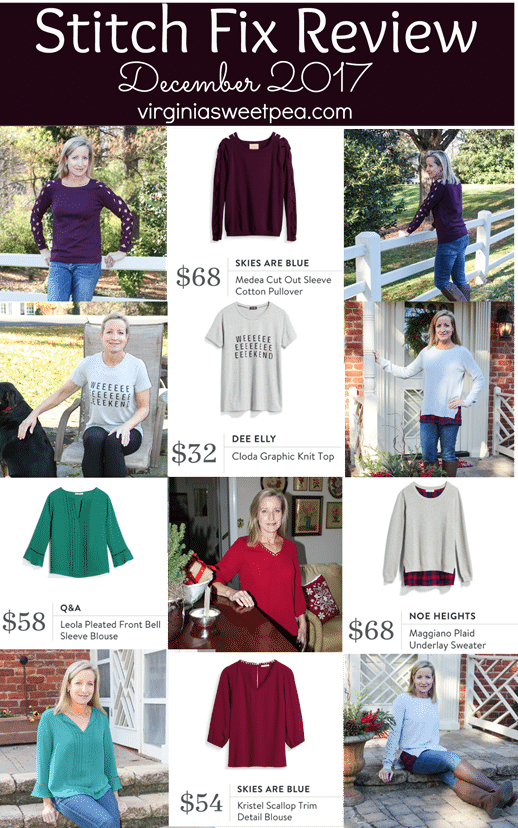 No Styling Fee for New Stitch Fix Customers!
Great news! Stitch Fix is waiving the $20 styling fee for all new customers through the end of January! Use this link to sign up for your first box with no styling fee. This is huge. You can try Stitch Fix without spending a dime since shipping is free both ways.
What is Stitch Fix
Stitch Fix is a personal styling service. When you sign up for Stitch Fix, you fill out a detailed style profile that helps your stylist know your likes and dislikes. Since I've received 52 Stitch Fix shipments, my stylist knows my likes and dislikes very well and I almost always like every item in my Fix, a good problem to have!
When a Fix arrives, you have three days to try the clothes on and to decide what to keep and what to send back. Stitch Fix includes a postage paid envelope making returns super easy.
When you sign up for Stitch Fix, you can choose how often a box is delivered. You can pick a monthly options or schedule a box when you'd like to receive one. I do not like shopping and love receiving clothing from Stitch Fix. I get clothes that I like without having to do any work other than pinning things that I like to my fashion board on Pinterest. My stylist, Brittany H., checks my Pinterest board for inspiration and also reads my note to her each month to see if I have any special requests.
You can find links to all of my Fixes here and also be sure to check out my Stitch Fix Review Board on Pinterest where I pin my favorite looks.
Skies are Blue Medea Cut Out Sleeve Cotton Pullover
This was such a good Stitch Fix box! We'll start with my favorite, the Skies are Blue Medea Cut Out Sleeve Cotton Pullover. This sweater is soft and look at those sleeves! Isn't that a pretty detail?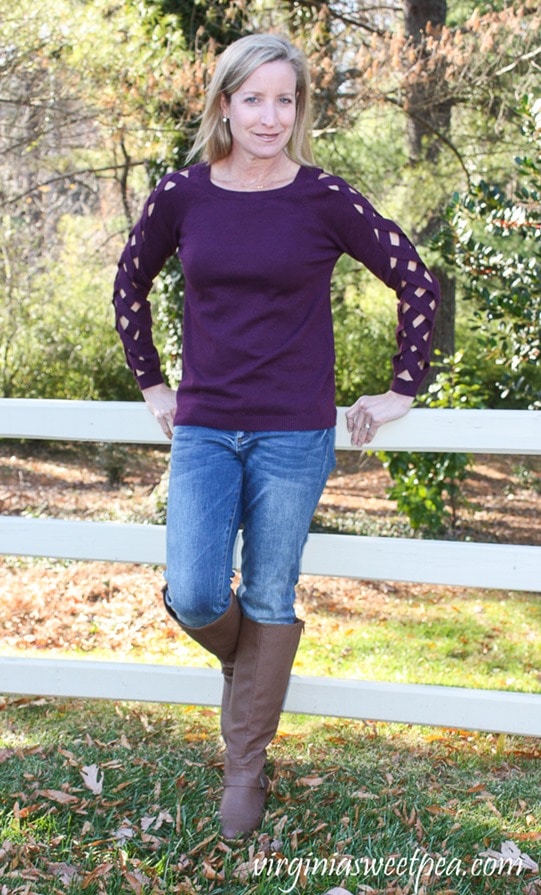 This color is so pretty and I know I'll enjoy wearing this sweater all winter.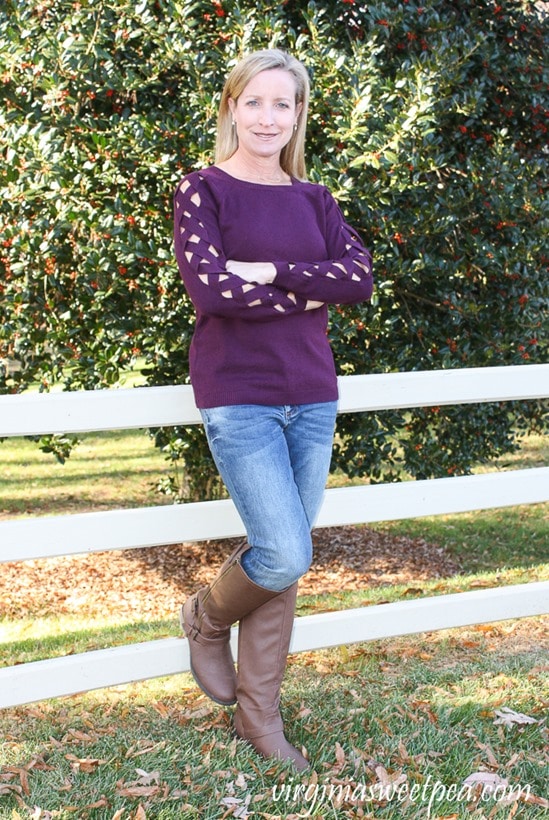 I paired this sweater with Kut from the Kloth Kate Boyfriend Jeans from my September Fix. My boots are from Payless and are both comfortable and quite affordable.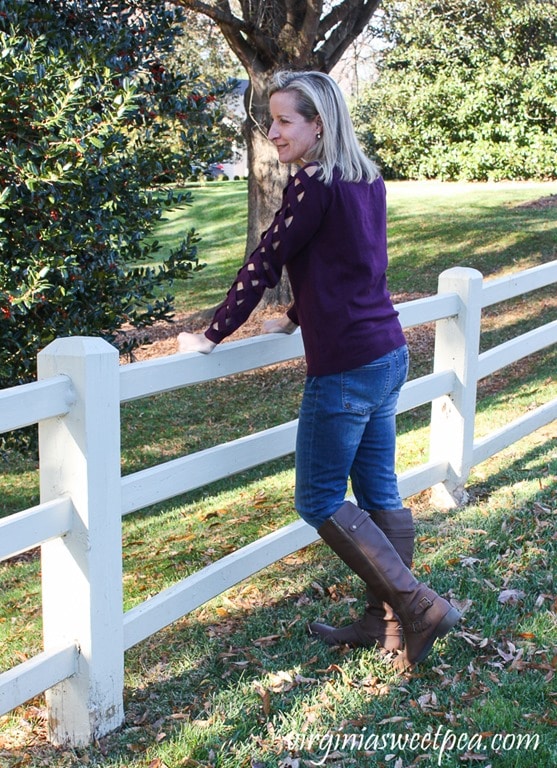 Noe Heights Maggiano Plaid Underlay Sweater
Brittany spotted this on my Pinterest board and I'm glad she did. I love plaid and this sweater is one that I'm sure to wear time and again this December and then all winter.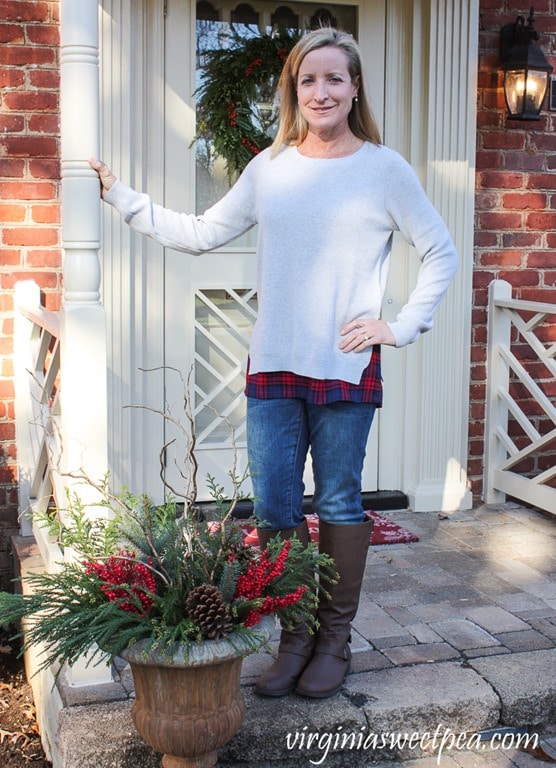 Doesn't this look like a top that you'd want to wear all of the time? I think so! If you like my Christmas urns, come back next week for the tutorial on how I made them.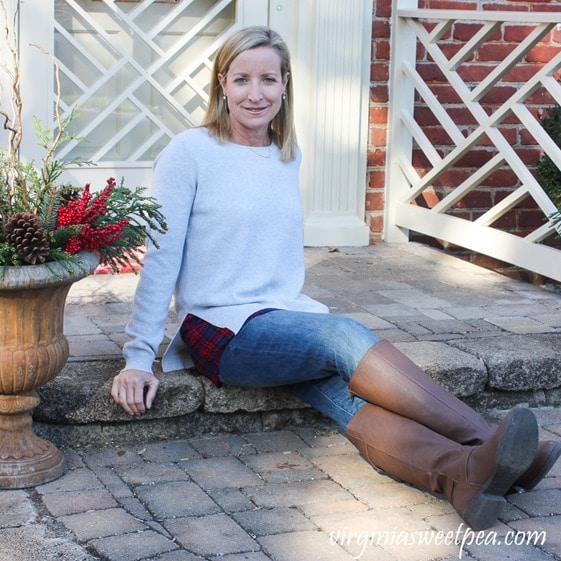 Q& A Leola Pleated Front Bell Sleeve Blouse
Brittany thought that this blouse would be a good addition to my Christmas wardrobe and I think she is right. I love the cut and also the color of this top.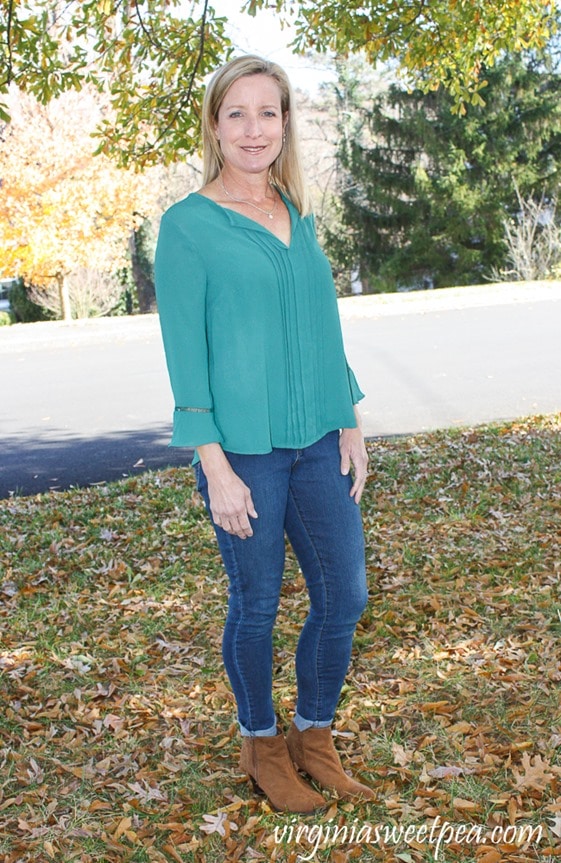 I paired this top with Levi's and booties from Payless. This particular bootie is no longer available but these are very similar.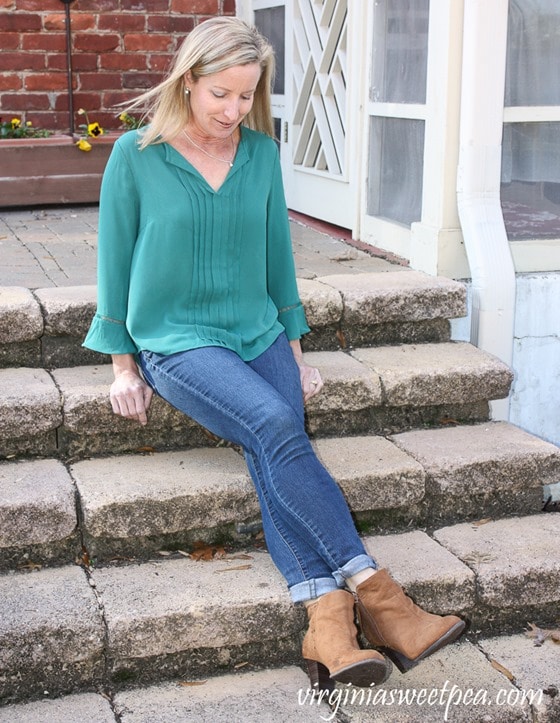 Skies are Blue Kristel Scallop Trim Detail Blouse
Who doesn't need a red blouse to wear in December? This one is so pretty and will be perfect for holiday gatherings. You can see more of this room's Christmas decor here.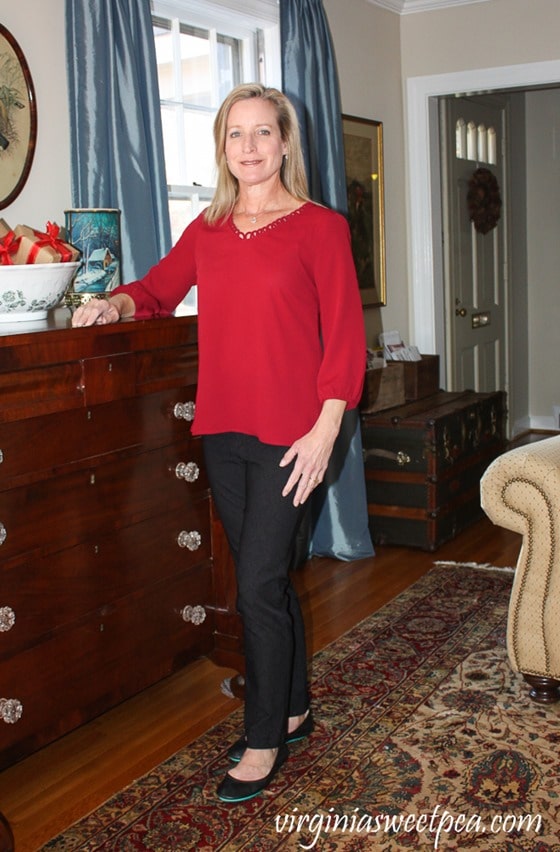 My husband gives me a Swarovski ornament every year for Christmas. I leave this display up through March. The patterns the crystals cast on the walls, ceiling, and floor are incredible.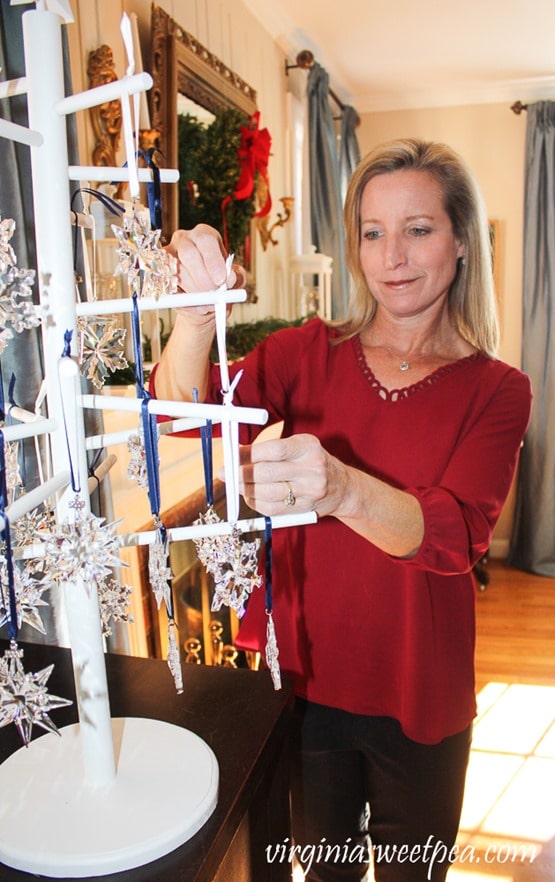 Dee Elly Cloda Graphic Knit Top
Is this t-shirt not fun? It's butter soft and perfect for casual wear.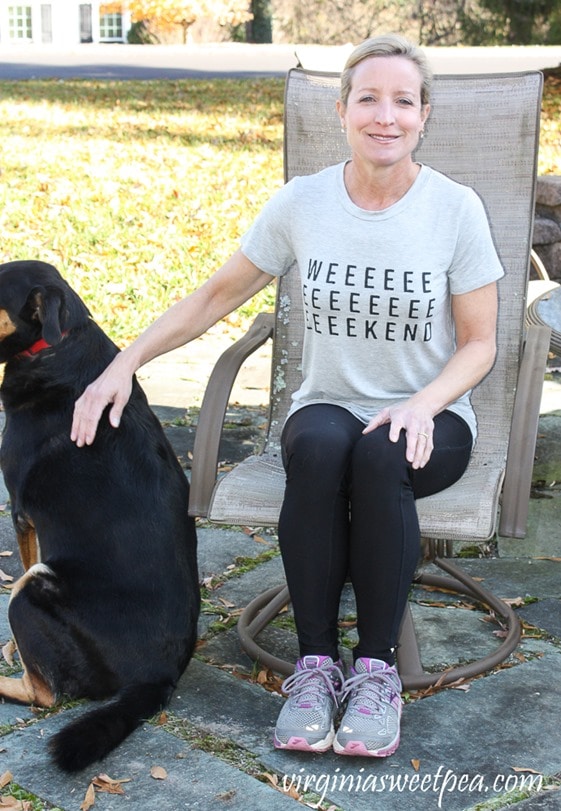 As you can see, Sherman approves this top. Or maybe he just approves of the petting that's he's getting!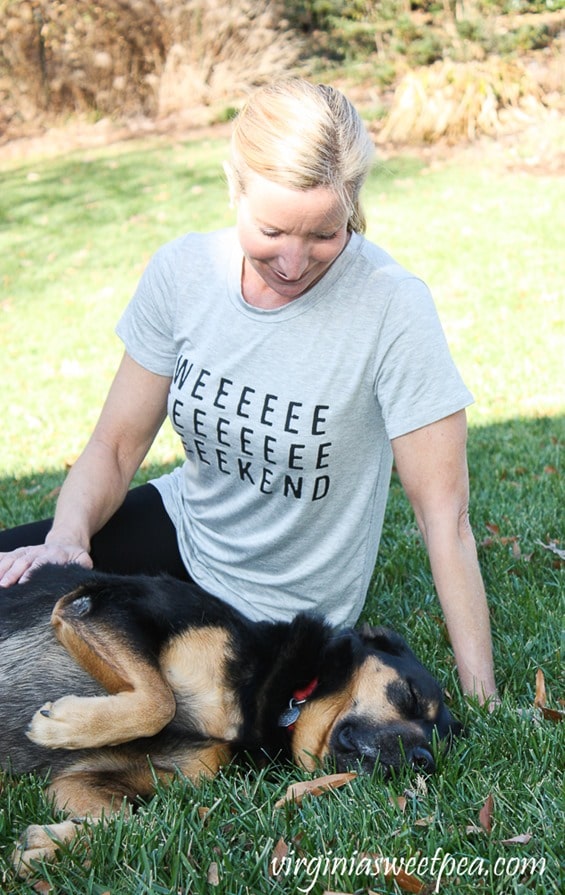 Gift Cards
A Stitch Fix gift card is a great gift idea for a woman or a man. They are easy to purchase and are sure to be much appreciated!
Try Stitch Fix
If you haven't tried Stitch Fix, what are you waiting for? Fill out your style profile and order a box. It's so much fun! Don't forget if you are a new Stitch Fix customer that you can try Stitch Fix with a waived styling fee through the end of January. Use this link to take advantage of this awesome offer.