Stitch Fix Review for May 2018–Fix #57
May is my favorite month of the year. The temperatures are warm and here in Virginia nature is absolutely beautiful. My May Stitch Fix box was filled with items perfect to wear this month and throughout the upcoming summer.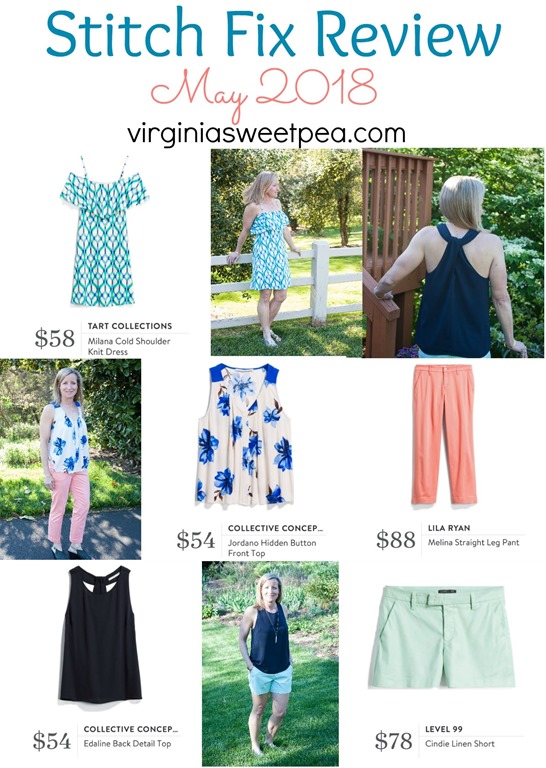 I am a Stitch Fix affiliate and if you make a purchase, I earn a small commission. My love for Stitch Fix is genuine and all opinions are truthful and my own.
May 2018 Stitch Fix Review
If you are interested in spring to summer styles, check out my April Stitch Fix Review. Click here to see all of my Stitch Fix reviews.
If you are new to Stitch Fix, it's a personal styling service that offers clothes, shoes, jewelry, and handbags. I almost always request clothing only because that is what I most enjoy receiving. Once you've signed up for Stitch Fix, you can request a delivery any time that you want one. I choose monthly, but if you want a box only occasionally, you can request delivery for when you'd like to receive it. Shipping is free both ways, the only cost is a $20 styling fee that is deducted from any item that you purchase. If you haven't tried Stitch Fix, what are you waiting for? I'm super excited that Stitch Fix has added intimates that you can add to your box. Last month I purchased a bra that I adore and this month I also added a few intimates to my fix. It's great to receive these items without the hassle of having to shop for them.
Like always, my stylist, Brittany H., did a fabulous job of picking out spring items for me to try. Let's see what she sent this month!
Tart Collections Milana Cold Shoulder Knit Dress
Stitch Fix dresses are my favorite item to receive. I was excited when I saw this Milana Cold Shoulder Dress in this month's box. This dress will be perfect to wear this spring with a sweater over it when it's chilly and then alone this summer when it's hot.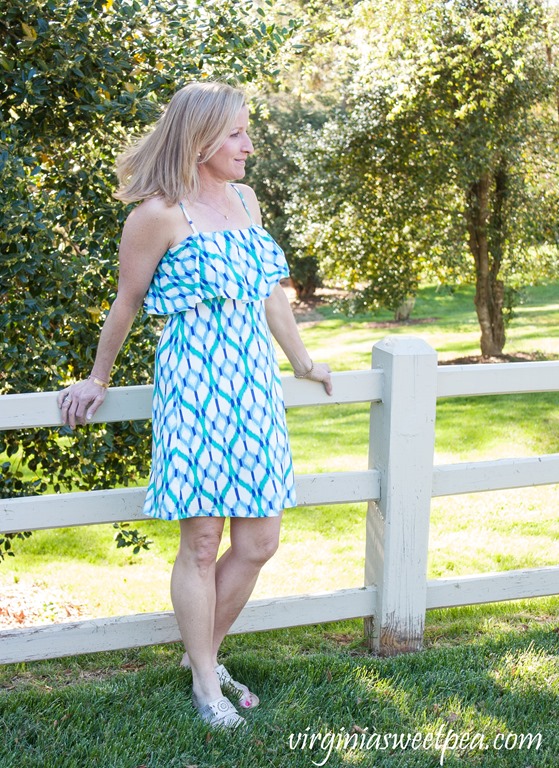 This dress is super soft and is so comfortable.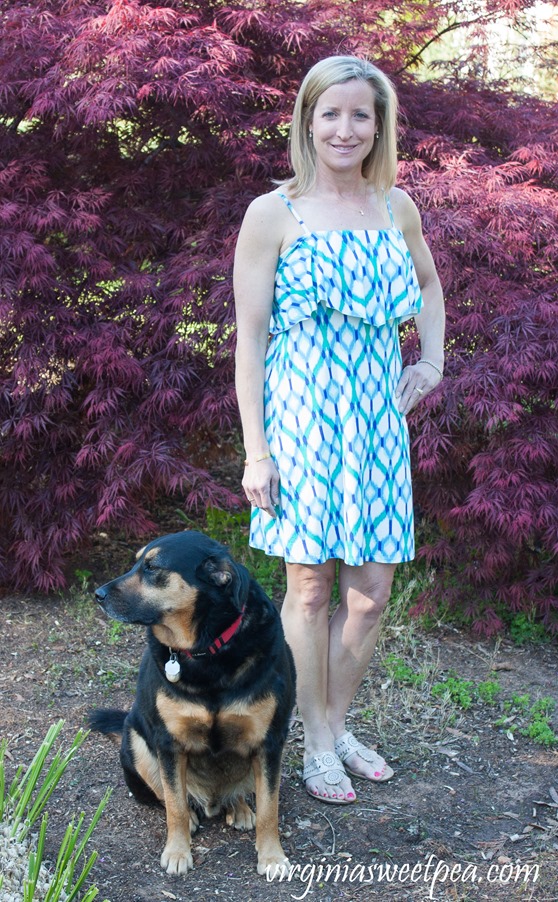 I had to include this picture because of Sherman's funny yawn. We took these pictures after a long weekend at the lake and our boy was exhausted from the fun that he had.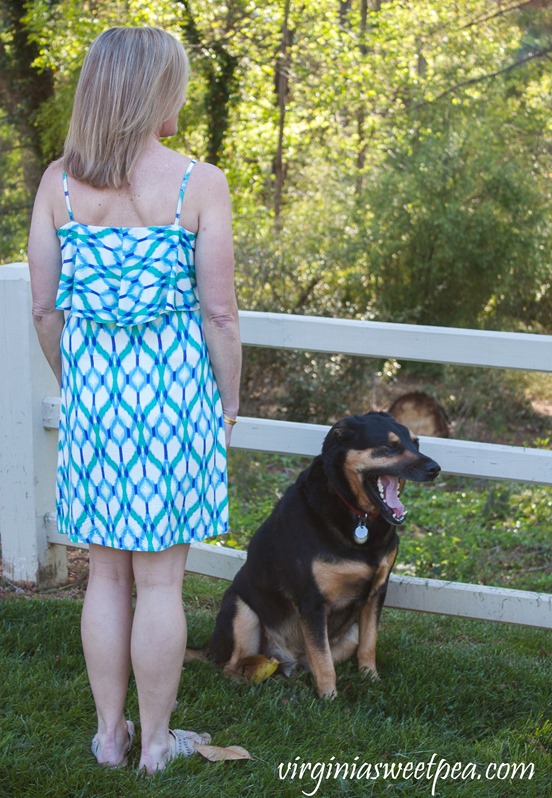 I found that this dress can also be worn off the shoulder. I'm not sure which way is the "correct" way to wear this dress but it's great to have the option to wear it either way.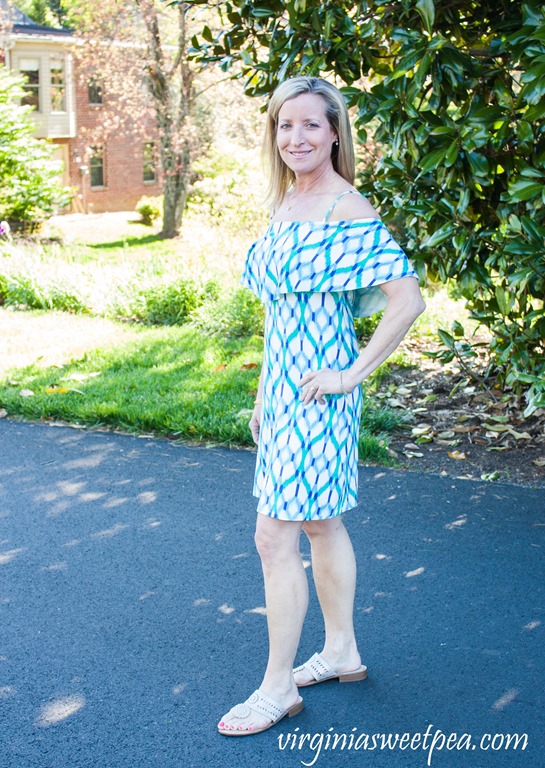 My shoes are from Target, purchased last year. Sandals are my favorite shoe in warm weather.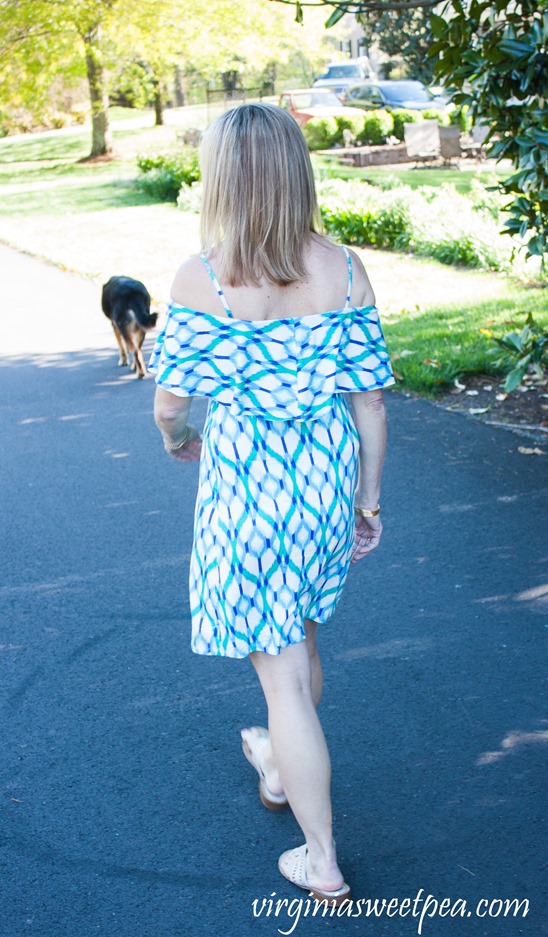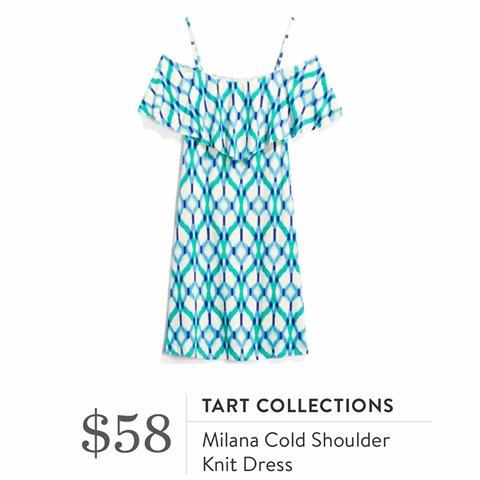 Verdict: Keep
Collective Concepts Jordano Hidden Button Front Top
Sleeveless tops are my favorite for warm weather and I love the floral print on this one.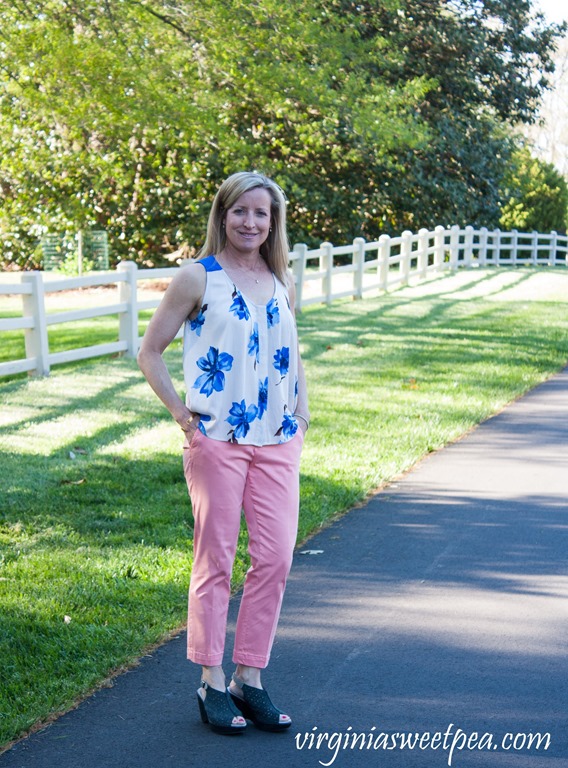 This top is loose and comfortable and will be great to wear with pants, shorts, or a skirt.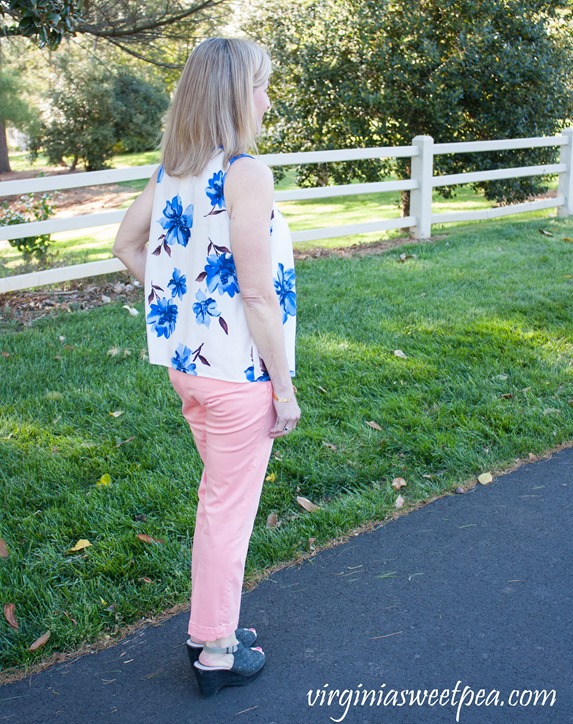 My shoes are Jambu and are several years old. I highly recommend Jambu as I've found them to be super comfortable and they wear very well. If I needed a new pair for this year, I'd choose this one.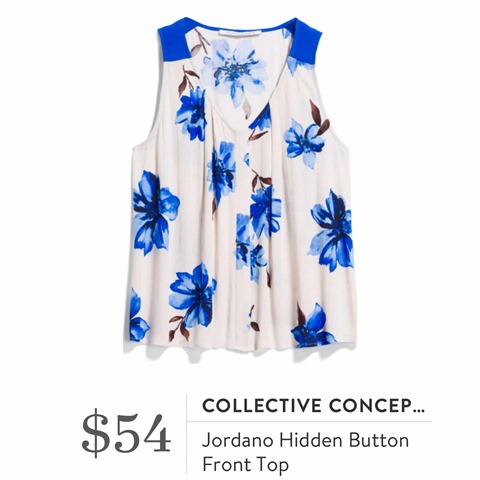 Verdict: Keep
Lila Ryan Melina Straight Leg Pant
Last month I received a pair of Lila Ryan jeans and loved them but did not keep them. I requested another pair of Lila Ryan jeans in a different style, but none were available, so Brittany instead sent this pretty peachy/pink straight leg pant for me to try.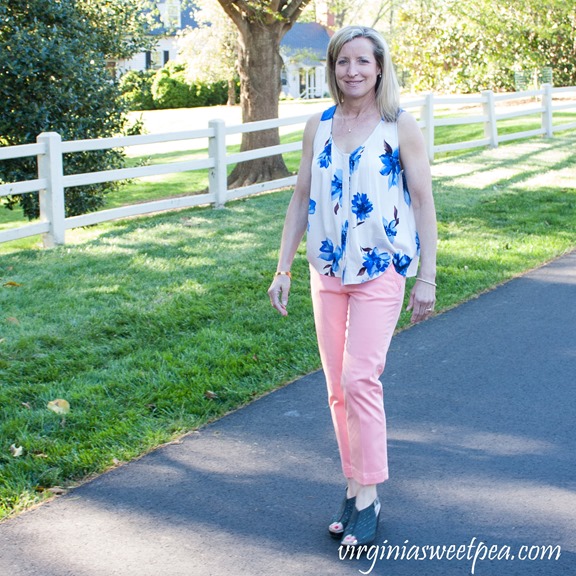 These pants are butter-soft and so comfortable. The color is perfect for spring and summer and I can think of many tops that I already own that will look great with this pair of pants.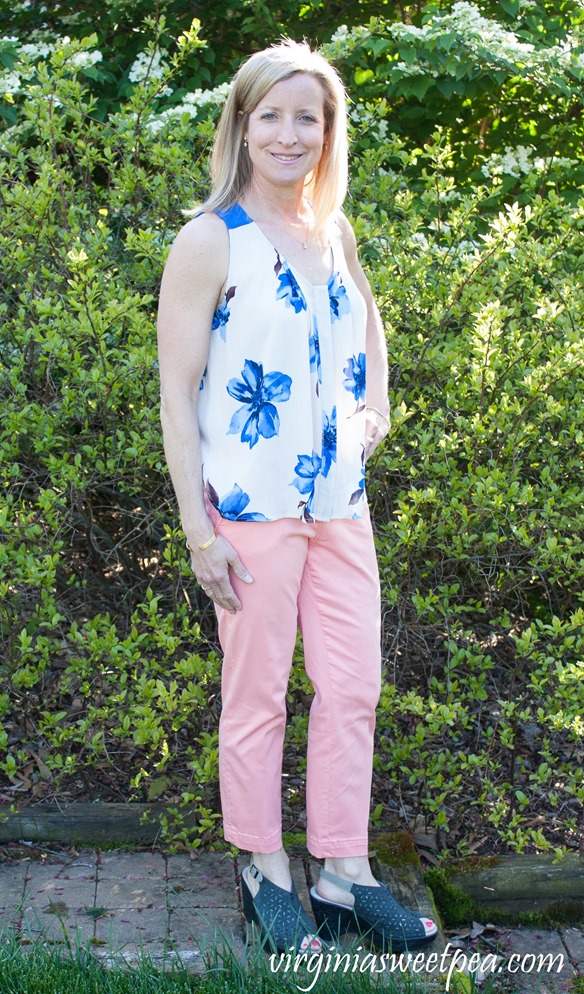 I have really paired down my wardrobe in recent years and when switched my closet from winter to spring, I discovered that I only have two spring/summer pairs of pants, a black and a white pair. This pink pair will be a good addition to my wardrobe.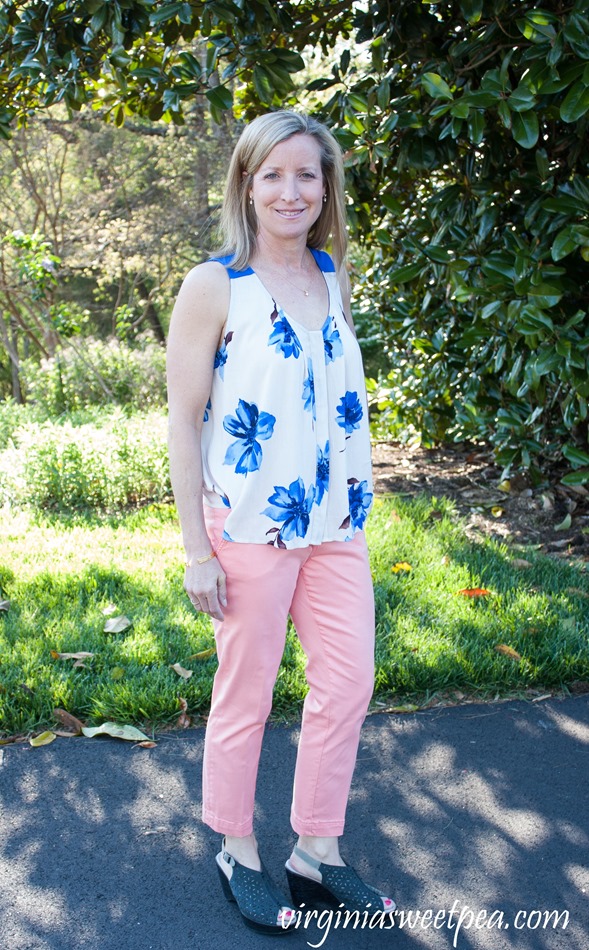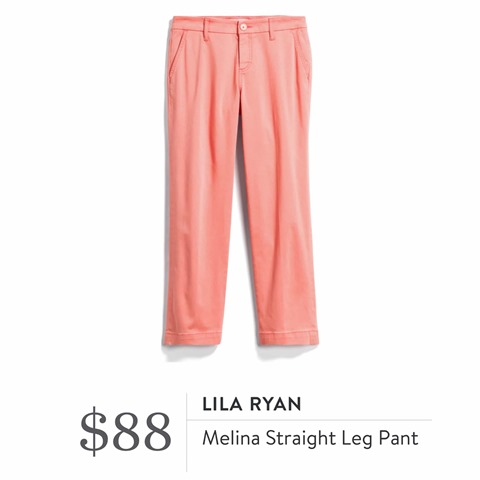 Verdict: Keep
Collective Concepts Edaline Back Detail Top
I love a top that looks good from both the front and the back and this top does just that.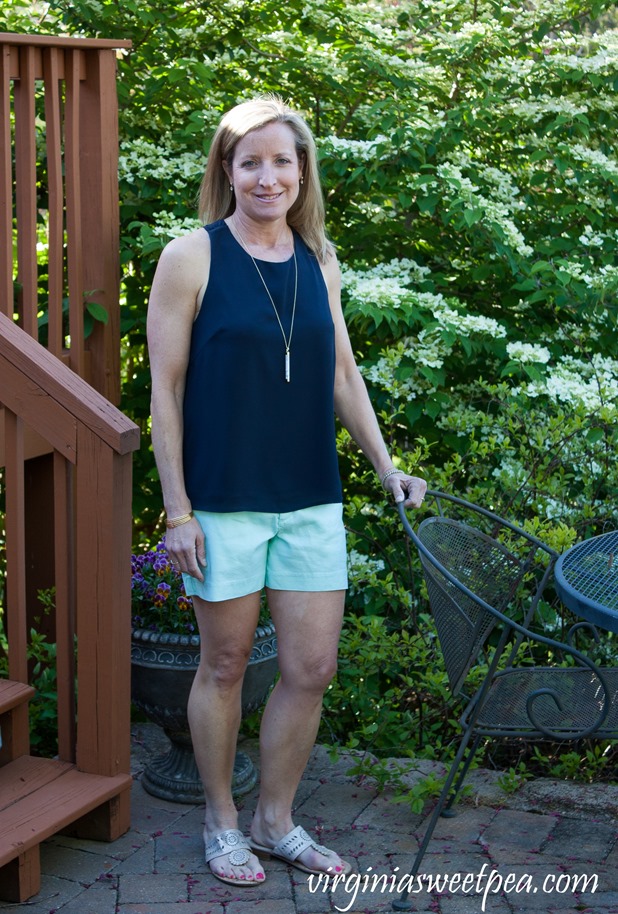 I adore this top's pretty back detail. I also like its silky fabric that both soft and of the no-wrinkle variety.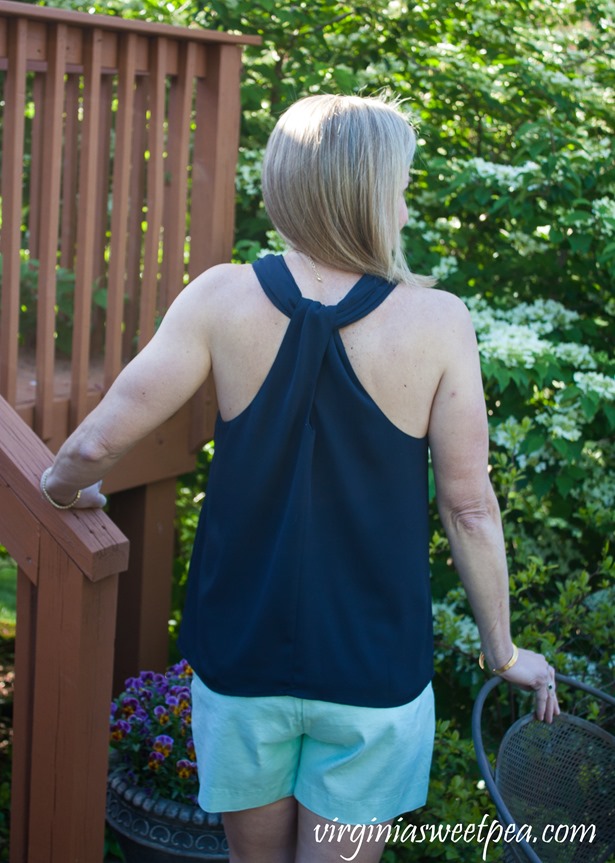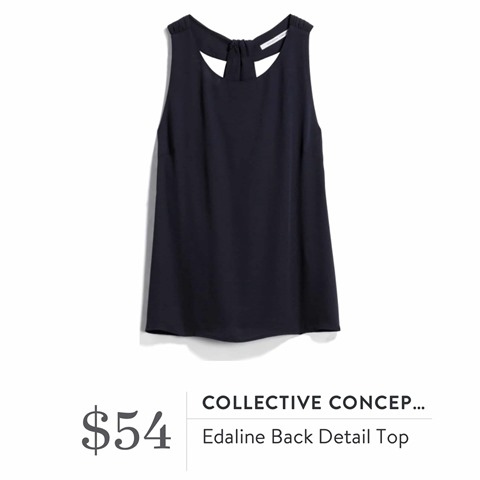 Verdict: Keep
Level 99 Cindie Linen Short
I usually shy away from linen because of the wrinkles, but I am making an exception for this pretty pair of mint green shorts. These shorts are soft and comfortable and the linen makes them a bit dressier than other shorts that I own.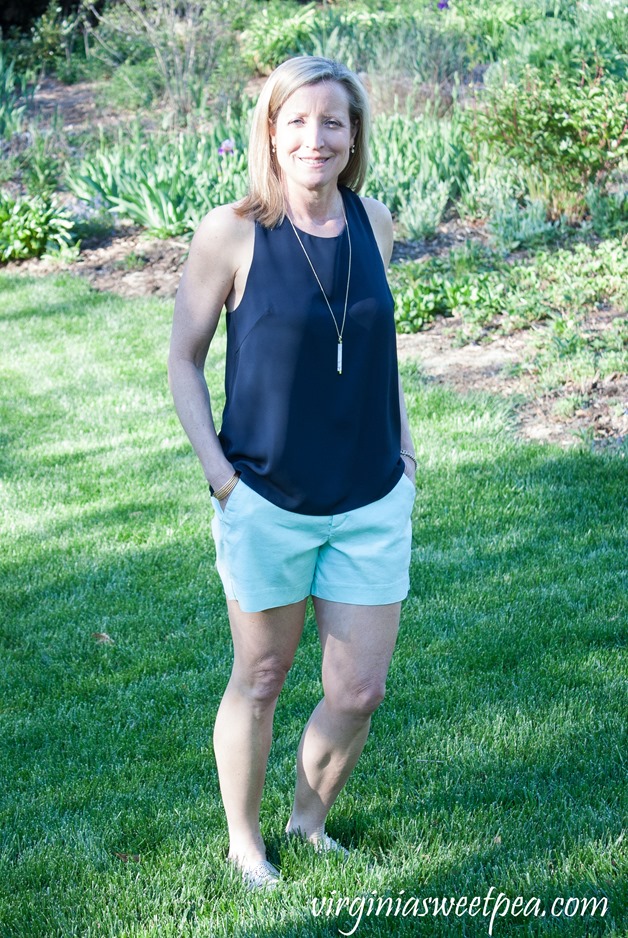 My necklace and cuff bracelet are from this month's Rocksbox shipment. Rocksbox is a jewelry subscription service that sends three pieces of jewelry that you can wear for as long as you like each month. When you send your three pieces back, or buy what you like, a new box is sent. If you'd like a free month of Rocksbox, sign up with this code: PAULABFF54. I rejoined Rocksbox in January and am LOVING their service. I've received the cutest jewelry and have purchased quite a few items.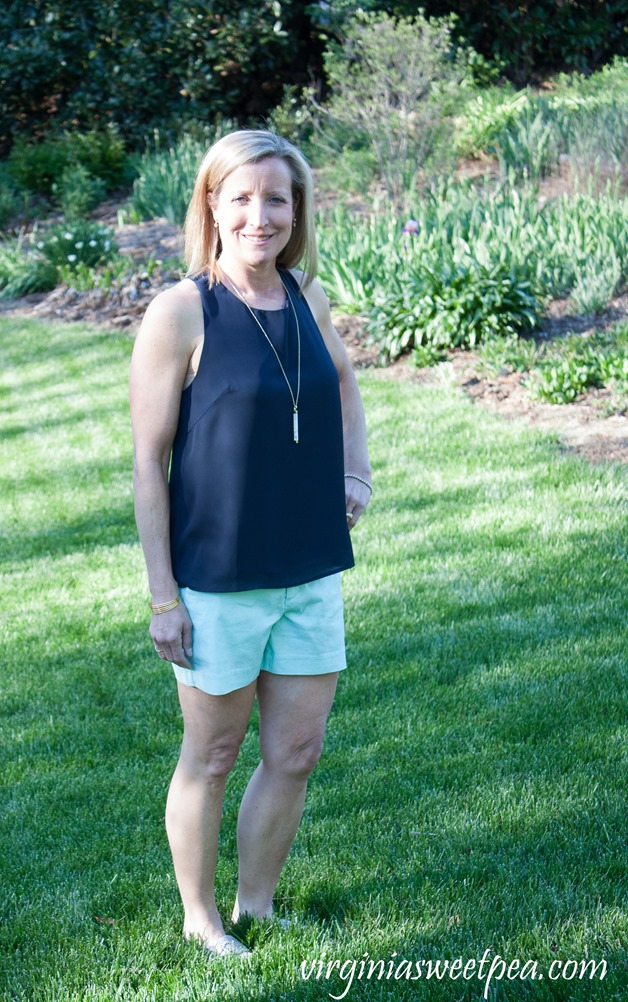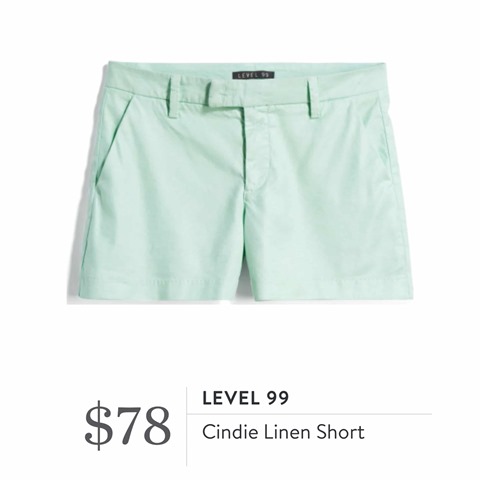 Verdict: Keep
In Summary
Because of the 25% discount when you buy all five items, I kept everything this month. I really wanted everything but the linen shorts but by buying all five items and receiving the $83 discount, I essentially got the shorts for free.
Gift Cards
May is full of events that require gifts. Consider a Stitch Fix Gift Card instead of going out shopping for a gift for that special someone.
A gift card would be perfect for:
Teacher Appreciation Week – May 7 though 11th (Teachers really don't want a gift with an apple on it or a craft you made. Give them a gift card to Starbuck's, Target, or Stitch Fix!
Mother's Day – May 13
Graduation – Can't think of a gift for that special graduate? Give them a Stitch Fix gift card!
Father's Day – June 17 – My husband is the last person that you would think would enjoy a Stitch Fix box but he's received two and wears the items from those boxes weekly.
Try Stitch Fix
If you are like me and want fashionable clothes but don't like to take time to shop for them, why not give Stitch Fix a try? I have so much fun receiving my box each month and I almost always love what my stylist picks for me. Let me know if you try it, I'd
love to see what is sent to you!