Stitch Fix Review for April 2018–Fix #56
Happy April! I hope you had a good Easter and are now in spring mode. Speaking of spring, my latest Stitch Fix box arrived with some pieces perfect for the change in season. I am more than ready to put away cold weather gear and to start wearing clothes meant for warm temperatures.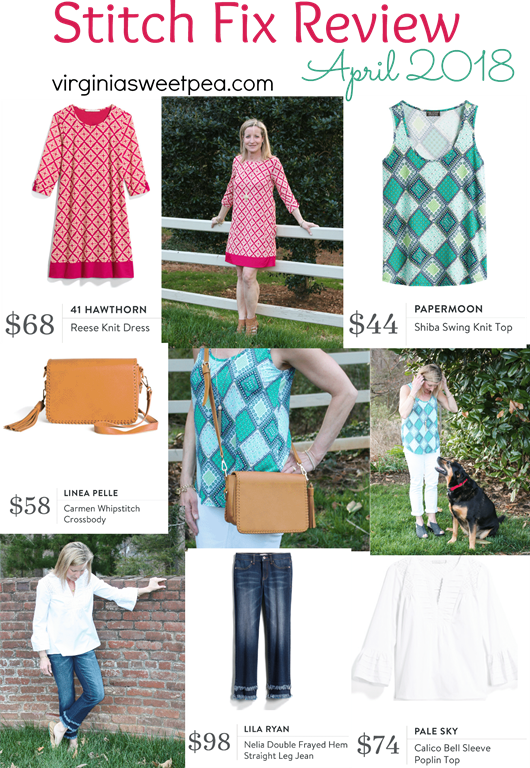 I am a Stitch Fix affiliate and if you make a purchase, I earn a small commission. My love for Stitch Fix is genuine and all opinions are truthful and my own.
If you missed my March Stitch Fix Review, you can check it out here and you can click here to see all of my Stitch Fix reviews.
April 2018 Stitch Fix Review
If you are new to Stitch Fix, it's a personal styling service that offers clothes, shoes, jewelry, and handbags. I almost always request clothing only because that is what I most enjoy receiving. Once you've signed up for Stitch Fix, you can request a delivery any time that you want one. I choose monthly, but if you want a box only occasionally, you can request delivery for when you'd like to receive it. Shipping is free both ways, the only cost is a $20 styling fee that is deducted from any item that you purchase. If you haven't tried Stitch Fix, what are you waiting for? And I'm super excited that Stitch Fix has added intimates that you can add to your box. This month I added a bra and panty set to my box and am thrilled to have new undies without the hassle of having to shop for them.
Like always, my stylist, Brittany H., did a fabulous job of picking out spring items for me to try. I requested a dress, purse, and a pair of raw edge jeans. Let's see what she sent this month!
41 Hawthorn Reese Knit Dress
I love this dress! It's a soft fabric that doesn't wrinkle and features one of my favorite colors, pink.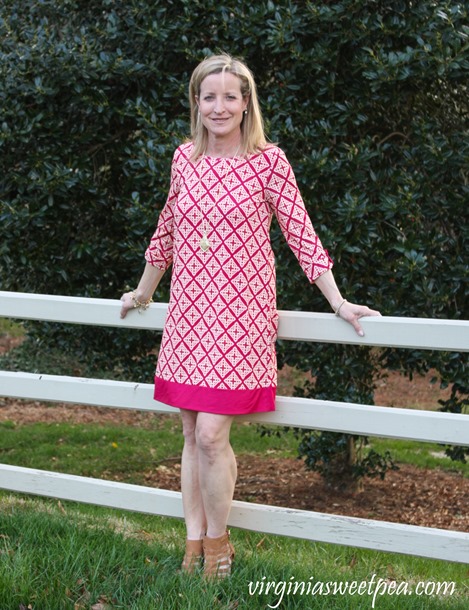 I also love the sleeve detail and this dress's pattern. My niece's name is Reese, so that's another plus for this dress.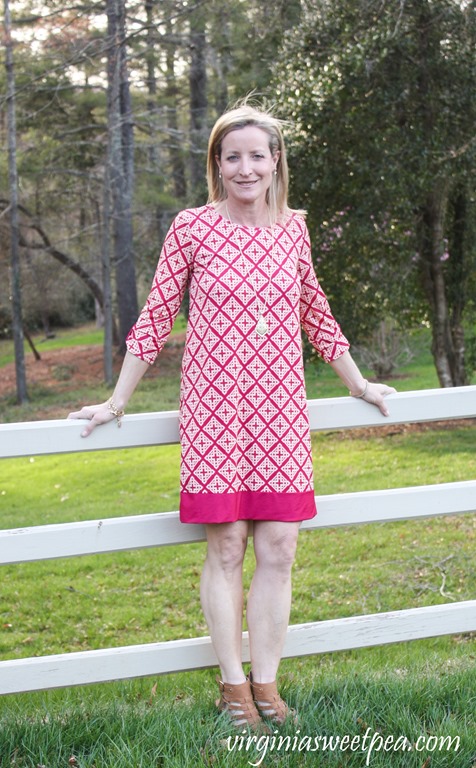 I paired this dress with shoes that I've had for a long time, but are like brand new because I only wear them for Stitch Fix pictures. Ha-Ha! At this stage in my life, I'm not so tolerant of shoes with a heel.
My necklace is Kendra Scott and is from Rocksbox which is a jewelry subscription service. They send three pieces of jewelry that you can wear for as long as you like. When you send your three pieces back, or buy what you like, a new box is sent. If you'd like a free month of Rocksbox, sign up with this code: PAULABFF54. I've rejoined Rocksbox in January and am LOVING their service. I've received the cutest jewelry and have purchased quite a few.
My husband really liked this dress and encouraged me to keep it. I know that I'll enjoy wearing it all spring.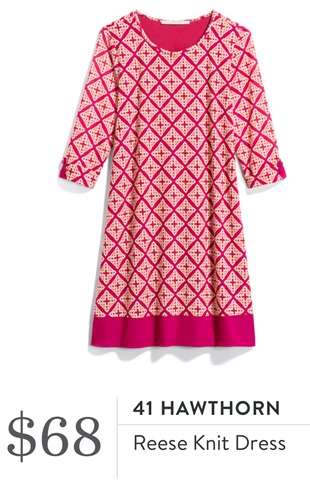 Status – Keep
Papermoon – Shiba Swing Knit Top
This top is perfect for spring and summer. It's lightweight, won't wrinkle, and has a pretty pattern.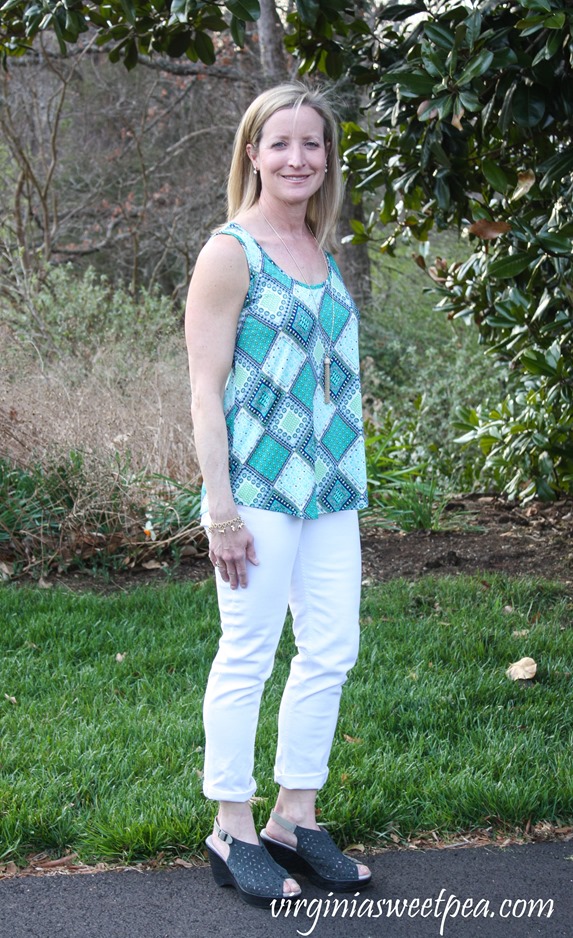 I paired it with white pants but I think it would also look great with pink or navy blue. For work it would look nice with a skirt and blazer if you work in a chilly office. My necklace is another Rocksbox piece that I purchased.
My shoes are a Jambu style that are no longer available. These are a heel that I can tolerate for a long period of time. I used to stand all day on concrete in my classroom in these shoes and never think twice about it!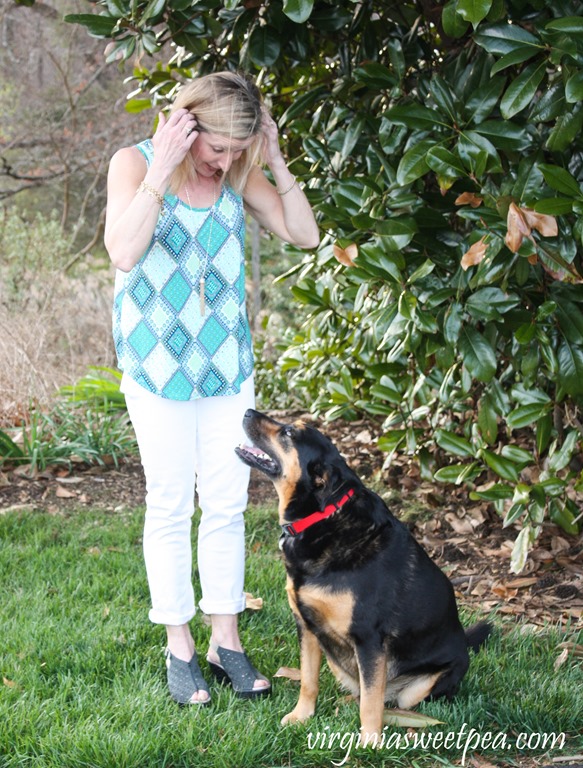 I have to include this picture because I like how Sherman looks in it. He always helps when it's time to take Stitch Fix pictures!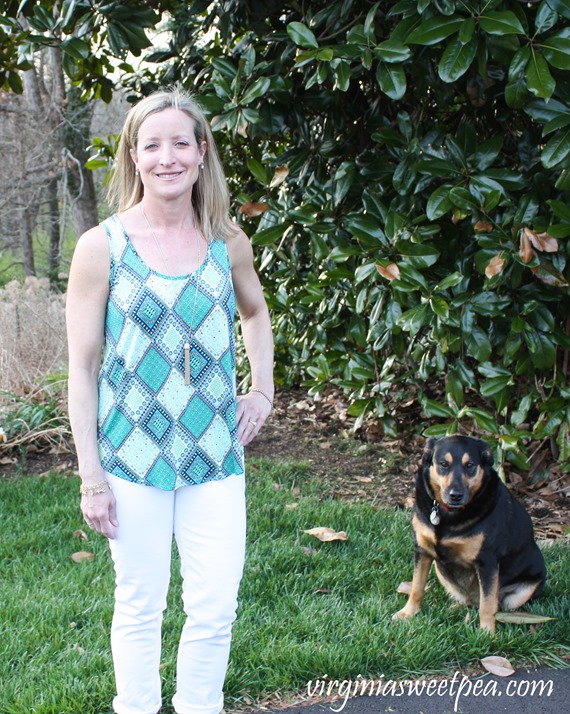 I really liked this top but had to pick and choose what I could keep this month because of my budget.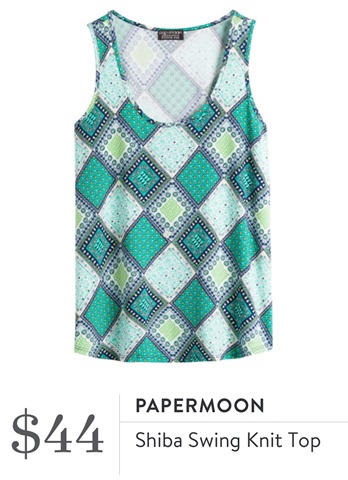 Status – Returned
Linea Pelle- Carmen Whipstitch Crossbody
I pinned this Linea Pelle Carmen Whipstitch Crossbody purse and Brittany was able to snag it for me. I've been carrying the Linea Pelle Avalonne Saddle Crossbody that Brittany sent in my October Fix and I'm more than ready for a change.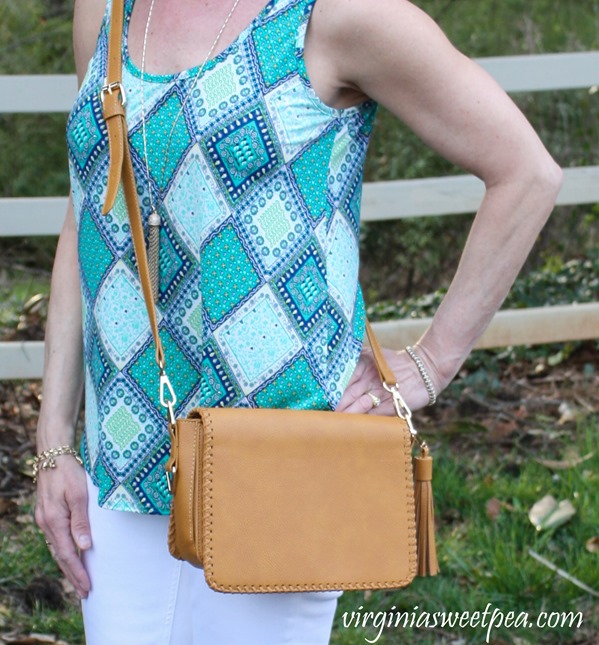 This purse is a perfect size for carrying just what I need and no more.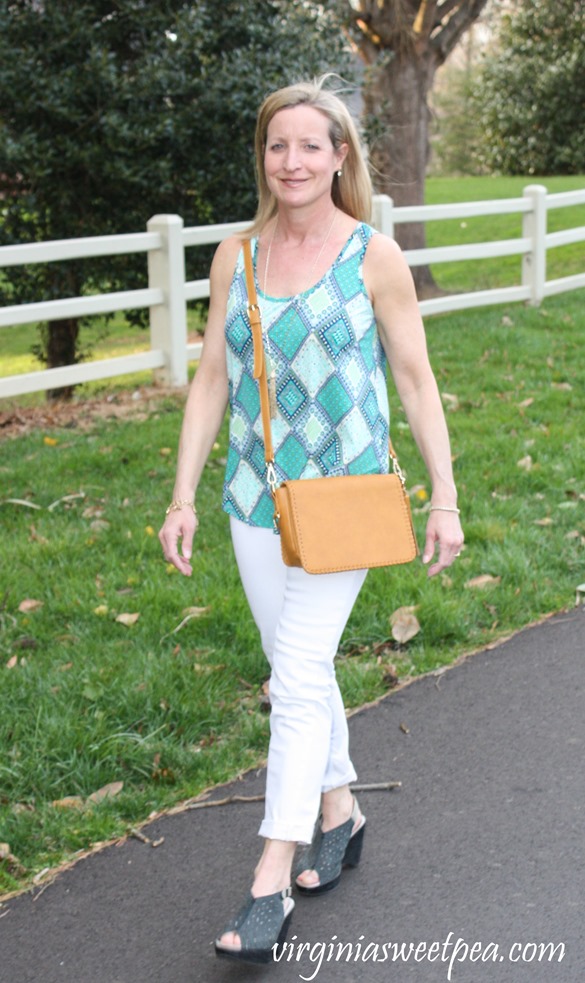 I've grown accustomed to a crossbody bag and really like this one.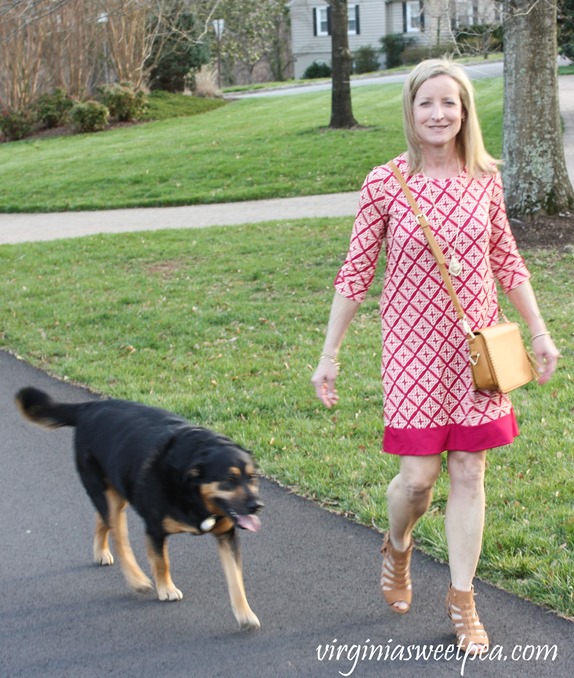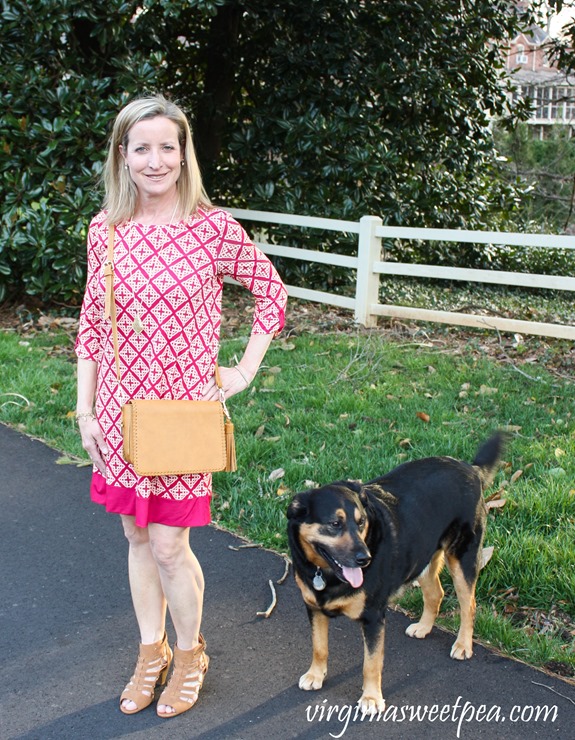 I love this purse and am looking forward to carrying it this spring and summer.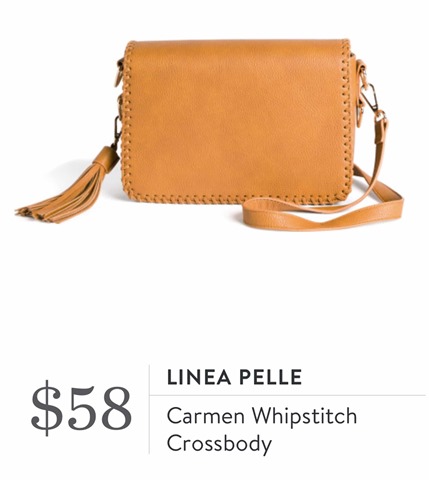 Status – Kept
Pale Sky – Calico Bell Sleeve Poplin Top
This crisp white shirt is a perfect spring piece that can be worn with pants, a skirt, or shorts.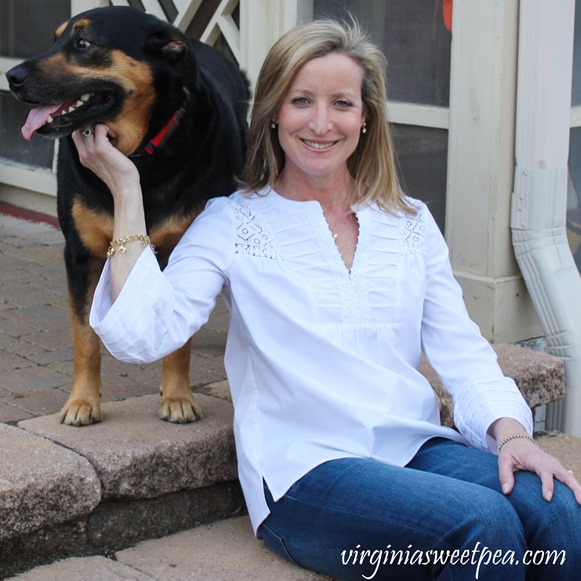 This blouse also has a beautiful back.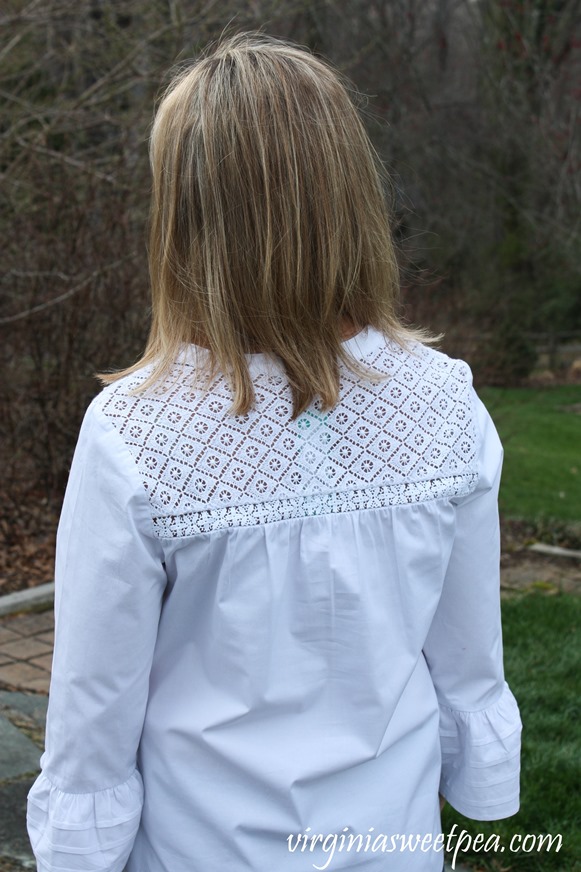 The detail around the neck is intricate and so pretty.
My bumblebee necklace is Kate Spade and is my very favorite piece that I've purchased from Rocksbox.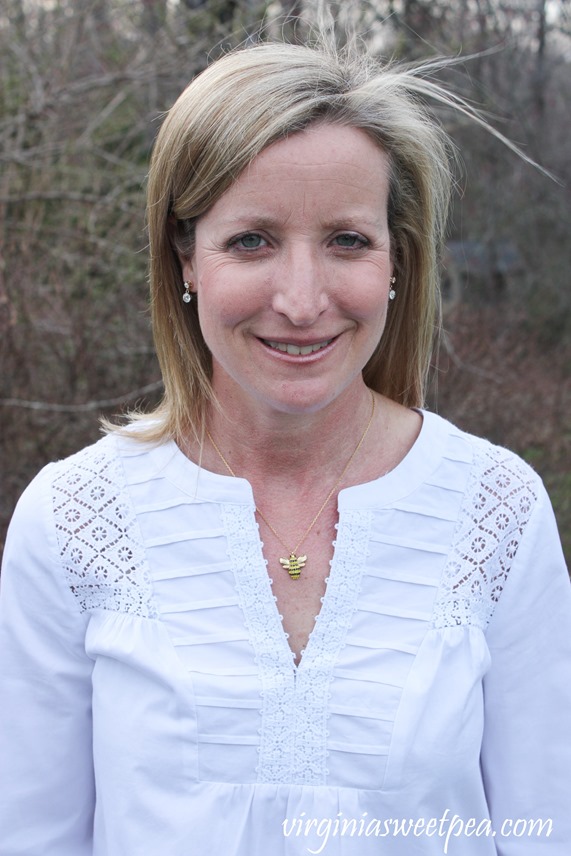 I loved this blouse but know that I would spill food on it the first time that I wore it out for a meal. The poplin fabric, although soft and comfortable, most likely wrinkles when laundered, and I am not interested in a blouse that will require a detailed ironing each time I wash it.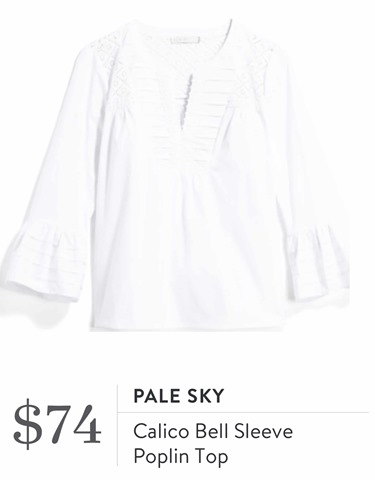 Status – Returned
Lila Ryan Nelia Double Frayed Hem Straight Leg Jean
I requested a pair of jeans with a raw edge hem and Brittany picked out this cute pair of Lila Ryan jeans for me to try. First of all, these jeans are so comfortable! They have a tiny bit of stretch and I honestly didn't want to take them off once I put them on.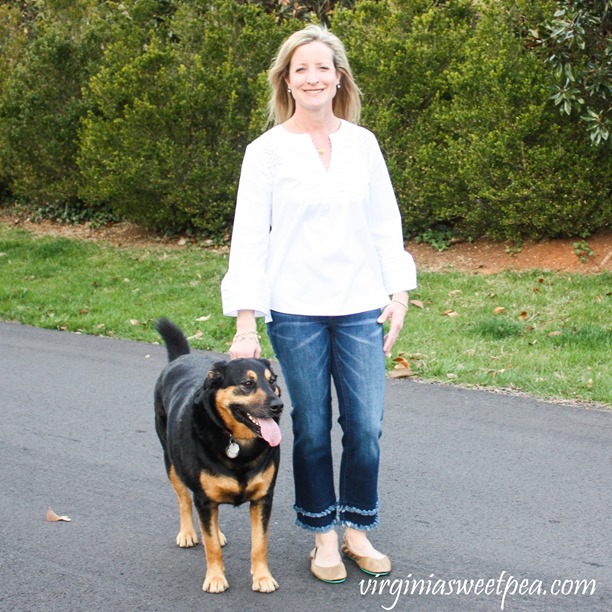 I like fashion, but I don't pay a lot of attention to trends. I'm wondering if a double frayed hem is a trend for this year. I really don't know, but I do know that I like these pants!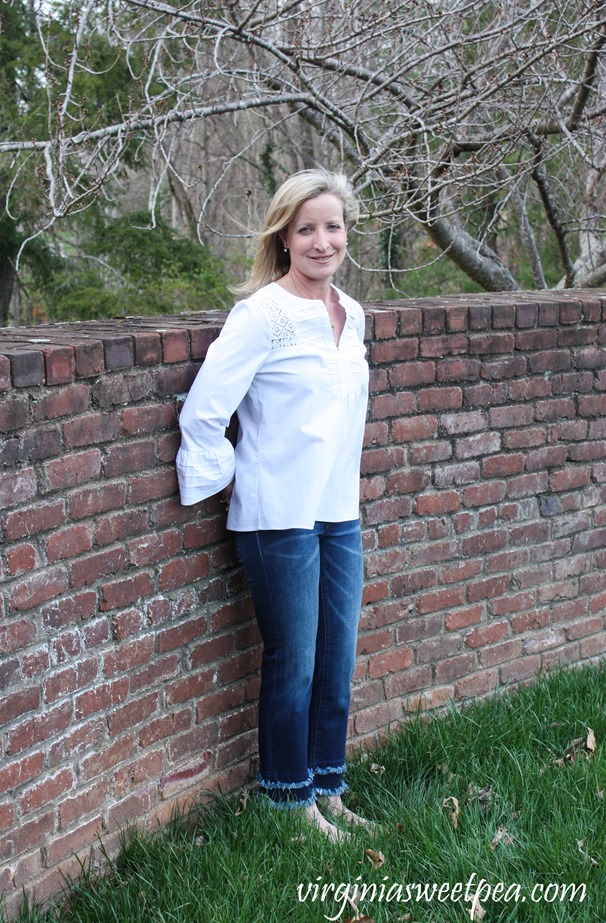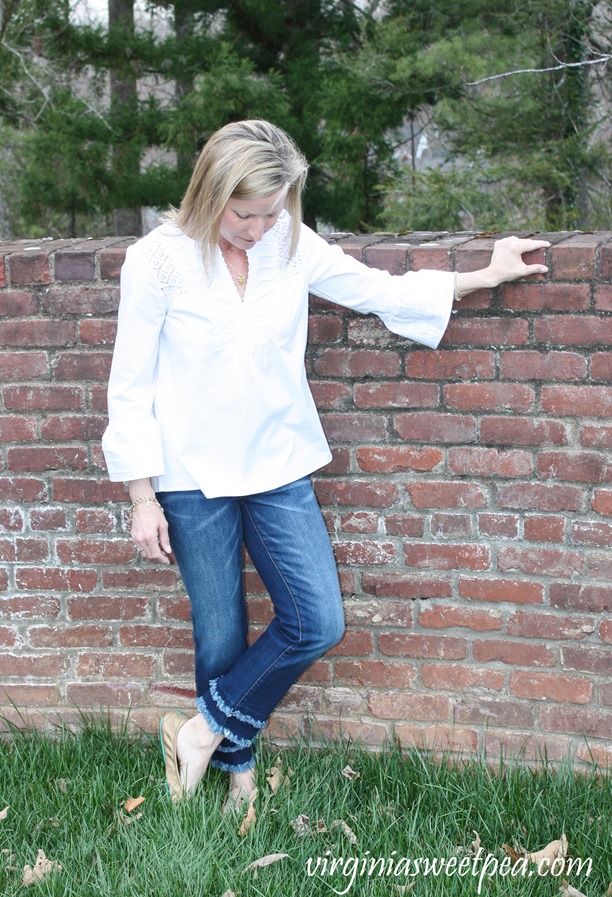 Here you can better see the frayed hem detail.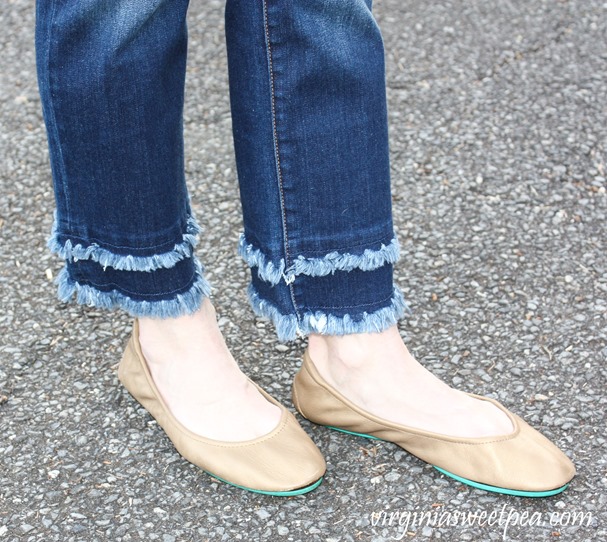 I loved these jeans but balked at their $98 price. If they were a more classic style, I probably would have bitten the bullet and purchased them. I definitely want a pair of Lila Ryan jeans after trying these.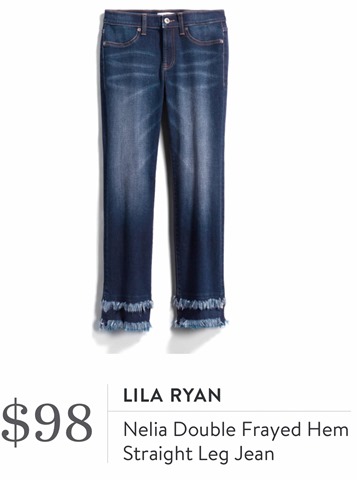 Status – Returned
Extras
Stitch Fix recently launched a new service – Extras! With Extras you still get your 5 clothing, shoes, bags, or jewelry items BUT you get the option to add intimates including bras, undies, camis, shapeware, tights, and socks to your shipment. I requested a bra and panty set this month. I love the bra and also like the panty but the type isn't what I meant to order.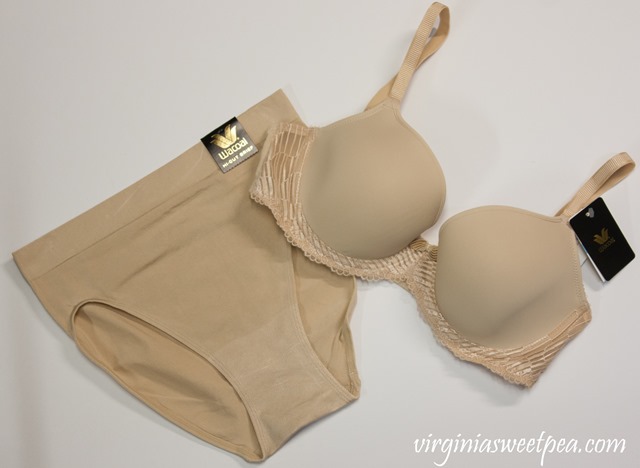 In Summary
Boy did I debate what to keep and what to return this month!
41 Hawthorn Reese Knit Dress – Keep
Papermoon – Shiba Swing Knit Top – Return
Linea Pelle- Carmen Whipstitch Crossbody – Keep
Pale Sky – Calico Bell Sleeve Poplin Top – Return
Lila Ryan Nelia Double Frayed Hem Straight Leg Jean – Return
Wacoal Bra – Keep
Wacoal Panty – Return
Gift Cards
If you need a gift for your favorite girl or guy, consider a Stitch Fix gift card. I love it when I receive one and would prefer it to a gift card from any other store.
I really love getting my Stitch Fix box each month even though truthfully I do not need any clothes. It's so much fun to see what Brittany picks for me and then to try it all on to see what I like and don't like. If you've been thinking about trying Stitch Fix but haven't, I encourage you to sign up and give it a try!