Stitch Fix Review for November 2018 – Fix #63
Can you believe that it is November? This month's Stitch Fix box contained items perfect to wear not only for the rest of fall but also into winter.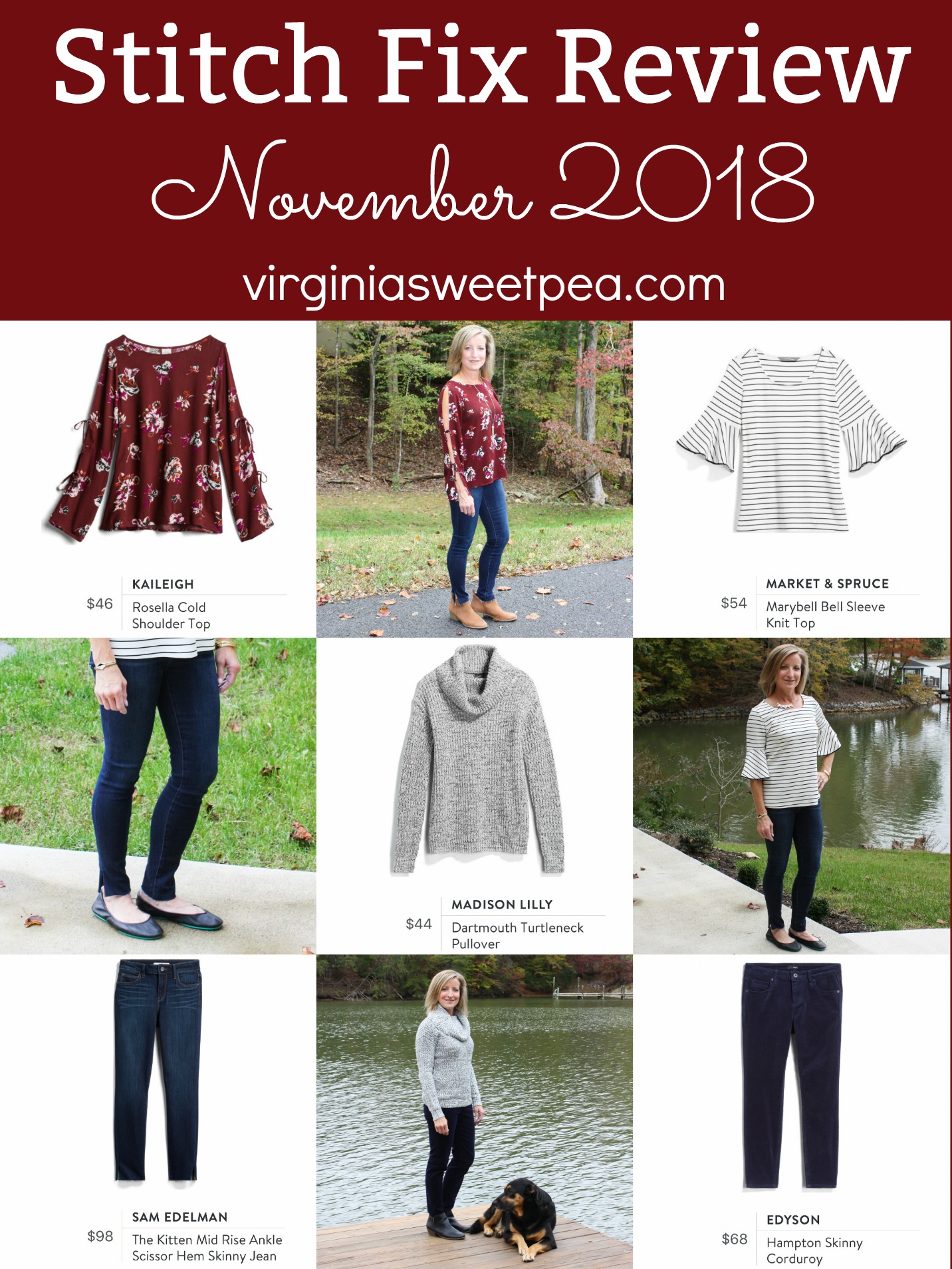 I am a Stitch Fix affiliate and if you make a purchase, I make a small commission. My love for Stitch Fix is genuine and all opinions are truthful and my own.
November 2018 Stitch Fix Review
If you are new to Stitch Fix, these details will help you to understand the service. Feel free to email me with any questions you might have about Stitch Fix. I can also send you a link to use that will give you $25 off your first box.
Stitch Fix Details
Stitch Fix is a personal styling service. When you sign up for Stitch Fix, you fill out a detailed style profile that helps your stylist know your likes and dislikes. Since I've received 63 Stitch Fix shipments, my stylist knows my likes and dislikes very well and I almost always like every item in my Fix, a good problem to have!
When a Fix arrives, you have three days to try the clothes on and to decide what to keep and what to send back. Stitch Fix includes a postage paid envelope making returns super easy.
When you sign up for Stitch Fix, you can choose how often a box is delivered. You can pick a monthly options or schedule a box when you'd like to receive one.
I do not like shopping and love receiving clothing from Stitch Fix. I get clothes that I like without having to do any work other than pinning things that I like to my fashion board on Pinterest. My stylist, Brittany H., checks my Pinterest board for inspiration and also reads my note to her each month to see if I have any special requests.
You can find links to all of my Fixes here and also be sure to check out my Stitch Fix Review Board on Pinterest where I pin my favorite looks.
For more Stitch Fix looks, be sure to check out my other Stitch Fix reviews. And if you haven't tried Stitch Fix, what are you waiting for? It's so much fun to received a box of five items picked just you.
This Month's Stitch Fix Items
My stylist, Brittany H., is so good at picking out fashions for me. This month I asked for jeans, cords, fall tops, and a winter sweater. She found some great things for me to try!
Kaleigh Rosella Cold Shoulder Top
When I got the email letting me know that my Stitch Fix box was on its way, I looked on the Stitch Fix app on my phone to see what was coming my way. When I saw this top, I had a feeling that I would really like it and I was correct.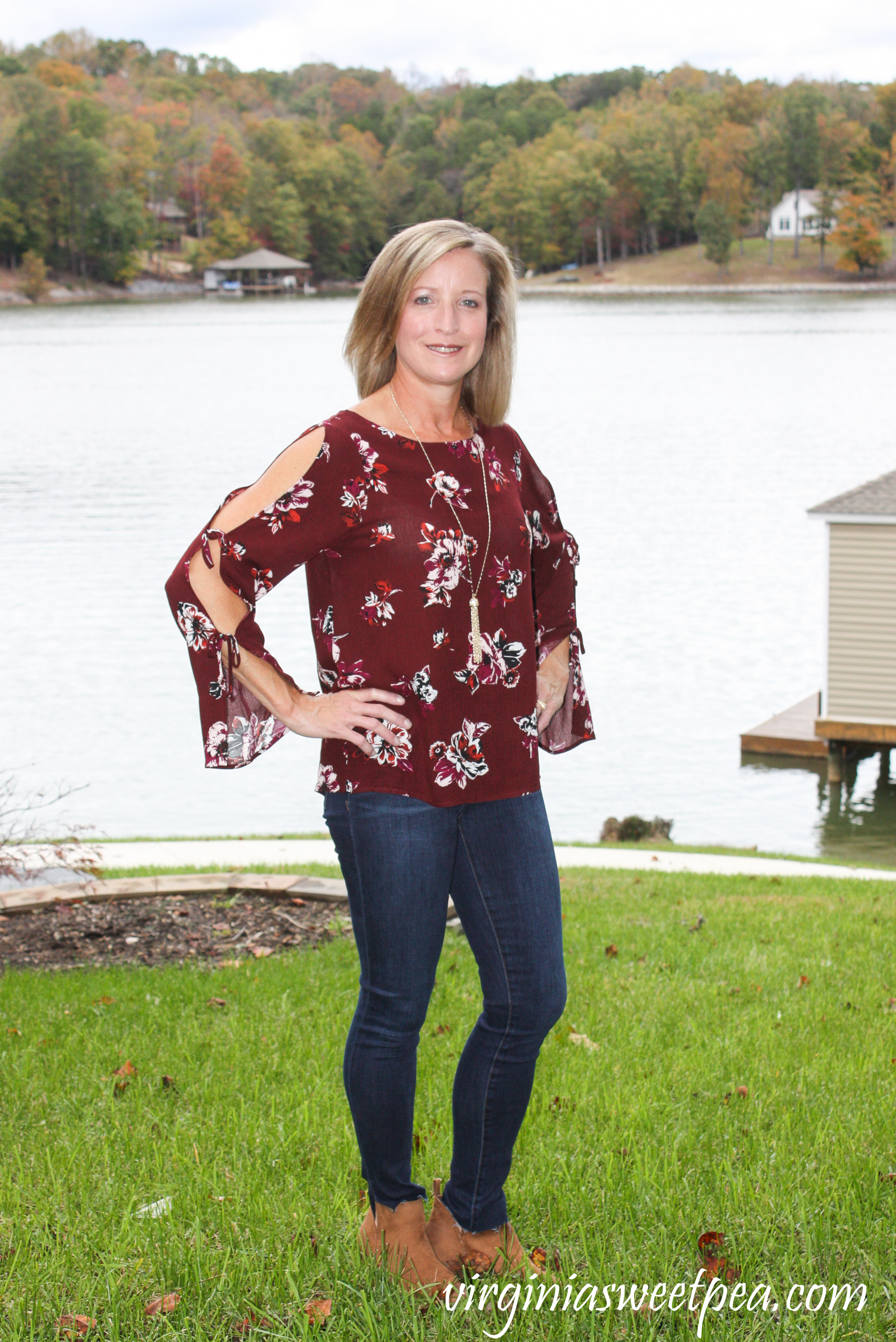 I love the color of this top, it's floral pattern and the tie detail of the sleeve. I paired the top with Sam Edelman jeans also included in this Fix. This top would also look great paired with a black skirt or pants.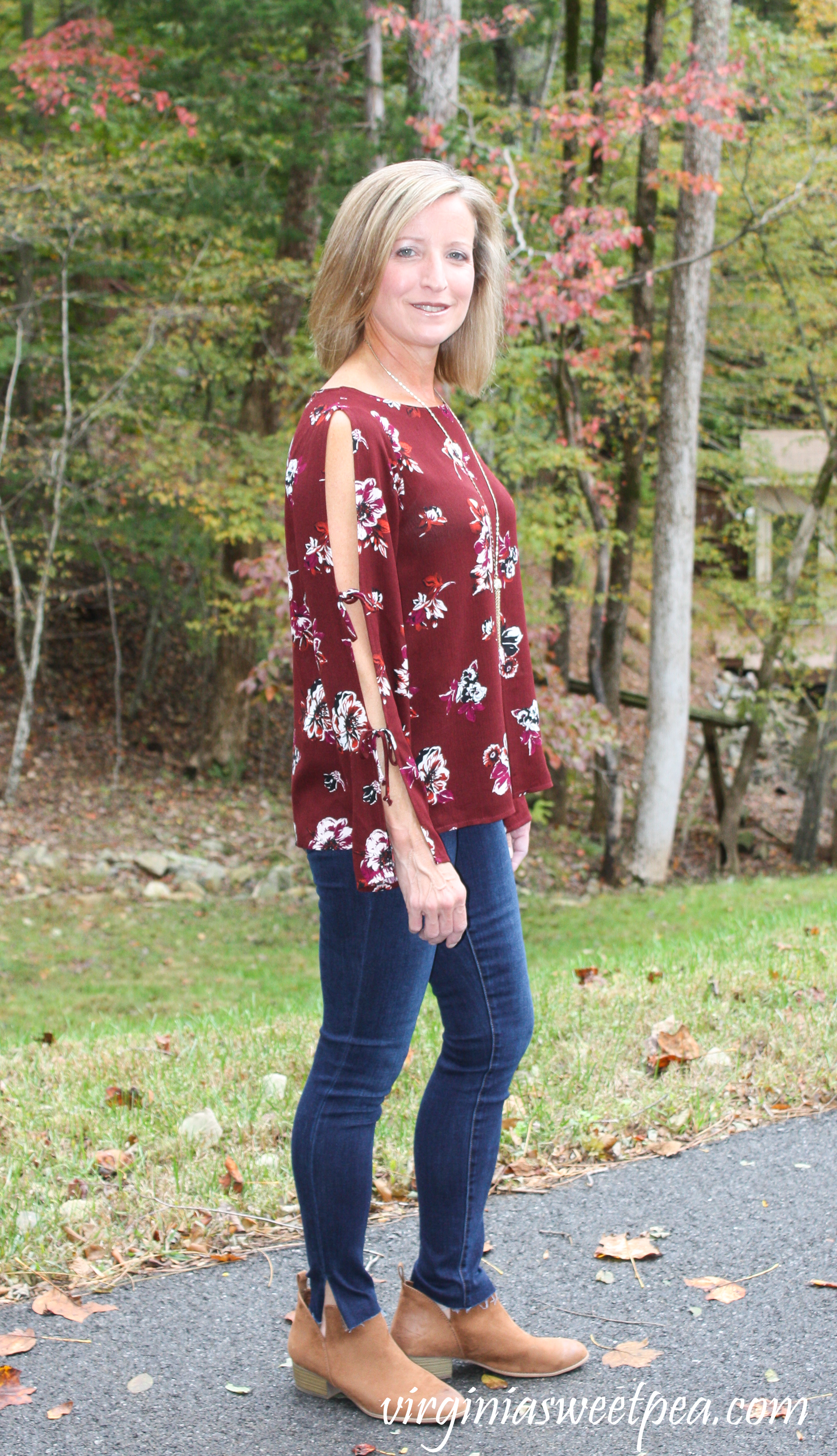 This top not only is a great style, it's also reasonably priced.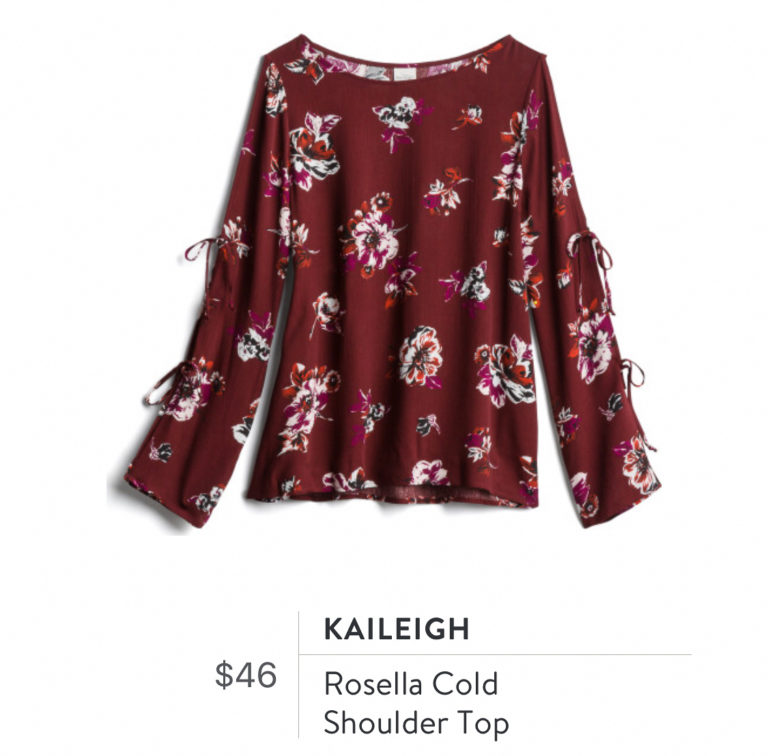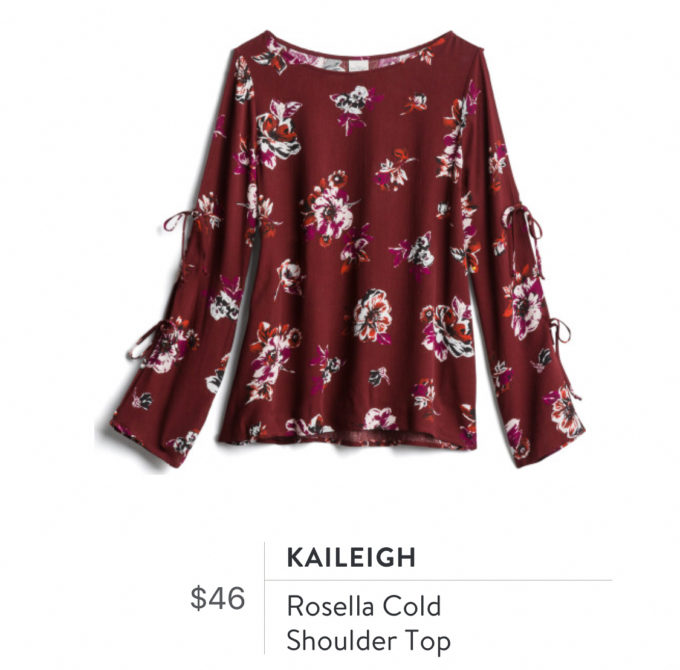 Verdict: Keep
Sam Edelman The Kitten Mid Rise Ankle Scissor Hem Skinny Jean
I've been asking for raw hem jeans for a few months and Brittany finally snagged a pair for me to try in my size. These jeans feature a raw cut ankle hem with a side slit, a trend that Brittany says has been growing this season.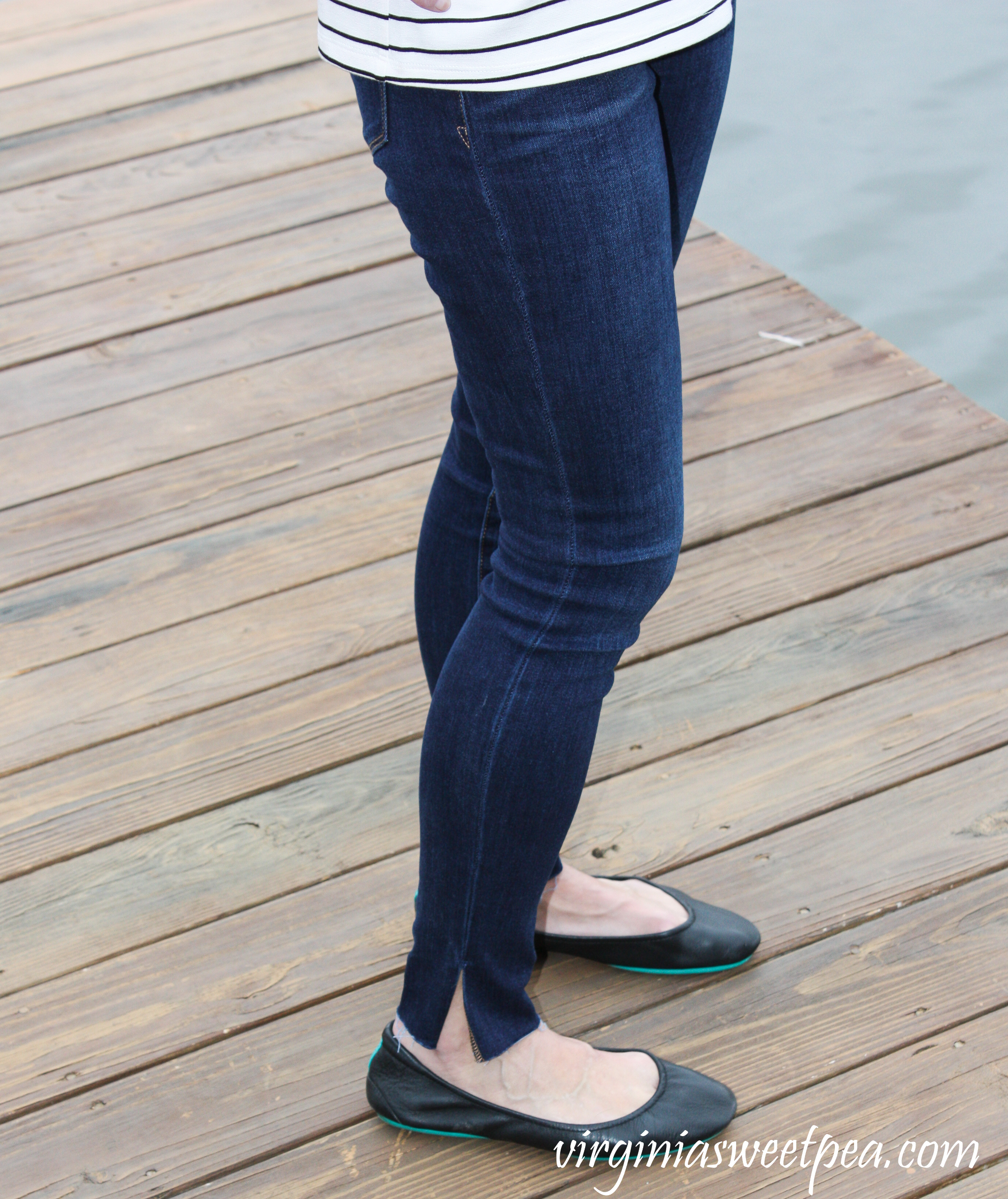 These jeans are a bit pricey but were so comfortable that I couldn't resist keeping them.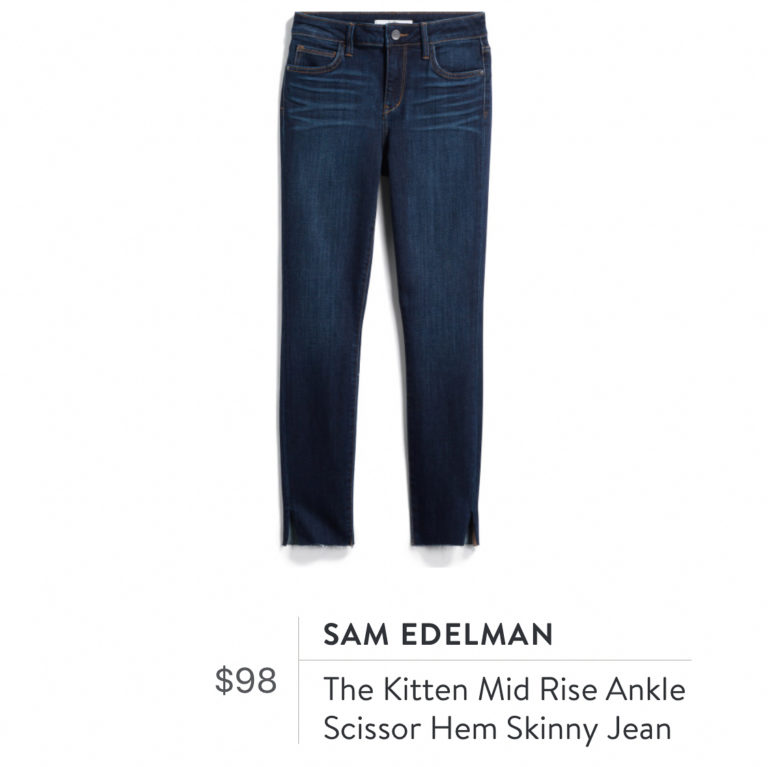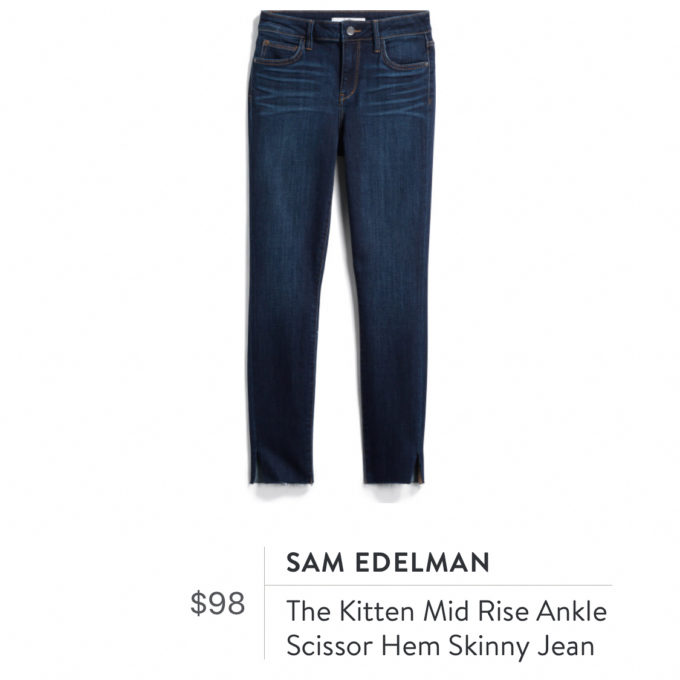 Verdict: Keep
Market and Spruce Marybell Bell Sleeve Knit Top
This top is is soft and stretchy and it has cute bell sleeves. It's perfect to wear on a warm fall day and I'll be able to wear it again next spring when the weather warms.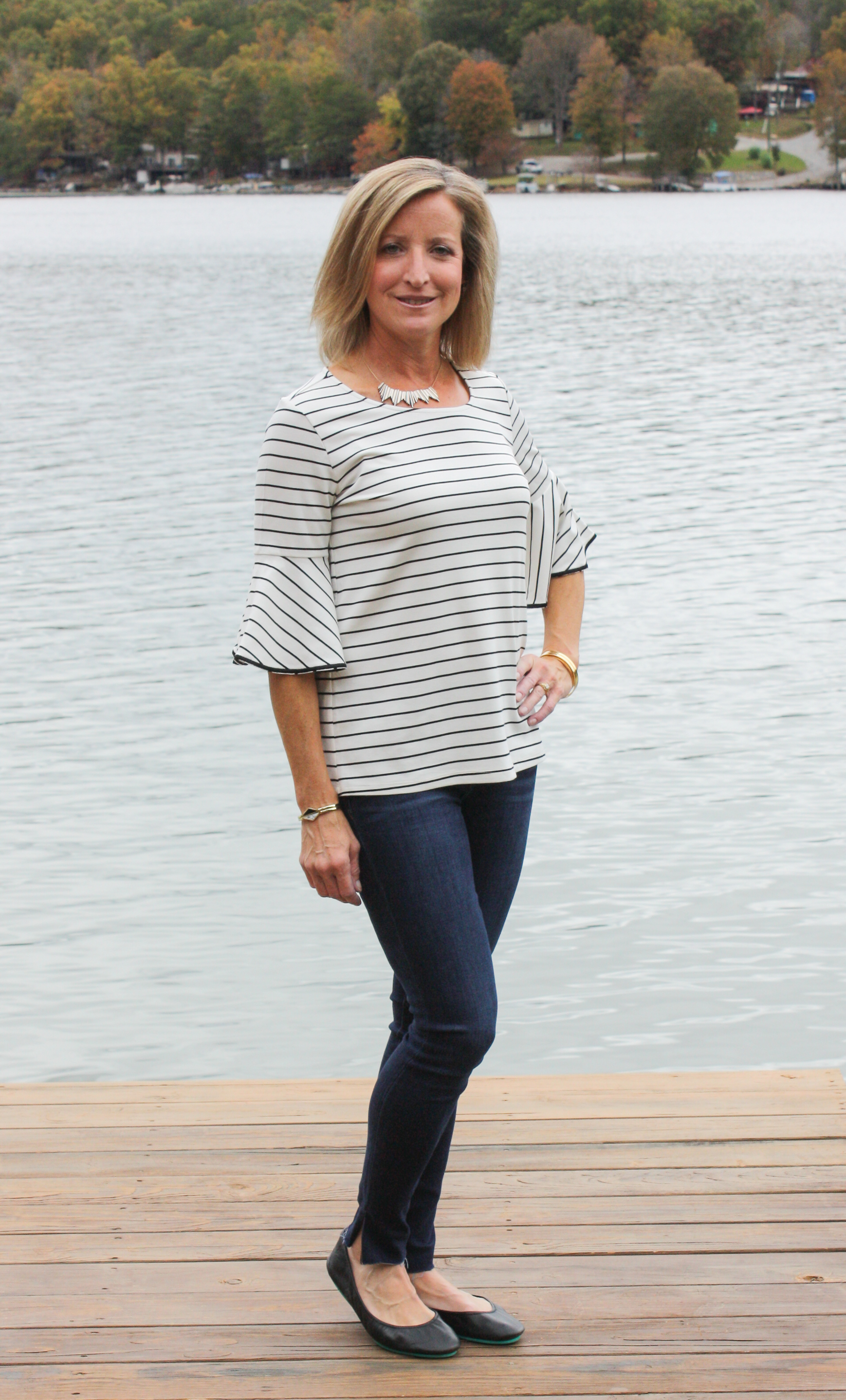 This top can be worn with jeans or shorts but also can easily be dressed up with a skirt and heels.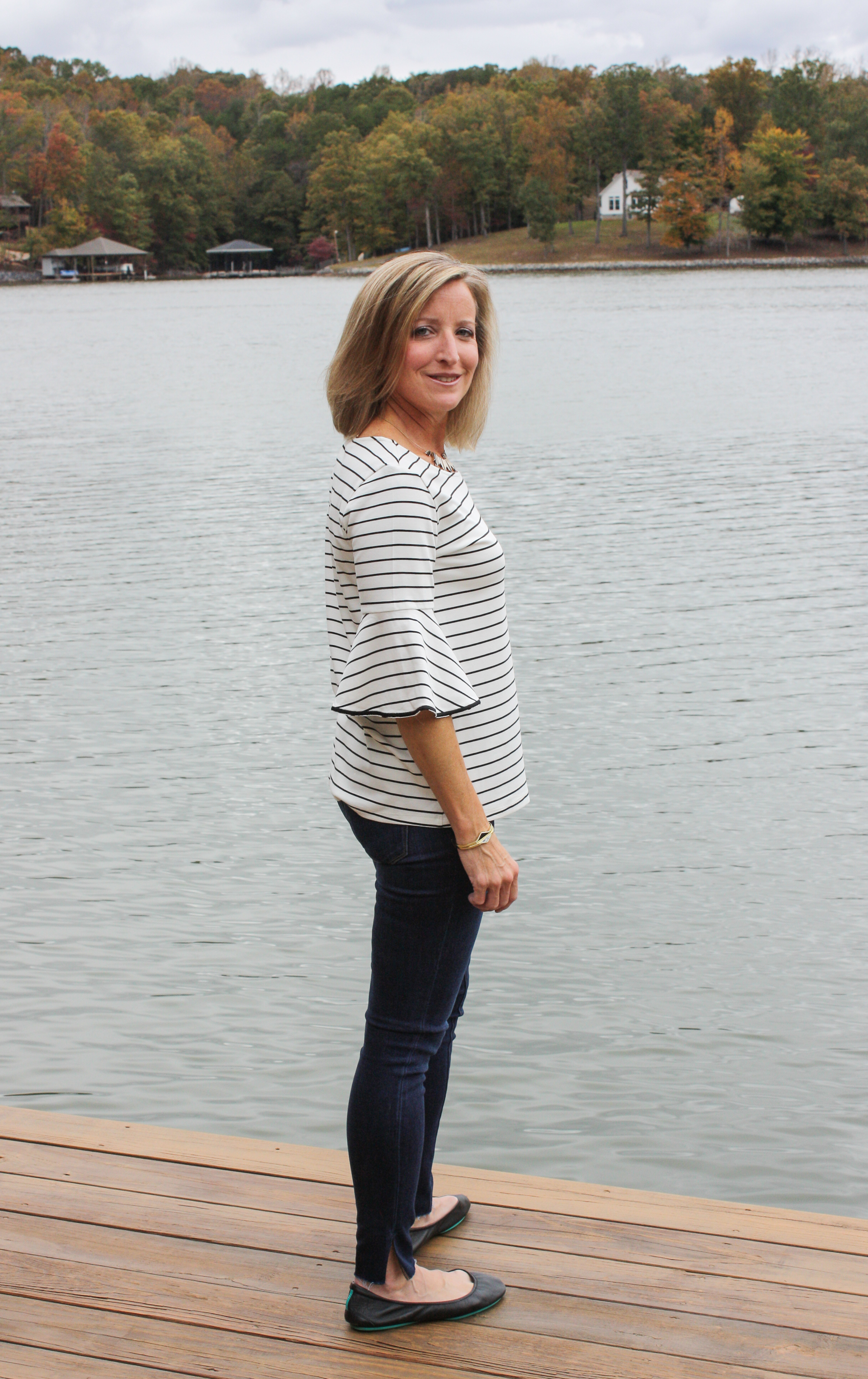 My necklace is from my latest Rocksbox shipment. Rocksbox is a jewelry subscription service that sends three pieces of jewelry that you can wear for as long as you like each month. When you send your three pieces back, or buy what you like, a new box is sent. If you'd like a free month of Rocksbox, sign up with this code: PAULABFF54. I rejoined Rocksbox in January and am LOVING their service. I've received the cutest jewelry and have purchased quite a few items.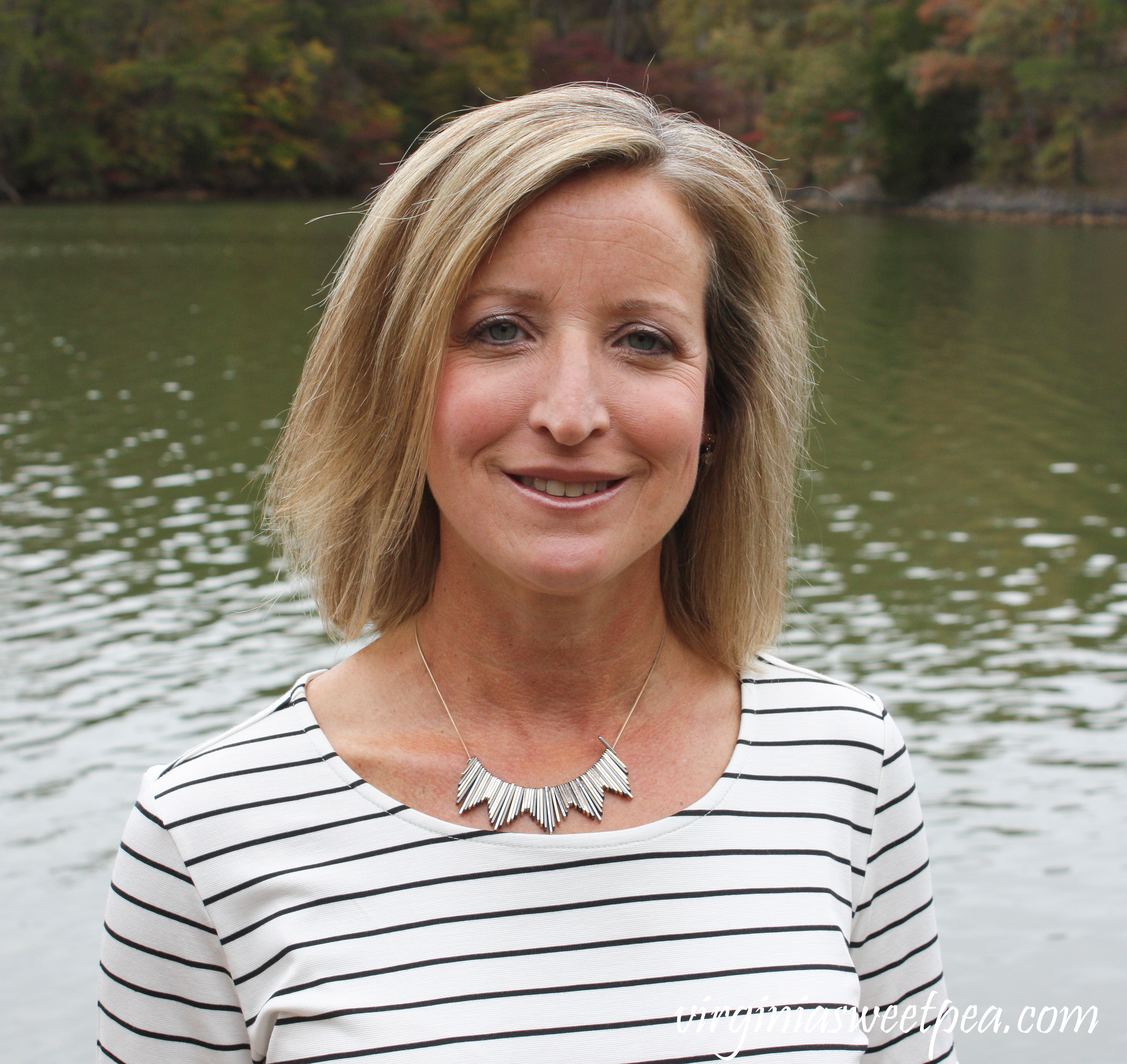 My bracelets are also from Rocksbox as is the necklace that I'm wearing with the Kaileigh Rosella Colder Shoulder Top.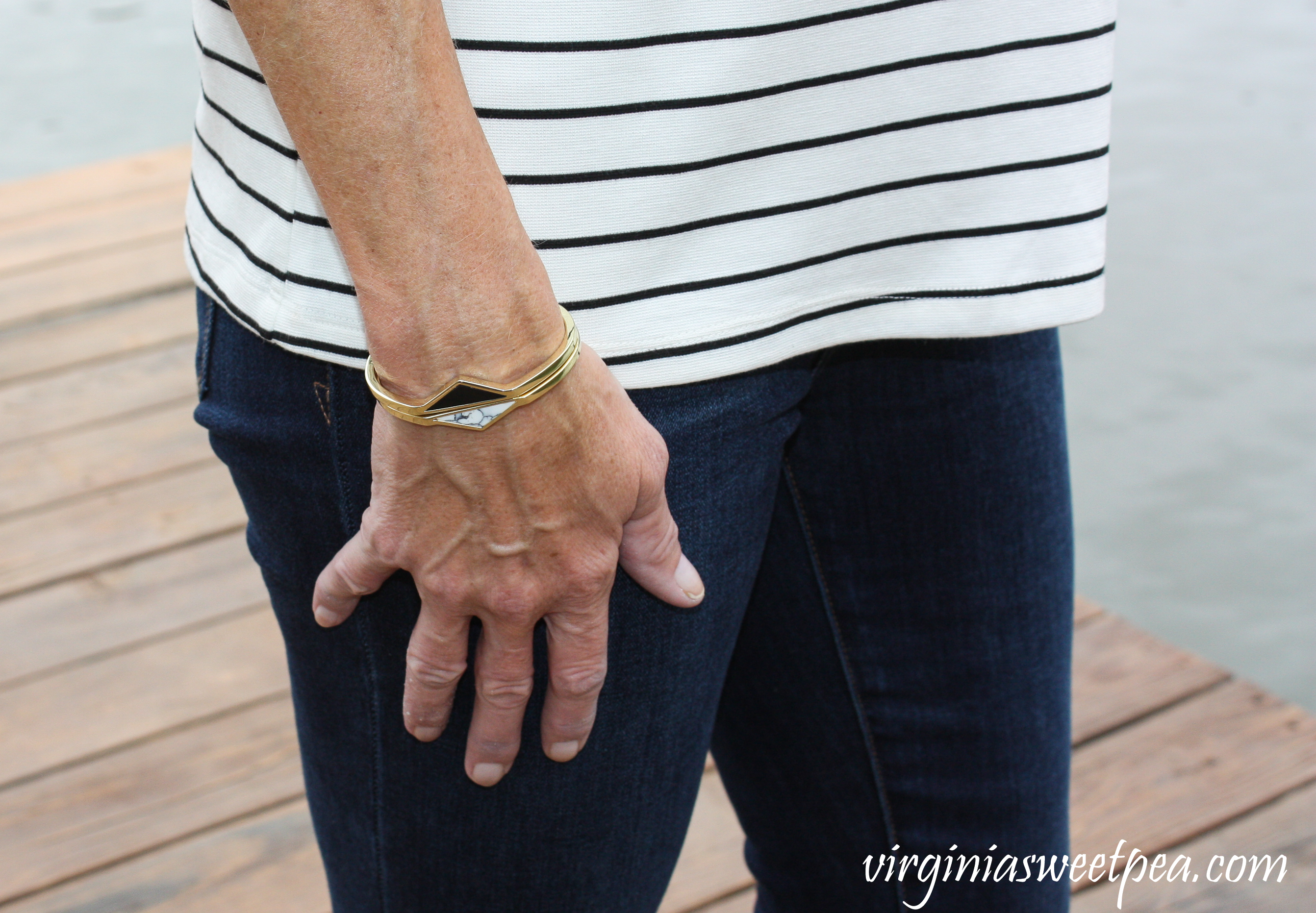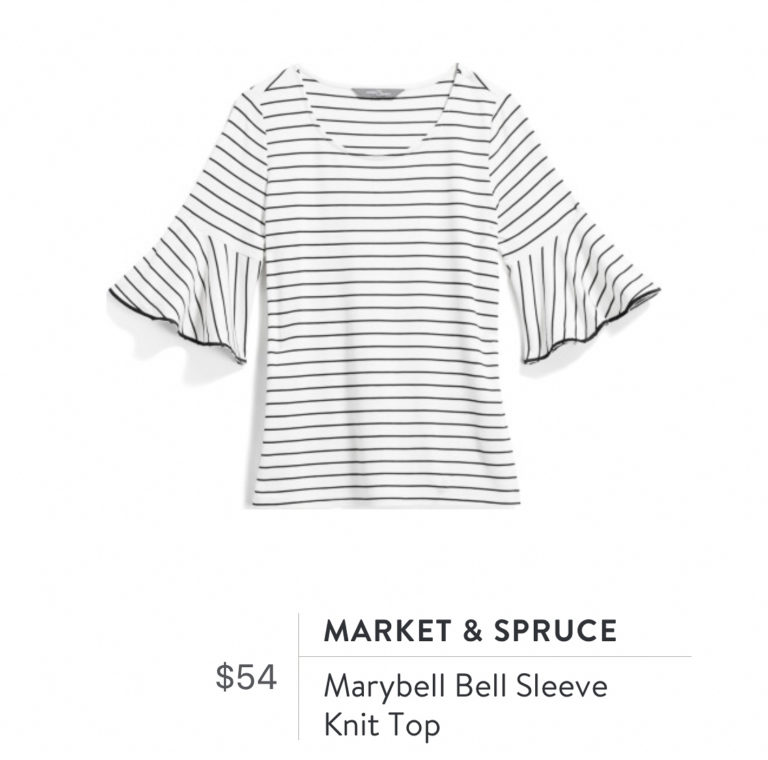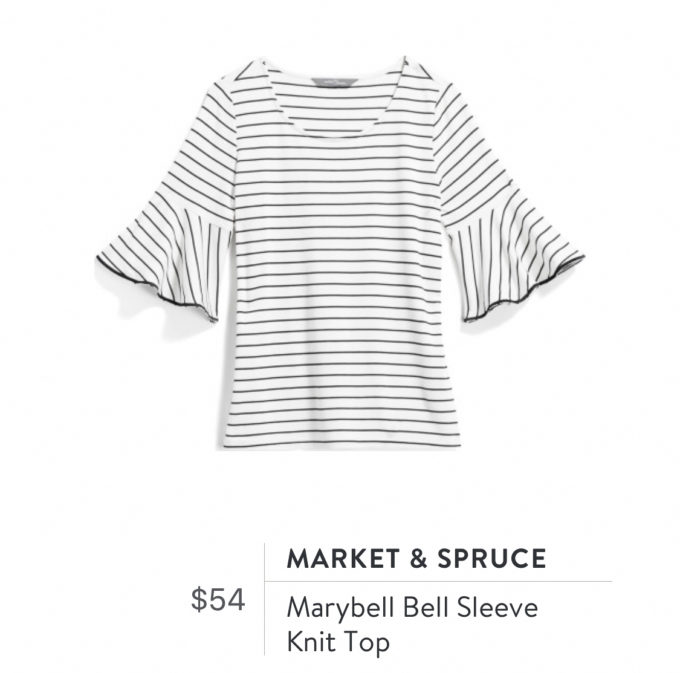 Madison Lilly Dartmouth Turtleneck Pullover
I love wearing cozy sweaters and this one will be perfect for a cold day.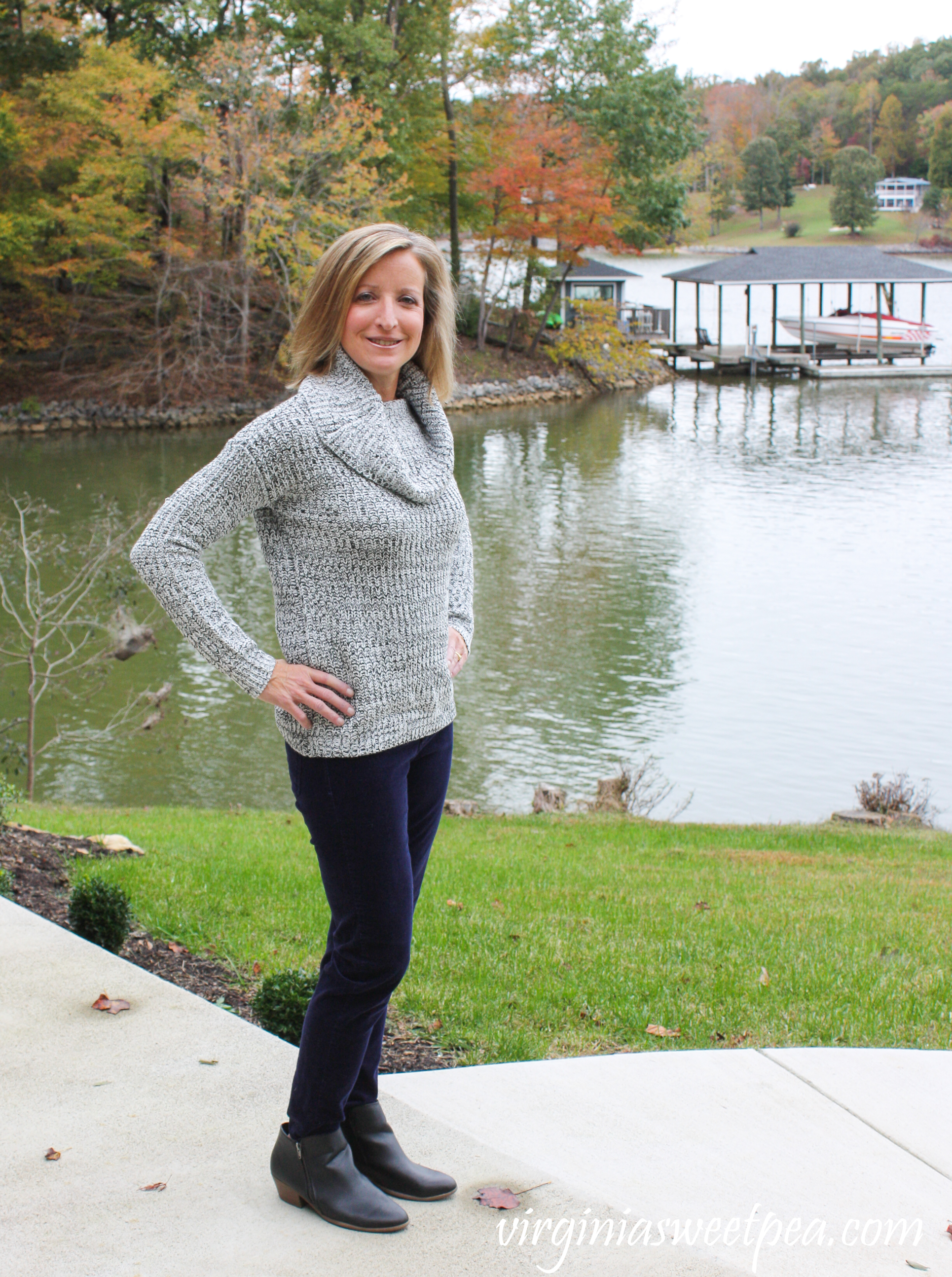 I paired it with cords but will also enjoy wearing it with jeans or a skirt this fall and winter.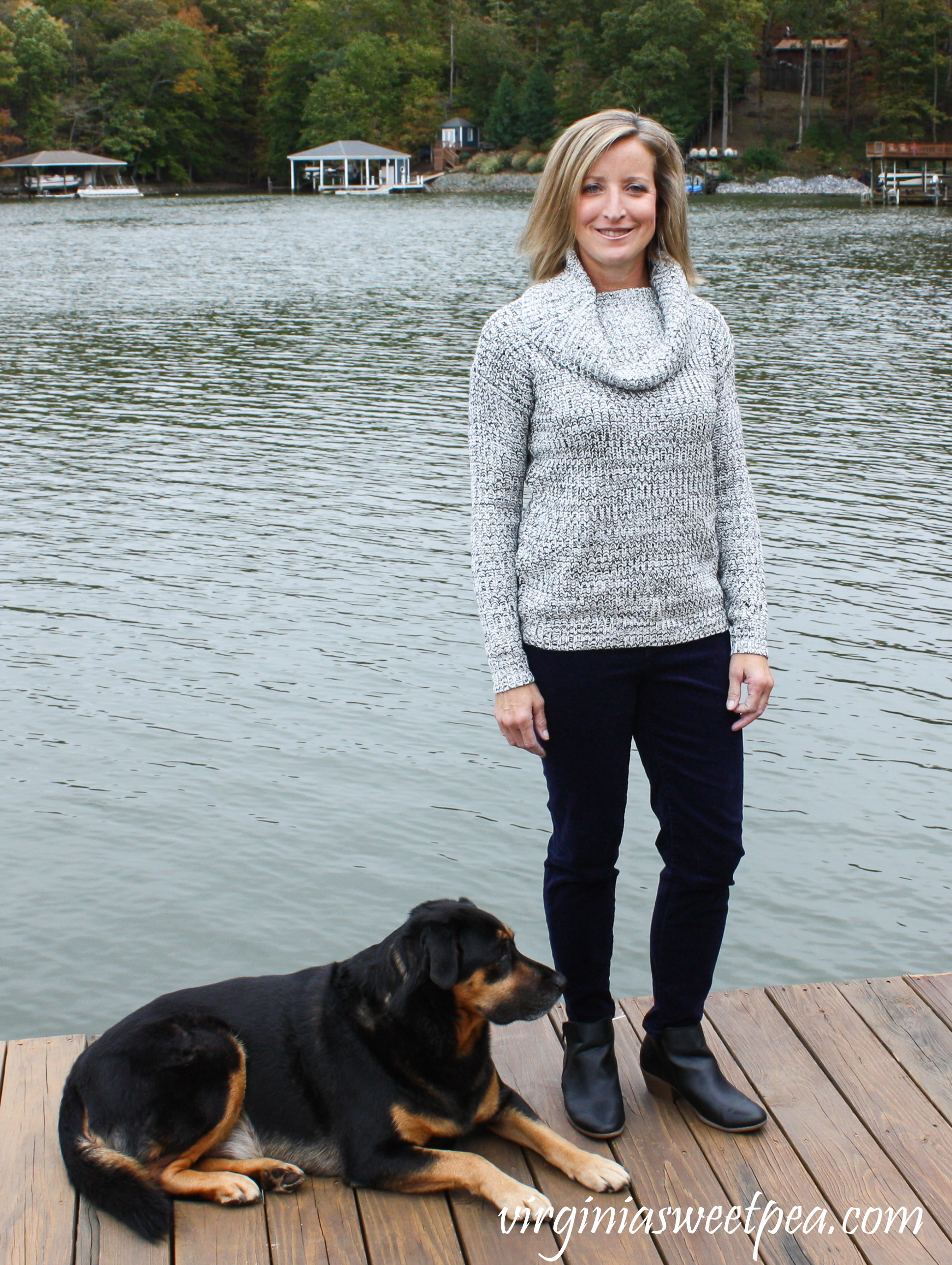 This sweater is both comfortable and reasonably price.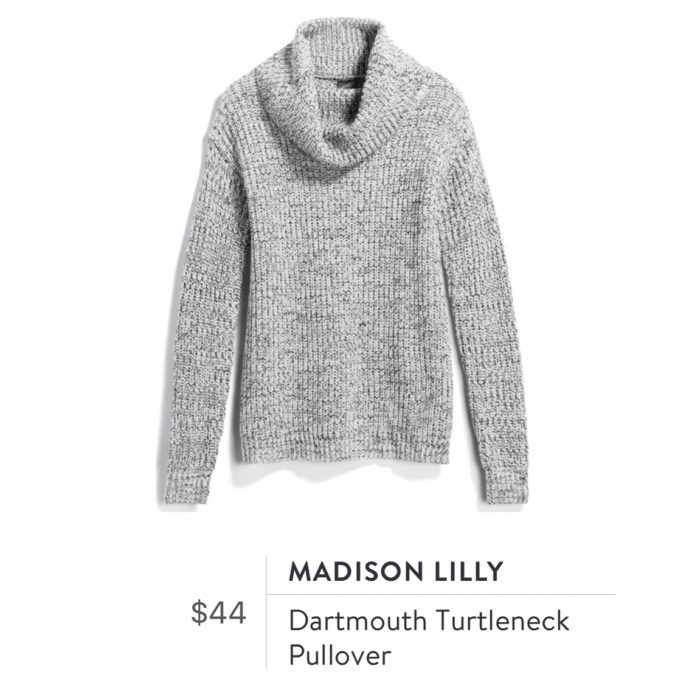 Verdict: Keep
Edyson Hampton Skinny Corduroy
I pinned these cords and specifically asked Brittany send a pair to me. They are super soft, comfortable, and also have a bit of stretch. I asked for a color that would be versatile with things already in my wardrobe and Brittany selected navy for me.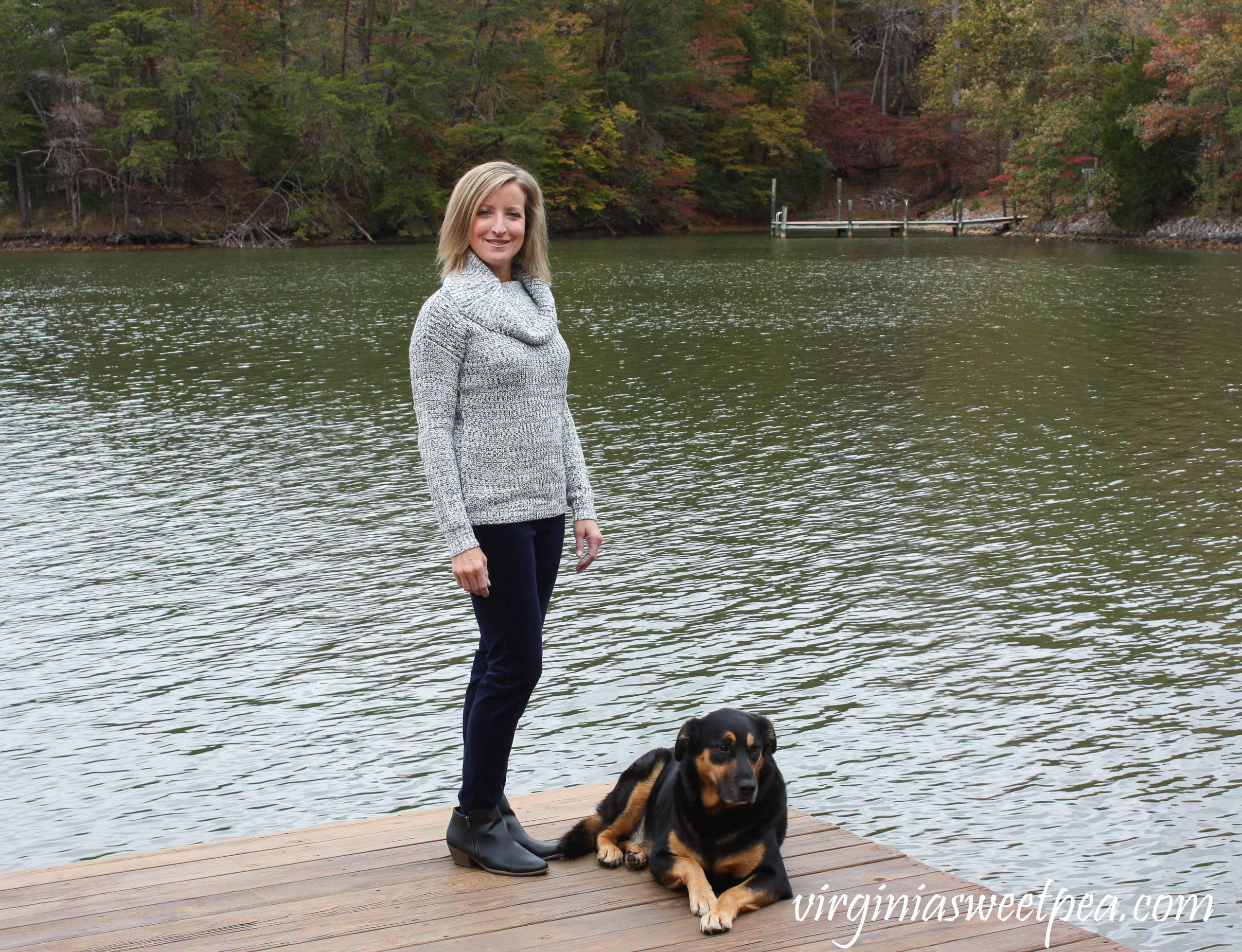 These cords are so soft and are almost as comfortable as a pair of pajama pants.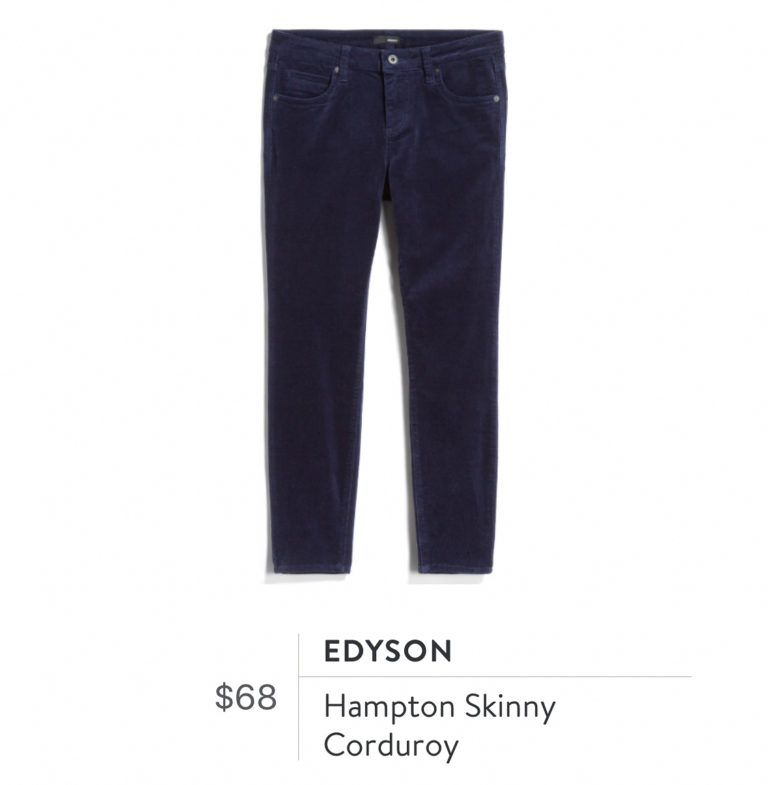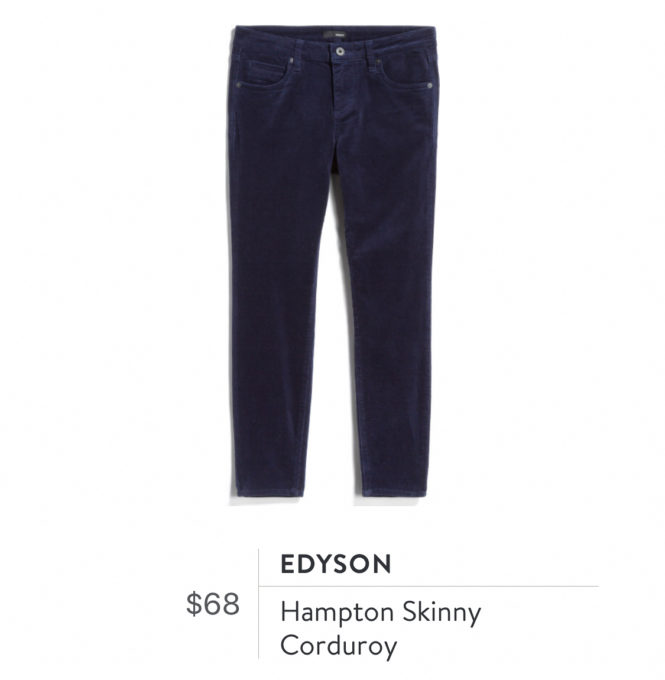 Verdict: Keep
Buy 5 – Save 25% Discount
I took advantage of the Buy 5 – Save 25% discount this month. Using it saved $77.50.
TRY STITCH FIX
If you've been thinking about trying Stitch Fix but haven't, I encourage you to give it a try. Don't forget that Stitch Fix also offers services for both men and children.
I love receiving my box each month and have so much fun trying on all of the styles sent to me. Stitch Fix also offers gift cards, so if you need to give a special lady or gentleman a gift, consider a gift card for a Stitch Fix purchase.