Stitch Fix Review for October 2019 – Fix #74
Hello to October and hello to all things fall: cooler temperatures, beautiful and colorful fall foliage, shorter days, decorating with pumpkins and gourds, and a dose of all things pumpkin spice. My October Stitch Fix box was filled with things perfect to wear while enjoying all things fall.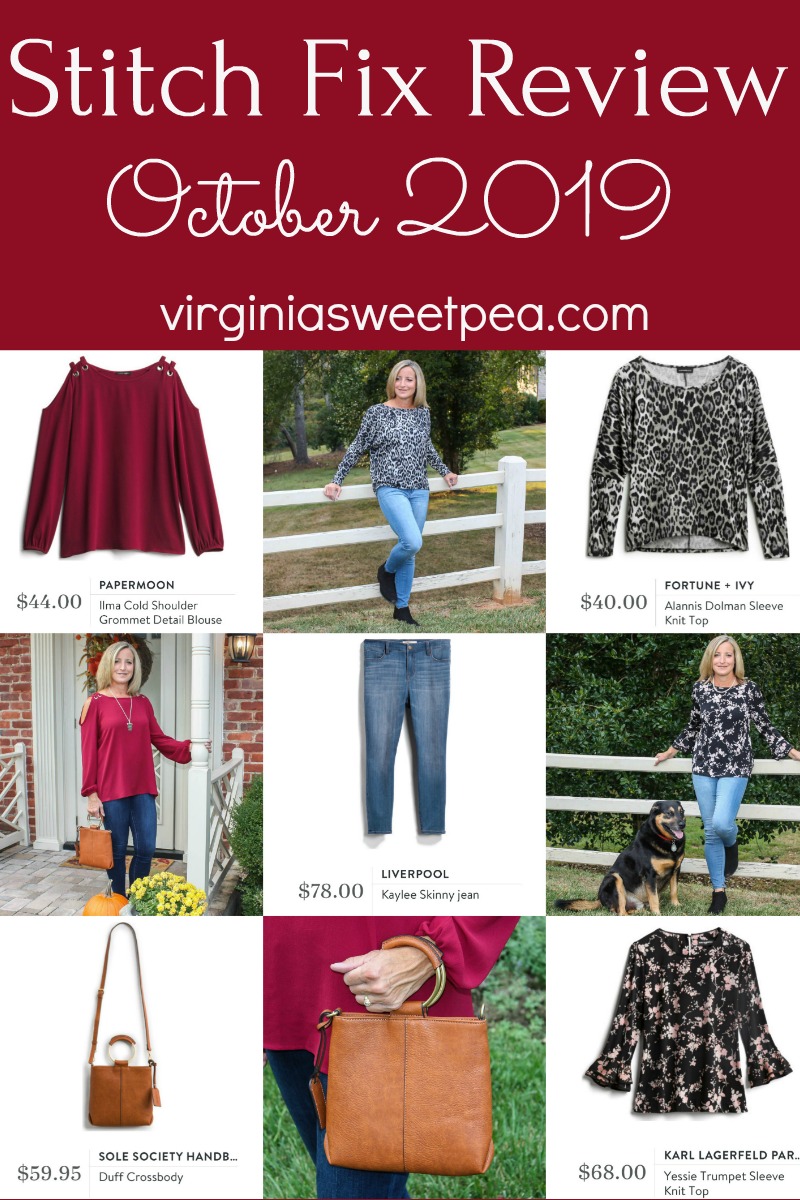 I am a Stitch Fix affiliate and if you make a purchase, I make a small commission. My love for Stitch Fix is genuine and all opinions are truthful and my own.
October 2019 Stitch Fix Review
If you are new to Stitch Fix, these details will help you to understand the service. If you want to try Stitch Fix, sign up here to get $25 off your first box.
Stitch Fix Details
Stitch Fix is a personal styling service. When you sign up for Stitch Fix, you fill out a detailed style profile that helps your stylist know your likes and dislikes. Since I've received 74

Stitch Fix

shipments, my stylist knows my likes and dislikes very well and I almost always like every item in my Fix, a good problem to have!
When a Fix arrives, you have three days to try the clothes on and to decide what to keep and what to send back. Stitch Fix includes a postage paid envelope making returns super easy.
When you sign up for

Stitch Fix

, you can choose how often a box is delivered. You can pick a monthly options or schedule a box when you'd like to receive one.I do not like shopping and love receiving clothing from Stitch Fix. I get clothes that I like without having to do any work other than pinning things that I like to my fashion board on Pinterest. My stylist, Brittany H., checks my Pinterest board for inspiration and also reads my note to her each month to see if I have any special requests.
You can find links to all of my Fixes here and also be sure to check out my Stitch Fix Review Board on Pinterest where I pin my favorite looks.
This Month's Stitch Fix Items
Last month I kept all five items and spoiler alert, this month I did as well. Thanks to these two great Stitch Fix boxes, I'm all set for fall. When I requested my October box, I let Brittany know that we are headed to Vermont this month for vacation, so she sent items that are perfect for my upcoming trip and also perfect for wearing all of fall and into winter.
Papermoon Ilma Cold Shoulder Grommet Detail Blouse
When I got notification that my Stitch Fix box was on the way, I peeped at my Stitch Fix app to see what I was receiving this month. For some reason my eye skipped over the word blouse and I thought that this top was a sweatshirt and I wasn't terribly excited about receiving it. When I pulled it out of the box and realized it was a blouse, my opinion changed. I slipped this Papermoon Ilma Cold Shoulder Grommet Detail Blouse on and immediately loved it.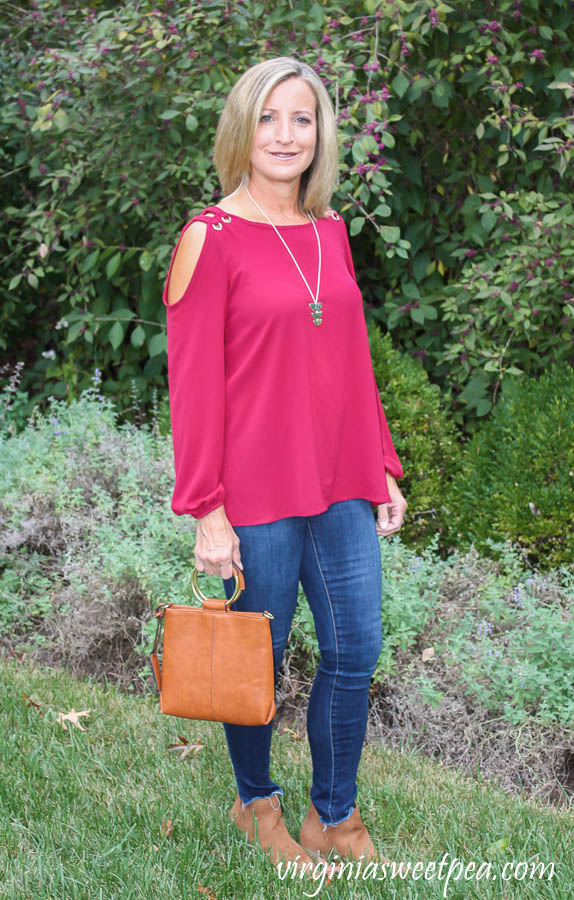 I paired this blouse with Sam Edelman jeans from my November 2018 Fix, a Sole Society handbag from this Fix, and jewelry from Rocksbox. Rocksbox is a jewelry subscription service that sends three pieces of jewelry that you can wear for as long as you like each month. When you send your three pieces back, or buy what you like, a new box is sent. If you'd like a free month of Rocksbox, sign up with this code: PAULABFF54.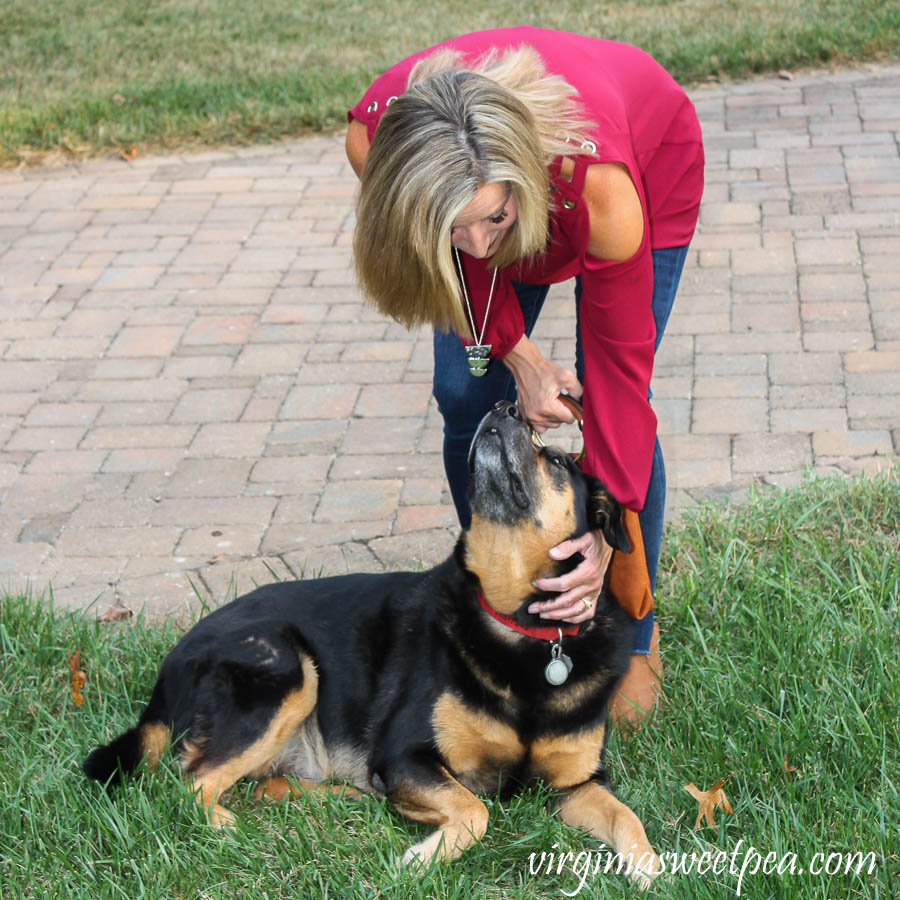 Red is my favorite color and this burgundy red is perfect for fall. I can wear this with jeans or dress it up by pairing it with a skirt. I'm already planning to wear it with the Edyson skinny cords from my November 2019 Fix.
The grommet detail on the shoulder adds interest to this blouse and it's a detail that I really like. I'm already looking forward to wearing this blouse on my upcoming Vermont trip and then in town once we're home.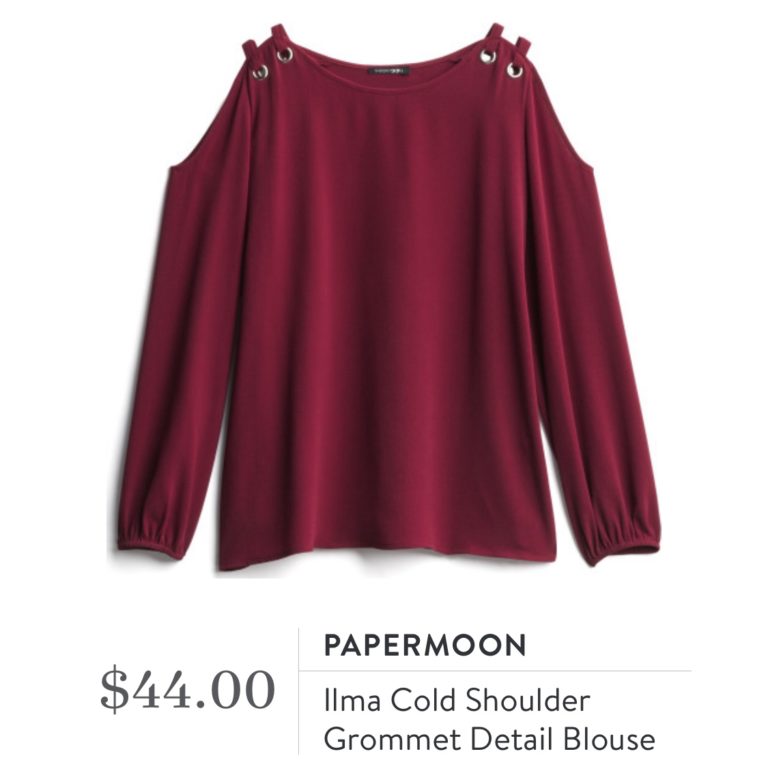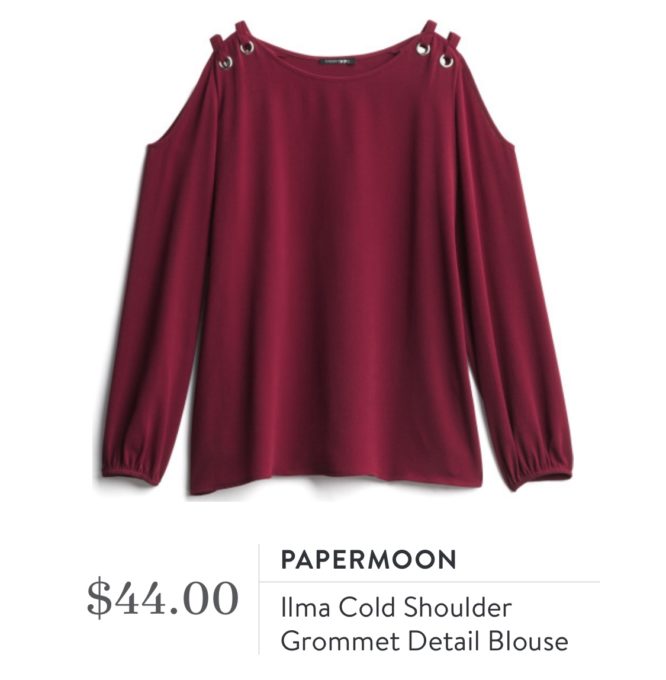 Verdict: Keep
Sole Society Handbags Duff Crossbody
I asked Brittany for a handbag for fall and she found one that I adore. This Sole Society Handbags Duff Crossbody can be used as a crossbody with the strap or with the strap removed a chic handbag.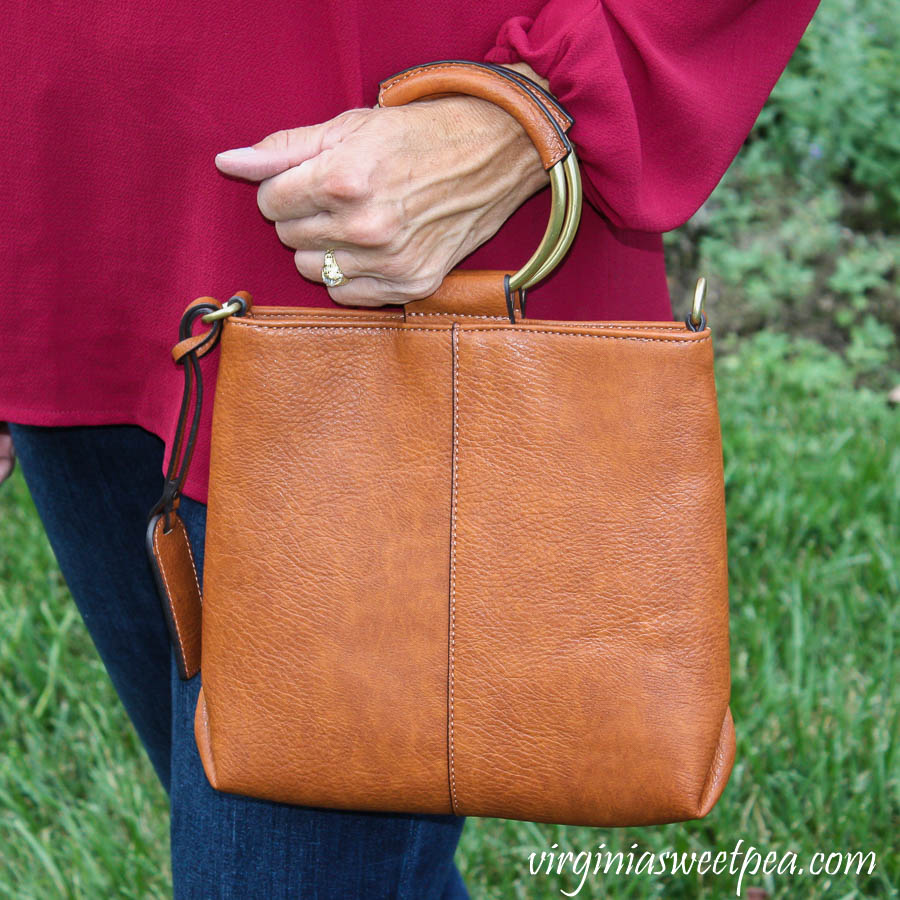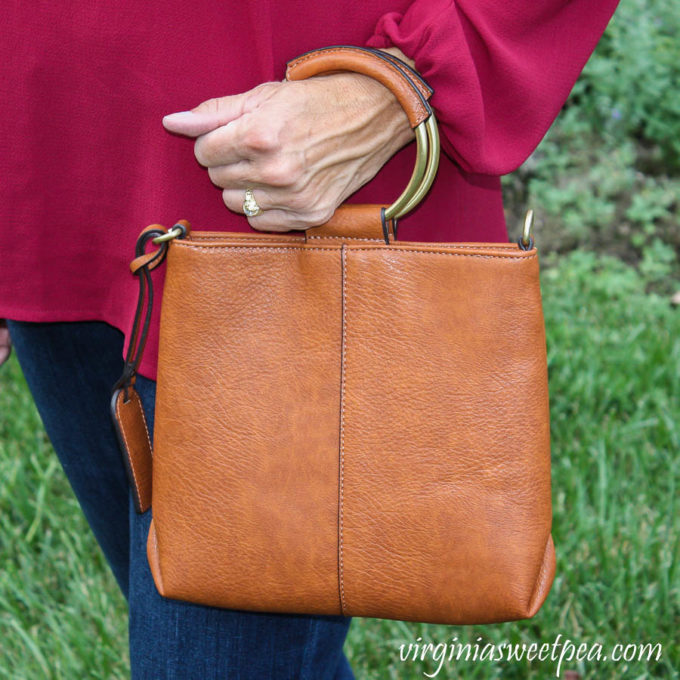 I love the size of this handbag, it's just large enough to hold what I normally carry and it has an adorable ring handle.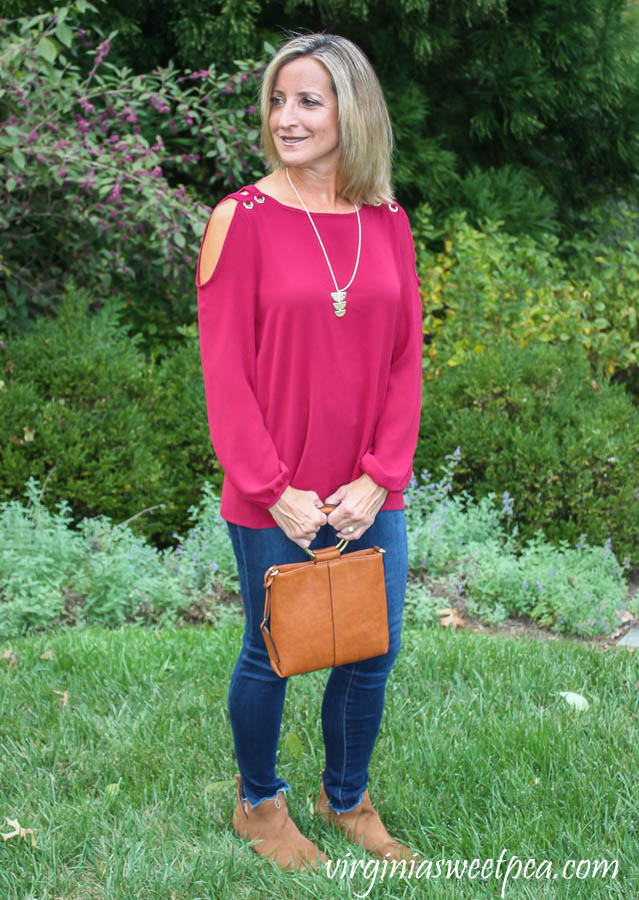 I immediately switched to this bag the second I pulled it out of the box.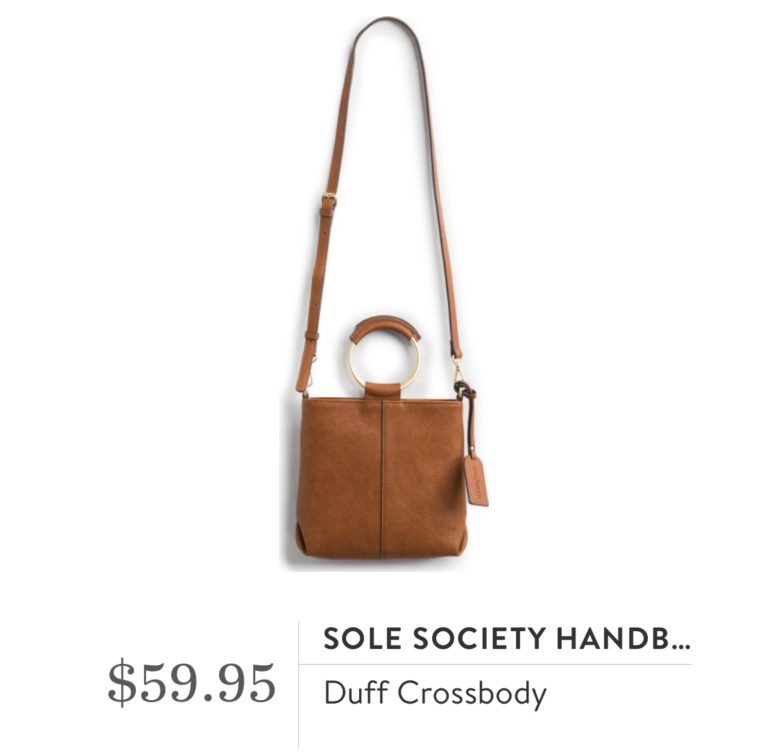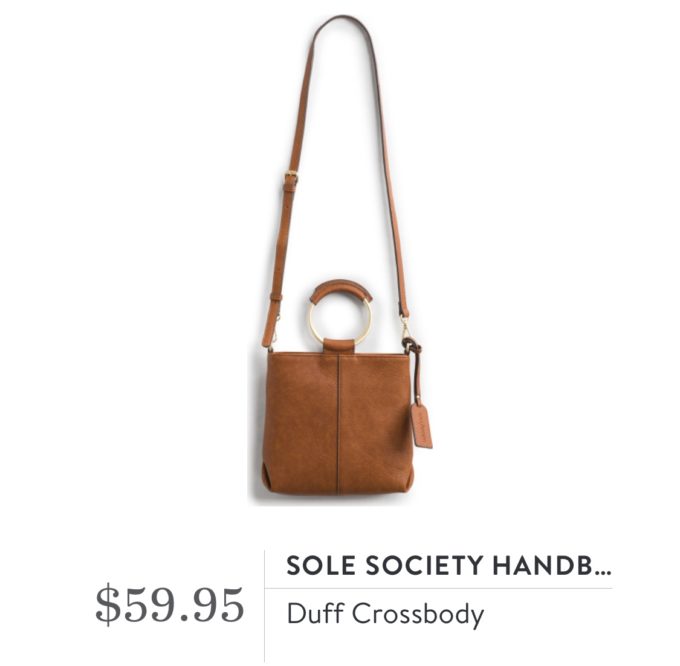 Verdict – Keep
Fortune + Ivy Alannis Dolman Sleeve Knit Top
Leopard is super popular this fall. I love both the leopard pattern and also the comfortable fit and style of this Fortune+Ivy Alannis Dolman Sleeve Knit Top.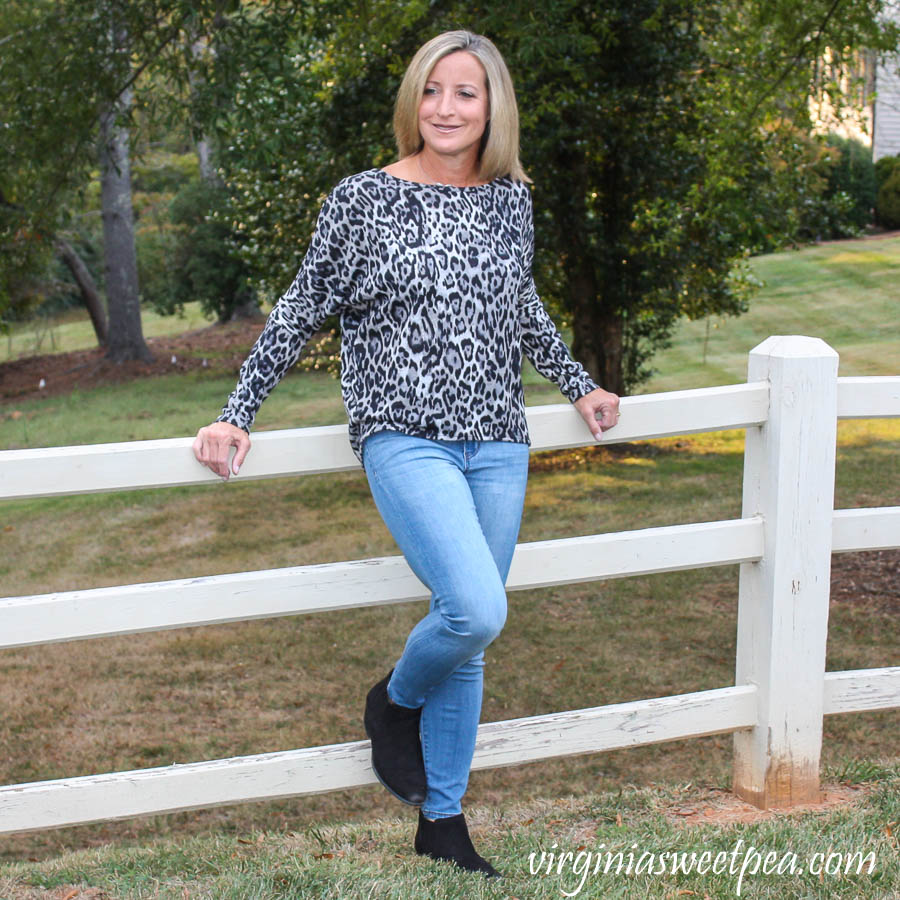 This lightweight top will be perfect to wear on cool fall days. I paired it with jeans from this Fix and black booties that I bought last year from Payless. Anyone else miss Payless?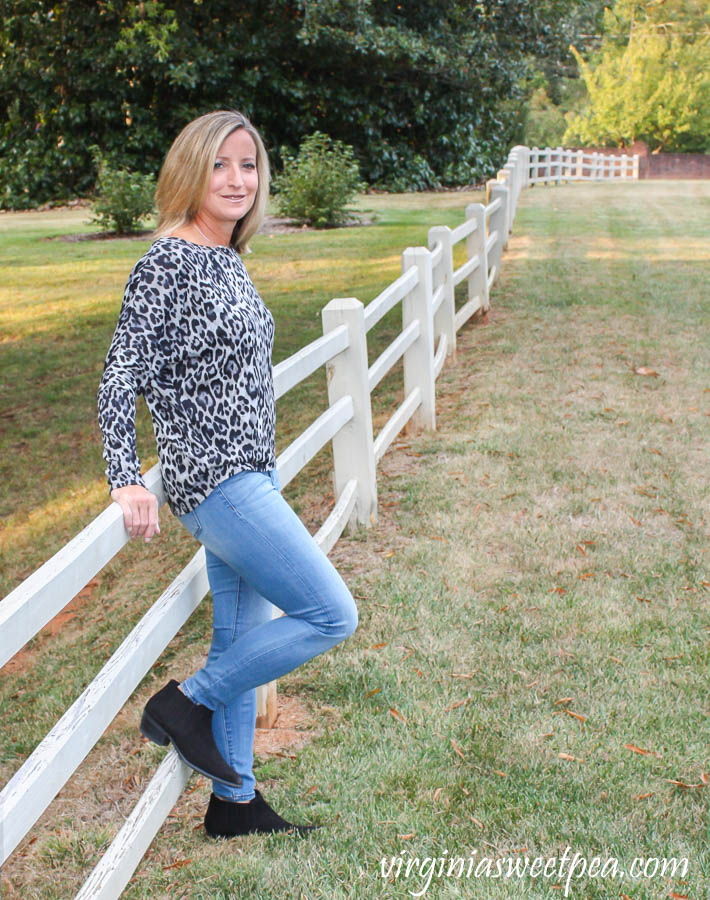 Speaking of leopard, I recently ordered this T-shirt from Amazon and every time I wear it, people ask where I got it. Bonus that it was under $20.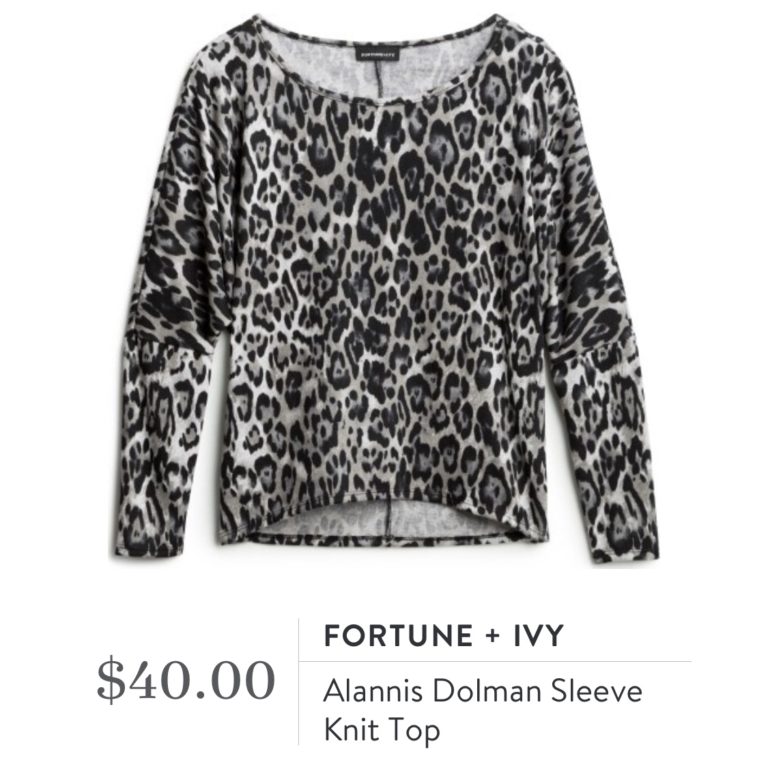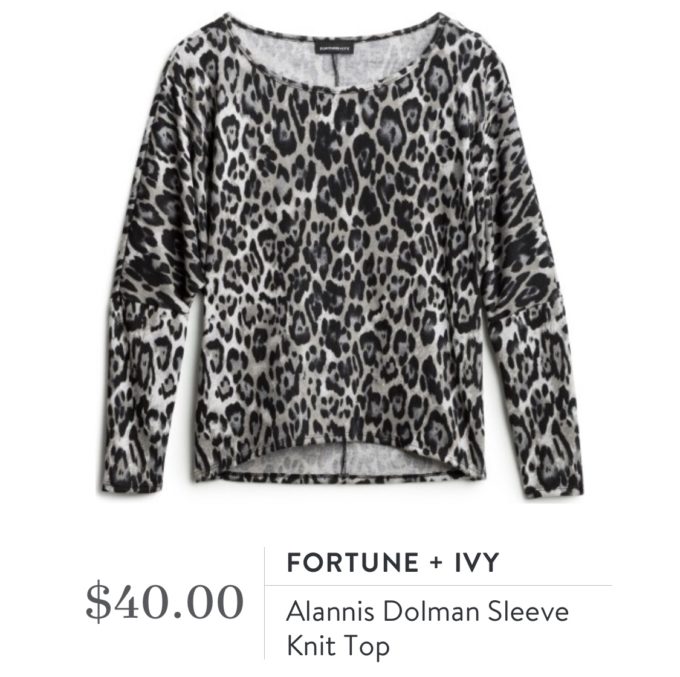 Verdict – Keep
Liverpool Kaylee Skinny Jean
The word skinny paired with jean usually means that there's not a chance that I'll be able to squeeze my thighs and calves into them. Thanks to the stretch of these Liverpool Kaylee Skinny Jeans I am able to wear skinny jeans and they are quite comfortable.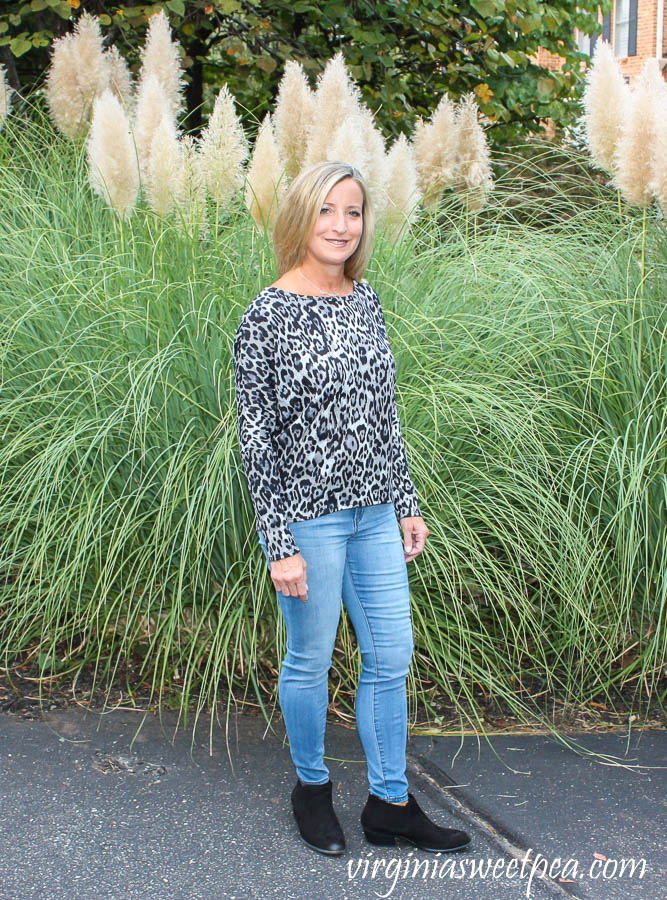 I usually opt for a dark wash in denim and am happy to add this lighter color denim to my closet.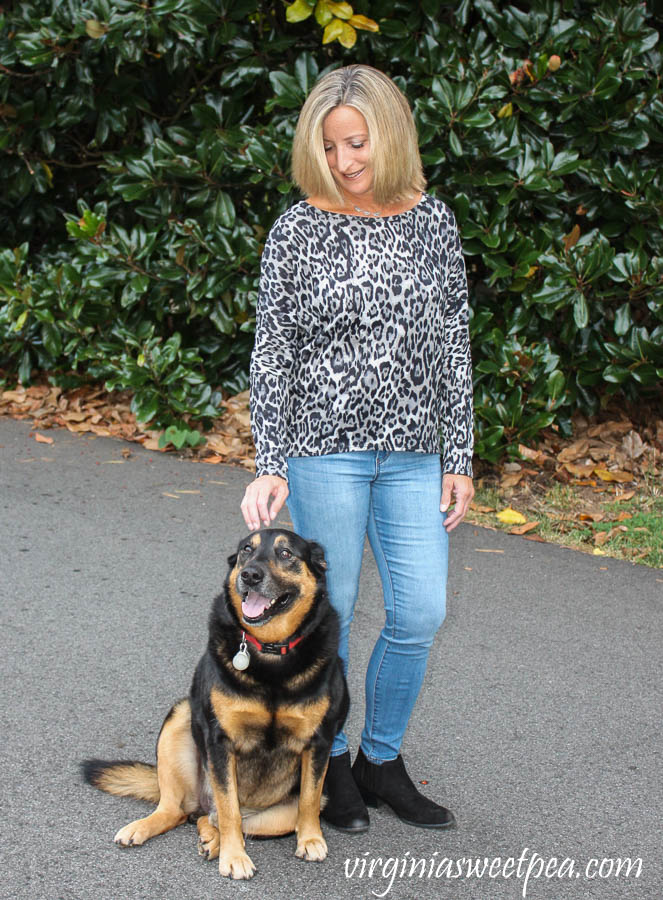 The hemline of these jeans comes just to the ankle which makes them great to wear with booties for fall.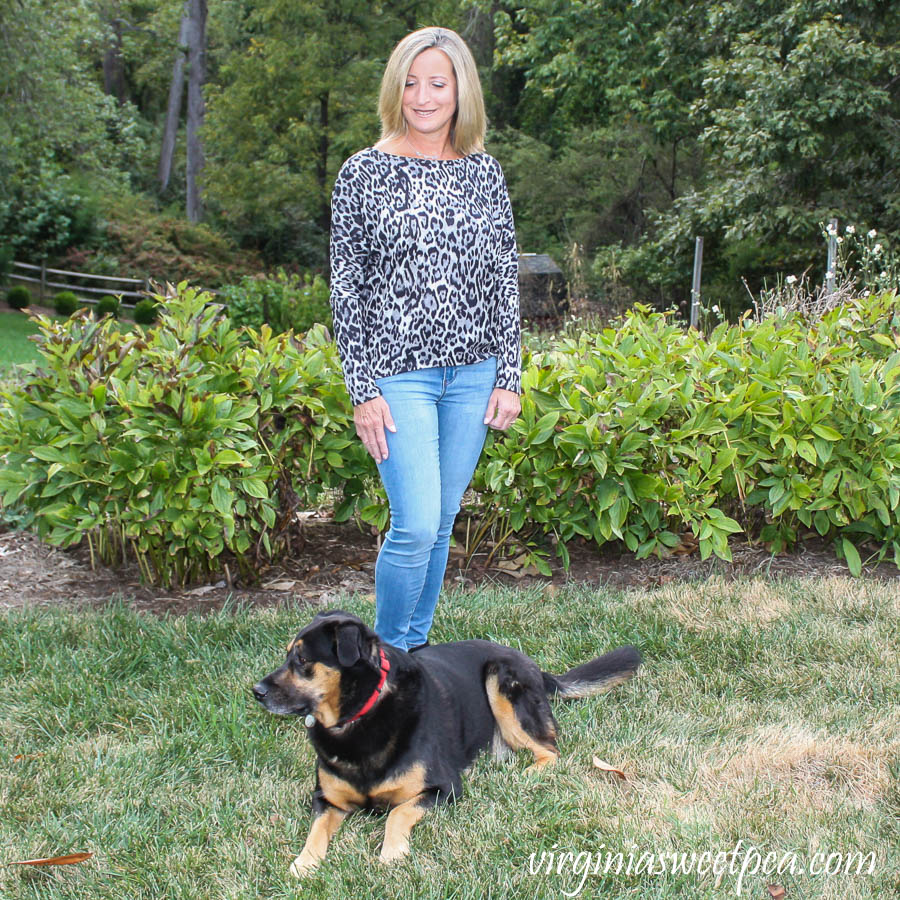 I have a feeling that I'll be wearing these frequently this fall and winter.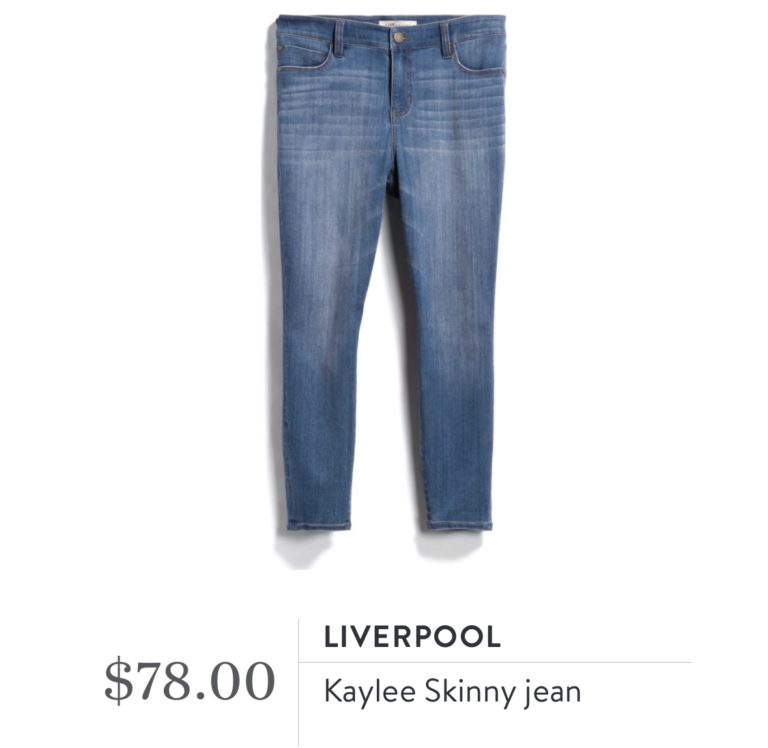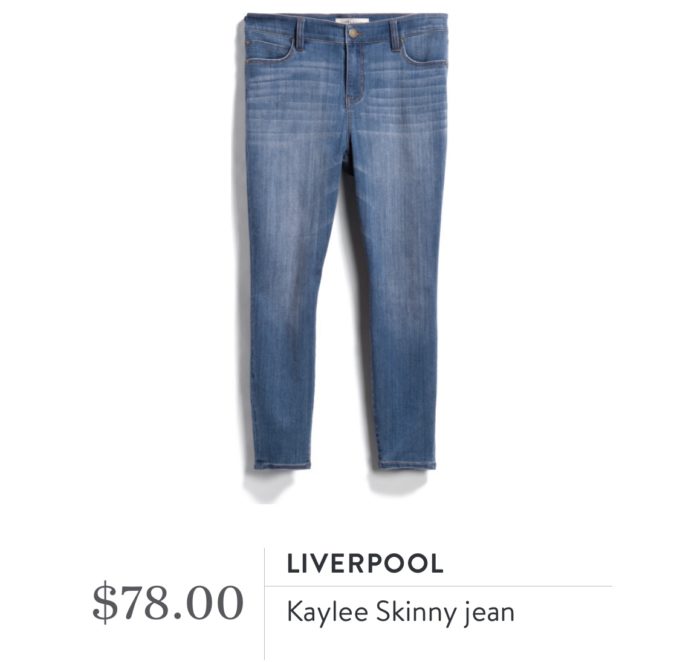 Verdict – Keep
Karl Lagerfeld Paris Yessie Trumpet Knit Top
This Karl Lagerfeld Paris Yessie Trumpet Knit Top is silky soft and has a slight amount of stretch making it very comfortable. I love its floral pattern and also the trumpet detail of the sleeves.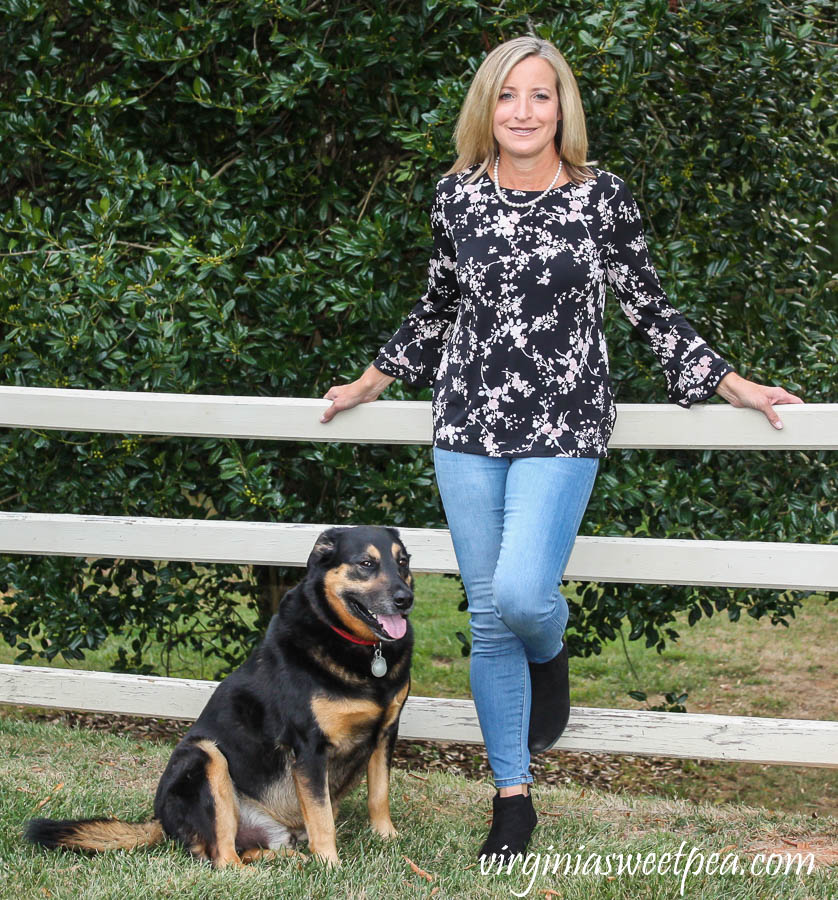 I think that I would prefer wearing this top with a darker wash jean but I still like how it looks with the Liverpool Kaylee Skinny Jeans from this Fix.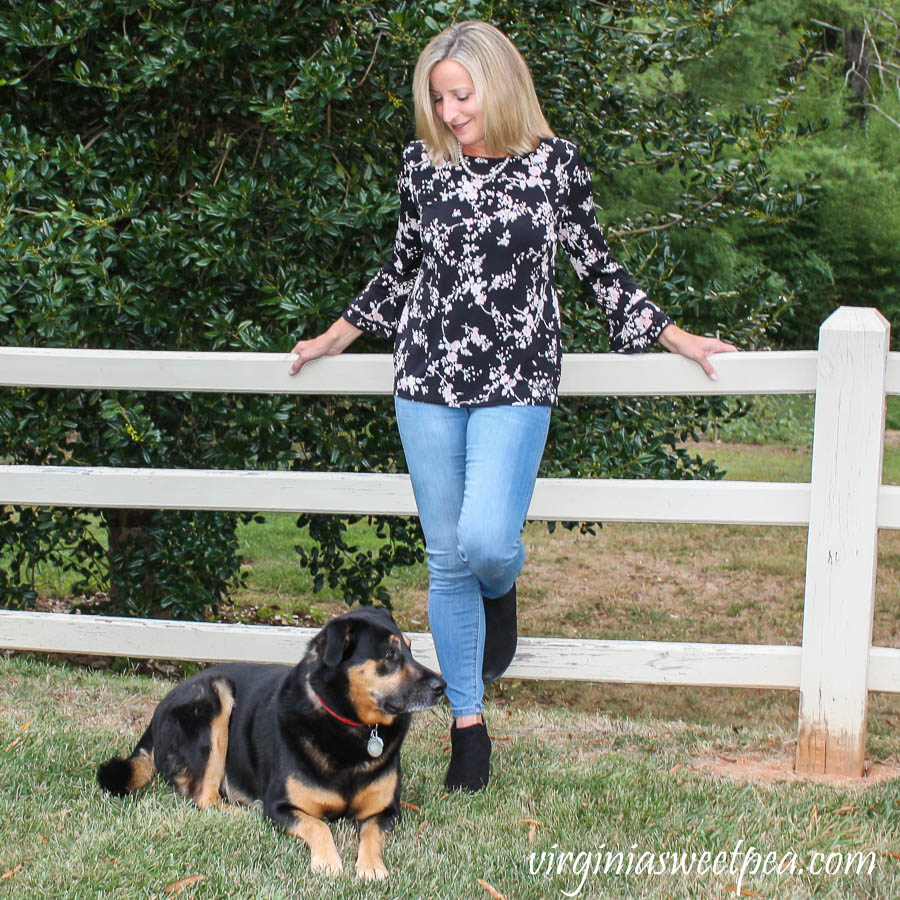 The floral pattern has a touch of pink and I think that this blouse will look great paired with the Kut from the Kloth Krissy Veleveteen pants that I purchased from my January Fix.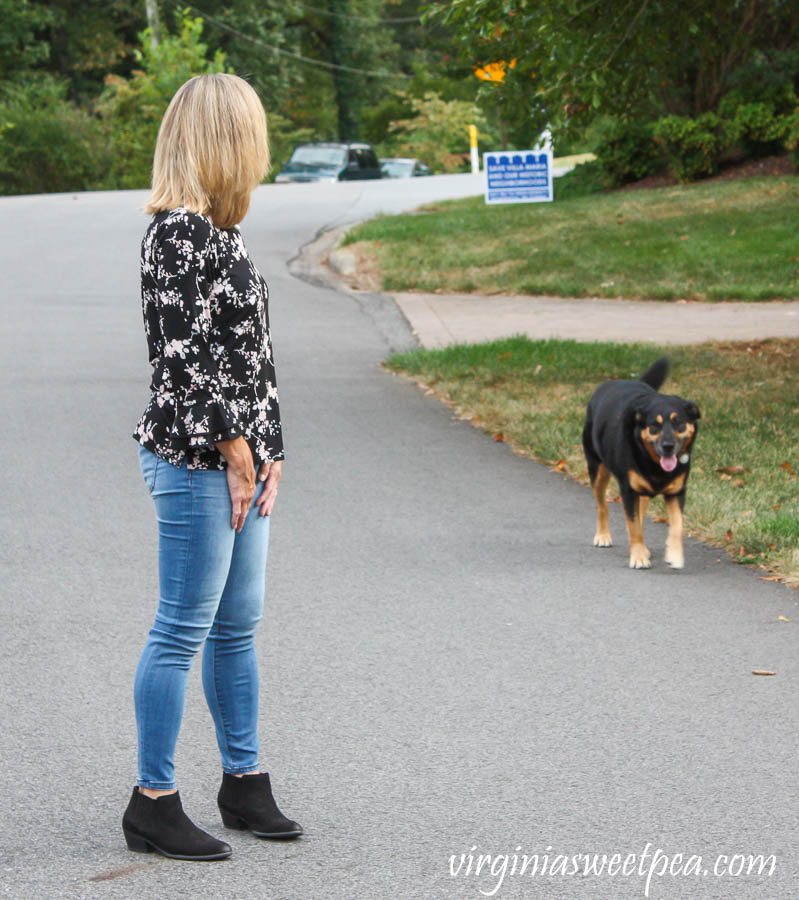 This blouse is more than what I like to pay for a top but thanks to Stitch Fix's "Buy 5 save 25%" that I took advantage of, the price was tolerable.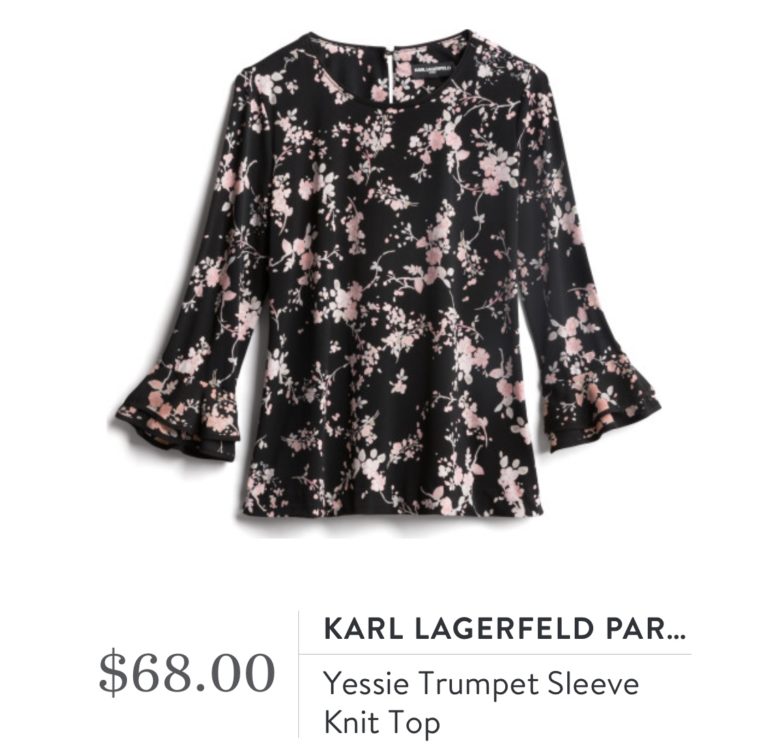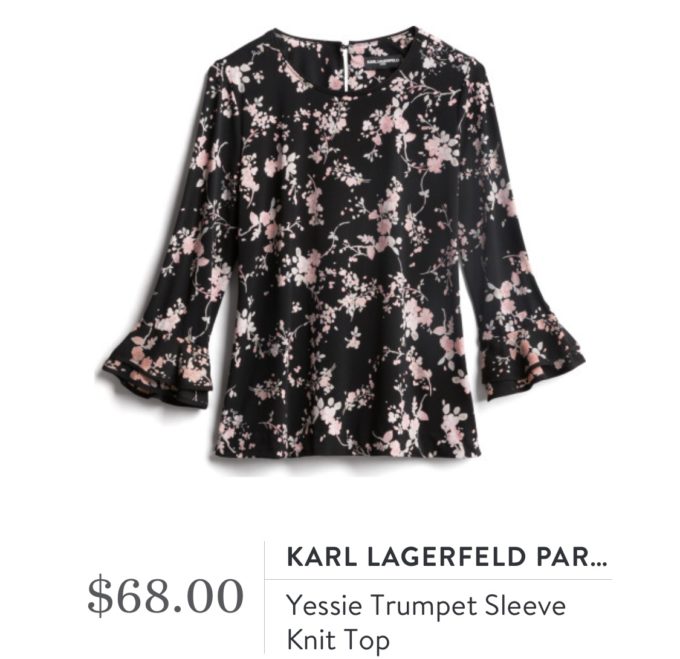 Verdict – Keep
In Summary
This was a great Fix and I happily kept all five items. My closet is now ready for fall!
Papermoon Ilma Cold Shoulder Grommet Detail Blouse – $44 – Keep
Sole Society Handbags Duff Crossbody – $59.95 – Keep
Fortune+Ivy Alannis Dolman Sleeve Knit Top – $40 – Keep
Liverpool Kaylee Skinny Jeans – $78 – Keep
Karl Lagerfeld Paris Yessie Trumpet Knit Top – $68 – Keep
Try Stitch Fix
I love receiving each Stitch Fix box and really enjoy getting cute clothes without having to shop for them. If you've been thinking about trying Stitch Fix, I encourage you to do so. If you sign up using my referral link, you'll get $25 off your first box. That means that your styling fee will be taken care of and you'll have $5 credit toward anything that you want to keep. If you don't like your items, you've lost no money. Why not try Stitch Fix risk free?