Stitch Fix Review – July 2019 – Fix #71
How is it already July? June flew by in a flash for me with lots of travel. I enjoyed a trip to Newport, RI, a 50th birthday trip to the Homestead, and then a trip to Delaware for the Antiques Roadshow. July has a two exciting events for me: our 25th anniversary on July 2 and a trip to Atlanta for the Haven Conference.
July 2019 Stitch Fix Review
I am a Stitch Fix affiliate and if you make a purchase, I make a small commission. My love for Stitch Fix is genuine and all opinions are truthful and my own.
This month I am going to put all of the Stitch Fix details at the end of this post rather than at the beginning like I usually do. Let's jump straight into what my favorite Stitch Fix stylist, Brittany H., sent for July.
This Month's Stitch Fix Items
We are going out to a nice local restaurant for our 25th anniversary, so I asked Brittany to send a few dresses to wear for that meal. I also asked for casual summer dresses and other casual things to wear this summer. Brittany browsed my Pinterest board where I pin clothes I like for a few other ideas.
Market & Spruce Brea Eyelet Dress
The style of this Market & Spruce Brea Eyelet Dress is exactly the style of dress that I like. It's sleeveless and has an elastic waist which makes it super comfortable. I loved the yellow color and eyelet fabric.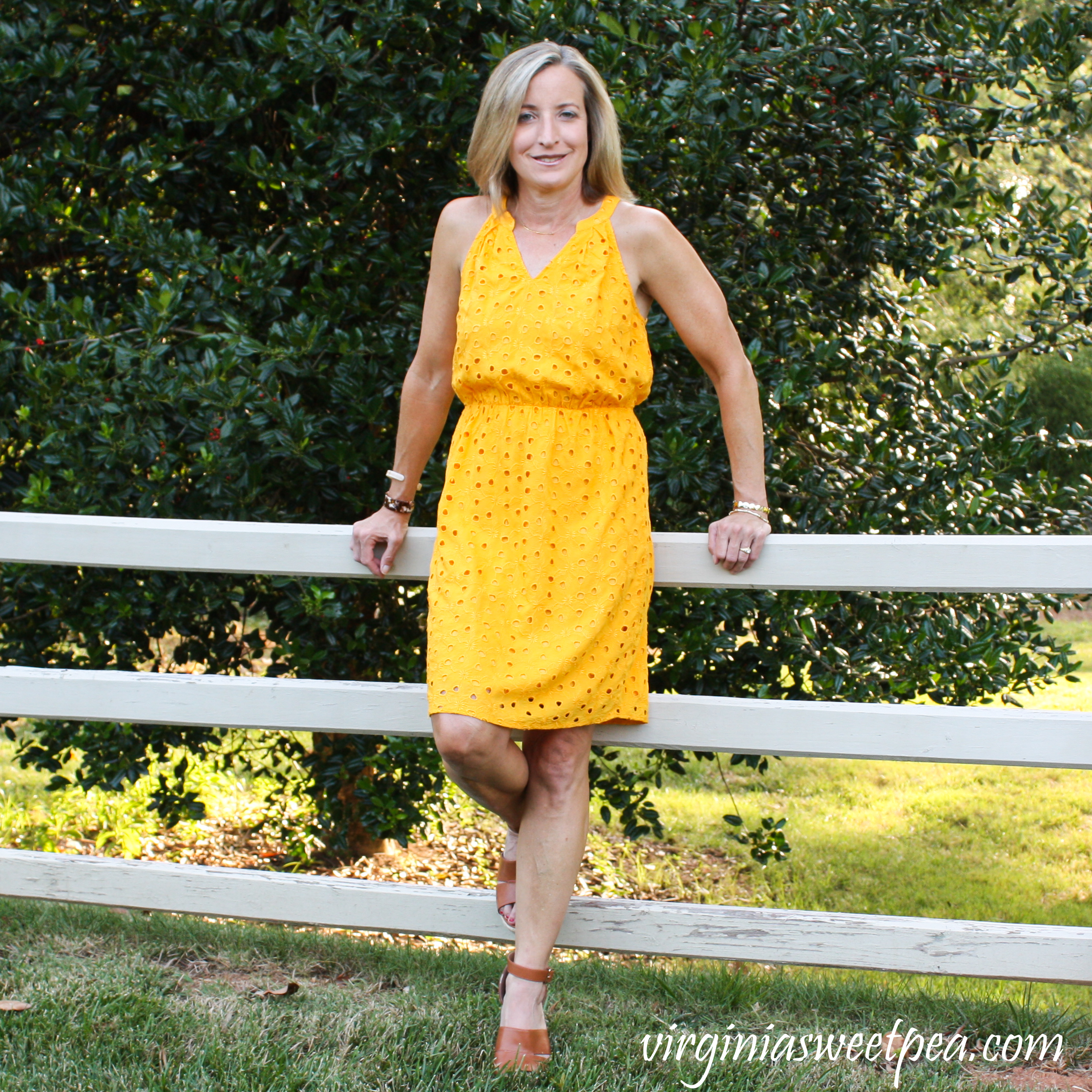 I paired this Market & Spruce Brea Eyelet Dress with shoes from Walmart that are a knockoff of a popular Sam Edelman style. You can't beat Walmart's $19.99 price with free shipping to the store!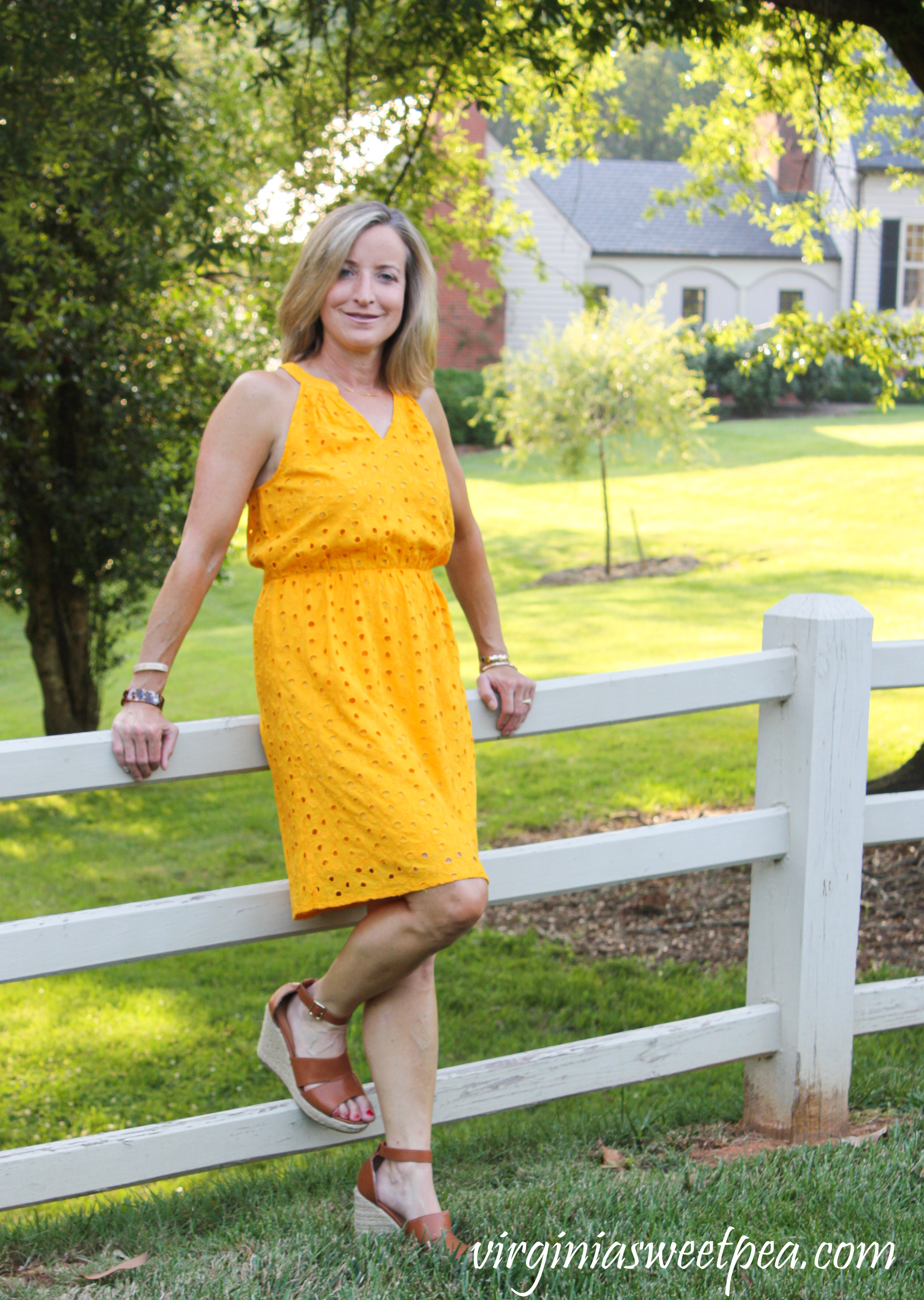 While I liked the elastic waist, getting this dress on and off would have been a bit easier had it had a zipper in the back.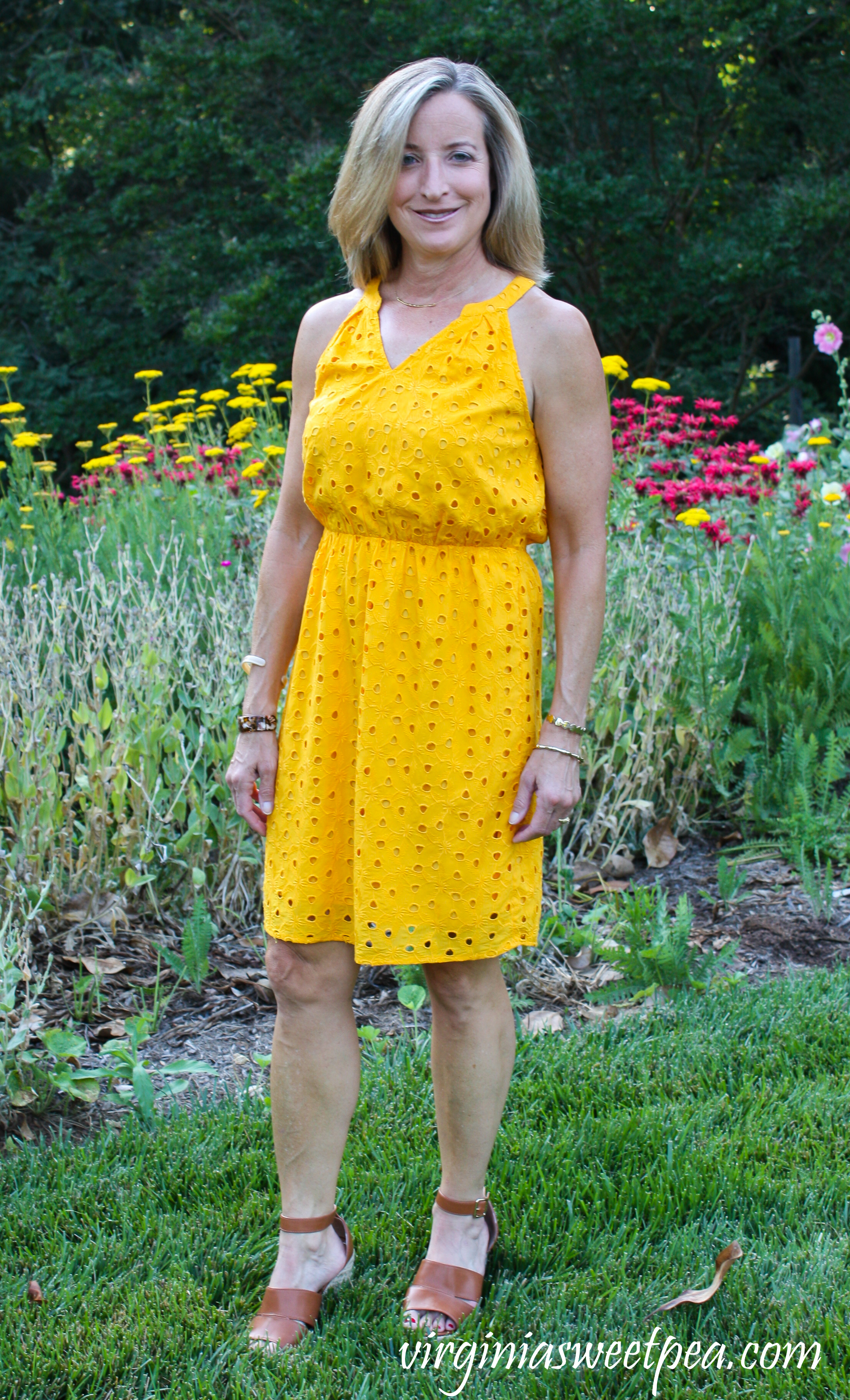 The jewelry that I'm wearing is from Rocksbox. Rocksbox is a jewelry subscription service that sends three pieces of jewelry that you can wear for as long as you like each month. When you send your three pieces back, or buy what you like, a new box is sent. If you'd like a free month of Rocksbox, sign up with this code: PAULABFF54. I rejoined Rocksbox a year ago in January and I love their service. I've received the cutest jewelry and have purchased quite a few items.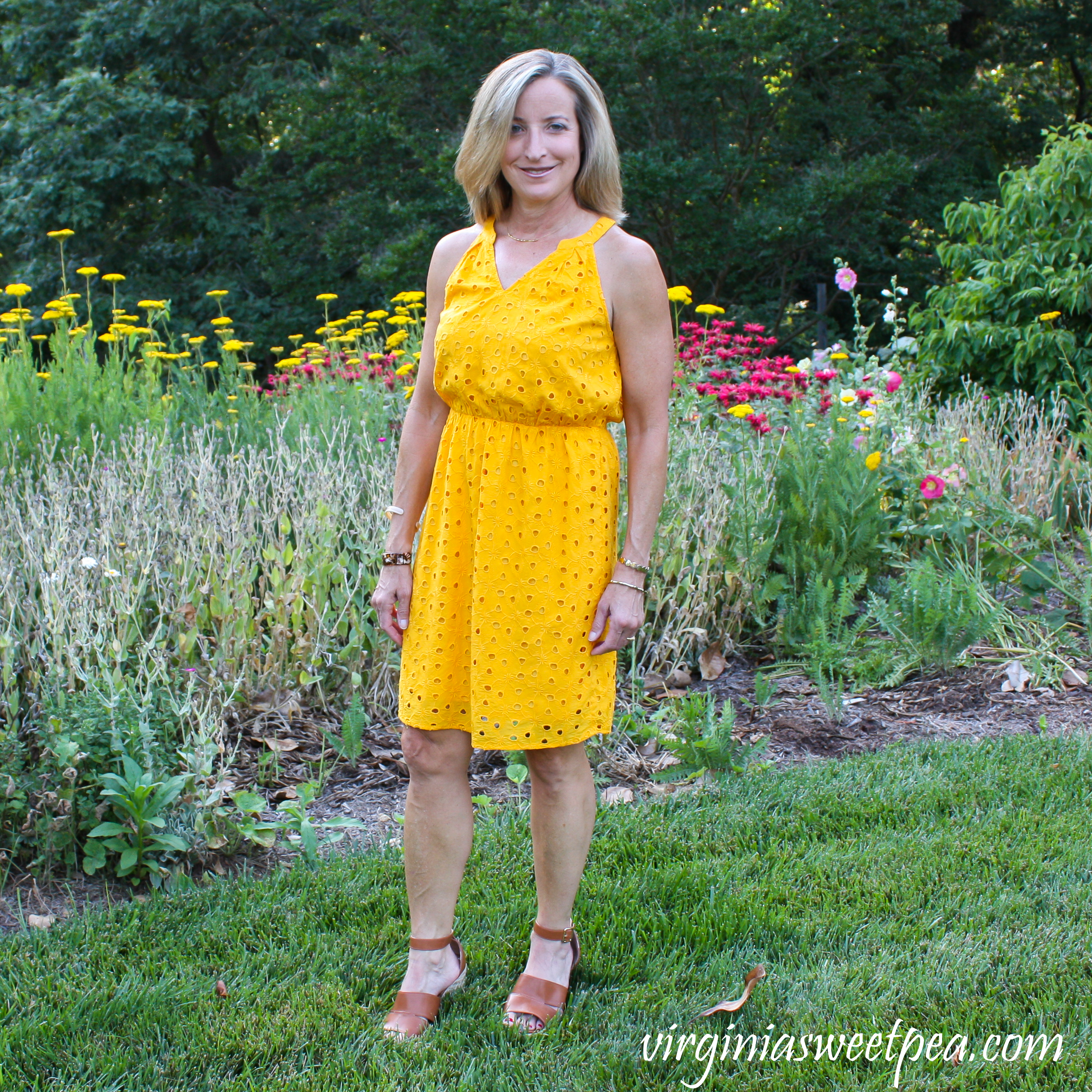 I really liked this dress but did not keep it because I knew that every time I laundered it I would end up having to iron the eyelet outer layer of the dress. I also worried that the outer layer would shrink when washed and then lining wouldn't. For those reasons, I sent this dress back.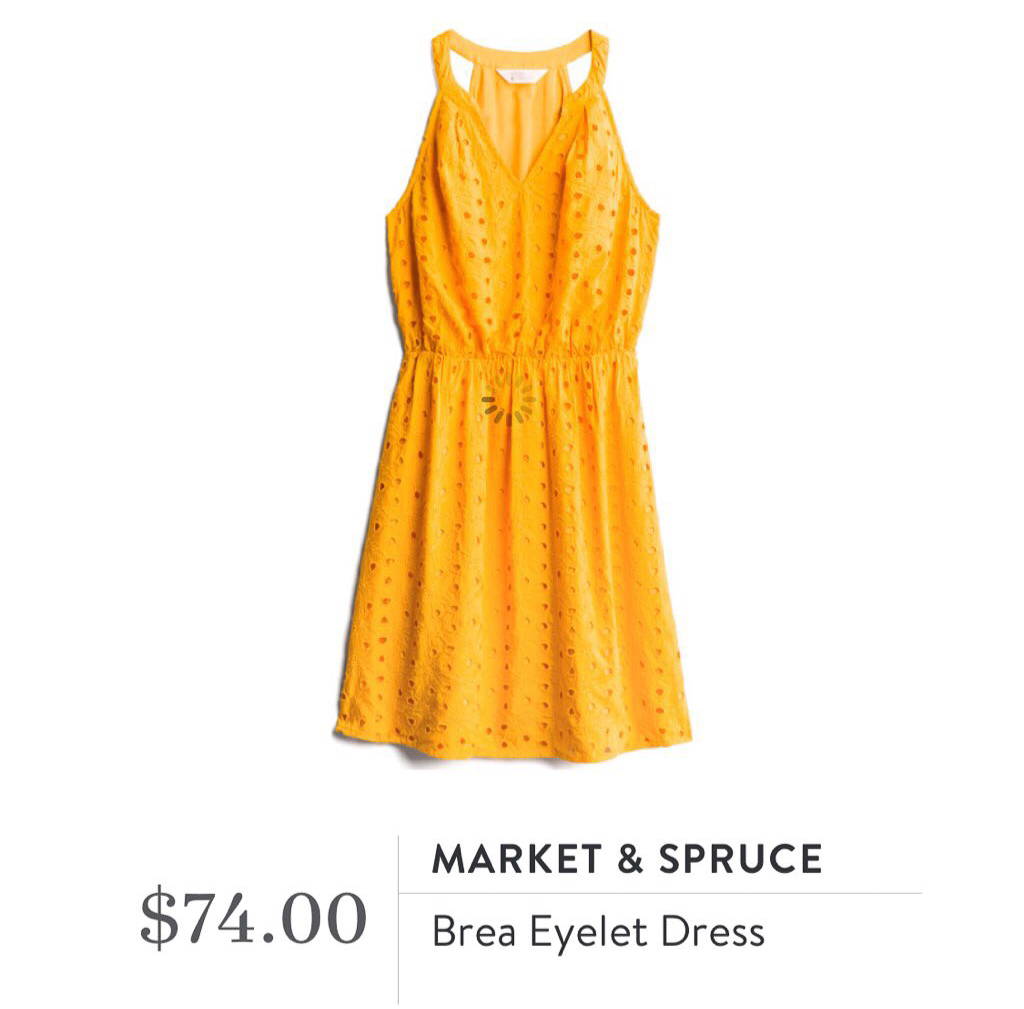 Status: Returned
Gal Meets Glam Collection Helena Ruffle Detail Eyelet Dress
This Gal Meets Glam Collection Helena Ruffle Detail Eyelet Dress is over my usual Stitch Fix price point at $138. This dress is part of a special Stitch Fix collaboration with influencer Julia Engel and Brittany wanted me to try it for my 25th anniversary dinner on the town.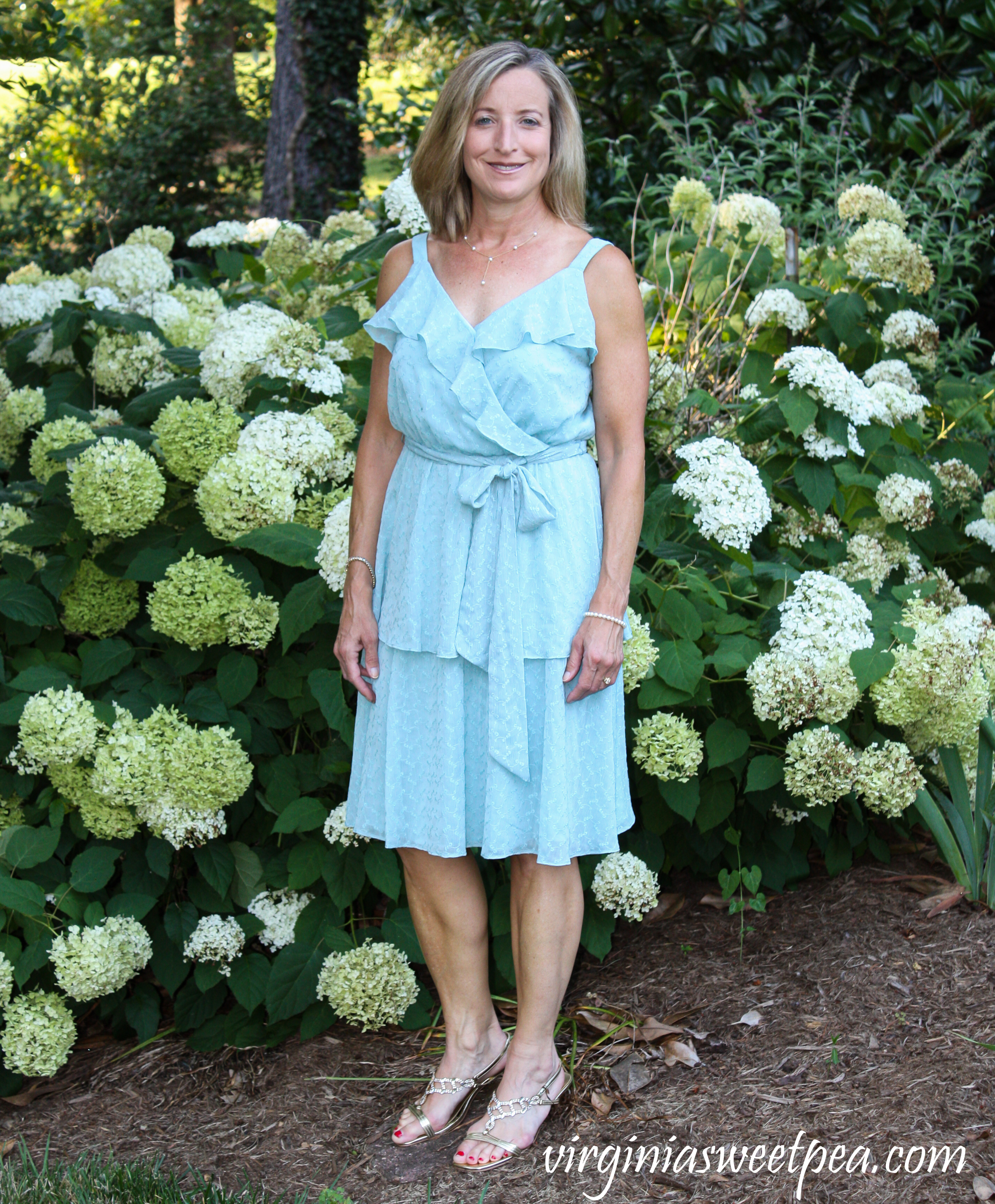 I loved the flowy nature of this dress and its fun ruffles but I didn't think that it was age appropriate for me. On a 20 or 30 something youngster, I'd think this dress would look fabulous.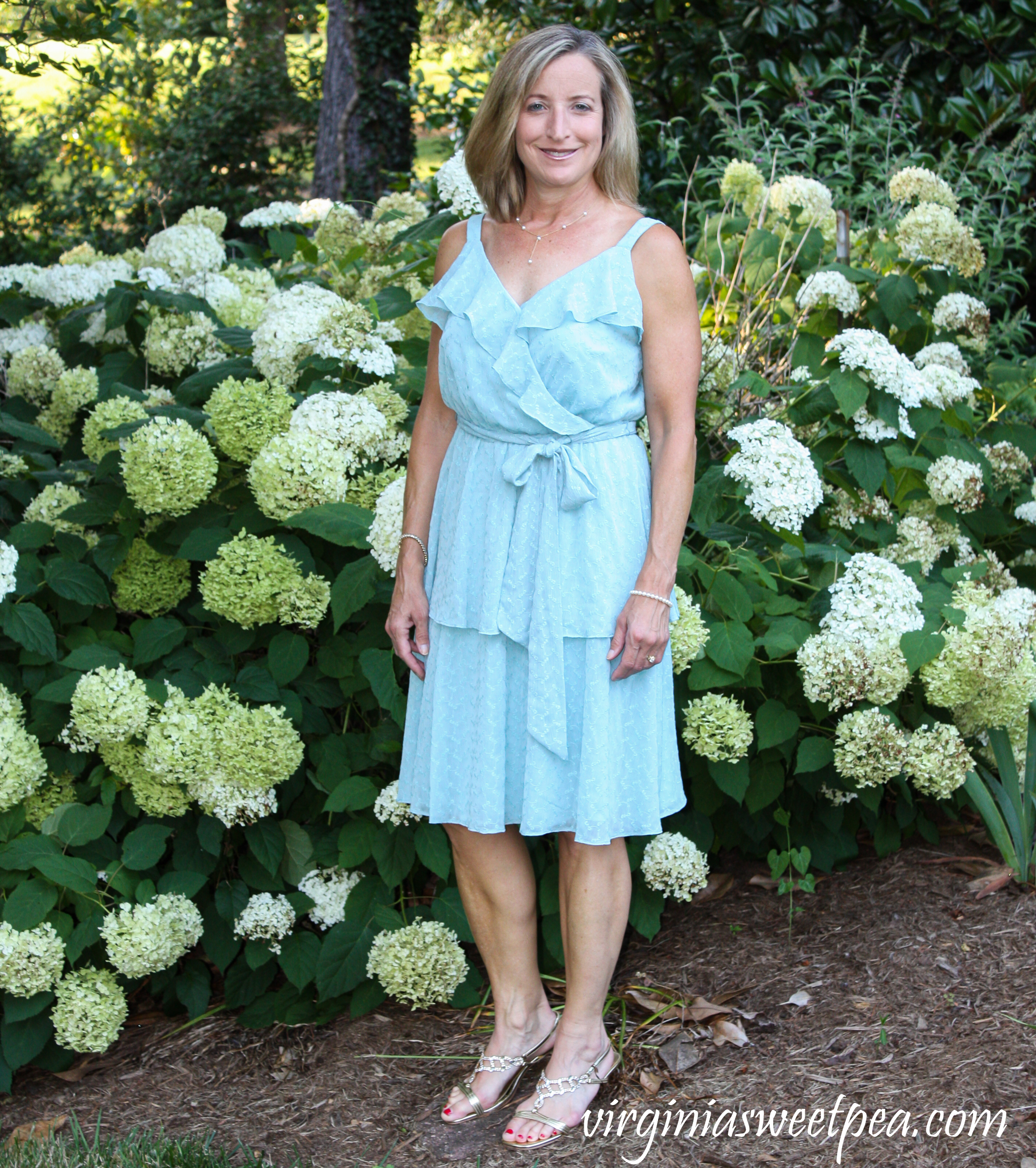 This dress was also a bit too big for me. I had to strategically use a few safety pins to take these pictures.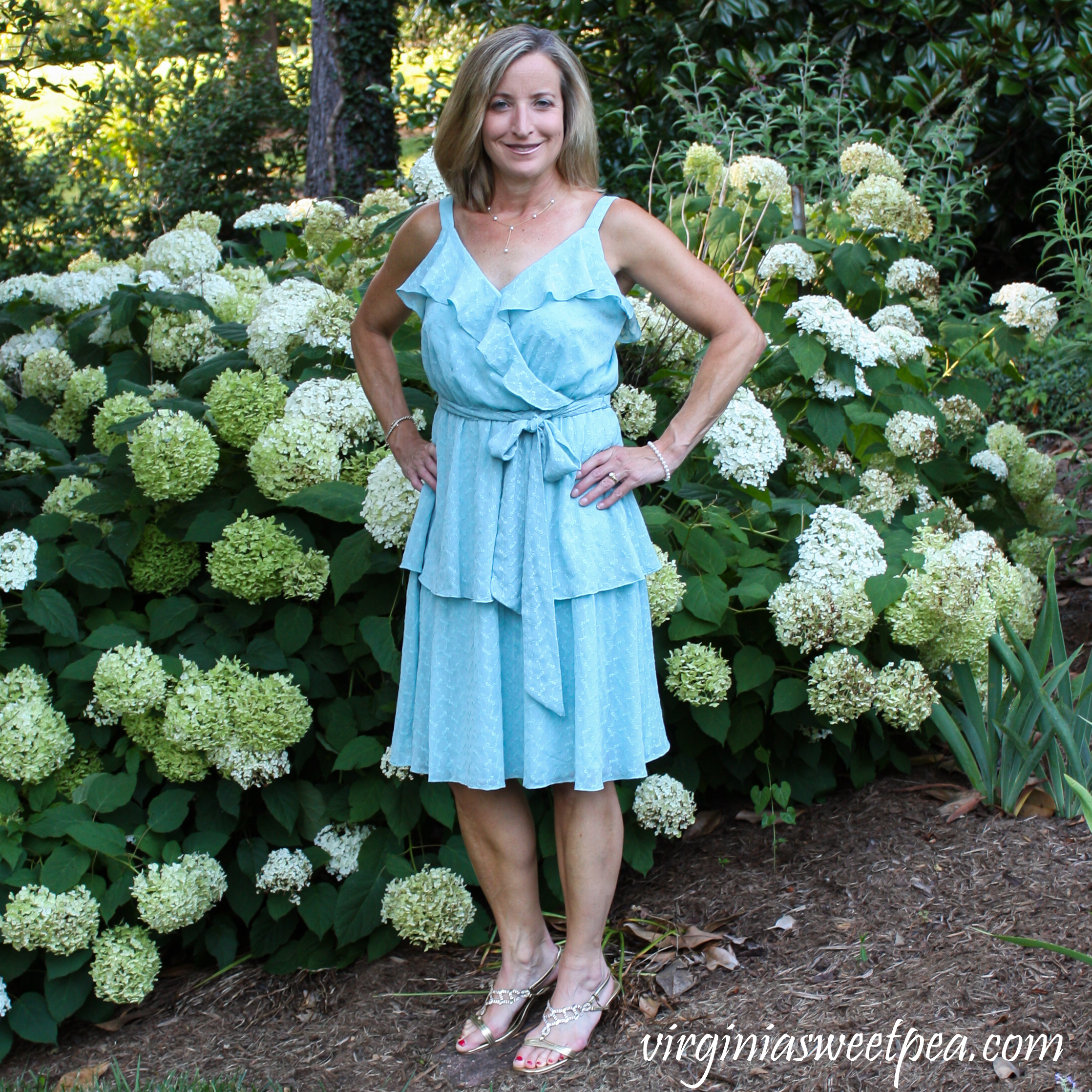 Even if this dress was too young for me, I did like the romantic feel of it.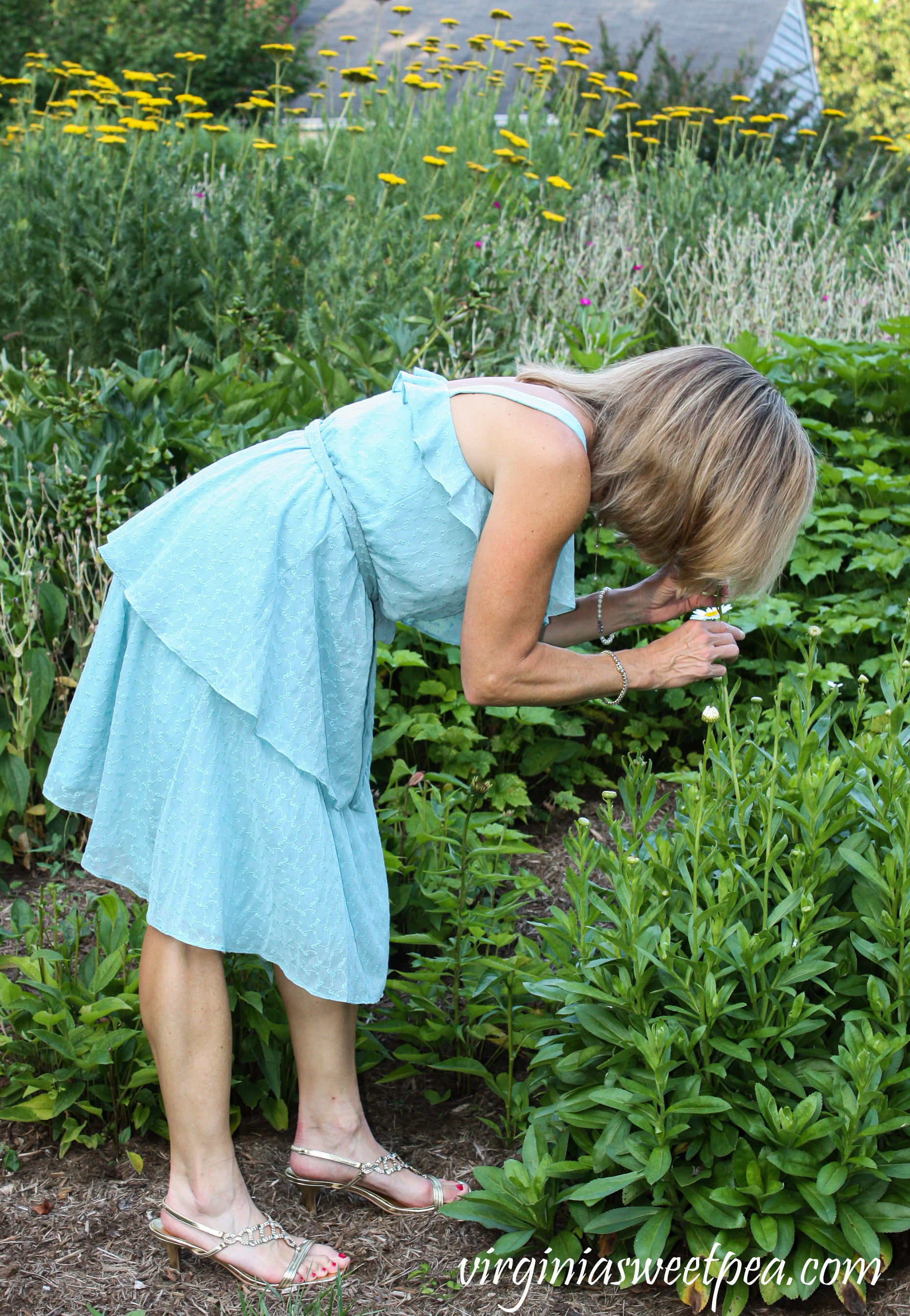 Since this dress was too big, it was returned.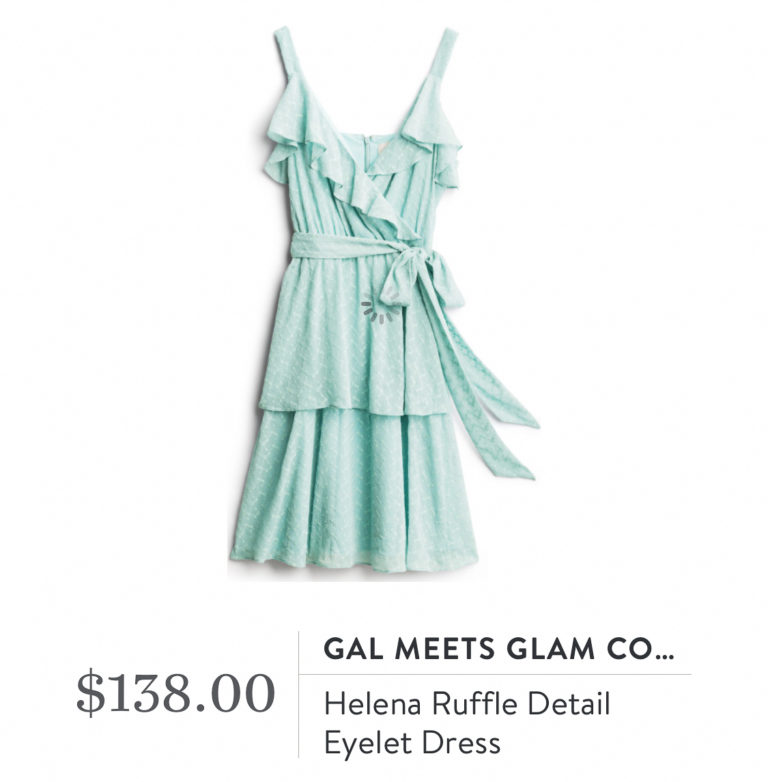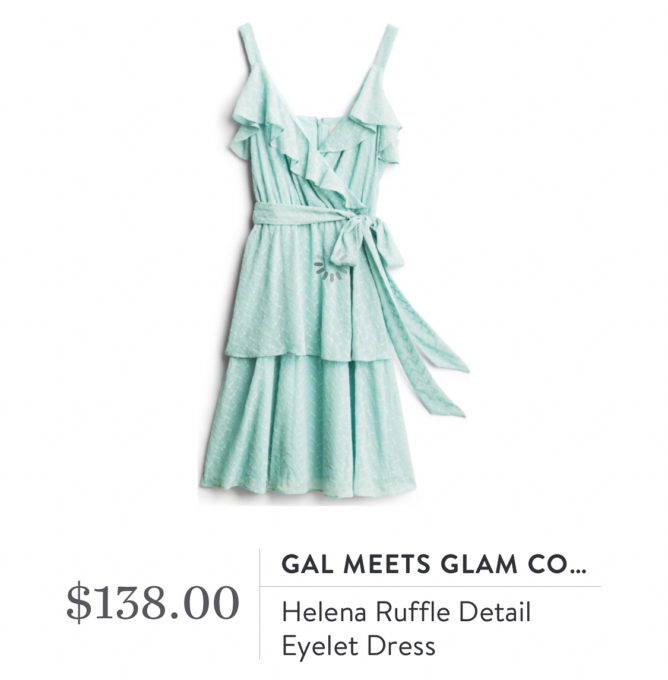 Status: Returned
Market & Spruce Danae Ribbed Knit Dress
This Market & Spruce Danae Ribbed Knit Dress has a great cut and it's stretch made it super comfortable.
Sherman likes to "help" with Stitch Fix pictures but on the day that we took these it was super hot and he didn't feel much like posing with his Mama. During this dress change he made his way outside to be in a few of my pictures.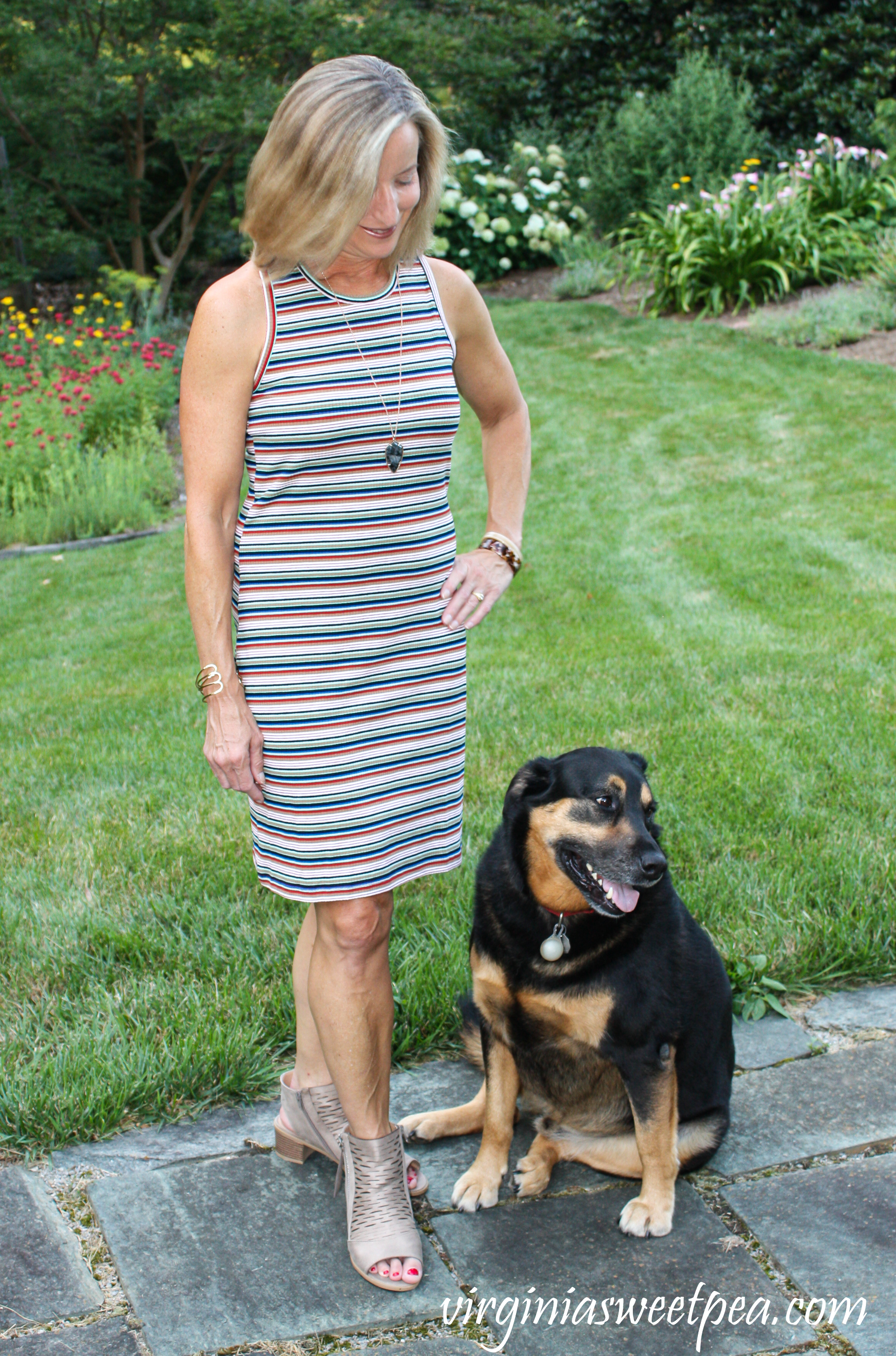 The back of this dress has a super cute crossed detail. A problem I had with this detail was that my bra showed in the open space below the cross. For this picture, I had to push my bra out of sight. Not being able to easily wear a bra with a dress was a deal breaker on this one even though otherwise I really liked it.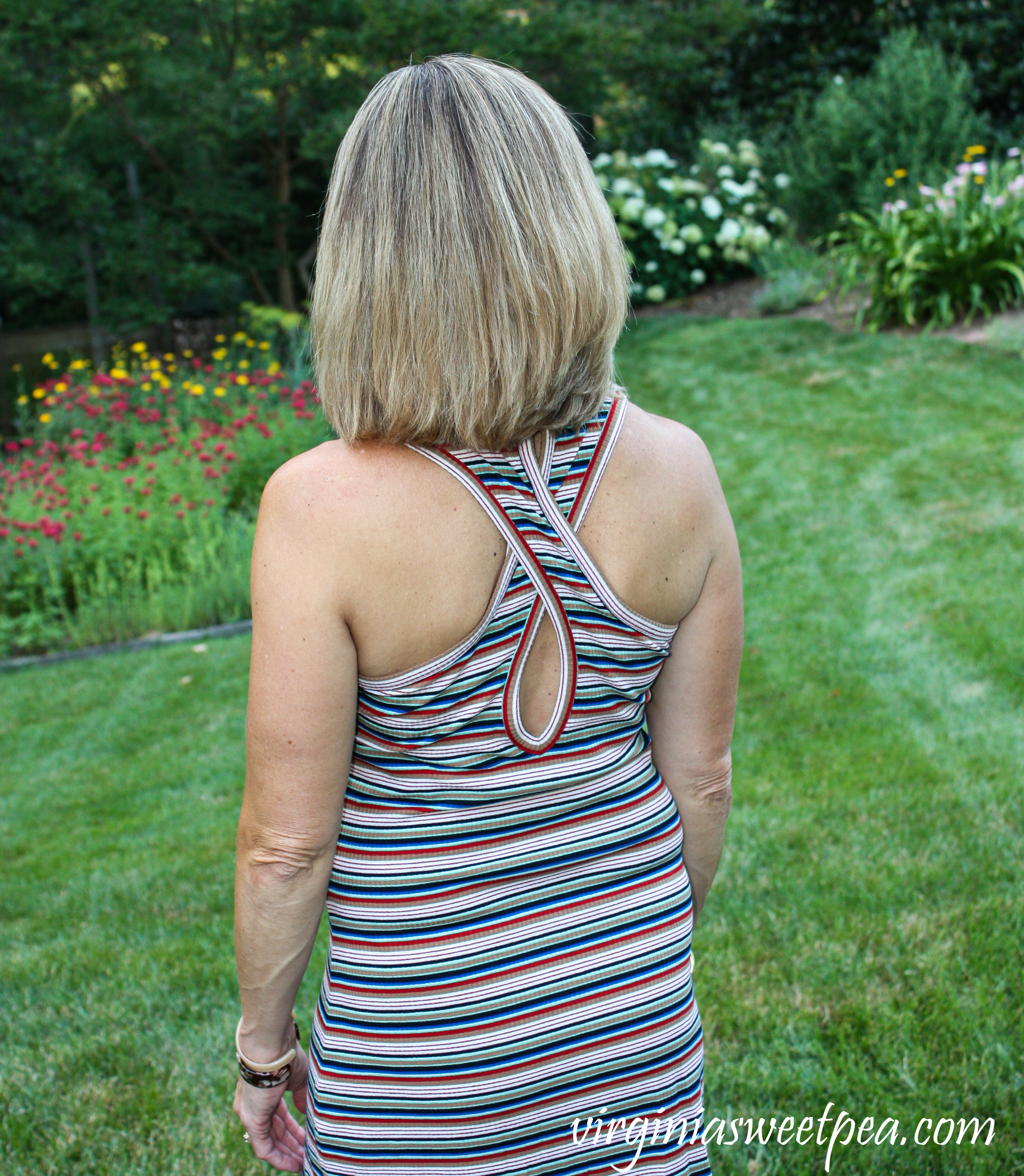 It's too bad that the bra problem made this a reject because I think it's super cute and it would be great for travel because the fabric is a no wrinkle type.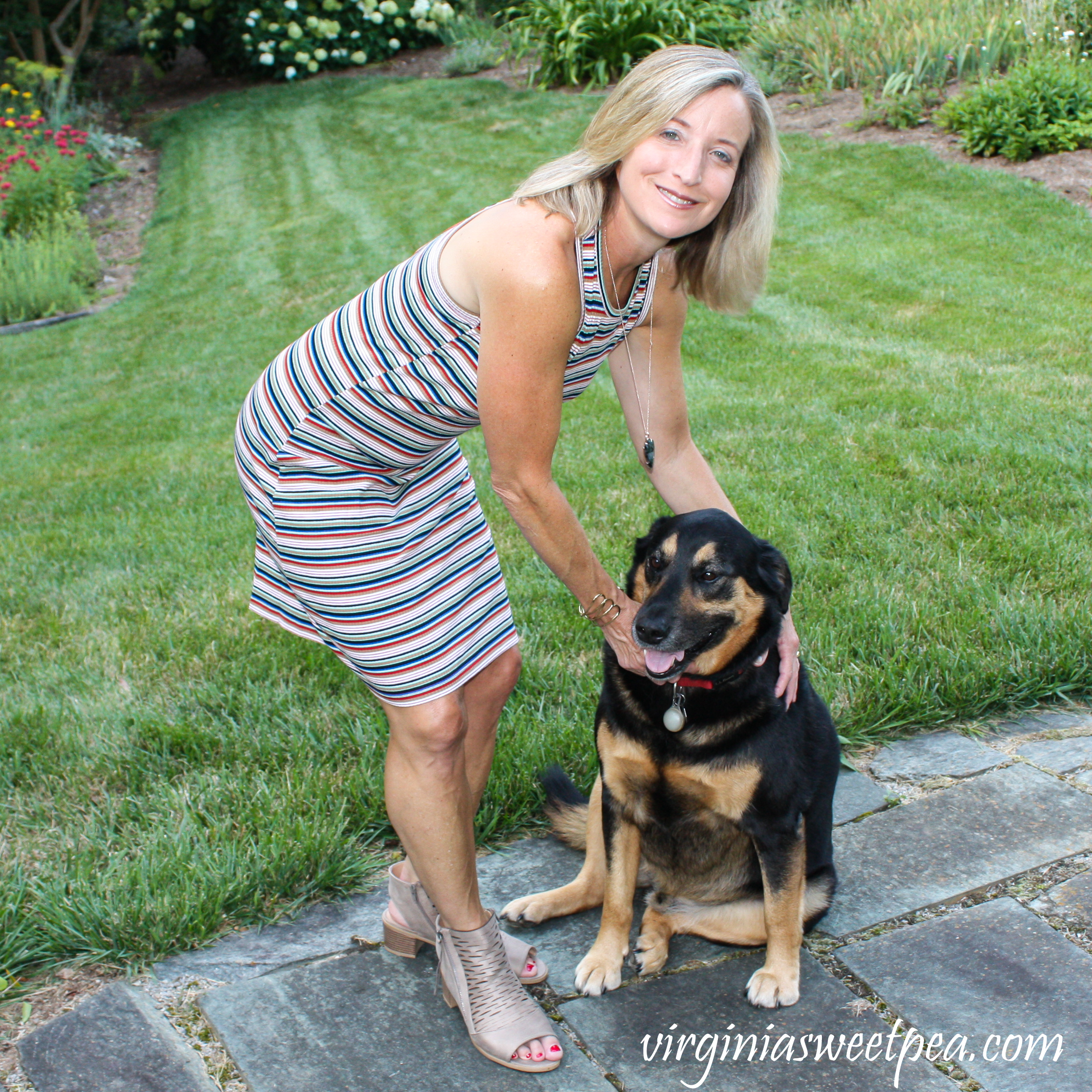 You guys know that I love my Sherman. Look at that face!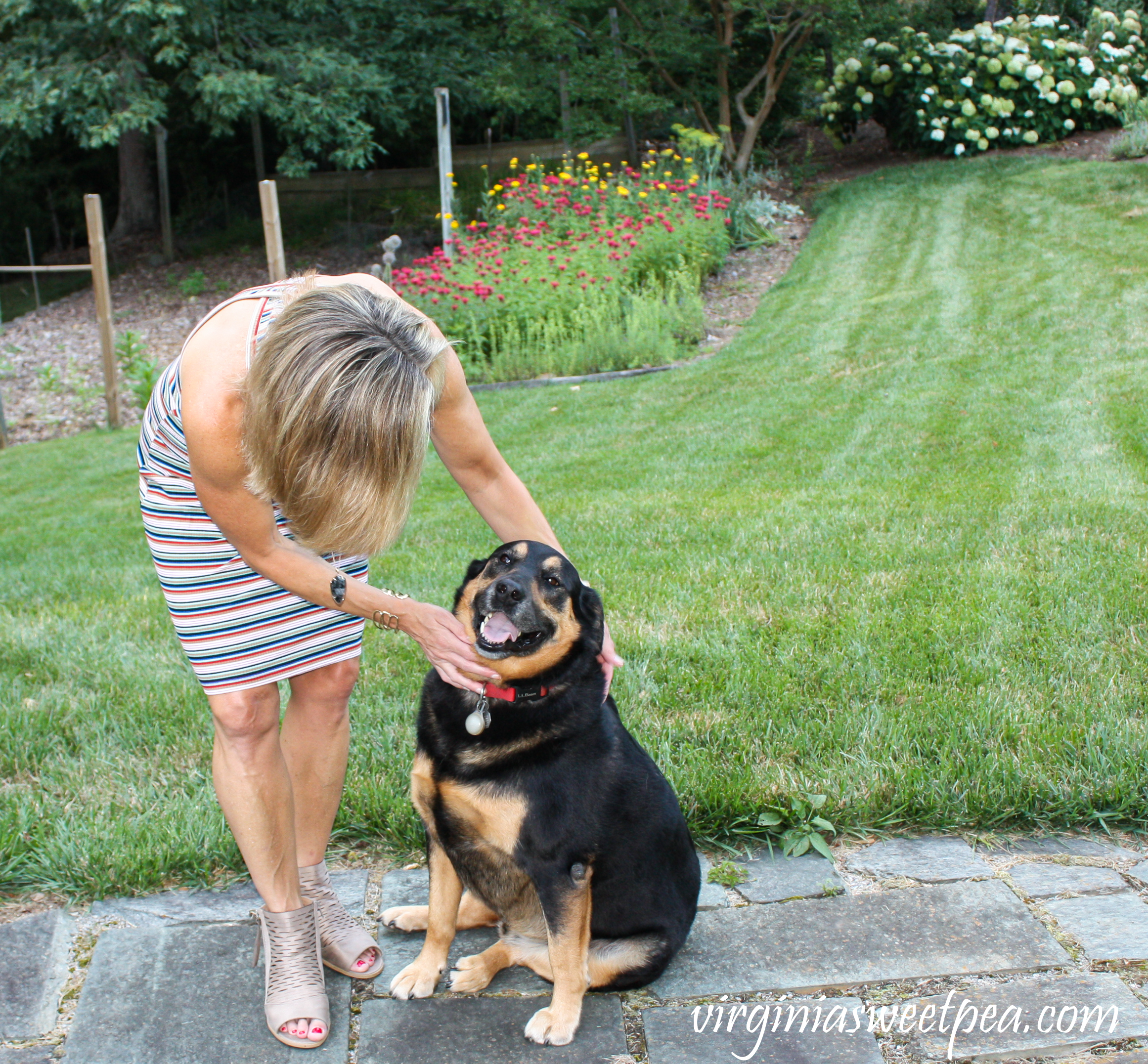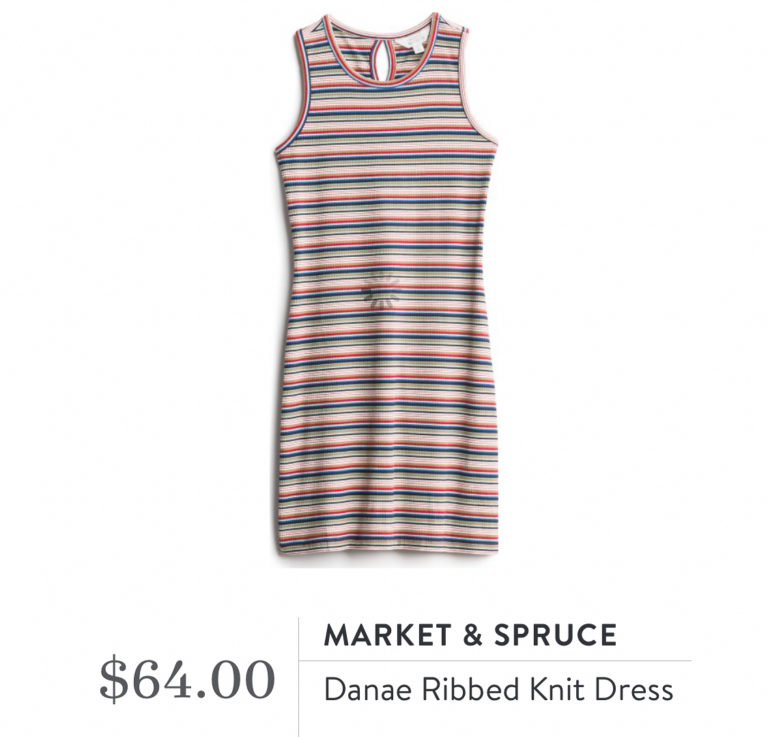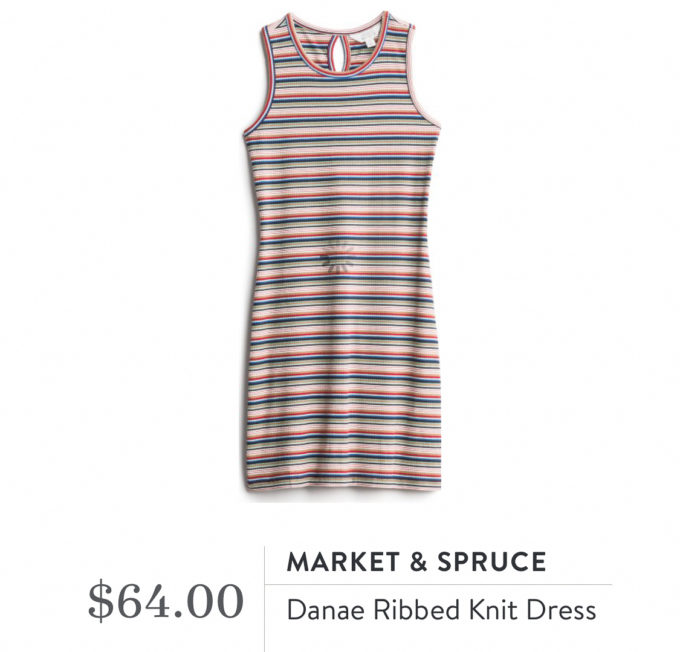 Status: Returned
Market & Spruce Joven Knit Maxi Skirt
For years I have told Brittany that I do not like maxi dresses so I was surprised to find this Market & Spruce Joven Knit Maxi Skirt in my box. The joke was on me because this skirt was soooo soft and comfortable and I loved its pattern.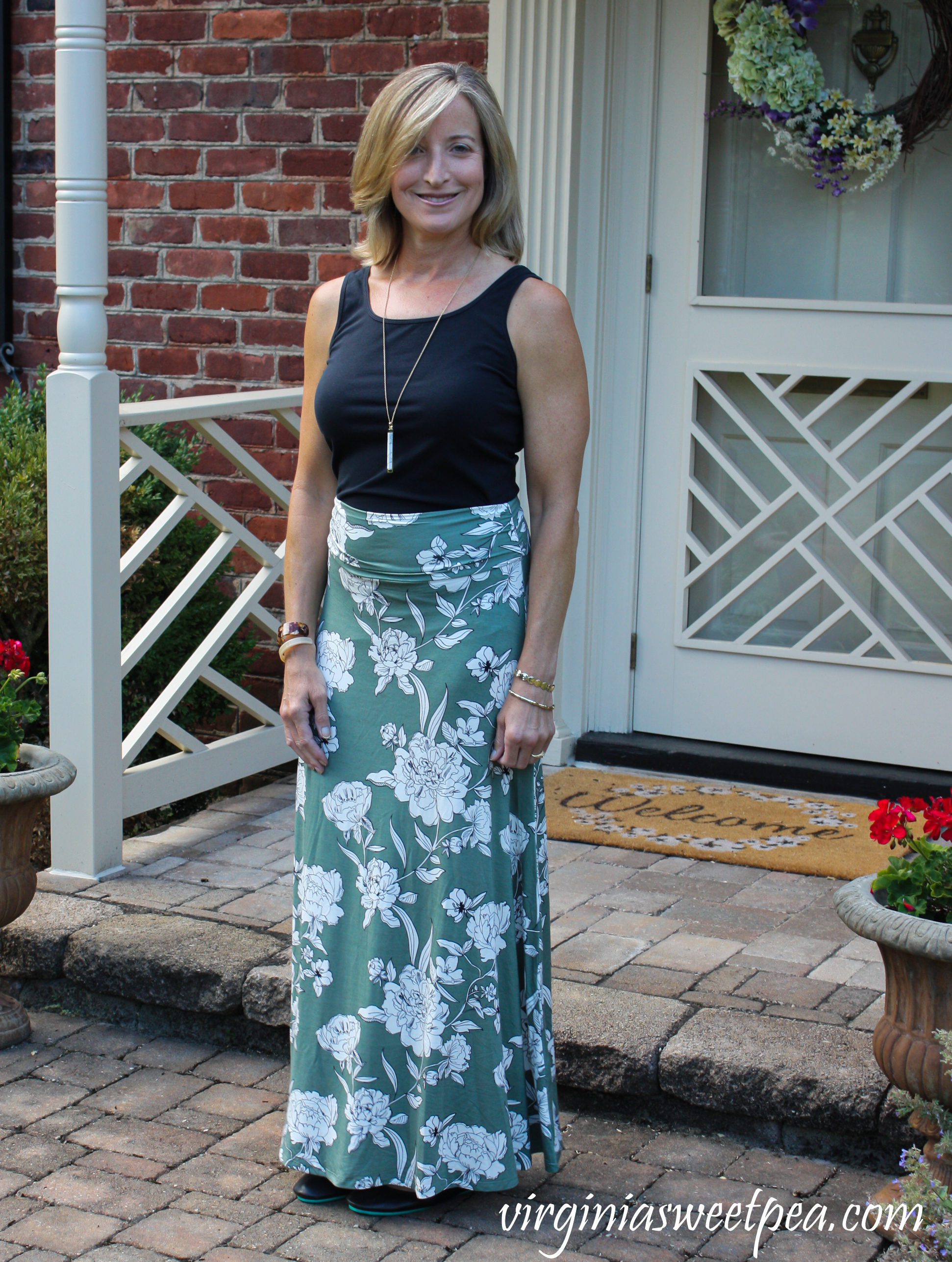 Here I paired it with black a no-yank tank from Duluth.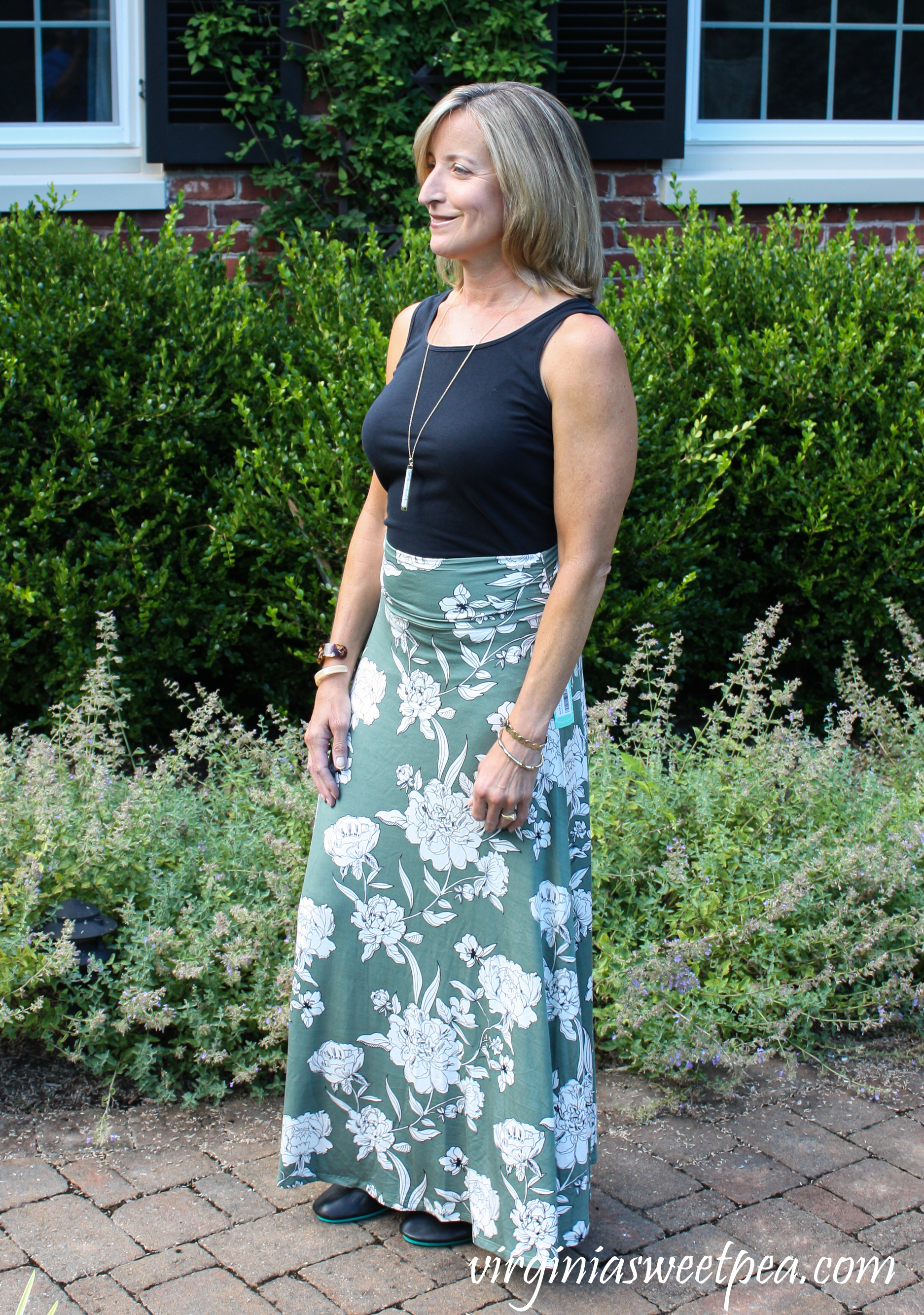 I am thicker in the waist than I'd like to be, and even though I liked this skirt, I felt like it brought attention to my stomach area, and I doubt that I'd wear it much if I had kept it. In the summer I would rather have my legs out to stay cool rather than be covered with fabric.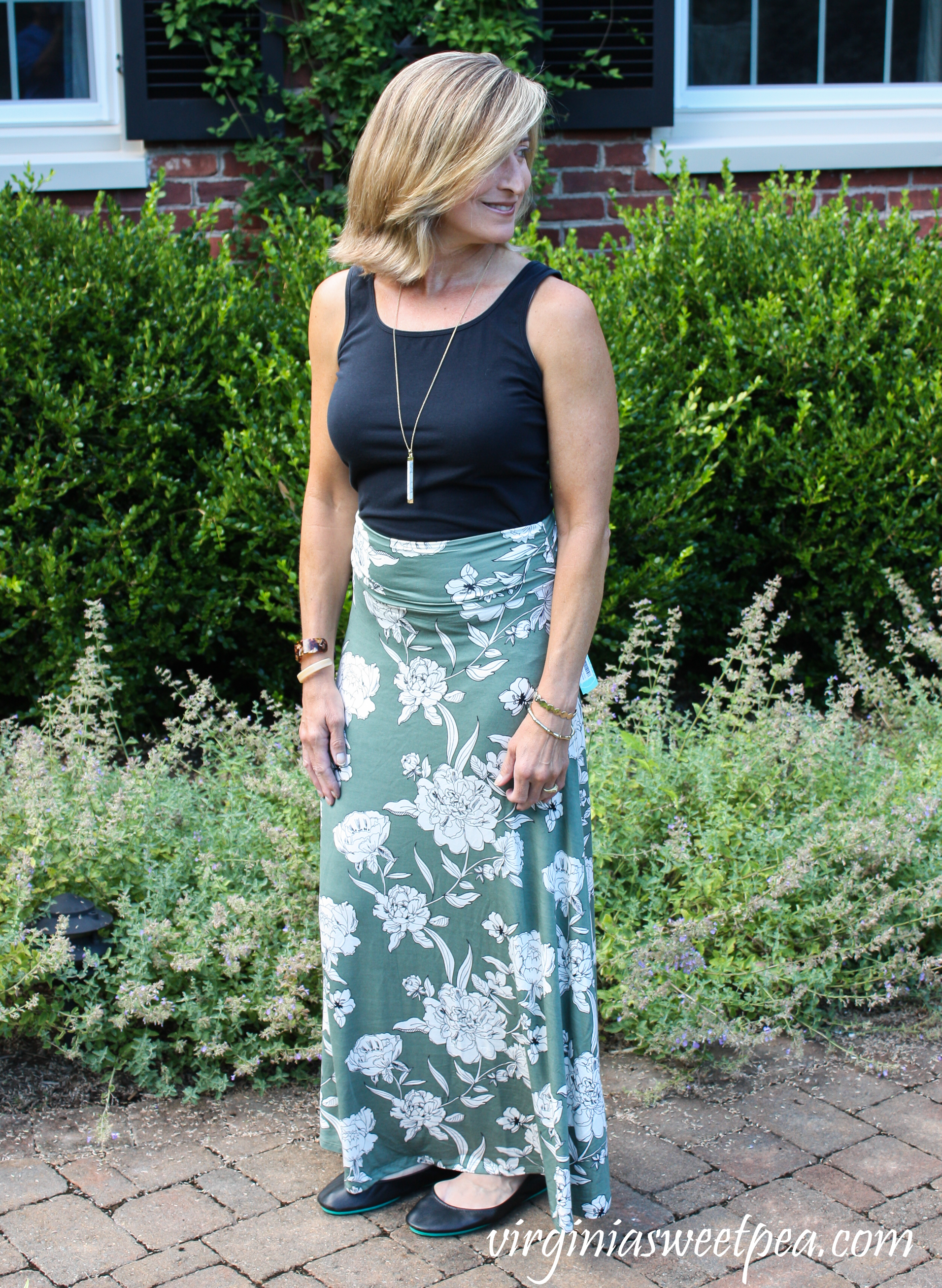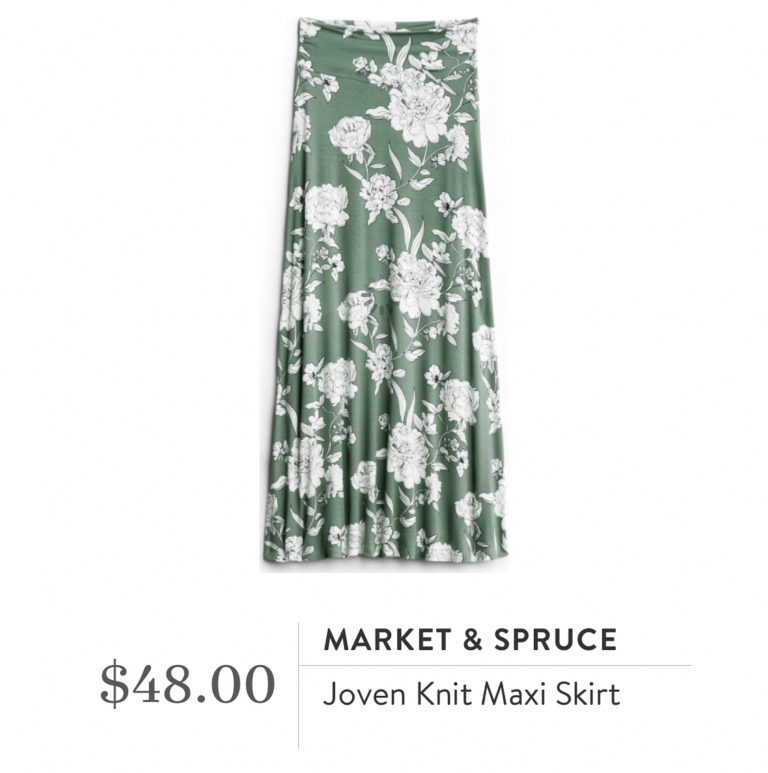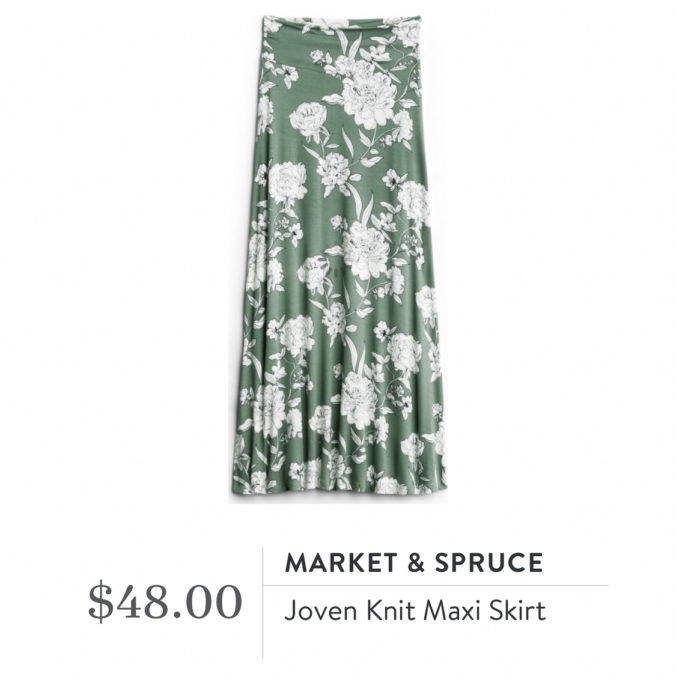 Status: Returned
Dee Elly Bess Sleeveless Crop Top
What was I thinking when I pinned the Dee Elly Bess Sleeveless Crop Top?? Unfortunately it was one of the first things on my Pinterest board and Brittany sent it to me. Don't get me wrong, I think this top is adorable, just not adorable on a newly 50 and a little thick in the middle woman. Now my 19 year old niece, she could ROCK this crop top. Brittany suggested that I try this crop top with the maxi skirt and I do like them together, just not on me.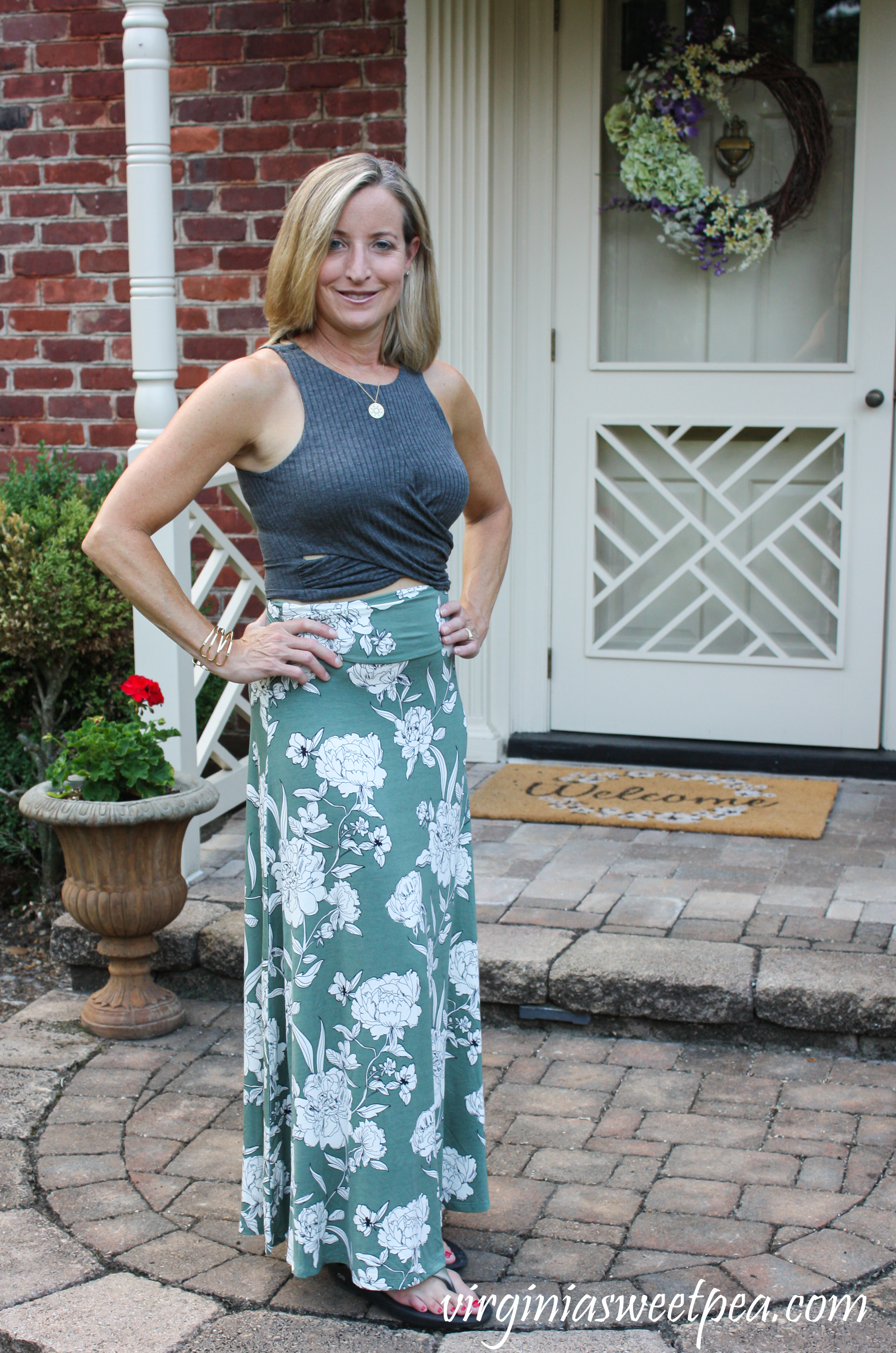 If this top was the exact same top, just not cropped, I would have bought it. It was super soft and comfortable and I loved the twist at the waistline.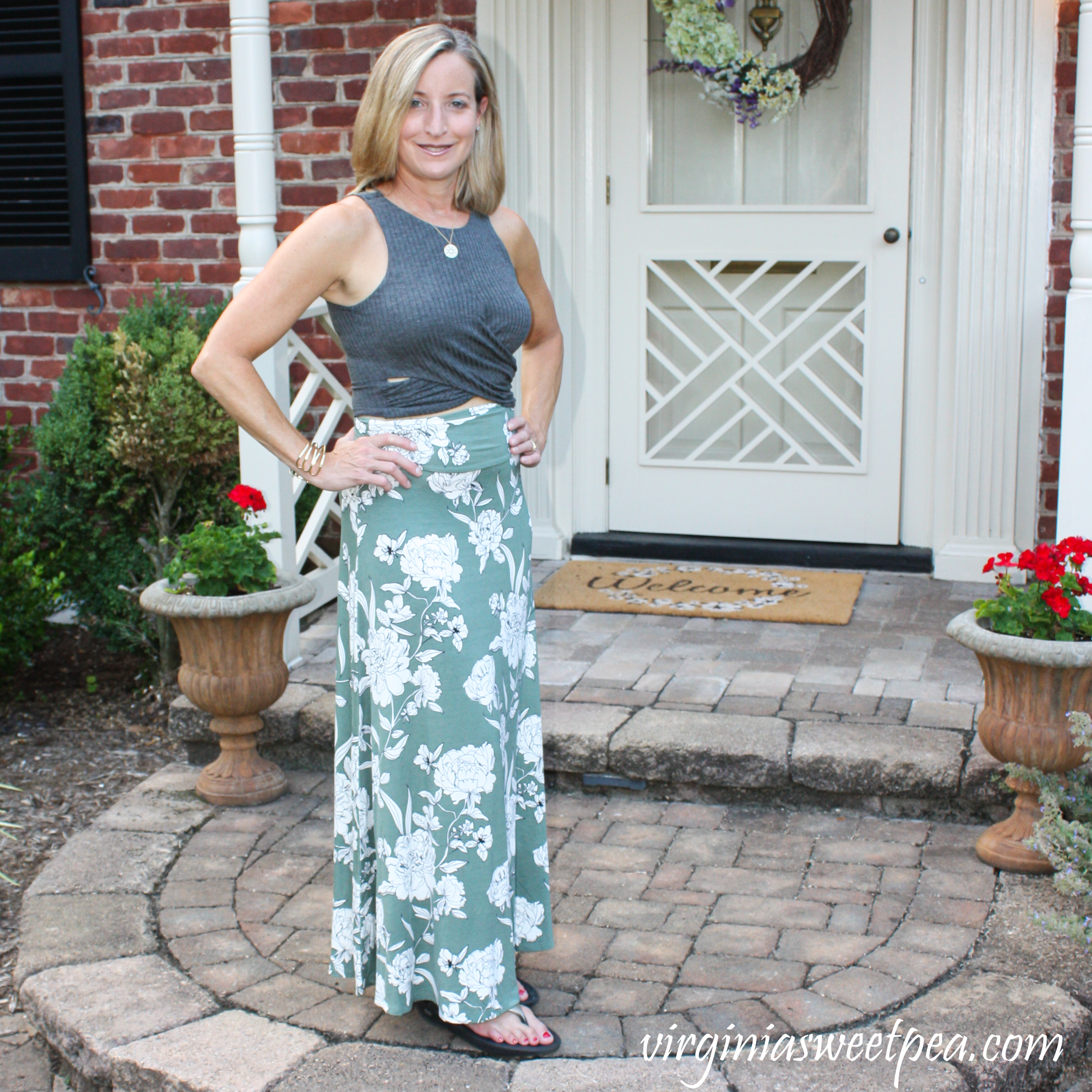 Sherman made a brief appearance while we took pictures of this outfit.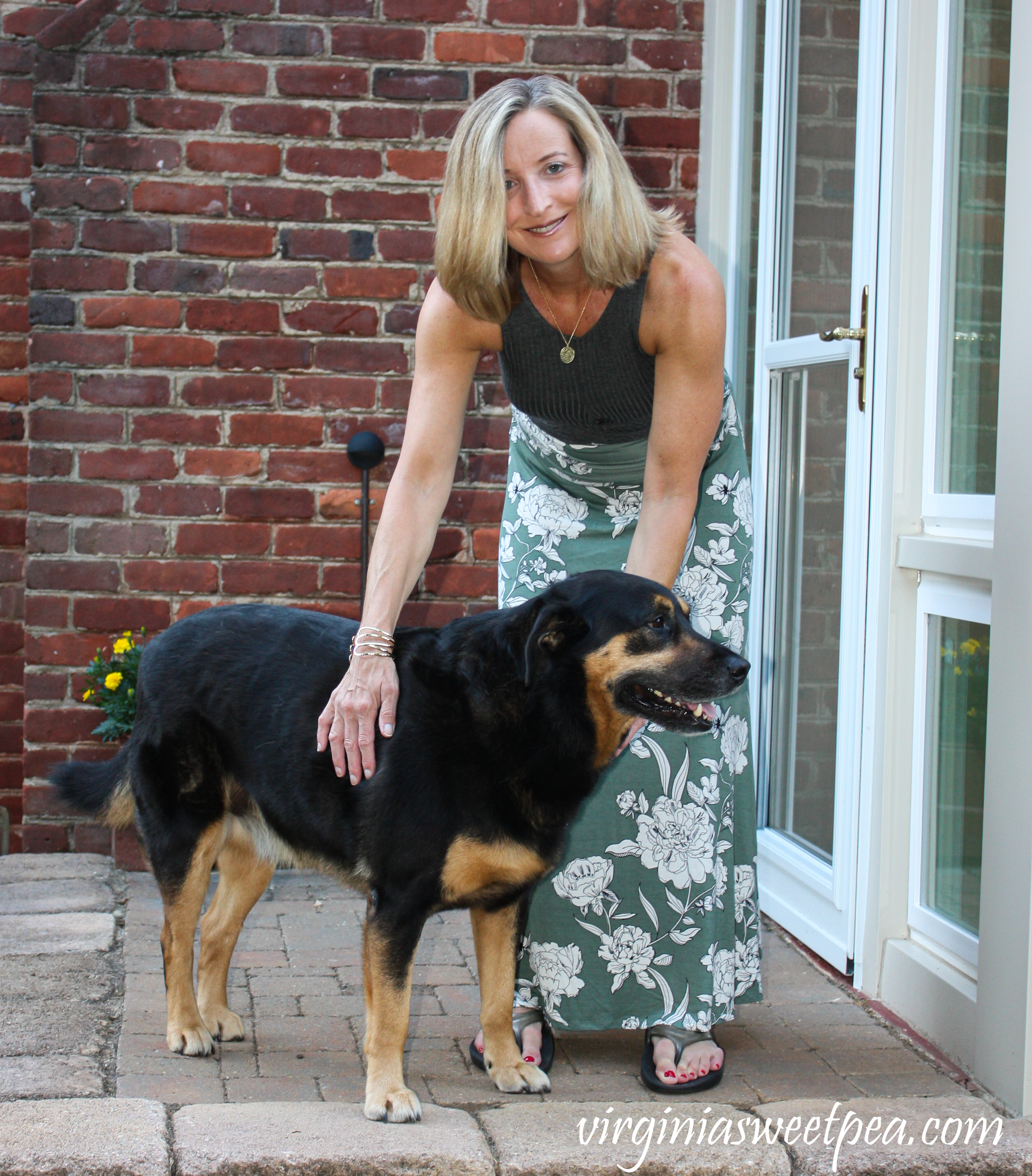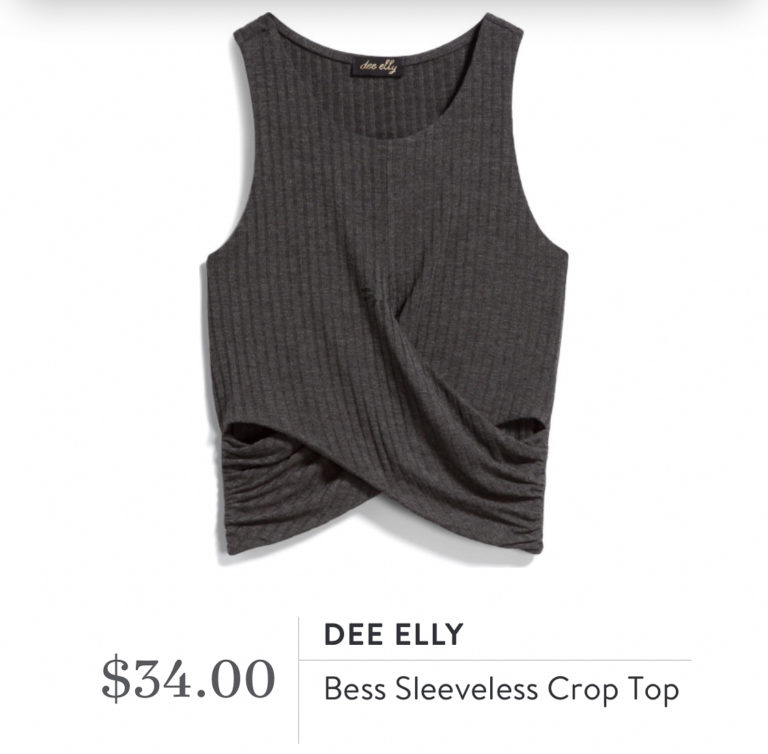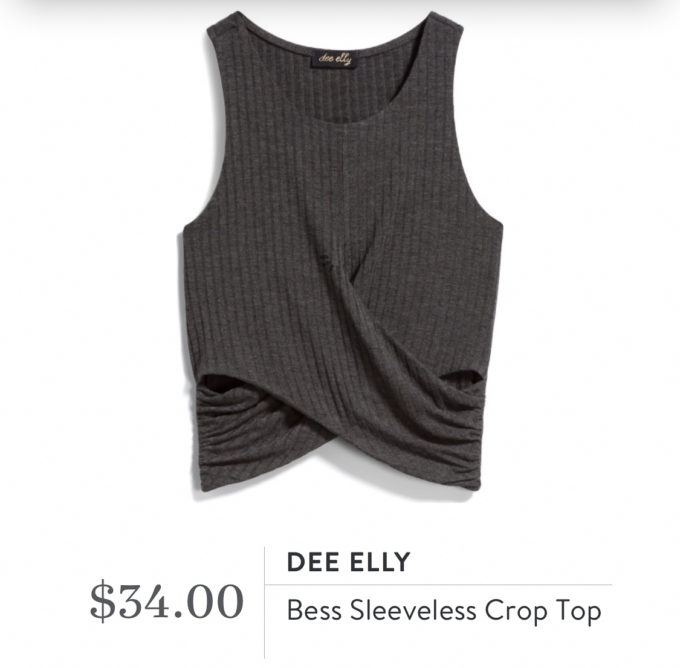 Status: Returned
I didn't keep anything this month but it was still fun to receive my box and try everything on. I'm already looking forward to my August Fix and who knows, it could be one where I keep everything.
STITCH FIX DETAILS
Stitch Fix is a personal styling service. When you sign up for Stitch Fix, you fill out a detailed style profile that helps your stylist know your likes and dislikes. Since I've received 71

Stitch Fix

shipments, my stylist knows my likes and dislikes very well and I almost always like every item in my Fix, a good problem to have!
When a Fix arrives, you have three days to try the clothes on and to decide what to keep and what to send back. Stitch Fix includes a postage paid envelope making returns super easy.
When you sign up for

Stitch Fix

, you can choose how often a box is delivered. You can pick a monthly options or schedule a box when you'd like to receive one.I do not like shopping and love receiving clothing from Stitch Fix. I get clothes that I like without having to do any work other than pinning things that I like to my fashion board on Pinterest. My stylist, Brittany H., checks my Pinterest board for inspiration and also reads my note to her each month to see if I have any special requests.
You can find links to all of my Fixes here and also be sure to check out my Stitch Fix Review Board on Pinterest where I pin my favorite looks.
Feel free to email me with any questions you might have about Stitch Fix. I can also send you a link to use that will give you $25 off your first box.
**I have one trial pass available for one person to try Stitch Fix with no styling fee for the first three months.